Tidbits - Nov. 15, 2018 - Reader Comments: 2018 elections - What Next; Proportional Representation; Police and White Supremacists; Anti-Gravity; Labor Solidarity; Rabbis Support Refugee Caravan; War in Gaza; FREE Film Showings; more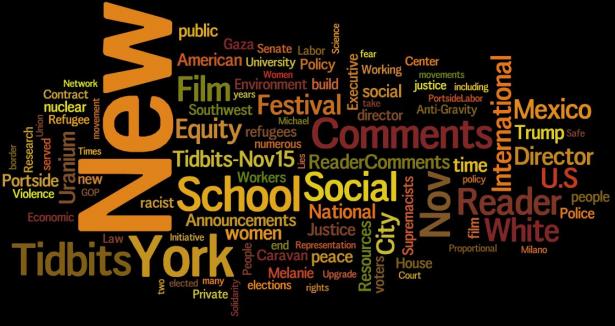 Tidbits - Reader Comments, Resources and Announcements - Nov. 15, 2018, Portside
Resources:
Announcements:
Red Tide  --  cartoon by Robert Ariail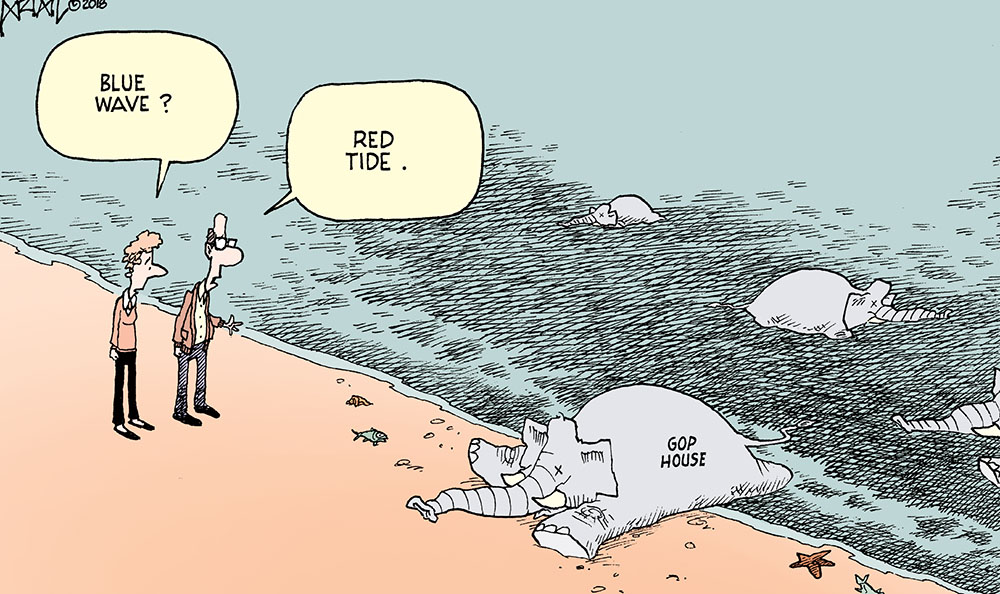 Robert Ariail
November 7, 2018
robertariail.com
Re: Competitive House Race in Maine to Test the 'Ranked-Choice' Voting System
 
Why?
Gregory A. Butler
Posted on Portside's Facebook page
     =====
To avoid the situation Maine faced two elections in a row, when right wing candidate (Paul LePage was elected twice with less that 50 percent of the vote-- first time 38% and second time 44%) while the third party spoiler was a centrist whose voters would have preferred the Democrat.
Suzanne Crowell
Posted on Portside's Facebook page
Re: Working People Respond to Midterm Election Results
 
(posting on Portside Labor)
Lock him up with the republican Senate all afraid of trumptart
Joe Kash
Posted on Portside's Facebook page
Trump and the California Fires  --  cartoon by Lalo Alcaraz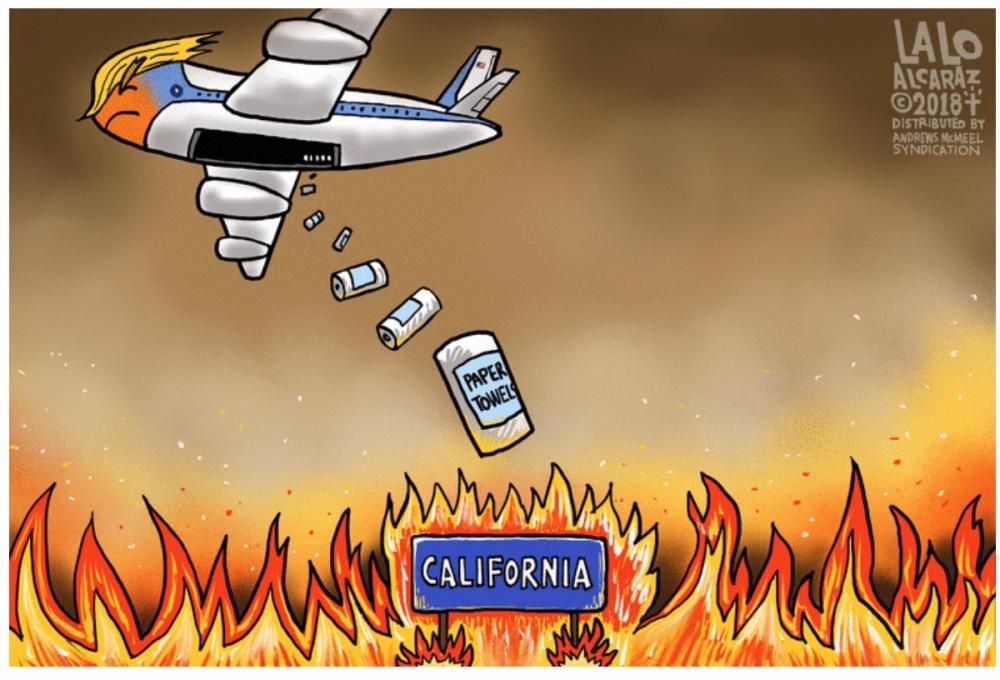 Lalo Alcaraz
November 12, 2018
laloalcaraz.com
Re: A New York Times Blindspot: The Police Links to White Supremacists
 
The New York Times Magazine's recent piece on how U.S. law enforcement has willfully ignored the white supremacist threat ignores the fact that U.S. law enforcement is a violently racist institution, which cuddles the white supremacists in its ranks.
Kay Smiley
Posted on Portside's Facebook page
     =====
Institutional racism.
Dale Jacobson
Posted on Portside's Facebook page
     =====
Some historical background from Turning The Tide and my book "White Lies White Power".
BLUE BY DAY, WHITE BY NIGHT: Organized White Supremacist Groups in Law Enforcement Agencies and the Military
From "White Lies White Power/The Fight Against White Supremacy & Reactionary Violence"
LA's Christopher Commission: Elite Blueprint for 'Enlightened' Repression
A Background Research Report
by Michael Novick for People Against Racist Terror(PART)
(An update, revised 4/93, of "L.A.'s Christopher Commission: Elite Blueprint for 'Enlightened' Repression")
Michael Novick
Re: The Alt-Right's Favorite Meme Is 100 Years Old
 
Worth a read, and worth keeping an eye out for this phrase. If you see anyone using it, you know where they are coming from: White nationalists, neofascists, and such ilk.
Dan Jordan
Posted on Portside's Facebook page
Re: Is Anti-Gravity Real? Science Is About To Find Out
 
Thank you for posting this article.
Anti-gravity has been a sort of "holy grail" arena of interest for many in the physics community (including myself), and many others. If such a concept could be proven, characterized, and more importantly, actually applied, the implications would be spectacular . . . the world as we currently know it to be would be radically changed, here on Earth and beyond.
More science postings . . . please!
As a side note, our best response to the current Trump debacle is an educated populace.
best,
Charles
Sebastopol, CA
Re: Trump's NLRB Just Quietly Ruled to Make Union Pickets Illegal
 
(posting on Portside Labor)
Of course! Been a long time since NLRB and the NLRA were laws to protect workers rights!
Leanna Noble
Posted on Portside's Facebook page
Re: Remember When The Unions Could Take On A Dictator? These Three Do...
 
(posting on Portside Labor)
Democratically elected Allende was deposed and murdered by CIA sponsored troops and Pinochet installed because Allende was not a US sycophant. Very few Americans know about their government's meddling in that and other S. American countries. Cuba successfully protected itself but paid for it by suffering through years of embargoes and demonization. Other countries have slipped into anarchy and their refugees are currently being sneered at by the very forces that caused their plight.
Roberta Histed
Posted on Portside's Facebook page
Re: The Contradictions of the #Resistance
 
It's a pathetic commentary on the state of "progressive" politics that they mobilize to support Mueller and his Russiaphobes. They've forgotten that the FBI was the political police used to suppress an actual left opposistion.For a while, I expected them to protect Sessions too since it seems anyone unspeakable Trump calls an enemy is their friend.
Mike Munk
Re: Private Equity Pillage: Grocery Stores and Workers At Risk
 
In the Mafia, this is called a "bust-out scheme." As described by Henry Hill, the inspiration for "Goodfellas," it was muscling into owning a piece of a restaurant, then maxing out its credit lines until it was broke, and then having a grease fire--in Jimmy Breslin's words, "two ladles of grease and twenty-five gallons of gasoline"--to collect the insurance.
Steve Wishnia
Re: Hospitals Torch Safe Staffing Limits in Massachusetts
 
(posting on Portside Labor)
Amazing they spent more money to stop the limit than would have cost them to agree. How do you say misspent money
Gail Lipskie
Posted on Portside's Facebook page
Re: Los Angeles Measure for a City-owned Bank -- A Valiant Effort!
 
Thank you, thank you, thank you to all who tried to get this measure passed. Next time I am certain we will prevail!
Onward,
Jim Lafferty
Executive Director Emeritus,
National Lawyers Guild, L.A.
     =====
The voters in LA decided not to establish a public bank there. We need to look closely at the reasons for the defeat there. This letter, circulated via Portside, doesn't (imo) explain enough. Why were advocates unable to persuade voters? With luck, the LA referendum will be a beginning effort. Public banks, imo, are an important path to putting some controls on the major financial institutions. Funded by public budgets, pensions and you and me, a public bank could invest in affordable housing, offer non-rapacious credit to small business and individuals, could compete with "check cashing" bandits.
Daniel Millstone
Posted on Portside's Facebook page
Re: U.S. Rabbis to Lead 'Pilgrimage' to Border to Protest Trump's Treatment of Migrants
 
This is wonderful!  Thanks to them all!!  
Buzz Davis, 
Vets for Peace in Tucson
Support the Refugee Caravan to the U.S.
 
As man as 8,000 men, women and children, mostly from Honduras, are traveling by foot to the southern U.S. border. They are currently in and around Mexico City.  They are fleeing poverty, corruption and violence that is largely the result of more than a century of U.S. domination. 
This was most recently displayed in the US-backed coup that overthrew the democratically elected liberal reformer Zelaya in 2009, triggering a mass exodus to escape poverty, crime, drug trafficking and police violence. They join more than 60 million refugees around the world, from Africa to South Asia, from Syria to Somalia, trying to escape the horrors of war and terror. This is the fruit of the free-market. 
Around the world, Trump-like politicians are using the refugee crisis to build mass fascist movements that could lead to wider wars. Trump has targeted the refugees for the most racist lies, calling them everything from criminals to disease carriers to Middle East Muslim terrorists, funded by Jewish billionaires. This racist hysteria led to directly to the massacre on a Pittsburgh synagogue on October 27 by a Nazi gunman. 
Trump has deployed more than 5,000 active-duty troops to the border, in addition to another army of ICE agents, Border Patrol and fascist vigilante militias against unarmed poor people, mainly families with children. He is threatening to deploy 10,000 more to help build the camps that will greet the refugees and house them for some time to come.
In NY, a few of us in NWU have started working with the New Sanctuary Coalition (NSC), which has the goal of bringing one million people to the border to welcome the refugees. We raised this with our UAW CAP Council which voted unanimously to give $500 to the NSC Gala last week.  I have been asked by NSC to help build a labor/union component to this effort. This includes mobilizing our union and others to help in any way possible, including sending delegations to the border to greet the refugees sometime next month. 
This crisis needs everyone's participation at whatever level you can participate. We cannot sit this out. If you are interested in working on this campaign, please let me know. 
Larry Goldbetter, President
National Writers Union/UAW Local 1981
212-254-0279
nwu.org
Emergency demonstrations throughout Israel: Stop the war! Move towards peace! - Haifa, Tel Aviv, Jerusalem
 
The Standing Together movement, along with various peace groups, will demonstrate today (Tuesday, Nov. 13) throughout the country, demanding a complete change of  direction. Instead of war and fear and bloodshed we should  lift the siege of Gaza, end the occupation, and actively pursue of a comprehensive Israeli-Palestinian peace.
The pain of suffering casualties, the fear of another night without sleep and the question "why?" are now the lot of very many people. We want - we must -  change this reality. This conflict has gone on far too long. Again and again it flares up. Again we hear arrogant statements about "It is time to teach them a lesson" which do not and should not give anyone a feeling of confidence.
We must take a new path. Residents of Southern Israel and residents of Gaza, Israelis and Palestinians – only peace can guarantee security to all of us. Only peace will ensure quiet nights -  this is the only way. Let's end for spreading hatred and sowing fear, let's end this pain. Today, especially today, let us demand what should have taken place long ago, the only thing that can ensure life: lifting of the siege, ending the occupation and achieving Israeli-Palestinian peace. We deserve a happy ending to this sad and difficult story. "
The demonstrations will take place at:
*Haifa - UNESCO Square in the German Colony, at the foot of the Baha'i Gardens
*Jerusalem - Paris Square
*Tel Aviv – The corner of Rothschild Boulevard and Allenby Street
For further details and coordination of interviews:
Hila +972-(0)54-2457680 or Doron +972-(0)54-4673320
Election Takeaways and What Lies Ahead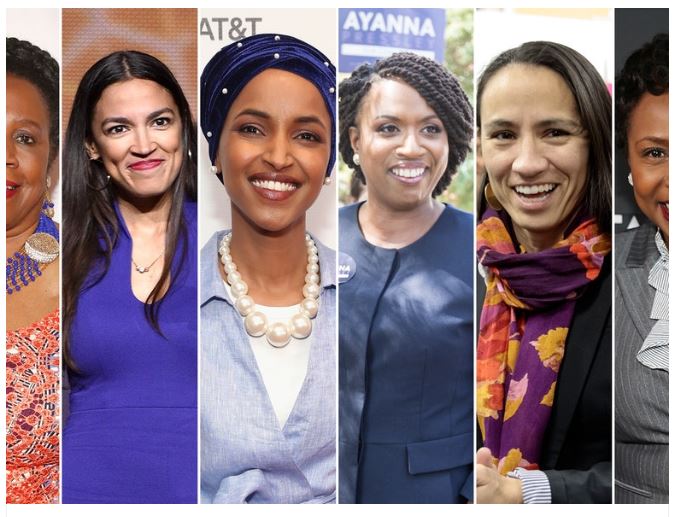 Last Tuesday's election changed the terrain and set the stage for the intense political warfare that lies ahead.
The resistance to the Trump/GOP racist hate crusade didn't win everything we wanted to, but we did win what we absolutely had to. Denying the GOP control of both Houses of Congress for the next two years and moving seven governorships out of the Republican column puts some check on the Trumpists' drive toward a new level of authoritarianism and a quasi-apartheid regime.
And in terms of sheer numbers, a substantial majority of voters voted "no" in an election that was at bottom a referendum on the Trump administration. Compared to 2016 there was a shift leftward in almost every social sector, with especially significant gains among young voters, low-income voters and Asians.
It was a good-sized "blue wave." But gerrymandering, racist voter suppression and the electoral system's structural bias in favor of less populous, conservative states prevented its translation into an equivalent amount of power. Total Democratic votes for the House exceeded GOP votes by 7% and for the Senate by nearly double that. But Democrats lost seats in the Senate, and picked up just 30-35 seats in the House compared to the 60 seats the GOP gained in 2010 when their popular vote was the same 7% ahead.
Most important, the array of social justice organizations around the country that threw themselves into the electoral fray expanded their base, strengthened their infrastructure, learned numerous lessons and made the difference between victory and defeat in numerous races.
Combined with the election of several socialists and the most diverse contingent of elected officials in history – record breaking numbers of women and women of color in particular – the progressive eco-system comes out of the balloting qualitatively stronger than we were after 2016.
Still: The blatant use of bigotry and racist fear-mongering that characterized the GOP campaigns in Georgia, Florida and numerous other states – spearheaded by Trump himself – is just a taste of what we'll see between now and 2020. Trump's post-election evaluation of Tuesday's results (racism and voter suppression work!), his threats against opponents and the press and his installation of a loyalist toady as new Attorney General less than 24 hours after the vote only underscores the point.
And with the GOP's delegation in the Senate and House now even more right-wing than before, and their base ginned up to fever pitch, U.S. politics will be even more polarized than the last two years.
We can expect a torrent of lies and ruthless displays of power from the White House and its allies. But, we, the U.S. majority, are in opposition, and there is a developing social justice bloc with qualitatively more experience, capacity and alignment than we had in 2016.
The immediate task is to pull out the biggest lessons from the battle just waged (and is continuing in Georgia, Florida and Arizona) and use them to improve our efforts as we gear up for the next round.
Over the coming weeks Organizing Upgrade will be carrying numerous articles and video interviews toward that end. A priority will be carrying the views of activists who have been immersed in key campaigns and sectors on what went right and what went wrong, what gains were made and what it will take to gain more.
Look to Organizing Upgrade for postings on the new balance of power and specific reports on:
Adding It All Up and the Tough Road Ahead
The Black Vote – Turnout and Impact
Stacey Abrams Groundbreaking Campaign in Georgia
On the Ground in Orange County California
Focus and Discipline in Flipping a Senate Seat in Nevada
The Working Families Party's Assessment
A Groundswell by Women in 2018
Wisconsin Celebrates – Good-bye Scott Walker
Illinois Wins: Running on Justice and Equity
What DSA Accomplished
Shifting the Balance in Texas
Toward 2020 and Beyond,
Calvin, Harmony, Kim, Maria, Max and Rishi
Editors, Organizing Upgrade
How We Labor: Building a New Social Contract for Jobs and Working People - New York - November 27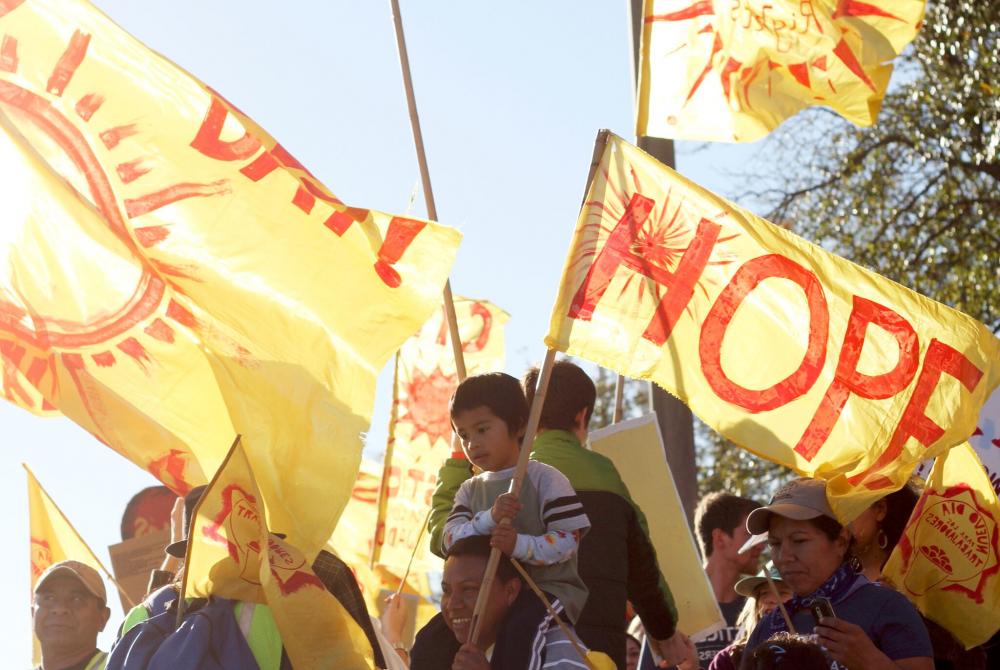 Tuesday, November 27
6 - 8 PM
The New School
The Auditorium
Room A106, Alvin Johnson/J.M. Kaplan Hall
66 W. 12th Street
New York, NY 10011
FREE - Register
Should we have a public option for jobs? How can we build workplace democracy? Should workers run their own enforcement systems? Can our economy offer workers more options through coops and other alternative job models? These themes and more will be explored in a conversation on how to transform labor featuring Pablo Benson-Silva of the New York City Network of Worker Cooperatives; Darrick Hamilton, director of the doctoral program in public and urban policy, and professor of economics and urban policy at The Milano School of Policy, Management, and Environment and theDepartment of Economics, The New School; and Cathy Albisa, executive director of National Economic and Social Rights Initiative. Introduction by Melanie Hart, Director, Social Justice Iniatives at The New School.
This is a joint New School Henry Cohen lecture series and National Economic and Social Rights Initiative Michael Ratner Roundtable series event and part of a larger conversation being advanced through the A New Social Contract Project. The project seeks to build a collective new understanding of ourselves as a country in order to face the challenges revealed as the fragile veneer of our democracy has been pulled back. It also focuses on community and social movement driven solutions to our deepest problems and argues that the many transformative solutions already being practiced at a smaller scale provide the scaffolding for a new social and economic model that can define our future. You can download and read the New Social Contract at www.nesri.org/initiatives/ansc.
Pablo Benson-Silva is Director of Membership and Communications at the New York City Network of Worker Cooperatives (NYC NOWC), the trade association of worker-owned business in the New York metropolitan area and the local affiliate of the USFWC. Born and raised in San Juan Puerto Rico, he moved to the New York City more than a decade ago. He is also a partner at Movement Netlab, a cooperatively governed think-do-learn tank on network social movements. He studied Sociology at the University of Puerto Rico and at the New School for Social Research and more than occasionally dabbles in teaching.
Darrick Hamilton is the director of the doctoral program in public and urban policy, and jointly appointed as professor of economics and urban policy at The Milano School of Policy, Management, and Environment and the Department of Economics, The New School for Social Research at The New School in New York.
He is a faculty research fellow at the Schwartz Center for Economic Policy Analysis at The New School, the immediate past president of the National Economic Association (NEA), an associate director of the Diversity Initiative for Tenure in Economics Program, an associate director of the Samuel DuBois Cook Center on Social Equity at Duke University, and co-principal investigator of the National Asset Scorecard in Communities of Color Project (NASCC). He has authored numerous scholarly articles on socioeconomic stratification in education, marriage, wealth, homeownership, health (including mental health), and labor market outcomes.
He has written for, among others, Atlanta Journal Constitution The American Prospect, Axios, the Christian Science Monitor, Dissent Magazine, Jacobin Magazine, the New York Times, theGrio, the Huffington Post, the Washington Monthly, the Washington Post, and Yes! Magazine.
Melanie F. Hart, Director of Social Justice Initiatives, The New School. Prior to her role with The New School, she served as the Deputy Commissioner of Workforce Development for the New York City Department of Small Business Services. She has also served as the Executive Vice President of Community Programs and Development at the New York City Housing Authority. In addition to her service within New York City agencies, Melanie has served within the nonprofit community. She served as the Chief Program Officer and Interim Executive Director of Legal Information for Families Today (LIFT) to partner with the New York City Family Court system to establish the New York City Family Court Help Centers, where pro se litigants receive free support and legal information to effectively self-advocate in Family Court.
Melanie is a transactional attorney, and served as the Executive Director for the Community Legal Research Network (CLRN) at CUNY School of Law where she helped to develop the framework for the Court Square Legal Project, a partnership between CUNY School of Law and the New York City Bar Association. Melanie's career has included leadership in NYC government, philanthropy, education, and nonprofit management.
Melanie earned a Bachelor's degree from Cornell University, a Master's degree from The New School, and a Juris Doctorate degree from the University of Virginia School of Law. Melanie has recently returned to The New School to pursue a PhD in the Public and Urban Policy program with a focus upon race and equity.
Cathy Albisa is co-founder and executive director of National Economic and Social Rights Initiative. She has three decades of experience working to advance racial, gender and economic justice. A constitutional and human rights litigator by training, she gave up the practice of law to found NESRI 15 years ago and work in deep partnership with communities to build social movements for human rights, equity, and genuine democracy here in the United States. Her organization recently launched A New Social Contract: Collective Solutions Built by and for Communities.
Presented by The Milano School of Policy, Management, and Environment.
2018 Uranium Film Festival in the American Southwest - November 29 - December 12
 
THE INTERNATIONAL URANIUM FILM FESTIVAL RETURNS TO THE DINÉ NATION WITH ADDITIONAL SCREENINGS THROUGHOUT ARIZONA & NEW MEXICO
The issue of nuclear power is not only an issue of the Diné / Navajo Nation, who suffered for decades because of uranium mining. All people should be informed about the risks of uranium, nuclear weapons and the whole nuclear fuel chain.  For that the International Uranium Film Festival travelled in 2013 for the first time to the American Southwest and Window Rock. Now in an effort to keep people informed and aware, particularly during this critical time of escalating nuclear threats, the International Uranium Film Festival returns to the U.S. Southwest in 2018.  
It is through the courage of independent film makers that the horrid truth of the Nuclear Beast is exposed and denounced. This year's International Uranium Film Festival will feature films addressing uranium-related topics including contamination in India and on Diné lands resulting from the disposal of nuclear waste and the mining of uranium, and the legacy of atomic bomb production and testing.
Los Alamos, the birthplace of the Atomic Bomb maintains its culture of secrecy, a practice which began with the inception of the Manhattan project. The films we bring to the public help to break the bubble of secrecy which the US government and multi-billon dollar corporations continue to operate under, hiding the truth about harm the nuclear industry causes to our land, water, people, communities and all living beings.
We extend our most sincere gratitude to the Anna and Max Levinson Foundation, McCune Foundation and the Western Mining Action Network for their support making this Festival possible. Additional Festival partners and sponsors include: the New Mexico Social Justice and Equity Institute; Multicultural Alliance for a Safe Environment; Beyond Nuclear; Concerned Citizens for Nuclear Safety; Conservation Voters New Mexico Education Fund; Gallup Solar; Interfaith Worker Justice New Mexico; New Mexico Environmental Law Center; New Mexico Health Equity Partnership; New Mexico Interfaith Power & Light; Nuclear Watch New Mexico; Southwest Research & Information Center; and Tewa Women United.
Anna Marie Rondon, Executive Director New Mexico Social Justice and Equity Institute
Susan Gordon, Multicultural Alliance for a Safe Environment
Norbert G. Suchanek, General Director International Uranium Film Festival
The schedule for the U.S. Southwest tour of the 2018 International Uranium Film Festival is as follows (Entry Free!)
WINDOW ROCK - November 29th and 30th and December 1st, Navajo Nation Museum, Hwy 264 & Post Office Loop
FLAGSTAFF - December 2nd, Northern AZ University, Native American Cultural Center, 318 W McCreary
ALBUQUERQUE - December 6th, Guild Cinema, 3405 Central Ave
GRANTS - December 7th, NM State University Campus, Martinez Hall, 1500 Third St
SANTA FE - December 9th, Jean Cocteau Cinema, 418 Montezuma Ave
TUCSON -  December 12th, YWCA Tucson, Frances McClelland Community Center 525 N. Bonita Ave
Further information / Contact:
Norbert G. Suchanek
General Director 
International Uranium Film Festival
info@uraniumfilmfestival.org (link sends e-mail)
www.uraniumfilmfestival.org
Anna Marie Rondon, Executive Director 
New Mexico Social Justice and Equity Institute
505-906-2671 (c)
nmsjei@gmail.com (link sends e-mail)
The International Uranium Film Festival kindly asks for your support and welcomes any donation.
THE RAPE OF RECY TAYLOR Documentary Film showing - New York - December 6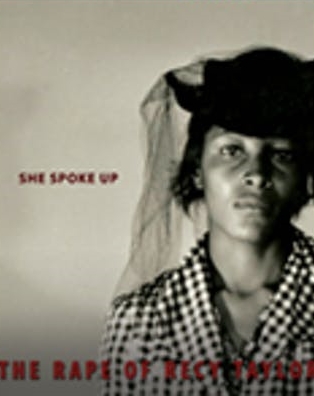 Thursday, December 6, 2018
7:00 PM – 9:00 PM EST
St Mary's Episcopal Church
521 West 126th Street
New York, NY 10027
FREE - Register
The New York Chapter of the Union of Black Episcopalians and The Task Force on Domestic Violence of the Episcopal Diocese of New York invite you to the viewing of this historic documentary film. The showing of this film coincides with the 2018 16 days of Activism against Gender-Based Violence Campaign that begins on November 25th, The International Day for the Elimination of Violence Against Women, to December 10th Human Rights Day.
Film viewing starts at 7:00 PM doors open at 6:00 PM
About The FILM
Recy Taylor, a 24-year-old black mother and sharecropper, was gang raped by six white boys in 1944 Alabama. Common in Jim Crow South, few women spoke up in fear for their lives. Not Recy Taylor, who bravely identified her rapists. The NAACP sent its chief rape investigator Rosa Parks, who rallied support and triggered an unprecedented outcry for justice.
The film exposes a legacy of physical abuse of black women and reveals Rosa Parks' intimate role in Recy Taylor's story. An attempted rape against Parks was but one inspiration for her ongoing work to find justice for countless women like Mrs. Taylor. The 1955 bus boycott was an end result, not a beginning.
More and more women are now speaking up after rape. The film tells the story of black women who spoke up when danger was greatest; it was their noble efforts to take back their bodies that led to the Montgomery Bus Boycott and movements that followed. The 2017 Global March by Women is linked to their courage. From sexual aggression on '40s southern streets to today's college campuses and to the threatened right to choose, it is control of women's bodies that powered the movement in Recy Taylor's day and fuels our outrage today.
Mrs. Taylor's case was an early catalyst for the civil rights movement and is an important and relevant story in not only African American history, but in U.S. history.
The film includes adult content- advise attendance by youth of high school age or older.