Global Left Midweek - Focus on Latin America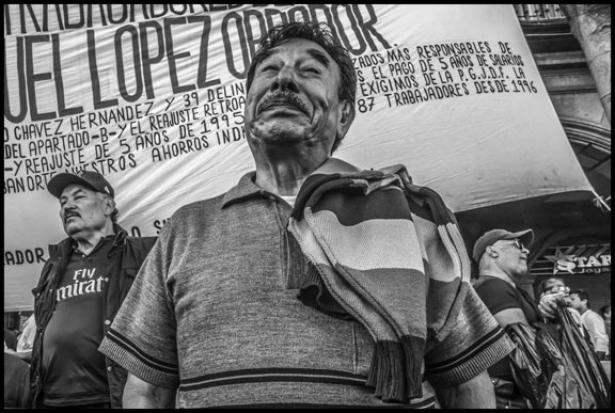 A worker who lost his job in the privatization of the Ruta 100 bus line in Mexico City was overcome with emotion during the inauguration in the zocalo of President Andres Manuel Lopez Obrador,Photo: David Bacon
David Bacon / The American Prospect (Washington)

The Lopez Obrador administration is changing the law so that workers can actually choose a union and vote on their contracts.
__________
Brazil: MST Leader Speaks
Leonardo Fernandes and Nina Fideles / Brasil de Fato (São Paulo)
The economist and co-founder of the Landless Workers' Movement (MST) and La Via Campesina International João Pedro Stedile: "We have to explain to people that corruption is endemic – where there is capitalism and the bourgeois State, there will be corruption."
__________
For Women, A Contradictory Peace in Colombia
Kate Paarlberg-Kvam / NACLA Report (New York)
So long as Colombia's peace accords fail to contend with the liberal economic order or challenge extractivism and militarism in the country, they will fall short of achieving true gender justice.
__________
Saving Venezuela's Economy 
Cira Pascual Marquina interviews Luis Enrique Gavazut / Venezuelanalysis (Caracas)
An independent researcher speaks frankly about the roots of the country's economic crisis and outlines a series of policies to revert it.
__________
Guatemalans Protest Corruption
Sandra Cuffe and Jeff Abbott / Al Jazeera (Doha)
Hundreds march in Guatemala City against President Morales's attack on constitutional order and anti-corruption efforts.
__________
Bolivia: Evo Morales Can Run Again
Emily Achtenberg / NACLA Report
The outcome of the electoral contest is far from certain. 
__________
Bolivian, Argentinian, Brazilian and Chilean Unions Support Ahwazi Workers in Iran
Ahwaz Human Rights Organization / Unrepresented Nations and People Organization (Brussels)
Get more background on the Ahwazi steelworkers' struggle here.