Tidbits - June 20, 2019 - Reader Comments: Bernie Sanders; Elizabeth Warren: Impeachment; Iran war; Healthcare; Cuba Travel; How Well Are We Doing?; Religion and Gay Rights; Resources: South Africa; Gay Pride; New York Rent Laws; more...

Tidbits - Reader Comments, Resources and Announcements - June 20, 2019, Portside
Resources:
Announcements:
Re: Sanders Calls For 21st Century Bill of Rights - How Democratic Socialism Is the Only Way to Defeat Oligarchy
 
This is a powerful speech by Bernie Sanders. It is good that he is running. The key is his statement, "It is time for the American people to stand up and fight for their right to freedom, human dignity and security."
It is past time. Most western democracies have a social democratic party and have passed the measures that he is fighting for. As the largest, richest capitalist country, Americans face large forces working against their interests, but now they need to stand up for their rights and for their democracy. Meanwhile the other democracies will move forward to push for substantive measures to combat climate change.
Laurel MacDowell
Re: Elizabeth Warren's Rise Is a Plus for Issue Politics — And a Bad Sign for Billionaires
 
Warren is running a great campaign.
Sticking with the issues, and her programs to solve some of the problems.
Not only pushing her programs but she also is explaining how these programs can be funded!
Howie Leveton
Posted on Portside's Facebook page
Re: 3-D Chess? We Just Want Nancy Pelosi to Connect the Dots.
 
Lawyers like precedents. Here's a precedent for you, Mr. Mystal: When Obama first took office, many were after him to investigate and bring charges against his predecessors,  Bush and Cheney, for lying the country into war with Iraq, based on their cockamamie "Weapons of Mass Destruction" tall tale. His reply was something like this: "Let's let bygones be bygones and move on." That Obama stance made as much sense then as Pelosi's contorted constructions to avoid impeachment make now.
I suspect the truth is much simpler. She can't parse the many unknowns and is too afraid to jump into the water when she doesn't know how cold it is. She's using the Democratic equivalent of McConnell's "I don't wanna do it and nobody can make me." That is, since she's a Democrat she feels the necessity of coming up with a "reason," even if this "reason" makes little or no sense.
Gene Glickman
Does the investment in Trump carry too much risk?
 
The oligarchy is trapped in a bourgeois quandary: does the investment in Trump carry too much risk?
The investment: the hegemonic faction of oligarchs embraced the far right, which is the most unhinged wing of their class.
The risk is: the policy of trade war, diplomatic war, subversion, sanctions, blockades, and military buildup is flawed by at least two internal contradictions. The faction of the oligarchs running the government is willing to risk their own existence, so they cannot be reasoned with. That is why Senators and other rulers are calling on Congress to begin impeachment proceedings.
The other contradiction is that the neoliberal policy of austerity, globalization, and economic-financial war on working people drains the aggregate purchasing power of consumers. Record corporate borrowing does not come close replacing this purchasing power.
And to perceive this anxiety among the oligarchy take a look at a chart of the DOW or the S&P500. From 2016 to about 2018 the market accelerated as they celebrated Trumpism. Since late 2017 the market looks more like the chart of an unstable system...like a chart of Earth tremors.
As the far right continues to ramp up the matrix of aggressions, the majority of investors are bearish, lacking confidence in a Trump dividend. The bankers, through Fed Chair Jay Powell, are promising cheaper money. So every sell-off has been rescued from the fear that the effort to create a global empire will result in economic, if not existential, losses.
The last two weeks of the Trump faction's escalations of global aggression looks to me like the Johnson escalation of the Vietnam War. As youth, potential draftees, and relatives of KIA, we felt the most existential angst imaginable...actually your can't imagine it...not individually but a generational angst that forced us into action.
We healed ourselves with teach-ins, picket lines, sit ins, rallies, marches, boycotts, solidarity, and assemblies...and resistance among the troops. This many-years campaign convinced the WW2 generation in Congress to defund the war.
Perhaps the progressive majority is hoping for a progressive Democratic nominee to kill off Trump & McConnell. But the longer we wait to we start holding mass marches, pickets, and rallies, the less likely the "vote solution" is in the realm of possibility. America cannot afford to give the extremists another 16 months in power...their expertise is aggression, pollution, stealing, and murder. Period.
Randy Shannon
PA 17th CD Chapter, PDA, Treasurer; Progressive Democrats of America, PA Coordinator; Progressive Democrats of America; National Board Secretary, HealthCare4AllPA, Board of Directors
Do They Really Think We Are Going To Fall For THAT Again? - meme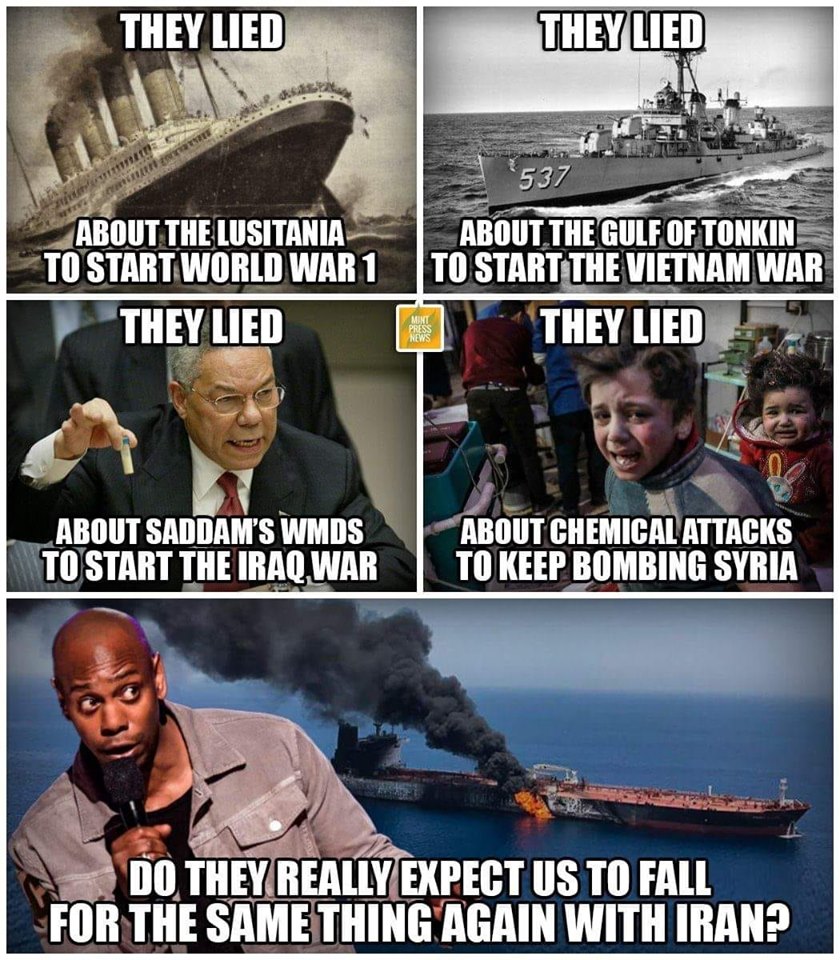 Re: Report from Our Time at the San Diego Immigrant Shelter in Mid-April
 
Congratulations to Linda Roman and Phyllis Willett for their work, their compassion and their understanding. Keep the struggle going.
Luis Torres
Healthcare Should Be Available Based on Need Not Greed - Rep. Ilhan Omar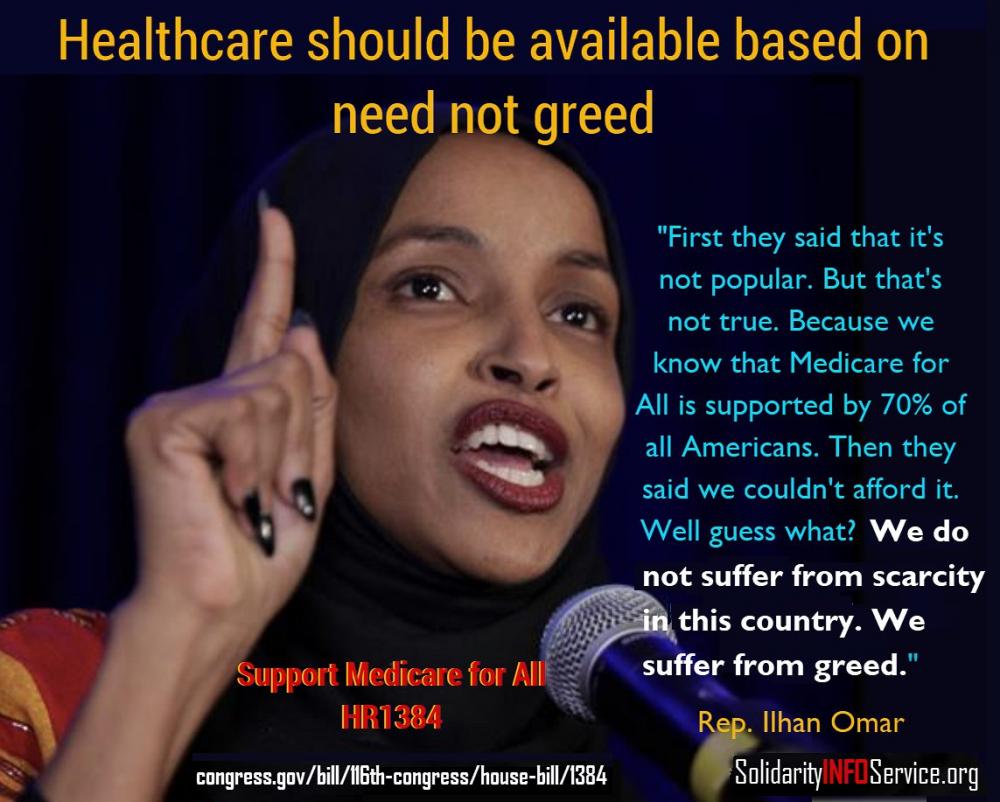 Re: Brazil Fails to Replace Cuban Doctors, Hurting Health Care of 28 Million
 
I am reminded that Che Guevara was a medical doctor before he realized that health care could only be available to the poor if the government was free of control by north American imperialist or their stooges.
Bruce Smith
Re: 'Bad News for All Species': New Study Shows Nearly 600 Plants Wiped Out Over the Past 250 Years
 
As I've been saying , People get ready, this ain't no dress rehearsal.
Tom Dostou
Posted on Portside's Facebook page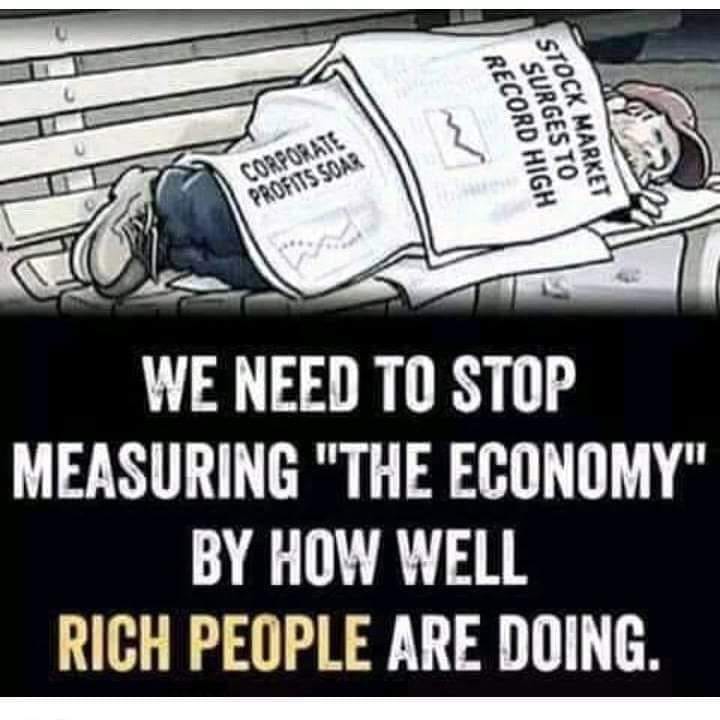 Re: UAW Director: Union Ended Nurses' Strike Because Mercy Was Going To Permanently Replace Them On Friday
(posting on Portside Labor)
Where is this?
Pearl Granat
     =====
Moderator: WTOL is in Toledo, so this would be northern Ohio.
Re: Remembering the English Revolution
(posting on Portside Culture)
 
But it resulted, as these things do often do, in an even WORSE and intrusive tyranny under a fundamentalist religious fanatic named Oliver Cromwell. It was so bad that not only did the English people warmly welcome back the son of the king they had killed, but disinterred the dead bodies of both Cromwell and one of his generals, hung them and then burned their remains in revenge!
Bertil Haney
Posted on Portside's Facebook page
Resigning My Membership in the United Methodist Church
 
UMC friends: I'm done. And I don't just mean with the bad annual conference food. I'm done with the #UMC.
Below is my resignation letter that I handed Bishop Bickerton last week.
I wish those of you who remain the best of luck. Please remember that we've won what we've won not by following the rules, but by breaking them, by refusing further complicity in the system. The collective exercise of our moral agency has always been the source of our power. #ResistanceIsHoly
**************
Dear Bishop Bickerton,
I am writing to resign my membership in the United Methodist Church, effective June 10, 2019.
I have been a part of the UMC since immigrating with my family to the U.S. in 1968. I abandoned a call to ordained ministry in 1984 when the General Conference first voted to categorically ban queer people from ministry. In place of a life under constant threat and/or constant self-harm by denying my authentic whole self, I "chose" instead to follow Jesus through a lifetime of social justice organizing. It has been a rich and rewarding life, but 35 years later I still ache every time I see someone in a clerical collar.
I have dedicated the last 15 years of my life to the struggle to right the immense wrong that the UMC has done to God's creation with its theological lies and spiritual violence aimed at LGBTQ people. In that time I have come to understand, painfully, that institutional leaders – and I am sorry to say, bishops foremost among them – have valued institutional preservation over Gospel obedience; have treated LGBTQ people as a "problem" to be "solved" rather than their own flesh and blood; and have so perverted the ideal of unity as to make it synonymous for queer Methodists with injustice. The UMC values order over justice, "a negative peace that is the absence of tension over a positive peace that is the presence of justice."
Rather than resolving these problems, the special General Conference in February doubled down on them. The aftermath has been positively horrifying to watch. We have learned nothing, apparently. And now the energy and time and resources of thousands of earnest Methodists is being poured into electing 2020 General Conference delegates and looking, delusionally, at that gathering for hope.
I can no longer participate in this charade.
We live in a world in which climate genocide is imminent, where irreversible environmental changes caused by wealthy white first-world capitalists and their governments are threatening millions of the world's poor. We live in a country where our government is caging children and carrying out a program of ethnic cleansing, while domestic terrorism aimed at non-white and non-Christian people is rising exponentially. I live in a city where social inequality rivals that of the world's most unequal nations.
I can no longer put my time and energy into a church obsessed with its own self-interest while injustice around me rises like flood waters. My call to follow Jesus is no longer compatible with my participation in the United Methodist Church.
Dorothee Benz
New Book - White Supremacy Confronted: U.S. Imperialism and Anti-Communism vs. the Liberation of Southern Africa from Rhodes to Mandela by Gerald Horne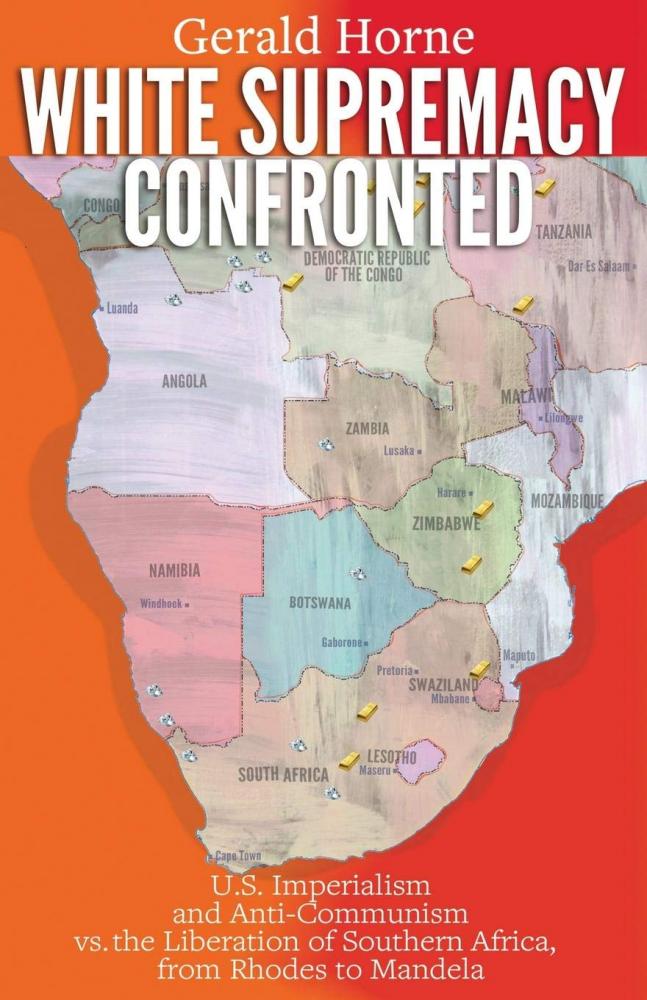 Based upon exhaustive research in all presidential libraries from Hoover to Clinton, the voluminous archives of the African National Congress [ANC] at Fort Hare University in South Africa, along with allied archives of the NAACP, the Ford and Rockefeller fortunes, etc., this is the most comprehensive account to date of the entangled histories of apartheid and Jim Crow that culminated in 1994 with the election of Nelson Mandela as president in Pretoria.
The author traces in detail the close ties between e.g. Mandela, Robeson, and Du Bois–among others–and how their working in tandem with the socialist camp (particularly the Soviet Union and Cuba) was the deciding factor (along with the struggles of Africans and their allies on both sides of the Atlantic) in compelling the reluctant retreat of the comrades-in-arms:  apartheid and Jim Crow. However, weeks after the collapse of the Berlin Wall the apartheid regime chose to free Mandela and to legalize the ANC and its close ally, the South African Communist Party–while anticommunism, a major ideological weapon of the ruling class in Washington and Pretoria alike, surged–putting the Mandela government in a weakened position in the prelude to the nation's first democratic elections in 1994 and thereafter.
Also detailed in these riveting pages are the allied struggles in Namibia, Angola, Zimbabwe, Congo, Tanzania, Zambia and Mozambique, along with the massive solidarity movement in the U.S.–particularly among unions and students–that contributed mightily to victory.
This is a story well worth studying as we continue to combat anticommunism–and struggle for socialism.
Publisher: International Publishers
Publication Date: May 9th, 2019
Pages: 892
Trade Paperback:  $28.99
ISBN: 9780717807635
ISBN-10: 0717807630
Generation Q - Young Proud Queer! Poster of the Week (Center for the Study of Political Graphics)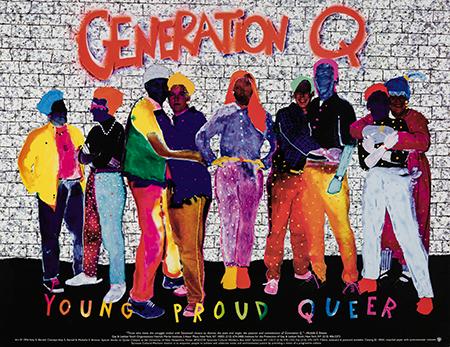 The Trump Administration is rejecting US embassy requests from around the world to fly the rainbow pride flag on official flagpoles this June. Since 2011, the symbolic gesture had become routine at American diplomatic posts, when Hillary Clinton, then secretary of state, proclaimed in a landmark speech that "gay rights are human rights."
In resistance to this mandate, embassies around the world, including in Seoul, Chennai, and New Delhi, have adorned their buildings with rainbows, flags, and banners.
The decision is in contrast to the U.S. administration's campaign to decriminalize homosexuality overseas in roughly 70 countries that still outlaw it. Trump issued a tweet to "celebrate LGBT Pride Month and recognize the outstanding contributions LGBT people have made." However, his record since taking office reflects a different position, and has been sharply criticized by LGBTQ+ rights groups.
In celebration of LGBTQ+ Month, CSPG's Poster of the Week calls upon the pride, strength, and solidarity of the queer community. In the wake of homophobic and transphobic politics, showing respect and support for the queer community is necessary more than ever.
Sources:
Center for the Study of Political Graphics
3916 Sepulveda Blvd, Suite 103
Culver City, CA 90230
310.397.3100
cspg@politicalgraphics.org
The Jewish Community & LGBTQ Activism: A Pride Month Event - New York - June 25 (Workmen's Circle)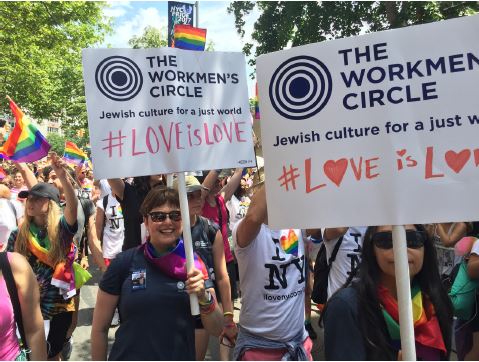 Tuesday, June 25, 6-8PM
The Workmen's Circle
247 West 37th Street, 5th Floor
New York
Light snacks and beverages will be provided
Join us on Tuesday, June 25, as we gather to celebrate LGBTQ Pride Month, the 50th
Anniversary of the Stonewall Uprising, and World Pride!
The event will feature a discussion with Workmen's Circle Executive Director Ann Toback, Stuart Appelbaum, President of the Retail, Wholesale and Department Store Union (RWDSU), and Rabbi Mike Moskowitz of Congregation Beit Simchat Torah (CBST).
About Our Guests
Stuart Appelbaum, President of RWDSU, also serves as Executive Vice President of the 1.3-million-member United Food and Commercial Workers International Union (UFCW). Stuart is also President of the Jewish Labor Committee. He has greatly increased the influence of the RWDSU and UFCW as forces for economic justice and social progress, forging deep alliances with the progressive, civil rights movement, and immigrant rights movements, and the faith and LGBT communities.
 
Rabbi Mike Moskowitz is the Scholar-in-Residence for Trans and Queer Jewish Studies at Congregation Beit Simchat Torah in New York, NY. He is a deeply traditional and radically progressive advocate for trans rights and a vocal ally for LGBTQ inclusivity. Rabbi Moskowitz received three Ultra-Orthodox ordinations while learning in the Mir in Jerusalem and in Beth Medrash Govoha in Lakewood, NJ. He is a David Hartman Center Fellow and the author of Textual Activism. His work on behalf of trans rights began while he served as the Rabbi of the Old Broadway Synagogue in Harlem and the Aish NY Rabbi at Columbia University.
 
Review and Book Signing - Good Trouble: A Shoeleather History of Nonviolent Direct Action - Hartford - June 26 (Real Hartford)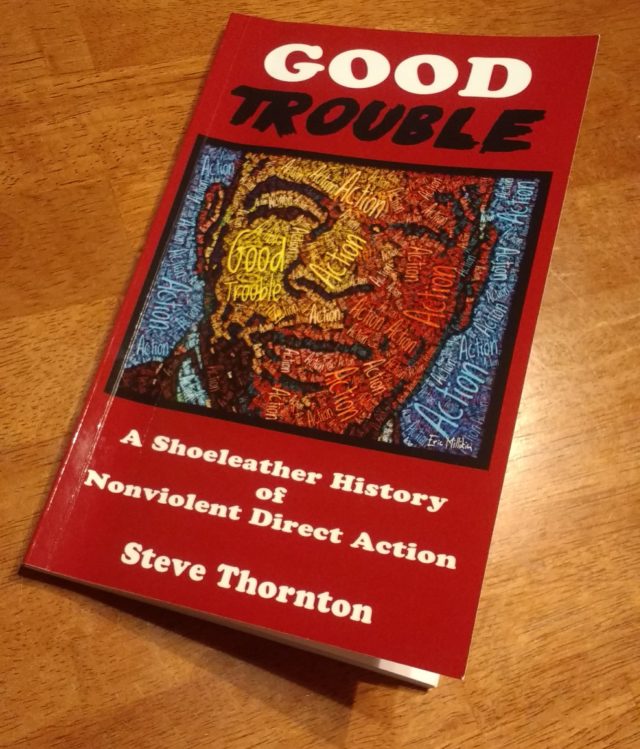 If you live in Hartford and call yourself an activist, then you owe it to yourself to read Steve Thornton's latest book, Good Trouble: A Shoeleather History of Nonviolent Direct Action. Its digestible nuggets help good troublemakers place themselves within the context of a larger narrative.
Drawing on his lifelong commitment to social justice, Thornton covers anti-war activism, student-led organizing, the labor movement, and more, with some of the richest passages devoted to neighborhood-level fights.
Each vignette sparks conversation and inspires additional research. Thornton starts quick by recalling Barbara Henderson's 1969 battle to have dams in the Park River removed following several drownings. Those not in Hartford at the time, or paying much attention, might be confused by Thornton's description of a scenario involving "artificially high" water levels. Why would this have occurred? This is a moment that encourages the reader to do more independent sleuthing.
Read more of Kerri Provost review here.
Author Steve Thornton will be giving a book talk (followed by signing) at
Barnes & Noble UConn Hartford Bookstore 
18 Front Street
HArtford
June 26 -- from 6:00 PM until 8:00 PM
Available at Hard Ball Press, Amazon.com and independent booksellers everywhere.
Price: $10.00
ISBN: 978-1-7328088-7-4
Publisher: Hard Ball Press
Release date: March 15, 2019
info@hardballpress.com - 917-428-1342
Page count: 100
WE WON!!  New Rent Laws "Know Your Rights" Teach-In  - New York June 28 (New York State Tenants & Neighbors Coalition)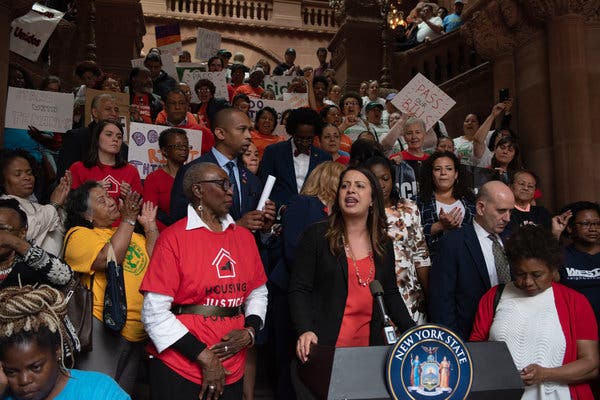 You may have seen the news!  The NYS Senate and Assembly passed a bill yesterday that was signed into law by Governor Cuomo! 
Two years ago, Tenants & Neighbors and several housing justice organizations brought together a statewide housing movement and launched the Housing Justice for All Campaign.  We marched, rallied and even got arrested.  And we now have the strongest tenant protections that we have seen since this all began.
Tenants & Neighbors has been organizing, protecting and advocating for New York tenants since 1974.  I am thrilled and honored to be at the helm of this great organization to witness this historic legislation to protect rent regulated tenants, including laws which do not sunset!
Here's a quick synopsis of what we won:
Extends Rent Regulation Laws and makes them permanent.
Expands ETPA across New York State -- all localities who fit the criteria for rent stabilization may opt-in.
Vacancy decontrol - Repealed.
High Rent and High Income Decontrol - Repealed.
Preferential rents - Made permanent for the life of the tenancy.
Rent Control - Tenants will no longer face 7.5 percent increases yearly -- increases will be based upon an average of the most recent 5 years of the NYC Rent Guidelines Board increases; the fuel-pass-along has been eliminated; MCIs are now up to 2 percent increases of current rent, with a maximum of rather than up to 6 percent.
Vacancy, longevity bonuses -- Repealed.
Four-year look back rule -- Extended to six years.
MCI's and IAI's -- reformed, capped at 2% from 6%.
Tenants & Neighbors will host a Rent Law "Know Your Rights" Teach-in on the new legislation to explain the details and nuances of the bills.  Ellen Davidson, Esq., The Legal Aid Society and others will be on hand to answer your questions!
New Rent Laws "Know Your Rights" Teach-In
Friday, June 28, 2019  -  6-8 PM
The Gallery at the ACP State Office Building
215 West 125th Street, 2nd Floor
New York
2/3/A/C/D to 125th Street
Feel free to invite tenants in your building and neighborhood!
Please R.S.V.P. Wanda Mercado, 212-608-4320 ext. 314
To read a more detailed synopsis of the legislation by going to this link
The actual bill language is here.
Tenants & Neighbors is working on preparing tenant "Know Your Rights" information sheets on all of the changes in the laws and will be providing them to you in the upcoming weeks.
See Articles quoting T&N here:
This is what your support has done:  created a great victory for tenants across New York and I am deeply grateful to all of you for your continued support of Tenants & Neighbors through 45 years.
When we fight, we win!

Join T&N or Make a Donation
    
CLICK HERE to become a member of the New York State Tenants & Neighbors Coalition.
Annual membership dues are $35, $10 for low-income people and youth under age 25.
Free Webinar: Divest from the War Machine - July 2 (World BEYOND War)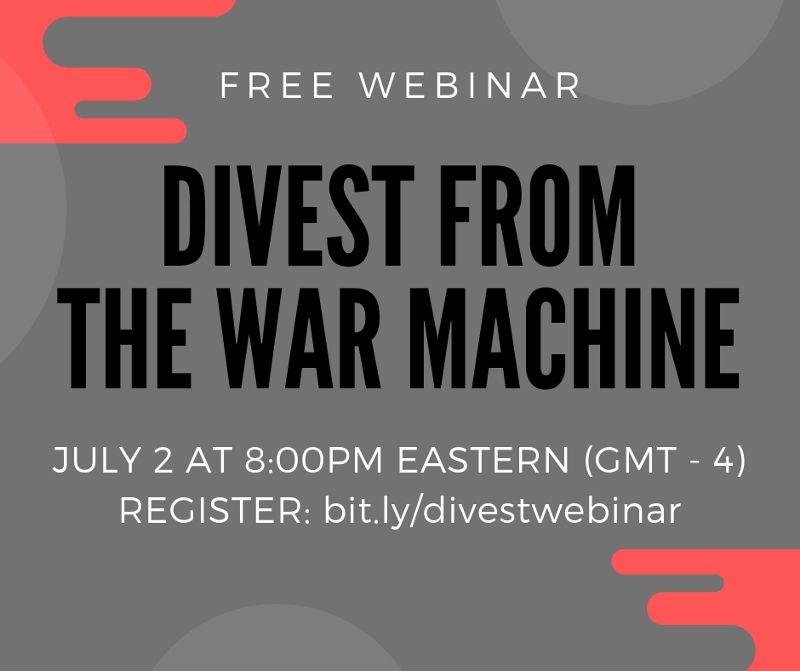 Join us on Tuesday, July 2 at 8:00 p.m. EDT (GMT - 4) for a webinar on divestment, featuring David Swanson of World BEYOND War, Maya Rommwatt of CODEPINK, and Susi Snyder of PAX/Don't Bank on the Bomb. Grassroots-led war divestment campaigns are springing up all over the world, from students organizing to divest university endowments from weapons manufacturers and war profiteers, to municipalities and states coming together to divest public pension funds from the war machine. On this webinar, we'll talk about the strategies and tactics needed to run a successful divestment campaign. RSVP.
New Map!
Announcing a new feature on our website: an interactive map displaying the 500+ organizations around the world that have signed World BEYOND War's Declaration of Peace. View the map, and find organizations near you! Organizations can be added to the map by signing the Declaration of Peace.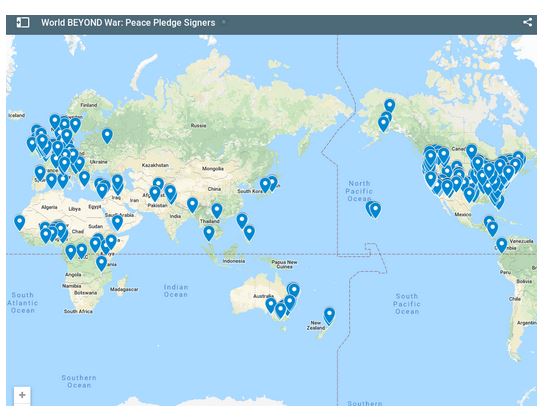 Canada Springs into Action!
World BEYOND War chapters are popping up across Canada! We're excited to announce new chapters in Vancouver, South Georgian Bay, and Toronto/ Mississauga. Click on the chapter name to read about their upcoming events
Memory of Forgotten (Korean) War - Screening & Talk Back - New York - July 11 (Peace Action Manhattan and Peace Action New York State)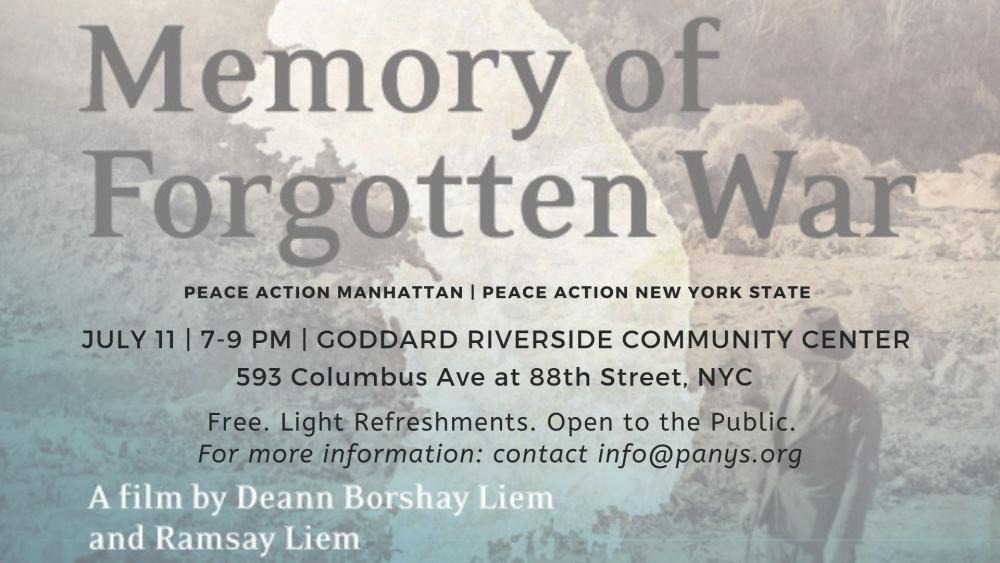 Peace Action Manhattan and Peace Action New York State would like to invite you to a screening of "Memory of Forgotten War" (38 minutes), followed by a talk back with Aiyoung Choi of WomenCrossDMZ on Thursday, July 11th, from 7 to 9 PM at the Goddard Riverside Community Center at 593 Columbus Avenue (at 88th Street).
(Peace Action Manhattan's monthly gatherings are usually the first Thursday of the month, but because of the July 4th holiday, the July gathering has been rescheduled to July 11th.)
The Korean War is the longest ongoing war. It ended in a temporary ceasefire on July 27, 1953 and has remained unresolved for seven decades.  
MEMORY OF FORGOTTEN WAR conveys the human costs of military conflict through deeply personal accounts of the Korean War (1950-53) by four Korean-American survivors. Their stories take audiences through the trajectory of the war, from extensive bombing campaigns, to day-to-day struggle for survival and separation from family members across the DMZ. Decades later, each person reunites with relatives in North Korea, conveying beyond words the meaning of family loss. These stories belie the notion that war ends when the guns are silenced and foreshadow the future of countless others displaced by ongoing military conflict today.
AIYOUNG CHOI of WOMENCROSSDMZ will join us after the screening for a talk back about the film. WomenCrossDMZ are women peacemakers from around the world walking and working for peace in Korea. 
Please RSVP on our Facebook Event page to let us know you are coming.  This event is free and open to the public. Light refreshments served. For more information contact: info@panys.org.
Let's keep working to end war together.
Peace Action New York State
PO Box 3357
Church St. Station
New York, NY 10008-3357
Acoustic Guitar + Cuba = one awesome musical adventure - December 6 - 13
 

Save Big When You Book Early on Travel with Acoustic Guitar to Cuba
We invite Acoustic Guitar readers to experience the music and culture of Cuba in a way few have before. Join us for a very special, all-inclusive, customized tour December 6-13, 2019.
This trip, our fifth group tour to Cuba, will be happening because it was arranged before the recently announced restrictions on travel to Cuba from the United States. If you have been thinking about going, now is truly the time to do it!

Plus, book by August 31st to receive a special early bird discount on this all-inclusive, week-long tour: $4,749 / $5,249 $4,999 / $5499 per person (double/single occupancy). 
Space is limited. Full details, registration documents, and the complete itinerary may be found here.
We hope you'll join us in Cuba this winter!

Charles Bittner Charles.Bittner@stringletter.com
Stringletter
501 Canal Boulevard
Suite J
Richmond, CA 94804