Global Left Midweek - October 16, 2019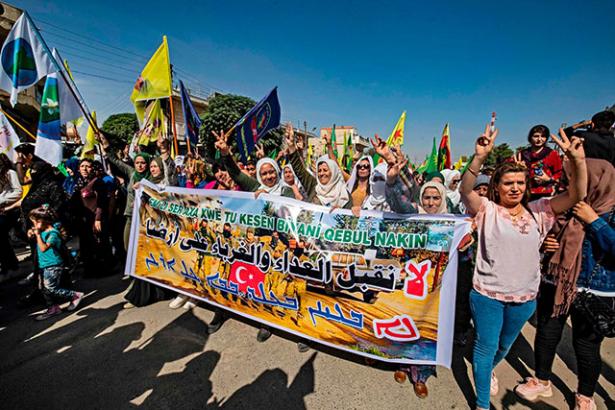 Syrian Kurds in border town of Ras al-Ain demonstrate against imminent Turkish invasion on October 9,Photo: Delil Souleiman / Agence France-Presse
__________
Notice to readers: Few stories are more complex and controversial than the current Turkish invasion of northern Syria. Global Left Midweek is offering this link with a recognition that it does not fit comfortably into anyone's view of what constitutes news about the left. The Syrian Democratic Forces was a recipient of aid from Washington as they fought off the Syrian military. Nonetheless, SDF, military front of the Kurdish organization People's Protection Units (YPG), is a force defending the Kurdish people, and this statement from Mazdoum Abli should be recognized as a statement from the left in this tragic situation. - GLM moderator
Kurds in Syria: We Will Choose Our People

Mazdoum Abli / Foreign Policy (Washington DC)
The Kurds' commander in chief explains why his forces are finally ready to partner with Assad and Putin.
__________
Ecuador: A Victory, But Repression Continues
Zoe PC / Peoples Dispatch (New Delhi)
Following twelve days of massive protests, the government of Lenín Moreno repealed Decree 883 which formalized neoliberal reforms. At the same time, it launched a crackdown on political opponents.
__________
Scientists Back Direct Climate Action
In a joint declaration, climate scientists, physicists, biologists and engineers from 20 countries have broken with the caution traditionally associated with academia to side with peaceful protesters.
__________
Poland's Left Party Alliance
Rafał Chwedoruk / International Politics and Society (Brussels)
Background on Poland's new left electoral alliance, Lewica.
__________
Youth Rebellion in Indonesia
Max Lane / Today (Singapore)
Since Sept 23, there have been student demonstrations in almost every province of Indonesia against numerous new Bills being tabled and passed by the outgoing Parliament. The first protest in the university town of Yogyakarta saw a turnout of 15,000 students, despite the rally call going out less than 24 hours before that.
__________
Lessons From Tunisia's Elections
Andrew M. Mwenda / The Independent (Kampala)
No political party has capacity to secure a majority in parliament; so governments can only be formed through coalitions. This denies the country opportunities for a strong government to deal decisively with its problems but limits the risk of winner-take-all politics and their attendant problems.
__________
UK: The Prospect of Radical Economic Change
Loren Balhorn interviews Callum Cant / Rosa Luxemburg Stiftung (Berlin)
A Labour activist discusses the revival of the Labour Left, the relationship between Jeremy Corbyn's Momentum campaigners and the wider party, and prospects for a democratic socialist transformation of the United Kingdom under Corbyn.
__________
Showdown in Bolivia
W.T. Whitney / CounterPunch (Petrolia CA)
The right wing opposition, based primarily in Bolivia's four eastern departments, has spearheaded agitation for President Evo Morales's removal. Big farming operations and a network of oil and natural gas production facilities constitute the region's economic base. 
__________
Egypt: The Arrest of Israa Abdelfattah
MEE Staff / Middle East Eye (London)
One of the most iconic leaders of the 2011 revolution, Abdelfattah, 41, was picked up along with her friend, Egyptian journalist Mohamed Salah, by plainclothes officers on Saturday evening. She is one of thousands of Egyptians arrested in recent weeks, and has been added to a case involving a group of dissidents who are all charged with joining an outlawed group.