Dispatches From the Culture Wars - December 10, 2019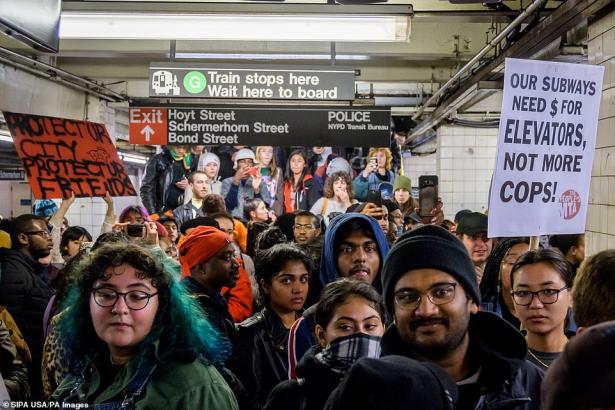 Subway protesters in Brooklyn, Photo: SIPA/USA PA Images
SCOTUS Upholds Abortion Rights Attack
By Lawrence Hurley
December 9, 2019
Reuters

A Kentucky restriction requiring doctors to show and describe ultrasound images to women seeking an abortion was upheld, turning away a challenge arguing that the measure violates the free speech rights of physicians.
By Élan Young
November 22, 2019
HuffPost
A newly unearthed journal from 1966 shows the coal industry, like the oil industry, was long aware of the threat of climate change.
Spotlight on Transit
Free Public Transit in Kansas City 
By Julia Conley
December 6, 2019
Common Dreams
Electric Cars and Green Capitalism
By Alanah Torralba, Tadzio Müller, and Elis Soldatelli
November 12, 2019
Rosa Luxemburg Stiftung
By Sean Sweeney and John Treat
December 5, 2019
Socialist Project
Policing and Resistance on the New York Subways
By Andy Battle
November 20, 2019
Verso Books
By Christiana Silva 
November 26, 2019
MTV
For a variety of reasons, if Jeremy Corbyn — a lifelong socialist and leader of the country's left-leaning Labour Party — wins on December 12, it could signal a win for U.S. democratic socialists, too.
More On UK Labour and Antisemitism
By Arielle Angel
December 6, 2019
Jewish Currents
A new British Jewish left is getting organized, attempting to reorient the conversation around the dangers of a Conservative government led by Boris Johnson, and to build relationships with progressive and minority communities. 
New Feminist Anthem (and Dance) From Chile
By Annalisa Merelli
December 2, 2019
Quartz
Organized by a local feminist collective, the performance was titled "Un violador en tu camino" ("A rapist in your way"). The song and accompanying dance takes on the patriarchy as the cause both of violence against women and the victim shaming that often comes after.