Tidbits - May 21, 2020 - Reader Comments: Reader Comments: Biden- Sanders Joint Policy Task Forces; Voter Suppression; COVID-19 Victims; Prison Labor as Scabs; Somalia; Cuba; Support Postal Workers, Retail and Food Workers in UNITE HERE; more...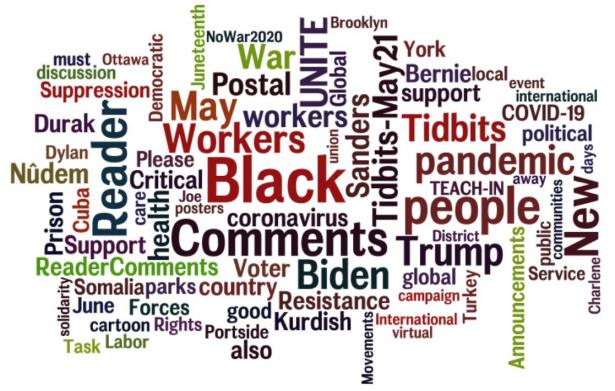 Tidbits - Reader Comments, Resources, Announcements, Shorts, AND cartoons - May 21, 2020,Portside
Resources  --  Take Action:
Announcements:
Re: Joe Biden and Bernie Sanders are Building New, Policy-Focused Task Forces
 
A major step forward.
Ray Markey

     =====
Well, well, well . . .
Elizabeth Taylor Bjerke
Posted on Portside's Facebook page
     =====
Exactly the sort of team building we need to win in November and govern in 2021 and beyond. I'm impressed with many of Biden's picks, although on climate change, he went for the centrists.
Shel Horowitz
Posted on Portside's Facebook page
     =====
And AOC is the Co-Chair of the Climate Committee. Way to go Joe and Bernie!
Robert Politzer
Posted on Portside's Facebook page
     =====
I am a very progressive Bernie Sanders supporter. It was exceedingly disappointing when Bernie lost the campaign to Biden. However, due to the rival candidate in the Republican party, I realize that there's no choice. I am supporting Biden with so many reservations. I disagree with almost all of his policies, and I find it very difficult. However , as long as I've been voting I've been disappointed with candidates. Now I see that there will be a mix of people in task forces. This could be interesting, and it may bring some real change. My problem with the whole idea is that no where did I see a task force for the issue of foreign policy. I'm very concerned about the never ending wars that our political leaders seem to agree to continue. There is so much of our yearly budget spent on weapons, armaments and wars. This policy is one reason we are handicapped in all other policies. There's not enough in the budget for health care for everyone, education is underfunded, infrastructure is appalling. Why are they ignoring this?! Please email me and explain. Thank you.
Susan Malool
Re: We Need a Whole New Plan for Black Voters in the South
 
"Will our (Black women) votes even be counted?" This is a legitimate question in lieu of the last presidential election. What percentage of our (Black women) votes are considered in the Electoral College.
Robin Jones
Posted on Portside's Facebook page
Re: Civil Rights Groups Vow to Fight Back as GOP Builds Massive Voter Suppression Machine for 2020 Election
 
Voter suppression is a very real thing.
Judy Atkins
Posted on Portside's Facebook page
     =====
Fighting Back is the only way -- voter suppression is the tactic that has been used all the way back to colonial times to keep slavery, deny women rights, exclude Asians and others. Voter suppression is the manner for capitalism, which both Malcom X and MLK severely criticized.
Hollis Stewart
Posted on Portside's Facebook page
Snake Oil Salesman  --  cartoon by Rob Rogers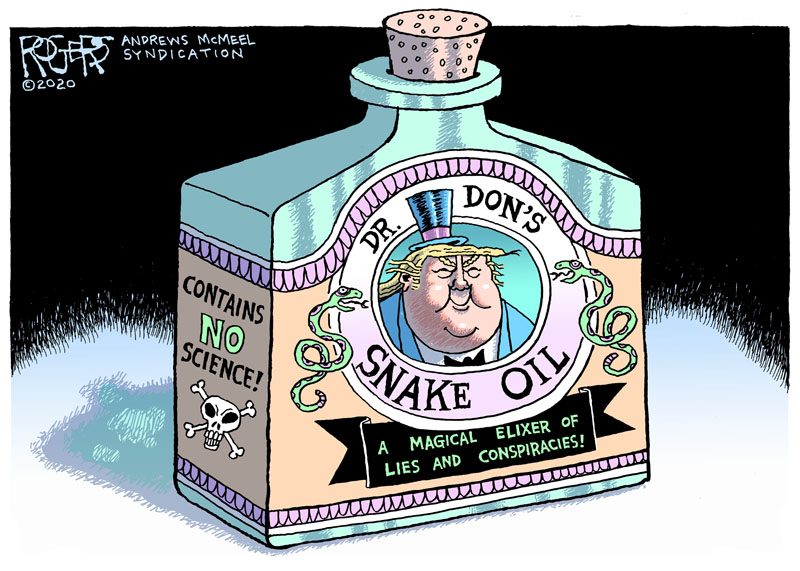 Rob Rogers
May 21, 2020
robrogers.com
Re: What Happens If Trump and Biden Both Claim Victory? Legal Scholars Fret Over Plausible Scenarios
 
Now, the nightmares start.
Here is why Biden must win by a landslide. Trump must be so soundly repudiated that he has no recourse.
James H. Williams
Posted on Portside's Facebook page
     =====
That's why Trump's defeat has to be by a landslide. Give any excuse to intervene, the right wing controlled Supreme Court will award the election to Trump.
James Andy Anderson
Posted on Portside's Facebook page
Re: The Coronavirus Was an Emergency Until Trump Found Out Who Was Dying
 
As I commented to a friend, it's a mistake to consider Trump to be a human being. She said he's more reptilian, as being cold blooded is quite appropriate. As having any empathy or human feeling is quite foreign to him. Attacking him and pointing our the truth does no good as he isn't bright enough to understand much of anything. As to Trump caring about who is dying, he doesn't seem to care about anyone or anything but himself. Keep up the good work, but you can't reason with someone who is totally unreasonable.
Leonard Rubinstein
     =====
long read. lots to ponder
Merrill Barton
Posted on Portside's Facebook page
     =====
The Shameful reality of two America's. One for those of privilege - White America, and another for people of color shamefully discriminated by people sworn to defend the constitution that protects all Americans. Shamefully supported be a President and justice department led by a man William Barr who believe people of color are not equal to whites. That thinking has led two killings of Unarmed Black men, voting rights violations, schools populated by kids of color to be shamefully deprived of equal funds for their academic needs, Catholic mums that protest for the discrimination suffered by kids at your Borders are arrested, yet thugs with AR15, and other weapons of war are praise as good people by the President for clearly violating the rights of the Michigan legislature.
How can you continue to call yourselves the greatest country in the world when millions of your citizens are afforded their inalienable rights to life liberty and the pursuit of happiness in the 10 amendments added to your original constitution.
Hector Burgos
Posted on Portside's Facebook page
Re: Not Simply a `Natural Disaster'
(posting on Portside Labor)
 
"The coronavirus pandemic is not simply a 'natural disaster.' How many people and which particular people will fall ill or die depends not just of the characteristics of the infection but also on the policies and institutions of the society."
Zvi Baranoff
Posted on Portside's Facebook page
One Step At a Time  --  cartoon by Michael de Adder
 
Michael de Adder
May 18, 2020
Toronto Star
Re: Clarence Thomas Wants to Shrink Your Free Speech Rights - Unless You Are a Rich Donor
 
This man is unbelievable , not only is he a traitor to his race but he's also a traitor to the ideals that many have died defending.
David Baker
Posted on Portside's Facebook page
Re: Prison Labor Replaces Striking Garbage Workers in New Orleans
(posting on Portside Labor)
 
slavery never really went away, it just waits for help from the government it declared war on. - and now they have all the support for it they could want - the Trump/McConnell cabal is working to force workers to return to disease ridden profitable workhouses under pain of starvation (cut off of unemployment compensation) while immunizing owners from suits for deadly workplace sites and policies.
Judith Halprin
Posted on Portside's Facebook page
Re: Spare CUNY, and Save the Education our Heroes Deserve
 
You could attend Brooklyn College in 1936 without paying a cent of tuition if your grades qualified and you were a local resident. *That's* what we need to get back to.
Eleanor Roosevelt
Posted on Portside's Facebook page
Re: 'Massive Giveaway to Health Insurance CEOs': Democratic COBRA Plan Denounced as Costly Taxpayer Gift to For-Profit Industry
 
The new COVID House bill is all about messaging, and the message on health care is a love song to the private insurance industry.
"For weeks, progressive lawmakers and advocacy groups pressed the House Democratic leadership to support an emergency expansion of Medicare coverage to the tens of millions of people who have lost their jobs and their employer-provided health insurance during the coronavirus pandemic.
But in their newly introduced 1,815-page coronavirus relief bill, House Democrats opted instead for a more expensive alternative that progressives and public health experts warn would provide inadequate care while lining the pockets of the insurance industry, which is already making a killing during the Covid-19 crisis."
Western Mass. Medicare for All
Posted on Portside's Facebook page
South Dakota Gob. Noem's War with the Lakota Nation  --  cartoon by Lalo Alcaraz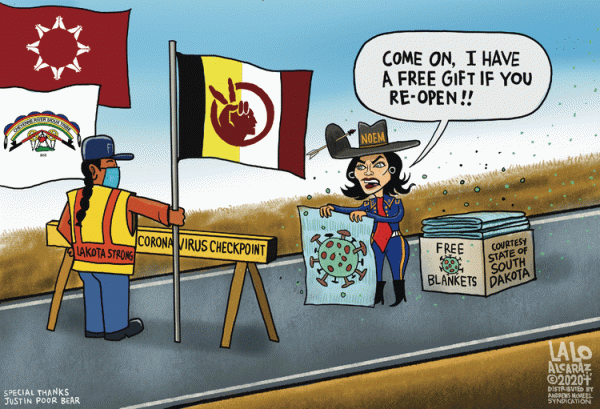 Lalo Alcaraz
May 13, 2020
The Daily Cartoonist
Re: Sanctions in the Era of Pandemic
 
Make your ratings great again, Sir.!!I
Lie, deny, muddle and hide..We are with you.
I love a good fear mongering snake oil salesman, sir.
Dan Callahan
Posted on Portside's Facebook page
Re: The Ever War on Terror: What on Earth Is the U.S. Doing Bombing Somalia?
 
America a major terrorist power usually over someone else's wealth (oil) in particular or opting out of economy based on the American dollar.
Wayne Gravelle
Posted on Portside's Facebook page
Re: Sexual Rights and Emancipation in Cuba
 
Interesting the level of detail on this question but not race ?
In solidarity
Otis Cunningham
Re: A Vegan Meat Company Purged Its Pro-Union Employees. Workers Say an Anti-Union Drive Prompted The Firings.
(posting on Portside Labor)
 
I don't think vegans are the problem here so much as people using veganism to exploit the working class for profit. I know a lot of good plant eaters and they are nothing like the horrible people running this company.
Barry Gardener
Posted on Portside's Facebook page
     =====
There is no such thing as "leftist capitalism."
Eleanor
Posted on Portside's Facebook page
Important lessons to be learned from national movement to organize PROGRESSIVE analysis & mobilization of union-community around intl economy and USA de-industrialization! Check out Mike's history as well as Monthly Review book by Intan Suwandi "Value Chains".
Leanna Noble
Posted on Portside's Facebook page
Re: Black Folk Musicians Created the Soundtrack for a Movement-And Helped Bob Dylan Find His Sound
 
Why make Bob Dylan the sounding board for this article? First of all, the writer omits the broad range of Black singers who inspired Dylan, some of whom were "folkies" like Odetta but most of whom were not.
Secondly, the great singers listed here don't depend on any far-fetched link with Dylan to establish their bona fides.
Dylan is nothing more than red herring in this piece!
John Woodford
Re: The Legacy of Clinton Jencks
 
Excellent story of an important piece of our history.
Mike Glick
Posted on Portside's Facebook page
3 more days to take 50% Off Haymarket Books!
 
50% Off ALL Haymarket Books until May 24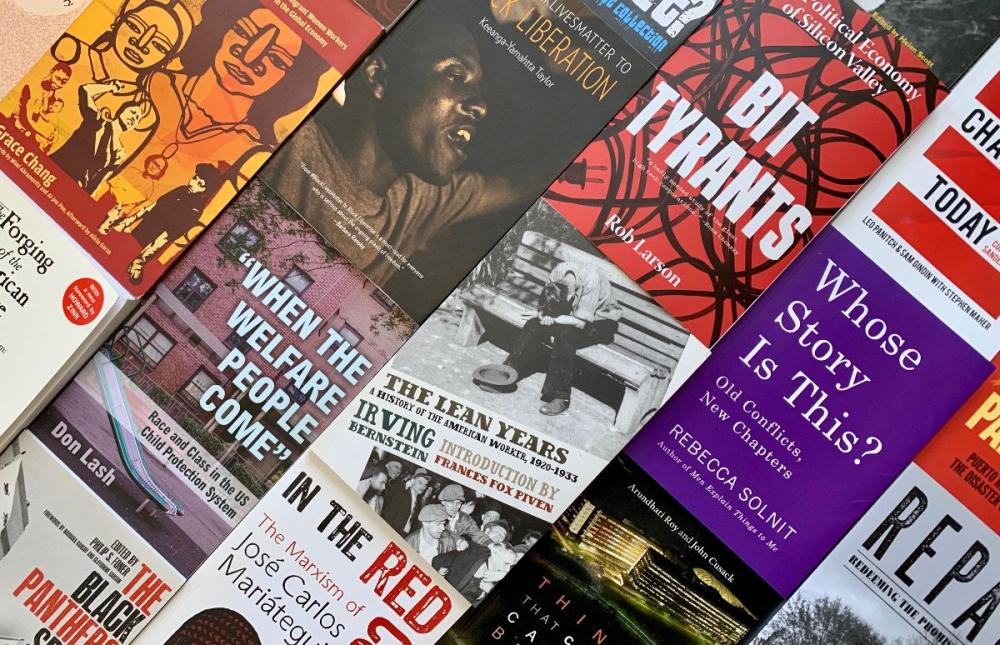 There are only a few days left to take advantage of our May Day 50% Off sale, ending May 24!
Continue to Reading Lists... Click here
Haymarket Books
PO Box 160185
Chicago, Illinois 60618
It's On: How To File an Absentee Ballot Now That There'll Be a Prez Primary in New York
 
May 20, 2020
The Indypendent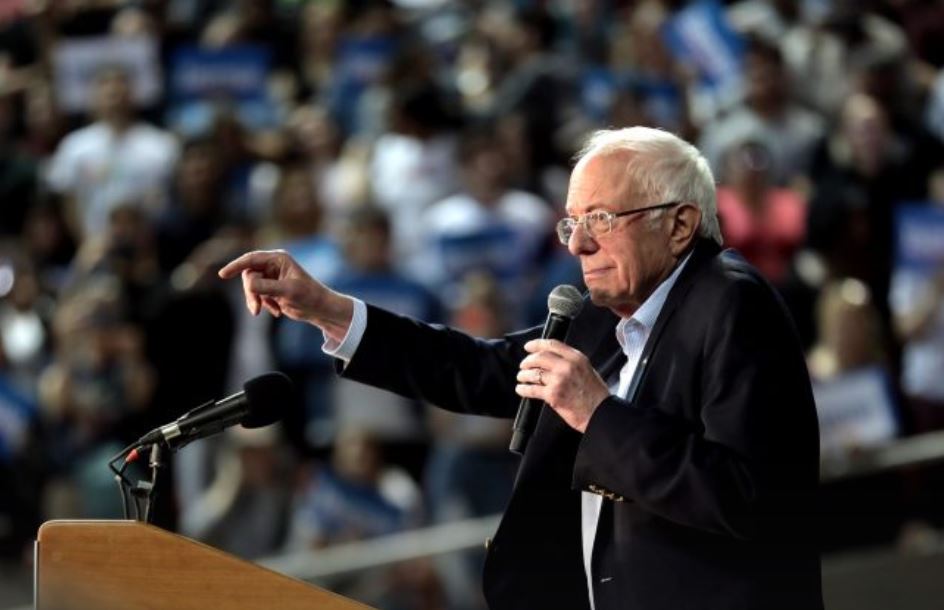 A federal appeals court has upheld a lower court ruling reinstating the presidential primaries in New York after Gov. Andrew Cuomo and Attorney General Letitia James, sought to block the vote from happening. Joe Biden, the presumptive Democratic nominee, will be on ballots on June 23, of course, but so will Andrew Yang and Sen. Bernie Sanders (I-Vt.).
Citing the COVID-19 pandemic, Gov. Cuomo planned to cancel the presidential primaries. However, local and Congressional primaries, set to take place over much of the state, were given the go-ahead. New York voters would have still cast ballots, they just wouldn't be able to fill out the top of the ballot line. 
"The argument that it's because of the pandemic doesn't really seem to fly," said Jeff Kurzon, an attorney representing Yang. "I believe it has something to do with politics." 
The Attorney General's office said it would not appeal to the Supreme Court. Gov. Cuomo, who has endorsed Biden, sought to distance himself from the attempt to suppress the vote, stating through a spokesperson that it was the Board of Elections' decision to cancel the primary. All four members of the panel are appointed by the governor.
Medical officials are urging all who can vote absentee to do so. Hard copy applications are currently being mailed out across the state to registered voters who have signed up to receive them but you can also fill it out online or by phone (1-866-VOTE-NYC/1-866-868-3692). The deadline is June 16. You can also fill out and submit an application in-person at a Board of Elections office by June 22 and receive a ballot.  
In addition, to the presidential contest, there is a slew of down-ballot races underway. Queens-Bronx Congresswoman Alexandria Ocasio-Cortez and North Brooklyn state Sen. Salazar are facing primary challengers. The two incumbent freshmen lawmakers initially ran for office, in part, because of the popularity Sanders and his democratic socialist ideas achieved during his 2016 presidential bid. And both have proven effective champions of their working-class constituents. 
They're backed by the Democratic Socialists of America as are five additional candidates running for state and federal positions this year:
Samelys López, Congressional District 15 (The Bronx)
Jabari Brisport, State Senate District 25 (Brooklyn)
Zohran Kwame Mamdani, State Assembly District 36 (Queens)
Marcela Mitaynes, State Assembly District 51 (Brooklyn)
Phara Souffaunt State Assembly District 57 (Brooklyn)
These Social Distancing Posters Are the Best Thing the Trump Administration Has Done for Parks
 
By Jody Serrano
May 17, 2020
Gizmodo
As we all know, the Trump administration isn't the best thing that's happened to parks in this country. Some might say even that's an understatement. Nonetheless, even it can manage to do some good things for parks every now and then. We're talking about the marvelous new social distancing posters being rolled out by the National Park Service (NPS).
The posters have an important mission: promote social distancing in parks during the covid-19 pandemic, reduce the spread of disease in parks, and promote virtual opportunities and experiences at parks. To be fair, the posters have been around for a few weeks now, but these gems clearly haven't received the attention they deserve.
Apart from being very pretty and colorful, the NPS posters are full of good advice for people looking to visit parks. For instance, they remind people to "recreate responsibly" and stay six feet away from each other. This means that people must be prepared to cover their noses and mouths if they're near others. They also remind park visitors to know their limits during these times and to postpone challenging hikes or new activities while first responders, parks and communities continue to concentrate on responding to the pandemic.
Some of the advice on the posters is also pretty funny. My personal favorite is the advice on the NPS' "Social Distancing Practices Chart," which kindly reminds people to please not "use slower friends as bear bait." I must admit though, the icon used for that phrase is quite vicious.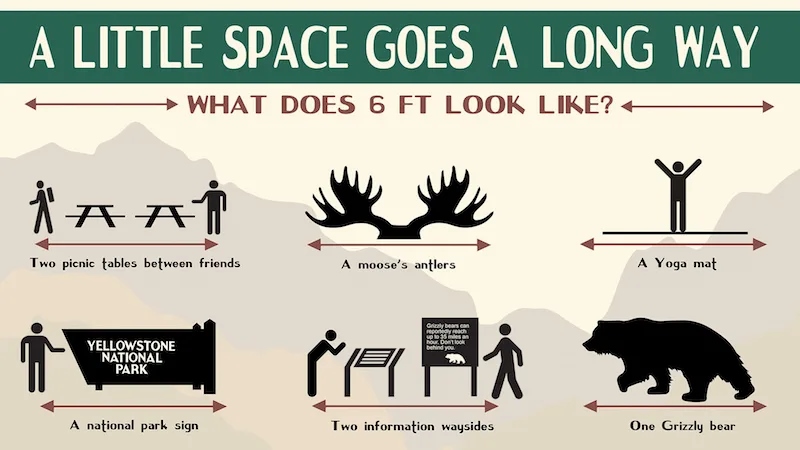 Tell Congress: During This Pandemic, Support Our Public Postal Service
 
Postal workers are keeping our country moving and US economy working for us during this time of crisis - getting prescriptions delivered to people sheltering in place, making e-commerce possible and keeping families connected. It is the emergency distribution system when our country is in crisis.
But at this unprecedented time, that work is under threat. The Coronavirus shutdown is plummeting postal revenues while increasing costs. The Postal Service could run out of money by the end of the Summer and the Trump administration is trying to leverage the crisis to sacrifice our public Postal Service at the altar of private profit.
The loss of the USPS would shatter our response to the Coronavirus pandemic, hit already weakened businesses, and ravage communities. Our public Postal Service needs all American leaders - Democrats and Republicans alike - to provide urgent and ongoing financial support from the Federal Government during this public health and economic crisis.
Add your name.  Email your Congress members now.

Before COVID-19, UNITE HERE was the fastest growing private sector union in the nation. Today, as a result of the pandemic, 98% of its 300,000 members are unemployed and face an uncertain future. No other union is experiencing this level of displacement. As the coronavirus decimates the hospitality, food service, and gaming industries, workers around the country are struggling to survive while hotel owners and investors are reaping relief benefits. ( read the full Forbes article)
UNITE HERE knows how to fight when the odds are against them, and the union is already rising to this challenge. But they need our help to emerge stronger than ever.
Please donate to the UNITE HERE Education and Support Fund to support hospitality workers hardest hit by the sudden loss of income. Contributions will be directed to: Paying for food, rent, and utilities; maintaining family health insurance; and supplementing income to those most in need.
UNITE HERE has raised wage and benefit standards for union and non-union workers across the hospitality sector. Its largest local, the Culinary Union Local 226 in Las Vegas, developed innovative programs of labor management cooperation in recruitment, training, and health care that are models for the nation. Their rank and file leaders play a critical role in election campaigns and have led fights to reign in health care and drug prices in states across the country.
And it is a leading union in the fight for immigrant worker rights, from the 2003 Immigrant Workers Freedom Ride to the ongoing battle to protect workers with DACA and Temporary Protected Status from deportation.
Our solidarity now will help the labor movement come out of this pandemic stronger and ready to face the challenges of the future. Please consider donating to the UNITE HERE Education and Support Fund.
Sincerely,
Bill Shields, Chair, Labor and Community Studies, City College of San Francisco, Past Board Member, United Association for Labor Education, Member, Labor and Working Class History Association
Ruben J. Garcia, Professor of Law, Co-Director of the Workplace Law Program, University of Nevada, Las Vegas, Boyd School of Law
Ken Jacobs, UC Berkeley Center for Labor Research and Education, Institute for Research on Labor and Employment
Rick Hurd, Professor Emeritus of Labor Studies, Cornell University
Kent Wong,  Director of UCLA Labor Center 
Julie Farb , Director of Growth Strategies, AFL-CIO
Patricia Campos-Medina Co-Director New York State AFL-CIO/Cornell Union Leadership Institute The Worker Institute at Cornell University, ILR School
Joshua B. Freeman, Distinguished Professor of History, Queens College and the Graduate Center, City University of New York
Anneta Argyres, Labor Extension Director, UMass Boston
Steve Striffler, Director, Labor Resource Center, UMass Boston
Gordon Lafer, Professor Labor Education and Research Center, University of Oregon
Rebecca Kolins Givan, Associate Professor, School of Management and Labor Relations, Rutgers University Labor Education Center
Stephanie Luce, Professor, School of Labor and Urban Studies/CUNY
Elizabeth Pellerito, Director, Labor Education Program University of Massachusetts Lowell
Eve Weinbaum, Associate professor at the Labor Center, University of Massachusetts, Amherst
Erik Gellman, Associate Professor of History, UNC
Jessica Wilkerson, PhD, Professor of History and Southern Studies at the University of Mississippi
Ruth Needleman, Professor Emeritus Labor Studies at Indiana University
Erin Johansson, Research Director, Jobs With Justice
Marilyn Sneiderman, Executive Director, Center for Innovation in Worker Organization at Rutgers University School of Management and Labor Relations
Janice Fine, Associate Professor , Research and Strategy Director at the Center for Innovation in Worker Organization (CIWO) at the School of Management and Labor Relations, Rutgers University
Clare Hammonds, Professor of Practice, UMass Amherst Labor Center
Ruth Milkman, Professor of Sociology and Labor Studies, CUNY
Cathy Feingold, Director of the International Department AFL- CIO
Helena Worthen, Professor Emerita, Labor Education Program, School of Labor and Industrial Relations, University of Illinois, Member, UALE
Joe T. Berry, Ph.D., Retired, City College of San Francisco and U of Illinois, Labor Studies and Labor Education, UALE member.
 
P.S.  Want more evidence of Unite Here's fighting spirit?  Check out this short video from President D. Taylor.
International Campaign for Kurdish Musician Jailed in Turkey
 
An international campaign has been launched to demand the release of the Kurdish musician Nûdem Durak, who has been imprisoned in Turkey since 2015.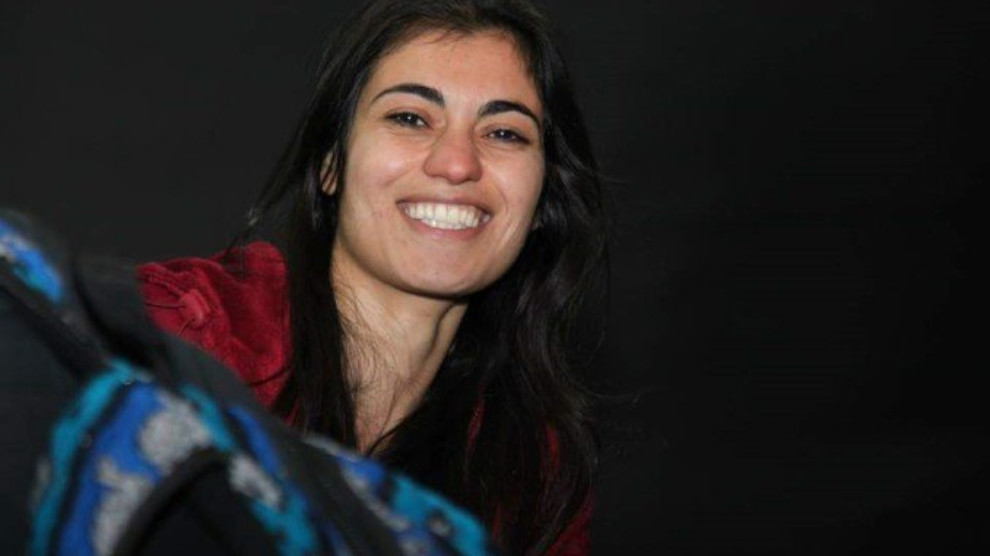 Kurdish musician Nûdem Durak was arrested in Turkey in 2015 and sentenced to 19 years imprisonment. Her only crime was to sing songs in Kurdish, her native language. The now 32-year-old musician is jailed in Bayburt Prison.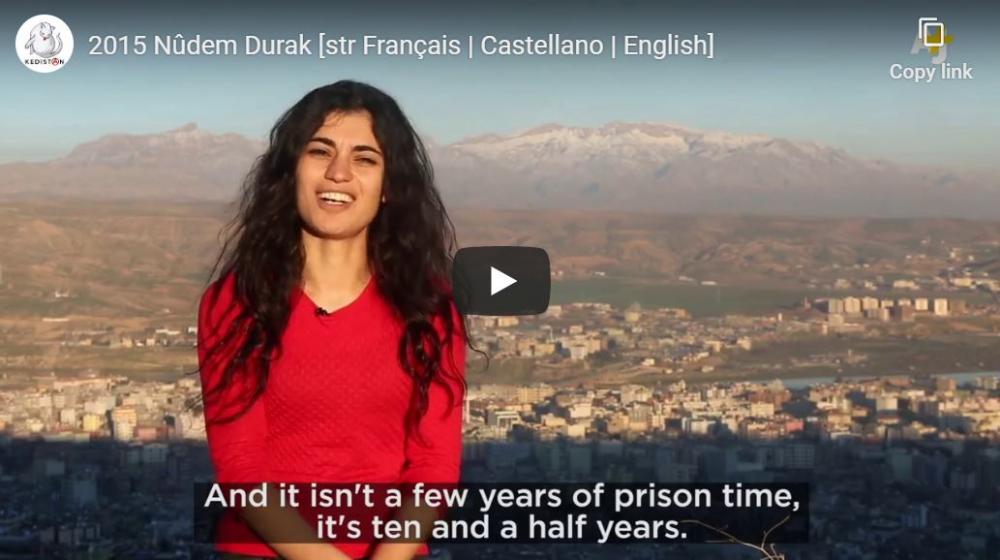 Watch here
In order to ensure Durak's release, an international campaign has been launched in France, involving artists and intellectuals from England, the US, Sweden, Senegal, Morocco, Algeria, Tunisia, Guadeloupe and other countries.
According to the organizers, internationally known personalities such as Angela Davis, Noam Chomsky, Ken Loach, David Graeber, Peter Gabriel and Roger Waters are demanding the release of Nûdem Durak. In a message of solidarity, the French-Brazilian eco-socialist philosopher Michael Löwy writes: "Her songs are part of the tradition of the oppressed and the Kurdish tradition preserved over centuries. For those who still believe in peace, freedom and human dignity, the imprisonment of Nûdem Durak is an unbearable insult. Therefore, an outcry must be raised throughout the world, in Paris, New York, Rio, Santiago, Berlin."
French poet Delphine Durand has written a poem for Nûdem Durak. Durand, who has written poems for Kurdish politician Hevrîn Xelef, who was murdered last October in northern Syria by Islamist proxies backed by Turkey, and for the political prisoners in Amed (Diyarbakir), also calls for solidarity with female prisoners in various places around the world.
Chilean author and filmmaker Carmen Castillo, who has lived in France since 1976, writes in a message: "You sing songs, Nûdem, in Kurdish. That is a language I do not understand. Nevertheless, for the last few days I have been experiencing each song as a holistic experience. It's about our freedom. No government, no wall, no guardian can stop this miracle: Your voice makes the distance disappear."
The campaign is being run under the title "Free Nûdem Durak" on various social networks and can be reached through the links below:
http://www.kedistan.net/category/eclairages/dossier-special-nudem-durak/?fbclid=IwAR1vRTAB8-cKTC44uVQKzkzDXBGipNTUpnI_sXUWf9inUoiyrsLu_FZ6miQ
• Facebook @nudemdurak
https://www.facebook.com/nudemdurak/
• Twitter @NudemDurak
https://twitter.com/NudemDurak
• Instagram @freenudemdurak
https://www.instagram.com/freenudemdurak/
• Youtube Free Nûdem Durak
https://www.youtube.com/channel/UCB3DR_IrxHNjX4pvz5li7UA/
GLOBAL TEACH-IN May 26: Democratize the Crisis #democratizethecrisis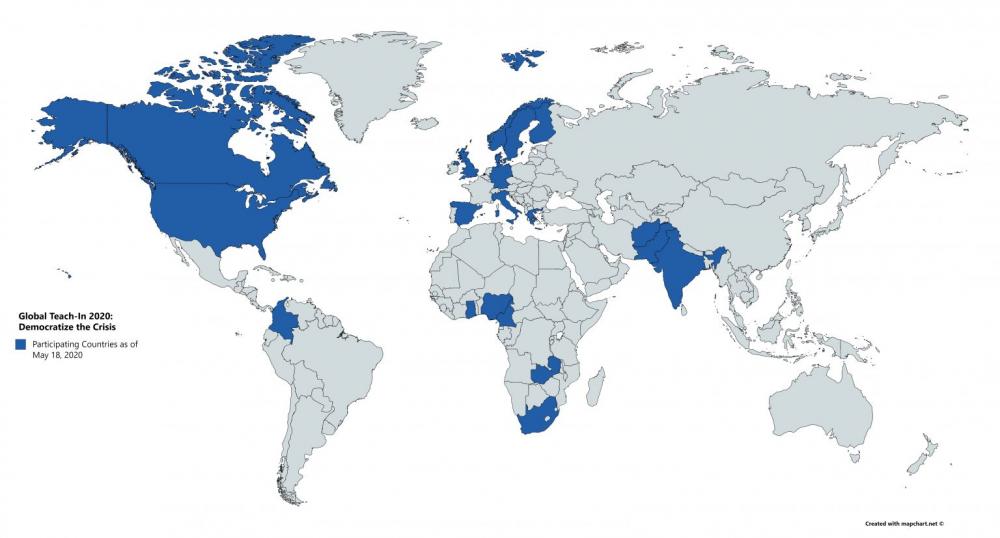 Tuesday, May 26 -- Global Teach-In 2020: Democratize the Crisis.  .  The global coronavirus pandemic, leading to about 300,000 deaths, with more than 4 million, has led to a global political mobilization. The event combines seminars and a global town meeting to identify problems and propose solutions for strengthening democratic institutions. The health, economic, political and informational challenges posed by the coronavirus pandemic will be examined.
This globally broadcast event involves multiple countries and locations. It takes place in three parts:
PART I: A Global Broadcast with various panels of speakers (for a global audience);
PART II: Local (Virtual) Meetings (involving persons in your region or country);
PART III: Reports from Local Meetings (a representative from each member of the global network reports to the Global Broadcast).
HOW TO JOIN THE GLOBAL TEACH-IN?
May 26, 2020
7:00 Los Angeles and San Francisco; 9:00 Madison, Wisconsin; 10:00 Ann Arbor; Boston; La Paz; and New York City; 14:00 Accra, Ghana; 15:00 Bamenda; Lagos; 16:00 Copenhagen, Cologne, Johannesburg, Lusaka, Rome, Stockholm; 17:00 Tampere; 19:00 Islamabad; 19:30 New Delhi.
Tune in on Facebook here: https://www.facebook.com/globalteachin/
View the teach-in on this page (here): https://www.globalteachin.com/
WHO IS THE GLOBAL TEACH-IN?
The global teach-in on May 26, 2020 involves various speakers including David Graeber, Hillary Wainwright, and Dario Padovan. But more importantly, the Global Teach-In is you! You get to participate and shape the discussion in local/regional workshops and listening groups (where these are organized) and in thematic or language-grouped thematic workshops that follow in this 3 hour+ event. The audience becomes the participant to balance the one-way communication flow of the expert. The critical public tests, adapts and reconfigures idea of experts. We link the best of vertical information flow and horizontal applicability and accountability. To participate in the over 25 organizing groups, find your local contact here: https://www.globalteachin.com/locations. If you want to form a group for future events, contact us on Facebook or Twitter.
WHO IS ENDORSING THIS EVENT?
The Global Teach-In 2020: Democratizing the Crisis is endorsed by: Commons.fi (Finland), Demokratisk Omställning (Sweden), Goliathwatch (Germany), the Stockholm Centre for International Social and Economic Reconstruction (Sweden) and the UNESCO Chair in Sustainable Development and Territory Management, University of Turin (Italy).
WHERE IS THE GLOBAL TEACH-IN?
We are in locations in countries throughout the globe and will broadcast live on Facebook. See the links for more information. You can participate in a local, national or transatlantic meeting in the languages of participating regions, e.g. English, German, Swedish, Italian. The Global broadcast will be in English, however.
WHAT IS THE TEACH-IN AGENDA?
The immediate goal is to advance: a) knowledge and resource sharing among organizers and local communities; b) advancement of short-term solutions; c) promotion of long-term structural reform; d) creating organizing bridges through reconstructive institutions, e) testing of long-term and short-term proposals; f) integration of diverse issues, "connecting the dots"; g) creating a mass media and political focal point. These seven principles provide a way to #democratizethecrisis and are explained in detail here. A global meeting like this is an ideal platform to advance the idea and practice of "transnational social production networks" in which we reutilize design, innovation, manufacturing and related capacities to meet social needs.
More information here.
The Truth: Lost at Sea. Film screening & panel discussion. - May 23 (Freedom Flotilla Coalition and CANADIAN Boat to Gaza)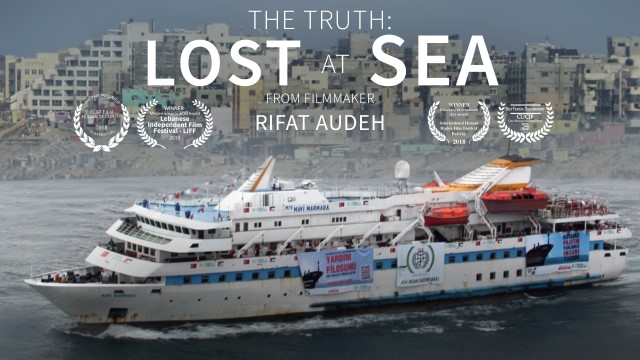 We will stream the award-winning film "The Truth: Lost at Sea"(by special arrangement with the distributor), followed by a discussion with film-maker Rifat Audeh and other Mavi Marmara survivors.
In 2010, the Gaza Freedom Flotilla, a convoy of six boats carrying humanitarian aid, attempted to break Israel's blockade of Gaza. After refusing Israel's demand to turn away, the flotilla continued on course through international waters, and the Israeli Occupation Forces launched a night-raid attacking the boats. On one of the boats, the Mavi Marmara, the Israeli commandos shot and killed nine human rights activists and a tenth later died of his injuries. The film details what happened that night, unravelling how the story was spun by the media.
 
Saturday, May 23
10 am Pacific North America, 12 Central, 1 pm EDT, 18h00 England, 19h00 France, 20h00 Palestine
Please register here
See more updates about upcoming Freedom Flotilla events here
Virtual #NoWar2020 is next week - May 28-29-30 (World Beyond War)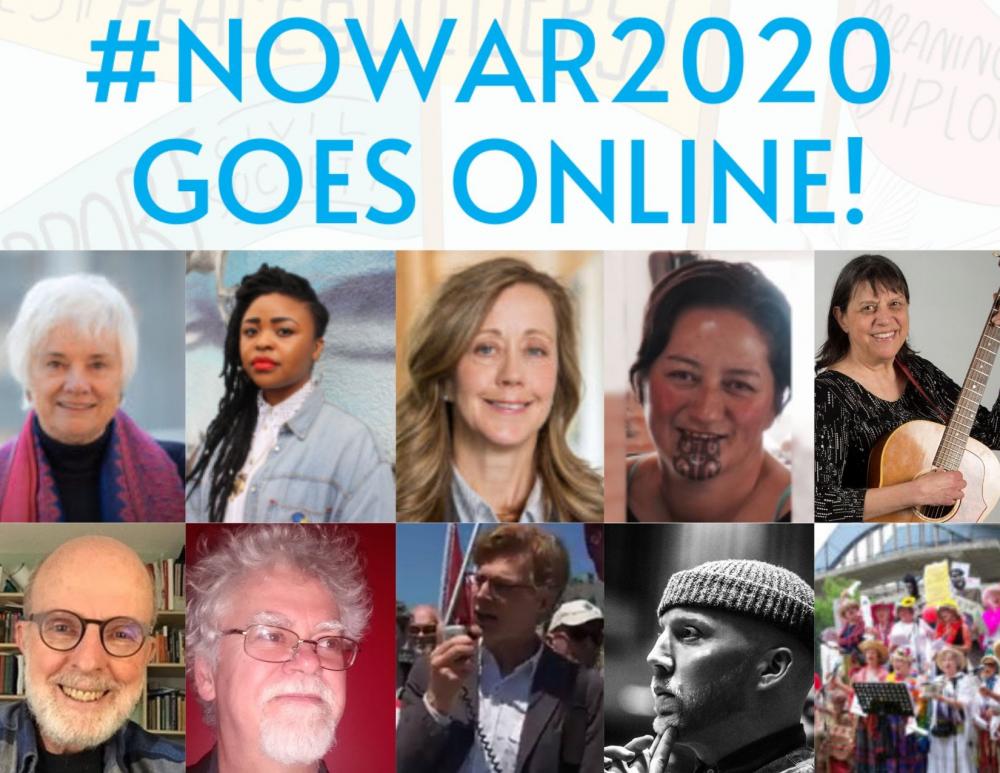 We're planning 3 days of online activities from May 28-30 to talk about nonviolence strategies, hear from organizers who have successfully shut down weapons expos in their communities, and learn about viable pathways to convert from a war to peace economy. Here are the details:
Day 1: Thursday, May 28 at 12:00pm-2:00pm Eastern Time (GMT-4): Mary-Wynne Ashford will kick off #NoWar2020 with a virtual workshop on "Nonviolence Strategies - 101 Solutions to Violence, Terror, and War." Mary-Wynne is a retired Family Physician, former Co-President of the International Physicians for Prevention of Nuclear War, and former President of Physicians for Global Survival (Canada). Her workshop will address ways that we can use nonviolence principles at the personal, community, and international level. Register here!
Day 2: Friday, May 29 at 3:00pm-6:00pm Eastern Time (GMT-4): We'll hear 2 back-to-back panel presentations. The first from 3pm-4:30pm will feature organizers from Canada, New Zealand, and the UK who have successfully shut down weapons expos in their communities. Te Ao Pritchard of Auckland Peace Action, Siana Bangura of Campaign Against Arms Trade, Richard Sanders of Coalition to Oppose the Arms Trade, and Colin Stuart of NoCANSEC Ottawa will share practical advice about how to run a campaign against arms fairs. Next, from 4:30pm-6:00pm, we'll hear from Tamara Lorincz of Canadian Voice of Women for Peace, Simon Black of Labour Against the Arms Trade, and Brent Patterson of Peace Brigades International-Canada about economic conversion. We know we oppose war, but what's the alternative? We'll talk about how to promote a just transition for arms industry workers, and why the path towards a green economy must include demilitarization. Register for Day 2!
Day 3: Saturday, May 30 at 3:00pm-5:00pm Eastern Time (GMT-4): We're mixing it up on Day 3 with a virtual anti-war activists open mic session. This free-form session will be a time for participants like YOU to share music, poetry, stories of activism, and more. We'll also hear reports from World BEYOND War chapter coordinators from around the world, along with music from Sandy Greenberg and the Ottawa Raging Grannies. Sandy is both a talented musician and a dedicated peace activist with both Canadian and Nova Scotia Voice of Women for Peace. The Ottawa Raging Grannies write satirical lyrics to familiar tunes; they rage in song to get out their message about peace, justice, equality, and politics to the widest audience. RSVP for the open mic!
All events are free and open to the public. Please forward this email to your networks!
#NoWar2020 had originally been planned as a week-long series of events in Ottawa, Canada, but due to the coronavirus pandemic, has been shifted to an online event. The virtual #NoWar2020 events are a preview of the full week of education and nonviolent action planned for June 2021 in Ottawa, to coincide with CANSEC, North America's largest weapons expo. Save the date to join us in person in June 2021!
For a world beyond war,
World BEYOND War 
513 E Main St #1484
Charlottesville, VA 22902
Celebrating Juneteenth! An Abolitionist Take on Black Liberation Movements - June 13 (Critical Resistance)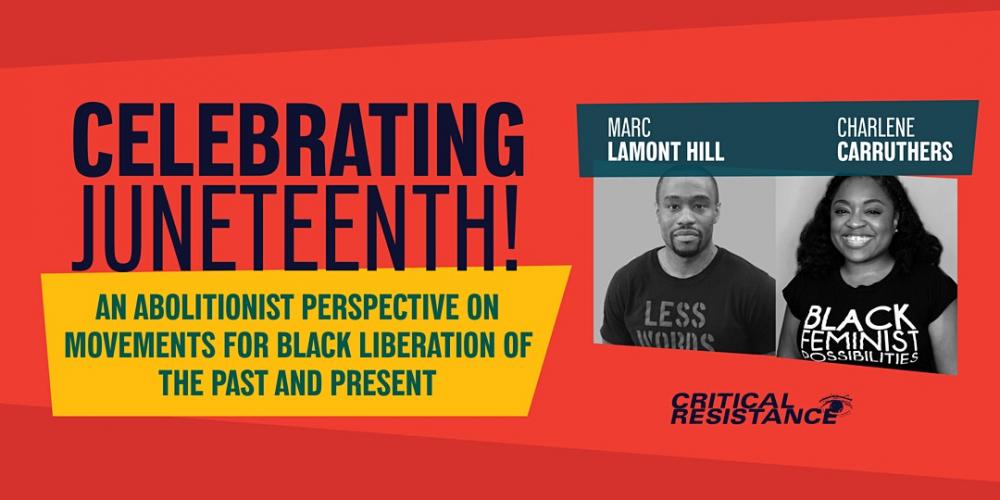 Critical Resistance invites you to "Celebrating Juneteenth! An Abolitionist Perspective on Movements for Black Liberation Past and Present"
Saturday, June 13, 2020
5:00 PM - 8:00 PM PDT
Critical Resistance (CR) is proud to present "Celebrating Juneteenth! An Abolitionist Perspective on Movements for Black Liberation Past and Present," a virtual event and fundraiser with Charlene Carruthers and Marc Lamont Hill.
Two and a half years after the Emancipation Proclamation was issued ordering states in the confederacy to release their slaves, Black people in Texas achieved their liberation from chattel bondage. On June 19,1865, General Order Number 3 was read from the Ashton Villa balcony in Galveston, Texas, that demanded that slaveholders free their slaves. That day, Juneteenth, has become an annual occasion for celebration, reflection, and education about the meaning of freedom and the on-going, universal struggle for liberation from domination.
These questions about the true meaning of freedom are more relevant than ever to the work of abolitionists and those working to eliminate the prison industrial complex (PIC) and its attendant harms. To explore the legacy of Juneteenth and ongoing struggles for Black (and international) liberation, CR is happy to host a conversation between two prominent Black thought leaders and firebrands, Charlene Carruthers (BYP100 cofounder) and Marc Lamont Hill (BET news host).
During what's sure to be an engaging evening, we will see Charlene and Marc in discussion about inspirational histories in light of contemporary abolitionist movements. We look forward to sharing space with you all during this important discussion to connect the movements of our past to the current political landscape in Oakland and beyond. Please join us and help spread the word.
We hope to see you this June! No one turned away for lack of funds. All contributions go to support the organizing of Critical Resistance Oakland chapter and all of Critical Resistance.
About the Speakers
Charlene Carruthers is a political strategist, writer and leading community organizer in today's movement for Black liberation. She is the founder of the Chicago Center for Leadership and Transformation and author of Unapologetic: A Black, Queer and Feminist Mandate for Radical Movements.
Follow Charlene on IG @CharleneCarruthers and on Twitter @CharleneCac
Marc Lamont Hill is one of the leading intellectual voices in the country and an abolitionist. He is currently the host of BET News and BLACK COFFEE, as well as a Temple University Professor. Trained as an anthropologist of education, Dr. Hill's research focuses on the intersections between culture, politics, and education in the United States and the Middle East. He has received numerous prestigious awards from the National Association of Black Journalists, GLAAD, and the International Academy of Digital Arts and Sciences.
Follow him on IG and Twitter @marclamonthill

Tickets -  No one turned away for lack of funds. All contributions go to support the organizing of Critical Resistance Oakland chapter and all of Critical Resistance.