Tidbits - Dec. 30, 2021 - Reader Comments: Joe Biden, Congress, Executive Action, Presidential Power; Donald Trump, GOP, and fascist danger; Angela Davis; Starbucks and Amazon workers; Desmond Tutu; Chile; Christmas; more....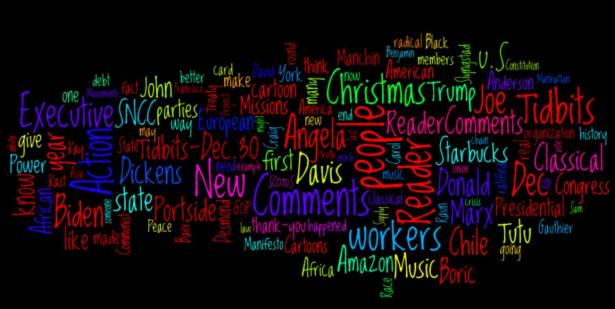 Tidbits - Reader Comments and CARTOONS - Dec. 30, 2021,Portside
Take Action:
Re: Joe Biden Must Use Presidential Powers to Deliver on Promises
Would give more people a reason to vote Dem too!
Kay Clark Rine
Posted on Portside's Facebook page
      =====
being that it's President Biden's first year in office, perhaps he's giving the houses of Congress a real chance to pass the Bills so that if/when he Does use Executive Orders to make law, he can Honestly say he gave Congress a real chance to get it together.
Emilie Surtees
Posted on Portside's Facebook page
      =====
Ross Barkan seems to forget the SCOTUS, which could easily strike down any act by the Executive that, in the Court's view, exceeds the President's Article 2 powers. He may be right as far as the argument for reducing prescription drug prices is concerned, but I'm skeptical.
Barkan cites American Prospect reporter Natalie Shure's article on Section 1498 and "march in rights." Her Louisiana example seems inspiring, but that's a single state, and she doesn't say whether the state's action was contested in the courts, nor does she report on any court decision in the matter.
Besides, the SCOTUS seems likely to give a state government more leeway than it would the President in this circumstance. Federal Executive student debt forgiveness might be a really big slog.
(Another factor could be how debt holders respond to such a massive write-off.)
I don't share Barkan's confidence that Biden can use such a wartime power in peacetime for purposes like forgiving student debt without getting push back from the Court, and it's surprising that he's not considered this aspect of the problem. However, there is the upcoming SCOTUS hearing and decision on federal vaccine mandates. It is possible that the Court might surprise us.
Geoffrey Jacques
Posted on Portside's Facebook page
      =====
True this but Executive actions are easily undone by another administration.
Deborah R Kingery
Posted on Portside's Facebook page
Re: Progressive Caucus Urges Biden to Wield 'Powerful Tool of Executive Action' as Agenda Stalls
We cannot allow Manchin and Sinema to destroy the Republic!
Charles Ford
Posted on Portside's Facebook page
      =====
I can't wait until the Democratic Party gets an absolute majority so that people like Joe Manchin and Sinema can get thrown out of the party.
Ramon Capois
Posted on Portside's Facebook page
Coal Baron Joe Manchin tanks climate agenda  --  cartoon by Benjamin Slyngstad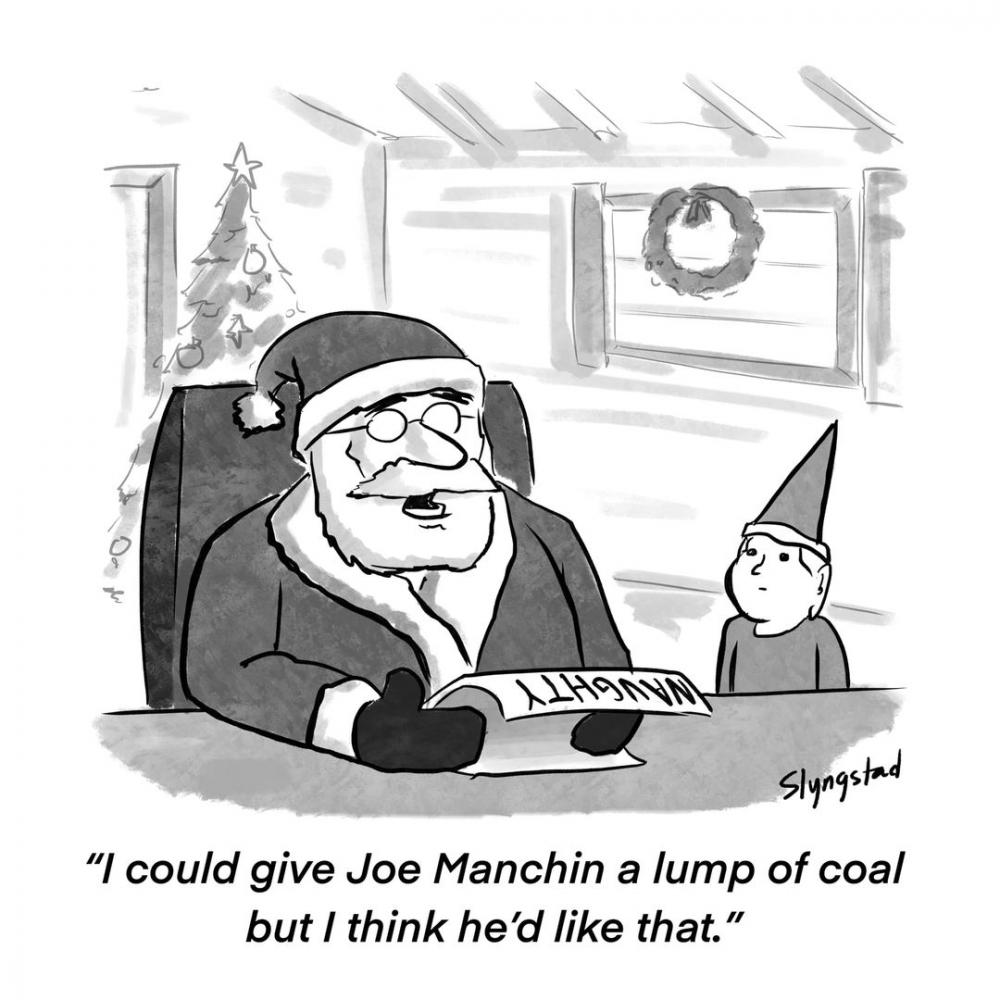 Benjamin Slyngstad
December 21, 2021
Slyngstad Cartoons
 
Re: Donald Trump's Next Coup Has Already Begun
They have already began the process to create a much better insurrection this time, redistricting is taking place, poll watchers will all be republicans, Republicans, will need a republican approved identification, and the polls will not be in minority neighborhoods, 🤔🤔😠😠
Craig Gauthier
Posted on Portside's Facebook page
Re: Donald Trump Has Normalized Fascism
Incredible analysis, more people need to wake up to what's happening politically I'm this country ,it's not gonna be easy to turn this around, 🤔🤔😠😠
Craig Gauthier
Posted on Portside's Facebook page
Old Acquaintance  -- cartoon by Rob Rogers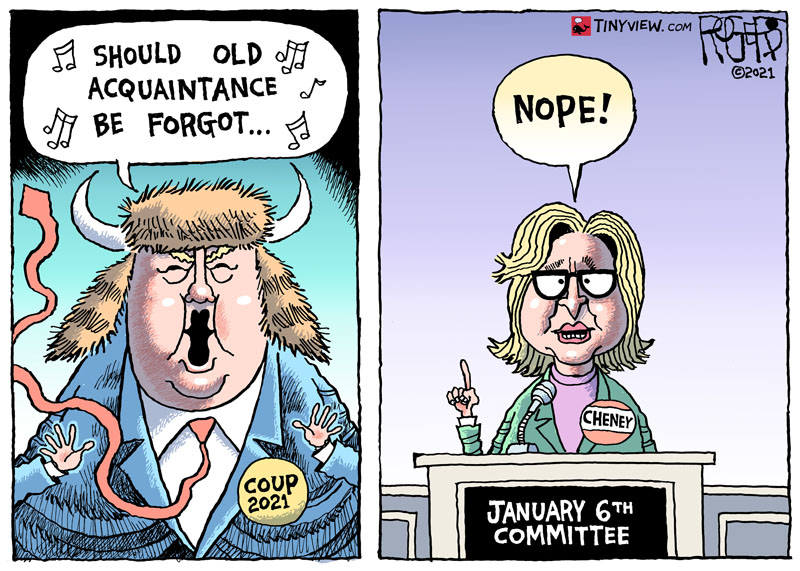 Rob Rogers
December 29, 2021
robrogers.com
 
Re: Angela Davis Speaks on Abolition, Justice for Palestine and Critical Race Theory
Angela Davis remains an inspiration- with every speech or book or interview, she invites the audience to think, and to dream. How she maintains her always respectful approach to peoples while challenging assumptions, encouraging us to -dare I say- hope, is her enduring mystery and gift to our nation and world.
Thank you! Happy New Year to all and to Professor Angela Davis!
Kay Anderson
      =====
This year I donated some documents about Angela's trial to the Schlesinger Library at Radcliffe/Harvard, which had been owned by my stepmother Mary Kaufman, a consultant to Angela's legal team. They are interesting strategy documents. Soon they will be online - Google The Papers of Angela Y. Davis to check them out. The archivists at the library tell me this collection is heavily utilized by historians and researchers.
Marilyn Albert
Posted on Portside's Facebook page
Re: How a Group of Starbucks Workers Emerged Victorious in Their Union Fight
In terms of the "power balance", workers need a union even with the best-intentioned employer. Being an employee under a set of rules established exclusively by the employer mirrors the elements of "slavery". Capitalism is antithetical to the empowerment of working people.
John Filo
Posted on Portside's Facebook page
      =====
Companies hate Unions. It gives the workforce some power and they don't like that.
Anne Neville
Posted on Portside's Facebook page
      =====
Let's hope that the workers will be treated fairly and respectfully by management and in return the workers will show the same good attitude towards the customers….
Susan Brown
Posted on Portside's Facebook page
Re: Amazon Unionization Efforts Get A Boost Under A Settlement With U.S. Labor Board
(posting on Portside Labor)
How generous of them considering that's the law!!
Mickie Coppa
Posted on Portside's Facebook page
This is Free Enterprise  --  John Baer cartoon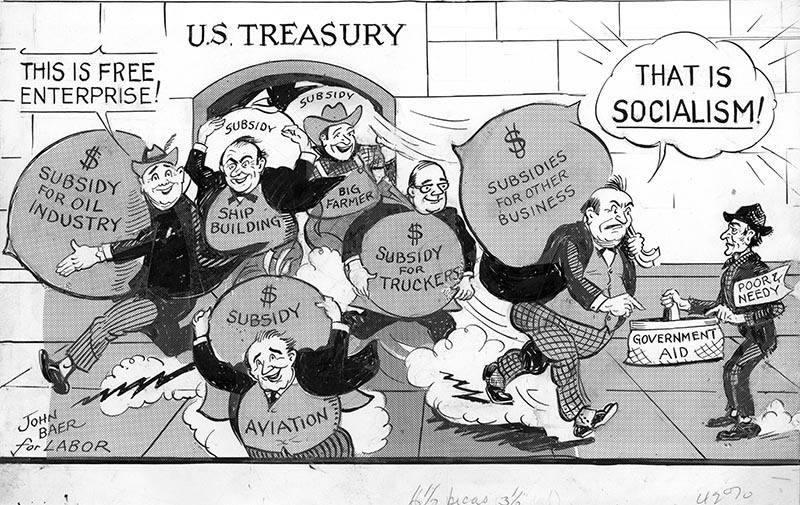 John Baer
Labor - National Railroad Union
Kheel Center collection of John Baer Cartoons
 
Housing for All  -- holiday card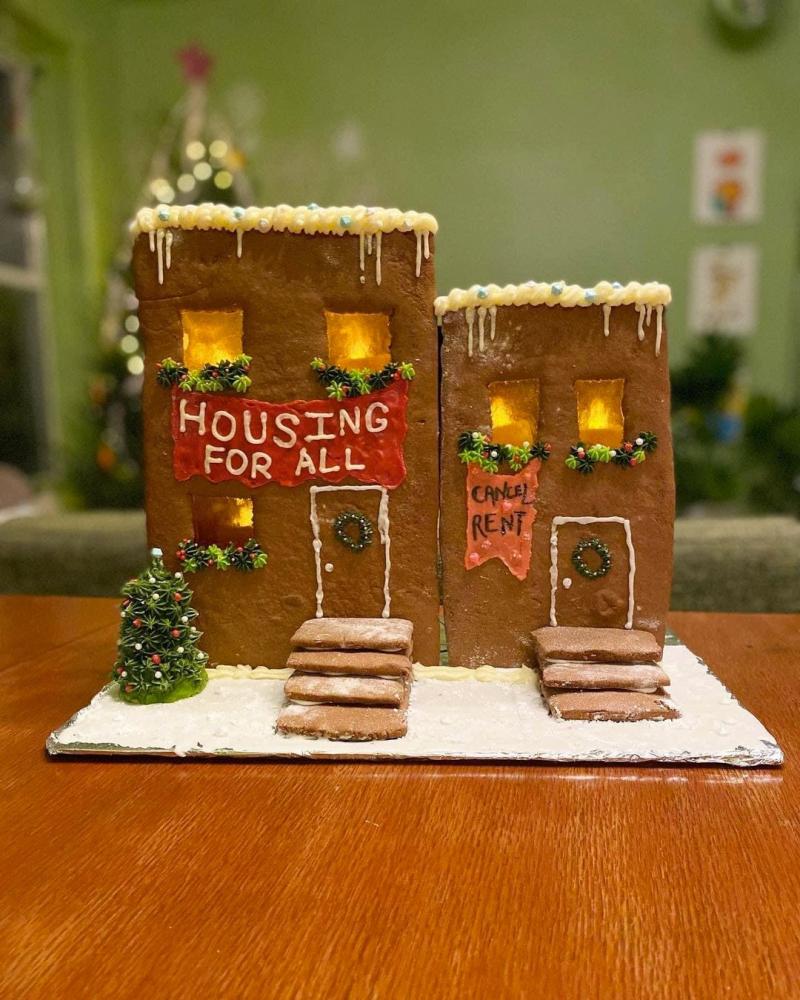 Re: I'm A Twenty Year Truck Driver, I Will Tell You Why America's"Shipping Crisis" Will Not End
(posting on Portside Labor)
 
We have supply problems b/c greedy CEO's have everything made in Asia and shipped here instead of building American factories with American workers
Michael Betancourt
Posted on Portside's Facebook page
      =====
Via Steven Greenhouse comes this interesting (but in my opinion flawed) story about long haul truck driving. https://www.theguardian.com/business/2021/dec/27/us-truck-drivers-econo… It's a rebuttal of the story that there's a driver shortage. Well there is but it's because drivers cannot make a living as the job is structured now. Oddly omitted is the degree to which drivers have been suckered into becoming "owner operators" of their vehicles. Big debt keeps them on the road. Pay per mile and no pay for waiting keeps those wheels rolling. In the comments, a similar take from a few days ago on Portside.
Daniel Millstone
Posted on Portside's Facebook page
Re: Millions of Angry, Armed Americans Stand Ready to Seize Power If Trump Loses in 2024
An example of what we face now, perhaps not waiting until 2024 (the 2022 elections are not going to be smooth).
"The idea that people would take up arms against an American election has gone from completely farfetched to something we have to start planning for and preparing for," says an expert on gun policy and constitutional law."
(gratitude to Portside for this link)
Kipp Dawson
Posted on Portside's Facebook page
Re: New England Once Hunted and Killed Humans for Money. We're Descendants of the Survivors
Yes, in fact the first official Thanksgiving celebrated by white people was the celebration of the massacre of 100 or so Pequots near what is now Mystic, Conn.
Robert Whitney
Re: Tutu's Passing is a Reminder of the ANC's Unfinished Business
Desmond Tutu quotes
    "Europe became rich because it exploited Africa; and the Africans know that."
    "In its history, Europe has committed so many massacres and horrors that it should bow its own head in shame."
    "When the missionaries came to Africa they had the Bible and we had the land. They said 'Let us pray.' We closed our eyes. When we opened them we had the Bible and they had the land."
    "I mean in the South African case, many of those who were part of death squads would have been respectable members of their white community, people who went to church on Sunday, every Sunday."
Tutu and the African people could plainly see western imperialism and colonialism for the brutality it was and is …
Why do western leftists refuse to acknowledge western colonialism, imperialism and genocide?
David Raun
Posted on Portside's Facebook page
Re: Chilean Voters Reject Pinochet Legacy - A Nail in Neoliberalism's Coffin
(posting in Global Left Midweek)
Francisco Dominguez makes some good points in his article on Chile but I feel obliged to point out some mistakes, easily made by someone who does not live here: One important error: We have not taken out 70% of the individual private pension funds, but three times 10%, a total of 27% at the individual level, although a minimum allowance of 1 million pesos (around 1,000 pounds) means that over 3 million people now have no funds left. The total withdrawn is USD 47,250 billion, of a total of USD 214 billion last year – only 22%. Boric will not be supporting more withdrawals, I think, so the last one may well be the last.
I think to say that 118 members of the Convention are in favor of 'radical change' is an exaggeration. Many of the 'center-left' and many 'independents' are not. The new constitution will almost certainly be much better than the present one but it will not be very radical. The important thing is that it will not prevent radical laws being approved, as the present one does. I also disagree with his first sentence. That Kast got the most votes in the first round, we did not think" the rebellion … appeared to be at an end." Kast got 28% and Boric 26% - we had expected that those two would go into the second round. The low vote for Boric was a shock but the percentages showed that there was everything to play for – the game was not over at all.
Francisco is absolutely right about the anti-communist campaign of terror, except that although primarily aimed at the petty bourgeoisie it affected all social strata to some extent.
Another aspect he does not mention is the campaign in the 'religious right'. Many evangelical churches, which came to Chile from the USA starting in a big way in the '60s, are virulently anti-communist. The table I was observing as an 'apoderado' had 344 voters registered. 230 voted, mostly poor rural women, not young, and a lot of them were obviously not used to voting. I think many were probably in evangelical churches. The score was 163 for Kast and 61 for Boric, just 27%. Kast stressed the 'religion' card, and the evangelists have had a lot of success in many Mapuche communities, women often like them because they get the men off the 'drink'.
The comment about political leadership is interesting, but of course the Apruebo Dignidad alliance of several parties does exist, and communists everywhere work to bring together all the social forces in unity. We may see developments nationally but I give you a local example: the Wednesday after the first round, about 100 people, organized by WhatsApp contacts, gathered in our open air theatre to organize the campaign. With leafleting, car caravans, flags and posters we had an impact and Boric's vote increased in this right-wing area from 5,166 to 12, 289, from 21% to 42%. Most in the group have decided to stick together to keep organized (Nunca más dispersos – never again dispersed) and the group will probably be renamed: Villarrica for the New Constitution.
Dan Morgan
Posted on Portside's Facebook page
Re: In Chile, Boric's Win Signals Victory for Social Movements and New Constitution
Saying "Unlike the U.S. youth and counter cultural movement of the late 1960s that famously intoned 'don't trust anyone over 30,'" perpetuates a myth. Jerry Rubin did say that, but virtually nobody took that seriously and the 1960s movements had lots of elder statesmen and elder stateswomen who were held in the highest regard. Romina Green Rioja may be too young to know about this from her own experience, but as a historian she should know better than to naively promote foolish myths.
Stan Nadel
Re: SNCC's Unruly Internationalism
Excerpt:
Movements are made when people in motion outpace existing organizations and tactical urgency remakes the existing landscape.
That's what happened on February 1, 1960, when four college students staging a sit-in at a segregated lunch counter in Greensboro, North Carolina spurred dozens of sit-ins throughout the South by the end of the month. By the middle of April that year, leading agitators of these sit-ins gathered at Shaw University to formalize a new vehicle to sync their efforts: the Student Nonviolent Coordinating Committee (SNCC). Pronounced" snick," the organization's members became known as the shock troops of the civil rights movement—people of unparalleled courage and creativity in the fight against white supremacy.
Though some SNCC veterans made their way to political office—most famously John Lewis, James Clyburn, Eleanor Holmes Norton, and Marion Barry—SNCC's greatest triumph was the emphasis it placed on grassroots organizing. It empowered a generation of largely unheralded organizers. Its members braved racist terror to challenge segregation, demonstrate multiracial democracy, and forge transnational coalitions. Since its collapse, SNCC veterans have been the most conscientious of the '60s-era activists to ground their individual and collective legacies in the world-making pursuit of justice.
Dave Lott
Posted on Portside's Facebook page
Re: Pentagon's 20-Year Killing Spree Always Treated Civilians as Expendable
When will we start campaigning for laws that make the lying by officials ,"after the fact" so it can't be contrived as hurting us in some way, illegal. There is no reason for the lies after the deed is done. At the least, that way, if one of my children is in a building bombed by someone called a "terrorist", I'd know what they are retaliating for. And, of course, it might actually cut down on the killings if they had to be acknowledged.
The people who are bombed know it happened. Their friends, neighbors, and relatives who lived know it happened. Only the people in whose name it was supposedly done, don't know it happened. No-one, whether journalist, contractor, military person, politician or anyone else should be going to jail for telling the truth after the fact. Only those who know the truth and hide it or lie about it to the American public should be going to jail. As much as I hate all war, I would give a pass to those who keep a secret before the fact or those who reveal the names of specific operatives like CIA Agents.
Arlene Halfon
I won't live to see it, but the way things are going, anticipate seeing some corporation put its logo on the moon, big enough to be read from earth. There are some real advantages to being elderly...
Jack Radey
Posted on Portside's Facebook page
      =====
What could possibly go wrong...sounds like a bad Sci-Fi movie.
Marianne Brucker
Posted on Portside's Facebook page
Re: Why the Very Worst People Really Don't Want Us to Look Up
Not once did they mention socialism as a solution to their problem. It's easier for Hollywood to imagine an end to the world than an end to capitalism, as per Mark Fisher's quote.
The movie would have been far more radical a message if the alternative Russian-Chinese program had actually succeeded to save the world.
David Raun
Posted on Portside's Facebook page
      =====
meh. when the real is more ludicrous than satire, it's hard to be entertained.
Marguerite Horberg
Posted on Portside's Facebook page
Re: Classical Music and the Color Line
When referring to European and EuroAmerican classical music, please say just that: European Classical Music. Most of "classical" music is not of European origin. To just state "classical music" to represent European Classical Music is to erase/deny/trivialize the classical music of Africa, Asia and Latin America... most of which predates European Classical Music.
 
Thanx,
 
Sam Anderson
author- "The Black Holocaust for Beginners"
http://blackeducator.blogspot.com
Re: A Christmas Carol and the Communist Manifesto
There is no doubt that Marx was a reader of Dickens as there are numerous references from Dickens in his writings. He identifies Dickens's characters with real individuals and social types of the time.
Mr Pecksniff from Martin Chuzzlewit (1842-4) is the one most frequently invoked by Marx. He is the personification of the cant and humbug which conceals capitalist exploitation.
Pecksniff's long-winded pleasantries and moralising about "virtue" and "truth," his presenting himself to his employees and community as goodness personified, even naming his daughters Mercy and Charity, made him a recognizable type for Marx to utilize.
Jose Luis Medina
Posted on Portside's Facebook page
      =====
"Dickens' A Christmas Carol was published in 1843. It has not been out of print since. There wasn't long to wait for Marx's bestseller, The Communist Manifesto, published in 1848. It too has never been out of print."
Bookworms
Posted on Portside's Facebook page
      =====
Here's a shout out to the San Francisco Mime Troupe's version of A
Christmas Carol, which blends Dickens and Marx nicely, in my view. I
saw it in person a few years ago and this year it's available online
at https://www.sfmt.org/a-red-carol
Nancy Schimmel
      =====
Two of my favorite authors. A third, Howard Zinn, imagined this:
Brian Jones performs Marx in Soho - February 22, 2012
 
Judith Mahoney Pasternak
Posted on Portside's Facebook page
Re: Expanding the Tones of Christmas - In Search of Black Santa
There are Black Santas all over the place. Those parents that worked hard year round to give their kids what they want and need are Santa. I refuse to give credit to someone who had nothing to do with that and on top he does not resemble us.
Rosalina Rosario Melendez
Posted on Portside's Facebook page
Excerpt
"African history remains peripheral and dogged by outdated assumptions partly because of a lack of African perspectives. Just 3% of the papers published in four prestigious history journals from 1997 to 2020 were about Africa. Of these only about 10% were written by authors based in Africa (compared with 86% for America, 76% for Europe and 40% for Asia and Oceania). The more that is written about African history, the more nuanced it is likely to become. The more African scholars do the writing, the more likely it is that the field benefits from new methods and insights."
Hope de Waardt-Jemerson
Posted on Portside's Facebook page
      =====
"For Mr Chirikure, decolonising archaeology is not about rejecting academic rigour or centuries of progress in materials science. It is, he argues, about incorporating 'local sources of knowledge'. In trying to understand life in Great Zimbabwe, he says that it is better to understand Shona culture, rather than copy and paste ideas based on medieval European kingdoms."
In the shadow of dawn
Posted on Portside's Facebook page
 
Roses to Missions - thank-you certificates to U.N. Missions of states that ratified the Treaty on the Prohibition of Nuclear Weapons (TPNW)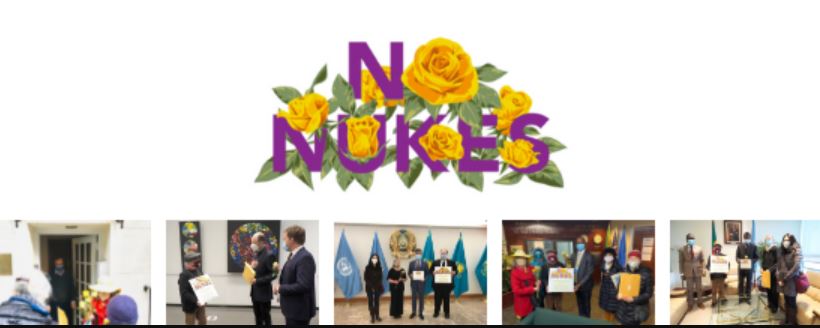 Your organization is invited to endorse the continuation of the Roses to Missions project to deliver thank-you certificates to the U.N. Missions of the state parties who have ratified the Treaty on the Prohibition of Nuclear Weapons (TPNW) after January 22, 2021. Last January, we expressed our gratitude to the first 51 state parties. This year, there are new state parties to the Treaty to be thanked, including Cambodia, Comoros, Guinea-Bissau, Mongolia, Peru, Seychelles, and the Philippines. Volunteers will deliver yellow roses and a thank-you certificate to the missions during the week of January 17, 2022. Given the continuing COVID restrictions, volunteers will follow the NYC and CDC guidelines to protect themselves and others when making the deliveries.
This year, we also plan to deliver a firm message to the U.S. Mission to the United Nations that the U.S. must join the treaty.
Please join Peace Action New York State, the Manhattan Project for a Nuclear-Free World and other organizations in the New York area in thanking the nations who have ratified the TPNW, and demanding that the U.S. join the treaty.  The bravery and wisdom of these state parties make it possible for us to celebrate the first anniversary of the entry into force of the treaty on January 22, 2022, while we continue to pressure our government to make firm steps toward elimination of nuclear weapons.
If you would like the name of your organization to be included on the thank-you certificate to state parties (and the Join-the-Nuclear-Ban-Treaty card to the U.S.), please complete the endorsement for your organization by Wednesday, January 12th, 2022. https://secure.everyaction.com/spAvUc6KN0O-zwhAMoa7Lg2
Thank you,
Sally Jones, Peace Action New York State
Mari Inoue, Manhattan Project for a Nuclear-Free World
Peace Action New York State
PO Box 3357, Church St. Station
New York, NY 10008-3357