Global Left Midweek - February 16, 2022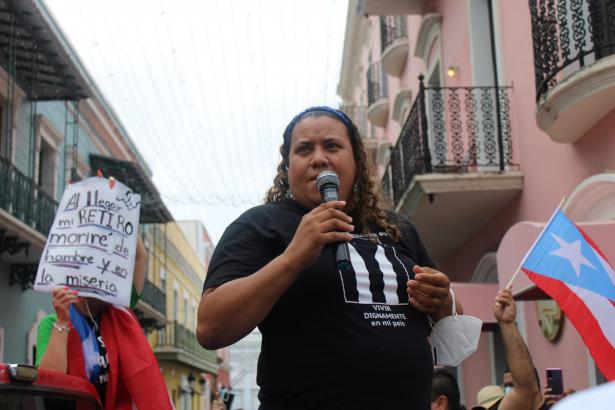 Mercedes Martínez Padilla, president of the Teachers' Federation of Puerto Rico, speaks to a crowd of protesters in San Juan, Puerto Rico, February 4, 2022. Credit,Carlos Edill Berríos Polanco/Latino Rebels
__________
Protests Everywhere
Argentina  La Prensa Latina (Memphis)
Brazil  Al Jazeera (Doha)
Puerto Rico  Manuel de J Gonzalez / Peoples Dispatch (New Delhi)
Bristol, UK  Ben Bloch / Bristol Live
Sudan  Al Jazeera
Syria  Paul McLoughlin / The New Arab (London)
Tunisia  Deutsche Welle (Berlin)
Turkey  Bianet (Istanbul)
__________
Keir Starmer Hunts Peace Group
Heather Stewart / The Guardian (London)
The Labour Party leader has launched an outspoken attack on the Stop the War coalition, in which former leader Jeremy Corbyn is a leading figure, effectively accusing the campaign group of siding with Russia against Nato.
__________
China and the Asian Left
Myanmar  Khin Oo / The Irawaddy (Rangoon)
CP (Marxist) of India  Shaju Philip / The Indian Express (Noida)
__________
Burkina Faso: Trade Unionists Against the Coup 
Unité d'action syndicale / Review of African Political Economy (London)
Six trade union centers and 17 autonomous unions have taken a stand against the recent coup in Ouagadougou.
Reinaldo Iturriza / New Left Review (London)
Venezuela's former culture minister discusses the rise of 'Constituent Power' and the implications for the Bolivarian Revolution.
__________
Sudan Democracy Proposal
Hussein Saad / Dabanga (Amsterdam)
On January 15, the resistance committees in Wad Madani, capital of El Gezira, published a joint position paper about their demands of a democratic Sudan.
__________
The Fierce Urgency of Alaa Abd el-Fattah
Hamid Dabashi / Middle East Eye (London)
With his newly released You Have Not Yet Been Defeated, a collection of the English translations of his prison writings, the Egyptian revolutionary activist Alaa Abd el-Fattah has followed the hallowed tradition and joined the pantheon of critical thinkers casting the web of their involuntary incarceration widely to think the character of our defiant soul in palpable prose. 
__________
Portuguese Left on the Wane?
The Elections  Víctor Honorato / Rosa Luxemburg Stiftung (Brussels)
The Communists  João Madeira / Jacobin (New York)
__________
Algeria's Political Prisoners Go on Hunger Strike
Peter Rossman / openDemocracy (London)
Trade unionists in the country, who are already ceaselessly persecuted, are being targeted for their role in the Hirak pro-democracy movement.
__________
LGBTQ Students Fight Repression in East Africa
Khatondi Soita Wepukhulu / openDemocracy
Homophobia, religion and the legacy of colonialism are hurting gay and lesbian school students in Kenya and Uganda – but they won't be defeated.