Dispatches From the Culture Wars – July 5, 2022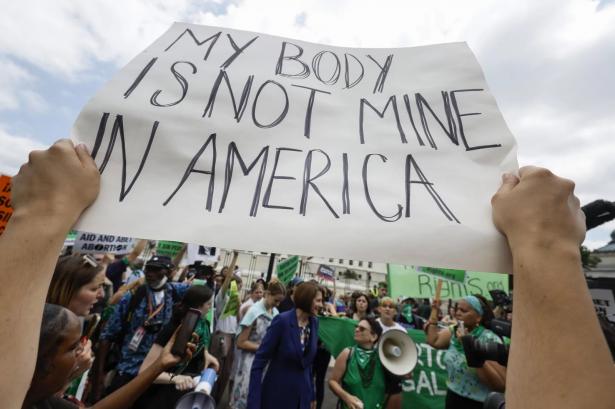 Credit,Anna Moneymaker/Getty Images
Nationalism F's Us Up
By Matthew Rozsa
Salon
Many conflate patriotism with its more extreme cousin nationalism, which is predicated on superiority and competitiveness. You cannot merely be proud, but you must be proud of your nation's dominance. Its inherently tribal nature, can be as dangerous as the most potent illicit drug if the sentiment is used improperly.
SCOTUS Disposes of Evidence
By The Editors
Scientific American
We urge the Court to change its reasoning—to value statistics, to value research and to understand how ignoring it in making decisions is contrary to common decency and their responsibility as jurists to the people of the United States.
Wishing That Women Will Save the Day
By Sarah Jones
New York Magazine
What we need is for patriarchy to become unthinkable, as unimaginable as the right wing wishes abortion would become. Women cannot accomplish this by themselves, nor should anyone expect us to try. 
Dobbs and Disability
By Shruti Rajkumar
NPR
Though the court's decision will impact everyone, disabled people, especially those with multiple marginalized identities, will be disproportionately impacted for a number of reasons, such as health care inequities, sexual violence, poverty and the loss of autonomy that they have historically experienced.
Will Nordic States Fit in NATO?
By Heikki Patomäki 
Le Monde diplomatique
Finland and Sweden long held that the Nordic social model, with its progressive internationalism, was incompatible with NATO membership. The invasion of Ukraine has changed that.
The Contrasts Around the AFL-CIO Convention
By Jess McAllen
The Baffler
The AFL-CIO convention set up shop just a ten-minute walk away from a Philadelphia Starbucks. Baristas were in the process of voting for or against unionization. It was also an important time for the country's largest federation of unions: time to build a movement, as the slogan for the twenty-ninth convention would declare, "to meet the moment."
15 Books on the Impact of Black Music
By Jaelani Turner-Williams
Teen Vogue
Black music's influence on popular culture is immense. Reading books that both appreciate Black music's existence and celebrate its artists' contributions to global pop culture is just as necessary as streaming their work on the daily. 
Racist Whitewashing of History
Changes at the Grammys
By Bill Pearis
Brooklyn Vegan
The Recording Academy is continuing to try and bring The Grammys into something more representative of what's going on in music and the world in the 2020s. They've added thousands of new (younger and more diverse) voting members, and they've just announced that the 2023 Grammys will add a few new award categories as well. 
Rightist Jewish Group Gets an Anti-Zionist Jew Fired
By Claire Goforth
Daily Dot
Anna Rajagopal planned to spend this summer getting work experience at Avodah, a Jewish nonprofit that promotes social justice. Shortly after Rajagopal started the job, a right-wing group targeted the 21-year-old rising college senior with claims of being a "Jew hater" and "one of the largest purveyors of antisemitism on social media"—particularly loaded accusations as Rajagopal is Jewish.