Tidbits – Oct. 27, 2022 – Reader Comments, Elections – It's the Economy, It's Race and Racism; Supreme Court and Democracy; Climate Change; Fascist Threat; Labor Upsurge; Transatlantic Left Dialogue and Internationalism in Our Time; More…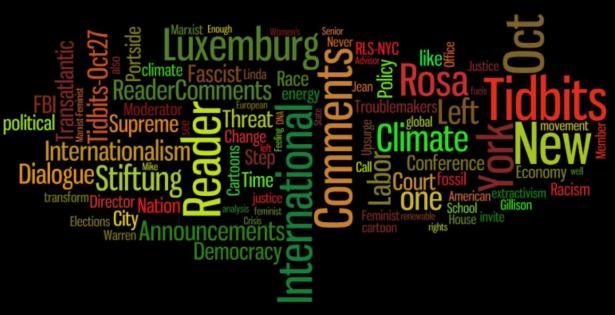 Tidbits - Reader Comments, Announcements AND cartoons - Oct. 27, 2022,Portside
Announcements:
Attempted Rape  -- cartoon  by Mike Stanfill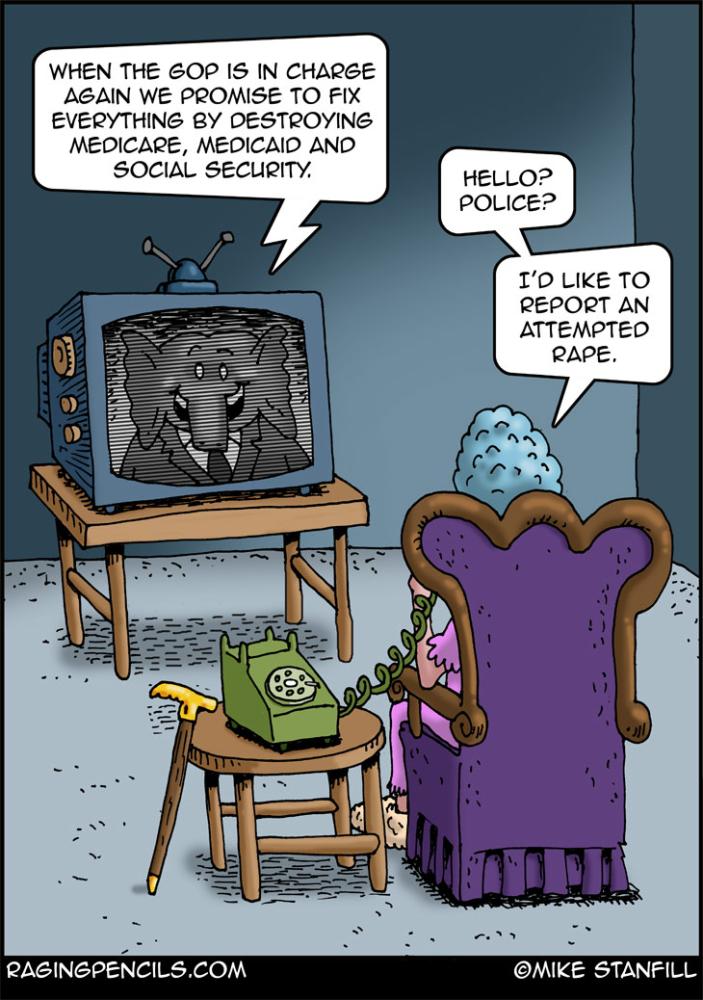 Mike Stanfill
October 21, 2022
Raging Pencils
Re: The Fight Against Inflation Doesn't Have To Be Rich-People Friendly
 
The fight against "inflation" is a fight against the working class. The Federal Reserve is quite open about that fact.
Alan Hart
Posted on Portside's Facebook page
      =====
"We"--that is, the decision-makers-- just never think of this...
Linda Gillison
Posted on Portside's Facebook page
      =====
"Corporate powerhouses like Exxon Mobil, notes one recent analysis, are exploiting their "strategic oligopoly and monopoly positions" to charge "unreasonable prices for products" that have limited alternatives. In July, Exxon announced $17.9 billion in second-quarter profits, triple the fossil-fuel giant's first-quarter earnings."
Karen Romero
Posted on Portside's Facebook page
What Are the Different Parts of a Fighter Jet (Brave New Films)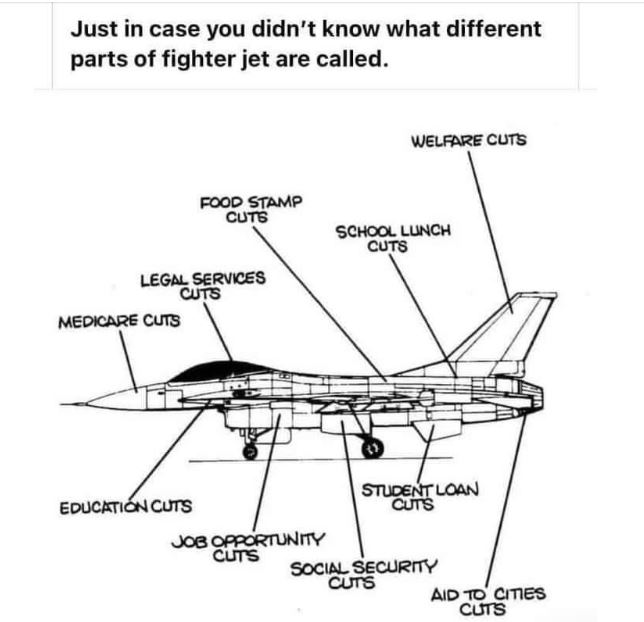 Brave New Films
October 24, 2022
post on Facebook
Re: For America's Top-Ranked CEOs, Too Much Is Never Enough
 
"From 1978 to 2021, CEOs at the top 350 firms in the U.S. saw their compensation packages grow by 1,460%. Typical workers in the U.S.? From 1978 to 2021, their compensation rose by 18.1%."
Alec Maybarduk
Posted on Portside's Facebook page
Re: 'Lawless and Reckless': Warren Condemns Fifth Circuit Attack on CFPB
 
We only have one consumer financial protection agency and the rightwing corporate friendly courts are threatening to gut it.
There will be nothing and no one left to protect consumer rights if this important bureau is dismantled and defunded.
Jean Brown
Posted on Portside's Facebook page
Re: These Supreme Court Cases Could Kill What Remains of US Democracy
 
Yup, one of these (Moore v. Harper) comes from right here in NC. If SCOTUS upholds this "independent state legislatures" theory, we are toast.
Linda Gillison
Posted on Portside's Facebook page
Re: Peak Season for Action at Amazon
(posting on Portside Labor)
 
I really love your labor news!
L A Kurth
Twisted Voter  --  cartoon by Rob Rogers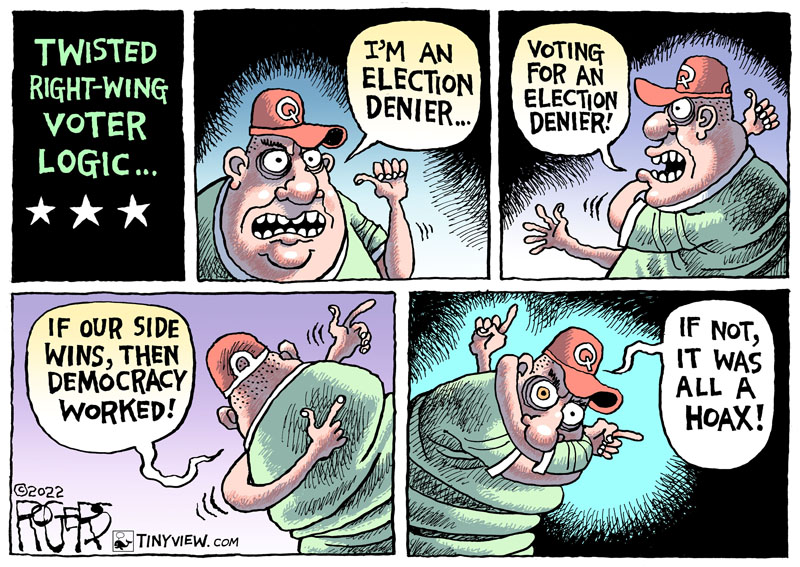 Rob Rogers
October 21, 2022
robrogers.com
Re: Eleven Wrong Ideas on the Climate
 
This is a valuable contribution to our climate justice discourse. What stands out for me is Lowy's emphasis: "it is still possible to avoid exceeding the 1.5 degree red line – provided that we start immediately to reduce CO2 emissions in a very significant way." My main critique focuses on "renewables require mining resources that are likely to be exhausted. If the wind and the sun are unlimited, it is not at all the case of the materials necessary to use them (lithium, rare earths, etc.). It will therefore be necessary to consider a reduction in the global consumption of energy, and a selective decrease: unimaginable measures within the framework of capitalism." A global reduction in energy consumption would prevent the elimination of energy poverty, especially for most of humanity living in the global South as well as not having a chance of effectively confronting the challenges of climate adaptation and mitigation. Heat stress in tropical countries is even now having devastating impact and will get worse even meeting the 1.5 deg C warming target. On the real challenge of extractivism, if left to unchallenged green capital to deliver, Lowy's point is well taken. However, there are solutions that greatly reduce extractivism in a renewable energy transition. For one, demilitarization and curbing of fossil fuels, both imperative to having the shrinking possibility of meeting the 1.5 deg C warming target, will free up huge quantities of needed metals from the termination of the military industrial fossil fuel complex infrastructure. In addition, substitution of common elements for rarer ones in storage and renewable technologies will facilitate the phaseout of extractivism. A strong global working-class/indigenous people based movement increasingly informed by an ecosocialist agenda will be required to confront this challenge of extractivism.
Finally, Lowy critiques this claim: "Thanks to carbon capture and sequestration techniques, we will avoid the climate catastrophe". I agree with him that fossil capital are promoting these techniques to continue the addiction to fossil fuels. Nevertheless, direct air capture of carbon dioxide and permanent burial in the crust as carbonates will very likely be required once most fossil fuels are terminated and a sufficient renewable energy capacity is present, to bring down and keep the atmospheric carbon dioxide level below 350 ppm into the next century. For more on these issues, see
https://climateandcapitalism.com/2022/01/05/a-critique-of-degrowth/
and my comment on Lowy et al.'s article, "For an Ecosocialist
Degrowth" and our AIMS Energy paper https://www.aimspress.com/article/doi/10.3934/energy.2021054.
David Schwartzman
Re: Progressives in US House Call for 'Proactive Diplomatic Push' for Ukraine Ceasefire
 
Ceasefire needed in Ukraine.
Stop the military madness ...
And the US's push to sell weapons.
Jean Douthwright
Posted on Portside's Facebook page
Re: Britain's Political Crisis
 
Thatcher started the sell-off or destruction of the assets
Dan Morgan
Posted on Portside's Facebook page
Re: A Socialist Response to the American Fascist Threat
 
This isn't a socialist response to the present crisis. This is the thinking of one socialist. It lacks a concrete grounding, strategically and tactically, any sense of what the immediate challenges are and what is politically necessary at this moment.
Sam Webb
Posted on Portside's Facebook page
      =====
This article brings to mind Michael Harrington's phrase, "the invisible mass movement." The kind of far-reaching mass movement Mark Harris is calling for is taking action right now. Voting ends November 8. Will there be enough of us? I don't know. But if that movement is invisible to Harris, how many other socialists who want to respond to the American Fascist Threat are suffering from the same "can see and can't see at the same time" syndrome? I shudder at the thought.
Geoffrey Jacques
Posted on Portside's Facebook page
Re: Rule for Leftists: Never Talk to the FBI
 
I talked to two FBI agents who knocked on my door at home in Nashville. I said "Do you have a warrant? An agent said "No we just want to talk to your wife." I said Get the hell off my property." He stuck the toe of his shoe in the door and I slammed it shut knocking his foot of the transom. As they walked away one said "Randy, you shouldn't act like that." So I did talk to the FBI.
Randolph Shannon
      =====
Being a red-diaper baby myself and an activist in the '70's (so about a decade younger than the author) I'd like to see my FBI file. Though agents used to come to our door in my childhood in the '50's I was never approached.
Frederick Warren
Posted on Portside's Facebook page
      =====
Another red-diaper baby here. I graduated from Cal the year before Myerson got there. Slate was just starting. When I was in high school, my friends and I would joke about how boring our conversations must have been to the FBI eavesdroppers I assumed we had. I know they were tracking my parents then, (William and Malvina Reynolds) because I've seen their (redacted) files, but I haven't seen mine. I remember my father pointing out the two guys in suits, hats, vests he assumed were FBI on the fringes of a peace rally we were attending in the sixties. I should send for my file.
Nancy Schimmel
Posted on Portside's Facebook page
Just a minor point: while this says their DNA indicates a father-daughter relationship, that's only one possibility. Based on the reported analysis it is equally possible that they were half-siblings who had the same father but different mothers.
Stan Nadel
      =====
Maybe they are among my very distant ancestors. My DNA shows I have a very small amount of Neanderthal DNA
Jan Bauman
Posted on Portside's Facebook page
Step by Step, Feeling the Ground: Transatlantic Left Dialogue and Internationalism in Our Time - New York - October 28 & 29 (The Rosa Luxemburg Stiftung – New York Office)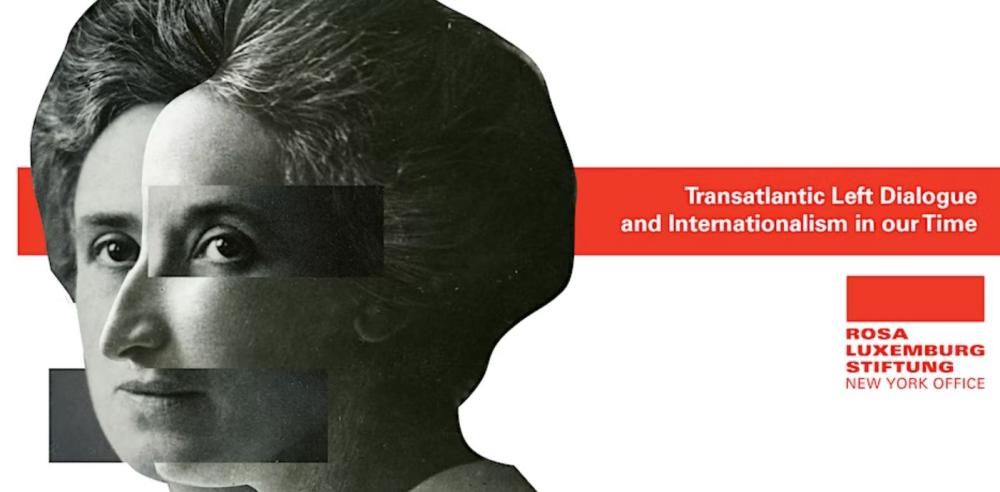 The Rosa Luxemburg Stiftung – New York Office is happy to invite you to 
Step by Step, Feeling the Ground:

Transatlantic Left Dialogue and Internationalism in Our Time
To mark our tenth anniversary, we are looking back at the work we have done, but also looking ahead to the work that is to come.
The event features panel discussions on the left in government, confronting the far right, racial justice, and the state of multilateralism as well as walking tours that look up close at gentrification and the impact of the climate crisis on New York City.
When: October 28 and 29
Where: John Jay College, Moot Court Room, 6th Floor
(524 W 59th St, New York, NY 10019)
PROGRAM
FRIDAY, OCTOBER 28
9.30-10.00 Opening | Origins and Directions
Albert Scharenberg, founding Co-Director of RLS-NYC (2012-2018)
Stefanie Ehmsen, founding Co-Director of RLS-NYC (2012-2018)
Gabriele Kickut, Vice President, RLS-NYC
Moderator: Andreas Günther, Director, RLS-NYC (2018-present)
10:00-11.30 Panel | Despite All of It: The Left in Power
Rajiv Sicora, Senior Policy Advisor US House of Representatives (NY-16)
Julia Salazar, New York State Senator, 18th District
René Rojas, Assistant Professor, Binghamton University
Moderator: Stefan Liebich, Fellow, Rosa Luxemburg Stiftung
11.45-1.15 Panel | No pasarán: Confronting the Far Right
Pasha Dashtgard, Director of Research, Polarization and Extremism Research and Innovation Lab (PERIL), American University
Maria Luisa Mendonça, Co-Director, Network for Social Justice and Human Rights in Brazil
Tal Lavin, journalist and author Culture Warlords: My Journey into the Dark Web of White Supremacy (2020)
Sophie Dieckmann, Member of the Board, Rosa Luxemburg Stiftung
Moderator: Stefanie Ehmsen, Head of Regional Coordination, Rosa Luxemburg Stiftung
2.30 -5.30 Walking Tour | City Development and Gentrification in Manhattan
Sam Stein, Housing Policy Analyst, Community Service Society of New York
Meeting point: Hudson Yards subway station (Hudson Blvd E between West 33rd and West 34th Streets, New York)
7:00-9:00 Public Event | Film screening: Rosa Luxemburg (Margarethe von Trotta, 1986)
Location: RLS-NYC office, 275 Madison Ave, Suite 2114, New York
SATURDAY, OCTOBER 29
9.30-12.30 Walking Tour | Climate Justice in New York City
David Williams, International Climate Justice Program, Rosa Luxemburg Stiftung
Gaya Sriskanthan, International Climate Justice Program, Rosa Luxemburg Stiftung
Meeting point: New York Public Library – Stephen A. Schwarzman Building (476 5th Ave, New York)
2:00-3.30 Panel | The Long Shadow: Colonialism, Slavery, the Debate about Reparations and Affirmative Action
Bafta Sarbo, Initiative Schwarze Menschen ISD
Jabari Brisport, New York State Senator, 25th District
Moderator: Albert Scharenberg, Senior Advisor for Publications, Editor for International Politics, Rosa Luxemburg Stiftung
4:00-5.30 Panel | United Nations – United Peoples? Multilateralism and International Organizations
Barbara Adams, Chair of the Board and Senior Policy Advisor, Global Policy Forum
Helmut Scholz, Member of the European Parliament – GUE/NGL
John Feffer, Director of Foreign Policy In Focus, Institute for Policy Studies
Natalia Caruso, Indigenous Women Global Program Partner
Moderator: Andreas Günther, Director, RLS-NYC
7:00 Reception
Greetings:
Gesine Lötzsch, Member of the German Bundestag, Die Linke
Wolfram von Heynitz, Deputy Consul General of Germany in New York
Keynote Speech:
Sara Nelson, International President, Association of Flight Attendants-CWA, AFL–CIO
275 Madison Ave., #2114
New York, NY 10016
United States
info.nyc@rosalux.org
Nation Conversation: Post-Election Roundtable - November 9 (The Nation)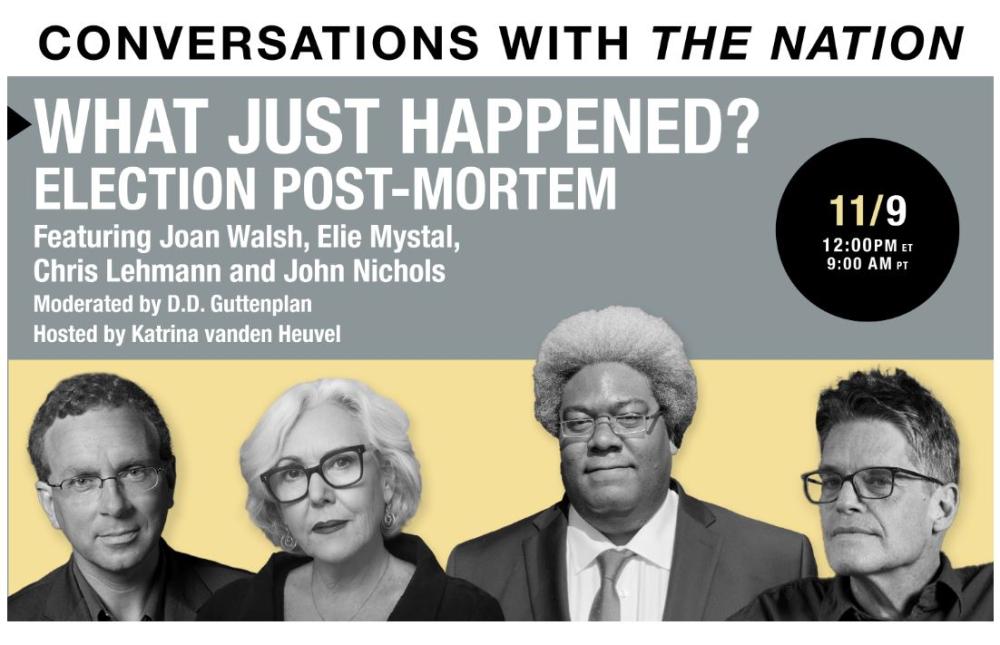 Join a special, extended, wide-ranging conversation with The Nation's most astute political observers in the wake of the most important midterm election of our lives.
Editorial director and publisher Katrina vanden Heuvel, justice correspondent Elie Mystal, national affairs correspondents Joan Walsh and John Nichols, and DC bureau chief Chris Lehmann will lead a spirited, if bleary-eyed, discussion on the possibilities and pitfalls coming out of Election Day. The Senate and House races will be obvious points of discussion but the importance of the State houses, local legislatures, and individual referendums will also be thoroughly unpacked. Moderated by Nation editor D.D. Guttenplan, there will be ample time for audience questions.
Tickets are $10. Closed captions are available. A link to video of the full proceedings will be sent to every ticket holder.
What Just Happened? Election Post-Mortem
New York City Troublemakers School - November 19 (Labor Notes)
Calling all NYC-area Troublemakers! Join us for a New York City Troublemakers School on Saturday, November 19th!
Bringing together union members, labor activists, and local officers, a Troublemakers School is an incredible space for networking, building solidarity, and sharing successes, strategy, and inspiration. It's a real shot in the arm for newbies and seasoned activists alike.
Members who attend will get inspired. Hear speakers from the front lines of recent struggles.
They'll also get trained. The one-day conference features interactive workshops, panels and meetings, ranging from crucial basic skills like helping your colleagues beat apathy to advanced topics like winning first contracts and running for union office.
When: 9AM-3PM on Saturday, November 19th, 2022
Where: Beacon High School, 522 W 44th St, New York, NY 10036
Workshops will include:
Beating Apathy
Race and Labor
Running for Union Office
Winning First Contracts
...and more!
Detailed program to come.
Registration fee (covers event registration and lunch):
$45 - Registration plus a HALF OFF subscription to Labor Notes ($15)
$30 - Regular registration
$15 - Hardship rate registration (choose if you need)
Questions? Ideas? Want to get involved? Email Joe at joe@labornotes.org
East Coast Office
104 Montgomery St
Brooklyn, NY 11225
(718) 284-4144
Call for Papers: International Marxist-Feminist Conference: Body, Work and Care in Contemporary Digital Capitalism - deadline January 31, 2023 (transform! european network for alternative thinking and political dialogue)
We would like to kindly invite you to submit your presentation proposal for the 5th International Marxist Feminist Conference which will take place in November 2023 in Warsaw and will focus on feminist theoretical, political, cultural, and artistic responses to current crises.
The conference is organised and funded by transform! europe in cooperation with the Rosa Luxemburg Foundation and Fundacja Naprzód.
The idea of an International Marxist Feminist Conference was originally brought into being, and was since then continuously organised, by the feminist section of the Berliner Institute of Critical Theory (InkriT) around the German sociologist and philosopher Frigga Haug. It was held in Berlin (Germany) for the first time in 2015, followed by an increasingly international second congress in Vienna in 2016, the third one took place in Lund (Sweden) in 2018 and the last one was held online (from Basque country) in 2021.
The participation in the International Marxist Feminist Conference is free of charge. We invite individual papers and panel proposals. We also invite literary and artistic responses and feminist theory/practice contributions.
We will try to provide some costs of the speakers (travel and accommodation), please signalise your interest in such support in your presentation/panel proposal.
Please send your proposals (no more than 300 words + a short bio/affiliation) by 31 January 2023 to: apps@marxconference.com 
CONFERENCE 5-POINTS AGENDA
Dimensions of care and reproduction in neoliberal societies: exploitation of reproductive labour, love power. Reproductive (in)justice: rights, technologies (surrogacy, in vitro, adoption etc), "birth strike", environment and natality, LGBTQIA+ rights, migration, disabilities, and the nation-states politics.
Contemporary capitalisms: digitalization, precarization, externalization of care labour and production, climate crisis, surveillance, and border industries. The body as commodity and battlefield: exploitation, violence, biotechnology.
Healthcare and elderly care in the world after pandemic. Privatization of healthcare services
Is Intersectionality Enough? – The Actuality of the Thirteenth Theses of Marxism-Feminism – class-race-gender in a Marxist- Feminist perspective today. 
Women in military conflicts: Rosa Luxemburg's forgotten warnings, dimensions of violence. Homefront and the battlefield. Fundamentalist takeovers. Forms and strategies of contemporary resistance: International Women's Strike, refugee networks and solidarities, unionizing as activism and politics.
CONFERENCE'S TIMELINE
Deadline for submissions: 31 January 2023
Notification of acceptance of the proposal: 31 March 2023
The program of the conference will be announced by 15 May 2023
More information on the conference (in English and Polish) can be found here.
For further reading:
transform! europe is a network of 39 European organisations from 23 countries, active in the field of political education and critical scientific analysis, and is the recognised political foundation corresponding to the Party of the European Left (EL).