Global Left Midweek – Focus on Latin America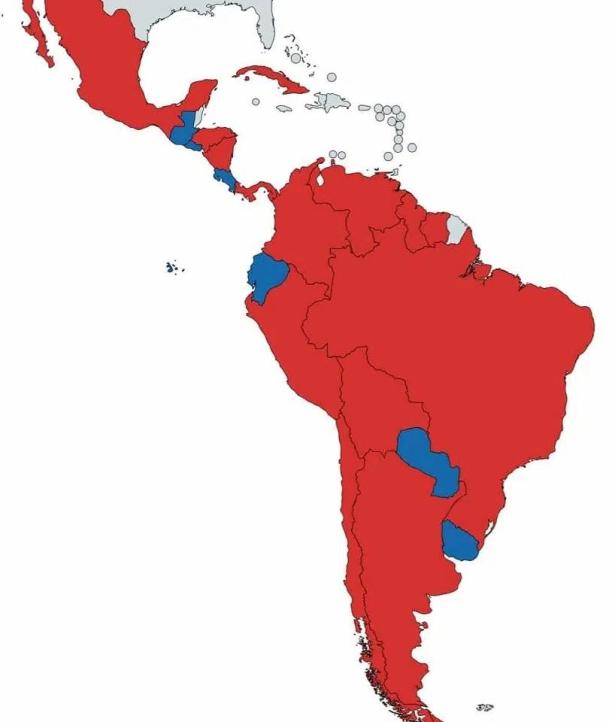 The political map today. Credit, Courthouse News Service
__________
The Number One Issue
Lucas Estanislau / Brasil de Fato (São Paulo)
The recent victories of progressive candidates in presidential elections in many South American countries have reopened the debate on new regional integration mechanisms. The signs sent by presidents about the urgency in protecting the Amazon rainforest and fighting climate change indicate that the environmental agenda will be a crucial topic for regional realignment.
__________
La Lucha Sigue: Abortion Rights Victory
Tina Vásquez / Yes! (Poulsbo WA)
According to attorneys and activists in Colombia, Mexico, and Argentina, securing the right to abortion was the result of a multipronged approach: grassroots organizing, strategic litigation, and most importantly, changing the narrative.
__________
Latin Unions Defend Bolivia's Democracy
Ana Zorita / Green Left (Sydney)
Right-wing groups — led by far-right Santa Cruz governor Luis Fernando Camacho — have been mobilising against President Luis Arce to destabilise the democratically elected government. Trade unions across Latin America have expressed solidarity with Bolivian workers and their government in the face of right-wing destabilisation attempts in Santa Cruz since October.
__________
Brazil's Evangelical Leftist
Ana Ionova / Americas Quarterly (New York)
Henrique Vieira is a devout Baptist pastor—and a card-carrying member of Brazil's Socialism and Freedom Party. HIs decision to run for office is part of a broader attempt by the Brazilian left to win over the country's growing evangelical voter base.
__________
Ecuador: Anti-Neoliberal Resistance
Irene León and José Agualsaca / ALAI (Quito)
All possible efforts will be key to achieve substantive convergences between movements and political actors that advocate for a common good approach, that advocate for a perspective that places life above capital, in line with the advanced constitutional definitions that the country has.
__________
Central American Networks Fight Extractivism
Giada Ferrucci and Pedro Cabezas / NACLA Report (New York)
Communities affected by mining projects are organizing in opposition against the extractive model as they endure its severe socio-environmental impacts. As anti mining movements have gained popular support in the region, they have formed strategic national and regional alliances to achieve important victories in regulating and even stopping the installation of mining projects. 
__________
Boric Interview: 'The World Needs Chile'
Al Jazeera (Doha)
While the opposition claims President Boric's political honeymoon period ended almost as quickly as it began, his supporters say the young leader should not be counted out so quickly. How will he move forward? We find out as Chilean President Gabriel Boric talks to Al Jazeera.
__________
Colombia is Finally Changing
Alejandra Garcia / Resumen (Oakland)
Gustavo Petro promised a change, and he is achieving it. One hundred days after his inauguration ceremony in Bogota's Bolivar Square, the first left-wing president of this Latin American country has managed to implement 50 essential measures to lift Colombians out of endemic poverty and violence.
__________
Workers in Action Worldwide
__________
The War Against Kurdistan
Chiara Cruciati / il manifesto Global (Rome)
A hospital, grain silos, a market, a power plant: civilian infrastructure is a target for the renewed Turkish military operation against Rojava, the Syrian Kurdistan. We spoke to Nilufer Koc, the spokeswoman for the international affairs office of the KNK, the Kurdistan National Congress.