Fascism Strengthens Israeli Apartheid – The Masks Are Off With the Far-Right Movement in the Israeli Government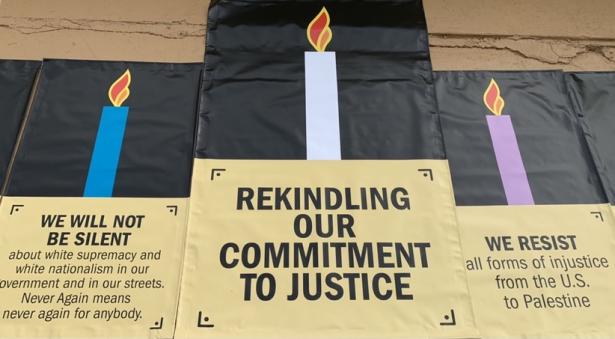 Image credit: Tikkun Magazine // Jews Say No!, US,
The continuing shift to the far-right in Israel is yet another deplorable development in a system that inflicts immense suffering on the Palestinian people.
Israel's policies of occupation, apartheid, and colonialism are now underpinned by the
supremacist movement 'Jewish Power', led by Itamar Ben-Gvir, supporter of the late Jewish terrorist Meir Kahane. But such outcomes are not born overnight. They are a natural consequence of policies that discriminate against millions of people on the basis of ethnic or religious criteria.
Politicians like Ben-Gvir and Bezalel Smotrich (National Union–Tkuma) have been leading a racist, violent, at times homophobic and fascist movement in Israel for years. Ben-Gvir has often led mobs chanting "Death to the Arabs". Smotrich organized a "Beast Parade" to protest gay pride events and denigrate their participants.

The International Jewish Collective for Justice in Palestine (IJCJP) abhors the results of the recent election in Israel. However, we do not draw a line between the old and the new.
Successive Israeli governments have never created a state for all of its inhabitants and citizens. The Palestinian people have always been excluded – diminished and considered "infiltrators"and strangers in their land since 1948.
Israel's occupation and apartheid policies have been politically and financially supported by major world powers, especially the US, UK, Canada and the EU (including companies based there). This support has been reinforced by many institutional Jewish organizations claiming to represent all Jews.
We support the BDS (Boycott, Divestment and Sanctions) campaign to undermine international support for an Israeli regime that denies basic rights to Palestinians. This means targeting political, economic, military, cultural and academic complicity, especially that of major Western powers, companies and organizations. These BDS actions must continue until everyone between the river and the sea has access to the same rights – to dignity, security in housing, food and safety.
We support the rights of Palestinians to return to their lands, to be safe from ongoing settler attacks and safe from attacks by Jewish-Israeli mobs inside of Israel. We call for an end to the ongoing brutal siege of Gaza and for reparations for lost livelihoods, lands and lives. We also note that occupied people have a legal right to armed resistance against the armed forces that oppress them.
We call on all Zionists who have a fundamental belief in human rights and dignity for all to face a crucial moral decision: Should one continue to defend the increasingly blatant Israeli apartheid or should one follow one's conscience? This may be a painful, difficult dilemma, but we believe that there are many who will resolve it in line with traditional Jewish values of seeking justice.
We also call for the safeguarding of the lives of Israeli Jews who resist the targeting of
Palestinians, and for the protection of all LGBTQ+ individuals whose rights are already being targeted by the far-right movement.
In this time of crisis, we, the IJCJP, hereby reach out to all partners. Let's build a broad coalition for human rights, dignity and freedom for all!
International Jewish Collective for Justice in Palestine (IJCJP),
Jewish Voice for Peace(JVP), USA,
Jewish Voice for a Just Peace in the Middle East, Germany,
Jewish Network for Palestine (JNP), UK,
South African Jews for a Free Palestine (SAJFP),
Jewish Voice for Labour (JVL), UK,
Jews against the Occupation, Sydney, Australia,
French Jewish Peace Union (UJFP),
Jews 4 Palestine-Ireland (J4PI),
Independent Jewish Voices, Canada (IJV),
Boycott from Within (Israeli citizens for BDS)
To contact IJCJP:
globaljewishcollective@gmail.com
https://www.facebook.com/IJCJP/
 
*    *    *    *    *    *    *    *    
MISSION STATEMENT
We are Jews from diverse countries, part of local, national, international networks and organizations. We are connected by our involvement in the struggle for Palestinian rights, and by our determination to work for justice. We oppose Zionism and all forms of racism.
We came together to share our experiences of the International Holocaust Remembrance Alliance (IHRA) Working Definition of Antisemitism. Although it claims to protect Jews, the IHRA Working Definition is in fact being used to shield Israel from valid political challenge, silence Palestinians, and suppress any mention of Palestinian rights. The IHRA's weaponization of antisemitism sets a dangerous precedent for limiting speech on many issues.
We take this as our immediate priority, but it is only a starting point for our collective commitment to build a more just world.
Member Organizations
Alternative Jewish Voices of Aotearoa NZ – Sh'ma Koleinu
Another Jewish Voice /Een Andere Joodse Stem(Belgium)
Boycott From Within/Israeli Citizens for BDS
French Jewish Peace Union/Union Juive Francaise Pour La Paix
Independent Jewish Voices Canada
Independent Australian Jewish Voices (Australia)
Jewish Call for Peace (Luxembourg)
Jewish Network for Palestine (UK)
Jewish Voice for a Just Peace in the Middle East/Jüdische Stimme für gerechten Frieden in Nahost(Germany)
Jewish Voice for Just Peace – Ireland
Jewish Voice for Peace (USA)
Jews Against the Occupation (Australia)
Jews Say No! (USA)
South African Jews for a Free Palestine
Tzedek Collective Sydney – Australia