Global Left Midweek – Focus on Europe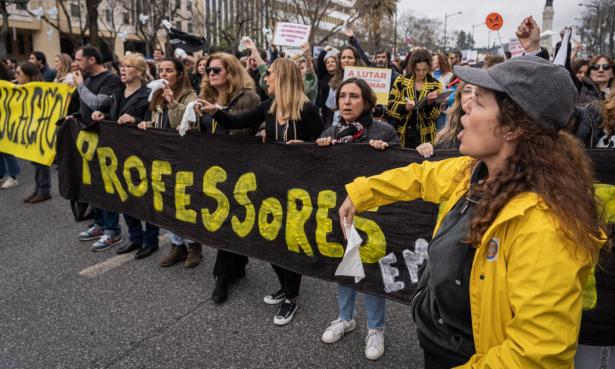 Teachers in Lisbon. Credit, picture alliance/Adri Salido
__________
Turkey: Communists Organize Earthquake Rescue
Peoples Democracy (New Delhi)
Teams formed by TKP members and friends reconstruct their work daily, based on the updated needs of our people and scientific knowledge on disaster management. They are restructuring their efforts in line with the needs changing day by day. We are mobilising our growing human and logistical resources, thanks to solidarity efforts, against the freezing cold, hunger and thirst.
__________
War, Fascism and Left Unity
Walter Baier / transform! Europe (Vienna)
We support the social movements and trade unions in the struggle for a social and ecological transformation. The basic question is: who should be the active subject of this transformation? We know that the only kind of transformation that can succeed is one that is implemented by wage-earning men and women. And so democracy is the decisive criterion of the transformation.
__________
UK: Class Struggle in the Labour Party
__________
Italy: Crackdown on Anarchists
Jack Harmsworth / Novara Media
The prosecutor-general of Italy's supreme court recommended that Alfredo Cospito be released from the highly restrictive "41-bis" system under which he has been detained since last spring. A controversial figure in Italy, many consider Cospito a domestic terrorist. To others, he is the victim of a state expanding a brutal prison regime to new targets.
__________
France: Left Parties and Pension Reform Upsurge
Davide Basso / EURACTIV (Brussels)
France's left-wing parties generally differ on political strategy, but when it comes to the planned pension reform, the left camp, grouped in the NUPES alliance, is united against the government's bill. Some more divisive topics were excluded from electoral agreements. Is this coherent stand against the pension reform just a facade or an expression of fundamental unity?
__________
Feminism in Eastern Europe
Lucy Martirosyan / openDemocracy (London)
The feminist movement in Eastern Europe has radically changed in the past three years, with women's rights activists having to adapt to war, conflict and the rise of the anti-gender movement. Local women's funds in Ukraine, Armenia, Poland, Georgia and Germany have been working together to assess the needs of women and girls.
__________
Ireland: 20,000 Stand Up to Anti-Migrant Haters 
Amy Blaney / Irish Independent (Dublin)
Demanding an "Ireland for All," tens of thousands of Irish people marched through Dublin to make clear their opposition to recent violent attacks on migrants and rallies claiming the country "is full" and can't accept refugees.
__________
Portugal: Teachers Hit the Streets (Video)
S.T.O.P. – arguably the most militant union involved in the ongoing teachers' strikes – is now appealing for a national strike to show the government "it should stop prioritising the thousands of millions of euros for banks and ruinous private-public partnerships". 
__________
Hans Modrow (1928–2023)
Gerd-Rüdiger Stephan / Rosa Luxemburg Stiftung (Berlin)
Hans Modrow was the last communist prime minister of the German Democratic Republic before free elections took place in March 1990. Modrow was known for his tolerance, innovative approach and lack of dogmatism. He oversaw the dissolution of Stasi and the formation of the Party of Democratic Socialism and its successor, Die Linke.