Tidbits – Mar. 16, 2023 – Reader Comments: Bank Failures, GOP Deregulation; Pentagon Budget; MAGA Bans Books, Not Guns; Workers and Unions; False Promise of ChatGPT; Triangle Shirtwaist Anniversary; Vietnam War Ends; Rosenberg Case 70 Years Later;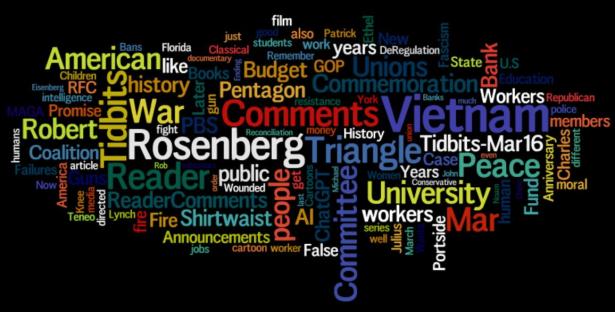 Tidbits - Reader Comments, Announcements AND cartoons - Mar. 16, 2023,Portside
Workers and Their Unions
 
AI
 
Announcements:

Re: Banks Fought To Fend Off Tougher Regulation. Then the Meltdown Came.
Less regulation=more money for greedy bankers=no money for the rest of us. Thanks ????!
Andrea Blakeslee Genz
Posted on Portside's Facebook page
Re: Elizabeth Warren: Silicon Valley Bank Is Gone. We Know Who Is Responsible.  
Saw here on Rachel Maddow last night.
excellent in her explanation.
Ken Kukovich
      =====
The banks get bailed out despite their lobbying and despicable actions and their depositors with accounts over $250,000 are bailed out. Since all those people managed to repay their $50,000 student loans, or never even needed one, it wouldn't be fair to bail out someone who owes $10,000.
America is definitely the land of opportunity--to accumulate more money the more you start with.
Arlene Halfon
Conjunction Misfunction  --  cartoon by Clay Jones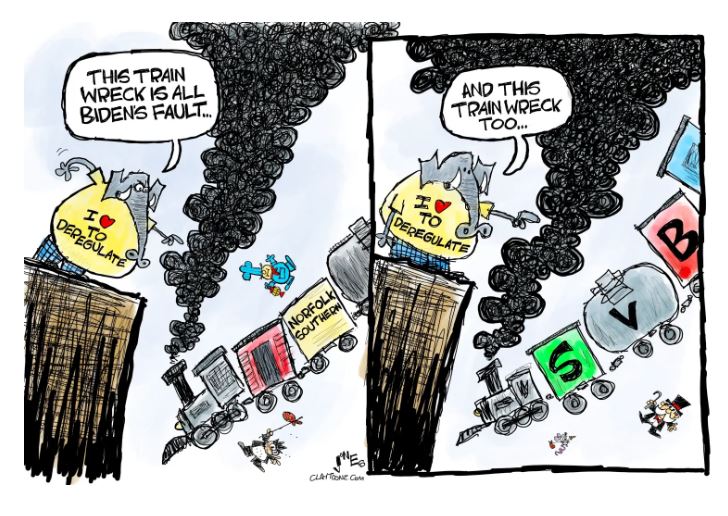 Clay Jones
March 15, 2023
Claytoonz
Re: 60+ Faith Groups Urge Congress to 'Dramatically' Slash Pentagon Budget  
The USA's "defense" budget is a lot more about keeping military contractors profitable than keeping us safe.
Norm Littlejohn
Posted on Portside's Facebook page
Re: The Arctic Is the Next Frontier in the New Cold War  
It is like space, a perfect place for us to show that humans are a mature grown species capable of cooperating with people who are different. Nah, let's just wave guns, beat our chests and scream defiance at each other. If there are UFO visitors, they will watch us a while and quietly leave. Not ready for prime time.
Charles   
Re: Who Wants To Teach in Florida?  
This should come as no surprise. Who wants to teach in a state where you can get arrested for actually teaching?
Robert Laite
Posted on Portside's Facebook page
Ban Guns, Not Books  (Diane Ravitch)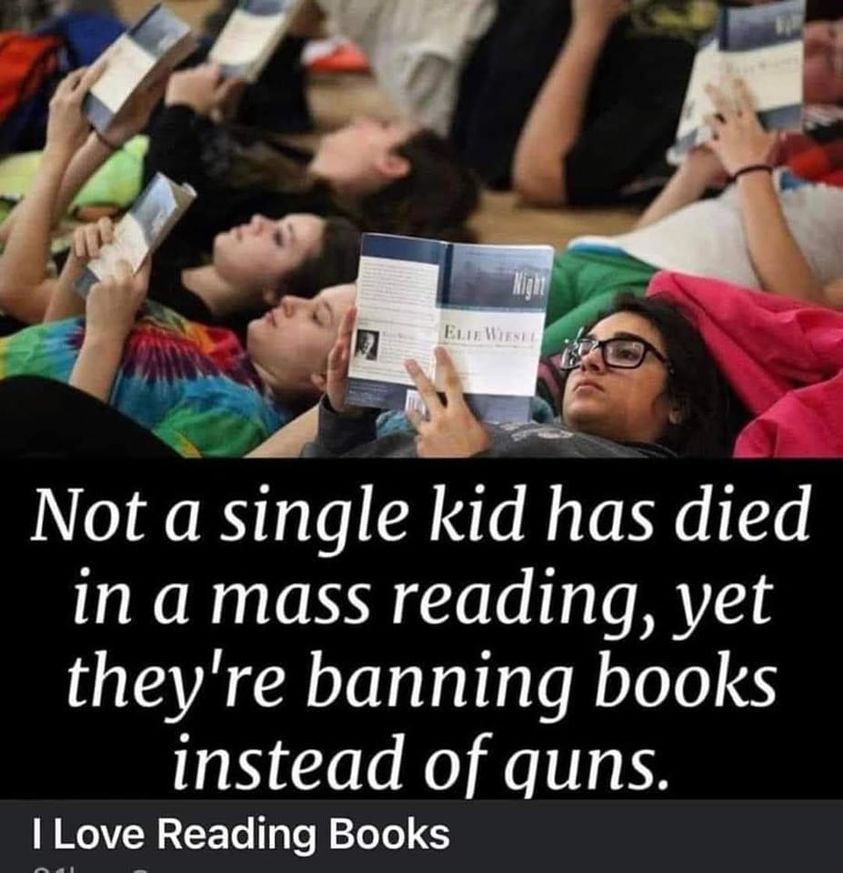 After the massacre of children and educators at Sandy Hook Elementary School in Newtown, Connecticut in December 2014, there seemed to be an unstoppable public demand for federal gun control legislation. After the massacre of high school students and teachers at Marjory Stoneman Davis High School in Parkland, Florida, in 2018, the demand for gun control seemed unstoppable, led by students from the school.
Nothing happened. Now American students and teachers learn to protect themselves in "active shooter" drills. The opponents of gun control count on potential victims to protect themselves, instead of enacting restrictions on gun owners to protect children.
The same politicians who fight for the rights of gun owners are busily banning books, which they consider dangerous. Book banning is cancel culture at its worst.
Diane Ravitch
Diane Ravitch's blog
A site to discuss better education for all
March 4, 2022
Re: The "Private and Confidential" Conservative Group Teneo  
The records show Teneo's members have included a host of prominent names from the conservative vanguard, including such elected officials as U.S. Sens. J.D. Vance of Ohio and Missouri's Josh Hawley, a co-founder of the group. Other members have included Rep. Elise Stefanik of New York, now the fourth-ranking House Republican, as well as Nebraska's attorney general and Virginia's solicitor general. Three senior aides to Florida Gov. Ron DeSantis, a potential 2024 presidential candidate, are members. Another is the federal judge who struck down a Biden administration mask mandate. The heads of the Republican Attorneys General Association, Republican State Leadership Committee and Turning Point USA — all key cogs in the world of national conservative politics — have been listed as Teneo members.
Conservative media figures like Ben Shapiro of the Daily Wire, several pro athletes and dozens of executives and senior figures in the worlds of finance, energy and beyond have also been members.
Marylou Mendonca
Posted on Portside's Facebook page
      =====
Fascism is the their goal .... .... arrogant traitorous bastards ... and their piggy wives too.
Bruce Powers
Posted on Portside's Facebook page
Safety Last  --  carton by Mike Luckovich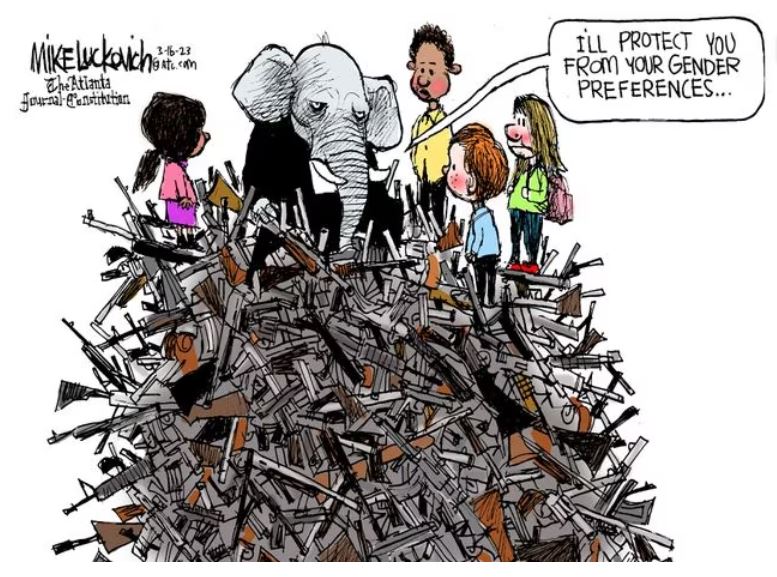 Mike Luckovich
March 16, 2023
Atlanta Journal-Constitution
Re: Wounded Knee and Today's Fight for Treaty Rights
THE Indian Wars Are Never Over TILL we GET LAND BACK !!!!
Dorothy SunBear
Posted on Portside's Facebook page
      =====
Free Leonard Peltier!!
Genevieve Bluebird
Posted on Portside's Facebook page
Re: The Surprising History of International Women's Day
We are appreciating the history presented herein of the origins of International Women's Day ... and as usual, it is not what you would have guessed!
League of Women Voters of Albany County
Posted on Portside's Facebook page
Budget Plans  --  cartoon by Rob Rogers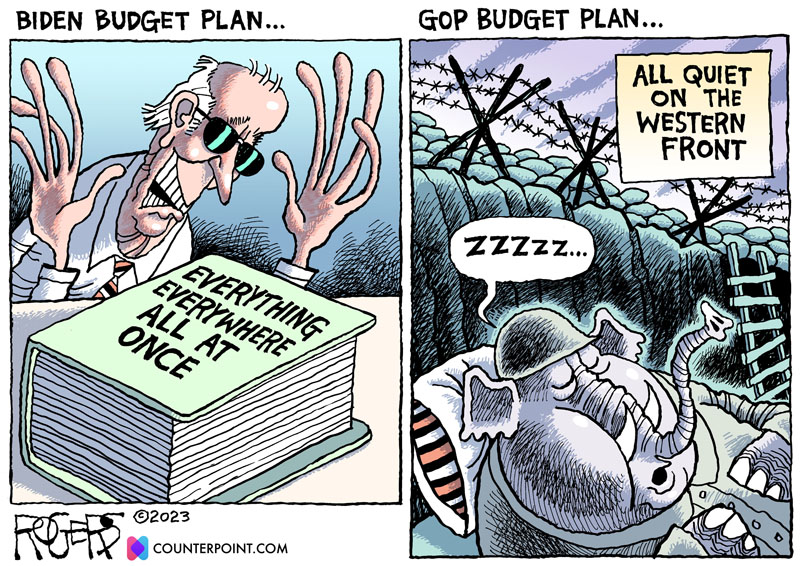 Rob Rogers
March 14, 2023
robrogers.com
Re: How Police Culture Has Reshaped America  
Republican chickens home to roost. When you transfer 90% of the national wealth to 10% of the people, use racial prejudice to win votes, fight any program that will improve ordinary people's lives, court religious fanatics and conspiracy nuts, and inject millions of firearms into society— I guess you need militarized police.
Tom Madden
Posted on Portside's Facebook page
      =====
American citizens should not be treated like an enemy in war.
Bonnie Holle
Posted on Portside's Facebook page
Re: Hope Amid Climate Chaos: A Conversation With Rebecca Solnit  
Thanks, Rebecca Solnit.  Hope comes from the ability to imagine a different and better world.  But optimism, like pessimism, is a form of certainty -- we don't have to do anything, everything is already decided.  That's not true; the future is not already determined.  What we do in the present matters.
Occupy Palm Beach
Posted on Portside's Facebook page
Re: The Left Should Defend Classical Education
(posted on Portside Culture)  
The problem with this argument is that it separates Classical Education from modern literature. This oftentimes means excluding non white, non male writers from the list. What those who defend Classical Education should do (IMHO) is fight for a longer more inclusive list.
Charles Patrick Lynch
Posted on Portside's Facebook page
Good article, although it didn't answer a basic question I have- how did life in Ukraine change with the overthrow of Yanukovich? Is it blind patriotism that motivates the resistance to Russia?
Robert Wayne Johnson
Posted on Portside's Facebook page
(posting on Portside Labor)  
"The shrinking of unions effectively redistributes income from low- and middle-income workers to affluent investors."
The Durango Worker
Posted on Portside's Facebook page
      =====
"HAPPY DAYS" — that's what the latter half of the 1950's in America are called in the history books because when union membership grew to 25% of the workforce back then, not only did employees in unionized businesses enjoy good pay, plus good inexpensive high-quality health plans and secure fixed-benefit retirement plans, but even employees in non-union businesses enjoyed the same because those businesses had to provide all that in order to attract and retain good employees and in order to try to avoid becoming unionized. Unions won for American workers the 5-day workweek, weekends free, and created the Middle Class that made America's economy boom because workers had the money to buy homes, cars, TV's, and all the other products of American industry.
Unions raised the tide of income equality for everyone. I was able to work my way through college more than 60 years ago with an unskilled union job that paid back then almost as much as today's workers get in non-union minimum-wage jobs today. So sad for them.
But then came the decades-long onslaught of corporate-owned media propaganda to spread the fiction that union wages and benefits were driving jobs to foreign nations — when the actual truth was that corporations were shifting jobs to foreign nations in order to maximize their own profits…and American workers have never had a fair chance since then, suffering with stagnant wages. lousy "benefits", and either no retirement plan or a 401(k) plan that benefits Wall Street and banks more than workers.
Jan Rossmann
Posted on Portside's Facebook page
      =====
With the Government helping those who want Trickle Down Economics, workers need all the help they can get. Same goes for all low income people.
Duane Riskedahl
Posted on Portside's Facebook page
      =====
Duane Riskedahl yes, shit is the only trickle down workers get. Tax them corporations 40%
Sherrie Van Orman
Posted on Portside's Facebook page
      =====
Read what FDR said about public unions
Andy Charles
Posted on Portside's Facebook page
Re: Congressman Wants To Make 32-Hour Workweek U.S. Law to 'Increase the Happiness of Humankind'
(posting on Portside Labor)  
I've been talking about a 28 hour workweek for about 20 years!!!  It will enhance the performance of the worker, refresh and improve the quality of life for the worker and  open more jobs for our increased population.
Judith Ackerman
Re: Noam Chomsky: The False Promise of ChatGPT  
Great article. But I'm not sure these are, in the - long run, ineradicable defects. In another 20-30 years, if the exponential progress in the creation of AI continues, we may very well develop a way for it to have moral reasoning, or creative decisions based on the random synthesis of bits of information, which it then analyzes for fidelity to principles of meaning, correlations, and reason, narrowing it down to the best (or one of the best) solutions. But I mean, it's important to understand that there are many scenarios in which moral ambiguity will remain, because there's essentially no right choice, or both are 'wrong choices' in various ways. 
Anyway, I only began to have a conversation recently with a brilliant programmer who's steeped in this stuff. But he made an interesting point: perhaps the human endeavor to create a universal moral code for programming AI might itself help humans fully embody their own moral code(s). Of course, that goes deep down the rabbit hole of moral theory as well as theory of mind, but it's a very intriguing idea that has a lot of merit. It may be that in trying to create a morally restrained AI—something that at least has the capacity to 'act like a human,' that humans themselves will come closer to comprehending what makes us human in the first place. Because, let's be honest, with all the faulty natural wiring in many of the heads of maladjusted individuals, some of us are already faking it.
Thomas Rott
Posted on Portside's Facebook page
      =====
Those are just temporary limitations and will be solved probably quicker than most people expect. The same thing was said about multiple problems in the past just to be proven wrong. I think AGI is not far away at all and the singularity is not far behind.
Gene Yanenko
Posted on Portside's Facebook page
      =====
It's an imitation of thinking at this point and the article contains some valid ideas... But, also, have you spoken with average people? It doesn't take as much insight as we might think to operate on a human level of intelligence. People who believe the Earth is flat still qualify as humans.
Kory Schaubhut
Posted on Portside's Facebook page
      =====
Kory Schaubhut:  "There is a cult of ignorance in the United States, and there has always been. The strain of anti-intellectualism has been a constant thread winding its way through our political and cultural life, nurtured by the false notion that democracy means that 'my ignorance is just as good as your knowledge." - Isaac Asimov.
Ed Glazar
Posted on Portside's Facebook page
      =====
Evidently, much like Putin's latest gambit for empire… A.I. is falling short of stated objectives….. Somehow I find this reassuring. Looks like we're not on the verge of a terminator movie after all…At least not yet..not this week anyway…
Tim Perdue
Posted on Portside's Facebook page
      =====
Of course AI will be flawed and different from human intelligence. The same could be said about alien intelligence or even comparing different human cultures. Human intelligence is flawed and variable.
Jamie Arrison
Posted on Portside's Facebook page
Triangle Shirtwaist Factory - 2023 Commemoration  --  Friday, March 24 (2023 Remember the Triangle Fire Coalition)

Join us March 24th from 11:30AM to 1:00PM for the 2023 Commemoration
The Remember the Triangle Fire Coalition educates the public about the 1911 Triangle Shirtwaist Factory fire through its on-going arts projects, educational outreach, and social media sites. The Coalition works with Workers United, the New York City Central Labor Council, the FDNY, New York University, and various community groups to plan and implement the annual remembrance activities on the anniversary of the fire each March 25. Throughout the year, the Coalition offers programming to raise public awareness about the fire and explore its continuing relevance for worker rights and workplace safety. On our website and via social media we provide resources about the Triangle fire for educators and promote the work of organizations that advocate for worker rights and safety in the US and around the globe. We aim to be as inclusive as possible with our programming to make this history relevant and accessible to people of color, people with disabilities or communities whose primary language is not English. The Coalition is currently working to establish a permanent public art memorial on the Brown (formerly Asch) Building where the fire happened to honor those who died in the fire, so that their sacrifice will never be forgotten.
Remember the Triangle Fire Coalition  
Church Street Station
PO Box 3330
New York, NY 10008-3330
National Premier The Movement and the Madman - on American Experience -All PBS stations and PBS.org - March 28 (Vietnam Peace Commemoration Committee)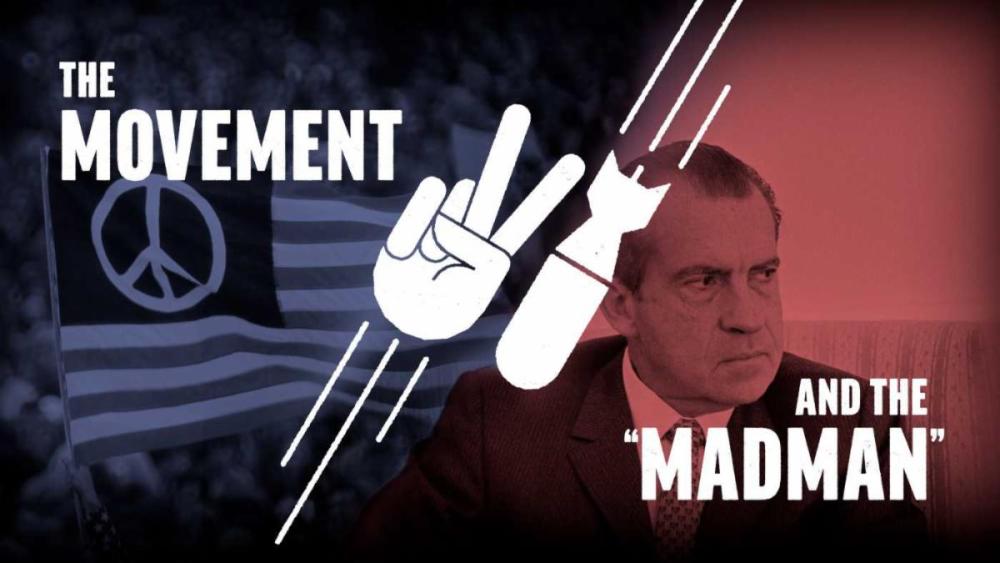 YouTube video of Vietnam Peace Commemoration Committee zoom for educators and organizers
Collaboration with local PBS stations and other film related projects (held March 5, 2023)
Stephen Talbot, director of the film
Robert Levering, producer (also of "The Boys Who Said No")
Dr. Carolyn (Rusti) Eisenberg, Professor Hofstra University, author "Fire and Rain" 
Dr. Michael Doyle, Specialist in local historiography, Ball State University Moratorium commemoration
John McAuliff, Fund for Reconciliation and Development (moderator)
Please review regularly the page for educators and organizers here
DR. MICHAEL WM. DOYLE is an associate professor of history emeritus at Ball State University in Muncie, Indiana, where he taught and directed the Public History Program and the Oral History Workshop from 1996-2019. He holds a bachelor's degree in history and history of culture from the University of Wisconsin-Madison and did his graduate work at Cornell University.
Doyle's research focuses on American cultural radicalism during the Vietnam War era. He also specializes in public history, the interpretation and application of historical knowledge created along with and for the benefit of the general public that is typically programmed in non-academic spaces. In Oct. 2019 he helped organize a 50th Anniversary commemorative conference on the Vietnam Moratorium Committee at Ball State, which included a reunion of alumni antiwar activists and was keynoted by David Harris. With over four decades of experience as an oral historian, he and his students have recorded interviews with dozens of Vietnam veterans.
Doyle lives today with his family in Winona, Minnesota where he serves as vice chair of the city's Heritage Preservation Commission and conducts oral histories at Winona State University.
STEPHEN TALBOT is an Emmy, DuPont and Peabody award-winning filmmaker who has produced, written or directed more than 40 documentaries for public television, primarily for the PBS series Frontline and KQED (San Francisco). His Frontline films include The Best Campaign Money Can Buy, The Long March of Newt Gingrich, Justice for Sale and News War: Whats Happening to the News. He directed the PBS history special, 1968: The Year that Shaped a Generation, as well as producing and writing PBS biographies of authors Dashiell Hammett, Ken Kesey, Carlos Fuentes, Maxine Hong Kingston and John Dos Passos. He was the co-creator and executive producer of the PBS music specials, Sound Tracks: Music Without Borders. Talbot also served as the series editor for Frontlines international series, Frontline World: Stories from a Small Planet, and the senior producer of documentary shorts for the PBS series Independent Lens. As a student at Wesleyan University, he made his first documentary film about the November 1969 anti-war protests in Washington, DC.
ROBERT LEVERING  is an Executive Producer and Advisor to the Boys Who Said NO! a recently completed film about draft resistance during the Vietnam era. (boyswhosaidno.com)  He is currently working on a documentary entitled  The Movement and the Madman about the impact of the 1969 Moratorium and Mobilization demonstrations in preventing Nixon from escalating the war (movementandthemadman.com)  A draft resister himself, Robert was a full-time antiwar organizer for six years during the Vietnam War. A long-time journalist, he wrote an article on the current controversy about registering women for the draft: https://wagingnonviolence.org/2020/05/activists-fought-military-draft-conscription-congress-women-register/
CAROLYN RUSTI EISENBERG is a Professor of US History and American Foreign Policy.at Hofstra University. Her new book Fire and Rain: Nixon, Kissinger and the Wars in Southeast Asia ( Oxford University Press) will become available in January 2023.  Carolyn's prize-winning book, Drawing the Line: the American Decision to Divide Germany, 1944-49 (Cambridge University Press) traces the origins of the Cold War in Europe. Professor Eisenberg is a co-founder of Brooklyn for Peace, and a Legislative Coordinator for Historians for Peace and Democracy.
Moderator JOHN McAULIFF is the executive director of the Fund for Reconciliation and Development and coordinator of the Vietnam Peace Commemoration Committee.  As a student at Carleton College, he organized support for the Student Nonviolent Coordinating Committee and participation in the Mississippi Summer Project of 1964.  After serving in the Peace Corps in Peru, he became the first President of the Committee of Returned Volunteers, leading its participation in the Vietnam anti-war movement, including the demonstration at the Chicago Democratic Convention.  He represented CRV in national antiwar coalitions and the U.S coalition at international conferences in Sweden.  For ten years he directed the Indochina Program in the Peace Education Division of the American Friends Service Committee, traveling on its behalf to Hanoi with a delegation from the Indochina Peace Campaign that arrived on April 30, 1975, the last day of the war.  In 1985 he founded the Fund for Reconciliation and Development to continue his AFSC work for normalization of relations with Vietnam, Laos and Cambodia.  After that was accomplished in 2005, he refocused most of his work on a similar goal with Cuba.  He was "detained" at the March on the Pentagon and the Mayday civil disobedience action and while demonstrating against George Wallace during his Presidential campaign in New York 
Resources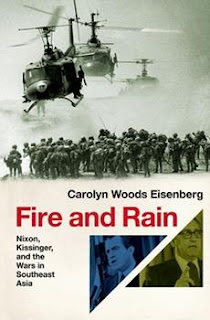 Vietnam Peace Commemoration Committee  

The Rosenberg Case 70 Years Later: Fighting Fascism Then and Now  - June 14 and/or June 25 (Rosenberg Fund for Children)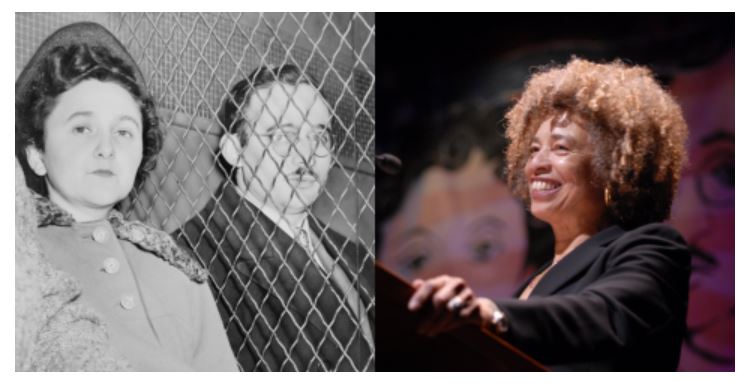 Join us on Wednesday, June 14th at 7 pm EDT or Sunday, June 25th at 4 pm EDT for a film screening honoring the Rosenbergs' resistance and highlighting anti-fascism organizing within the RFC beneficiary community.
Seventy years ago on June 19th, Ethel and Julius Rosenberg were denied clemency for the last time, and their executions were allowed to go forward. They lost their lives to the anti-communist hysteria of the McCarthy era.
The day before their deaths, they wrote one final letter to their young sons, Robert and Michael, sharing that they were comforted in the sure knowledge that others would carry on after them. The Rosenberg Fund for Children (RFC), founded as Robert's "constructive revenge," justifies their faith and provides support to the multitudes of people across generations who have continued the fight against fascism and injustice.
Join us virtually for the premiere of a short film produced by the RFC on either of two screening dates – June 14th or June 25th. The event will feature long-time activist and RFC Advisory Board member Angela Davis, National Book award-winning poet and RFC Advisory Board member Martín Espada, Highlander Center Co-Executive Director Ash-Lee Woodard Henderson, Rosenberg sons Robert and Michael Meeropol and other artists and activists. This 70th anniversary commemoration will honor Ethel and Julius' resistance and legacy and share 30+ years of RFC beneficiary stories that illuminate the ongoing battle against fascism.
The film will include readings and dramatized vignettes, interspersed with art and music, which will draw from letters written by Ethel and Julius Rosenberg and other activists' stories from within the RFC community. We'll conclude the event with a live conversation between Robert, RFC Executive Director Jennifer Meeropol and audience members. Amidst the rise of racist, xenophobic and nationalistic oppression in the U.S. across the generations, this event will highlight the powerful current of anti-fascist activism that continues to this day.
TICKET INFO: click here to purchase your tickets!
Jennifer Meeropol
Executive Director
Rosenberg Fund for Children
www.rfc.org
tel: (413) 529-0063
fax: (413) 529-0802
116 Pleasant St., Suite 348
Easthampton, MA  01027