Global Left Midweek – May 24, 2023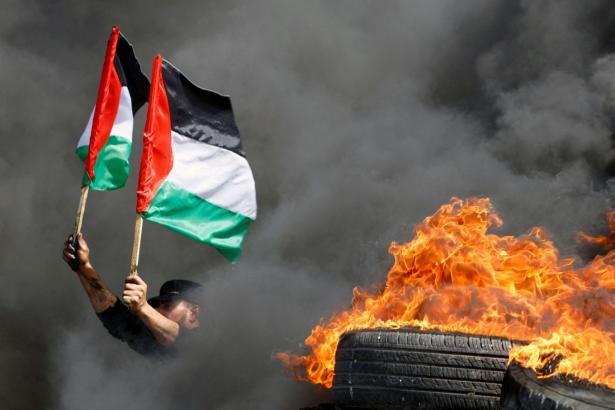 A demonstrator waves two Palestinian flags next to a stack of burning tires during a protest over tension in Jerusalem, held on April 5, 2023, at the Israel-Gaza border fence, east of Gaza City. Credit, Reuters/Mohammed Salem
__________
Scientists Challenge G7 on Covid
Jake Johnson / Common Dreams (Portland ME)
A group of scientists warned the leaders of rich countries on Thursday that the world is badly unprepared for the next pandemic and must urgently lay the groundwork for a swift, equitable global response that puts lives over pharmaceutical industry profits.
__________
Nakba at 75
__________
Latin America: It's On
__________
Sudan: Breaking the Chains of Indifference
Khalid Albaih / Africa is a Country (New York)
The significance of ending the ongoing war in Sudan cannot be overstated, and represents more than just an end to violence. It provides a critical moment for the international community to follow the lead of the Sudanese people.
__________
Sri Lanka: Left Strategy Against the IMF
Devaka Gunawardena / Polity (Colombo)
The citizenry must be able to express their dissent over the direction that the current regime is imposing on the country. Opposition to the regime's anti-democratic measures requires foregrounding the class dimension—especially the IMF Counter-Revolution—for resistance to have any real hope of becoming effective. 
__________
Extinction Rebellion: From Disruption to Broad Alliance [scroll down!]
Global Newsletter (London)
There were marches so big you had to queue to join them. There were moving speeches, star-studded musical sets, pickets outside government buildings, and peoples' assemblies using clever software to allow ideas to be uploaded and rated. But there was a key ingredient missing from this rebellion in the city where rebellion first began. And that was disruption. 
__________
Subaltern Studies in Perspective
Stellan Vinthagen / Waging Nonviolence (Brooklyn)
David Hardiman was one of the founders of the Subaltern Studies Group, part of a larger post-structural and cultural turn in the humanities and social sciences, which has profoundly changed how we today discuss history, power, consciousness, colonialism and resistance.
__________
Changing Face of Labor Activism in China
Wen / 闯  Chuǎng
The shift to gig work in the service sector, precipitated by deindustrialization, structural employment changes and the venture capital investment in platform companies, has already resulted in some worker mobilization. Some of the younger activists and student radicals still currently active have become interested in this sector, but space is limited for any meaningful participation.
__________
Cameroon's Conservation Commandos
Shuimo Trust / African Arguments (London)
Cameroonian environmentalists have recognised that they must work with – not against – displaced communities to make a difference. Over time, the Environment and Community Development Association (EcoDAs) began to cut through, helped by new strategies they devised to respond to the communities' needs. 
__________
Legacies: Mies, Gillespie, Matlhako