Tidbits – July 13, 2023 – Reader Comments: Supreme Court: Return To Separate and UnEqual; Child Labor; Remembering Pat Fry; Museums That Remember Slavery; Culture Wars Against Education; Ending Climate and Nuclear Crises; Announcements; Cartoons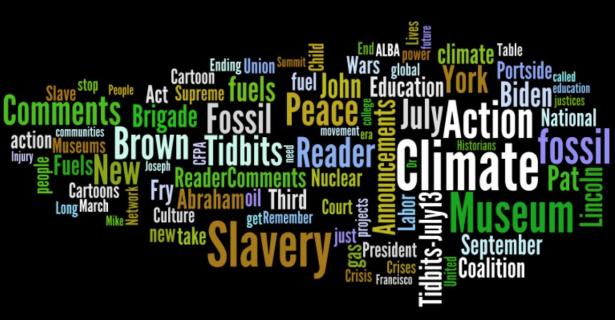 Tidbits - Reader Comments, Resources, Announcements, AND cartoons - July 13, 2023,Portside
Resources:
 
Announcements:
 
Re: The Segregationist Roots of Anti-Woke Ideology

We all know that the word "woke" is MAGA Speak for when bigots get called out for behaving like bigots!
Monico Soto-Granado
Posted on Portside's Facebook page
      =====
...it's their latest idea of yet another clever, covert n-word:
"The phrase stay woke has history in AAVE as far back as the 1930s. In some contexts, it referred to an awareness of social and political issues affecting African Americans. "--https://en.wikipedia.org/wiki/Woke
Jones Murphy
Posted on Portside's Facebook page
      =====
"While the war on what [Florida Governor Ron] DeSantis has also called 'the woke mind virus' is new, the rhetoric and tactics employed by the Florida governor and many other conservatives date back at least to the start of the modern Civil Rights Movement. In the period after the Brown v. Board of Education decision of 1954, segregationist politicians attempted to use state power to punish progressive corporations, civil rights groups, and media outlets; pundits condemned what they saw as the narrowing of acceptable discourse and the demonization of their racist worldview; and citizen groups organized boycotts to maintain segregation."
Norm Littlejohn
Posted on Portside's Facebook page
Moms for Liberty  --  Cartoon by Clay Bennett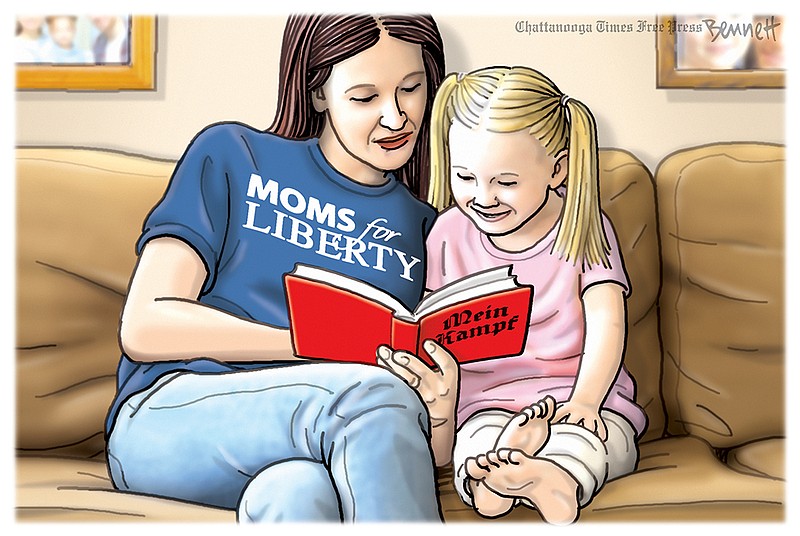 Clay Bennett
July 11, 2023
Chattanooga Times Free Press
Sign of the Times --  Shame on SCOTUS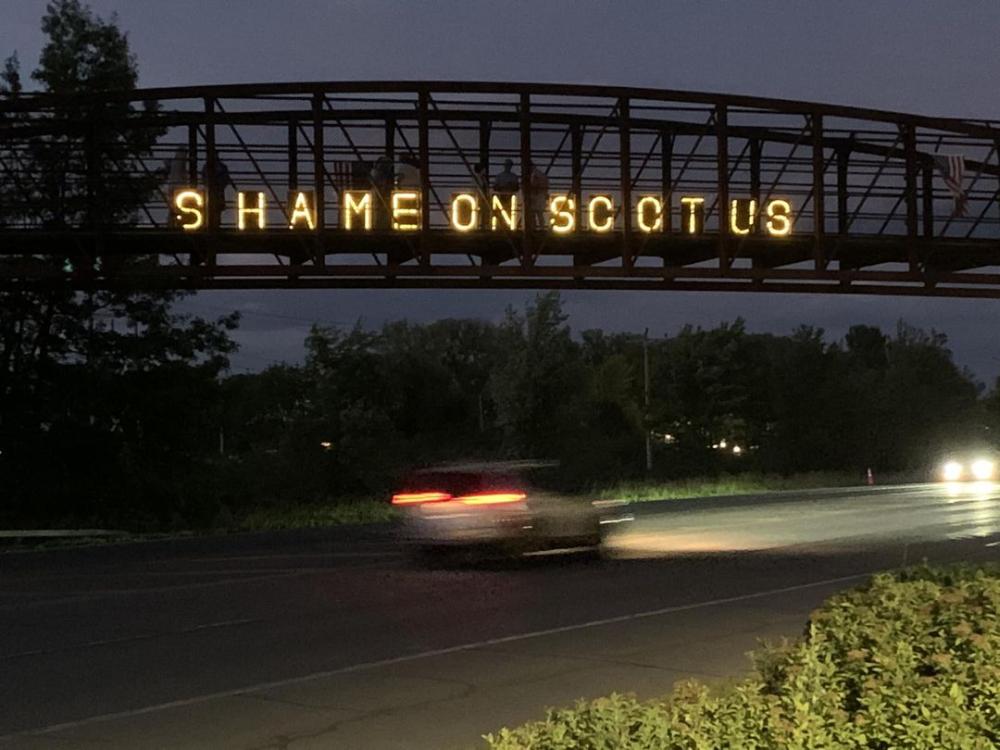 This was on the bike path in Queensbury, upstate New York, represented by uber-MAGA Elise Stefanik
Who the heck wants to reflect prevailing public values, and who decides what they are? " without regard for the evolving views and composition of the electorate." So, as the white Christian nationalists take over larger segments of the electorate, we should work to give them more power? Because then they will want to compromise more often?
I am not sure what planet these folks live on, but not mine. Yeah Merrick Garland didn't make it. Do people really think he is such a model of progressiveness? T
his is a terrible article and idea. It would just institutionalize right centrism. Folks need to get out of their think tanks and into the streets. It is only by the sheerest of luck we ever get good justices. Reform yes, but not this one.
This would do nothing to ensure the replacement of crappy justices with good ones. Bad presidents have appointed excellent justices and center right presidents have appointed mediocre justices. Too simplistic and too based on think tank talk. Sorry, back to the drawing board.
Charles Patrick Lynch
Posted on Portside's Facebook page
Legacy Admissions  --  Cartoon by Adam Zyglis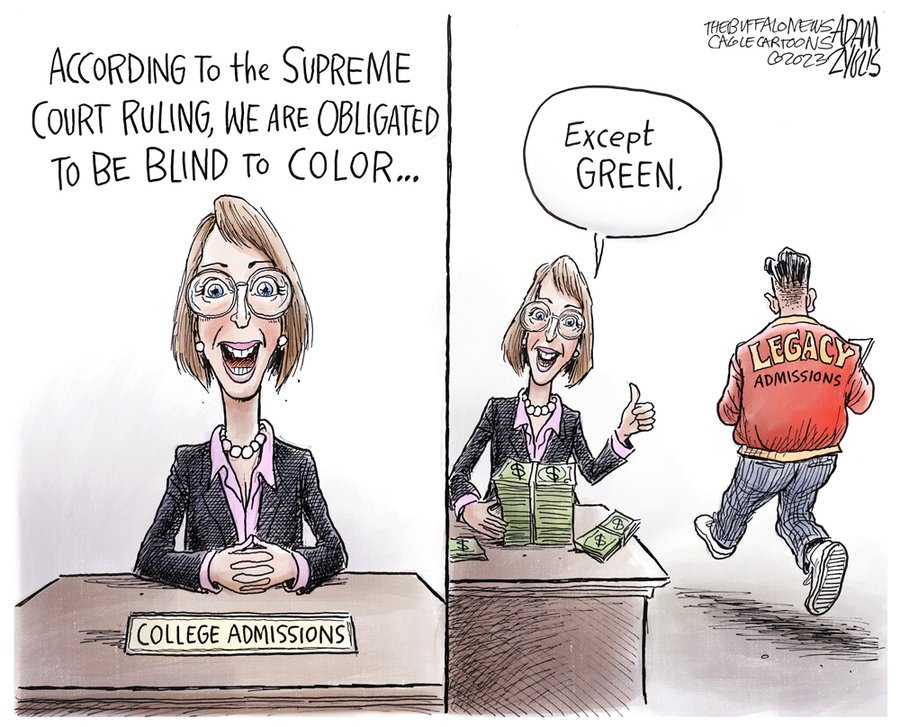 Adam Zyglis
July 1, 2023
The Buffalo News
Re: The Moral Crisis of America's Doctors  
Sobering, and true
Ken Kukovich
Re: Child Labor Is Making a Big Comeback in the US  
But of course; why make wage slaves of just parents when you can have the family?
Mike Noon
Posted on Portside's Facebook page
Re: Debunking the Five Major Myths About Outmigration  
If only ... bye-bye, rich people; hello, cleaner politics.
Norm
"Ambitions...Affirmative Action"  
Discussion of Affirmative Action focuses on who wants it and who finds it discriminatory. I don't remember seeing any discussion of the benefits for the White majority of affirmative action in college admissions.
We go to college to get educated; not just to collect credentials. How can anyone consider themselves "educated" if they are not meeting and interacting with people of different backgrounds? If everyone went to the same Prep Schools or Middle Class High Schools, how can they start to understand anything about society and how other people think and what experiences they have.
When I went to college, I had no idea that the country wasn't made up of segregated ethnic minorities, who worried about not being able to pay the rent,, who lived in the neighborhood I grew up in. Wealthier students with parents who went to HS and even college, could never have understood living in a family where English wasn't spoken and having to read signs and letters to their parents who were illiterate.
Integration is a vital part of education.
Arlene Halfon
Running Out the Clock  --  Cartoon by Mike Luckovich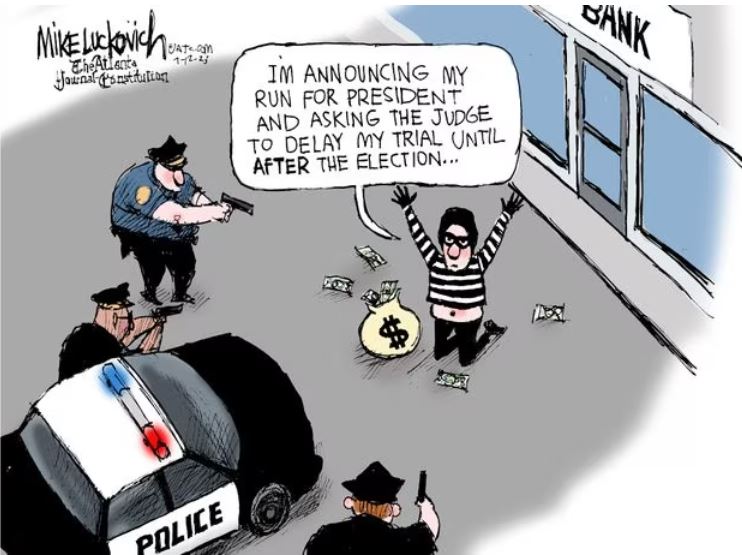 Mike Luckovich
July 11, 2023
Atlanta Journal-Constitution
Re: Pat Fry: A Tribute in Memoriam
Many thanks to Geoffrey Jacques for his moving tribute to Pat Fry.  I can only second his thoughtful tribute to this wonderful lady.  I worked with her for several years as co-reporters at the Daily World covering the labor movement. Her relationship with both the rank and file and leaders in the Detroit union movement made her invaluable to our coverage. She wrote with both knowledge and passion for the cause of working folks. Her commitment to racial justice came through in all her efforts. Her passing is a deeply felt loss to all who knew her.
Bill Dennison
      =====
This was a shock. I had last spoken to Pat about a year ago via iPad image. She was in Michigan at the time, and didn't appear to be ill. I'll miss her, as will the Left movement. Since I only knew Pat from her time in New York, your well-written exhaustive article by about her life only deepened my admiration for her.
Seymour Joseph
      =====
Friends of Pat Fry, who died in late June, may want to read these stories about her life and work. Thanks to Portside for circulating Geoffrey Jacques' obituary.
Daniel Millstone
Posted on Portside's Facebook page
      =====
Thanks for sharing this tribute. Really beautiful.
Roberta Goodman
Posted on Portside's Facebook page
      =====
poignant tribute. thank you so much for this beautiful write-up. i love pat fry. i didn't realize that she was so influenced by catholic upbringing. me too!
Arsenia Reilly-Collins
Posted on Portside's Facebook page
Re: Cummings Wins Runoff, Will Be Communications Workers First African-American President
(posting on Portside Labor)  
I am offended by the article and lack of truth in the article. While true Claude Cummings was elected. The accusations against Ed Mooney were not investigated to the extent they were truthful or that he actually committed the violations, only that they were actual accusations. I think you need to truthfully report the situation.
Marjorie A. Krueger, Director of Airline Passenger Service
Communications Workers of America
      =====
Moderator's Note:
Outgoing CWA president Chris Shelton ordered an investigation, and issued a public report.
[See story here from the Philadelphia Inquirer:
https://www.msn.com/en-us/money/companies/philly-labor-leader-accused-o… ]
      =====
I read an article on Portside this morning that had several factual errors.  Claude received the most votes in both rounds of voting.
The article mistakenly stated Mooney received the most votes in the first round.
Also the local is 1037 not 1027.
https://cwa-union.org/sites/default/files/2023-07/EID46-47-CWACONV-President-D6-Diversity-T-and-T.pdf
Bill Bradley
Re: W. E. B. Du Bois, Souls of Black Folk: A Graphic Interpretation – A Review
(posting on Portside Culture)  
A great piece of writing.
I've enjoyed it on several occasions
Kate Smiley
Posted on Portside's Facebook page
https://www.facebook.com/Portside.PortsideLabor
Slavery Museums
We must never forget!
Global
Routes of Enslaved People
UNESCO
https://www.unesco.org/en/routes-enslaved-peoples
Slavery and Remembrance
The Colonial Williamsburg Foundation
https://slaveryandremembrance.org/
In the United States
Old Slave Mart Museum
Charleston, South Carolina
http://oldslavemartmuseum.com/
The Legacy Museum
Montgomery, Alabama
https://museumandmemorial.eji.org/museum
Whitney Plantation
Edgard, Louisiana
https://www.whitneyplantation.org/
Richmond National Slavery Museum
Richmond, Virginia
https://www.smithgroup.com/projects/richmond-national-slavery-museum-at-the-lumpkins-slave-jail-site
The Lest We Forget Museum of Slavery
Philadelphia, Pennsylvania
https://lwfsm.com/
Sandy Spring Slave Museum & African Art Gallery
Sandy Spring, Maryland
https://www.sandyspringslavemuseum.org/
In Africa
The House of Slaves (Maison des Esclaves)
Goree Island, Senegal
https://en.wikipedia.org/wiki/House_of_Slaves
National Museum of Slavery (Museu Nacional da Escravatura)
Luanda, Angola
https://en.wikipedia.org/wiki/National_Museum_of_Slavery
The Slave Lodge
Cape Town, South Africa
https://www.iziko.org.za/museums/slave-lodge/
Ghana National Museum on Slavery and Freedom
Cape Coast, Ghana
http://gnmosaf.org/
Open 2026
Slave History Museum
Calabar, Nigeria
https://slaveryandremembrance.org/partners/partner/?id=P0027
Seriki Faremi Slave Museum
Badagary, Nigeria
https://www.youtube.com/watch?v=ur1eG9DL5Rg
Intercontinental Slavery Museum
Port-Louis, Mauritius
https://gis.govmu.org/News/SitePages/Intercontinental-Slavery-Museum-to-become-a-worldwide-reference,-states-Minister-Teeluck.aspx
In Europe
International Slavery Museum
Liverpool, UK
https://museumandmemorial.eji.org/museum
Slave Market (Mercado de Escravos)
Lagos 8600-525, Portugal
https://www.portugalvisitor.com/portugal-museums/slave-museum
Nationaal Slavernijmuseum (National Museum on Slavery)
Amsterdam, Netherlands
https://www.amsterdam.nl/en/leisure/nationaal-slavernijmuseum/
In Latin America and the Caribbean
Caribbean Centre on the Expression and Memory of Slavery and the Slave Trade
Guadeloupe
http://www.acs-aec.org/index.php?q=es/node/5019
La Savane des Esclaves, Martinique
Martinique
https://www.lasavanedesesclaves.fr/
Kurá Hulanda
Curaçao
https://www.kurahulanda.com/
The Pompey Museum of Emancipation and Slavery
Bahamas
https://ammcbahamas.org/museums/pompey-museum/
New slavery museum
Barbados
https://www.cnn.com/style/article/barbados-slavery-museum-adjaye/index.html
Hanover Museum
Lucea, Jamaica
https://insidejourneys.com/a-visit-to-the-hanover-museum-jamaica/
Virtual Museum to Commemorate the Abolition of Slavery and Emancipation in Trinidad and Tobago
Cascade, St. Anns Trinidad and Tobago
https://pariapublishing.com/2007/abolition-of-slavery-exhibits/
Museu Memorial Preteos Novos
Brazil
https://pretosnovos.com.br/
Posted by Abdul Alkalimat
Culture Wars Against Education Archive  (Historians for Peace and Democracy)

The multifaceted culture wars against education constitute attacks how history and social studies are taught and written. They are attempts to severely restrict or eliminate teaching about race, ethnicity, gender, sexuality, and LGBTQ issues. They are an assault on academic freedom in higher education and on professional autonomy and responsibility in K-12 schools. They reveal political efforts to undermine public education in the United States on all levels.
Historians for Peace and Democracy has compiled this archive of materials on the past and present of the culture wars and responses to them. We hope this archive will help teachers and students on all levels educate themselves about the current crisis and find constructive ways to respond to it. The archive provides a variety of resources that will be useful as well for journalists, commentators, politicians, and the general public. Contents will be updated regularly.
Click here to access the archive. 
Historians for Peace and Democracy
Ending Climate and Nuclear Crises for the Next Generations Webinar - July 16  (Coalition for Peace Action (CFPA)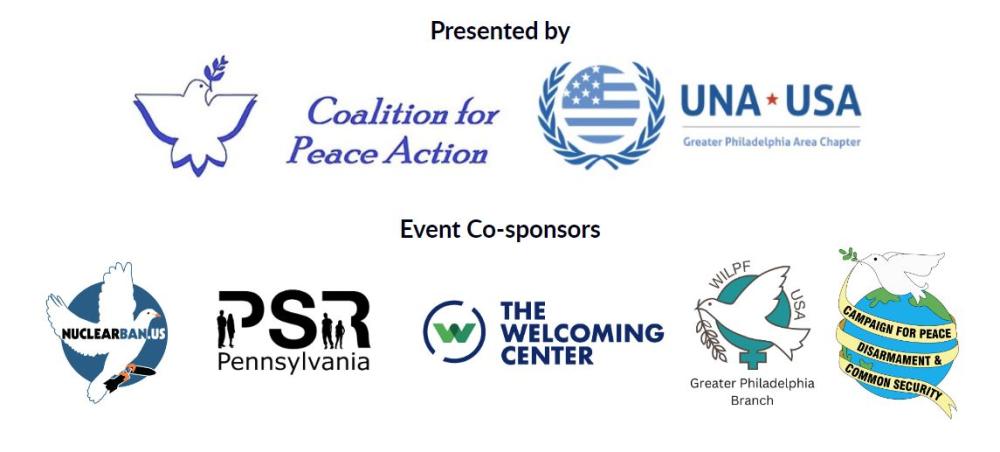 With opening remarks by Manisha A. Patel, President, United Nations Association of Greater Philadelphia (UNA-GP)
Hosted by Ed Aguilar, Chair of the No Wars, No Warming Campaign Coalition for Peace Action (CFPA)
Sunday, July 16
4:00 - 5:30 PM
Featuring:
Dr. Timmon Milne Wallis
Okezue Bell
Sofia DaCruz
 Dr. Joseph Gerson
On the anniversary of the "Trinity Atomic Test" of the weapons that were used to destroy both Hiroshima and Nagasaki, CFPA and UNA-GP present a webinar that looks toward peace and a healthy planet.
We will hear from author-activist Dr. Timmon Milne Wallis, Executive Director of NuclearBan.US who wrote Warheads to Windmills, a call to transition from the old economy to a new Green Peace Economy, and CFPA's summer intern, Sofia DaCruz will interview remarkable youth peace champion Okezue Bell, a Nigerian-American student and STEM inventor, and a 2023 Global AI Ambassador. Dr. Joseph Gerson is President of the Campaign for Peace, Disarmament and Common Security (CPDCS), Co-chair of the Committee for a Sane U.S.-China Policy, and Co-Convener of the International Peace and Planet Network.
Click here to register for your Zoom link to attend.  
The Coalition for Peace Action (CFPA) is a grassroots citizens' organization bringing together people of all ages, backgrounds, professions and political persuasions around three goals: global abolition of nuclear weapons, a peace economy and a halt to weapons trafficking at home and abroad.
Coalition for Peace Action  
40 Witherspoon Street
Princeton, NJ 08542
(609) 924-5022
Send an Email
Third Act Union National Call - July 18

Join the Third Act Union National Call on July 18 at 7:00 Eastern Time.  
We will cover:
What's next? And how to get involved

March to End Fossil Fuels in New York on September 17. Learn more here.

Third Act coordinated bank actions.

Watch Third Actors take on Wells Fargo

How to join our social media organizing campaign
Chapter reports
Come meet other members of the Third Act Union Working Group, learn about our plans to stop the dirty banks from investing in future fossil fuel development.
RSVP HERE  
We hope to see you there!
In solidarity,
Bob Muehlenkamp, Karen Szczepanski, Denise Young
Third Act Union Coordinators
An Injury to One is an Injury to All - ALBA LaborFest Event in San Francisco - July 26  (Abraham Lincoln Brigade Archives (ALBA)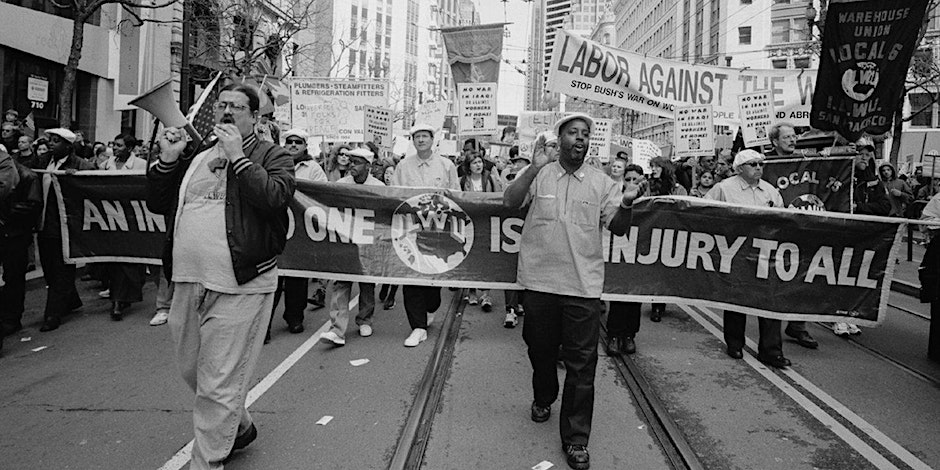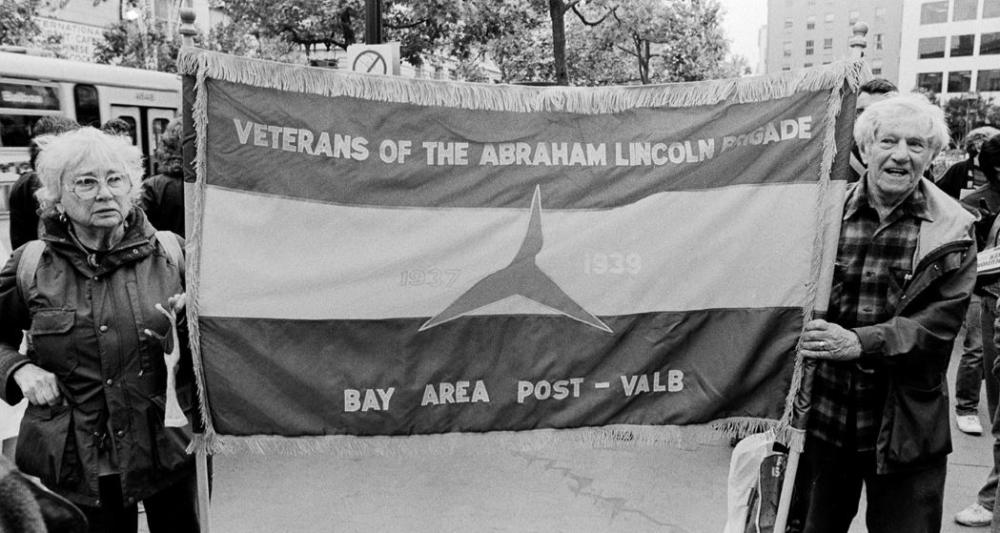 A Tribute to Archie Brown and the Other Veterans of the Abraham Lincoln Brigade in the International Longshore and Warehouse Union
Wednesday, July 26 at 5 PM PT
Why was the ILWU able to survive as one of the most progressive unions in the United States during the McCarthy era, the Cold War, and the post-Cold War period, while other labor organizations were crushed? It was the ILWU's commitment to international solidarity and its leadership in the fight against racism and for social justice. Veterans of the Abraham Lincoln Brigade played a key role in the union's struggles. Join us for a panel discussion on these important historical and contemporary topics.
San Francisco LaborFest 2023
Live at Medicine for Nightmares Bookstore
3036 24th St.
San Francisco, CA 94110
Speakers Include:
Peter N. Carroll, ALBA Chair Emeritus, author of The Odyssey of the Abraham Lincoln Brigade
Robin Walker, Education Director, Librarian, and Archivist for the ILWU
Brian McWilliams, Former ILWU President
Stephanie Brown, political activist and daughter of Archie Brown
Moderated by Richard Bermack, Bay Area Abraham Lincoln Brigade group, author of The Front Lines of Social Change: Veterans of the Abraham Lincoln Brigade
Hosted live at Medicine for Nightmares Bookstore . Join us in person or on Zoom
Attendance is free but registration is required to join the interview and discussion.
After registering you, will receive an email with the login information for the Zoom Session.
If you have any issues registering or connecting to the Zoom, please contact info@alba-valb.org.
Abraham Lincoln Brigade Archives (ALBA)
P.O. Box 1245 New York, NY 10113 USA
212 674 5398
info@alba-valb.org
The Long Table Dinner: John and Mary Brown's Dream - August 5 - Lake Placid, New York  (John Brown Lives!)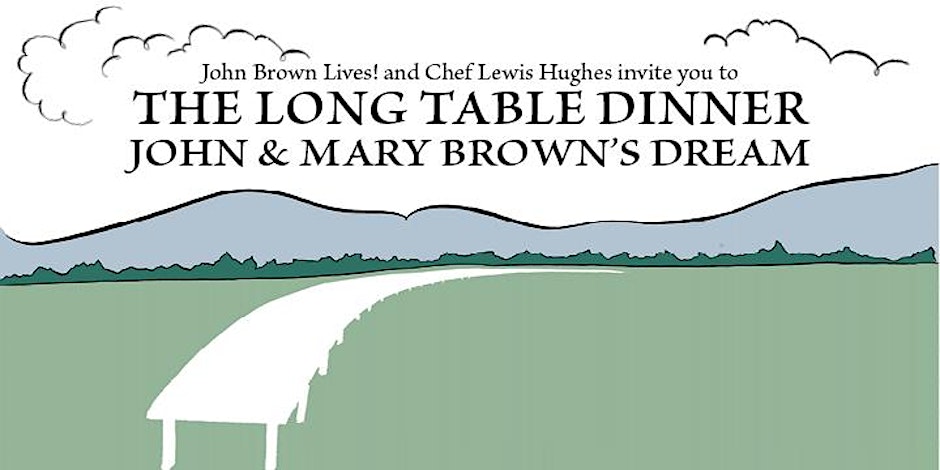 The Long Table Dinner at the John Brown Farm State Historic Site, Lake Placid
Saturday, August 5 · 4:30 - 8:30pm EDT
A provocative, open-ended conversation with writers, historians, and thought leaders: Jamelle Bouie, Nell Painter, and David Blight.
Join us for an unforgettable evening at the Long Table Dinner, celebrating the dream of John and Mary Brown. This in-person event will take place on Saturday, August 5, 2023 at 4:30 at the John Brown Farm, 115 John Brown Road, Lake Placid, NY.
Experience a night of history-making conversation featuring Jamelle Bouie, Nell Painter and David Blight, followed by delicious food and great company at The Long Table, where guests come together to share stories and create new memories. The menu will feature seasonal, locally-sourced ingredients, prepared by Chef Lewis Hughes, a descendant of Harper's Ferry Raider, Lewis Sheridan Leary.
Don't miss out on this unique opportunity to support John Brown Lives! Reserve your spot at the Long Table today!

John Brown Lives! delivers cutting-edge educational and cultural programming the engages individuals, connects communities, and provides surprising ports of entry to address pressing issues today.
March to End Fossil Fuels in New York on September 17th.  (People vs Fossil Fuels)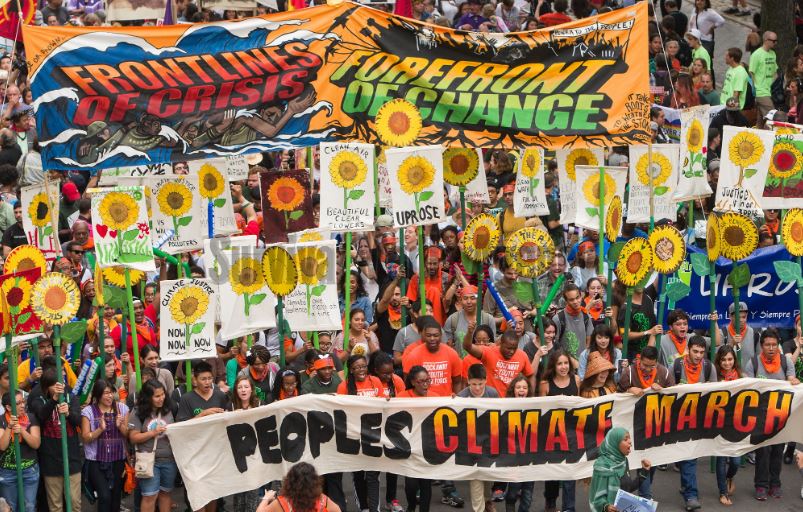 We are living in a climate emergency.
There has never been more urgency to end the era of fossil fuels.  We have a small window of time to turn things around for a livable future – and we need an unprecedented movement that pushes our world leaders to act now. President Biden has broken his promise to protect us from the fossil-fueled climate crisis, but together we can rise up and demand true climate leadership.
​We are the heroes we've been waiting for.
We're taking action building up to the March to End Fossil Fuels in New York on September 17th.
In New York this September, the United Nations Secretary-General is hosting a first-of-its-kind Climate Ambition Summit to demand that nations stop the fossil fuel expansion that is driving the climate emergency.
Thousands of us will march to demand President Biden take bold action to End Fossil Fuels.
​We're going to mobilize like never before   With.communities across the globe to make sure he follows through.
Building up to the Climate Ambition Summit in September, we're turning up the heat on Biden to take bolder action to stop fossil fuels
ARE YOU IN?
7 Directions of Service
Action for the Climate Emergency (ACE)
Alaska Wilderness League
ARTivism Virginia
Cascadia Climate Action Now
Center for Biological Diversity
Church of the Covenant, Boston
Climate Hawks Vote
Climate Organizing Hub
CODEPINK
Earth Guardians
Earthworks
Elders Climate Action
Extinction Rebellion San Francisco Bay Area
Extinction Rebellion US
Face the Music Collective
FCCPR Climate Crisis Task Force
Food & Water Watch
Fossil Fuel Non-Proliferation Treaty Initiative
Frack Action
Fridays for Future NYC
Fridays for Future US
GreenFaith
Honor the Earth
Indian Point Safe Energy Coalition
Institute for Policy Studies Climate Policy Program
Justice is Global
Mother Earth Project
mothers out front
Movement Rights
MoveOn.org
Hoboken RESIST
Native Lives Matter Great Lakes
North American Climate, Conservation and Environment(NACCE)
Oil and Gas Action Network
Oil Change International
Oxfam US
PACAN
Patagonia
Permian Gulf Coast Coalition
Prince George's County Peace & Justice Coalition
Protect Our Water, Heritage, Rights
Reclaim Our Tomorrow
Resource Renewal Institute
SAVE THE FROGS!
Society of Native Nations
Sovereign Iñupiat for a Living Arctic
Sunrise Eugene
Sunrise Movement
The Enviro Show
The Labor Network for Sustainability
The Natural History Museum
The People's Justice Council
USCAN
Women With Bows
Women's Earth and Climate Action Network (WECAN)
Women's Environment and Development Organization
198 methods
350 Bay Area
350 BRooklyn
350 Colorado
350 Eugene
350 Montana
350 Network Council
350 Triangle
350 Wisconsin
350Brooklyn
350Hawaii
350PDX