Tidbits – Sept. 7, 2023 – Reader Comments: Correction; Trump Use of Scottsboro; Conservative Plan To Dismantle Govt; UAW Message to Big 3; 88% People Under 30 View Unions Favorably; Solidarity Rally With UAW; JOIN MARCH TO END FOSSIL FUELS – Sept 17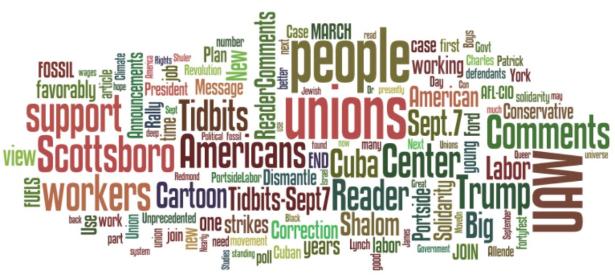 Tidbits - Reader Comments, Resources, Announcements, AND cartoons - Sept.7, 2023,Portside
.....
Resources:
Announcements:
 
Correction: This Is How the Next Great American General Strike Happens…

(posting on Portside Labor)
This article cited data from the Cornell ILR Labor Action Tracker to state that "There are presently some 921 strikes and labor actions happening at over 1,400 locations throughout the United States." This figure is inaccurate, as many of those strikes have already ended and are therefore not occurring presently. Unfortunately, it is difficult to say how many strikes are presently occurring for a number of reasons.
The Labor Action Tracker demonstrates that U.S. workers have organized nearly 950 strikes across the U.S. since the beginning of 2021. Over 200,000 workers were on strike in July, which is the highest monthly total since at least January 2021.
Re: Labor Day: Unprecedented Corporate Greed Demands Unprecedented Worker Response  
Basic--required!--reading for Labor Day:
David Newby
Posted on Portside's Facebook page
Value, Labor, Capital  -- Cartoon by Dr. James MacLeod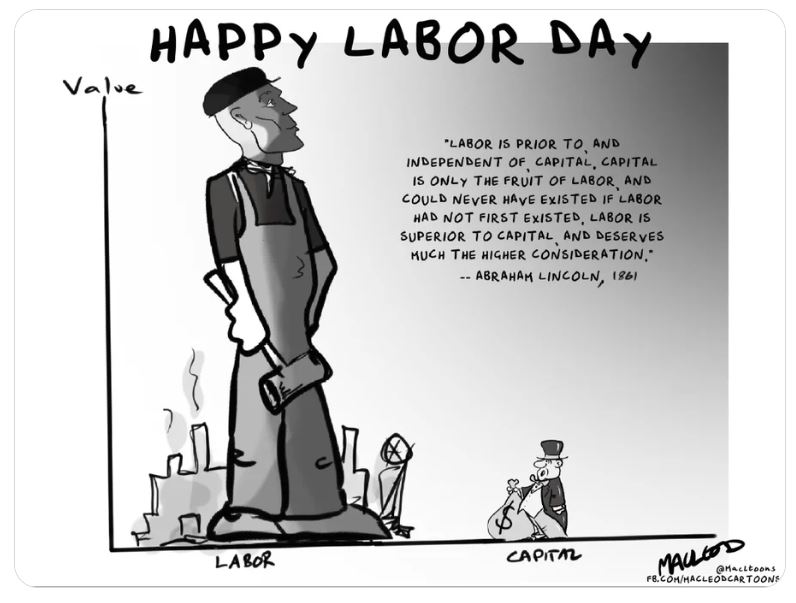 Dr. James MacLeod
September 4, 2023
MacLeodCartoons
Re: Trump's Use of Scottsboro Boys Case Comparison Raises Eyebrows and Ire of Judge  
But Chutkan scolded the lawyers, and the twice impeached, four-times indicted Trump, whom earlier this year a civil jury found liable for sexual assault. She cited the Supreme Court's Scottsboro Boys ruling at the time, saying, "The court noted that a sizable crowd greeted the defendants at Scottsboro after their arrest and that the community's attitude was one of great hostility. The defendants' trials began six days after indictment. The Supreme Court found that there was a clear denial of due process because the trial court failed to give the defendants' reasonable time and opportunity to secure counsel, and the defendants were incapable of adequately making their own defense."
Chutkan continued: "Trump is represented by a team of zealous, experienced attorneys and has the resources necessary to efficiently review the discovery and investigate. I have seen many cases unduly delayed because a defendant lacks adequate representation or cannot properly review discovery because they are detained. That is not the case here."
The Scottsboro Boys rape cases represent the dark racist part of American history where nine Black youths were falsely accused of raping two white women in 1931 while traveling on a train near Scottsboro, Alabama. The accusations led to trials with all-white juries. Clarence Norris, Charlie Weems, Haywood Patterson, Olen Montgomery, Ozie Powell, Willie Roberson, Eugene Williams, and Andy Wright were all tried, convicted, and sentenced to death. Another defendant, Roy Wright, saw his trial end in a mistrial when some jurors held out for a death sentence even though the prosecution asked for life imprisonment.
Kentucky Alliance Against Racist and Political Repression
Posted on Portside's Facebook page
      =====
Playing the long game:
While I agree trumps use of the Scottsboro case was wrong, I disagree about it being stupid. Political gaming is nothing new, his use of the Scottsboro case was meant for his cult. The language Trump has used has always claimed that he and his supporters were the down trodden and abused by the system. He also uses dog whistle and blatant racism. What better way to demonstrate these falsehoods than by comparing his case to Scottsboro? Trump realizes that he can solidify his cult base with this BS regardless of whether he wins or loses the case. Purposely angering a Black judge is icing on the cake for this fascist and his followers
Steve Krug
Re: Conservative Groups Draw Up Plan To Dismantle the US Government and Replace It With Trump's Vision  
With a nearly 1,000-page "Project 2025" handbook and an "army" of Americans, the idea is to have the civic infrastructure in place on Day One to commandeer, reshape and do away with what Republicans deride as the "deep state" bureaucracy, in part by firing as many as 50,000 federal workers.
Norm Littlejohn
Posted on Portside's Facebook page
      =====
Just because we call something a Foundation and it says it is bi-partisan, that don't mean a thing. Heritage is part of a plot to carefully destroy the Federal Government, then allow the rich to rule more directly without legal oversight or interference. These are not just friendly disagreements, this is an attack on the US government, and the Dems either need to stand up and stop it or be declared as meaningless. Can't trust Congress, can't trust the courts, it may get very ugly indeed.
Rights of ordinary people were not won in Congress or the Courts, but in the streets. When people get angry enough to roll their wheelchairs into bank lobbies and block streets, we may get good health care. Right now it seems like most Americans prefer dying on their knees to standing up and fighting back. Sigh. Good article, good warning.
Charles Patrick Lynch
Posted on Portside's Facebook page
MAGA Fundraising  --  Cartoon by Adam Zyglis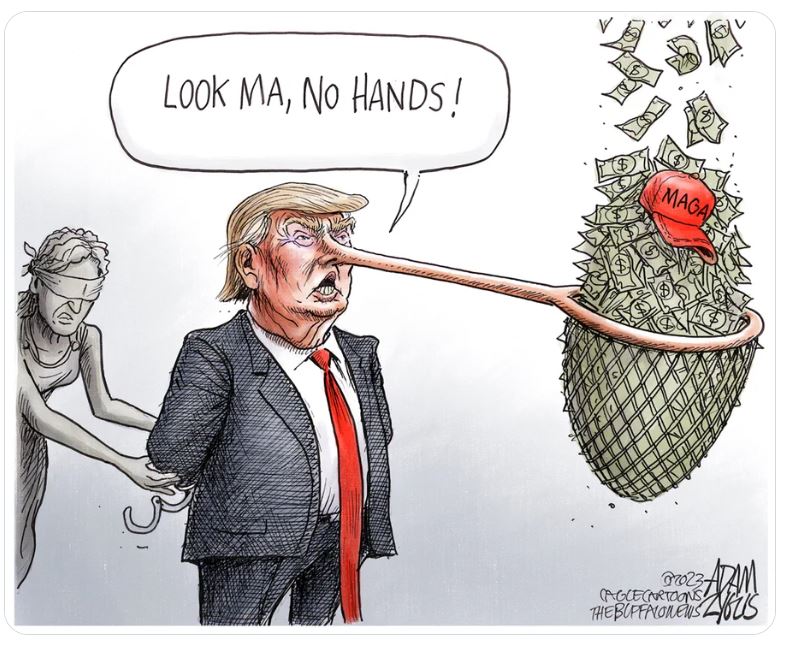 Adam Zyglis
September 6, 2023
The Buffalo News
Excellent and informative article -- Big Pharma's American Con. One quick question: If one of the ten drugs selected for negotiation becomes ineligible prior to 2026 (e.g. you mentioned Enbrel is a possibility), does CMS have the authority to add another drug for negotiation in this first round?
Thank you,
Peter Arno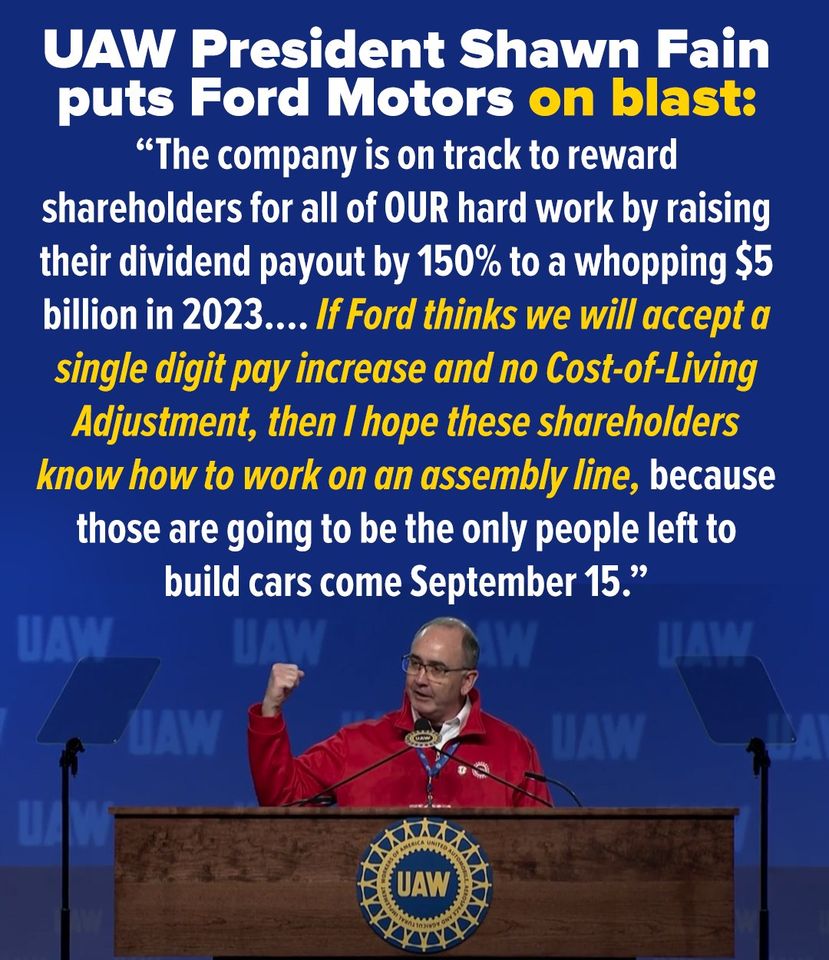 Re: Will Starbucks' Union-Busting Stifle a Union Rebirth in the US?
(posting on Portside Labor)  
Time is on the side of the rich
L A Kurth
(posting on Portside Labor)  
Unions still hold onto necessary and forceful ethics appropriate for LGBTQ organizing today. We are still affirming solidarity on the job, as we guard our powerful histories and develop a forceful labor movement of the future.
Miriam Frank, author
Out in the Union: A Labor History of Queer America
Re: Can We Learn From Cuba's Sustainable Revolution?
Thanks so very much for the timely article on Cuba's sustainable economy.
Tim Sheard
Ramaswamy on Climate Change  --  Cartoon by Clay Jones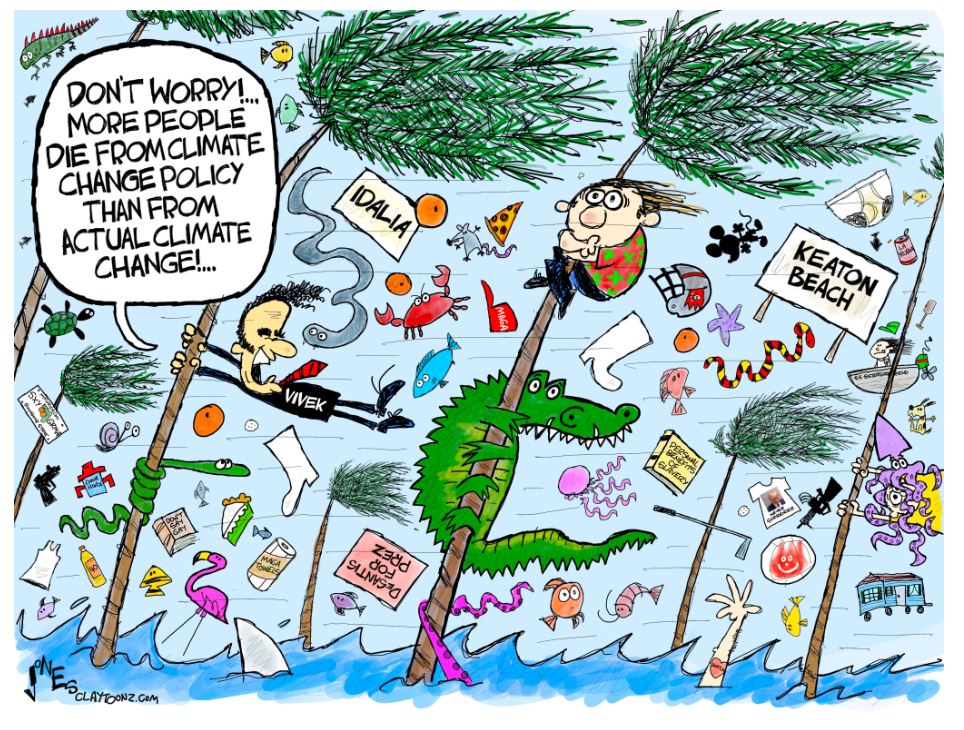 Clay Jones
August 30, 2023
Claytoonz
Re: The Story of Our Universe May Be Starting To Unravel
Scientists have a tendency to look for order in what they are studying, to have rules that fit and processes that are orderly. Perhaps that is the problem. The universe might have a stronger dose of randomness than we expected, a bit more chaos. Rules that change, processes that work in different ways in different times and places. In which case, our standard model is not really wrong as long as we don't make it a universal model but rather a description of what happened at one point in time in a very large universe.
Now we can see that other things seemed to have happened at the same time. So, the universe becomes more complicated , harder to create a rigid structure for, and maybe, more interesting. So what do we do? Keep studying and collecting data. What an exciting time to live in.
Charles Patrick Lynch
Posted on Portside's Facebook page
Do Not Allow Your Owner  --  Cartoon by K J Lamb
K J Lamb
Re: 'It's Like 1948': Israel Cleanses Vast West Bank Region of Nearly All Palestinians  
Stop calling these invaders settlers. The word settler feeds, and is fed by, the invaders' propaganda machine.
Daniel Jordan PhD
Superb article. Allende and his politics resonate loudly a half century later.
Sam Webb
Posted on Portside's Facebook page
      =====
Oy. Victor Jara lives
Howard Kaplan
Posted on Portside's Facebook page
Re: The New Russian Presence in Cuba  
The essay on Russia and Cuba makes light of the 60-year US blockade on Cuba. No mention is made of the Cuban economic recovery after the special period and little on the draconian effect of the Trump/Biden reversals of Obama's opening. Of course, Farber, a career Cuba hater, would not mention Cuba's healthcare system and Covid nor the Cuban doctors who traveled the world to help victims of Covid. And given Cuba's deep economic crisis brought on by US policies they are forced to take help from where they can.
Portside's politics seems to be shifting from balance to one-sidedness.
Harry Targ
Re: 'Orphaned by Decree': Italy's Same-Sex Parents React to Losing Their Rights  
Don't those right wing troglodytes have anything better to do than to break up families?
Sonia Cobbins
Posted on Portside's Facebook page
(posting on Portside Culture)  
Excellent! I would add that much of the sweat now inherent in organic production will be abolished by the use of robotics.
Dan Morgan
Posted on Portside's Facebook page
Still Drinking The Kool Aid  --  Cartoon by Dave Whamond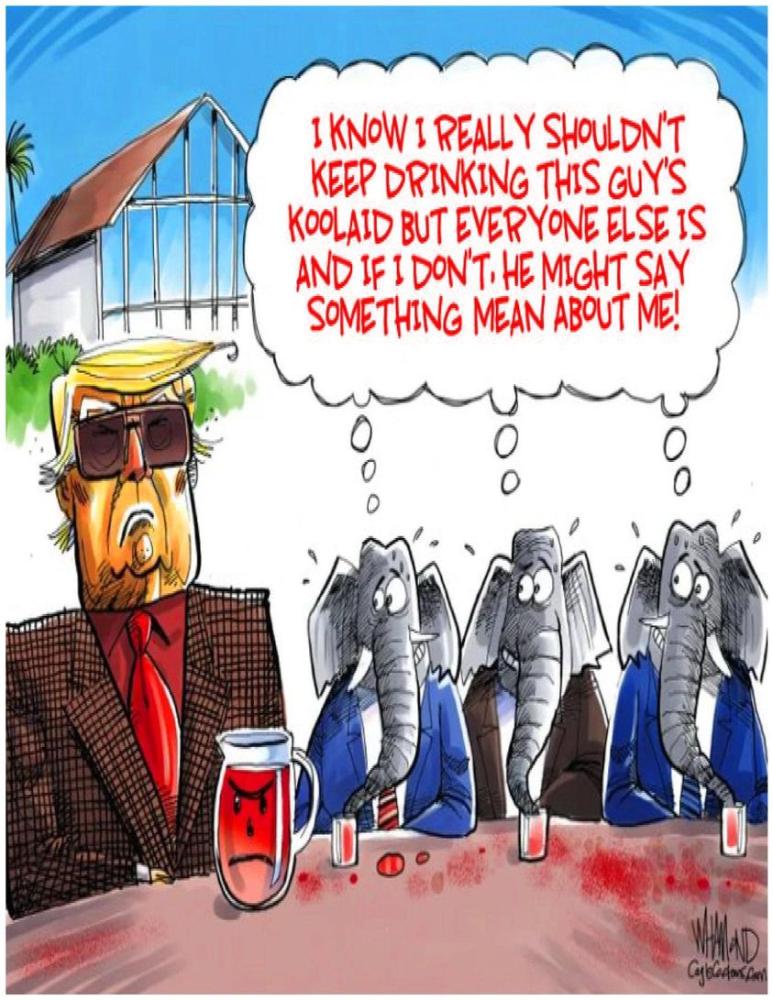 Dave Whamond
November 1, 2021
The Week
88% of people under 30 view unions favorably—a record-breaking level of support from young workers   (AFL-CIO)
71% of Americans support unions—majorities of Republicans and Independents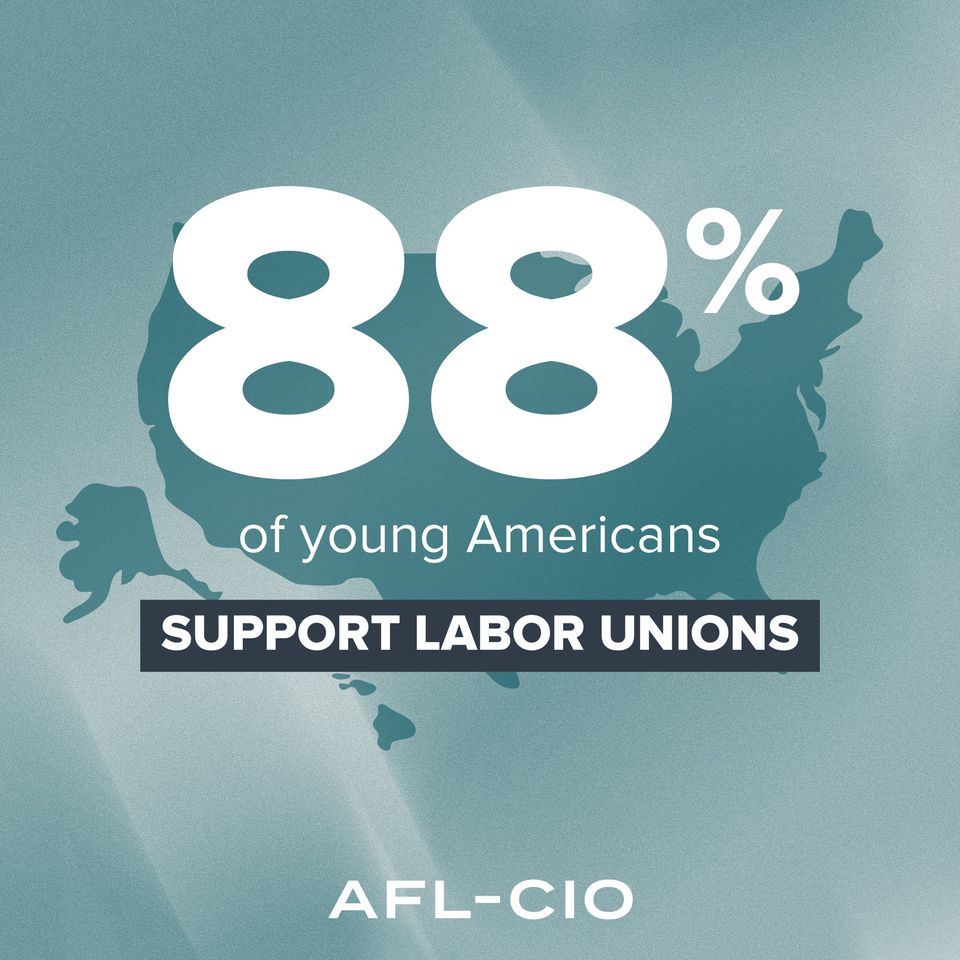 Today, AFL-CIO President Liz Shuler and Secretary-Treasurer Fred Redmond delivered an inaugural State of the Unions address where they released new polling which underscores the American people's support of unions—especially that of young workers—and their view of unions as critical to growing the middle class and providing opportunities for working people to thrive. Additionally, both officers stressed that with this unprecedented level of support, working people in unions are prepared to organize like never before, hold big corporations accountable and restore America's promise for all. 
"The idea of a union may sound complicated, but in reality, unions are just a group of people coming together. They are about each of us becoming the most powerful version of ourselves that we possibly can," said Shuler. "And there is nothing better than finding that power alongside the people we work with and being a part of something bigger than ourselves. That's all a union is. It's that simple. People in this country have been searching for their power for a long time now, young people especially."
You can read President Shuler's full remarks here. 
"Every day, more and more working people are finding out that the labor movement is the solution to low wages and unsafe workplaces, to inequality and discrimination. That the labor movement is the only institution in America that has the infrastructure and reach to address and vanquish oppression in all its forms," said Redmond. "That working people—standing together and standing up for one another—are an incredible force for progress at work, in our unions, in our economy and in our democracy." 
You can read Secretary-Treasurer Redmond's remarks here. 
Below are some of the poll's key findings. Full results of the GBAO poll conducted on behalf of the AFL-CIO are available here. 
7 in 10 Americans (71%) support unions cutting across party lines. A majority of Republicans and more than two-thirds of Independents join 9 in 10 (91%) Democrats in supporting unions. It's crystal clear from these numbers that Americans of all political stripes want and need unions.
An unprecedented number of young Americans support unions. Nearly 9 in 10 (88%) people under 30 view unions favorably. We've never seen a number that high, which is testament to the deep desire of young people to act collectively to demand respect and dignity on the job.
In the midst of a number of ongoing worker strikes around the country, Americans are strongly supportive of working people walking off the job for better wages and working conditions. Three-fourths of Americans support workers going on strike and support is strong regardless of party affiliation.
Americans are concerned about tech companies putting profits over the well-being of people in the implementation of artificial intelligence. 70% of people express concern that AI will displace workers, with women workers especially concerned given AI's potential to exacerbate inequity on the job. 
"I started this apprenticeship knowing that it would equip me with the training and expertise to put me on a solid path to a good career," said Luis Arriaza 17, a union apprentice at the Electricity and Wiring Program at Lynn Vocational Technical Institute in Massachusetts. "Through my apprenticeship, I know that I will be able to earn a living wage, gain critical benefits and protections and continue developing my skills. I am passionate about the work that I do and I am grateful that I will experience firsthand the solidarity and support of a good union job." 
View a recording of today's event at aflcio.tv 
Contact: Isabel Aldunate, 202-637-5018
      =====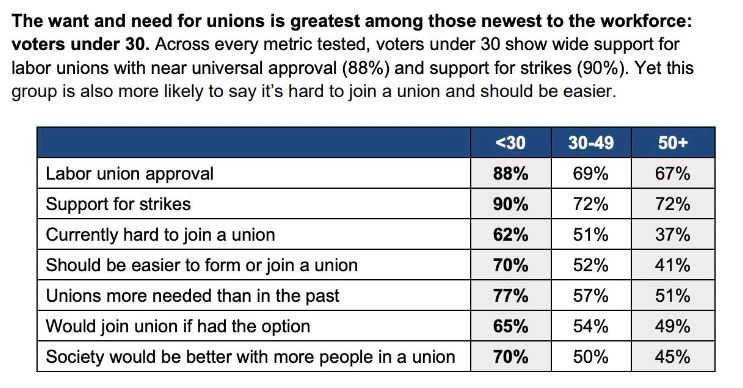 Here's some promising news for the nation's labor unions. A new poll finds that Americans under age 30 voice huge support for unions -- they support unions by far greater percentages than do older Americans.
The poll found that 88% of Americans under 30 approve of labor unions AND that 90% of Americans under 30 voice support for strikes to improve pay and working conditions.
The poll was commissioned by the AFL-CIO and done by GBAO.
Steven Greenhouse
post on Facebook
August 30, 2023
Solidarity Summer Rally with the UAW  -  This Sunday, September 10  (UAW, MoveOn, Working Families Party)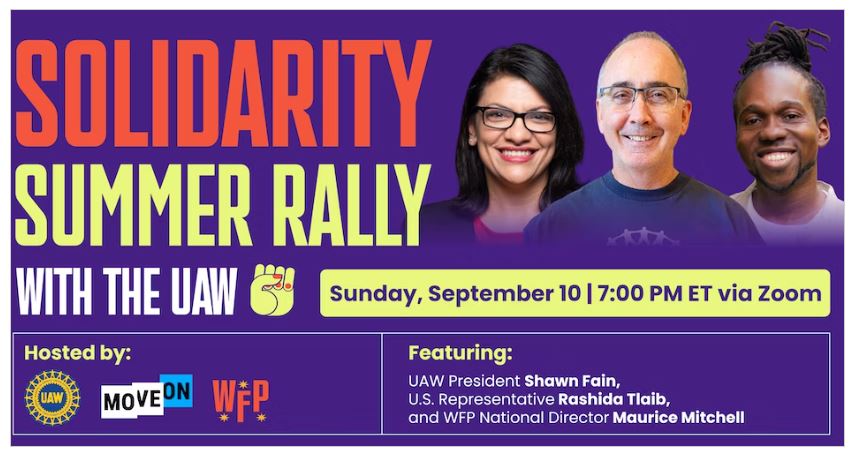 Sunday, September 10   7 – 8pm EDT
At 11:59 PM on September 14th, nearly 150,000 auto workers' contracts will expire, setting up what could be one of the largest strikes of the year. UAW is in intense negotiations with GM, Ford, and Stellantis, fighting for higher wages, ending the tiered wage system, and job security for all workers during the EV transition. The results of this contract fight will define how much power workers really have.
Ready to join the fight? Join UAW President Shawn Fain, Rep. Rashida Tlaib, WFP National Director Maurice Mitchell, MoveOn, Center for Popular Democracy Action, Jobs with Justice, Standing up for Racial Justice, United we Dream, and movement leaders from around the country this Sunday at 7:00 PM ET in a show of solidarity with UAW workers.
UAW President Shawn Fain will be detailing the latest on bargaining and speaking to the best way to support. Rep. Tlaib, Maurice Mitchell, and others will be sharing stories of solidarity and why all of us need to join the struggle for a fair contract.
Big business wants to roll back advances workers have made. We're not going to let that happen.
JOIN THE MARCH TO END FOSSIL FUELS  --  September 17  --  New York City  (March to End Fossil Fuels)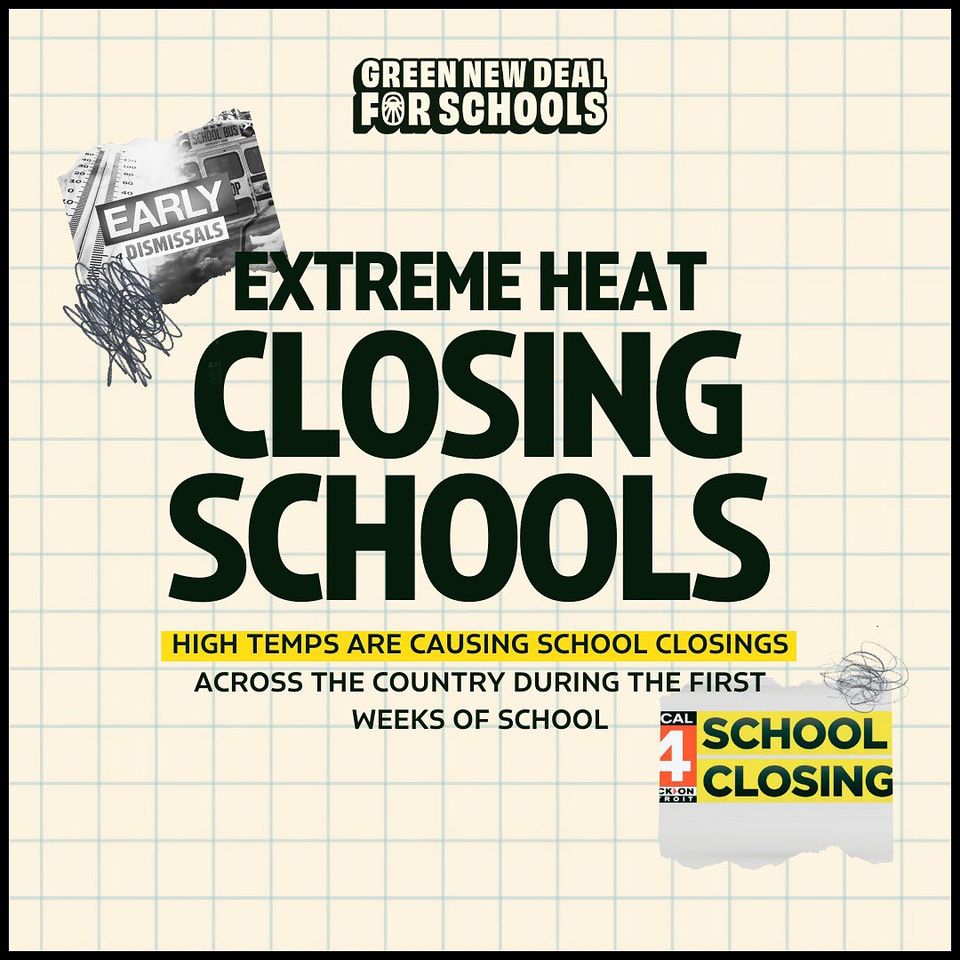 This is unacceptable — in their first week back to school, thousands of students (in majority Black cities) are facing early dismissal or school closures because of extreme heat.
We need a Green New Deal for Schools.
https://actionnetwork.org/forms/draft-march-to-end-fossil-fuels-sign-up
Sign-up here https://actionnetwork.org/forms/draft-march-to-end-fossil-fuels-sign-up
Join us on September 17th in New York City as we march, rally, and protest to demand that President Biden take bold climate action. Biden must reject new fossil fuel projects, phase out fossil fuel production, and declare a climate emergency.
"The Art of Revolution" - New York - September 16 - October 21  (The Center for Cuban Studies)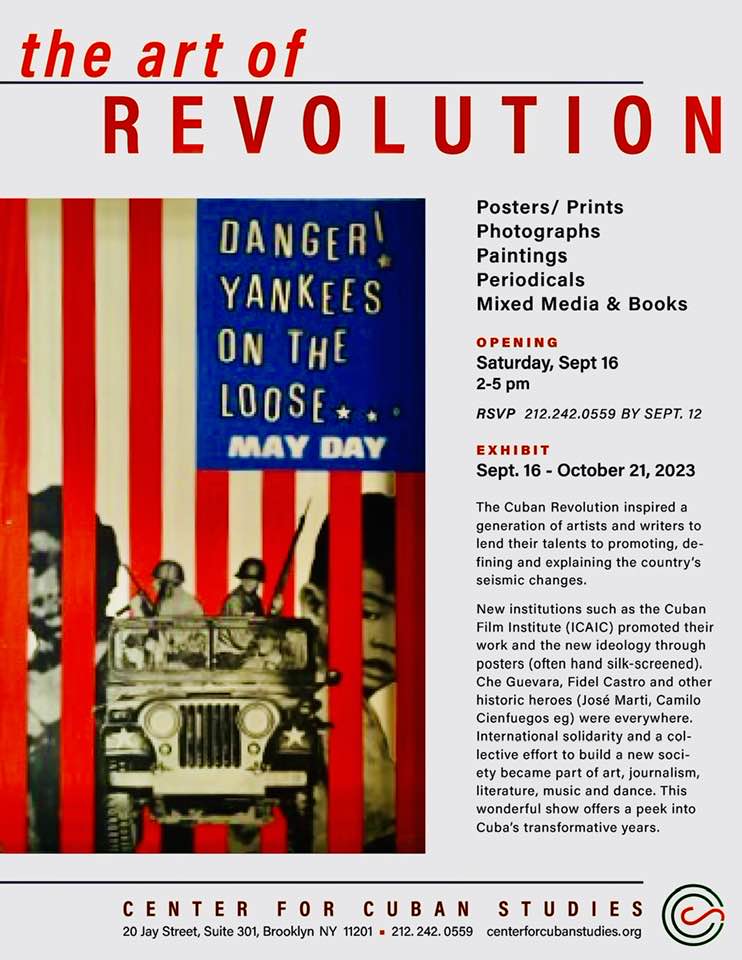 The Center for Cuban Studies is a 501(c)(3) tax-exempt organization, and all donations are tax-deductible.
The Center for Cuban Studies  
20 Jay Street, Suite 301
Brooklyn NY 11201
Phone: 212.242.0559
Celebrating the first 40 years. Visioning the next 40. - The Shalom Center - Virtual Event - October 5

Will you join us to celebrate 40 years of The Shalom Center?
Next month, The Shalom Center becomes 40 years old, an age-marker in Jewish tradition that signifies the end of one cycle and the beginning of a new one. With a new website, strategic vision, Advisory Council, and succession plan all in place, this is certainly a momentous occasion for us.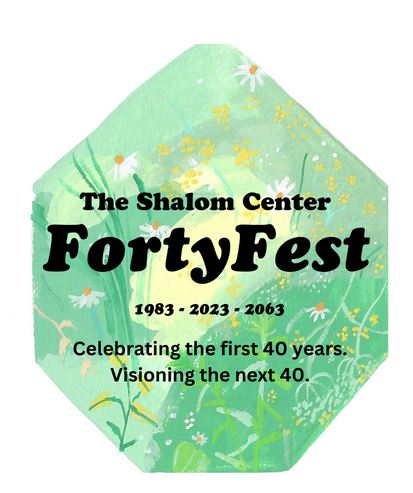 To celebrate the first 40 years of The Shalom Center, and to vision the next 40, we are hosting "FortyFest," a first-of-its kind, virtual Hoshanah Rabbah seder on October 5th from 7-9:30pm ET.
Filled with incredible speakers, ritualists, and musicians, and inspired by the traditional Hoshanah Rabbah service, FortyFest will be an ode to the The Shalom Center's prophetic impact on progressive Jewish and multifaith movements over the last 40 years. And even more importantly, it will be an attempt to actively articulate and embody the kind of prophetic imagination we're excited to cultivate for the next 40 years.
Confirmed FortyFest speakers, ritualists, and musicians include: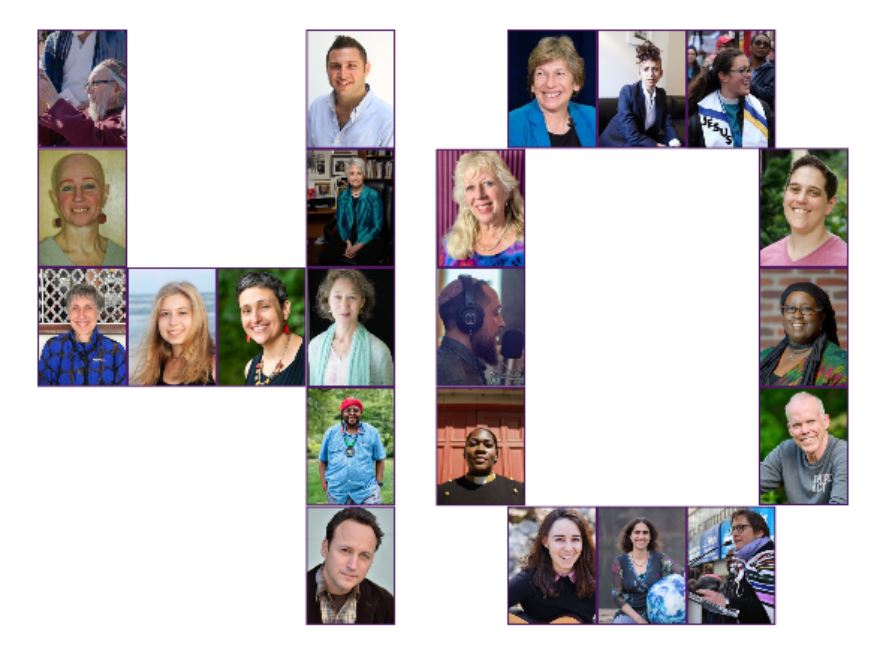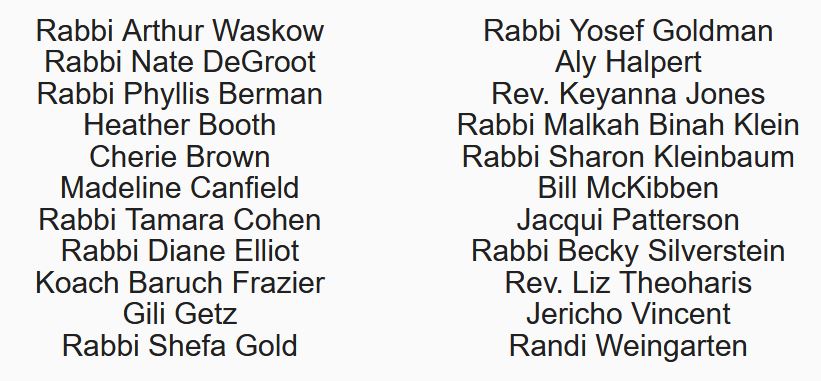 We hope that the broader organizational transition and transformation that The Shalom Center is celebrating inspires in you a renewed connection to The Shalom Center and a deepened excitement about our work and where we're headed. We hope that inspiration leads you to read more about FortyFest, register for the event, and enthusiastically give to us in honor of this momentous occasion. Will you join us?
Visit the FortyFest Info and Registration Page
We hope to see you there!
The Shalom Center  
6711 Lincoln Drive
Philadelphia, PA 19119
(215) 844-8494
office@theshalomcenter.org