Tidbits - December 5, 2013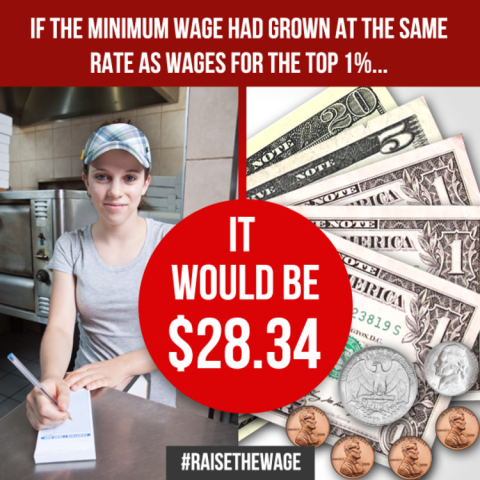 If the Minimum Wage Had Grown at the Same Rate as Wages for the Top 1%,AFL-CIO
Take Action & Sign the Petition for Philippine Recovery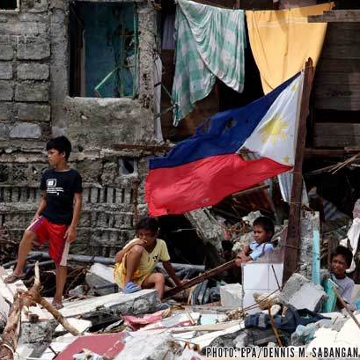 Filipino Advocates for Justice (FAJ) is certain that we are not alone in believing there is a direct connection between Philippine recovery from typhoon Haiyan and climate justice.  Read the statement via this link. http://act.engagementlab.org/sign/18mr_fil-am?source=faj If you agree with it, we urge you to immediately sign on as an individual and get as many organizations and individuals to sign on as well. If you represent an organization and would like to endorse this statement, click this LINK.
PHILIPPINE RECOVERY IS TIED TO CLIMATE JUSTICE The Filipino community and public's support for survivors of Typhoon Haiyan (Yolanda) has been phenomenal.  Individuals, groups, workplaces and churches are giving generously of their time and resources to collectively respond to the devastation in the Philippines.
The United States is deploying resources to the area but we are concerned that the aid is not moving quickly enough, reaching all who have been affected, nor will be provided over the long-term.
INVESTING IN THE LONGTERM REBUILDING The long-term recovery of the Philippines requires sustained effort.  We look to Haiti to understand that years of rebuilding are still ahead. Before the next storm hits, the Philippines needs a substantial influx of equipment, materials and crews to rebuild roads, bridges, permanent housing, schools and hospitals so some semblance of normal life can resume.  For a country dependent on exporting labor, the destruction places increased pressure on residents to seek jobs globally, which further complicates economic recovery. The typhoon's impact has also produced hundreds of thousands of climate refugees that need support.
ADDRESSING CLIMATE JUSTICE NOW The ferocity of Typhoon Haiyan is climate change at its worst. The biggest typhoon ever recorded was not simply an act of nature, but a consequence shortsighted environmental policies and practices.  Rich countries continue to pump pollution into the atmosphere, while poor countries, like the Philippines, pay the price with monster storms, flooding, landslides, and even drought.  After years of failed international negotiations to reduce climate pollution, the U.S. and other industrialized countries instead pledged funds to help poor countries adapt to climate change, but those funds have not materialized.
We support Philippine climate negotiator Yeb Saño and other developing countries' proposal for bold international action to reduce emissions and provide climate financing.   As the greatest polluter in the world, we demand that the U.S. adopt Sano's proposals at the United Nations.
We call on Congress and President Obama to continue to deploy its vast resources to help the people of the Philippines through complete recovery and commit to sound environmental policies and programs so that storms like Haiyan will soon be an occurrence of the past.
Supporting Organizations
Filipino Advocates for Justice (FAJ)
Filipino American Coalition for Environmental Solidarity (FACES)
National Network for Immigrant and Refugee Rights (NNIRR)
Friends of Akbayan, USA
Legacy of Equality, Leadership and Organizing (LELO)
Asian Pacific Environmental Network (APEN)
"STAND WITH THE PHILIPPINES."
Individuals sign here
Organizations sign here
Re: Baffling 400,000-Year-Old Clue to Human Origins
I wonder who will be guessing about OUR origins and how we went extinct.
Karyne Dunbar
     ====
     
According to the church and the GOP this is all a crock.
Mark Binder
Very interesting about the eclipse of the song during the repressive 50s. I heard it for the first time in 1957, a record by Josh White. Somehow in backwoods Oklahoma, that 1942 record made its way to my hearing. I'm grateful for that, because it profoundly affected my direction in life. I was 18 at the time.
Roxanne Dunbar-Ortiz
Posted on Portside's Facebook page
     ====
When I was growing up in the fifties the story was a Communist behind ever tree of course, today there is a terrorist behind every tree.
I heard of Strange Fruit but, never knew the story until now.
Thanks
Morris Edwards
Re: North Carolina Faculty Complain After Conservative Group Seeks Liberal Professor's Email
Good for you Gene Nichol.  Keep up the good and courageous work.  
In struggle,
Bob Zellner

Re: Delbert Tibbs - Sharing His Story For Justice
I was very sad to learn of the death of Delbert Tibbs. I attended his trial and did what I could to help, including writing about the case.  I regret not staying in touch over the years;  I also have worked for years against the death penalty (and have written 2 songs for actions and vigils).
I also wrote music for his "A Poem" and will be glad to share the lead sheet with anyone who wants to consider using it as part of a memorial.  He said he liked it but we agreed it needs someone besides me to sing it.
Jan Hillegas
Jackson, MS
newmsian@hotmail.com
Re: More College Adjuncts See Strength in Union Numbers
(Posted on Portside Labor)
Tamar Lewin's article captured succinctly the essence of the adjunct faculty situation in the U.S. today.  The anecdote about the "office" in the instructor's car trunk, which disappeared when the car was towed, was real-life classic.  Adjunct faculty need desperately to gain union representation, for the go-it-alone path is a sure way to poverty, frustration, and defeat.
James Young
Check It Out - Who Makes the Most Money? How They Did and How They Keep It - incredible infographic
The Real Story - Corporate Profits Rising Economy Struggling Infographic
Accounting School Guide - The Hidden Story
A Guide for Earning Your Accounting Degree
Green Giants...
Wasn't the economy supposed to be struggling? Then why are companies in the U.S. and all around the world raking in cash?
Let's look at which companies are most profitable - and how some of them stay that way.
Who Makes the Most Money?
Of the 25 companies with the largest corporate profits in the world, banking, energy and technology firms are absolutely raking it in. The chart below shows the top 25 most profitable companies by total 2012 profit in U.S. dollars, industry and country where headquarters are located.
Check it out - click here to see the full infographic.
Artful Dodgers
Let's look at what some U.S.-based companies have paid (well, really, not paid) in U.S. taxes on offshore profits, as well as some big-money federal contracts companies have received
http://bit.ly/CorporateProfit
View the full infographic at: http://bit.ly/CorporateProfit
[Many thanks to Aria Cahill for putting this all together, and for sending this to Portside to share with our readers.]

Re: A Rocky Relationship, Perhaps, But it's One That Has Lasted
This is an excellent lesson in the challenges or working in coalitions, as all the united front, left unity efforts have learned over the decades. Thanks.
Georgia Wever
Posted on Portside's Facebook page
     ====
I am afraid we in the US have not been comprehensively informed about developments since 2007 -- I look for statements from Alliance organizations which address the pervasive corruption and don't talk around it....
Marilyn Albert
Posted on Portside's Facebook page
Re: Banning the Negative Book Review
Banning any kind of book review is censorship.  We NEED, as a public, to know when something is contaminated, poisonous, selfish, bigoted and hateful.  To ban the negative book review really means to turn reviewing into marketing ploys.  Boo, Bob Garfield.  Boo, NYT.
Juanita Rice
Re: An iPad on Every Desk, A Trojan Horse, Teachers Say
Check your grand kids. Watching my grandkids growing up, they are fixed to their smart phones. Now I pads in the class room? I looked up a law school class at FSU ten years ago, and was shocked to see that NO ONE was looking at the professor. Everybody was looking at their tablet or lap top.
My grandkids are not developing any socialization skills. There are no kids -in self-directed play in the neighborhood. My grandkids are in organized sports -here in Atlanta-supervised by their parents. Even their reading is not self-directed. I rode my bicycle to the library for self-directed reading and exploration. My grandmother was too sick to supervise what I was doing. When I go visit the Atlanta library - I see not self-directed grade level children-and older college level kids are there for an assignment - not to enjoy. But not many - because apps provide an alternative to the library.
What is happening is modern psychological slave training based upon fear. My children and in-law spouses are driven by fear that my grandkids will have a place in the modern prison of our business culture. But a standardized curriculum is not open to critical thinking regarding our de-massifying mass culture.
Better check your grandkids. I have not figured what to do regarding my fear driven kids about their children. At least Patricia and I were driven by our anger against culture and civilization.
Brian-better check your grand kids.
John Due
Re: The Real Fix for Obamacare's Flaws: Medicare for All
This is one kick ass progressive sister, hopefully the future of labor!
Patrick Loman
Posted on Portside's Facebook page
Re: Looming EADS Job Cuts Trigger Large-Scale Protest Action
One's livelihood should not depend on manufacturing weapons of mass destruction.
Margie Bernard
     ====
WAR.  Not "defense."
Tom Gogan
Re: ALEC Facing Funding Crisis from Donor Exodus in Wake of Trayvon Martin Row
Thanks for this post!
Richard Edwards
Re: A Historical Perspective on Occupy
For In These Times' December 2013 cover feature, "Generation Hopeless?", the magazine asked a number of politically savvy people, younger and older, to respond to an essay by 22-year-old Occupy activist Matthew Richards in which he grapples with what the movement meant and whether Occupy's unfulfilled promises are a lost cause or the seeds of the different world whose promise he glimpsed two years ago. Here is Carl Davidson's response:
Matthew Richard's essay on Occupy was, for me, a trip back in time, to my rebel youth, nearly 50 years ago. In his voice, I heard the full range of my own ideas and feelings from those "glory days." In the 1,000 battles I've been through since then, I've tempered, reframed and even changed some of those views. It would be easy enough for me, in commenting on the essay, to slip into the role of wise old grio. But that's not what I want. So I offer a few remarks from a different role, that of "co-conspirator." I made it to Zuccotti Park and a dozen other encampments, too.
First, I don't think Occupy failed, or has even disappeared. But to understand why, you first have to grasp what it was.
Occupy was largely an elemental rising of the "precariat," today's new working class, a distressed young generation burdened with debt and facing a precarious future of frequent joblessness in a wider order of savage inequalities. They had the audacity to choose the right target, Wall Street. They had the wisdom to seek allies, the 99% vs. the 1%. For at least a year, they changed the national conversation and spotlighted the main enemy.
Which is not bad at all for your first round. Add to that the personal changes wrought by the communal solidarity of tens of thousands in the 600 Occupy encampments across the United States and on-again, off-again street battles with the police, and you have a new cadre of organizers birthed in rather large numbers.
Richards details the weaknesses as well as anyone. But again, it's only the first round. One of the lessons I drew from the '60s was that everything in the universe moves in waves - light, water and social movements, too. Movements ebb and flow. When they ebb, it's not our fault. What is our fault is whether we have the foresight and capacity to prepare for both ebbing and flowing, to cast out the net when the tides are rising, and to pull it in and consolidate new organizations when they are ebbing, so as to prepare even better for the new surge.
Occupy was a rising of a militant minority, and I'd urge Richards to maintain his audacity even as it gets tempered. But I'd add that Occupy was a militant minority of a progressive majority of the country.
That is a framework for hope. I still remember the quote Herbert Marcuse put on the final page of his 1964 book One-Dimensional Man. It was from Walter Benjamin, who wrote: "It is only for the sake of those without hope that hope is given to us."
[Carl Davidson is a national co-chair for Committees of Correspondence for Democracy and Socialism. He lives near Pittsburgh and is a member of Steelworker Associates, a community-action arm of the United Steelworkers.]
Steve Kindred,  my friend, brilliant SDSer, organizer with Teamsters f or a Democratic Union, a leader of the struggle to keep the Stella d'Oro factory in the Bronx open - all this, and  a thousand other causes - Steve is, for lack of a better word, "gone," in a New York hospital, suffering from abdominal cancer, which has spread. Having been close to Steve and having admired and  loved him now for 50 years, I am very sad. Other people's deaths have reminded me of my own mortality. This one focuses me on what we have all lost with Steve gone.
Two clichés come to mind: it violates the laws of nature that students should die before their teachers. This applies: I was Steve's teacher at the University of Chicago in the mid-60s. The other cliche, that teachers often learn from students, also applies. Steve was my student, and contributed to an electric class-room atmosphere which took me from classroom to typewriter to "Jack Tar in the Streets" and "The American Revolution Seen from the Bottom Up." I had grown up left,  but Steve was my instructor in the first larger struggle that I experienced in the `sixties, a struggle in which we had to anguish over directions and strategies
In the early 1960s, the University of Chicago was trying to remodel itself as less Jewish, more sports-oriented, etc. My students sat in on the 50-yard line, perceptively understanding what big-time football would do to the place. In my first ecstasies at finally coming "home" to the U of C. after ten years at Yale, I had warned them of the horrors of becoming like Yale. As for the Jews: the typical undergraduate was exemplified in the invented character of "Aristotle Schwartz." To cure this condition, the U of C instituted a euphemistically named "Small Town Talent Search." Steve Kindred seemed to fit: the son of a Methodist minister in Iowa.  U of C knew nothing of their capacity, under the control of a friendly coalition of Hutchinsonians and Straussians, to make radicals of sons of ministers. With the draft and the Vietnam war, U of C SDS looked for a way to address these issues in ways that fit the undergraduate culture. In this quest, Steve was a central thinker. Chicago had never compiled class ranks; now Selective Service wanted them to do so, and to hand over the lists to the feds as a kind of a death list. U of C SDS brought out  the many ways in which this was at odds with the U of C's often repeated shibboleth, "the life of the mind." (Chris Hobson gave SDS's newsletter that name.) As in so much of Steve's politics, this focus addressed a passionate belief held by the constituency and connected  that belief to the war as well as to the life of the university. For several days we occupied the Administration Building: Staughton Lynd and I taught "history from the bottom up"; Naomi Weisstein and Heather Booth taught Women's Liberation. It was a memorable and ecstatic time. The entire sit-in debated strategies and directions in long meetings of the hundreds present, brilliantly chaired by Jackie Goldberg (just out of Berkeley and later a state legislator in California). Noted professors came to the building to tell us that we reminded them of Nazi storm troopers. (Hannah Arendt had earlier responded to my public question in Mandel Hall that she would not state a position on the war.) I said, in words that turned out to be prophetic, that I would feel myself more honorably treated were I employed by the people in the sit-in rather than the administration whose building we were occupying. This moment of unexpected faculty loyalty produced an effusion that I will always remember
The time came in the sit-in when it looked as if the Chicago police would evict us if we stayed in the building longer. Steve, Chris and the others wanted to stay in. But we were losing our constituency. Left faculty members came before us with the "you've made your point, now go home" speech. A beloved dean wept crocodile tears, expressing his love of students. Always seeking to lead their constituency in more radical directions, but also always seeking to stay with them, we came to the difficult decision to leave. We were outvoted, and obeyed. Today the building is called Edward H. Levi Hall. It was Provost Levi, later Nixon's attorney-general, who had told our little faculty group that we could not resist the government's demands because of what he saw to be the "unlovely" consequences of having to receive a subpoena.
I write all this from memory, having run up against a stone wall in seeking to get the U of C library to establish an archive on student protest parallel to the Savio Archive at Berkeley. Really, U of C, and its present corrupted historian dean, want to erase all memory of that time. Students were so badly treated - 40 or 50 were  thrown out in 1969 - - that the Alumni  Office refers to the classes of '64-'74 as the "lost classes."  No wonder. The outside world knows the place as the home of rotten economic theories; I know it as a place where the Straussians who ruled Sosh I and Sosh II could apply their retrograde views to the snippets of US history that the remnants of Hutchins presented to them in such compendia as The People Shall Judge. When I was fired, it came about through a coalition of the Straussians, who despised me for having sought to teach history and historical context, and the History Department, ruled by the hideous Boorstin, and by William Hardy McNeill, who contributed to the political neutrality of the place by running an on-campus military intelligence unit. "Your convictions," McNeill told me, "interfered with your scholarship."
(Chris Hobson recalls that at one point, Steve - near to graduation and not wanting to risk expulsion - formed with others a "Chickenshit Liberation Brigade," which would undertake an occupation through three warnings and then "throw themselves on their faces and back out of the office chanting, `Grovel, grovel, who are we to challenge power?'")
For a time, Naomi and I lived more or less together with Steve, Chris, Jonathan, Ron and the others next door to 5331 South Dorchester. What a time it was! Later, when we lived in a Buffalo suburb, Steve would appear without notice (this was before cell phones) in block-long trucks that he was driving across the country, signaling his presence with what sounded like a tugboat horn, resonating through lawns and hedges. From an enormous treasury of memories, two stand out. In the spring of 1966, I handed over my car to Steve for distribution of literature and sit-in preparations. It was a Saab, which made a distinctive noise. While these things were going on outside, I presented to a History Department seminar in the Faculty Club the paper that I had presented at the Organization of American Historians and that was on its way to being published as a pioneering positive study of the mob in revolutionary America. Boorstin responded, "Jess, those are nice sea stories, but why do you have to talk about class?" At that moment, outside, Steve drove past in my Saab. Hearing the Saab and Boorstin at the same time, I knew which side I was on.
Steve often quoted his father's almost last words: "We were euchered." Steve made the error of trying to repeat the 1966 sit-in in 1967. Naomi, Heather and others argued against it. But Steve bulled ahead. It turned out to be a catastrophic failure. The Administration of that sewer sent the teachers of Sosh I and II to take down the names of those sitting in. So much for the life of the mind. Deeply and passionately principled, and fully understanding the implications of this, Steve cried out, again and again, "You hacks, you hacks!"In my head I hear his voice and see his face. I think, in the end,  Steve and the rest of us were euchered by a medical profession that often deserves contempt and not the deference that they are usually given. Steve spent six weeks in intensive care at a classy New York hospital. Despite the heroic and resourceful efforts of his wife, Ellen Goldensohn, they found no cause for his condition, came up with no diagnosis. When Ellen had him moved to another hospital, they did the same tests and came up with the grim diagnosis in two days. Steve, and the rest of us, were euchered by hacks.
Jesse Lemisch
December 5, 2013
Race and Cuba - Interesting article on some of the struggles Cuba faces
generally positive about Cuba's efforts, but I think it omits Cuba being a victim of U.S. imperialism and how that limits their resources to oppose racism, as well as the complexity of addressing racism.  Perhaps someone on this list could respond to this article more in-depth than I'm able to do.  
in struggle,
José
A Lesson From Cuba on Race
By Alejandro de la Fuente
November 17, 2013
New York Times - Opinionator - Online Commentary from The Times
Post-revolutionary Cuba responded to racial inequality more effectively than any country in the Americas.
Presentation on "The Invention of the White Race" - Brooklyn - Dec. 7
Brooklyn Public Library
10 Grand Army Plaza
Saturday, December 7, 2013 at 4 PM
Theodore W. Allen's "The Invention of the White Race" (Verso Books) especially Volume 2, "The Origin of Racial Oppression in Anglo-America," will be discussed by Jeffrey B. Perry in a slide presentation/talk on Saturday, December 7, 2013, at 4 PM. at the Brooklyn Public Library, Dweck Center, 10 Grand Army Plaza, Brooklyn, NY 11238.
Allen was an independent working class scholar, long-time resident of Brooklyn (he lived at Brooklyn Ave. and Dean St.), and an employee of the Brooklyn Public Library.
"The Invention of the White Race" has been described as a "classic" and widely praised by scholars and activists for its seminal contributions to our understanding of race and class and for its extraordinary primary research (much of that primary research was done over a thirty-year period in Virginia archives and at BPL).
Jeffrey B. Perry provided new introductions, internal study guides, a biographical sketch, suggested readings, and expanded indexes for the new 2012 edition of "The Invention of the White Race." Dr. Perry is the author of "Hubert Harrison: The Voice of Harlem Radicalism, 1883-1927."
The event is free and people are encouraged to attend, to bring friends, and to share this announcement with those who might be interested. People who have heard of Allen's important work and have not yet had a chance to read it are especially encouraged to attend.
The presentation will be followed by a question and answer period.
For information on the new expanded edition of Volume 1: "Racial Oppression and Social Control"
For information on the new expanded edition of Volume 2: "The Origin of Racial Oppression in Anglo-America"
For info on Brooklyn Public Library Events Calendar
Celebrating the Life of Father Paul Mayer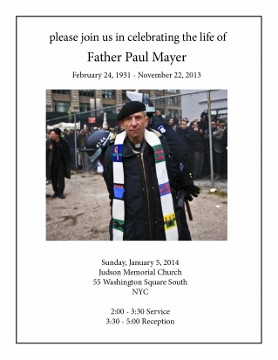 Sunday, January 5, 2014
Judson Memorial Church
55 Washington Square South
New York City
2:00 - 3:30 Service
3:30 - 5:00 Reception
New Book - Pete Seeger: The Storm King -- Stories, Narratives, Poems: Spoken Word Set to a World of Music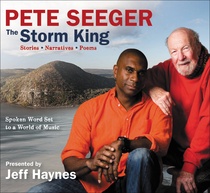 Format: Audiobook
Price: $17.98 US/$19.98 CAN
ISBN-13: 9781619698314
Publisher: Hachette Audio
Full Details
Gems from the life of one of the most influential figures in American music!
Pete Seeger: The Storm King audio collection presents Pete Seeger's spoken words as he captivatingly recounts his most engaging stories, narratives, and poems-set to new music created by nearly 50 musicians from traditions as diverse as African Music, Blues, Bluegrass, Classical Guitar, Folk, Jazz, and Native American Music, Pete's wisdom and stories out to new audiences and into a new technological age.
Each piece is unique in sound and emotion and also in how it came together. Jeff Haynes, world-renowned percussionist and producer, has worked closely with Pete to create something spectacular - weaving Pete's words to the music of artists from around the world who would not otherwise have shared a stage with Pete but who have been deeply influenced by him.
The result is astounding.
"It brings out things in my words that I never knew before." -Pete Seeger
"Pete's still finding the hope and planting the seeds . . . and keeping us invigorated in our own best intentions." -Dar Williams
Listen to a story here: https://soundcloud.com/hachetteaudio/peteseegerstormkingtoshi