Dispatches from the Culture Wars - Just Say No Edition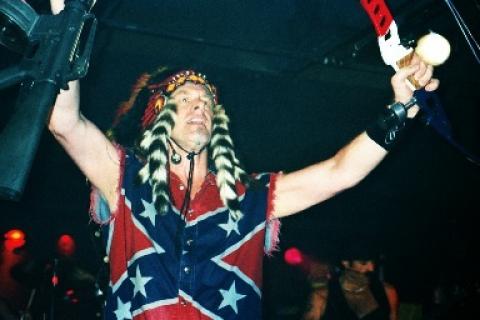 Ted Nugent at Gov. Rick Perry's inaugural ball., Daily Kos (via YouTube)
Racist Rocker Ted Nugent Dumped Yet Again by an American Indian Casino
By Bill Morlin
July 24, 2014
Hatewatch/Southern Poverty Law Center
The Puyallup Tribe of American Indians in western Washington, following the lead of the Coeur d'Alene Tribe in Idaho, today cancelled two shows by rocker Ted Nugent who is finding himself at the center of a growing controversy over his record of racist and violent rhetoric.
The cancellation, Hatewatch learned, came just a short time before Seattle TV station KOMO was expected to air a segment on the Puyallup tribe booking Nugent for the shows. After the Coeur d'Alene cancellation went viral on social media, the Puyallup Tribe began receiving heavy criticism on Facebook and various blogs.
Nugent also began receiving criticism from American Indian news sites, including IndianCountry.com. "Nugent's racially-insensitive behavior extends to Native Americans as well," the site said in a lengthy post on Tuesday. "He frequently wears a feather headdress on stage and appropriates a sacred Native symbol in his song `Great White Buffalo,' both of which are highly disrespectful to Native culture."
Disney Heiress Abigail Disowns her Share of Family Profits in West Bank Company
By Donald Macintyre
July 18, 2012
The Independent (UK)
Abigail Disney - filmmaker, philanthropist and great-niece of the legendary animator Walt Disney - has publicly renounced her share of the family profits from an Israeli firm she claims is exploiting "occupied natural resources".
Her decision to donate the profits, as well as funds equal to the value of her shares in the Dead Sea minerals cosmetics firm Ahava, to "groups working to end this illegal exploitation," is a high-profile boost to campaigners against trade with Israeli settlements and companies in the occupied West Bank.
Ahava is a well-known Israeli export brand of skin care products from Dead Sea minerals and mud. While Ahava's headquarters is in Israel, the company's main factory is in the Jordan Valley settlement of Mitzpe Shalem and extracts mud from the West Bank section of the Dead Sea coast. Shamrock Holdings, owned by the Disney family, is believed to have an investment worth around $12m in the company.
Tweet and Delete: On Gaza, Celebrity Courage - and Cowardice - Over Social Media
By Remi Kanazi
July 31, 2014
Salon
A flood of celebrities, including Rihanna, Amar'e Stoudemire, John Cusack, Madonna, Mia Farrow, Mario Balotelli, Javier Bardem, Kerry Washington, Rob Schneider and many others have also chimed in on Israel's ongoing bombing campaign of the Gaza Strip, ranging from singer Zayn Malik's "#FreePalestine" to Schneider's "the ugly inhuman siege has had its deadliest day."
Israel's actions prompted a cascade of indignation on social media and it wasn't long before a long list of celebrities weighed in.   However, within eight minutes, Rihanna deleted her tweet. NBA basketball player Dwight Howard apologized, stating, "Previous tweet was a mistake. I have never commented on international politics and never will," and actress Selena Gomez followed up her "Pray for Gaza" Instagram post with, "And of course to be clear, I am not picking sides."
So what gives? Why be compelled to speak out, then hurriedly delete? As comedian D.L. Hughley noted to TMZ, simply saying "#FreePalestine" comes with "repercussions." These celebrities  posted their thoughts instinctively.  But faced with such controversy, it's safe to assume that their handlers sprang into action and had the posts deleted.
An Open Letter to the New York Times: Race and the Reproductive Rights Movement
By Miriam Zoila Pérez
July 31, 2014
Colorlines
A legal right to an abortion doesn't mean much if you have no way to get to the clinic in your area (or there isn't one). A legal right to an abortion doesn't mean much if you don't have the means to pay for it. A legal right to an abortion doesn't mean much if your immigration status makes you afraid to leave the house. There is little choice for the women in those scenarios, and so a movement galvanized around choice falls way, way short.
The groups with the most funding are not the groups that represent women of color. The organizations with the best media teams, the most access to reporters like you, they are also not the groups with real connections to the women on the ground who are facing the biggest hurdles to creating the families they want to create.
While the majority of resources may remain with these groups, their serious lack of diversity in leadership, both in terms of race and age, is setting them up for a future where the majority young and of color population isn't going to have any interest in their movement.
Charitable Gifts From Wealthy Koch Brothers Often Prompt Partisan Reactions
By Melanie Grayce West
August 3, 2014
Wall Street Journal
Wealthy industrialists Charles Koch, 78 years old, and his brother, 74-year-old David, are among the nation's most visible supporters of conservative political causes-a fact that, in many cases, has made their nonpolitical giving a lightning rod for partisan reaction. Critics say their extensive donations to higher education and health care, among other causes, are tainted by tea party-friendly politics, and rife with hidden strings and agendas. Conservatives call such reactions nonsensical, a product of knee-jerk liberal intolerance.
All of which raises the question: Should nonprofit groups-especially those in a largely liberal city like New York-be concerned with a donor's political leanings?
How Orthodox Agudah and Wal-Mart Money United To Back School Vouchers
By Josh Nathan-Kazis
July 22, 2014
Jewish Daily Forward
The largest donor to the ultra-Orthodox umbrella organization Agudath Israel of America is a Christian family from Arkansas.
The Agudah, as the organization is known, represents some of the most stringent, black-hat-wearing Orthodox Jews in the United States. Its backers include wealthy Jewish developers and health care magnates. The organization, however, has received more money in the past six years from the majority owners of Wal-Mart than from any other single giver.
The donations come from the Walton Family Foundation, run by the descendants of Sam Walton, Wal-Mart's founder. Walton was a Presbyterian, and his home base of Bentonville, Arkansas, didn't have a synagogue until 2004.
Since 2008, the Walton foundation has incorporated the Agudah into a massive national network pushing its conservative vision of school reform, which emphasizes charter schools and school voucher programs.