Tidbits - January 4, 2018 - Reader Comments: Extreme Poverty Returns; GOP Tax Robbery; Bitcoin; Iran; Nuclear Tests; Recy Taylor; High School Protests; Immigrant Rights; Climate Change and the Left; and more....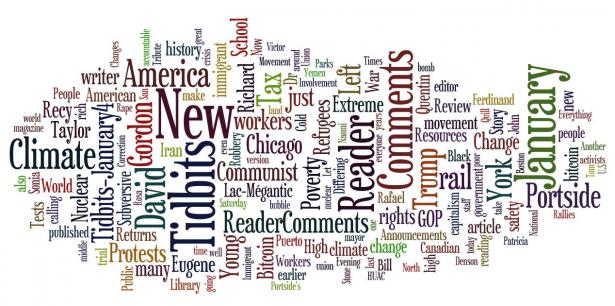 Tidbits - Reader Comments, Resources and Announcements - January 4, 2018,Portside
Resources:
Announcements:
Re: Extreme Poverty Returns to America
U.S. No longer the leader of the free world

Lydia Brady
Posted on Portside's Facebook page
     =====
and this is how Trump will make America great
Rafael Maldonado
Posted on Portside's Facebook page
     =====
It's just starting. MAGA, has just started! The statists have just begun their program of recolonization of America.
You see what they've done to the native Americans? This is what they're going to do to you and I next.
David Peterson
Posted on Portside's Facebook page
     =====
The writing is on the wall. What remains is for everyone to be shoved up against it. They will call it freedom, no doubt.
Dale Jacobson
Posted on Portside's Facebook page
     =====
Potential revolutionaries, all of them. I don't want to be anywhere near Trumps America when the bill for the wealth polarization and destruction of the already inadequate safety net comes due. It will make the French and Russian revolutions look like Sunday School outings!
Bertil Haney
Posted on Portside's Facebook page
     =====
The empire begins to show signs of decadence. It may be a rich country but it will no longer have the power to control the world.
Angel Rafael Aja Rolón
PPosted on Portside's Facebook page
Re: The GOP Tax Bill Could Kill Two Birds with One Stone
1) Social Security and Medicaid/Medicare are funded by payroll deductions, not taxes.
2) Federal Government spending is not funded by taxes either, as much as politicians and the news trumpet the false equivalence between the Federal and household budget. There are good reasons to oppose tax cuts for the rich, but Democrats need to quit allowing Republicans to frame the narrative.
Tax cuts for rich people just don't do very much because Rich People Already Spend As Much As They Feel Like On Whatever They Want. It doesn't really matter that Tax Cuts for Plutocrats raise the deficit, it does matter that such a measure is pointless.
Ben Eli Osterberg
Posted on Portside's Facebook page
Re: Bitcoin - Letter the New York Times would not publish
To the editor:  Tim Wu's analysis of the significance of bitcoin  ("In Code We Trust")  is on the money.  While everyone is focused on the bitcoin bubble the broader issue is the fact that millions of people around the globe have lost confidence in the governmental and economic structures that defined the post WWII era. Growing confidence in independent and decentralized algorithms appear to be  directly related to growing overall geopolitical and economic uncertainty. A bitcoin crash will not crash the global economy, but the bitcoin bubble is certainly one of many asset bubbles that suggest that central bankers' solution to the last crisis did not solve the underlying imbalances and uncertainty that, in fact, produced that crisis. The bitcoin bubble suggests another day of reckoning, perhaps more severe than the last.
Greg Tarpinian,
Boynton Beach, Fla
New Year's Resolutions...Differing Realities, Differing Perspectives, Differing Resolutions (or Revolution)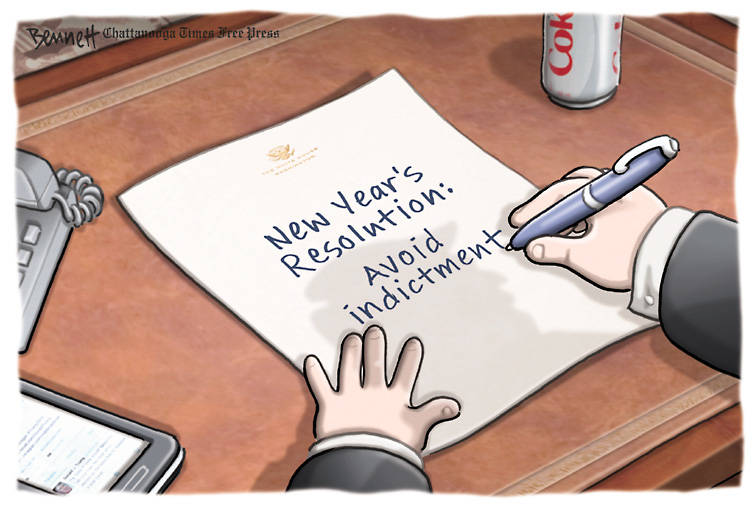 Clay Bennett
December 28, 2017
Chattanooga Times Free Press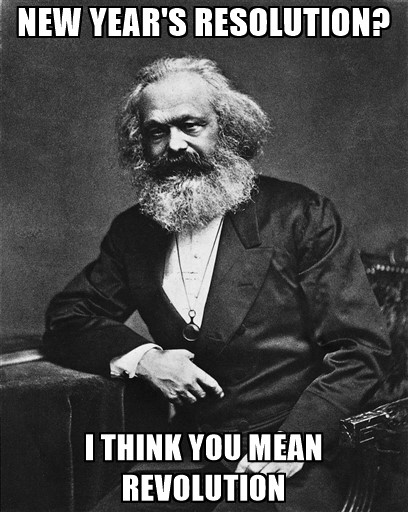 Re: The Fate of The Protective Father: The First Year of the Trump Regime
This article should be required reading for all members of the Senate and Congress. Maybe the USA will dig itself out of the swamp it has created.
Victor M.carreras Roena
Posted on Portside's Facebook page
Re: Why Did Protests Erupt in Iran?
The truth is that Iran's leaders promised a better economy for everyone after the nuclear deal with the U.S. ended sanctions - but guess what? Only the oligarchs are doing better while the middle class stagnates. Does this sound at all familiar?
Richard Cole
Posted on Portside's Facebook page
     =====
that sounds more plausible... I don't feel these are the middle class protests of northern Tehran wanting western freedoms (for themselves) that we've seen before. This is the hungry and the poor - the masses - whose empty stomachs and pockets and cold bodies that are talking. People are more likely everywhere to protest social injustice than any form of leadership: when your stomach is empty who's in "power" is irrelevant. Only the well fed and middle classes think otherwise
Salvador Beano
Posted on Portside's Facebook page
Re: US Nuclear Tests Killed Far More Civilians Than We Knew
Well duh I could've guessed that. Nuclear bombs aren't something you just play around with
Dillan Ray Trader
Posted on Portside's Facebook page
     =====
Don't forget that the Mormons in southern Utah were dying at a higher rate of cancer than the rest of the nation, , and when thousands of sheep suddenly dropped dead of radiation poison, then did they go to underground testing. Mormons today, and more so then, are the healthiest people in America, so the cancer rate was alarming.
Victor M. Flores Morales
Posted on Portside's Facebook page
     =====
Let him Bomb North Korea back to the Stone Age 
David Holdsworth
Posted on Portside's Facebook page
     =====
Except they would be instantly dead and we would take years to die from fallout. Atomic weapons are still a localized blast effect bomb. Bigger affected blast area but larger secondary deaths. For thousands of miles when radiation gets into the atmosphere.
David Denson
Posted on Portside's Facebook page
     =====
You didn't get the memo? This is going to be a new atomic smart bomb. It knows were the United States is so it's going to change the upper atmosphere and jet stream and not bring the fall out our way!
Tom Hrouda
Posted on Portside's Facebook page
     =====
I'm sure Trump will be making that announcement soon. It will be the biggest, the best, the smartest bomb ever.
David Denson
Posted on Portside's Facebook page
Re: "The Rape of Recy Taylor": How Rosa Parks Helped a Sharecropper Report Her Assault & Seek Justice
Extraordinaria historia de luchar por romper el silencio!!
[Goggle translation: Extraordinary story of fighting to break the silence!!]
Katherine Angueira
Posted on Portside's Facebook page
     =====
Rosa Parks means fight, struggle, never give up.
Susan Llequis
Posted on Portside's Facebook page
     =====
What a strong women ,I can only admire her strength .The justice system was no justice at all .Apologizing does nothing but make those guilty feel good ,even today they still should have been charged.
Betty Bansch
Posted on Portside's Facebook page
     =====
USA is a sick country!!!!!!
Pedro Valentin
Posted on Portside's Facebook page
Re: Puerto Ricans Brace for Another Disaster: Foreclosures
It seems to me this is the whole intent  of this neglect is to vacate large amounts of the island of Puerto Rico for the ripe pickings of Trump and company for a new gambling resort ! Similar to Israeli land grabs in Palestinian areas-i.e. vacant land for new owners with no compensation for ousted owners !!!
Aaron Libson
Re: Ten Awesome High School Protests that Defied the Trump Agenda in 2017
This is great! When I was in high school, the extension of the civil rights movement into the high schools, and then the anti-Vietnam war movement into the high schools, represented the turning into really massive movements.
Jay Schaffner
Posted on Portside's Facebook page
Re: America's Heroes of 2017: The People Who Inspired Us
Bill Peduto? The neoliberal mayor of Pittsburgh who is rapidly gentrifying black and poor residents right out of the city? You've gotta be kidding, Portside.
If any mayor deserves to be named a "hero of 2017", it's Carmen Yulφn Cruz of San Juan. It's sure as hell not our corporate-ass-kissing mayor Bill Peduto.
Alan Hart 
Posted on Portside's Facebook page
     =====
Sally Yates did what millions want to do but do not have the guts....
Rick Arias
Posted on Portside's Facebook page
Re: German Union Steps Up Fight for `Modern' 28-Hour Workweek
(posting on Portside Labor)
Does this signal a resurgence in unions and will it spread to the US? Let's hope so
Richard Wolf
Posted on Portside's Facebook page
     =====
for a strong European union federation and movement
John Gilbert
Posted on Portside's Facebook page
Re: American Workers Need Better Job Protections
(posting on Portside Labor)
Glad you republished this article!
Rand Wilson
Re: Film Review: 'All the Money in the World' 
(posting on Portside Culture)
Yes, the accumulation of wealth is an obscenity. A statement by Anatole France comes to mind: 'The law, in its majestic equality, forbids the poor as well as the rich to sleep under bridges, beg in the streets and steal bread.' Sob. 
Joyce Parkes
This is shameful and heartbreaking. Must replace Senators and Congresspeople in 2018 to address this and countless other problems.
Sonia Collins
Posted on Portside's Facebook page
     =====
I wouldn't imagine that Trump has any hotels in Yemen...
David Green
Posted on Portside's Facebook page
Re: There Is A Massive Movement of Refugees Globally- International Community Shuts Down Its Borders in Response
Why are Arab countries not taking them in? They should since they have the same culture.
Sonia Encarnacion
Posted on Portside's Facebook page
     =====
Do you have any idea how many refugees they have taken in? Check the statistics for Lebanon, Jordan and Turkey.
David Auerbach
Posted on Portside's Facebook page
Cold War history of immigrant rights
Cold War history of immigrant rights gives background to contemporary movements against repression of the foreign born.
Communist Immigrant Advocates Whom History Erased
Rachel Buff
Re: A Subversive Bull: Robert Lawson and The Story of Ferdinand
The Story of Ferdinand came out when I was about three or four. My parents took turns reading it to me over and over and over - at my insistence, of course. I followed along looking at the pictures. Pretty soon I could say the text by heart. I started "reading" the book aloud by myself,  turning the pages at the appropriate places; then, after a while, following the text. The next thing I knew, I really could read.
Ted Cloak
     =====
Whoa! I didn't know Franco censored "Ferdinand"!!
Albamar Sanchez
Posted on Portside's Facebook page
     =====
"Degenerate democratic propaganda," said Hitler. The best blurb ever.
Michael Laser
Posted on Portside's Facebook page
     =====
I had no idea my childhood favorite was banned!
Nancy Schimmel
Posted on Portside's Facebook page
Portside's New Look, New Upgrade
I always enjoy reading Portside posts. I like the new format more appealing. I am among the number who will read any form, almost.
Beth Edelman
Posted on Portside's Facebook page
     =====
What a wonderful variety of critical perspectives.
Blair Goodman
Posted on Portside's Facebook page
Correction: Subversive Involvement: Chicago and HUAC - Tribute to Dr. Quentin Young - Chicago - January 12
Last week's Tidbits had the tribute to Ethan Young, instead of Dr. Quentin Young.
Ethan Young is alive and well, and one of the moderators at Portside.
We apologize to the family, and to our readers.
Many thanks to the many eagle-eyed readers who caught this.
Moderator
Re: Climate Change and the Left - Trump's America and the New World Order: A Conversation With Noam Chomsky
(see Portside post of Jan. 16, 2017)
An earlier and more extensive version of the article below was published in the Radical Philosophy Review in Fall 2016. I presented a more recent version on a Left Forum panel, "Resistance Is Not Enough: Imminent Climate Catastrophe Compels a Replacement Strategy," with Joel Kupferman and Paul Cooney, in NYC on June 3, 2017, Ian Angus published the constructive section of the article on his website, Climate and Capitalism, in September 2017. [See Patricia S.Mann, "On the Precipice with Naomi Klein, Karl Marx, and the Pope: Towards a Postcapitalist Energy Commons and Beyond," Radical Philosophy Review, Vol.19, No.3 (2016), 621-52, for an earlier, more extended analysis of an earlier version of submitted article, see: https://www.pdcnet.org/collection/show?id=radphilrev_2016_0019_0003_0621_0652&file_type=pdf ]
It would be great to see the breadth of response from Portside's audience. A Postcapitalist Replacement Strategy for our Anthropocene Trumpean Moment Part I Implications of Historical Materialism in 2017.We live in a moment when even mainstream thinkers and activists are coming to recognize that the dynamics of neoliberal capitalism will continue to make it impossible to avert catastrophic climate change in the very near future. [Climate change is only one of a set of nine related "planetary boundaries/thresholds," whose crossing places our planetary environment in jeopardy, according to earth system scientists. The other boundaries are: ocean acidification, biodiversity loss, chemical pollution, global freshwater use, changes in land use, stratospheric ozone depletion, the nitrogen and phosphorus cycles, and atmospheric aerosol loading. See John Bellamy Foster, Brett Clark, and Richard York, The Ecological Rift (New York: Monthly Review Press, 2010)]
We also live in a time when a Marx-inspired Left could provide the necessary leadership for a mass movement on behalf of a sustainable and just postcapitalist transition, forging new ways of confronting transnational capitalism globally and locally, reigniting a long lost Marx-inspired sense of transformative agency and solidarity. What explains the puzzling failure of the Marxist Left, even those ecosocialists who identify the environmental crisis as the preeminent basis for overcoming capitalism today, to take on this challenge? 
In Fall 2014, Naomi Klein's, This Changes Everything, was published, during a week of climate focused events in NYC, leading up to the People's Climate March, Sunday, September 21, 2014, drawing as many as 400,000 participants to NYC streets, with companion marches in Paris, Berlin, London, Rio de Janeiro, Johannesburg, Lagos, New Delhi, the largest climate change demonstration in history. In This Changes Everything, Klein argued that if it was ever possible to avert catastrophic climate change from within capitalism, that time was gone, and that fossil-fueled climate catastrophe could only be averted by a mass movement on behalf of a just and sustainable postcapitalist future.
[Naomi Klein. This Changes Everything: Capitalism vs. the Climate. (New York: Simon & Schuster, 2014).]
Patricia S. Mann
Papers of Black Communist writer Eugene Gordon (1891-1974) - Now at New York Public Library
==========
The NY Public Library has purchased the papers of Black Communist writer Eugene Gordon from Bolerium Books in SF. When I joined the editorial staff of the National Guardian in 1963, he had already left; his place taken by the late Joanne Grant. I did not know his reports from the 1955 Bandung Conference were rejected by the NG editor as his correspondence indicates.
Michael Munck
     =====
Eugene Gordon papers -- 1927-1972
"The African-American journalist and fiction writer Eugene Gordon was born in Oviedo, Florida in 1891, but was raised in the waterfront section of New Orleans. He studied English and journalism at Howard and Boston Universities and served in World War I in Europe, before joining the staff of the Boston Daily Post as an assistant feature writer in 1919. From 1924 to 1927, he conducted annual surveys of the black press for Opportunity magazine. His short story "Game" was awarded first and second prizes in Opportunity magazine's 1927 literary contest. His work, both fiction and nonfiction, appeared in that early period in American Mercury, Plain Talk, Scribner's, the Nation magazine and the Annals of the American Academy of Political and Social Science. Along with Helene Johnson and Dorothy West, he founded the Saturday Evening Quill Club of non-professional writers, and for three years edited its annual, The Saturday Evening Quill (1928-1930). He was also a co-founder of the Boston John Reed Club, and was the first editor of its magazine Leftward.
A member of the American Communist party since 1931, Gordon co-authored with Cyril Briggs a pamphlet, The Position of Negro Women, and lived for a time in the Soviet Union where he worked as a reporter for the Moscow Daily News. He worked as a feature editor, reporter and writer for the Worker from 1938 to 1946. In the 1950s, he was on the staff of the National Guardian newspaper and, as a correspondent for that publication, attended the historic 1955 Afro-Asian Bandung Conference in Indonesia, which gave birth to the Non-Aligned Movement. In addition, he wrote a column, "Another Side of the Story", for the African-American press from 1958 to 1959. Gordon was also an artist whose paintings were shown at the Hudson Guild Gallery, the District 65 union hall and the Countee Cullen branch of the New York Public Library.
Also an author, Gordon's first wife, Edythe Mae, wrote short stories and verses and was featured in the Saturday Evening Quill. A compilation of her work was published in 1996 (Selected Works of Edythe Mae Gordon, New York: G.K. Hall). His second wife, June Kroll, organized textile and millinery workers in the 1930s, and was executive director of the Emma Lazarus Federation of Jewish Women's Clubs at her death in 1967. By an earlier marriage, she had been the daughter-in-law of Ella Reeve Bloor, the widely known "Mother Bloor" of Communist Party politics. At his own death in 1974, Eugene Gordon was praised by Communist Party Chairman Henry Winston as a longtime activist in literary affairs and "a dedicated partisan in the fight on many fronts for Democracy and Socialism".
    
Drop The Charges! Safe Rails Now! No More Lac-Mégantics! -- Rallies Supporting The Scapegoated Lac-Mégantic Rail Workers - January 4 and 5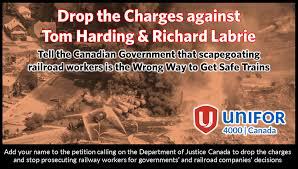 National Canadian union Unifor is calling for the dropping of the charges against the Lac-Mégantic railway workers on trial.
Protest events will take place across North America and around the world this week calling for real rail safety and accountability regarding rail disasters like the 2013 Lac-Mégantic oil train wreck. Railroad workers, rail safety and environmental activists will be calling upon the Canadian government to drop the charges against framed up rail workers as the prosecution case against them unravels. Canadian rail workers Tom Harding and Richard Labrie are currently on trial for the deaths in that disaster. The criminal trial has highlighted the connection between dangerous railroad policies and the need to hold the right people accountable for the danger created.
On January 4th and 5th, 2018, rail safety activists will be calling on the Canadian government to stop it's diversionary prosecution of rail workers who have no control over the majority of the causes identified by government reports and independent investigations. In many cases, the causes identified are also at issue in other railroad wrecks in the last years, yet no policy makers are held accountable.
The trial testimony has been clear. The actions of rail workers Harding and Labrie did not cause the Lac-Mégantic tragedy. But risky decisions and policies by railroad managers and their government regulatory enablers must be addressed and those responsible held accountable if we are to have rail safety across North America.
Rallies January 4 in San Francisco; Chicago; Seattle; Washington, DC; January 5 in Minneapolis
More information: www.hardingdefense.org