Tidbits - May 2, 2019 - Reader Comments: Venezuela Eyewitness Reports; Impeachment debate; Anita Hill; Ilhan Omar; Higher Minimum Wage; Walt Whitman; Pete Seeger; Hubble Measurements; Racism and Women's Suffrage; and more....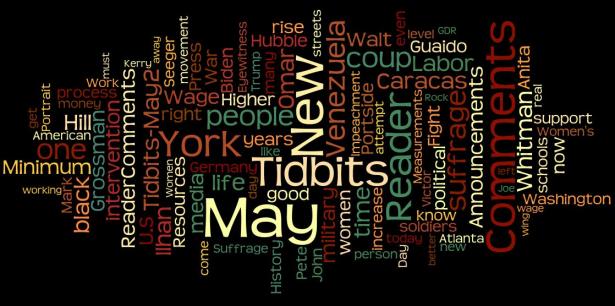 Tidbits - Reader Comments, Resources and Announcements - May 2, 2019,Portside
Resources:
Announcements:
Re: The Danger in Not Impeaching Trump
 
Yes, but NOT until ALL the investigations are competed and they have all the evidence to take him down.
Sarah Larkin
Posted on Portside's Facebook page

      =====
Good point. Impeachment must have a high probability of succeeding.
We send the message that corruption will be tolerated....
Julio C Ayala
Posted on Portside's Facebook page
      =====
Just the act of starting the impeachments will be important, whether is successful or not.
Teresa López
Posted on Portside's Facebook page
      =====
This isn't a political issue.
If they find impeachable crimes they need to act.
We keep letting these guys go free!
Not one banker from 08, or even last year.
And they're just repeating their crimes.
We sent them to Washington to govern, not to play politics!
Howie Leveton
Posted on Portside's Facebook page
      =====
Our whole efforts should only be one : to save the country , thus get rid of Trump I am a pragmatic person Let's solve the Nation from a foe , then we can discuss everything else Being practical is better than being a poet Philosophical discussions can be solved later Let's get rid of the cancer first and foremost
Lennis Longo
Posted on Portside's Facebook page
      =====
We have a responsibility to elect Bernie Sanders, not waste our time and energy on an impeachment process that has no chance of removing Trump, and will only fire up his base and help him politically. Ever hear the expression, "If you shoot at the king, you better not miss"? Did you happen to notice the composition of the U.S. Senate? I have never signed any of the countless impeachment petitions that have circulated online for the past three years, and I'm proud of the fact that my union, the ever-progressive UE, has shown no interest in impeachment.
You send the message that you choose to fight a battle you can't win and pass on the battle you could win. In other words, that you choose to lose.
I can't stop you from wasting your time trying to impeach Trump, but I will not lift a finger to help you. I'll be busy working to elect progressives and socialists to office.
Alan Hart
Posted on Portside's Facebook page
      =====
And even if the Senate convicts (which it won't), you'll end up with President Pence. Good job.
John Woodruff Jr 
Posted on Portside's Facebook page
Re: A Left Strategy for the 2020 Elections and Beyond
 
this is a long read, but worth it imho, and pretty much explains my position, and why the Greens are a blind alley and a waste of time and effort.
Mike Glick
Posted on Portside's Facebook page
      =====
I've never liked the greens, been a member of the Green Party, or campaigned for a Green Party candidate. I have said that a winning strategy for the progressive left cannot rely on group shaming the 1-3% of the country that votes for them nationally, nor the 3-6% that voted libertarian. That is a true waste of time. Instead, try to catch the rising progressive wave that is inspiring people to turn out and vote in higher numbers and successfully primary centrist Dems
Ben Bath
Posted on Portside's Facebook page
The list goes on - Second Amendment Scorecard  --  cartoon by Tom Toles
 
Tom Toles
August 5, 2010
Washington Post
Eyewitness Report from Caracas - Coup Attempt Utter Failure
 
We are a group of US and Canadian citizens in Caracas, Venezuela.
The coup attempt here today has been a complete failure. The streets are full of people going to work and going to class. The stores are open.
We are attending a housing conference here in Caracas, on the 8th anniversary of the government's plan to build 5 million housing units by 2025. 2.6 million have been built thus far. It is a good example of what the people feel is at stake in defense of the Bolivarian revolution.
We woke up this morning to hear grandiose reports of a coup in progress and incitements on right-wing media outlets for the military to come into the streets to support a supposed popular uprising.  We have seen no such popular uprising, at all.
Rightwing leader Leopoldo Lopez was freed from house arrest and was meeting with Juan Guaidó, the US puppet, but there was virtually no one by their side - only about 20 soldiers that were said to have come to the side of Guaido. But the real story is that 15 of the soldiers were tricked into thinking they were going to receive a military recognition. The right wing had a video camera to fool the public with not thinking an actual coup was under way. Within an hour the media event was over.
The coup attempt has been a complete flop, except in the right wing trans national corporate media.
We urge everyone to call your congressional representatives, other elected officials and the wider progressive movement and media with this message:  No US intervention in Venezuela. End the sanctions. There is nothing here that needs to be prevented other than US intervention and the right wing attempts create a crisis that would justify an intervention.
Pat Fry
Peter Lackowski
Stanley Kaster
Mark Cook
Suzanne Ross
Keith Brooks
Ann Fawcett Ambia
David Thomas 
PLEASE SHARE WIDELY
We have been in Caracas all day. We woke up to the news that Leopoldo Lopez had escaped from house arrest and that Guaido was clearing the "final stage" of a coup.
No coup happened. The opposition barely mobilized - when once they could establish dozens of roadblocks around the city, they could only get a few hundred thugs to try to seize a stretch of freeway and hijack military vehicles. No one was killed - although one pro-government soldier was shot in the neck, when Guaido's supporters tried to execute him for refusing to join their coup. Except for this stretch of road, the city was totally calm. Schools were in session, people went to work, and no one came out to support a fascist coup attempt.
The opposition is abandoned by their own supporters. Yet at the same time that they could barely fill one block of road, over a hundred thousand poor, working class Venezuelans poured into the streets around the presidential palace to defend their revolution. And defend it they did.
There is a real possibility that the opposition is broken now in a way that it has never been in the history of the Bolivarian process. The next few days will tell, but they are clearly in full retreat. Even out of the 100 soldiers that came to join Guaido today, over 80 have already surrendered to the authorities.
There is still a lot to process from today and the trip so far, but I will say this - the future of the continent is being decided in Venezuela right now. And the masses in the streets today have declared what that future can be.
Sean Orr
May 1 - 3:33am
      =====
May Day in Caracas. Our delegation - for what promises to be a massive May Day rally in support of the Maduro government and all its accomplishments for the working class - will be part of an international delegation of many countries who are here for a 4 day conference on housing.
After yesterday's staged media event that tried to project the notion that there was a successful coup, the streets last night were vacant and the mood tense. 
We do not know what will unfold today but one thing is clear - the US puppet Guaido and his right wing supporters are in disarray and may now be falling out amongst themselves as the staged coup event was comical.
The corporate media is shameful, using footage of a large Guaido rally from months ago to look like it was yesterday - see the Guardian's coverage yesterday.
The military truck that was shown used against protestors did happen but it was in response to right wingers throwing Molotov cocktails at the military. One person got hurt - not seriously - when a military truck charged forward against advancing rioters.
Our US delegation headed by William Camacaro of the NYC Bolivarian Circle has played an important role in speaking to Venezuelan media. We were on tv news stations throughout the day yesterday. I cannot emphasize enough how important it is that US people stand with our brothers and sisters of Venezuela and let them know that the US people are against our government's empire aggression and intervention.
More later.
Pat Fry
May 1 - 10:14am
Re: Clashes Rock Venezuela as Guaido Urges Opposition Uprising
 
Brought to you by the USA.
Dan Jordan
Posted on Portside's Facebook page
      =====
I don't know how to register a protest against today's Venezuela post on Portside. "the most serious attempt"? The piece seemed to be giving credibility to the opposition's hopeless action totally supported by the US. It should have been an exposure of US intervention.
Ruth A. Needleman
      =====
This could have come from any establishment approved-news publication!
John Woodford
      =====
There are lots of other sources beyond AP to get on-the-ground reporting of how Venezuelan people are NOT supporting this USA funded/"advisor" (USA military/CIA et al) so-called coup. Let's build a STRONGER peace/no-US intervention movement! It is OUR responsibility as US taxpayers and residents to stop the rape, pillaging and devastation our country and corporations are unleashing on our sisters and brothers around the globe!
Leanna Noble
Posted on Portside's Facebook page
Anita Hill says recent conversation with Joe Biden was 'deeply' unsatisfying  -- Associated Press/PBS News Hour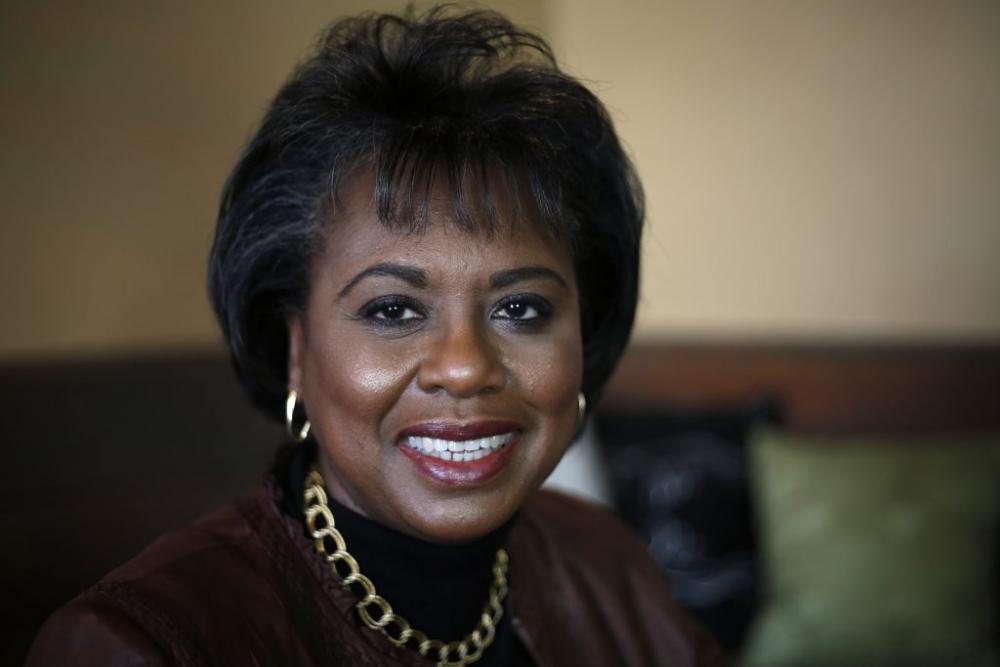 By Associated Press
April 25, 2019
PBS News Hour
Anita Hill says a conversation she had with former Vice President Joe Biden this month left her feeling "deeply unsatisfied." She says she's unconvinced that he accepts the harm he caused her when he presided over a congressional hearing during Clarence Thomas' Supreme Court confirmation process.
In an interview with The New York Times published Thursday, Hill said: "I cannot be satisfied by simply saying I'm sorry for what happened to you. I will be satisfied when I know there is real change and real accountability and real purpose."
Hill says she cannot support Biden until he takes responsibility for his actions. She also said she is "troubled" by allegations that he touched women in over affectionate ways that made them uncomfortable.
Biden was chairman of the Senate Judiciary Committee during Hill's 1991 hearing, where she testified Thomas had sexually harassed her. Biden has said he wishes he could have avoided questioning by some male lawmakers that he called "hostile and insulting."
Re: U.S. Out of Everywhere - The case for an immediate withdrawal
 
The repugnant notion that everyone's views of life are wrong except those of the white capitalist patriarchy must come to end for peace and reason to achieve a dignified life for all. We must substitute education for class cruelty.
Roberto Buxeda
Posted on Portside's Facebook page
      =====
Very good  --  we have no business there
Pedro Rodriguez
Posted on Portside's Facebook page
      =====
By its silence, the US antiwar movement has been all but supporting intervention in VENEZUELA.
It's nothing but raw, undiluted imperialism.
Jose Rinaldi Jovet
Posted on Portside's Facebook page
Re: The Dangerous Bullying of Ilhan Omar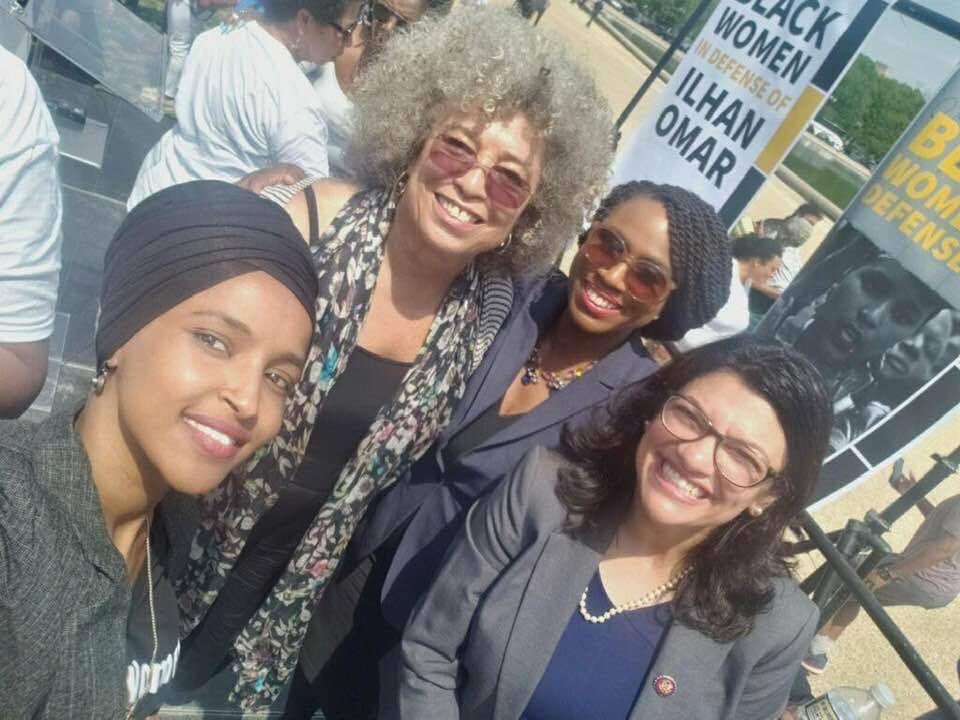 =====
the writer of this commentary is a fellow at Amherst it says
she's brilliant
my kind of thinker
she's a russian jewish lesbian rabble rouser of the intellectual kind. she now lives in the states. otherwise, putin might have her killed.
Mark Karlin
      =====
May be difficult for an average person to fathom the evil lurking in Trump's mind.Toghether with his highly paid enablers they will distort any statement.
Maria Minguela
Posted on Portside's Facebook page
      =====
Indeed: Therefore, it behooves Ms. Omar to choose her words carefully...
Gordon Galland
Posted on Portside's Facebook page
      =====
Do you mean to say that she must start censoring herself. Isn't her sincerity and political boldness the main reason why she got herself elected in the first place?
William Nemcik
Posted on Portside's Facebook page
      =====
Wait a minute why didn't he say there were good people on both sides like he said with the shooting???
Frederick Tillman
Posted on Portside's Facebook page
Re: 'Hands Off Ilhan': Black Women Rally in Support of US Congresswoman
 
Hate is hate. That is what MAGA is all about, hatred and unparalleled greed.
Silvia Brandon Pérez
Posted on Portside's Facebook page
Protect the Children  --  Meme for Today, but was first used in 2016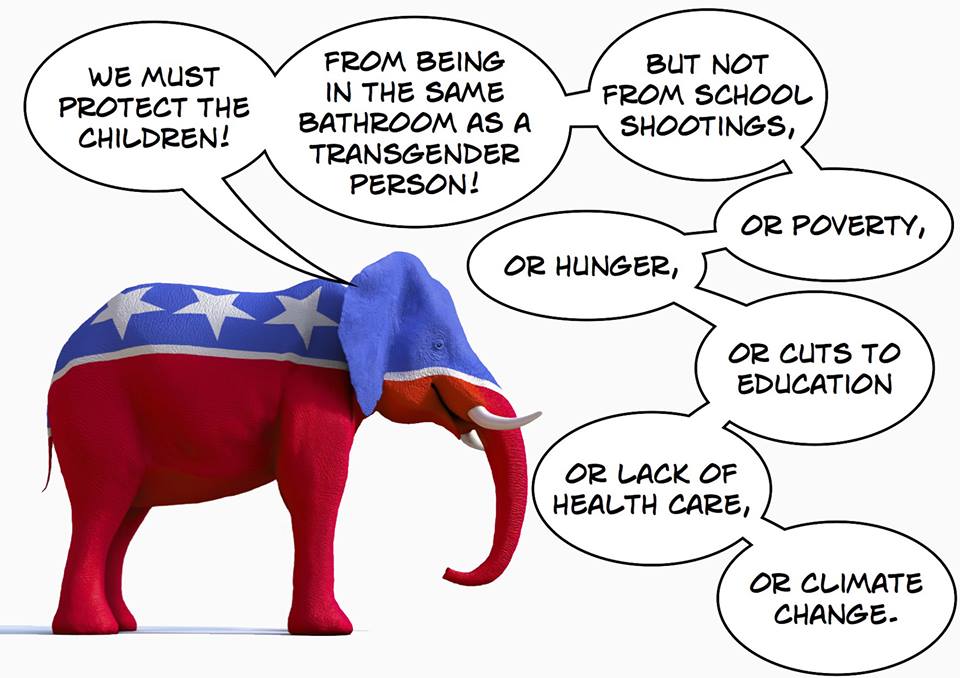 Meme was created during the 2016 Republican primary campaign
Who Benefits from a Higher Minimum Wage  -- Economic Policy Institute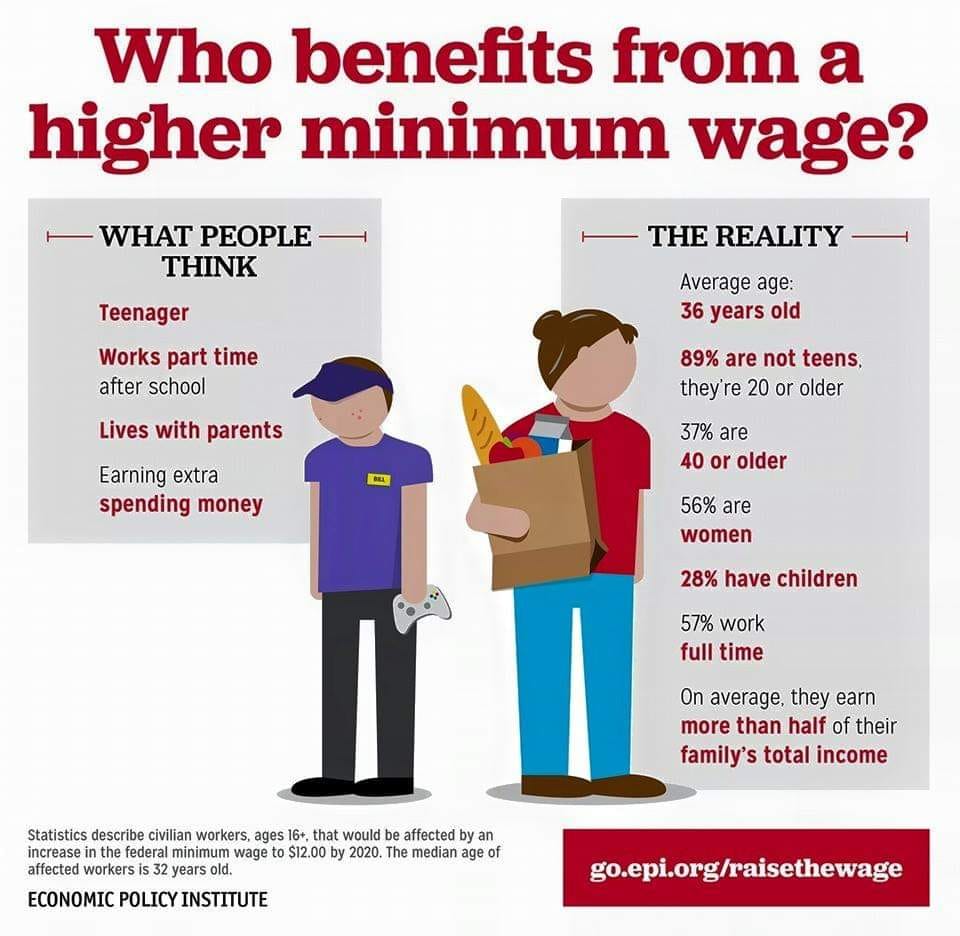 Why America Needs a $15 Minimum Wage
Re: In Praise of a Higher Minimum Wage
 
The people who work for minimum wage usually live from paycheck to paycheck because they spend everything they have they are good for the economy because the rich like to hoard their money they are bad for the economy....pretty basic...and yes it's exactly that simple...the rich love to tell you economics is complicated and that the average person couldn't possibly understand....if you have income from whatever source. You buy you sell you save you over spend you borrow you pay back...you understand economics in ways the rich NEVER will...don't ever let anyone tell you YOUR the one who doesn't get it...
Kerry Pollard
Posted on Portside's Facebook page
      =====
"The study finds that minimum-wage increases occurring over more than three-and-a-half decades resulted in higher wages for low-skilled workers, with no reduction in low-wage employment five years out." 
A rise in the minimum wage does not result in an increase in unemployment. Nor does such an increase engender anything more than but a brief but passing inflationary episode. Suppose that against a given level of production such a wage increase occurs. The additional purchasing power then causes a rise in the price level of what Prof AC Pigou called "wage-goods" (1) as the pay rise does not allow ventures into "non-wage goods" (luxury items), only an increase in purchasing of the former. This rise in the price level — and through that, the profitability — in the "wage-good" sector entices some entrepreneurs to exit the "non-wage good" sector and enter into "wage-good" production. The consequent rise in the level of this production soon strips the inflation away, sending pricing, profitability and the general level of inflation back towards their pre-wage increase mean levels. Only now there is relatively more production of "wage-goods". 
In addition there will be an increase in the tempo of the economy as income will have been transferred towards sectors inhabited by those with greater marginal propensity to consume (MPC). (2) Of course some pre-existing concerns operating marginally at profitability will be unable to afford the wage rise and will exit the field. These losses will be more than compensated by the job growth in the "wage-good" industries as a portion of the market's productive forces come to be shifted away from the fashioning of luxury items.. There is nothing new in this thinking. Marx described the same 150 years ago in his meditation on Citizen Weston in "Value, Price and Profit".
John A Imani,
Los Angeles
Re: 'The Fight for $15 Was Never Just About Raising Wages'
 
This might be of interest to parents, children and parents and ESL teachers on the left: A story about the Fight for Fifteen
Joelito's Big Decision/ La gran decisión de Joelito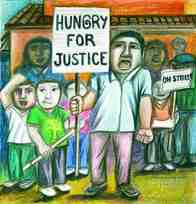 Timely, timeless 
Beautifully illustrated and translated bi-lingual (Spanish/English)
Ages six to fourteen, Hardball Press.  Also available on Amazon.
Every Friday evening nine year old Joelito goes with his family to McMann's for a juicy burger. But this Friday is different. This time, Joelito's best friend Brandon is standing in a crowd holding a big sign protesting the low pay his parents earn at the restaurant. Will  Joelito cross the picket line for a tasty burger? Find out in Joelito's Big Decision /La gran decisión de Joelito
Ages: 6-12 & ESL classes.  Spark important conversations about the Fight for Fifteen.  Beautiful illustrated by Oakland muralist Daniel Camacho
Contact Hard Ball Press at: info@hardballpress.com or call: 917-428-1352
Re: Tennessee Governor Leads Anti-Union Captive Audience Meeting at VW
 
Where are the workers' representatives on the VW board in Germany on this anti-union campaign?
Stan Nadel
Re: Drug Patients Forced to Work for Exxon, Shell and Walmart for Free
 
recovery industry is full of this in so many forms! check out recovery houses -you will find people work for their beds. Talk about preying upon the vulnerable!
Laurie McKenna
The Undesirables Rock Paper Fence
Posted on Portside's Facebook page
      =====
There are many examples of slavery across america private prisons, concentration camps its the ONLY INFRASTRUCTURE being worked on...trump doesn't care about slave labour or child labour in other countries he's working on an american slave labour force if you really believe a wall has anything to do with trumps plans...take a closer look...
Kerry
Posted on Portside's Facebook page
Re: Things Didn't Go Well When Betsy DeVos Was Confronted with Her Department's Charter School Fraud
 
Burris and Ravitch contend the report is "based on fact, not opinion," and to demonstrate its veracity, they present compelling new evidence that the original estimate of one-third of the $4.1 billion in grant money being wasted on defunct charter schools is likely a low-ball assessment.
For instance, they point to grant money awarded between 2006 and 2014 to start up or expand charter schools in Michigan, DeVos' home state. Of the more than 250 schools receiving grant money, at least 109, 42 percent, either never opened or closed. The amount of money wasted on these defunct charters totals $20,272,078. Despite this enormous waste, Burris and Ravitch note with alarm, DeVos' department in 2018 gave Michigan yet another grant of $47,222,222 to start up or expand even more charters.
"As anxious as you are to open new charter schools," they modestly propose, "if nearly half of them do not make it, we suggest that something is wrong with the selection process."
David Frazer
Posted on Portside's Facebook page
      =====
The U.S. Department of Education has been scammed for hundreds of millions of dollars by fraudulent or mismanaged charter schools.
Susan De Gracia
Posted on Portside's Facebook page
Re: Walt Whitman's Guide to a Thriving Democracy
 
Whitman wrote in the Brooklyn Daily Times of May 6, 1858, "Who believes that Whites and Blacks can ever amalgamate in America? Or who wishes it to happen? Nature has set an impossible seal against it. Besides, is not America for the Whites? And is it not better so?" Earlier in the *Brooklyn Eagle*  of May 7, 1846, in support of the Mexican-American War, he had written, "What has miserable, inefficient Mexico ... to do with the great mission of peopling the New World with a noble race? Be it ours, to achieve that mission!"  In his Democratic Vistas (1870), Whitman proudly predicted that by 1976, "there will be some forty to fifty states, among them Canada and Cuba ... the Pacific Ocean will be ours, and the Atlantic mainly ours." 
Anthony Gronowicz, 
author of Race and Class Politics in New York City Before the Civil War
      =====
Not mentioned in the otherwise excellent issue about Walt Whitman is another reason for his obsession about death.
After the Civil War, Whitman spent some months helping to unbury bodies of slain soldiers in order to identify them and return them to their families.  Battles had been fought in front gardens, back yards, on roads and forests.  There was no system until World War 1 for identifying bodies after a battle, and soldiers were buried where they lay. (There had been an agreement to return officers' bodies to their families but not enlisted men.)
Walt Whitman traveled around the country with a small crew.  They dug up bodies wherever they could find them, and tried to identify the buried soldiers from shreds of clothing and uniforms, pieces of metal like belt buckles etc. 
It is not surprising that he felt strongly about death!
Laura Miller
      =====
The problem that Whitman's life embraced was that "democracy" remained beautifully his in spite of the unprecedented metaphor of us as leaves but only became part of the US in fantasy, it was not a democracy, it is not a democracy and it will not become a democracy unless what exists now collapses and transcends the fraud it has created.
Roberto Buxeda
Posted on Portside's Facebook page
(posting on Portside Culture)
 
Wow. Just the idea thrills me.  Would like to know more.
Marian Feinberg
Posted on Portside's Facebook page
Re: Hubble Measurements Confirm There's Something Weird About How the Universe Is Expanding
 
By Hubble's reckoning the vast oceans of stars defy the gravitational Prognosticators prognostications.
You have been spinning at a high Rate for bit too much!
Mark Dougherty
Posted on Portside's Facebook page
      =====
I would think that the Large Magellanic Cloud would be a poor choice for measuring the Hubble constant as it is gravitationally bound to our galaxy and the local group of galaxies.
Geoff Wild
Posted on Portside's Facebook page
      =====
Our vast universe does not defy anything, it's just not comprehensible to a lot of the limited minds out there...
Lee Nadal
Posted on Portside's Facebook page
How a New Exhibit Corrects Our Skewed Understanding of Women's Suffrage
 
Addressing racism in the suffrage movement.
By Ellen Gruber Garvey
March 29, 2019
Washington Post
The National Portrait Gallery will celebrate the centennial of U.S. women winning the right to vote with the exhibit "Votes for Women: A Portrait of Persistence." This exhibit makes history not for its commemoration of suffrage, but for the recognition it finally gives to African American women such as Frances Ellen Watkins Harper, Julia A. Foote, Ida B. Wells Barnett, Mary Church Terrell and Alice Dunbar-Nelson.
It is about time.
Commemorations of suffragists such as Elizabeth Cady Stanton and Carrie Chapman Catt have begun to address the racism embedded within their political campaigns. White suffrage organizations allied with white Southerners to pass the 19th Amendment, ultimately distancing themselves from black support, even trying to segregate black women into special sections of suffrage parades.
But black suffragists such as Dunbar-Nelson persisted, reaching out to a constituency that national white suffrage organizations had often ignored or even pushed away. In the process, they framed black women's activism as intersectional rather than pulled by divided loyalties, and showed how black women's electoral participation could benefit black and working-class communities.
Along with being an activist, Dunbar-Nelson was an accomplished short-story writer, poet, political organizer with the NAACP and public speaker. As the Pennsylvania suffrage campaign heated up in 1915, she took time from her position as an English teacher at all-black Howard High School in Wilmington, Del., to deliver speeches to suffrage clubs, black men's clubs, black women's clubs and public rallies attended by men and women of all races. She was strategic, using the name of her late ex-husband, the respected and revered poet Paul Laurence Dunbar, to gain attention from a media that rarely covered the activities of black suffragists......
By portraying women's suffrage in an extended historical context — with a photo of 1960s civil rights activist Fannie Lou Hamer and a presentation of Native American and Puerto Rican suffrage issues as well — the exhibit recasts the suffrage struggle beyond the familiar narrative with its 1920 endpoint. As a result, it insists we see the multifaceted strands that wove together to ensure that all women can vote, and how extended that struggle has been.
Read full story here.
[Ellen Gruber Garvey is the author of "Writing with Scissors: American Scrapbooks from the Civil War to the Harlem Renaissance" and is a professor of English at New Jersey City University.]
Votes for Women: A Portrait of Persistence - Washington, DC - March 29, 2019 – January 5, 2020 (Smithsonian - National Portrait Gallery)
National Portrait Gallery
8th and F Streets, NW
Washington, DC
1st Floor, South Wing
Birth Strike: Hidden Fight Over Women's Work - Jenny Brown Book Tour - Gainesville, Tallahassee, Asheville, Nashville, Atlanta - May 3 - 14, 2019 (PM Press)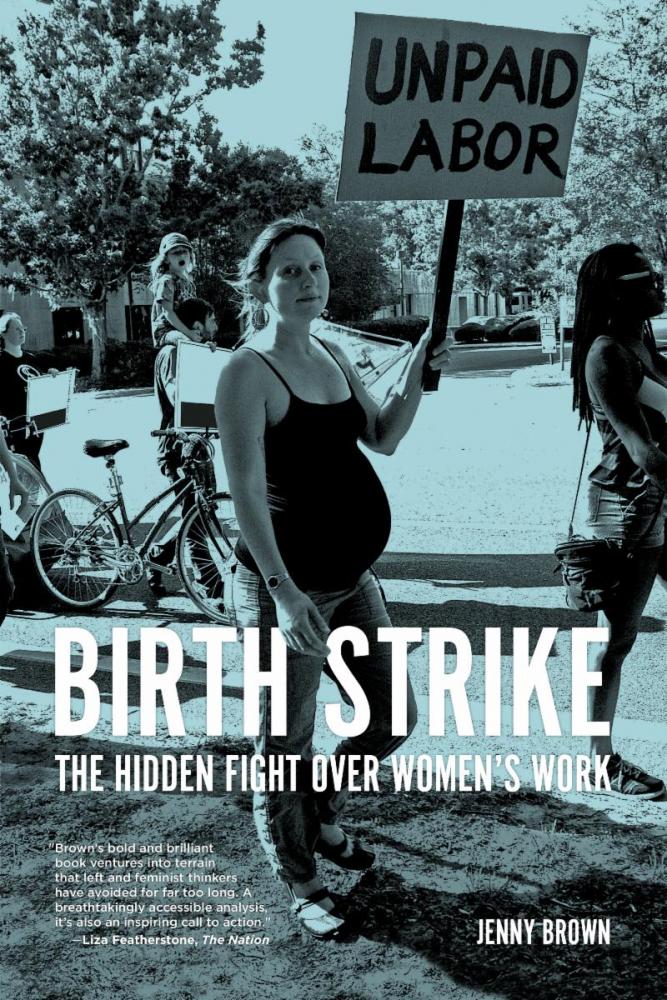 May 3rd in Gainesville, FL at Third House Books
May 4th in Tallahassee, FL at Sandra S's
May 7th in Asheville, NC at Firestorm Books
May 10th in Nashville, TN at Healthy and Free Tennessee
May 12th in Atlanta, GA at Atlanta Freethought Society
May 14th in Decatur, GA at Charis Books 
Birth Strike: The Hidden Fight over Women's Work
https://secure.pmpress.org/index.php?l=product_detail&p=998
 
PM Press
PO Box 23912
Oakland, CA 94623
Pete Seeger Centennial Celebration - New York - May 4, 2019 (Peoples' Voice Cafe)
 
Saturday, May 4, 2019 at 8 PM – 11 PM
Peoples' Voice Cafe
Community Church of NY
40 East 35th Street
New York, New York 10016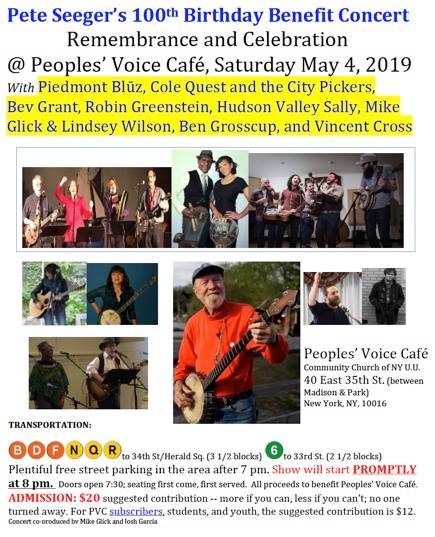 This year's celebration of Pete Seeger will be an historic one. It's Pete's 100th birthday! So in addition to having a rollicking good time, featuring many of Pete's favorite songs, sing-alongs and compositions, you might also discover something you did not know about Pete's amazing and inspirational life. We will attempt in a two-hour program to cover many, if not most, of the different phases of his career, from his upbringing in a highly musical family and early influences through more than 75 years as a performer. Artists include Piedmont Blüz, Bev Grant, Hudson Valley Sally, Lindsey Wilson, Mike Glick, Vincent Cross, and others – maybe even a surprise guest or two! This concert will be a benefit for the Peoples' Voice Cafe.
Come hear veteran socialist Victor Grossman read from and discuss his new book - New York - May 9, 2019
 
A Socialist Defector: From Harvard To Karl-Marx-Allee (MONTHLY REVIEW PRESS)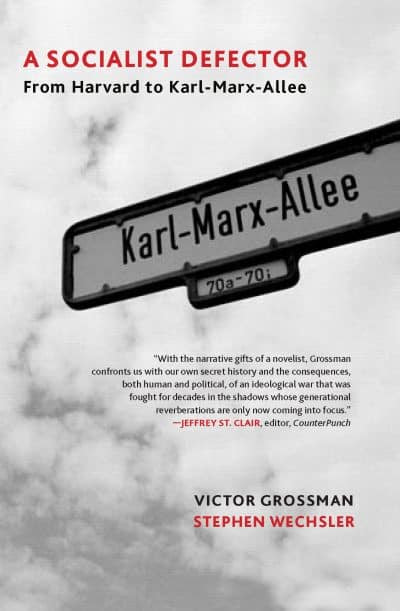 Thursday, May 9 - 7 PM
Winston Unity Center
235 West 23rd Street
7th Floor
Manhattan 
The circumstances that impelled Victor Grossman, a U.S. Army draftee stationed in Europe, to flee a military prison sentence were the icy pressures of the McCarthy Era. Grossman—a.k.a. Steve Wechsler, a committed leftist since his years at Harvard and, briefly, as a factory worker—left his barracks in Bavaria one August day in 1952, and, in a panic, swam across the Danube River from the Austrian U.S. Zone to the Soviet Zone. Fate—i.e., the Soviets—landed him in East Germany, officially the German Democratic Republic. There he remained, observer and participant, husband and father, as he watched the rise and successes, the travails, and the eventual demise of the GDR socialist experiment. A Socialist Defector is the story, told in rare, personal detail, of an activist and writer who grew up in the U.S. free-market economy; spent thirty-eight years in the GDR's nationally owned, centrally administered economy; and continues to survive, given whatever the market can bear, in today's united Germany.
Having been a freelance journalist and traveling lecturer—and the only person in the world to hold diplomas from both Harvard and the Karl Marx University—Grossman is able to offer insightful, often ironic, reflections and reminiscences, comparing the good and bad sides of life in all three of the societies he has known. His account focuses especially on the socialism he saw and lived—the GDR's goals and achievements, its repressive measures and stupidities—which, he argues, offers lessons now in our search for solutions to the grave problems facing our world. This is a fascinating and unique historical narrative; political analysis told with jokes, personal anecdotes, and without bombast.
Writing from a unique inside perspective that few have heard before….
—Gene Bruskin, veteran labor organizer and founder of US Labor Against the War
What the book does so well is give the reader a picture of a life that few in the USA understood. We were brought up on stereotypical views of the GDR. You smashed that.
—Bill Fletcher, Jr., former president of TransAfrica Forum; writer & labor activist
Victor Grossman's memoir narrates his personal passage across the Cold War divide from West to East, and the mostly satisfying saga of his life as an American who enjoyed a happy family life and productive career on the opposite side. What sets this book apart is that he presents a humanitarian balance sheet that compares, contrasts, and evaluates each personal, family, economic, cultural, social, political, and military aspect of East and West Germany as people on the respective sides experienced them, both before the Wall came down and after. Some readers might be surprised to learn how many positive features of East German society were smothered and swept away along with the Stasi state.
—Ken Lawrence, community organizer; author, Roots of Class Struggle in the South
A Socialist Defector is an entertaining and informative look at Victor Grossman's life, beginning the day in 1952 that Grossman chose to swim across the Danube under threat of being jailed for his political beliefs. With an astute eye, and the benefit of two cultures and two languages, Grossman regularly critiques mistakes made by the leadership of the GDR, his adopted home of thirty-eight years, and the re-unified Germany of the past twenty-eight. Grossman has, as he says, 'an unusual opportunity to make comparisons.' And he shares those with the reader in a fair and optimistic tone, with the hope for the possibility of a better world.
—Norman Stockwell, publisher, The Progressive
Taking the Lead: Labor and Global Warming – Our History, Activism, and Challenges - New York - May 11, 2019 (New York Labor History Association)
 
May 11  --  10:00 am - 1:00 pm
Tamiment Library, Bobst Library, NYU
70 Washington Square South
10th Floor
New York, NY 10012
Our History
Donn Mitchell, on the UAW and the First Earth Day, author of Tread the City's Streets Again: Frances Perkins Shares Her Theology
Irene Shen, International Program for Labor, Climate and Environment, CUNY, on the Trade Unions for Energy Democracy
Jon Forster, DC 37 Climate Justice Committee, on the Labor Network for Sustainability
Our Activism
Zakia Elliott, Program Coordinator, Philadelphia Climate Works
Christopher Erikson, Business Manager, Local 3, International Brotherhood of Electrical Workers
Judy Sheridan-Gonzalez, President, New York State Nurses Association
Our Future / Our Challenges
Eileen Moran, Environmental Justice Committee, Professional Staff Congress
Maritza Silva-Farrell, Executive Director, Alliance for a Greater New York (ALIGN)
Bruce Hamilton, Vice President, Amalgamated Transit Union
Sponsors: The New York Labor History Association & the Tamiment Library and Robert F. Wagner Labor Archives, New York University 
Seating for the event is limited, so RSVP as soon as possible by clicking here and filling out the form.