Global Left Midweek - May 22, 2019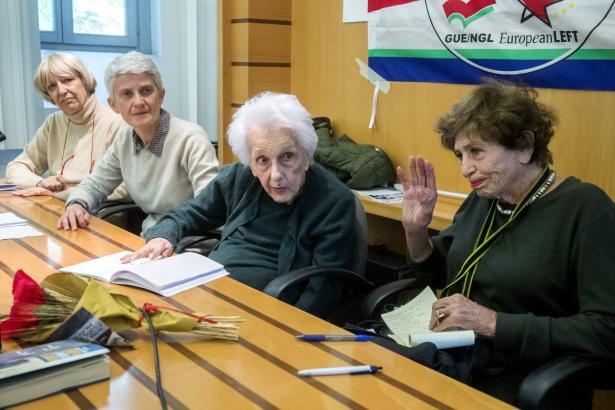 l to r, Marilena Grassadonia, Ginevra Bompiani, Rossana Rossanda, Luciana Castellina,credit: Il Manifesto
Video: Taiwan's LGBTQ Movement
Nikhil Sonnad / Quartz (New York)

The right to same sex marriage  - for the first time in Asia - was a victory for the movement. This video from last November reports on the movement's growth.
__________
Philippines: Election 'One of the Dirtiest in Decades' 
Susan Price / Green Left Weekly (Sydney)
University of the Philippines (UP) students, led by UP Rises against Tyranny, held a protest action on May 14 to condemn the election anomalies and fraud.
__________
Why South Africa Needs Democratic Socialism
Benjamin Fogel and Sean Jacobs / Mail & Guardian (Johannesburg)
The opposition, despite the damage the ANC has inflicted on itself and the country, is still not a serious political threat, but why has a serious alternative to the ANC not emerged?
__________
Faced With Their Own Demise, Europe's Social Democrats are Moving Left
Griff Witte and Luisa Beck / Washington Post
Just as Rep. Alexandria Ocasio-Cortez (D-N.Y.) has ignited passions among liberal American voters, the leader of the Social Democrats' youth wing, the Adidas-wearing Kevin Kühnert, is leading an insurgency within his party aimed at a bolder, more radical course. 
__________
Brazil: Mass Fightback Against Bolisaro's Education Cuts
Emilly Dulce, Igor Carvalho and Luciana Console / Brasil De Fato (São Paulo)
More than one million people took part in protests against education budget cuts and the pension reform.
__________
The Battle Against the Far-Right: India Elections 2019
V. Arun Kumar / Peoples Dispatch (New Delhi)
In 2019 elections in India, as the major challenge is to defeat the right wing forces, many national, regional and other smaller political parties have agreed on formal and informal alliances against BJP.
__________
EU Elections: "Beat the Macho-Nationalists"
Daniela Preziosi / Il Manifesto Global (Rome)
Rossana Rossanda, Luciana Castellina and other leading women of the left speak out.
__________
The Iranian Working Class: History and Tasks Today
First Step / Socialist Project (Toronto)
Due to its severe repressive measures, the Mullahs' regime has been able to destabilize all levels of demands by the working class. The extent of this is probably unimaginable for people living outside Iran. 
Bulgaria: Riots, Roma and Racism
Stefan Krastev / LeftEast (Bucharest)
One of the most deprived social groups, Roma are paradoxically perceived by many ethnic Bulgarians as privileged receivers of social assistance and rights, pampered by political elites at the expense of ordinary people who work and pay taxes.