Tidbits - July 9, 2020 - Reader Comments: Standing Up to Trump and Racism; Black Lives Matter; Pandemic Evictions; ICE Foreign Student Guidelines; Voter Suppression; Labor Unions and Police; Confederate Monuments; Big Oil; Margy Wilkinson; Hamilton; more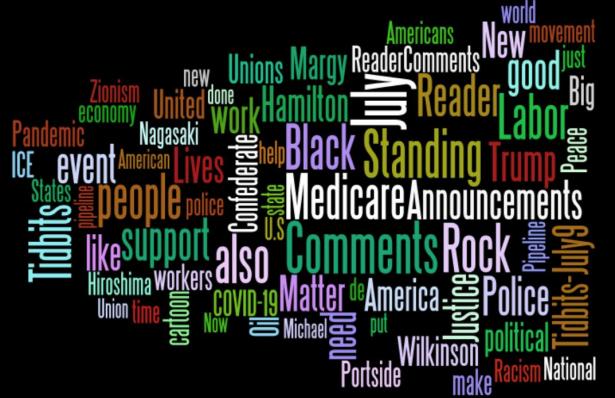 Tidbits - Reader Comments, Resources, Announcements, AND cartoons - July 9, 2020,Portside
Resources:
Announcements:
Re: 'Historic Day' for Standing Rock as Pipeline Company Told to Shut Down, Remove Oil
So grateful ?? and with much respect to all the "water protectors" from all the "Nations" who have sacrificed so much in so many ways from the ..beginning. I see you and I stand with you in spirit..Thank you. Someone in Mich., keep on keeping on!
Helen Newhouse

Posted on Portside's Facebook page
Re: Teachers Union President Dares Trump to Sit in Classroom Amid Coronavirus 'and Breathe That Air'
(posting on Portside Labor)
Anyone that wants schools to reopen without necessary precautions should be willing to sit in that classroom with the students for at least 1 week. Wait 14 days then give their opinion.
Amparo Ocasio
Posted on Portside's Facebook page
School Bus  --  cartoon by Rob Rogers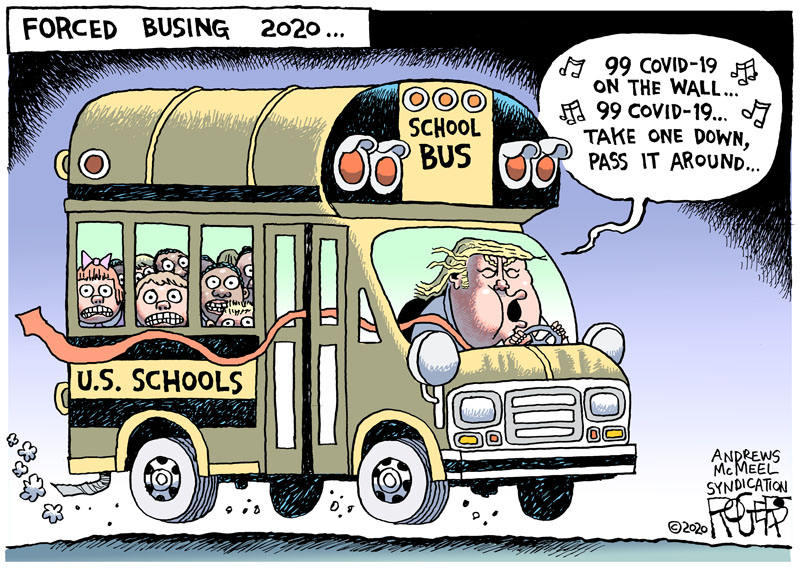 Rog Rogers
July 9, 2020
robrogers.com
Re: The Black-White Wage Gap Is as Big as It Was in 1950
Disgusting that this is still the reality - This is why #BlackLivesMatter.
Fred Niles
     =====
Very good article.  Something that is never mentioned is the wage gap between white women and Black women, which is greater than the gap between men and women generally.
Joseph Kaye
Trump Ersticker  --  cartoon by Keith Knight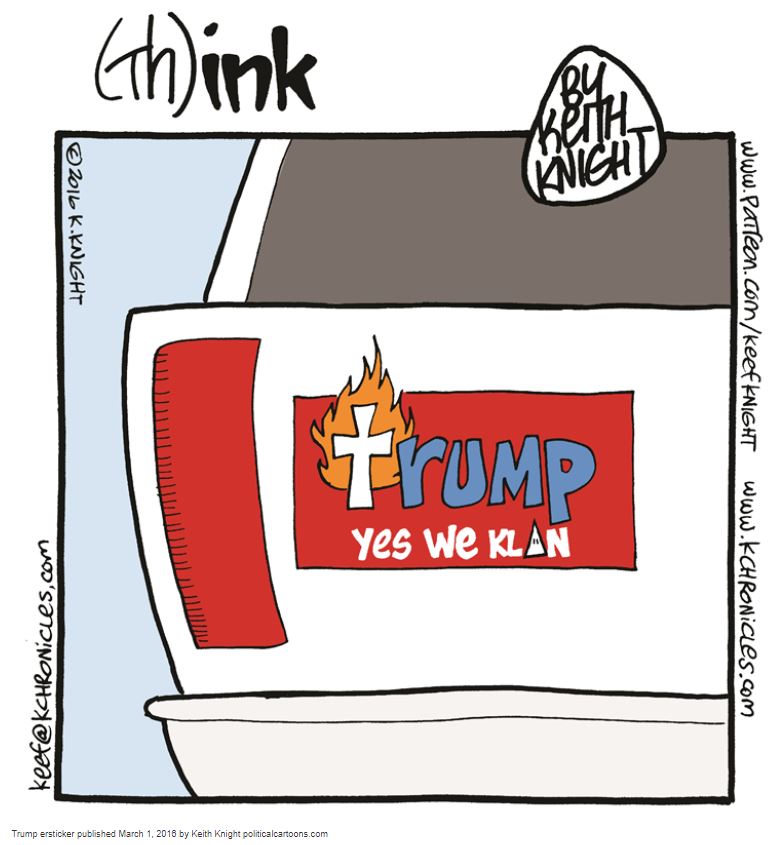 Keith Knight
March 1, 2016
http://www.kchronicles.com/
Re: The Coming Pandemic-Induced Eviction Crisis
Well let's hope they extend because as we've witnessed few places are really safe to reopen. 1/2 that have are about to shut down once again
Carl Gharis
Posted on Portside's Facebook page
     =====
We need to evict from the WH the parson responsible for this HUGE COVID19 mess
Carmen Oliver
Posted on Portside's Facebook page
     =====
It'll drive more and more people out to live on the streets. And then Trump and his minions will demonize them!
Patsy Jordan
Posted on Portside's Facebook page
     =====
Please write to your congressional representatives, your Senators and your reps and tell them to extend the benefits because along with covid 19 we DO NOT NEED TO THRIW PEOPLE OUT IF THEIR HOMES, or repossess their cars or leave them foodless. The economy works from the bottom up. FROM THE BOTTOM UP. If we go, the economy goes. If the economy goes, the country goes. Please write your Congress people. Write to your state legislators as well. We need to keep afloat. This pandemic will last at least a year.
Sharon Procter
Posted on Portside's Facebook page
Re: The Merits of Medicare for All Have Been Proven by this Pandemic 
There is no rosy way to view tens of thousands of dead Americans—especially in contrast with other nations that have managed to control the outbreak. In the words of one New Zealand health expert, "It really does feel like the U.S. has given up."
Tony Austin
Posted on Portside's Facebook page
That's why we vote by mail in Washington state! You do know that tRump votes by mail? If it's good enough for tRump it's good enough for everyone else! Dump tRump and ditch Mitch! Make America good again!
Roxie Buchanan
Posted on Portside's Facebook page
     =====
This is inconceivable. If not mistaken, in no other democracy of the western world, this happens. The US, which goes to war with other countries to defend freedom and liberty, and important values such as free elections, one of if not the fundamental basis of a democratic government, seeing this happening within the US is baffling, jaw dropping and appalling.
One would think that used to happen in military controlled dictatorships years ago, but in 2020 voter suppression tactics are still used by what's supposed to be the example of democracy for the world?? No way......
Suzette Sommer
Posted on Portside's Facebook page
Re: New ICE Guidelines Say International Students Must Leave the U.S. If Classes Go Online 
This continues the anti-immigrant policies of the Trump Administration, but is also a new attack on institutions of higher learning. Whether one likes it or not, international students ("foreign students") are now a considerable part of the student body at universities, colleges, community colleges, junior colleges and trade schools. Sending them home to countries that may not welcome them, is sending them to their deaths. But it is also depriving these educational institutions of the tuition dollars that they are paying. International/foreign students pay the full boat, they are not eligible to domestic scholarship and loan programs.
Jay Schaffner
Posted on Portside's Facebook page
     =====
National security. Keeping us safe from people who want an education. That'll teach 'em.
Dale Jacobson
Posted on Portside's Facebook page
     =====
Eliminate ICE
Beryl Robare
Posted on Portside's Facebook page
     =====
Glad Harvard and MIT are suing to block this!
Linda Ollis
Posted on Portside's Facebook page
Re: An Open Letter to Pacific Northwest Carpenter Union Members, the Construction Industry, and Our Communities about the Black Lives Matter Movement and Racism in Construction
(posting on Portside Labor)
thank you, powerful statement I am sharing with labor colleagues. 
Tim Sheard
Hard Ball Press
     =====
From what I can see she looks like a good labor leader.
I follow the Northwest Regional Council on Facebook. She seems progressive. Gets some flack from the racist members in the comments.
Jim Vaughan
Posted on Portside's Facebook page
Re: Police Unions Wield Massive Power in American Politics — For Now
(posting on Portside Labor)
In a time of dwindling union membership in the United States, police unions have only grown in sheer size and power. Over decades of savvy political alliances, lobbying, advertising blitzes, and contract negotiations with obliging city officials, the unions have engineered an environment where accountability is fleeting, and where numerous hurdles make it exceedingly difficult to punish officers who abuse their power.
"You have really politically powerful police unions that lobby, that are organized, that donate and give to major political candidates," says Stephen Rushin, an associate law professor at Loyola Chicago University.
As calls to "defund the police" grew across the country, prominent police union leaders exercised their clout by speaking out. Bob Kroll, president of Minneapolis Police Federation and the subject of 10 misconduct complaints of his own since 2013,responded to the unrest by calling Black Lives Matter "a terrorist organization." (One of the complaints remains open, and none of the others against Kroll have resulted in discipline, according to published reports.) Pat Lynch, president of the New York Patrolmen's Benevolent Association, spoke of being abandoned by elected officials, saying the protests put the NYPD "under assault."
Kentucky Alliance Against Racist and Political Repression
Posted on Portside's Facebook page
     =====
If legal settlements were paid by police unions, instead of the taxpayers, they'd self purge the bad officers.
Betsy Keith
Posted on Portside's Facebook page
     =====
I was raised around cops since the sixties to the present. I have seen. And heard some pretty crooked things. Especially in the 70's and 80's. Before cameras.
David Huddleston
Posted on Portside's Facebook page
New Beautiful Mural in Louisville - photo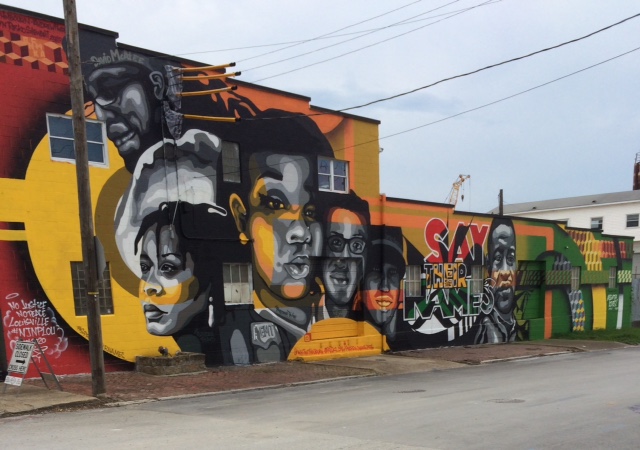 photo by Jan Phillips
New mural in Louisville - half-block long - in honor of Sandra Bland, Breonna Taylor, Elijah McClain, Ahmaud Arbery and George Floyd.
Re: Union-Building for the Long Haul – The Tale of Boston Fine Art Museum Security Guards
(posting on Portside Labor)
UE organizers Phil Mamber and Joe Geraneo were very involved in helping with the organizing of the guards union. I hope the book mentions them!
They were very disappointed with the Labor Law that said that guards have to belong to an exclusively guards union.
Judy Atkins
Posted on Portside's Facebook page
Re: The Radicalism of the American Revolution — and Its Lessons for Today
"I think it is possible to have market structures that are compatible with egalitarian distributive outcomes. I think you need an egalitarian economy. You don't need, strictly speaking, an equal distribution of material goods in order to support the kind of political equality that gives people equal standing and of shared ownership of political institutions."
This basic belief in capitalism is open to argument. She rightly sees the relation between freedom and equality as key. but her belief in the potential of capitalism to produce "good enough" equality invites skepticism from socialists like me. Competition, individualism and acquisitiveness are the lifeblood of a "market economy" and in turn guarantee inequality  and thus the absence of freedom.
Michael Munk
Re: Occupied Territory: Why Chicago's History Matters for Today's Demands to Defund Police
THIS is EXACTLY WHY we are dealing with this problem now!!! THEY (the cops) need to be torn down and rebuilt and as soon as ANY cop shows a racist streak he should be fired!! NO ROOM FOR RACISM!!!
Bill Daly
Posted on Portside's Facebook page
Re: What to Do Now With the Biggest Confederate Monument
It should be possible to convert it to a memorial to Union/Black troops, like St. Gaudens' monument to the 54th Massachusetts.
Sterling Vinson
     =====
As art this is breathtaking. Subject matter shall we say questionable? However there is lots of room for another piece of breathtaking art or 2 depicting the victims of these men.
Sandy Grubb
Posted on Portside's Facebook page
     =====
i used to think the same, but even in a park with commissions, its a public space.
if your for art, then one way can be removing the heads, preserve the rest, and put historical figures that don't offend anyone.
its an extremely expensive process, and 3 heads would be cheaper than multiple horsemen or figures.
remove the confederate president's & 2 generals heads from the relief, keep the rest, and additively resculp the heads of black abolitionists back on to the relief.
change form, changes function - and it'll be the biggest insult to the kkk who arranged the original carving.
Jack Faulk
Posted on Portside's Facebook page
     =====
there's a Street Artist who changed racist comments into something different. I'm sure a visionary can Chisel something different out of this!
Mary Lou McLaughlin
Posted on Portside's Facebook page
     =====
EVERY Confederate statue was paid for by KKK motherf**kers...They don't have statues of Hitler in Germany for a reason... There's no need to glorify those Confederate F**ks.
Nicholas Salvatore Martielli
Posted on Portside's Facebook page
Trump's Non-Immunity  --  cartoon by Drew Sheneman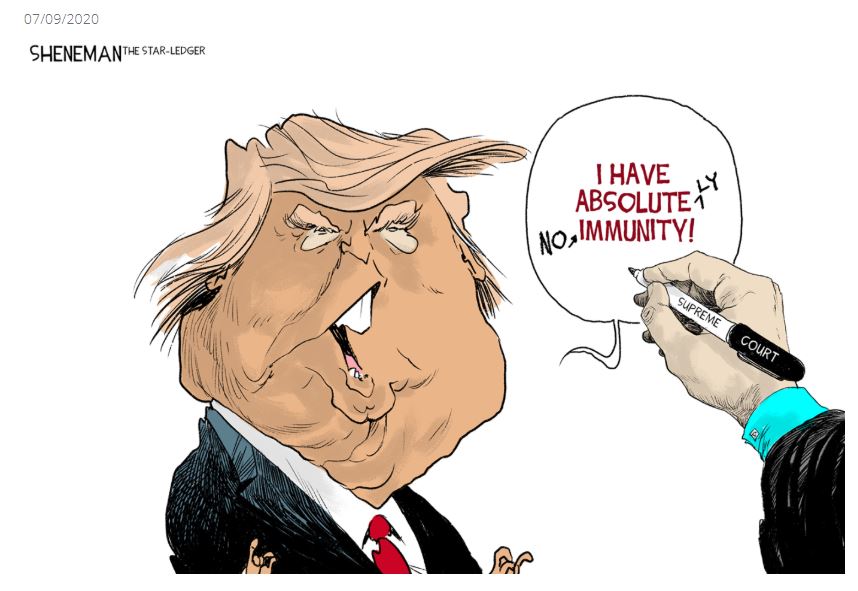 Drew Sheneman
July 9, 2020
Newark Star-Ledger
Re: 60+ Groups Demand Senate Pass Sanders Amendment to Slash 'Out of Control' Pentagon Budget by $74 Billion
Long time overdue.
Yakov Pipman
Posted on Portside's Facebook page
     =====
Pentagon has been stealing billions of $$$$ from the taxpayer forever!!!
Jerry Davis
Posted on Portside's Facebook page
Re: Will Big Oil Pay a Price for its Lies?
Moderator's Note: The original email that Portside sent out last Thursday included a number of formatting errors. We apologize to both our readers, the author and the original publisher.
A corrected version was re-posted to the Portside website immediately after this was brought to our attention Friday morning.
It can be viewed here
     =====
Hey Exxon, Thanks for killing us all to keep your profits high.
Nicholas Salvatore Martielli
Posted on Portside's Facebook page
     =====
Fossil fuels must be outlawed. They are killing our planet. They have wrecked the natural balances of our environment. Of course nature needs to fight back. We are destroying everything. Covid-19 is just the beginning. The planet is trying to solve its human problem
Charles Elliott
Posted on Portside's Facebook page
     =====
Pulling big oils subsidies would be a good start. The days of gasoline are coming to an end. It need to be done if mankind is to continue to survive
Donn Wilson
Posted on Portside's Facebook page
Re: Remembering Margy Wilkinson, A Life-long Organizer for Social, Economic and Racial Justice
she stands for tens of thousands of rank and filers from that era who did the right thing through the rest of the long decades ahead.
Paul Buhle
Posted on Portside's Facebook page
     =====
There are Americans.... and there are fighting compañer@s who are Americans. That nation needs more people like
Mary Anne Merrill-Ramirez
Posted on Portside's Facebook page
     =====
i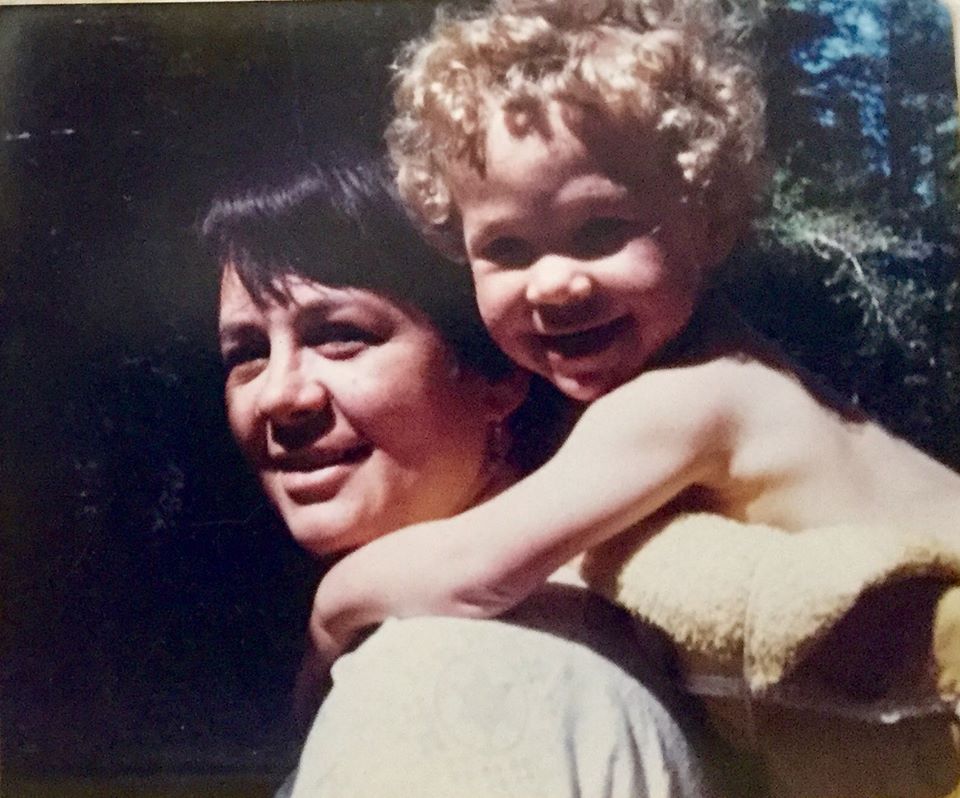 Margy Wilkinson
To be of use
By Marge Piercy
The people I love the best
jump into work head first
without dallying in the shallows
and swim off with sure strokes almost out of sight.
They seem to become natives of that element,
the black sleek heads of seals
bouncing like half-submerged balls.
I love people who harness themselves, an ox to a heavy cart,
who pull like water buffalo, with massive patience,
who strain in the mud and the muck to move things forward,
who do what has to be done, again and again.
I want to be with people who submerge
in the task, who go into the fields to harvest
and work in a row and pass the bags along,
who are not parlor generals and field deserters
but move in a common rhythm
when the food must come in or the fire be put out.
The work of the world is common as mud.
Botched, it smears the hands, crumbles to dust.
But the thing worth doing well done
has a shape that satisfies, clean and evident.
Greek amphoras for wine or oil,
Hopi vases that held corn, are put in museums
but you know they were made to be used.
The pitcher cries for water to carry
and a person for work that is real.
I love you mama, xolila
Posted on Portside's Facebook page
     =====
One of the poems I love best. It really reminds me of Margy.
David Bacon
Posted on Portside's Facebook page
     =====
These people are the model for the future...
The free speech movement was given a derogatory name,"hippies" for hipsters.
They were the Woodstock generation, the peace movement, they were right about everything. Non violence, women's rights, human rights, ecology, anti-materialism, bridled capitalism, and their experimentation with drugs
Would lead to a new realm of medicine. They were and are 100 years ahead of muriKKKa.......
Shaman Juan
Posted on Portside's Facebook page
     =====
Comrade, a activist & mother & wife, doing double & triple duty in the struggle for the peoples' movements.
Frances M. Beal
Posted on Portside's Facebook page
     =====
We lose another great person.
Kenneth Higginbotham
Posted on Portside's Facebook page
Re: The Role of Labour Activism in Vietnam's Coronavirus Success
(posting on Portside Labor)
Wow, this is what intelligent management will do for a country.
Jeannine Hampton
Posted on Portside's Facebook page
     =====
"Freedom of association" and other Western, capitalist "pro-union" ideas are determined so far by the Vietnamese people to not be a good fit for their economy and workplaces. And if I needed to chose between a one party system which guarantees representation for workers, women and ethnic groups with recognized people's organizations that reach into every village and neighborhood vs. our so-called democracy of Repubs and Dems, I would gladly go with VN system! Imagine an economy where worker-led strikes are overwhelmingly resolved in favor of workers!
Leanna Noble
Posted on Portside's Facebook page
Re: A Teacher Discovers What Is Wrong with Online Teaching in Higher Education?
Dewey's essay was published in 1897
Bill Ayers
Re: When France Extorted Haiti – the Greatest Heist in History
My family came from Southern France and went to Haiti. When the slaves revolted they fled to the Dominican Republic and then to Puerto Rico. The way the French treated the slaves was horrendous, just as bad as how Americans and Brazilians did. Haiti is still suffering from what was done to them by the slave owners just as blacks are in America.
Ivan Laracuente
Posted on Portside's Facebook page
     =====
What about reparations for the native Americans? Now that's a subject considered taboo
Artemio Camacho Ayala
Posted on Portside's Facebook page
     =====
If they can read it completely... they will notice the similarity of Haiti's history and Puerto Rico's. Both at the hands of decaying colonial empires and insatiable.
Edwin G. Delgado
Posted on Portside's Facebook page
     =====
France stole their natural resources too.
Deborah Dix
Posted on Portside's Facebook page
Re: A Mexican Labor Lawyer Denounced U.S. Pressure to Reopen Maquiladoras. Then She Was Jailed.
(posting on Portside Labor)
Journalists and activists are in very real danger, many are murdered in their own homes. Please support them any way possible
Roberta Teubner
Posted on Portside's Facebook page
Re: Finally! Redskins' Owner Bowing to Demands to Change Offensive Name
Red potato as a logo. The name can stay the same.
Kenny Tommassello
Posted on Portside's Facebook page
     =====
I like Redtails for a new name
Lauri Beltrand
Posted on Portside's Facebook page
     =====
It takes 3 seconds to review. It's racist. Period. Change it. Done.
Craig Gillette
Posted on Portside's Facebook page
Re: Why Hamilton Is As Frustrating As It Is Brilliant — and Impossible to Pin Down
(posting on Portside Culture)
Saw it in Chicago in August 2017, ambivalent then, still ambivalent now.
Elena Marcheschi
Posted on Portside's Facebook page
     =====
I was just thinking this, while watching Hamilton Brilliantly done, fantastic performances, but ...
Robin Mercer
Posted on Portside's Facebook page
     =====
It's a historical story told in a contemporary fashion, for people who don't speak Olde English.
And if it stimulates you to do your own further research, it's all to the good.
Walker Saldana
Posted on Portside's Facebook page
     =====
Poetic License?
Joe Ward
Posted on Portside's Facebook page
     =====
The duality of Hamilton is difficult and challenging and frankly upsetting. That's probably why Hamilton has since its Broadway debut spawned countless takes and critiques attempting to navigate its competing readings, trying to define it as either.
Things in life are seldom 100% good or equally bad ... our founding fathers were the same. They did some amazing great things but they also lived lives that were fraught with bad decisions.
Lynn M Fraser
Posted on Portside's Facebook page
     =====
WTF?! I get that times are not what they were in 2015/16. But it's a ghoucking musical! A multi-award winning musical! It's a play that awakened a lotta folks to some lesser players in our country's founding & early history.
These "think pieces", might as well be about "Showboat."
Donna Jones
Posted on Portside's Facebook page
     =====
REALLY good article not just about "Hamilton" the show, but also all the baggage, meanings, metaphors, and layers embodied in it, as well as the larger issues of our current times.
JD Backberg
Posted on Portside's Facebook page
     =====
I just remember thinking, "Wait, they had a daughter too? Why not show her, even in passing?!?" That rubbed me wrong.
It also made it clear that the story you get is not the whole story, and I appreciated that.
Otherwise I loved it, and want to learn more about that time period.
Rebecca Gunther
Posted on Portside's Facebook page
     =====
It's a story. It is a Broadway show! Great music and dancing! Why not enjoy it! Must you always be critical?
Mary Lindsay
Posted on Portside's Facebook page
     =====
Brilliant and life changing not a history lesson
Elaine Silverman
Posted on Portside's Facebook page
We Have Orders  --  cartoon by Michael de Adder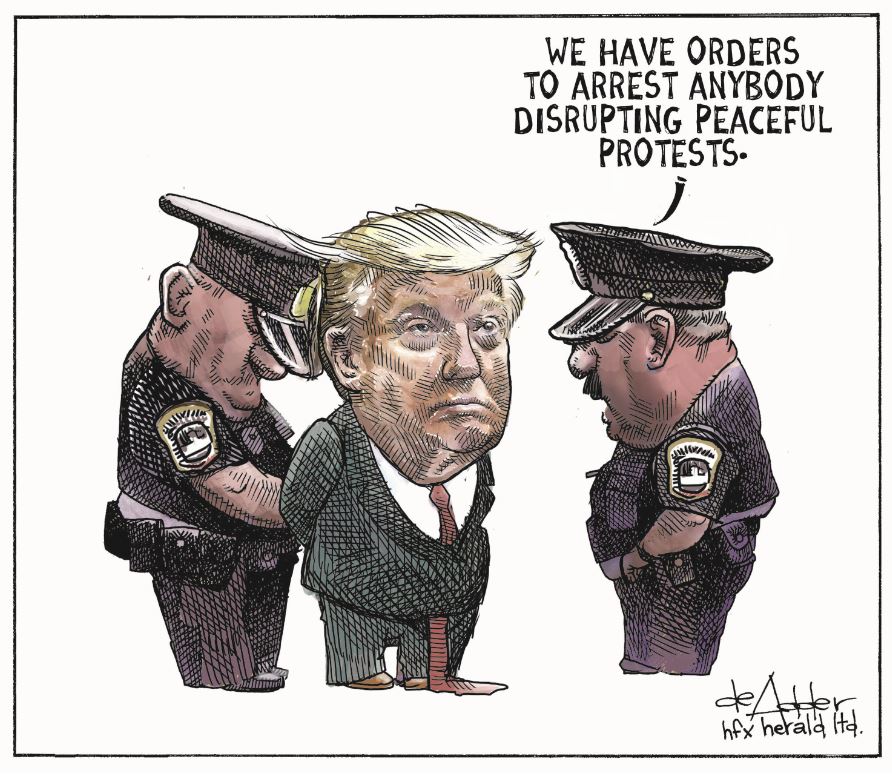 Michael de Adder
June 8, 2020
The Chronicle (Halifax)
Re: Immigrants Who Defend Themselves From Sexual Violence Face Prison, Deportation
"Abusive partners frequently use the threat of deportation to prevent immigrant victims from seeking help or leaving. Linus Chan is Shefa's attorney and the director of the Detainee Rights Clinic at the University of Minnesota Law School. Shefa is his first client facing deportation for defending herself against sexual violence,...
Under the Violence Against Women Act (VAWA), immigration officials should have informed Shefa about resources for domestic violence and sexual assault, as well as avenues of relief for noncitizens with abusive spouses. Under the 2005 Marriage Brokers Regulation Act, they also should have provided a pamphlet notifying her that domestic violence and abuse are illegal in the U.S. and outlining available resources for survivors. (It is unclear if such a pamphlet is available in Amharic.)"
Norma Angelica Rocha
Posted on Portside's Facebook page
Re: "Make AMERICA Again" | Langston Hughes Poem Let America Be America Again - Friday Nite Video
(posting on Friday Nite Video)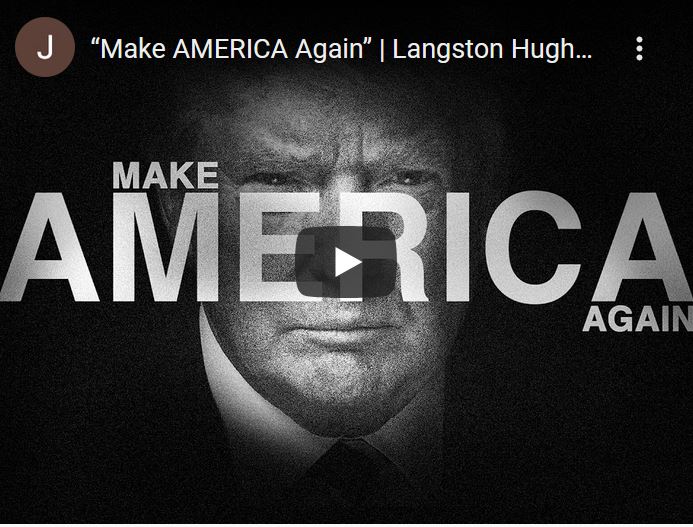 Please link to this, the only musical setting (I know of) of the complete poem by Langston Hughes, "Let America Be America Again" 
Thank you.
Leonard J. Lehrman
Victory for the Standing Rock Sioux! — Poster of the Week (Center for the Study of Political Graphics)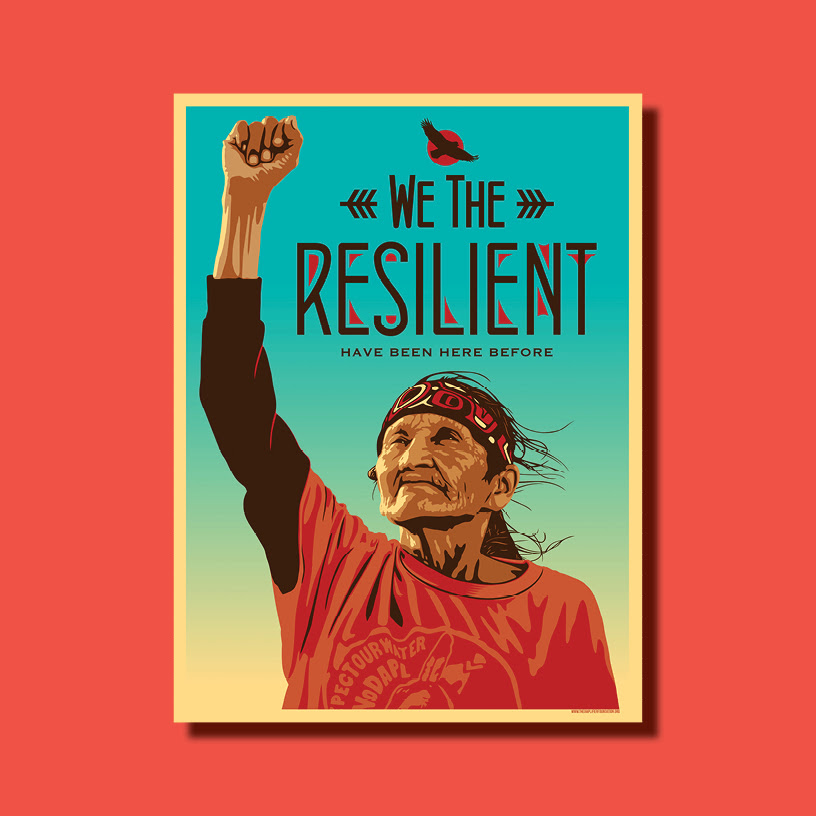 We the Resilient
Ernesto Yerena
Amplifier Foundation
Offset, 2016
Los Angeles, CA 47863
On Monday, July 6th, a federal judge ruled to shut down the Dakota Access Pipeline (DAPL) and empty it of all oil, pending an environmental review. This victory for the Standing Rock Sioux Tribe and other environmentalists followed years of protests against the project.
The Dakota Access Pipeline was a $3.8 billion dollar project to build an underground oil pipeline that stretched 1,172 miles across the United States and crosses underneath the Standing Rock Reservation. The pipeline was proposed in 2014 and immediately received push back from tribes and environmentalists. The Standing Rock tribe opposed the project because it threatened the cultural, spiritual, and environmentally significant lands and waterways.
In 2016, the Standing Rock Sioux Tribe sued the Federal District Court in Washington to stop construction and won an early victory. Soon after coming into office in 2017, Trump signed a presidential memorandum that directed federal agencies to expedite reviews in order to start the construction of the pipeline. The pipeline was fully functioning by June 2017.
"Today is a historic day for the Standing Rock Sioux Tribe and the many people who have supported us in the fight against the pipeline," Chairman Mike Faith said on behalf of the lead plaintiff in the lawsuit. "This pipeline should have never been built here. We told them that from the beginning."
CSPG's Poster of the Week is by Ernesto Yerena and honors Helen Red Feather of the Lakota tribe during her bravery and resilience at the Standing Rock reservation in 2016. The original image was taken at a protest against the Dakota Access Pipeline by Ayşe Gürsöz.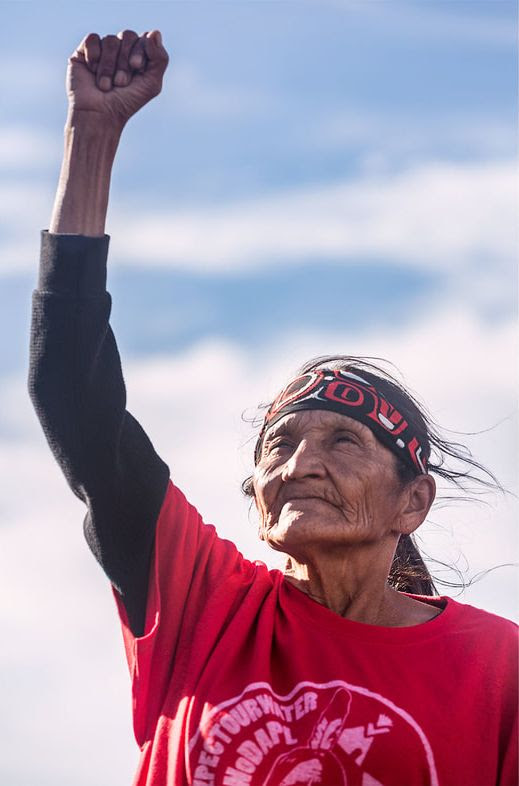 Photograph by Ayşe Gürsöz http://www.aysegursoz.com/portraits.html
Sources: Court Rules Dakota Access Pipeline Must Be Emptied For Now
Dakota Access Pipeline to Shut Down Pending Review, Federal Judge Rules
"A Dream That Comes True": Standing Rock Elder Hails Order to Shut Down DAPL After Years of Protest
Center for the Study of Political Graphics
3916 Sepulveda Blvd, Suite 103
Culver City, CA 90230
Posters for Today's Civil Rights Movement (Clara Lang-Ezekiel)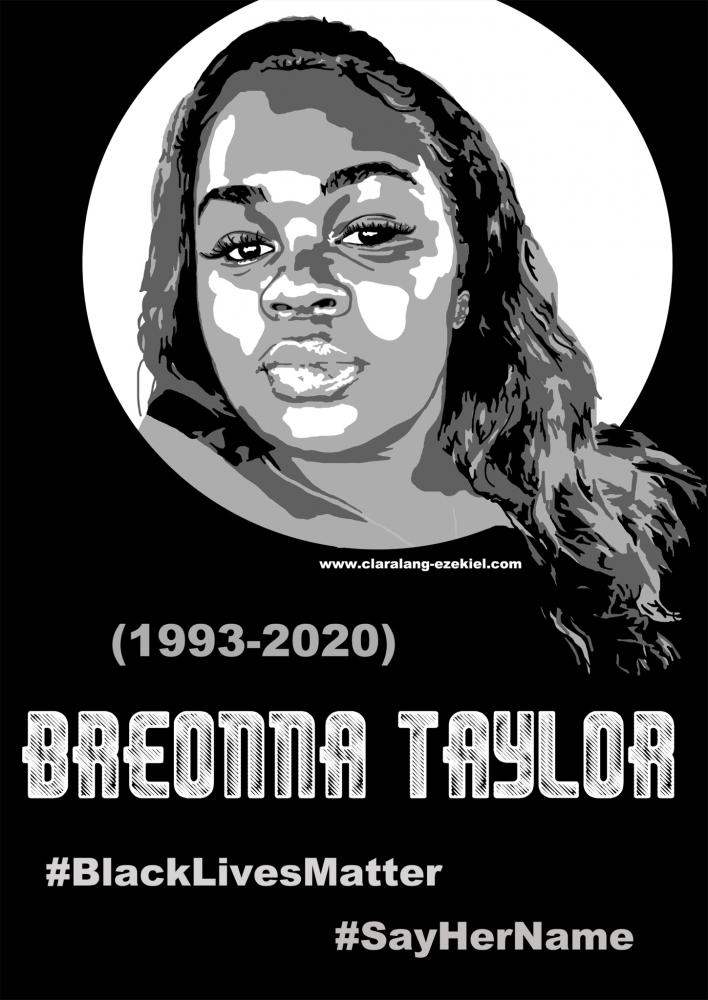 I have been grappling with how to show my support for Black Lives Matter uprisings. Since I am living abroad in Paris, I am sorry I cannot be there in person to use my white privilege to protest and help defend my black brothers and sisters. I can, however, use my artistic voice to amplify the voices of those on the ground. I have been working on some protest signs that are available to download for free. By following the link below you will find digital files for the ones I have already created. I encourage you to print these to use as protest signs/banners, to share them on social media, to make them into yard signs, wheat-paste them all over town, or make use of them in any way that will help the cause. 
I will continue to make more of these. I encourage you to get in touch, to give me your feedback, tell me how I can help, or if you have a request for specific signs. If you are going out to protests and have a sign you would like made for you to carry, let me know and I will make it! This is about your voice, not mine, I am happy to custom-make new signs. 
- Clara Lang-Ezekiel 
FREE DOWNLOAD LINK: https://app.box.com/s/mdbnifs0pjddc4lvr0eg5ugi2hvnbmuw 
Or: https://tinyurl.com/yb6pjnok 
Practical info: Read the file name carefully as I have indicated the size (for printing, for example A1 means you can print it that size or smaller, but enlarging it will cause pixilation), the ones marked as "small" are for sharing on social media, they will be easier to upload. 
All posters are made in black & white to keep printing costs down. 
Size guide: A0 (aprox. 33.1 x 46.8in) A1 (23.4 x 33.1) A2 (16.5 x 23.4 in) 
Disclaimer: I am a professional artist whose career has been very negatively impacted by Covid19, my offer to work for free only applies to artwork in support of the Black freedom movement. If you want a custom portrait of yourself, your pet, or other, I will be happy to do paid commissions. 
Contact info: 
Instagram: @claralangezekiel_art 
Clara Lang-Ezekiel
Interactive Map Tracks Job Loss by State If Unemployment Benefits Expire (Economic Policy Institute)
A note from EPI
'
s 
Kirstyn Flood
:
What seemed like an economic upswing in May and mid-June hasn't even begun to fill the mammoth losses in jobs during March and April. And as coronavirus cases around the country rise, more trouble is on the horizon. EPI experts weigh in on what to expect, and also how many jobs could be lost due to the expiration of unemployment benefits and what policymakers must do to aid working families.
Check out EPI's new interactive map to see the projected job loss in your state if the $600 weekly unemployment insurance (UI) increase expires. The map accompanies our recent analysis on the negative economic impact of cutting off this unemployment benefit. Explore the map »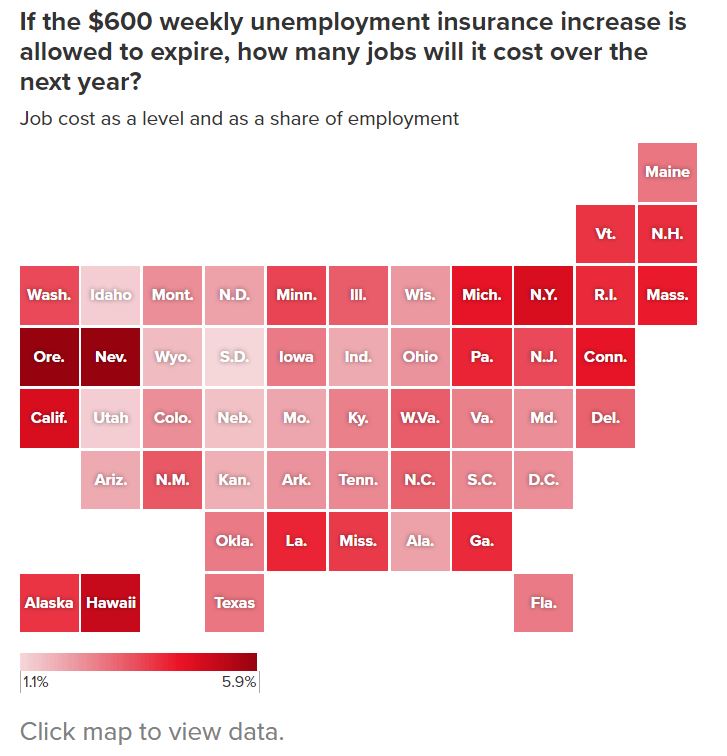 Click on your state - first click here.
Film Screening - The Issue of Mr. O'Dell - July 12 (Prince George's County (provisional) DSA)
Sunday, July 12, 2020
3:00 PM to 5:00 PM EDT
Prince George's County (provisional) branch of Metro Washington Democratic Socialists of America and Prince George's County Peace & Justice Coalition, on Sunday, July 12, 3-5 pm, will screen The Issue of Mr. O'Dell, a 2018 documentary about African-American civil rights activist Jack O'Dell (1923-2019). Directed by Rami Katz, the 35-minute film covers O'Dell's early work with the Southern Christian Leadership Conference through his comments on Black Lives Matter. He played a key role with Dr. King in the deep South in the late 50's through mid-60s, was instrumental as an advisor working with Jesse Jackson and the Rainbow, and edited Freedomways, one of the key journals of the Black Freedom movement in the 1960s.
Discussion will include Gene Bruskin, who worked closely with O'Dell in the Rainbow Coalition, and O'Dell's widow, Jane Power, who was active in DC during the Rainbow years.
Krystal Oriadha and Amity Pope of PG Change Makers Coalition will also take part in the discussion. Change Makers exists to seek, to provide practical solutions to embedded racist systems of oppression inflicted on our communites by acting in solidarity. We are demanding justice and accountability for those that mean to harm us because of the color of our skin, even if they carry a badge. A donation can be made to Change Makers at https://www.gofundme.com/f/pg-change-makers?utm_source=customer&utm_medium=copy_link&utm_campaign=p_cf+share-flow-1
This event, part of Greenbelt Peace Month 2020, is free.
75th Anniversary of the Atomic Bombings - Deconstructing the Myths and Promoting a Nuclear Weapons-Free & Just World - July 13 (Rosa Luxemburg Stiftung New York)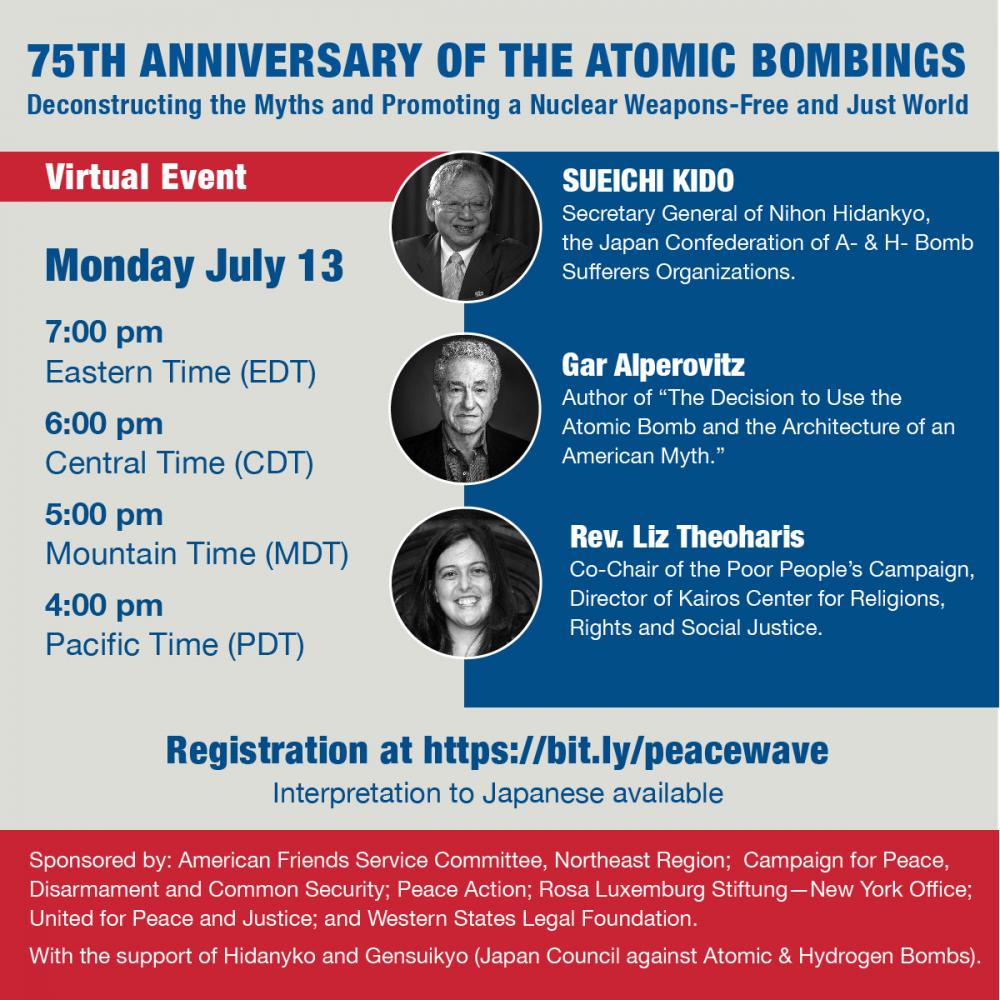 Monday, July 13, 2020, 7pm EDT
Register here.
Join three extraordinary speakers as we commemorate the 75th anniversary of the Hiroshima and Nagasaki A-bombs and work to build a nuclear-free and just world.
Suichi KIDO, the General Secretary of Nihon Hidankyo, the Japan Confederaton of A- & H-Bomb Sufferers Organizations
Gar Alperovits, author of the definitive "The Decision to Use the A-bomb"
Rev. Liz Theoharis, Co-Chair, Poor People's Campaign, Director fo the Kairos Center for Religions, Rights and Social Justice at Union Theological Seminary
As people across the United States and around the work prepare to mark the 75th anniversary of the A-bombings of Hiroshima and Nagasaki—crimes against humanity that must never be repeated—leading nuclear disarmament and justice organizations have organized this webinar. Our goals are to:
Encourage actions across the United States and beyond in solidarity with the Japan Council against A- & H-Bombs global peace wave;
Counter the anticipated dishonest wave of propaganda that the A-bombings and sacrifices of the People of Hiroshima and Nagasaki were needed to end the Pacific War; and
Build a movement that understands and opposes the illegitimate uses of state power, from police brutality and institutionalized racism, to foreign military interventions and continued preparations for nuclear annihilation.
Sponsored by American Friend Service Committee, Northeast Region; Campaign for Peace, Disarmament and Common Security, Gensuikyo (Japan Council against A- & H- Bombs) Peace Action, Rosa Luxemburg Stiftung, United for Peace and Justice, and the Western States Legal Foundation.
275 Madison Avenue, Suite 2114
New York, NY 10016
Pray for the Dead and Fight Like Hell for the Living. - July 14 (Labor Network for Sustainability)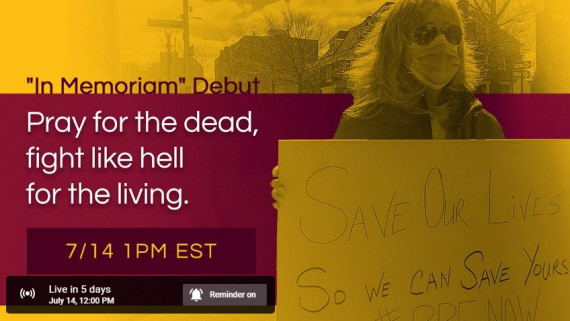 Will you please join us for a special online event and day of action on Tuesday, July 14 to fight for essential workers? 
At 1 p.m. Eastern/10 a.m. Pacific on Tuesday, July 14, the Labor Network for Sustainability and the National Council for Occupational Safety and Health (COSH) will co-host a special live-stream event to Pray for the Dead and Fight Like Hell for the Living.  
We'll debut "In Memoriam," a new video honoring essential workers who have lost their lives after exposure to COVID-19—and provide information about how you can help win life-saving protections for those still on the job.
I will be joined by Academy Award-winning actor and activist Jane Fonda, Secretary-Treasurer of 1199 Service Employees International Union-United Healthcare Workers East, and LNS Board Member Maria Castaneda; Executive Vice President of the American Postal Workers Union Debby Szeredy; Monique Dale, widow of APWU member Richard Dale; and other family members and colleagues of fallen workers. Greenpeace and National COSH are also collaborating to host this live tribute and call-to-action. This event is also supported by MoveOn.
Here's the link to register and receive updates about the event. You can also subscribe to our Youtube channel to be alerted of when the event starts and watch it live there. This event will be bilingual. To hear the event interpreted into Spanish while you view the livestream, please call (312) 626-6799; 881 4316 5512.
As you know, millions of workers on the frontlines of the COVID-19 crisis are saving lives, delivering necessities, sanitizing public spaces, and staffing essential businesses. And they're doing it without proper equipment and safety standards. 
Tragically, thousands of frontline workers have lost their lives and countless more are at risk unless vital protections are put in place. Yet the Senate has failed to pass a federal stimulus package and include critically needed safety and health protections and resources. On the heels of our #SenateFail action, which took place around the country yesterday, we will keep the momentum going by asking lawmakers to #Fight4theLiving; we'll have information available on July 14 about how you can take immediate action.
We hope you can join us on July 14 and please share this invitation with your network and your contacts. Also, you can help make this day of action a success by sharing these sample social media posts and Facebook event announcement.
Thank you for supporting essential workers who are doing so much for all of us.
In Solidarity,
Michael Leon Guerrero
LNS Executive Director
Labor Network for Sustainability
P.O. Box #5780
6909 Laurel Ave
Takoma Park, MD 20913
Medicare for All Summer Strategy Call - July 14 (Labor Campaign for Single Payer; National Nurses United)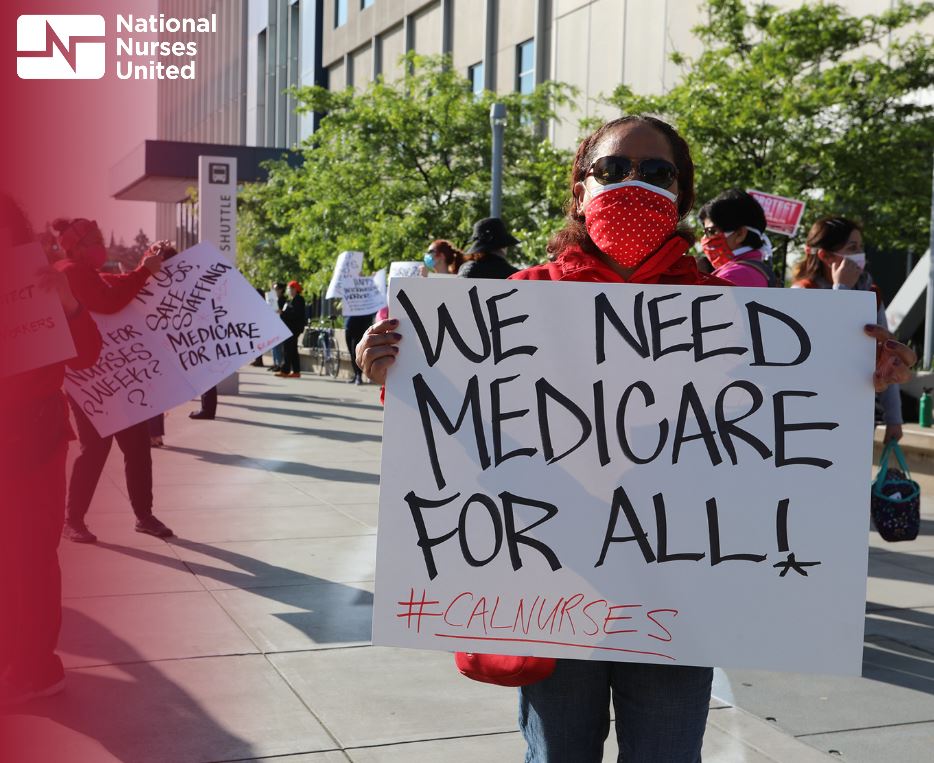 The landscape for the movement for Medicare for All has dramatically shifted over the past few months.
COVID-19 has shown that our health care system is in dire need of reform. Historic mass uprisings against police brutality have re-ignited a national conversation on systemic racism that lives in every facet of our society. People of color in the US already faced disproportionate lack of health care, and COVID-19 has only worsened this dynamic.
We have an unprecedented opportunity to make the case for guaranteed health care in the US. Join our Medicare for All Summer Strategy Call on *Tuesday, July 14th at 5 PT/8 ET* to talk about this new political moment, how we build momentum for Medicare for All, and how you can be involved.
Speakers include: 
Cathy Kennedy, President-elect, California Nurses Association & National Nurses Organizing Committee
Patrisse Cullors, Co-founder of Black Lives Matter and Reform LA Jails
Rep. Ro Khanna (CA-17)
Dr. Sanjeev Sriram, Social Security Works
And more
n this time of crisis, we need representatives who are unequivocal in their support of Medicare for All legislation in the House and Senate. We also need commitments to support emergency legislation like the Health Care Emergency Guarantee Act that would provide immediate relief to the tens of millions of Americans struggling to access and pay for healthcare.
Many unions have drafted candidate questionnaires that provide no wiggle room on these issues. This is what the Maine AFL-CIO asks every candidate for Congress or the Senate:  Do you support a publicly administered, single-payer, universal health care system that treats healthcare as a public good and a human right? Do you support and will you co-sponsor the national Medicare for All Act introduced by Rep. Pramila Jayapal (H.R. 1384) and Senator Bernie Sanders (S. 1129)?  Will you speak out publicly in support of Medicare for All?
The Minnesota Nurses Association takes a similar approach: Will you advocate and vote for a single payer healthcare system that is publicly financed and privately delivered?
If they haven't already done so, please urge your union, central labor council and state labor federation to adopt similar language and to insist that all candidates address these issues when they ask for labor support.
Organizing in a Pandemic
To be sure, this is no easy time to put the squeeze on elected officials and political candidates. Most town hall meetings have gone virtual and public events and campaign rallies are few and far between. But smart organizers have begun to figure out how to get their message out even in the time of COVID-19.
On Tuesday, July 14, our allies at National Nurses United will be leading a Medicare for All Summer Strategy Call at 8 pm eastern/5 pm pacific.  They will discuss innovative ways to reach out to your representatives during the August congressional recess to urge them to cosponsor Medicare for All legislation. They will also provide tools for you to talk to your friends, family and co-workers about Medicare for All.
You can register here to join the call. Plans are also in the works to highlight the healthcare emergency in connection with the observance of Medicare's birthday on July 30 and during the August Democratic and Republican political conventions.  
If there is one thing that we have learned in the past six months it is that the healthcare of each of us is dependent on the healthcare of all of us. What we do this summer will help set the terms for the debates on the future of healthcare in 2021 and beyond.
Don't take "maybe" for an answer! Now is the time to hold politicians' feet to the fire and demand their full support for Medicare for All. Join the call on July 14 and get ready to do your part in your union and community to ensure that elected officials and candidates hear our demand for real healthcare justice for all.
The End of Zionism: Thoughts and Next Steps - July 14 (Haymarket Books and Mondoweiss)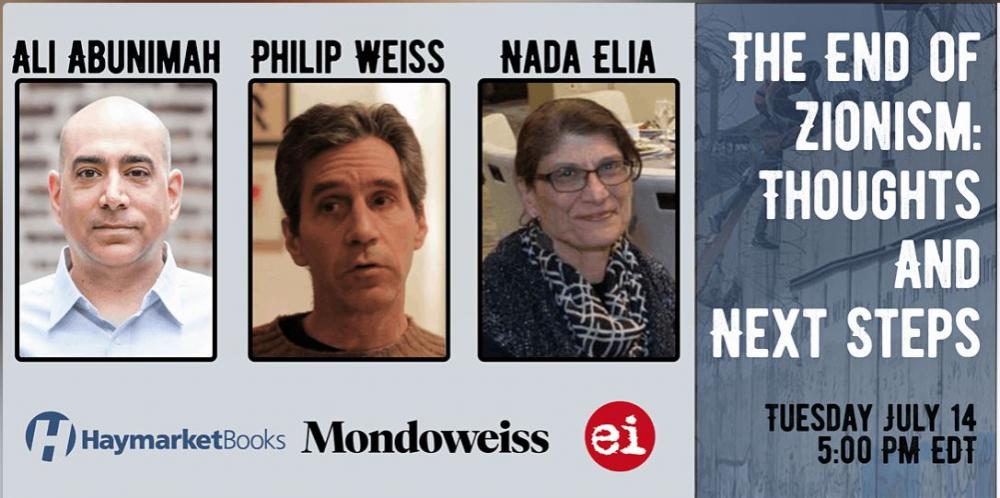 Join Haymarket Books and Mondoweiss for a conversation on the end of Zionism with Ali Abunimah, Philip Weiss and Nada Elia.
T
This event is co-sponsored by Haymarket Books and Mondoweiss.
Every dollar we take in from this event will go directly to support our collective work of sharing ideas for changing the world—a project that has never been more necessary or more urgent. We need your help to continue to do the work.
While all of our events are freely available, we ask that those who are able make a solidarity donation in support of our continuing to do this important publishing and programming work. All donations will be shared between sponsoring organizations.
***Register through Eventbrite to receive a link to the video conference on the day of the event. This event will also be recorded. ****
------------------------------------------------------
Zionism — the assertion that Jews have a right to violently establish and maintain an ethno-religious state in the homeland and at the expense of the Palestinian people — was, at least in the United States, a mainstream belief with support across the political spectrum.
In recent years, that consensus has crumbles. Palestinians have led the global BDS movement that highlights how Zionism violates the rights of all Palestinians, and younger generations of Americans, including Jews, are turning away from an ideology that is more and more openly aligned with the most reactionary, right-wing and white supremacist forces. Similar changes are happening all over the world. Though Zionism is on the retreat ideologically, Israel retains immense power and impunity.
What will it take to change this apparent stalemate, and shift the balance towards liberation for Palestinians?
------------------------------------------------------
Ali Abunimah is executive director of the widely acclaimed publication The Electronic Intifada, an independent nonprofit publication focusing on Palestine. He has written hundreds of articles and spoken on the topic all over the world. He is the author of ​One Country, A Bold Proposal to End the Israeli-Palestinian Impasse​ (2007) and ​The Battle for Justice in Palestine​ (2014).  
Philip Weiss is a writer who had a long career in mainstream journalism before starting a blog on the Middle East that is now Mondoweiss.  
Nada Elia is a long time activist, a teacher, writer, political commentator, and frequent contributor to Mondoweiss.
For further reading on this topic check out Haymarket Books' Free Palestine Reading List.
Eviction Defense Workshop with Alexandria Ocasio-Cortez, Jamaal Bowman and Housing Justice for All - July 15
Wednesday, July 15, 2020 at 7 PM – 8 PM
With no universal eviction moratorium or rent relief in New York, many families are facing eviction. Join Congresswoman Ocasio-Cortez, Jamaal Bowman, and organizers from Housing Justice for All for an workshop on how to organize eviction defense in your building or block.
La vivienda es un derecho humano: Taller sobre cómo defenderse contra el desalojo con Jamaal Bowman y Housing Justice for All
Sin una moratoria de desalojo universal o alivio de alquiler en Nueva York, muchas familias están en peligro de ser desalojadas. Únase a la Congresista Ocasio-Cortez, Jamaal Bowman y los organizadores de Housing Justice for All para un taller sobre cómo organizarse contra el desalojo en su edificio o vecindario.
Commemoration of Hiroshima and Nagasaki - August 6 (Unitarian Universalist Congregation at Shelter Rock (UUCSR))

Thursday, August 6, 2020 at 7:30 PM – 8:30 PM
Commemoration of the 75th Anniversary of the U.S. Bombings of Hiroshima and Nagasaki
LIVE EVENT HERE. Also on uucsr.org/hiroshima, and on YouTube. Available on demand thereafter at these locations and more.
▶ IT IS TIME TO BAN NUCLEAR WEAPONS.
▶ IT IS TIME TO END RACISM, MILITARISM AND POVERTY.
▶ IT IS TIME TO ACT NOW TO SAVE PEOPLE FROM WAR, PANDEMICS AND GLOBAL CLIMATE CHANGE!
SPEAKERS: EMILY RUBINO, Director of Policy & Outreach, Peace Action NYS
REV. JAYE BROOKS, Unitarian Universalist Congregation at Shelter Rock
REV. JENNIFER L. BROWER, Unitarian Universalist Congregation at Shelter Rock
DESERI TSEPETIS, Programs Associate, Peace Action NYS & LI Alliance
MARGARET MELKONIAN, LI Alliance for Peaceful Alternatives
MUSIC: FARAH CHANDU and WILLOW, Women's Acapella Choir
THE UUCSR CHOIR and ORCHESTRA conducted by STEPHEN MICHAEL SMITH
Co-sponsors: Long Island Alliance for Peaceful Alternatives, Peace Action New York State, Willow Interfaith Women's Choir, Homecoming Farm/Sophia Garden, South Country Peace Group, Pax Christi Long Island LI (partial list)
For info visit www.uucsr.org or contact:
UUCSR: cderoche@uucsr.org, 516.472.2977
Peace Action New York State: info@panys.org
Long Island Alliance for Peaceful Alternatives: longislandpeace@gmail.com or 516.252.2707