Tidbits - Oct. 8, 2020 - Reader Comments: 2020 Elections, Proud Boys, Kyle Rittenhouse, Whiter Terrorists; COVID-19, Trump Super Spreader; Climate Change; China; Indigenous Peoples; Stopping Voter Suppression; more...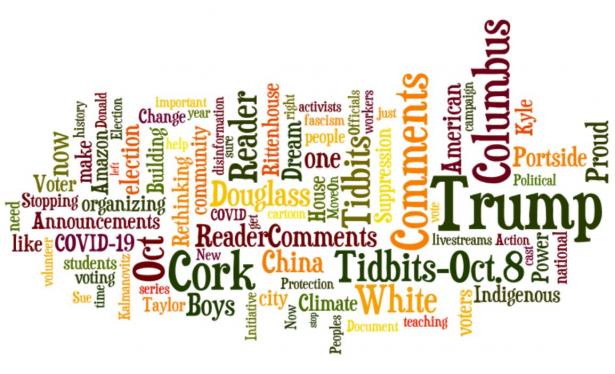 Tidbits - Reader Comments, Resources, Announcements, AND cartoons - Oct. 8, 2020,Portside
Resources:
Announcements:
Re: As Proud Boys Celebrate Trump Shout-Out, Warnings Grow That President 'Inciting Violence' to Retain Power
 
Gee thanks Trump now that one of them is in court for causing problems now. They made it clear they weren't going to cause any problems when clearly they have and do all the time. They were told to stay away but chose to ignore. Now they pretty much get an okay from the creep in office. Millions heard him say so.
Karen Gamble
Posted on Portside's Facebook page

     =====
Trump is now saying he doesn't even know who they are. Hah! Wait until their fragile little egos hear that!
Linda Hyde
Posted on Portside's Facebook page
     =====
Was just reading about them. They started out as a mens' drinking club and bill themselves as a group of "Western chauvinists". So that makes them boys who like to drink, don't like women much, like guns and beating up people. Trump must be so proud that they are part of his base.
Sue Speir
Posted on Portside's Facebook page
     =====
NO illusions, folks!
Check with your LOCAL progressive groups to find ballot/vote DEFENDERS!
Leanna Noble
Posted on Portside's Facebook page
Trump Tells Proud Boys to Stand By  -- meme (SolidarityINFOService)
 
image - Trump_Tells_Proud_Boys
https://scontent-iad3-1.xx.fbcdn.net/v/t1.0-9/120560059_102200547340528…
More: http://bit.ly/SolidarityINFOServiceMemes
and #SISNews: http://bit.ly/SISNews-Signup
Re: Internal Document Shows Trump Officials Were Told to Make Comments Sympathetic to Kyle Rittenhouse
 
So, here, Trump acolytes are instructed to sing praises for the Kenosha killer. You can see from this that they really do intend to rally Klan and Nazi militia nuts as their defenders.
Daniel Millstone
Posted on Portside's Facebook page
White House Updates  --  cartoon by Pat Bagley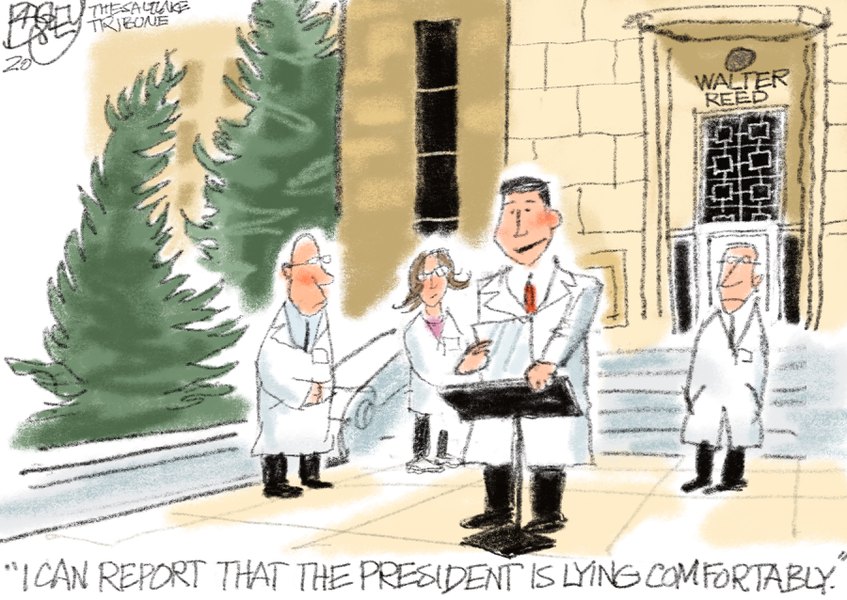 Pat Bagley
October 6, 2020
The Salt Lake Tribune
Re: Unredacted FBI Document Sheds New Light on White Supremacist Infiltration of Law Enforcement
 
The police reform being advocated by Biden-Harris is a move in the right direction as the "infiltration" issue would surely be addressed. Contrary to the Russian disinformation campaign, Biden-Harris have never advocated for defunding the police; they were just advocating for police reforms, which we all need.
Virginia Jean Ruelo
Posted on Portside's Facebook page
antifa of the 40's to the rescue!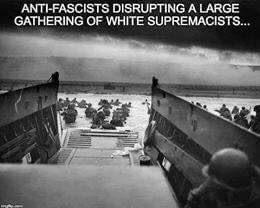 Dennis Donnelly
Posted on Portside's Facebook page
Re: After Losing My Father to COVID, I've Now Been Exposed to the Virus by The Donald Himself
 
So sorry about your Dad and sorry that you got it exposed to it. It is unbelievable to me that the Cleveland staff didn't escort Trump's entourage out when they wouldn't wear their masks. They always think that rules are for someone else. Would have been nice to have someone show them that the rules applied to them. Now, so many people have been exposed because of their being inconsiderate and self centered. Hope that you are o.k.
Sue
Posted on Portside's Facebook page
     =====
My sincere condolences to about your father. I hope and pray your okay. Wear your masks everywhere people are at!
Diane Campbell
Posted on Portside's Facebook page
White House COVID Meds and PPE  --  cartoon by Dave Granlund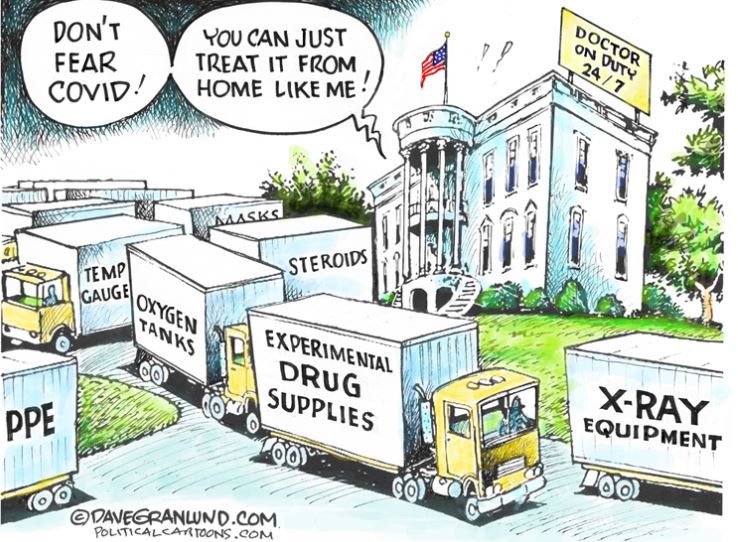 Dave Granlund
October 6, 2020
One Flew Over the Cuckoo's Next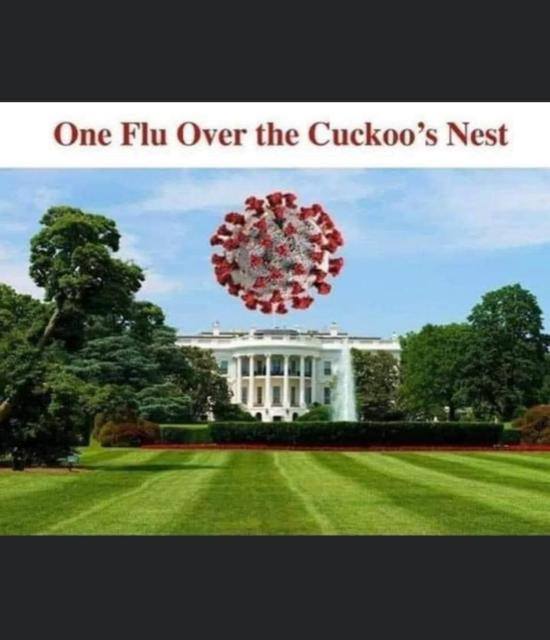 Re: As COVID-19 Hit Georgia Meatpacking Counties, Officials and Industry Shifted Blame
 
In this article Gov. Kemp of Georgia blames COVID19 infections on the community and "cultural differences."
C.A. Seller
Posted on Portside's Facebook page
     =====
This happened in IN. A meat factory's workers got sick, and the factory stayed open and blamed the workers for not washing their hands.
Taylor DiClemente
Posted on Portside's Facebook page
Re: Top US Scientist: A Second Trump Term Would be 'Game Over' for the Climate
 
There is nothing more important and urgent than the survival of the human species
Wayne Guba
Posted on Portside's Facebook page
     =====
Biden's new campaign slogan should be "Come with me if you want to live."
Carrie Solomon
Posted on Portside's Facebook page
     =====
Michael Mann, one of the world's preeminent climate experts, says averting a global climate catastrophe would be "essentially impossible" if Donald Trump is re-elected. There is no more important way for US citizens to exercise agency than to vote.
Brian Wagoner
Posted on Portside's Facebook page
Re: The Threat of Fascism Won't End with Trump
 
I agree with much in the article.  The crucial question is left somewhat nebulous.  "Sustained progressive political pressure" requires elaboration.
The key questions are what forces are key in creating that sustained progressive political pressure, what class forces?  What is the role of the communities of color, and especially the African-American community. Can liberals exert such pressure?  Can they lead even when supported by radicals?  I, too, have studied the history of the rise of fascism, particularly in Europe.  And the lessons I've learned are that the liberals are a thin reed on which to lean to prevent fascism.  Even the Social-Democrats who called themselves socialists.
History shows that it was the Communists who played the key role, who kept agitating for a united front and then a popular front, and in the best case, the French case, were able to stop fascism in its tracks through an alliance with honest elements among the Social-Democrats who forced their leaders to join the front.  So here we must be about building a radical Left, one that has absorbed the lessons of history, who will be neither sectarian nor opportunist, who will work to build alliances along the path of fighting for a society of a new type, educating the working and oppressed peoples on the nature of our society and on the way forward and being willing to take to the streets (as well as using the courts), to mobilize while doing political education, and to make sure one is not left defenseless in the face of armed provocations.
Joseph Kaye
Re: Why They Let Breonna Taylor's Killer Go Free
 
The National Alliance Against Racist and Political Repression was organized in the early '70s to carry on the work of the Committee to Free Angela Davis and All Political Prisoners. Chapters were formed in cities across the country. In 1977 we organized a South Shore chapter and sent a bus to the White House march and rally to free the Reverend Ben Chavis and the Wilmington Ten. Our bus left Quincy Square the evening before and made a stop at Andover-Newton Theological School to pick up a group of divinity students, who were delighted to engage working-class activists in hours of dialogue.
Sandy Eaton
Posted on Portside's Facebook page
Re: Leaked: Confidential Amazon Memo Reveals New Software to Track Unions
(posting on Portside Labor)
 
Amazon employees are working themselves to death for pitiful wages, Bezos is getting richer by the minute, and Amazon wants to stop workers from organizing a union?!
Occupy Palm Beach
https://www.facebook.com/OccupyPalmBeach/about/?ref=page_internal
Posted on Portside's Facebook page
     =====
I doubt anyone who has ever been associated with Amazon is surprised.
Jack Parker
Posted on Portside's Facebook page
     =====
GM used spies and armed goon squads in 1936, and the UAW came back at them with mass sit down strikes that shut the company down cold. Just a thought to consider.
Eleanor Roosevelt
Posted on Portside's Facebook page
Re: China's Political Economy - Wealth Inequality
(posting on Global Left Midweek - World Teachers' Day)
 
In view of the dangers to peace of the present campaign against China in the USA - as well as its other negative aspects - I would hope for a more balanced coverage of that great country by Portside.  That would include reporting on the immense economic and social achievements and its control of Covid-19. 
Analysis of the long-term strategy of the Communist Party of China is lacking in these items, and the one by Mahir Ali https://www.dawn.com/news/1582425 is hopelessly biased. Just one example: he writes of "cultural genocide unfolding in Xinjiang". Chinese sources say "the Xinjiang Uygur Autonomous Region has ...one mosque for every 530 Muslims, the number of clerical personnel is 29,300; students have access to undergraduate programs in Islamic institutes; and more than 1.76 million copies of the Quran and Selections from Sahih of al-Buhari have been distributed."
Dan Morgan
Frederick Douglass: Push for Cork street to be named after anti-slavery activist (Irish Times)
 
'Commemorating Douglass now would send signal about how Cork is a vibrant, multicultural city'
By Barry Roche
October 4, 2020
Irish Times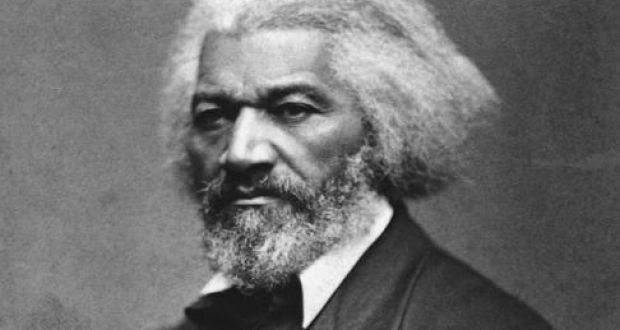 Campaigners seeking to have a street in Cork named after anti-slavery campaigner Frederick Douglass are hopeful of success as an online petition to honour the former slave gathers momentum while the 175th anniversary of his visit to the city approaches.
Dr Donal Hassett, a lecturer in the Department of French at UCC, who launched the campaign with his colleague Dr Caroline Schroeter of the Department of German at UCC, said honouring Douglass on Leeside would send out an important message about Cork in the 21st century.
"This year marks the 175th anniversary of Douglass's visit to Cork when he spent three weeks in the city in October 1845, giving lectures on abolishing slavery, so we felt it was the right time for the city to honour this internationally renowned civil rights campaigner.
"And commemorating Douglass now would send a signal about how Cork is now a vibrant, multicultural city, particularly in the light of the conversations going on around Black Lives Matter – it would say Cork is an inclusive and tolerant city that embraces diversity."
...Dr Hassett said: "What's interesting about Douglass's visit to Cork was that the Cork economy at the time was quite connected to the slave trade – a lot of wealth in Cork in the 18th and 19th century had come from selling provisions to slave owners in the Caribbean.
"At the same time, Cork was also quite a strong centre of abolitionism – there were quite a number of activists in Cork campaigning for the abolition of slavery in particular among the Quaker community, and Douglass stayed with some Quaker families while in Cork."
Read full story here
How are you teaching about the myths of Columbus? (Rethinking Schools)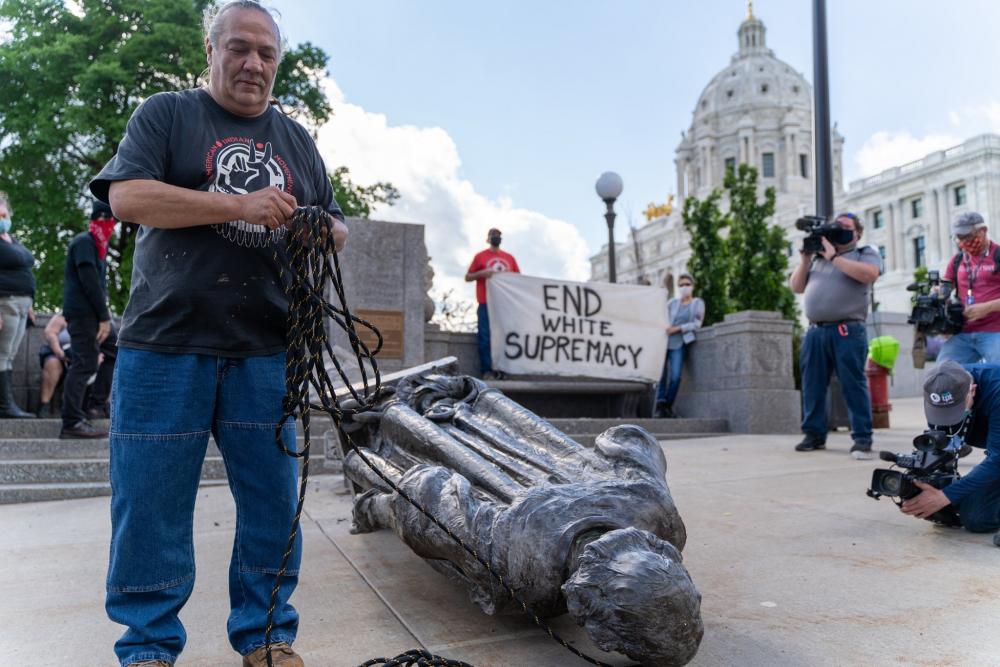 For years, the Columbus-discovered-America myth taught children that colonialism and racism were normal — that white Europeans had the right to rule over the Indigenous peoples of the Americas. In the curriculum, that harmful myth is being toppled, along with Columbus statues all across the country. 
Our book, Rethinking Columbus, is the most widely used teaching resource that offers strategies to help students think critically about Columbus's arrival in the Americas, along with ways to honor the Taíno people of the Caribbean. Critical reading activities invite young people to interrogate Columbus's journal. A role play puts Columbus on trial, as well as the system of empire. An imaginative writing activity asks students to consider Columbus's arrival from the Taínos' standpoint. 
Included below are some sample chapters and lessons from Rethinking Columbus. We hope that these resources will be useful examples for teaching about the myths of Christopher Columbus as you celebrate Indigenous Peoples' Day on Oct. 12.
Rethinking Columbus: The Next 500 Years
By Bill Bigelow and Bob Peterson
Paperback $18.95 
PDF E-Book: $13.95
"The original edition made educational history by introducing a startling new view of Columbus … In the revised edition we get even richer material, a marvelous compendium of history, literature, original sources, commentary … an exciting treasure for teachers, students, and the general public."
Howard Zinn (1922-2010)
Author of A People's History of the United States 
Take 20% off your entire purchase of Rethinking Schools books and magazine subscriptions with discount code RETHINKCOL.
#YourVoteIsPower national organizing livestreams - October 11, 18, 25 and November 1 (MoveOn)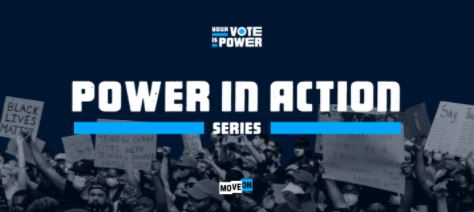 Ballots are already being cast in what is no doubt the most important election of our lifetimes. It's up to all of us to ensure our votes are cast—and counted.
But this election brings unprecedented challenges: We're voting in the midst of climate disasters, the global pandemic, a relentless news cycle, and so many attacks on our communities. 
That's why MoveOn is hosting Power in Action, a series of #YourVoteIsPower national organizing livestreams featuring all-star speakers, movement leaders, and grassroots activists. The Power in Action national organizing livestreams will ensure you have everything you need to inspire your community to vote.
Will you join Power in Action, a series of four national organizing livestreams—packed with all-star speakers, movement leaders, and grassroots activists—to inspire you and give you the information you need to make your vote count this election?
Each Power in Action national organizing livestream will begin on Sunday at 8 p.m. ET (7 CT/6 MT/5 PT) and will be viewed on a special page just for this series. When you RSVP, you'll receive a special link and a reminder email to make sure you're able to participate. 
This week's livestream will feature Rashad Robinson from Color of Change PAC, Representative Pramila Jayapal, and MoveOn Executive Director Rahna Epting. On the livestream, we'll go in-depth on how to navigate the disinformation that's so rampant right now—and it's just the start of four weekly calls building through the final days of the election. 
The full series will cover topics including our path to victory to win the White House and flip the Senate, the threat of disinformation and how to combat it, the most impactful actions we can all take together to ensure landslide Democratic victories up and down the ballot this year, and more. 
MoveOn is expecting record turnout for these all-star rallies, so please RSVP now. 
Click here to sign up now for the national organizing livestreams on Sunday, October 11, 18, 25, and November 1 at 8 p.m. ET (7 CT/6 MT/5 PT).
Together, we'll create an America for all.  
Thanks for all you do.
Stopping Voter Suppression - October 15 DEADLINE: Apply to be an election protection volunteer (Common Cause)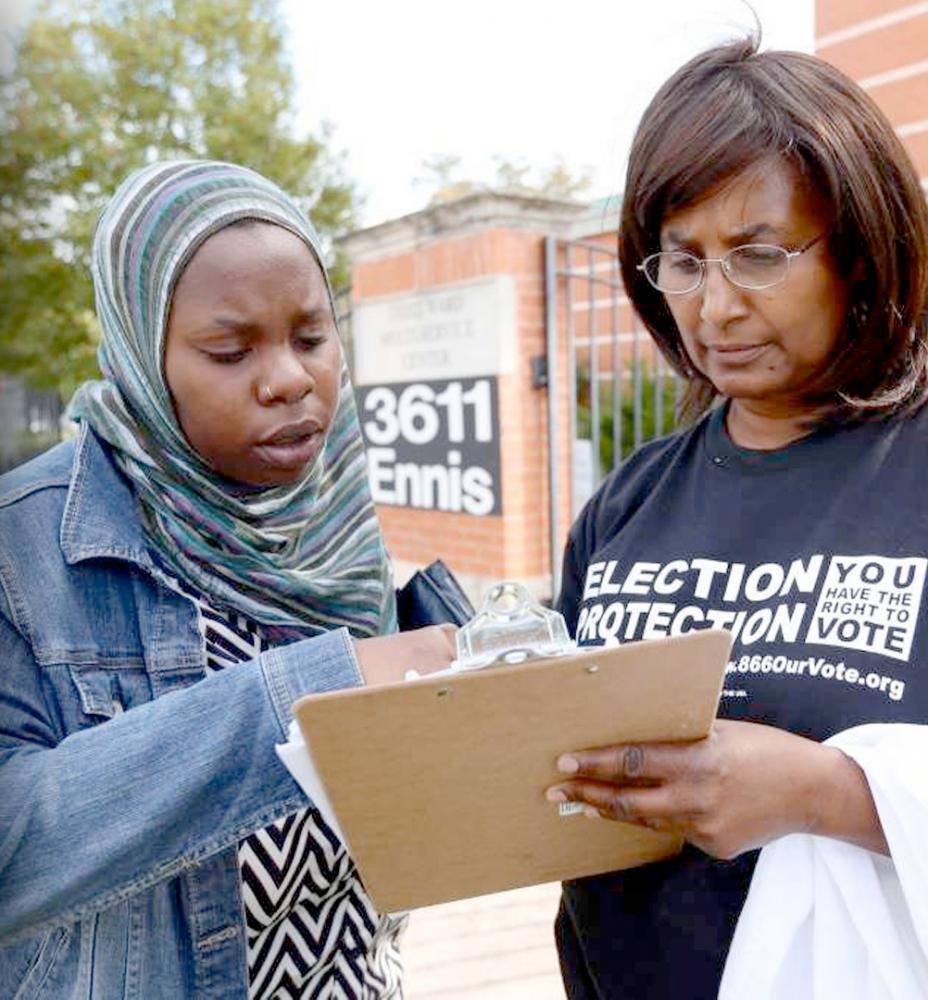 If you agree that every eligible voter deserves to have their voice count, you can take action from home or in person by serving as a nonpartisan Election Protection volunteer. Will you sign up to be one of them?
Sign up to be an Election Protection volunteer
We need your help to protect voters' rights from the unprecedented threats they will face this year when trying to cast their ballot. Nonpartisan Election Protection volunteers like you will be voters' first line of defense against restrictive election laws, coronavirus-related voting disruptions, or anything else that could silence their voices.
We'll help you find the best way to get involved — whether that's monitoring polling places (from your vehicle, or with proper personal safety equipment), watchdogging social media for disinformation, or reaching out to voters to make sure they know their rights. You'll connect voters with trained legal professionals who can help them navigate the voting process and cast their ballots safely and securely.
Unfortunately, voters this year will face obstacles that have no place in a modern democracy — and these impediments to voting will hit communities of color the hardest. You can make a major difference for voters in your community by signing up today — we will reach out with all the information you need to get started >>
Help make sure every eligible voter is able to vote this November by promoting the nationwide nonpartisan Election Protection legal hotlines
If you or anyone you know encounters problems while voting, call: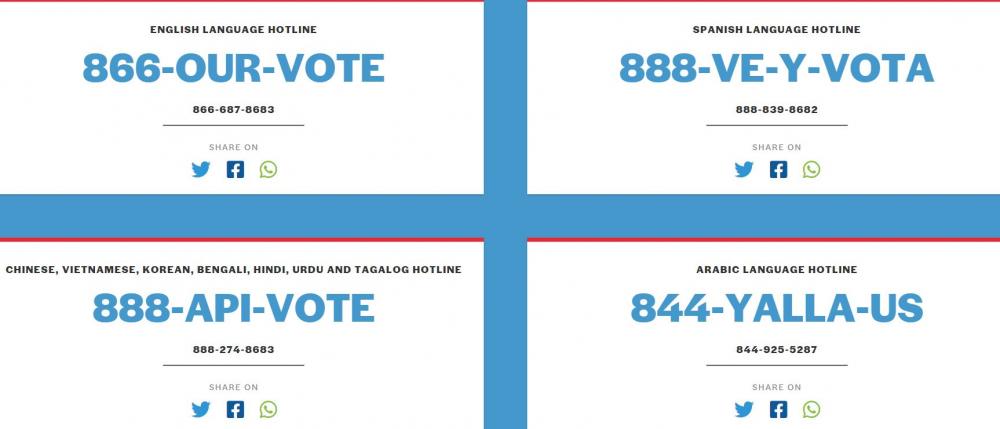 Common Cause - Protect the Vote
805 15th Street, NW, Suite 800
Washington, DC 20005
202.833.1200
Building the American Dream - Film Screening and Discussion - October 15 (Kalmanovitz Initiative for Labor and the Working Poor)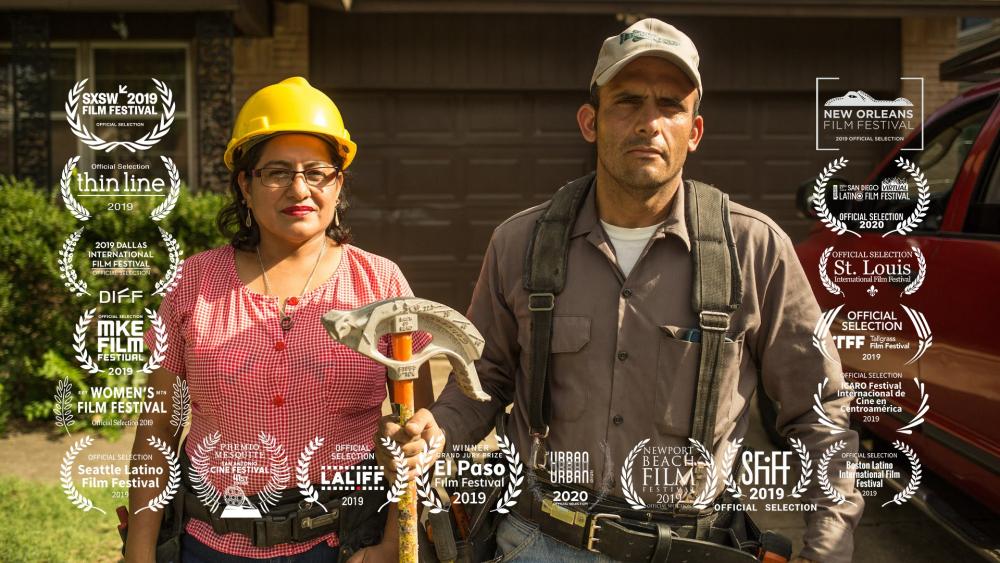 A screening of "Building the American Dream" and a discussion with the director about this story on Texan immigrant workers' resilience.
Thursday, October 15, 2020 at 6:30 PM EDT
Via Zoom Video | RSVP on Eventbrite
Across Texas, an unstoppable construction boom drives urban sprawl and luxury high-rises. Its dirty secret: abuse of immigrant labor. Building the American Dream captures a turning point as a movement forms to fight widespread construction industry injustices. Grieving their son, a Mexican family campaigns for a life-and-death safety ordinance. A Salvadorian electrician couple owed thousands in back pay fights for their children's future. A bereaved son battles to protect others from his family's preventable tragedy. A story of courage, resilience and community, the film reveals shocking truths about the hardworking immigrants who build the American Dream, from which they are excluded.
Join us on Thursday, October 15 at 6:30 pm EDT for a screening of Building the American Dream and post-film chat with a great group of speakers.
Chelsea Hernandez, Film Director, Building the American Dream
Shana Khader, Attorney, Equal Justice Center
Representative, Workers Defense Project
Juan Belman (Moderator), Program Manager, Kalmanovitz Initiative
Please contact us at kilwp@georgetown.edu if you have any questions or would like to request accommodations related to disability.
Kalmanovitz Initiative for Labor and the Working Poor
Georgetown University 
Maguire Hall 209
37 and O Streets, NW
Washington, D.C., 20057