Global Left Midweek - March 24, 2021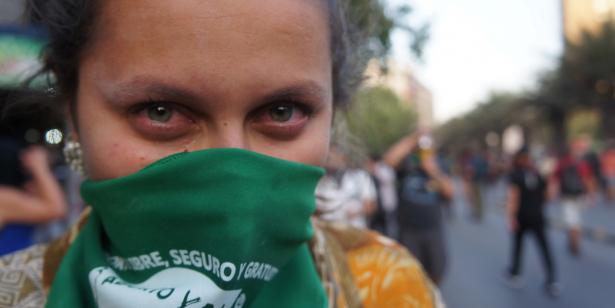 The pañuelo verde (green scarf) is the symbol of contemporary feminism in Latin America. Credit,Red Pepper/Daniel Espinosa Guzman
__________
Women Worldwide Fight Sexual Violence

Anastasia Moloney, Beh Lih Yi and Sonia Elks / Thomson Reuters Foundation
Four young women from Britain, Bolivia, Colombia and Australia reflect on taking to the streets for the first time to protest gender-based violence.
__________
Socialist Feminism for Our Time
Reihana Mohideen / Links (Sydney)
Gender equality and gender politics has been coopted into the mainstream of capitalist discourse. We need to put forward an uncompromising gender equality politics. Only a socialist feminist framework can allow us to do this consistently.
__________
Feminism in Poland
Antonina Lewandowska and Marek Nowak / Green European Journal (Luxembourg)
International solidarity and a strong movement that campaigns on different fronts to achieve a common goal will both be important in the path forward for Polish feminism.
__________
Latin America: Protests and Politics
Ecuador / Peoples Dispatch (New Delhi)
Chile Carole Concha Bell / Red Pepper (London)
Bolivia  Linda Farthing / NACLA Report (New York)
Paraguay  Claudia Fanti / Il Manifesto Global (Rome)
__________
More on Myanmar
What Next?  Thant Myint-U / London Review of Books
Women Lead  Khin Khin Mra / New Mandela (Canberra)
Workers Strike  Hannah Beech / The New York Times
China to Junta: 'Protect Us'  / The Irrawaddy (Yangon)
__________
The Attack on Turkey's HDP
Crackdown Alex MacDonald / Middle East Eye (London)
Solidarity Manon Aubry, Martin Schirdewan and Tiny Kox / The Left in the European Parliament
__________
Italy's Democratic Party - Exit Stage Right?
Norma Rangeri / Il Manifesto Global
Italy has seen the rise of new activisms that have matured with ongoing work, both practical and theoretical. Here is the raw material, bursting out and incandescent, for discovering a movement capable of bringing much grist to the crumbling mill of the left.
__________
Human Rights Fights During and After Apartheid
Khanyi Mlaba,  Aaron Rakhetsi  and  Nomthandazo Xaba / Global Citizen (New York)
As South Africa celebrates Human Rights Day, we honour the lives that were lost in past protests. We salute activists and coalitions righting the wrongs of the past, and making sure that the country's most vulnerable and marginalised people are not left behind. 
__________
Samir Amin and Contemporary Imperialism
Jayati Ghosh / Review of African Political Economy (London)
Samir Amin brought the tremendous power of his analysis to understanding the issues and problems of global capitalism, uneven development and imperialism, and how these affected material realities and social life in what is known as the developing world.