Tidbits - July 22, 2021 - Reader Comments: GOP Wants Wolves to Investigate Themselves; COVID Re-Do; Cuba; Portside's Israel coverage; Space travel; Boycott Pepsico - Support Frito-Lay Workers; Afghanistan; Medicare; Medicare for All; more....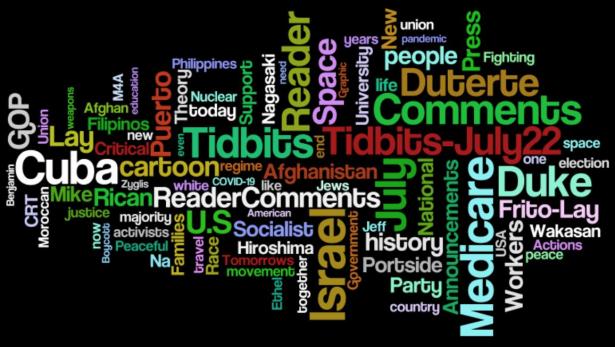 Tidbits - Reader Comments, Resources, Announcements, AND cartoons - July 22, 2021,Portside
Take Action:
Resources:
Announcements:
GOP Cohorts  --  cartoon by Mike Luckovich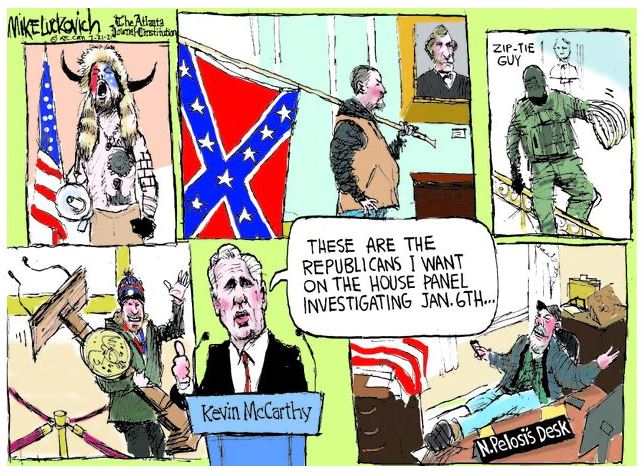 Mike Luckovich
July 20, 2021
Atlanta Journal-Constitution

Re: The US Tax Code Should Not Allow Billionaires to Exist
 
Just like it was 80 years ago, let's put that MTR (Marginal Tax Rate) where it belongs. 75% - 90%. 
Like Roosevelt, Truman and Eisenhower times.
The most prosperous and highest quality of life times in USA.
Eecm Inoicserc
Posted on Portside's Facebook page
Re: Cuba and the US: The Difference Between Dictatorship and Tyranny
 
We have to pay taxes to blockade Cuba to prove it doesn't work.
Andrew Huddleston
Posted on Portside's Facebook page
Covid Vaccine  --  cartoon by Adam Zyglis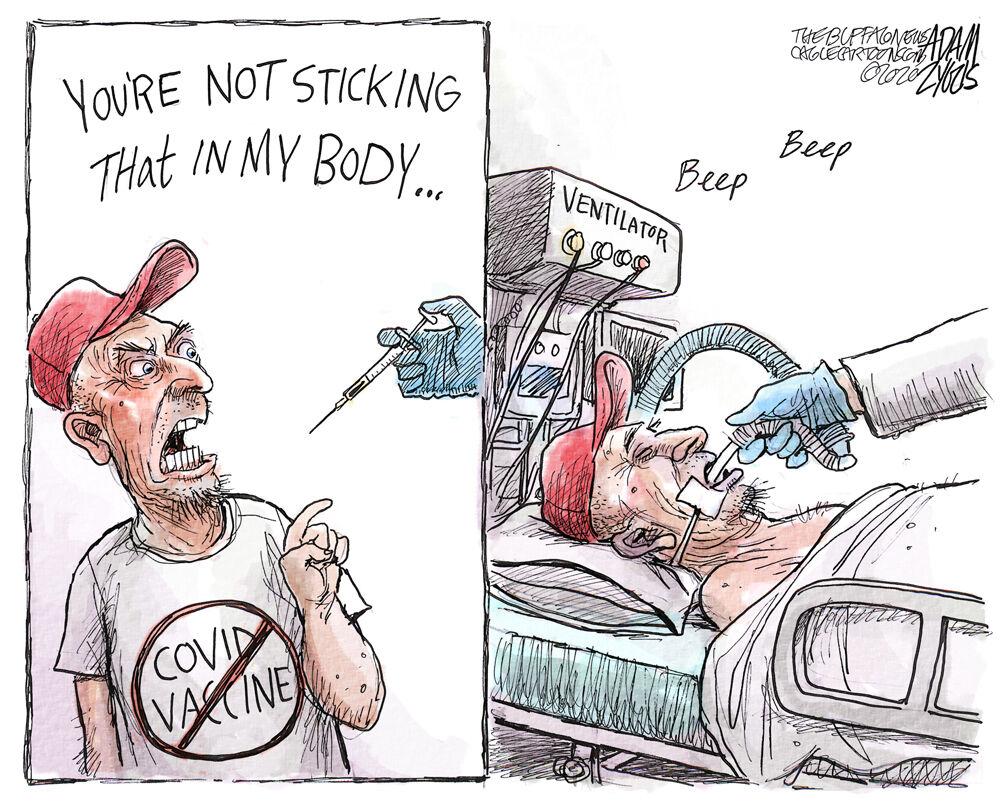 Adam Zyglis
December 20, 2020
The Buffalo News
Re: How Utterly Depraved! The American Government's Murder of Ethel Rosenberg
(posting on Portside Culture)
 
Yet another career accomplishment for Trump's mentor Roy Cohn. 
Greg Johnson
Posted on Portside's Facebook page
      =====
"But America doesn't doooooo political murders." 
Eleanor Roosevelt
Posted on Portside's Facebook page
Re: 'We Saw Jews With Hearts Like Germans': Moroccan Immigrants in Israel Warned Families Not to Follow
 
Yes there were major issues then. But don't forget that escalating persecution led the vast majority of Moroccan Jews to emigrate to Israel over the next decade and that they and their descendants are now part of the majority of Israeli Jews who are now the backbone of Likud and other right wing parties. Their experience in Arab countries have made them the strongest opponents of anything that might lead to them ever having to live under a Muslim majority regime again. Regurgitating this history as if it represents the reality of present day Israel would be completely misleading.
Stan Nadel
      =====
Please publish some articles about Israel that are positive. I am tired of your slamming Israel at every turn. This is totally unfair and destructive and it's poor journalism. I'm not opposed to showing the negatives, but there needs to be a balance with some positive articles. Just the fact that today's article about Moroccan immigrants to Israel was published by the Israeli paper Haaretz should show that there is freedom of the press in Israel. Why not write an article about freedom of the press in Israel? If you need help with finding positive things to say about Israel, perhaps I can be of assistance.
Susan Immergut
Re: What If the Worst People in the World All Wanted to Go Into Space?
 
Send 'em one way
Erika Juhlin
Posted on Portside's Facebook page
Still Fighting Polio  --  cartoon by Jeff Stahler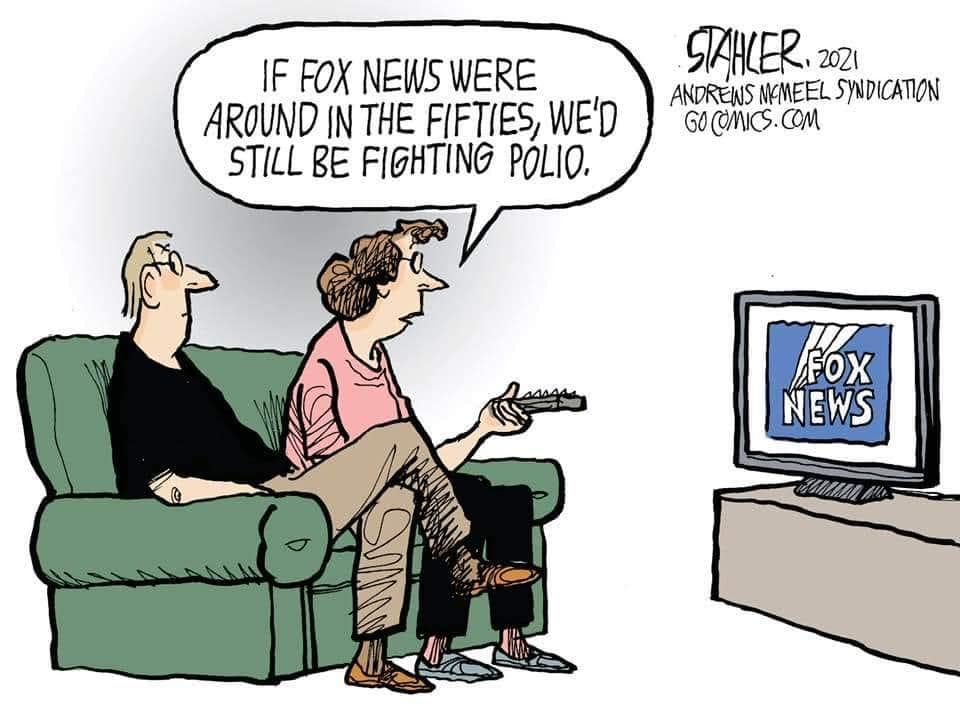 Jeff Stahler
May 9, 2021
Santa Ynez Valley News (California)
Re: Dispatches From the Culture Wars - July 20, 2021
 
Wow. What a great read!
Sine Anahita
Space Travel  -  A Few Limericks by Lincoln Bergman
 
For Branson, Bezos, and Musk
I harbor a mammoth disgust  
I'd much rather see
The butts of all three
On the tip of an elephant's tusk!
Three billionaires into space hurled
The flags of their egos unfurled
Half of their steals
Could make zillions of meals
Plus health care for all in the world.
Space is a challenge that's true
But on Earth there's so much to pursue
For sex, race, and class
Each one and en masse
Equality's long overdue.
Here on this bluish-green sphere
Space billionaires better be clear
Revolutions take place
Not only in space
They also can happen down here!
Lincoln Bergman 
July 20, 2021
Facebook
GOP Education  --  cartoon by Mike Stanfill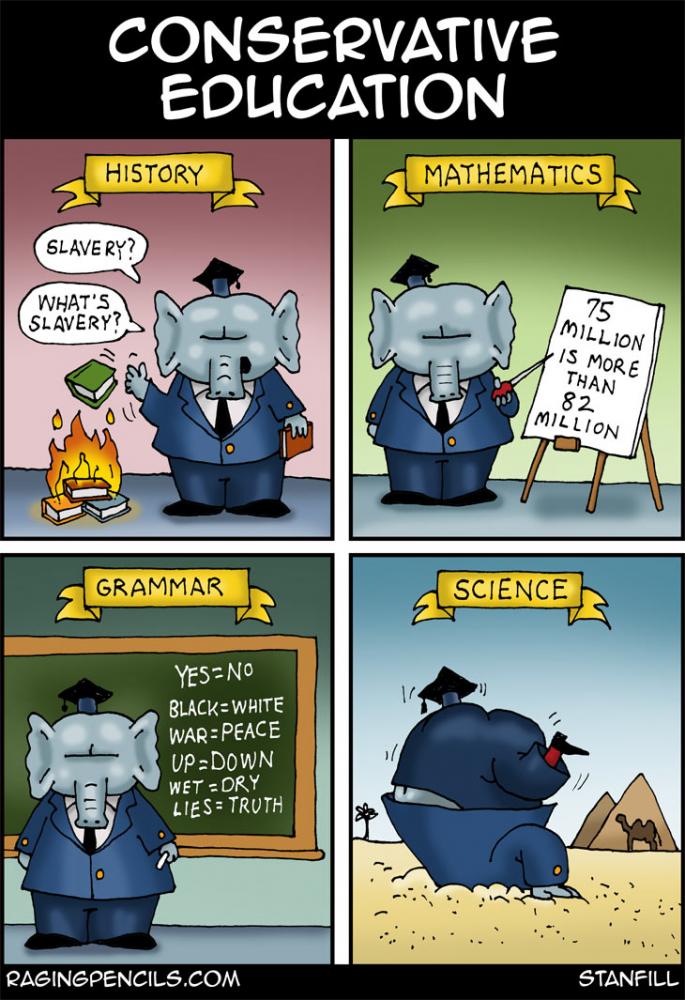 Mike Stanfill
July 20, 2021
Raging Pencils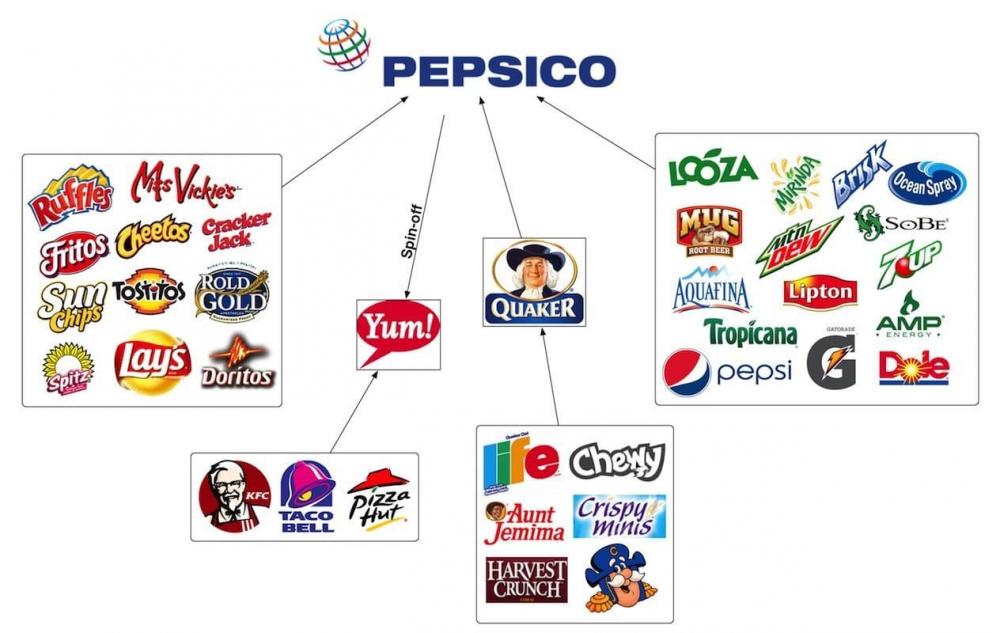 Frito-Lay workers and their union have made it past the 16-day mark of their strike! They are continuing to request that everyone boycott PepsiCo products, and here's a handy infographic floating around to help.
Urge Duke Administration to Drop Objections to Duke University Press Union Election (Duke University Press Workers Union)
 

Duke and Duke University Press leadership are continuing to mount legal challenges and objections to our union of press workers, even as we've repeatedly and consistently demonstrated majority support.
At the vote count on June 29, Duke's lawyer and DUP Director Dean Smith challenged the votes of two staff members on their own eligibility list—which appears to be a desperate move to delay and distract from recognizing the union.
On July 7, Duke petitioned the National Labor Relations Board to invalidate the results of the union election and hold a new election at an unspecified later date. The objections listed, such as minor Zoom glitches, had no material effect on the outcome of the election: there was an overwhelming turnout of 96 percent of eligible employees.
What kind of message does it send for Duke to drag its employees into a legal morass rather than accept the voice of its workers?
Here's how you can help: First, sign and send this letter to Duke and DUP leaders. Then, share this form on social media and forward it to others who might like to sign. Thank you for your support and solidarity as we #UnionizeUP!
Seeking Peace in Afghanistan: September 11th Families for Peaceful Tomorrows' Webinar Explores Prospects for Afghan Civil Society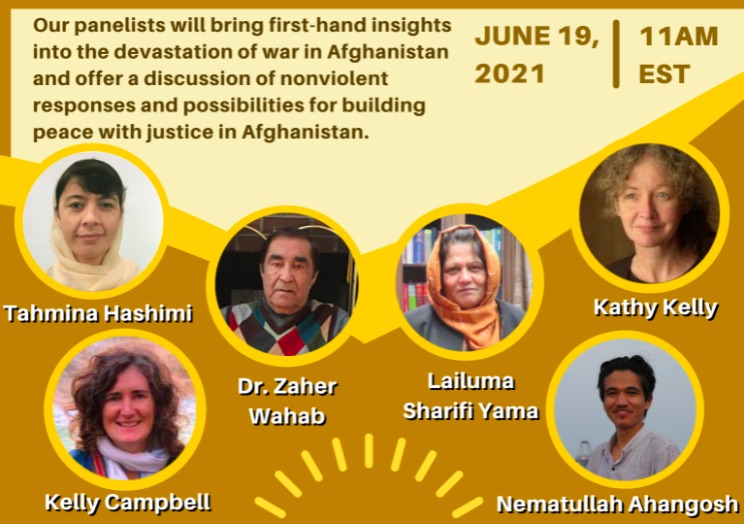 Afghan civil society activists have richly informed the work of September 11th Families for Peaceful Tomorrows over many years. Four of these activists—Dr. Zaher Wahab, Tahmina Hashimi, Lailuma Sharifi Yama, and Nematullah Ahangosh—joined Kelly Campbell, a founder of Peaceful Tomorrows and Kathy Kelly, long-time peace activist who has been working with the Afghan Youth Peace Volunteers in Kabul since 2010 to discuss prospects for peace. The panelists analyzed the successes and shortcomings of expanding opportunities for civil society engagement since 2002, the forces that threaten to reverse recent improvements, and some radically creative ideas for building peace in a land that has suffered endless war. Read more and view the webinar HERE.
New Book - PROPHET AGAINST SLAVERY - Benjamin Lay, A Graphic Novel (Beacon Press)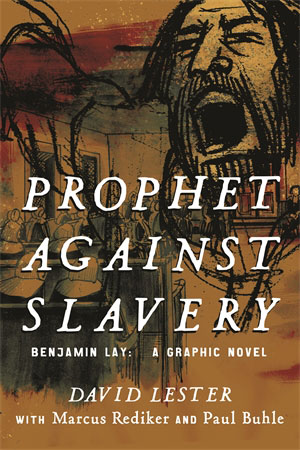 http://www.beacon.org/Prophet-Against-Slavery-P1734.aspx
Author, Artist:David Lester  Editors:Paul Buhle,Marcus Rediker
The revolutionary life of an 18th-century dwarf activist who was among the first to fight against slavery and animal cruelty.
Prophet Against Slavery is an action-packed chronicle of the remarkable and radical Benjamin Lay, based on the award-winning biography by Marcus Rediker that sparked the Quaker community to re-embrace Lay after 280 years of disownment. Graphic novelist David Lester brings the full scope of Lay's activism and ideas to life.
Born in 1682 to a humble Quaker family in Essex, England, Lay was a forceful and prescient visionary. Understanding the fundamental evil that slavery represented, he would unflinchingly use guerrilla theatre tactics and direct action to shame slave owners and traders in his community. The prejudice that Lay suffered as a dwarf and a hunchback, as well as his devout faith, informed his passion for human and animal liberation. Exhibiting stamina, fortitude, and integrity in the face of the cruelties practiced against what he called his "fellow creatures," he was often a lonely voice that spoke truth to power.
Lester's beautiful imagery and storytelling, accompanied by afterwords from Rediker and Paul Buhle, capture the radicalism, the humor, and the humanity of this truly modern figure. A testament to the impact each of us can make, Prophet Against Slavery?brings Lay's prophetic vision to a new generation of young activists who today echo his call of 300 years ago: "No justice, no peace!
ISBN: 978-080708179-2
Publication Date: 11/2/2021
Size:6 x 9 Inches (US)
Price:  $16.00
Will Ship On: November 2021
Beacon Press
Mobilization for National Improved Medicare For All now in over 50 Cities - Saturday, July 24 (Medicare For All - M4A)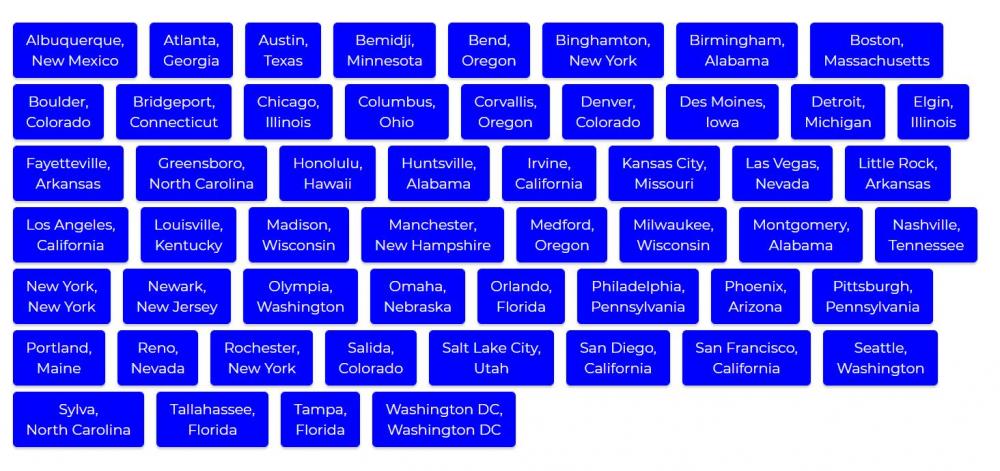 It all starts with you.
Take action! As a united people, we can take on those who are working to block the will of the people. Together, we will win.
This question is both simple and complex. We are a coalition of groups that are coming together to march for Medicare for All. Who is in that coalition depends on which city you are talking about. There is no one single group behind this. The list seems to grow every day. Some people are even politically homeless and simply focused on doing what they can to move #M4A forward. We are nonpartisan, but some local parties have joined in the fight! We are proud to say that this type of coming together hasn't happened in recent memory, if ever.
Our movement was founded from a place of compassion and love. We came together out of frustration with the lack of action from the powers that be. Many of us have our own personal stories as to why we are in this fight. All of us know that healthcare is a right, not a privilege. It is a basic freedom. How can we have life, liberty and the pursuit of happiness when we live in constant fear of illness, bankruptcy, or homelessness because of the outrageous for-profit healthcare system.
One event can ruin your life, even if you have insurance. The industry can always say no. We need a big fat yes! Whatever you and your doctor decide is best for your health should be what is done. No more preauthorizations, deductibles, out of pocket expenses etc. etc. These are all barriers to the care we deserve. Nearly 70,000 times a year or more, someone dies because of these barriers to care. This is unacceptable.
Actions:
Washington, DC
11 am to 5 pm, Lincoln Park, 12th Street and East Capitol Street. Click here for more details.
Alabama
Birmingham – 10 am to noon, Railroad Park Foundation, 1600 First Ave. S. Click here for more details.
Huntsville – 3 pm to 5 pm, Madison County Courthouse Steps, 100 North Side Square. Click here for more details.
Montgomery – 11 am to 1:30 pm, Alabama State Capitol, 600 Dexter Ave. Click here for more details.
Arizona
Phoenix – 10 am to noon. Biltmore area, East Camelback Road & North 24th Street. Click here for more details.
Arkansas
Fayetteville – 11 am to 2 pm, 280 N. College Ave. Click here for more details.
Little Rock – 9 am to noon, Steps of the State Capitol Building, Woodlane Street & West Capitol Avenue. Click here for more details.
California
Irvine – 11 am to noon, City of Irvine City Hall and Bill Barber Memorial Park, 1 Civic Center Plaza. Click here for more details.
Los Angeles – 11 am to 5 pm, Hollywood Blvd at Highland Blvd. Click here for more details.
San Diego – 10 am to 1:30 pm, Balboa Park Boulevard and Presidents Way Lawn, 2000 Presidents Way. Click here for more details.
San Francisco – 10 am to 1 pm, Ferry Building, 1 Ferry Building. Click here for more details.
Colorado
Denver – 10 am to noon. Colorado State Capitol, 200 E Colfax Ave. West Steps. Click here for more details.
Salida – 9 am to 1 pm, 410 W. Rainbow Blvd. Click here for more details.
Connecticut
Bridgeport – 1 pm to 3 pm, 45 Lyon Terrace. Click here for details.
Florida
Tallahassee – 10:30 am to noon, Florida Historic Capitol Museum, 400 S. Monroe St. Click here for more details.
Orlando – 10:30 am to noon, Marco Rubio's office downtown Orlando, 201 S Orange Ave #350. Click here for more details.
Tampa – 10 am to 11:30 am, 4144 N Armenia Ave. Click here for more details.
Georgia
Atlanta – 2 pm to 5 pm, Hurt Park, 25 Courtland St SE. Click here for more details.
Hawaii
Honolulu – 9 am to 11 am, Ala Moana Regional Park, 1201 Ala Moana Blvd. Corner of Ala Moana and Atkinson. Click here for more details.
Illinois
Chicago – 11 am to 2 pm, Chicago Federal Plaza, 230 South Dearborn Street, Dearborn St. between Jackson & Adams St. Click here for more details.
Elgin – 1 pm to 2 pm. Click here for more details.
Kentucky
Louisville – 11 am to 2 pm, Romano L Mazzoli Federal Building, 600 Dr Martin Luther King Jr Pl. Click here for more details.
Maine
Portland – 10 am to noon, Lincoln Park, Congress Street & Pearl Street. Click here for more details.
Massachusetts
Boston – 11 am to 5 pm, 115 Boylston St. Click here for more details.
Michigan
Detroit – noon to 3 pm, 800 Woodward Ave. Click here for more details.
Minnesota
Benmidji – 5 pm to 7 pm, 303 Railroad St. SW. Click here for more details.
Missouri
Kansas City – 10 am to 8 pm, J C Nichols Memorial Fountain, 47th Mill Creek Pkwy. Convene street side, on 47th, between Main & Broadway, south of fountain. Click here for more details.
Nebraska
Omaha – 4 pm to 7 pm, 11th and Howard. Click here for more details.
Nevada
Las Vegas – 7 pm to 9 pm, City Hall, 495 S Main St. Click here for more details.
Reno – 10 am to noon, City Hall Plaza, 10 North Virginia St. Click here for more details.
New Hampshire
Manchester – 3:30 to 5 pm, Pulaski Park, 128 Bridge St. Click here for more details.
New Mexico
Albuquerque – 9 am to 11 am. We will rally in front of UNMH on the cross streets of Lomas Blvd and Stanford Dr. 2211 Lomas Blvd NE. Click here for more details.
New York 
Binghamton – 1 pm to 3 pm, location TBA. Click here for more details.
New York City – 11 am to 4 pm, Washington Square East & Washington Place. Click here for more details.
Rochester – 11 am to 12:30 pm, location TBA. Click here for more details.
North Carolina
Greensboro – 11 am to 1 pm, care-a-van. Click here for more information.
Sylva – 11 am to 5 pm, Bridge Park, 76 Railroad Ave. Click here for more details.
Ohio
Columbus – 12 noon to 4 pm, Ohio Statehouse, One Capitol Square. Click here for more details.
Oregon
Central Oregon – 11 am to noon, Peace Corner, Bend 1077 NW Wall St. Bend, OR 97701. Click here for more details.
Corvallis – 11 am to 2 pm, Benton County Court House, Northwest 4th Street & Northwest Monroe Avenue. Click here for more details.
Medford – 10 am to noon, Vogel Plaza, 12 S Central Ave. Click here for more details.
Pennsylvania
Philadelphia – 4 pm to 6 pm, Philadelphia City Hall, 1400 John F Kennedy Blvd. Click here for more details.
Pittsburgh – 10 am to noon, Schenley Plaza, 4100 Forbes Ave. Click here for more details.
Tennessee
Nashville – noon to 2 pm, Public Square, 1 Public Sq. Click here for more details.
Texas
Austin – 11 am to 2 pm, 1100 Congress Ave. Click here for more details. 
Utah
Salt Lake City – 2 pm to 5 pm. Capital Hill, 350 State St. Click here for more details.
Washington
Olympia – 1 pm to 3 pm, Washington State Capitol Building, 416 Sid Snyder Ave SW. Click here for more details.
Seattle – 1 pm to 5 pm, 400 Pine St. Click here for more details.
Wisconsin
Madison – 11 am to 12:30 pm, 118 State St.,  Corner of State Street and N Carroll S. Click here for more details.
Milwaukee – 11 am to 2 pm, McKinley Park, 1750 North Lincoln Memorial Dr. Click here for more details.
For further information: Visit M4M4All.org. https://m4m4all.org/
Duterte Wakasan Na - Coordinating Actions of Filipinos in the U.S. Against the Duterte Government - July 24 - 31 (BAYAN USA)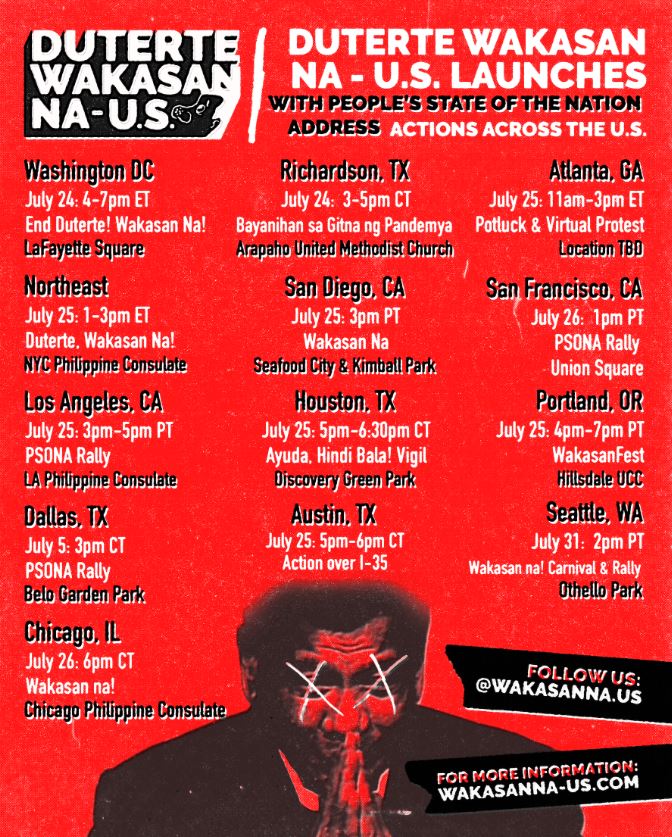 On the weekend of July 24, thousands of Filipinos and their allies will mobilize to launch the Duterte Wakasan Na - U.S. movement in response to President Duterte's final State of the Nation Address. Protest actions and other activities will be held across 13 major cities to mark the occasion.  
Duterte has come under fire in the Philippines and internationally for rampant extra-judicial killings, corruption, anti-people socio-economic policies, his betrayal of national sovereignty to China, and his failed response to the COVID-19 pandemic. In June, a broad coalition of forces in the Philippines united under the Duterte Wakasan Na Movement to end the regime. The movement aims to bring together all people opposed to Duterte, and emcompasses all calls and demands to end his regime, whether they seek his resignation, impeachment, ouster, or the defeat of his political heir in the 2022 election. 
Duterte Wakasan Na - U.S. amplifies the demand to end the regime by adding the voices of Filipinos in the US, who comprise the largest overseas population of Filipinos. 
Join one of the actions happening in a city near you, or organize your own! If you want to be a part of the movement, sign on to the unity statement today: tinyurl.com/dwnunity. 
Visit wakasanna-us.com or email info@wakasanna-us.com for more details and to ask any questions.  
Duterte wakasan na!
July 25 Actions to "End the Blockade/Embargo/Sanctions of Cuba (National Network on Cuba)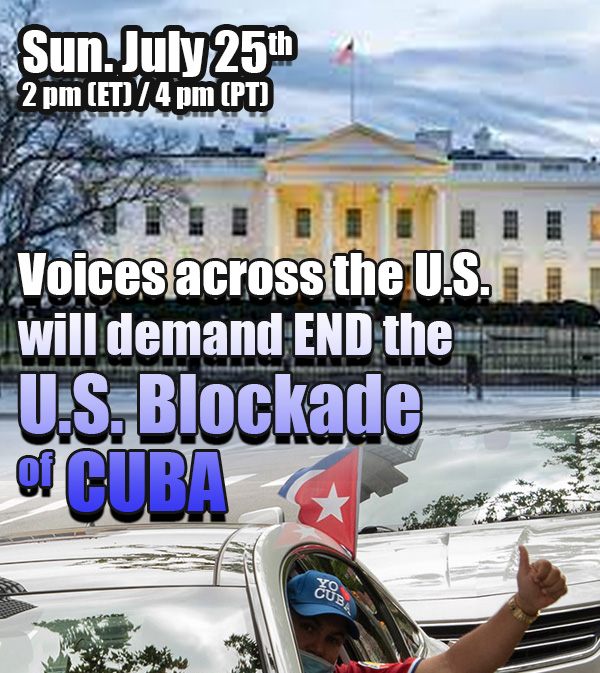 In Washington, DC 
Welcome Carlos Lazo and the Cuban Americans walking from Miami with petitions to end the U.S. sanctions/blockade/embargo on Cuba
Join him at 2 pm across from the White House
Lafayette Square H St. NW at 16th St. NW
New York City Get on the bus! Save your space now. Contact: 
 Help us plan for the best possible event. Please let us know you are attending using one of three ways:
Text or leave a voice message at (240) 903-4282‬ 

Send an email to: July25@nnoc.info
Fighting the Right's Attack on Critical Race Theory - July 27 (Showing Up for Racial Justice)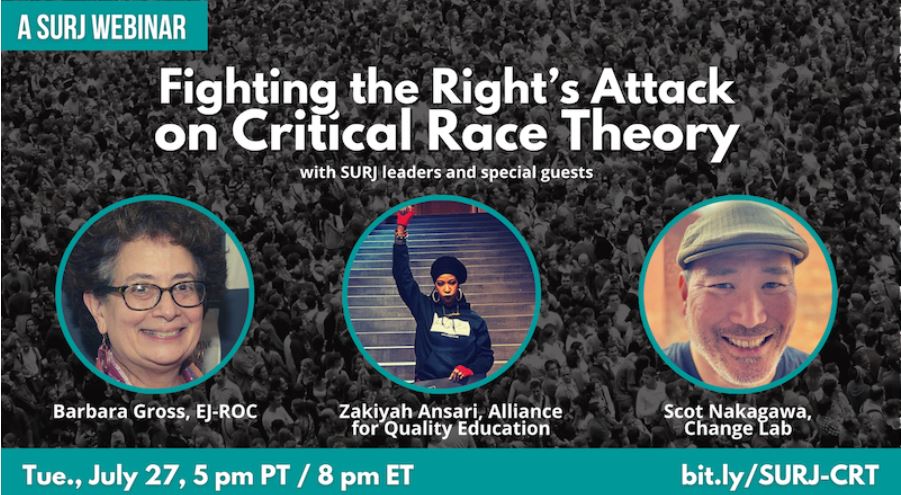 Our movements are strong and we are winning. In response, the Right is expanding racist strategies - and their latest tactic is attacking Critical Race Theory (CRT). With CRT as their latest dog whistle, the Right-wing media is going so far as to blame CRT for a host of things like last summer's Black Lives Matter protests, diversity and equity trainings in companies, and LGBT clubs in schools.
As of today, 26 states have either passed or have pending legislation to ban talking about systemic racism in the classroom. Educators, especially Black educators, are being threatened or fired for teaching about our country's racist history.
The Right is looking to mobilize their base to turn out for the 2022 midterm elections using CRT as a hook. Along the way, they will also develop new leaders and elect new Right-wing, anti-public-school officials to local school boards and state legislators.
In the face of these attacks, education and racial justice organizations such as the African American Policy Forum, The Alliance to Reclaim Our Schools (AROS), BlackLivesMatter in Schools, and SURJ members have been organizing locally and nationally to say no to such flagrant white nationalism, efforts to obscure our country's true history, and building alternatives for racial justice in education.
In this webinar we'll hear from Zakiyah Ansari, Advocacy Director at the Alliance for Quality Education, Barbara Gross from EJ-ROC at the NYU Metro Center, Scot Nakagawa from Change Lab, and SURJ chapter members who are leading fights in their communities.
We'll learn about the Right's strategy with these attacks as well as how we can effectively organize to bring more white people into anti-racism and counter the far right's white nationalist recruitment through organizing for racial justice in education. Let's make it clear that the truth about our history and ongoing systemic racism and white supremacy hurts us all.
The Puerto Rican Socialist Party -- an oral history - July 29 (May First Movement Technology)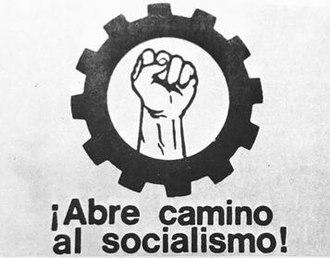 Organizers from the Puerto Rican Socialist Party during the 1970s share experiences relevant to activists today.
During the 1970's the Puerto Rican Socialist Party was the largest and most powerful Puerto Rican revolutionary organization in the U.S. and a major force within the U.S. Left. A recently published book, written by people involved in the PSP then, offers a lesson-filled oral history of the organization and its work. This Need to Know features some of those people.
This is an event every person interested in changing this country should attend. The lessons of that period and that organization are of great value today.
July 29th, 2021 3:00 PM through  4:30 PM EDT
Hiroshima and Nagasaki Never Again! - August 6 and 9 (International Campaign to Abolish Nuclear Weapons)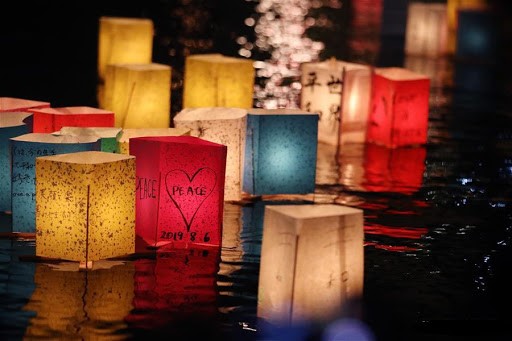 This has been a year (and a half) like no other! Nuclear weapons were worse than worthless in preventing the COVID-19 pandemic, which continues to devastate countries and populations. What we need instead is unprecedented worldwide cooperation to eradicate the virus and prepare for future pandemics. Yet, according to a recent report by the International Campaign to Abolish Nuclear Weapons, in 2020, the nine nuclear-armed states spent $72.6 billion on nuclear weapons, with the U.S. leading the pack at $37.4 billion, or $70,881 per minute! On August 6th and 9th, the 76th anniversaries of the U.S. atomic bombings of Hiroshima and Nagasaki, groups across the country and around the world will remember the victims and demand the abolition of nuclear weapons.