Tidbits - Aug. 19, 2021 - Reader Comments: Afghanistan & Vietnam; COVID-19 and children; Rich Trumka Remembered; Ben & Jerry's and anti-BDS laws; Berlin Wall; Stanley Aronowitz; You Can Help - Haiti Emergency Relief Fund; lots of announcements;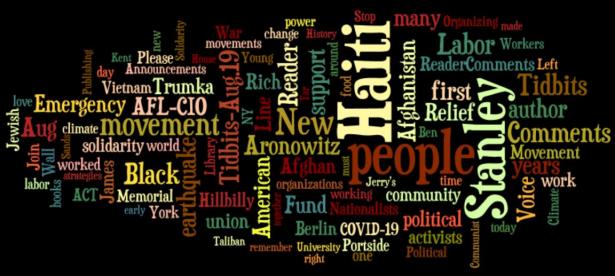 Tidbits - Reader Comments, Resources, Announcements, AND cartoons - Aug. 19, 2021,Portside
Take Action:
Resources: 
Announcements:
It's so frustrating watching the horrific scenes from Kabul and hearing the TV talking heads dutifully babble the official talking points while carefully ignoring the giant mound of elephant dung that's at the center of Afghan reality -- massive corruption. For weeks, pols and pundits have been studiously ignoring reports that Afghan soldiers hadn't been paid in weeks, were out of ammo, and on starvation rations. What happened to the funds for their pay, bullets and bread? Siphoned off into the foreign accounts of the Afghan political elite and military brass.
And where were the arms and ammo paid for by American taxpayers? Sold on the black market to the Taliban by the Afghan colonels and majors and supply sergeants. Today's NY Times had a photograph of armed Taliban sitting in the former Afghan president's office? Can you believe that some of them are referring to the Taliban theocratic thug as the new president, anyone who knows anything about military-grade weapons could see that half of them were carrying American-supplied assault rifles. So too it was in Vietnam 46 years ago when our puppet government in Saigon suddenly collapsed.
My short-term memory these days may be unreliable, but my memories of 'Nam days are crystal clear. For weeks the Vietnamese foot soldiers had seen their supplies and pay disappearing into foreign bank accounts. So they did what sensible soldiers have always done in the face terminal-corruption by their so-called leaders. They stashed civilian clothes and false IDs where they could grab them at a moment's notice so they could disappear into the confusion when the time came.
A lot of them had been working all along with the "Viet Cong enemy" (who they knew from growing up in the same impoverished villages). They passed along weapons and ammo and prepared to open the door when dime dropped. And in return for being allowed to go home unharmed, entire units made deals with the other side to simply hand over their positions and arms when asked to do so. The day after Saigon fell, the alleys were littered with abandoned Army uniforms that enterprising peddlers were soon selling as "war-surplus" clothing in the streetside flea markets. So too, I am sure is the case with the Taliban in Afghanistan.
And underpinning it all was the political and financial corruption of the American military-industrial complex that knowingly enabled staggering corruption by Vietnamese/Afghani elites who signed the authorizations and contracts for those $640 toilet seats, those bridges to nowhere, those hospitals with no beds, doctors, or nurses, those pallet-loads of $100 bills -- and let's not forget the international heroin trade.
In Afghanistan, Military contractors like Halliburton so deeply gouged the American public purse that even some Republicans felt uneasy. Like pigs at the trough, Black Water and Triple Canopy paid mercenaries four times what an Army GI made for doing the same work (and taking the same risks) while billing the Pentagon at eight times a soldier's pay. And so went the American way of modern war, kickbacks, bribes, and black market profiteering.
So softly, softly, tip-toe carefully, carefully, around that mountain of excrement that must never be mentioned, you babbling news bobble- heads.
Bruce Hartford
Afghan War...Profits  --  carton by Dr. James MacLeod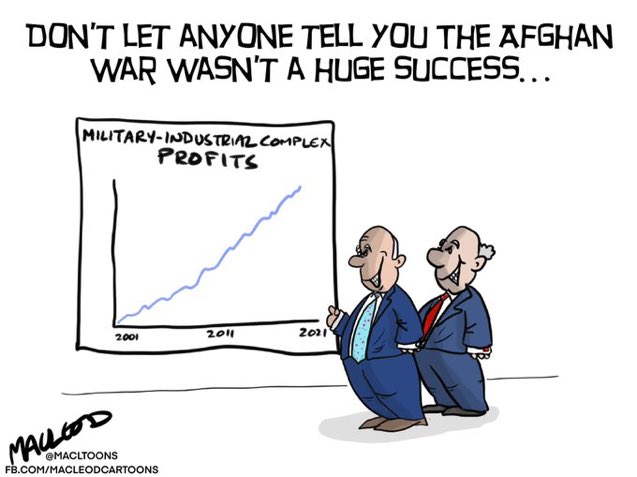 Dr. James MacLeod
August 15, 2021
Dr MacLeodCartoons
Re: Flawed From the Start, Afghan War's Bitter End Was 'Inevitable'
When decisions are made based on taking the resources of another nation, in the end, it will come down to the will of the people, no matter how long that takes, just remember how they manufactured the threat of Iraq and its people, the same with Libyan people, lies ,lies and none of them held responsible, Malcolm X said it years ago, 🤔🤔🤔
Craig Gauthier
Posted on Portside's Facebook page
      =====
We were lied to about all the reasons for this war.  I remember watching Collin Powell, the general, lie to congress and the UN.
Jean Douthwright
Posted on Portside's Facebook page
At the Arms Manufacturers' Club  -- cartoon by Jeff Danziger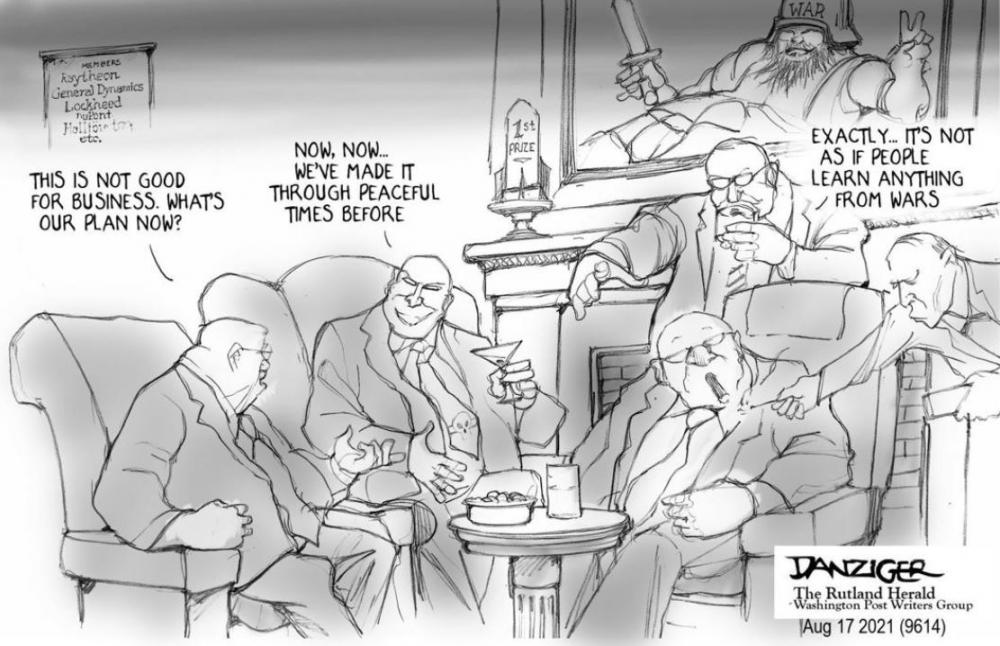 Jeff Danziger
August 17, 2021
The Rutland Herald (Vermont)
Re: Let's Stop Letting Presidents Lie Us Into War
trump and associates tried like hell to get us into Iran...
Neil Alan Bufler
Posted on Portside's Facebook page
      =====
Let's never forget that what we are watching happen right now in Afghanistan is the final act of George W. Bush's 2004 reelection strategy. After 9/11 the Taliban offered to arrest Bin Laden, but Bush turned them down because he wanted to be a "wartime president" to have a "successful presidency."
Michael Dunn
Posted on Portside's Facebook page
Re: Children Hospitalized with COVID-19 in U.S. Hits Record Number
Most of this could have been prevented.
Jerry Neal
Posted on Portside's Facebook page
Re: Vast Stretches of America Are Shrinking. Almost All of Them Voted for Trump.
We love riding through the rural areas and what we see are a lot to Trump signs and towns suffering economically. Trump did nothing for rural America. Without fail the most depressed areas, towns, and households loved Trump and he and Republicans did absolutely nothing to support them. I can't, for the life of me, understand why anyone would vote Republican.
Bill Audette
Posted on Portside's Facebook page
      =====
The problem with this is that it only helps the Republicans.
Kevin Hernandez
Posted on Portside's Facebook page
      =====
If we could pen them up in Texas they can have it as long as they secede and never ask for another handout from the "Blue States". #NeverVoteRepublican
Ralph Stephens
Posted on Portside's Facebook page
      =====
The rural area where I live is depopulating so rapidly schools are closing and some church buildings have apparently just been abandoned.
Don Lawson
Posted on Portside's Facebook page
Re: The Left Gets the Last Laugh Without Cuomo, New York's Progressives Will Be Liberated.
Hope on the horizon for closing down fracked gas in NYS and passing NY Health Act!
Gina Klein
Posted on Portside's Facebook page
Re: Cuomo Leaves, But a Corrupt Political Culture Remains in New York
The structure of state government, with its centralized power and few ethical checks, invites scandal after scandal.
Jose Luis Medina
Posted on Portside's Facebook page
If Elected, I Promise...  -- cartoon by Charles M. Schulz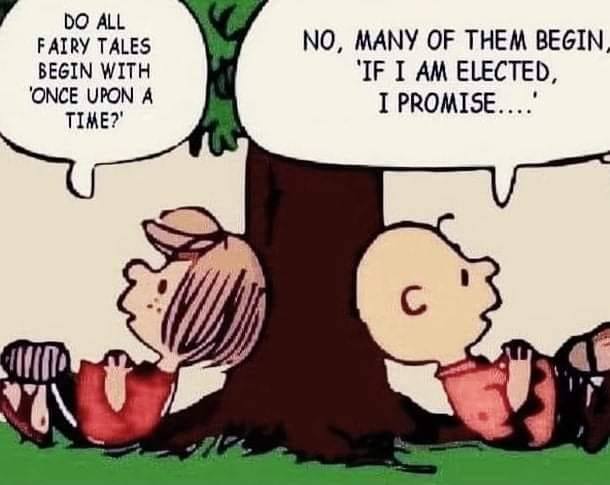 Charles M. Schulz
Peanuts
The DNA of a True Labor Movement Leader: A Day in the Life of AFL-CIO President Rich Trumka
I wrote this last week and it was printed in the On Labor Blog. https://onlabor.org/the-dna-of-a-true-labor-movement-leader-a-day-in-th… When I did a remembrance for former President John Sweeney, who also died this year, On Labor printed it and Portside picked it up, so I thought you might be interested in doing so again this time. (I was Sweeney and Trumka's General Counsel and then Chief of Staff at the AFL-CIO).
Thanks.
Jon Hiatt
      =====
Since the unexpected death of AFL-CIO President Richard Trumka on August 5,  many who knew and worked with Rich have posted tributes focusing on a variety of leadership roles that he took on: in the Western Pennsylvania mines as a young health and safety committee chairman; in the Mineworkers for Democracy's struggle to save that union; in the famous Pittston strike against one of America's most vicious corporate employers; in the international arena where he demonstrated the connections between South African apartheid and the impact on miners around the world; in the first contested AFL-CIO election campaign where, with John Sweeney and Linda Chavez-Thompson, he sought to revitalize the American Labor Movement; in iconic anti-racism speeches he gave on behalf of presidential candidate Barack Obama and in the aftermath of the Michael Brown killing in Ferguson; and in key initiatives he created and implemented while leading the AFL-CIO not only in the Federation's political, legislative, and organizing programs, but also its civil rights, immigration, and community partnership work as the  American labor movement's representative of all working people.
In my experience working with Rich over some 22 years, first as  AFL-CIO General Counsel and then as his Executive Assistant and Chief of Staff, I witnessed the leadership qualities needed to take on all of these critical roles.
And this was indeed fortunate, as it also became apparent just how vitally the labor movement needed such a combination of experience, talents, and leadership skills.
Thus, rather than focusing on any one particular example of his  leadership, I offer the following vignettes, describing a rather typical set of meetings that Rich had over the course of approximately one day, in the early days of his AFL-CIO presidency.
Re: Trumka Dies Leaving the American Labor Movement at a Crossroads
(posting on Portside Labor)
Contains good review of important accomplishments of last decade.  But a portside tribute to him needs at least small component describing Trumka's support and lack of support for them.
Joy Ann Grune
      =====
His death deprived the labor movement of a leader… only if you need a white man. I believe we can look at our current leaders and emerge stronger get, if we dare.
Kay Anderson
Re: The Downward Path We've Trod: Reflections on an Ominous Anniversary
(posting on Portside Labor)
"On January 6, the 'Don't Tread on Me' flag signified something very different from what it had stood for in Eisenhower Park 40 years ago. The contrast has me thinking about the sources and goals of social conflict, the meaning of solidarity, and the terrible toll these past forty years have taken on this country.
A good part of the damage has flowed from what workers lost after the PATCO strike: a robust capacity to come together to engage in effective collective actions to make demands of their employers.  In other words, the ability to strike."
Contradiction, Crisis, Convivium
Posted on Portside's Facebook page
Re: A New App Is Taking Labor Unions Out of Union Organizing
(posting on Portside Labor)
"In July, a group of cell tower technicians who work for an AT&T contractor in the Philadelphia area approached the International Brotherhood of Electrical Workers (IBEW) for help unionizing....The IBEW never responded to the technicians."
What this tells me is that the IBEW has not changed in 20 years. My son tried for an apprenticeship around 2000, aced the written tests... and failed the oral. Oral tests, to join a union?
I personally contacted the international head of IBEW organizing, and was told, in so many words, "oh, my son failed the first time. Tell him to keep trying."
THAT IS NOT A UNION ORGANIZER, that is someone who works in a Renaissance guild, whose purpose was to limit the number of people who could do a certain job. They should be falling over their feet to talk to these people, but they're not.
This is one of the main reasons that unionization in the US has fallen to less than half of it was in the seventies. This is a union that's given in to the bosses. Perhaps that techs should try a different union, or talk to the union that AT&T's union employees (if there are still any) are in.
Mark Roth
      =====
Interesting. It's definitely a good time for change in many workforce practices. Maybe this is the start of it.
Mary Klever
Posted on Portside's Facebook page
Re: Illinois Should Avoid the Ice Cream War
Kudos to Marilyn Katz…her counter arguments, skewering  the absurd contradictions of the Israeli and Illinois legislature's posture on this issue,  definitively cancel this tempest in  a teapot….
Robert Matthews
      =====
"However, beyond right and wrong, beyond free speech and morality, the question that is raised is: Israel, can you have your illegal settlements and your ice cream, too?"
Marilyn Katz: thank you for this piece. Point me to next step please! 
Julie Oppenheimer
Posted on Portside's Facebook page
      =====
First thing I did when Israel threatened them was to buy some Ben and Jerry's ice cream and I hardly ever eat ice cream.
Felice Sage
Posted on Portside's Facebook page
Re: Sixty Years After The Berlin Wall
it is worth clicking and reading the "Sixty Years After The Berlin Wall" an eye opening different view of events.
Kenneth Peterson
      =====
Well as a good Communist my former uncle in law stayed in the DDR to build socialism after his release from Buchenwald. He had to swim over to West Berlin when the Stassi came to his factory to arrest him in the Communist countries' purge of Spanish Civil War veterans in the early 1950s--he had been an adjutant to the commander of one of the International Brigades. When I asked him why he had left he said "Because I was a Communist and they were a bunch of damn bureaucrats." That was a face of the DDR that Grossman ignores.
Stan Nadel
Stanley Aronowitz  Presente! - A remembrance and a tribute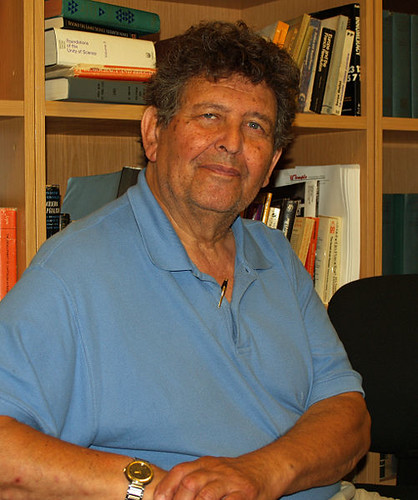 August 17, 2021
Stanley Aronowitz died today at 88.  Here's what I wrote to our union's Delegate Assembly list.  Please read and remember Stanley.
Stanley Aronowitz was a unique individual, a great thinker and a political activist in every cell of his body.  The struggles he engaged in, from his very early years as a physically disabled child, to his labor, tenant, civil rights organizing, to his complicated family life and mmassive friendship and political networks, Stanley was a powerhouse.  His deep belief in the potential of humans to take care of each other, to love each other and to wield power for the many against the control of the few, powered him through countless movements and meetings and books.
Stanley was certainly an intellectual and his 22 solo-authored books (plus several co-authored) and hundreds of articles prove it.  But Stanley's greatest desire was to put those intellectual ideas into action.  Stanley believed in and worked for a "new world", a world of equality, dignity and shared resources.  His was a socialist vision, perhaps a social democratic vision, that he lent to the various movements in each step of his storied life.
I worked most closely with Stanley from 1996 through 2006 as close comrades in the New Caucus of the PSC, both of us serving on a 3-person "convening" body within the early New Caucus movement over a 3-year period.  We worked together, with many others, to bring our fledgling rank and file group to power in the union in 2000 and then worked to keep the union as activist and truly democratic as possible.
He was a strong advocate for mass mobilization and political education, emphasizing the importance of bringing PSC members into political thought and action.  He understood the importance of shared knowledge and experience and the centrality of the rank and file being in control of union policies and efforts.  Stanley did the work as well as talking and writing about politics.  He was a brilliant strategist and tactician and believed deeply in honestly leading with ideas.
In his 2002 bid for Governor under the auspices of the NY State Green Party, his slogan was "Tax and Spend", which was the epithet the right hurled at the left.  Stanley proudly defended that slogan, using the gubernatorial campaign to advance his ideas of what a responsible and responsive government serving the people should do.  Our latest "Tax the Rich" or "revenue" campaign follows in that path but Stanley, in the middle of neoliberal hegemony, made that explicit. 
In conversations with Stanley, someone would reference the tenants movement and he'd say "I helped start that movement"; same with the civil rights movement, the anti-war movement, the labor movement.  One could see that as bragging, which Stanley would be comfortable with.  But it was all true.  Stanley lived his 88 years in constant participation, strategizing on how to advance left politics and power to the people.  His life paralleled the great movements of his time and his relationships were woven tightly into those movements as well.
I don't know the details of his other families, but I do know that he certainly found his soulmate in Ellen Willis, a brilliant feminist thinker and writer, and their totally beloved daughter, Nona Willis-Aronowitz.  He was such a happy man in that sweet little family, in their tiny apartment in Washington Square/ NYU housing.  Ellen's early death was a deep blow to this powerhouse of a man.  I have such a strong memory of Stanley saying that he had to leave meetings by 7:30pm because he had to go home and cook dinner for Ellen and Nona.  I loved that about him.  And I know he loved that too.
Stanley Aronowitz will be remembered by so many people in so many ways.  To me he was a comrade and an organizer.  He was anti-racist and feminist to his core and deeply believed in building a better world.
Stanley Aronowitz, Presente!
With love and solidarity
Nancy Romer
Haiti Struck by 7.2 magnitude Earthquake Please Donate to the Haiti Emergency Relief Fund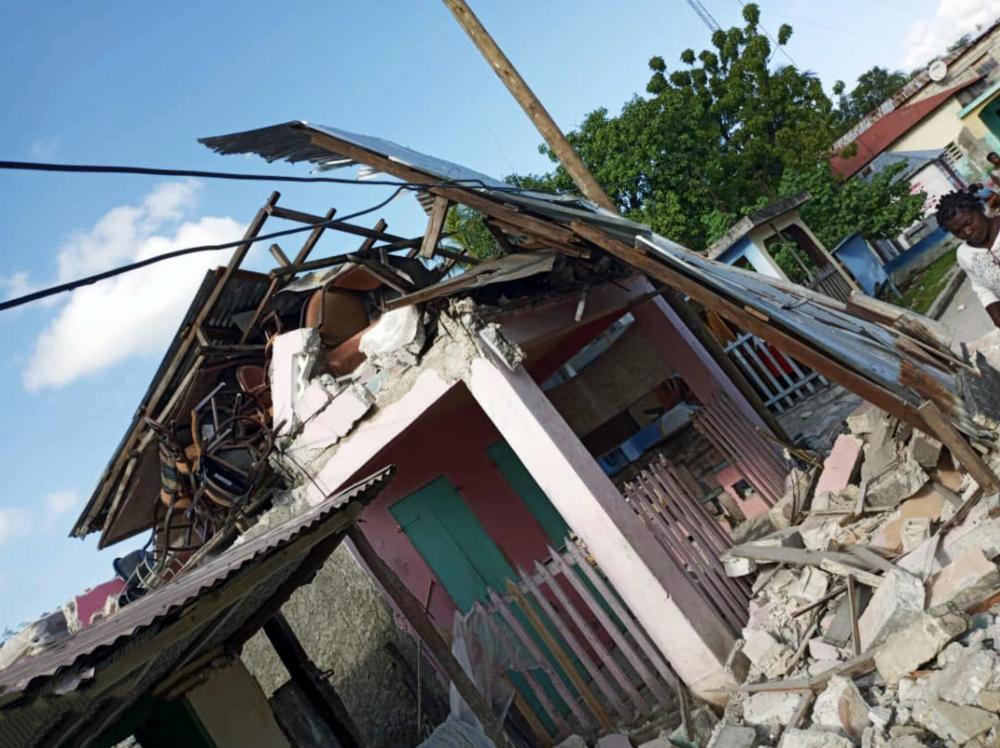 A powerful 7.2 magnitude earthquake struck Haiti Saturday morning (Aug. 14), leaving devastation in its wake. Hundreds of people have been killed, and the terrible counting has just begun.
Centered on Haiti's southern peninsula, the earthquake severely damaged the cities of Les Cayes and Jeremie. Hospitals in the area are overwhelmed. And, to make matters even worse, Tropical Storm Grace is poised to hit Haiti this weekend.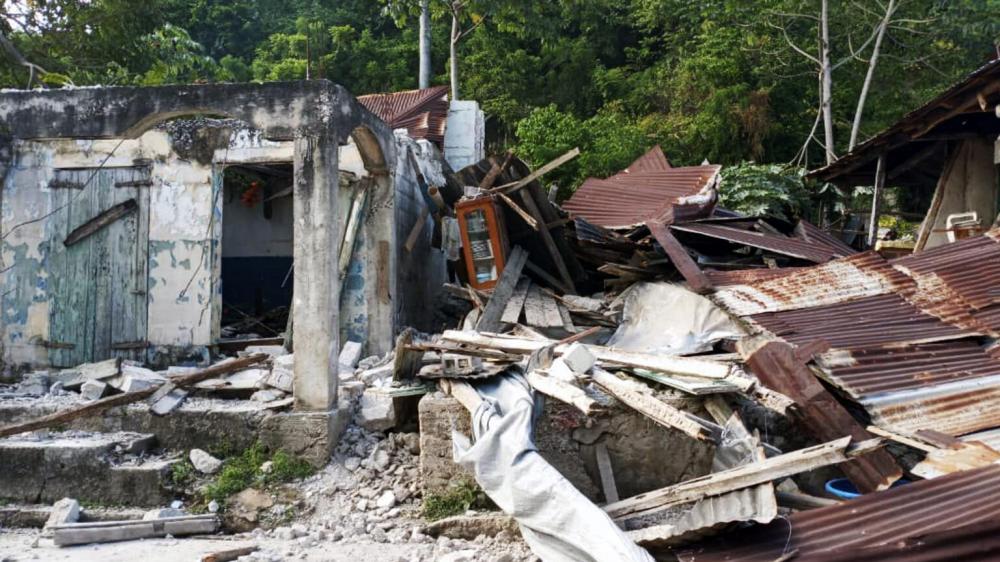 We are reaching out to you today from the Haiti Emergency Relief Fund to ask for your immediate support for earthquake relief. We remember the 7.0 magnitude earthquake of 2010, where 300,000 perished and over 2 million Haitians ended up in tent cities. And we remember the ways in which funds collected by major aid organizations in the name of earthquake relief somehow never made it to those in need.
The Haiti Emergency Relief Fund has no paid staff or overhead. We will send each and every dollar directly to grassroots community organizations on the ground in Haiti. These groups are the ones positioned to provide the most effective support for families and communities impacted by the earthquake. When the 2010 earthquake hit the capital of Port-au-Prince, HERF funded mobile health clinics, women's groups and community organizers who brought relief for thousands of families.
When Hurricane Matthew devastated the southern peninsula in 2016, we supported the work of grassroots activists who organized caravans with health care workers, medicine and food for people in the affected areas. To repeat, each and every dollar raised went directly to Haitian community organizations.
Now, Haitians are mobilizing once again at the grassroots community level, forming work brigades to respond to this new disaster. As they confront this crisis, we ask for your solidarity and support.
Please Donate to the Haiti Emergency Relief Fund
Donate - click here https://www.paypal.com/donate?token=xz307Tx6vwquWs3IWe5iGLj2-ZifoKrccuUS5gkpLwaeFuzRUztm6ppBofNb128pl4TpqI1B_8Xd4TZa
We Thank You!
Haiti Emergency Relief Fund Board of Directors 
Walter Riley, Attorney at Law, Co-Chair
Sister Maureen Duignan, O.S.F., Co-Chair
Seth Donnelly, Educator and Long-Time Haiti Solidarity Activist
Nia Imara, Astronomer and Artist
Pierre Labossiere, Co-Founder, Haiti Action Committee
Marilyn Langlois, Human Rights and Community Advocate
Robert Roth, Educator and Co-Founder, Haiti Action Committee
Haiti Emergency Relief Fund
c/o East Bay Sanctuary Covenant
2362 Bancroft Way
Berkeley, CA 94704
Telephone: 510-595-4650
herf1804@hotmail.com
Haiti Needs Immediate and Generous Support Now (The Movement for Black Lives)

This past weekend, a 7.9-magnitude earthquake hit Haiti, taking the lives of more than 1,200 people and causing serious infrastructure damage and destruction across the country. This is particularly devastating because Haiti is still recovering from the 2010 earthquake that killed more than 200,000 Haitians and left many international onlookers unsure if their donations actually supported the people of Haiti.
See our compiled list of trusted comrades based in Haiti or connected with Haiti through deep roots and integrity. Please prioritize supporting and uplifting these organizations instead of giving to organizations with a track record of harm.
We're three days out from the initial quake, and first responders are racing to rescue survivors as Haiti braces for Tropical Storm Grace, certain to escalate the devastation with flooding and mudslides. As an organization centered around the liberation of Black people, we must come together in solidarity with Black people across the globe and offer our support and love to the Haitian people in their time of need.
The people of Haiti need immediate and generous support now.
Right now, we are witnessing what we have seen many times before: disaster capitalists and proponents of United States imperialism swarming, prioritizing the consolidation of profit and power over the needs of the Haitian people.
People everywhere must show up for Haiti. We have learned from survivors of man-made climate disasters here in the U.S. that we must support the immediate needs of the people devastated by this earthquake and commit to their long-term needs and right to self-determination.
The Haitian people are part of a powerful legacy of resistance, courage, and dedication. We send our love to our people there and call for global Black solidarity. Our thoughts are with all those who lost their lives, all those waiting to be found, and all those who are experiencing the ravages of this devastating earthquake. In a world where white supremacy still reigns and the vestiges of colonialism are palpable, we must come together for our people.
Please consider uplifting and driving funds to our list of vetted and trusted organizations and their life-saving work right now.
Give deeply and generously, and please spread the word to support and amplify this list to your networks.
In solidarity & with love to the Haitian people,
Movement for Black Lives
Treaties Not Tar Sands — Poster of the Week (Center for the Study of Political Graphics)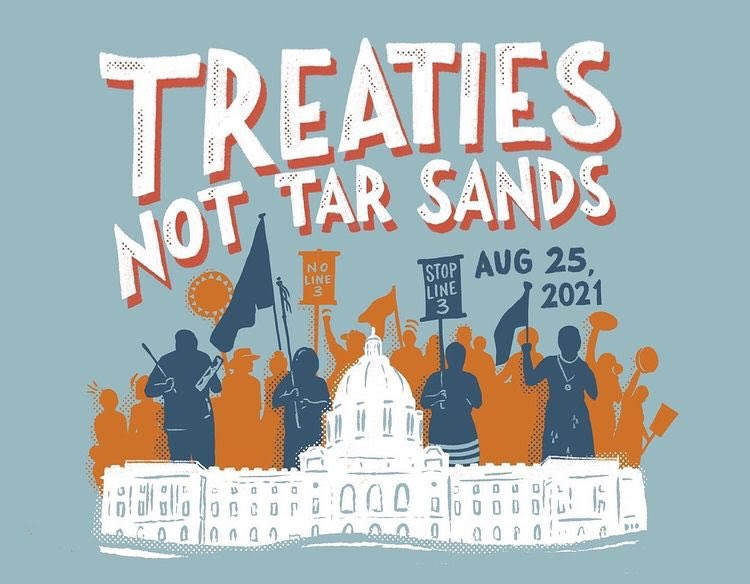 Through ceremony and art, 
in the courts and on the frontlines
This week, six environmental and Indigenous rights activists with the Stop Line 3 activist group, were arrested for blocking a work path for the Line 3 project, a proposed pipeline expansion that seeks to siphon a million barrels of tar sands (a substance used for petroleum materials) daily from Canada through the Midwestern United States. Since 2014, thousands of Stop Line 3 activists have disrupted the construction of the pipeline by organizing locally. To combat this, Enbridge, the Canadian pipeline company responsible for this construction, has spent over $750k for private law enforcement. Over 600 activists have been arrested. 
Stop Line 3 activists intensified their efforts this week in response to the recent Intergovernmental Panel on Climate Change (IPCC) which stated that human effects on the environment have caused irreparable damage to the global climate. Stop Line 3 activists argue that the impact of construction, and the possibility of a spill would permanently damage indigenous peoples' ability to exercise their sovereignty, including their land and water rights. 
On August 25, Resist Line 3 activists working towards environmental equity will hold a protest at the Minnesota State Capitol to call on elected officials to stop construction of the pipeline. 
Sources:
Center for the Study of Political Graphics
3916 Sepulveda Blvd, Suite 103
Culver City, CA 90230
Phone: (310) 397-3100
The Little Red Song Book - first published on this day in 1909 (Labour History and Music)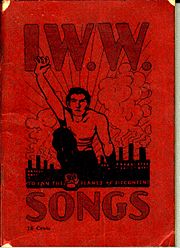 On this day in Labor History the year was 1909.  That was the day that a committee of the Industrial Workers of the World in Spokane, Washington published the first edition of the "Little Red Song Book." - "Songs to Fan the Flames of Discontent." 
Clarence Kailin: American Communist, Interbrigadier and Working Class Hero - August 24 (Morning Star)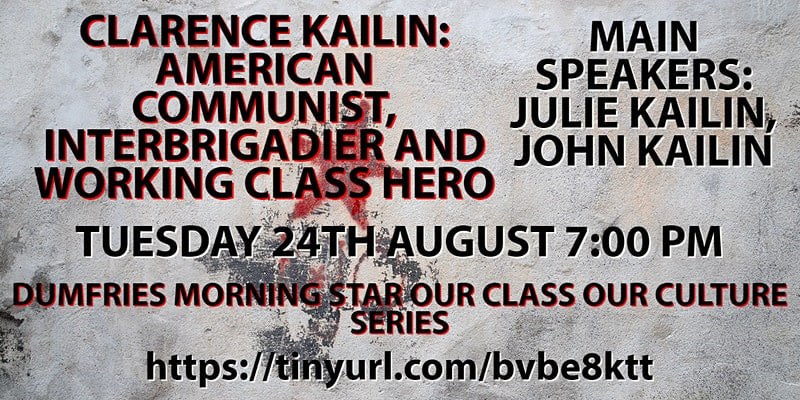 NOTE: Correct time - 7:00 BST (British Summer Time) or 2:00 PM EDT
Register here - https://www.eventbrite.co.uk/e/clarence-kailin-american-communist-interbrigadier-and-working-class-hero-tickets-166674896101
Join activist Rebecca Vilkomerson and author Sarah Schulman discuss movement-building strategies in the ACT UP period and today - August 25 (Jewish Currents and Jewish Voice for Peace)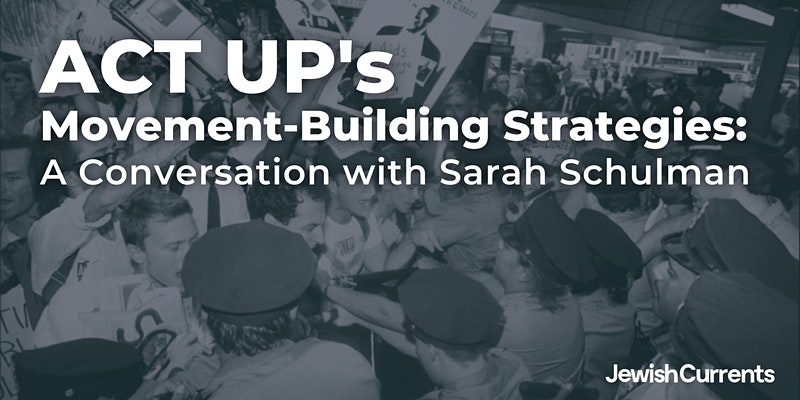 On Wednesday, August 25th, 7 pm Eastern, author Sarah Schulman and Jewish Voice for Peace's Rebecca Vilkomerson will discuss movement-building strategies in the ACT UP period and today.
Sarah Schulman's kaleidoscopic new history of ACT UP, Let the Record Show: A Political History of ACT UP New York, 1987–1993, offers indispensable lessons about what gave ACT UP its power at its height, how other movement lineages contributed to its methods, and how the urgent demands of its political moment shaped its decisions and ultimate split. What can the organization's history teach social movements currently in formation? How do insider/outsider strategies intersect? How is grief used as a political ritual? How do racial dynamics and racism play out in majority-white multiracial movements? Schulman will be joined by Rebecca Vilkomerson, who served for ten years as executive director of Jewish Voice for Peace, to discuss movement-building strategies during the ACT UP years and today.
This event is co-sponsored by Jewish Voice for Peace. Sign up for it here!
Hillbilly Nationalists: The Young Patriots & the Rainbow Coalition - August 27 (Haymarket Books)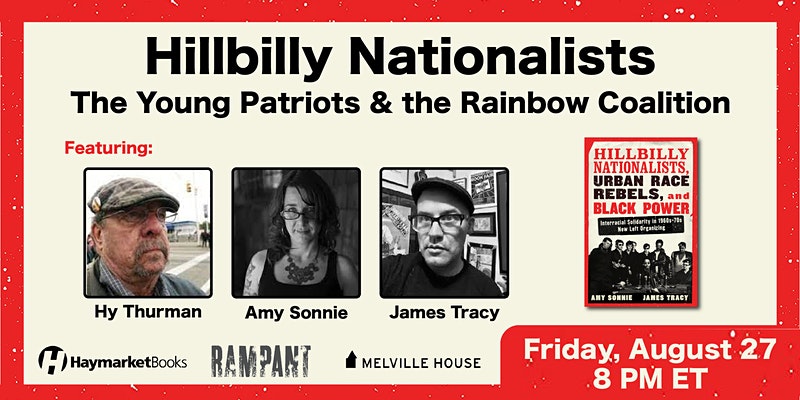 Join Young Patriots co-founder Hy Thurman and Amy Sonnie and James Tracy for a book launch discussion of 'Hillbilly Nationalists'.
In 1969, the Young Patriots Organization (YPO) emerged out of Chicago's Uptown neighborhood to organize poor white people against capitalism and white supremacy. They worked alongside the Black Panther Party for Self-Defense and the Puerto Rican Young Lords in the Original Rainbow Coalitions. The YPO embodied the politics that sought to build multiracial working-class unity while respecting the self-determination and autonomy of their comrades of color.
Join YPO co-founder Hy Thurman, Amy Sonnie and James Tracy, co-authors of Hillbilly Nationalists, Urban Race Rebels and Black Power: Interracial; Solidarity in 1960s-70s New Left Organizing, Expanded Anniversary Edition, (Melville House Publishing) in conversation with Rampant Magazine.
Get the new, expanded Anniversary Edition of Hillbilly Nationalists, Urban Race Rebels and Black Power: Interracial; Solidarity in 1960s-70s New Left Organizing from Melville House Publishing here: https://www.mhpbooks.com/books/hillbilly-nationalists-urban-race-rebels-and-black-power
***Register through Eventbrite to receive a link to the video conference on the day of the event. This event will also be recorded and have live captioning.***
Speakers:
Amy Sonnie is the co-author of Hillbilly Nationalists, Urban Race Rebels and Black Power: Interracial; Solidarity in 1960s-70s New Left Organizing (Melville House Publishing).
James Tracy is co-author of Hillbilly Nationalists, Urban Race Rebels and Black Power: Interracial; Solidarity in 1960s-70s New Left Organizing (Melville House Publishing).
Moderator:
Eric Kerl is a Kentuckian living, working, organizing, and writing in Chicago. He is the author of White Bred: Hillbillies, White Trash, and Rednecks against White Supremacy (forthcoming from Haymarket Books) and is on the editorial collective of Rampant Magazine.
This event is co-sponsored by Rampant Magazine, Melville House Publishing, Howard Zinn Book Fair, and Haymarket Books.
The Future of Climate and Food - September 9 (Kent Memorial Library)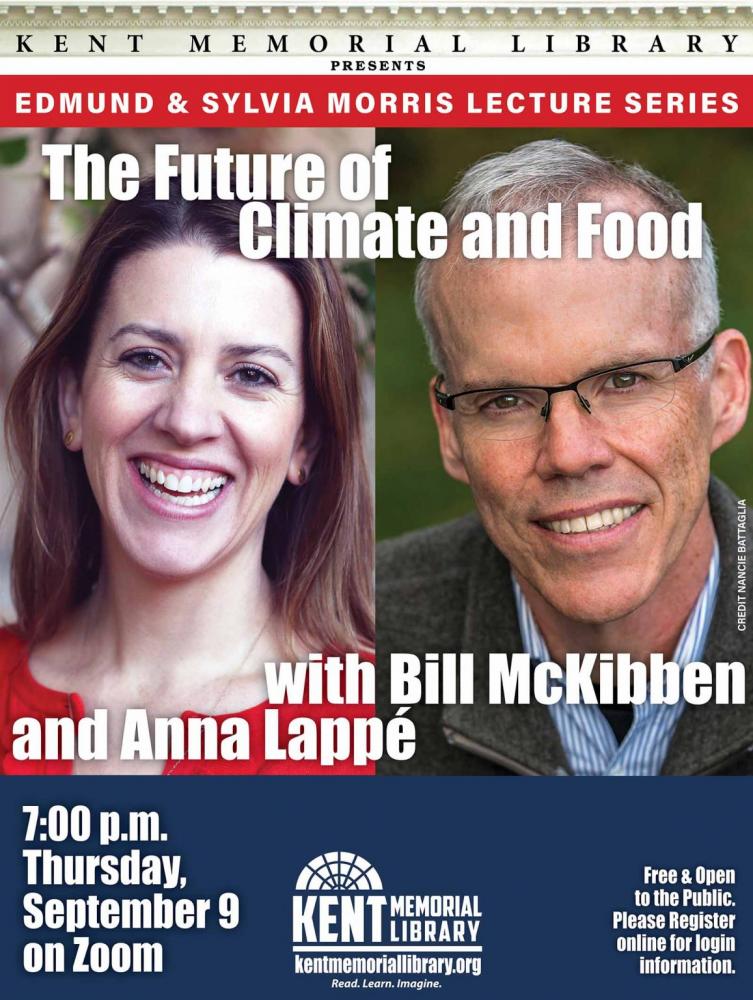 Thursday, September 9th on Zoom
7 p.m. EST
Register Here
In our hotly anticipated third Edmund and Sylvia Morris lecture, national best-selling authors Bill McKibben and Anna Lappé will be discussing an urgent topic with award-winning author and academic Raj Patel: the link between climate change and food production. Join us and learn how you can combat climate anxiety and be better prepared for the future.
Bill McKibben is an author and environmentalist who in 2014 was awarded the Right Livelihood Prize, sometimes called the 'alternative Nobel.' His 1989 book The End of Nature is regarded as the first book for a general audience about climate change, and has appeared in 24 languages; he's gone on to write a dozen more books. He is a founder of 350.org, the first planet-wide, grassroots climate change movement, which has organized twenty thousand rallies around the world in every country save North Korea, spearheaded the resistance to the Keystone Pipeline, and launched the fast-growing fossil fuel divestment movement.
Anna Lappé is a national bestselling author, a renowned advocate for sustainability and justice along the food chain, and an advisor to funders investing in food system transformation. A James Beard Leadership Awardee, Anna is the co-author or author of three books on food, farming, and sustainability and the contributing author to fourteen more. Her most recent book, Diet for a Hot Planet: The Climate Crisis at the End of Your Fork and What You Can Do About It was named by Kirkus as one of the best environmental books of the year.
Raj Patel is an award-winning author, film-maker and academic. He is a Research Professor in the Lyndon B Johnson School of Public Affairs at the University of Texas, Austin and a Senior Research Associate at the Unit for the Humanities at the university currently known as Rhodes University (UHURU), South Africa. He has degrees from the University of Oxford, the London School of Economics and Cornell University, has worked for the World Bank and WTO, and protested against them around the world. Raj co-taught the 2014 Edible Education class at UC Berkeley with Michael Pollan. In 2016 he was recognized with a James Beard Foundation Leadership Award. He has testified about the causes of the global food crisis to the US, UK and EU governments and is a member of the International Panel of Experts on Sustainable Food Systems.
We are proud to present the Edmund and Sylvia Morris Lecture Series here at Kent Memorial Library. Edmund and Sylvia Morris were renowned biographers and accomplished writers. Edmund won a Pulitzer Prize for his first biography of Theodore Roosevelt, and followed it with books on Reagan, Beethoven, and Edison. Sylvia was also an acclaimed biographer, penning works on Edith Roosevelt and Claire Booth Luce. She was a sought after lecturer, too, and gave talks at The Library of Congress, the Chicago Humanities Festival, and the University of Delaware, among others. Both were deep thinking scholars and Library lovers, and when they passed our friends Donna and Ben Rosen reached out with an opportunity – to design and present a speaker series honoring the legacy of these two esteemed members of the literary community, and our community in Kent. Our goal with the Morris Lecture Series is to tackle big issues and start important conversations, and we hope you will be inspired by these events to think about the challenges we all face, as a Town and as a nation.
Kent Memorial Library
32 North Main Street, PO Box 127
Kent, CT 06757
860.927.3761 fax: 860.927.1427
Peoples' Voice Cafe Fall 2021 Season, Starting September 18!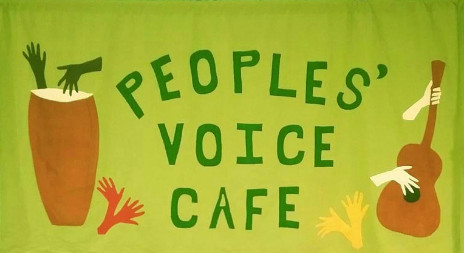 An alternative coffeehouse offering live entertainment in New York City,
from folk music and protest songs to rap, jazz, poetry, storytelling, and dance.
Starting with our Opening Night, September 18, 2021
Welcome Back! Fundraising Concert
NEW LOCATION!!
Judson Memorial Church Assembly Hall
239 Thompson Street
bet. West 3rd & West 4th Streets
New York, NY 10012
Saturday, September 18, 2021, at 8pm:
 
Welcome Back! Fundraising Concert
Pamela Jean Agaloos, Gary David Allard, Fred Arcoleo, Sally Campbell, Bev Grant, Cleo Carol Knopf, Joel Landy, Diane Perry, Gerry Segal, Steve Suffet, and Thelma Ruffin Thomas welcome you back as the Peoples' Voice Cafe resumes our regular program of weekly in-person concerts after an 18-month hiatus. This fundraiser will be our first concert at our new location, the Assembly Hall of Judson Memorial Church at 239 Thompson Street in the heart of Greenwich Village. All proceeds will go to help the Peoples' Voice Cafe cover the costs of relocating from Community Church to Judson Memorial.
Peoples' Voice Cafe
www.peoplesvoicecafe.org   •   Facebook 
239 Thompson Street, NYC 10012  •  Saturdays, September – May  •  8 PM
Suggested contribution $20  •   PVC Subscribers & Sustainers $12  •   Students & Youth $12
More if you choose, less if you can't.  No one turned away for lack of money.
Workers Unite! Festival 10 - Full Season 10 Returns Live Oct 8th-20th

We're Back In NYC October 8th-20th, 2021 
with a Mix of Live and Online Events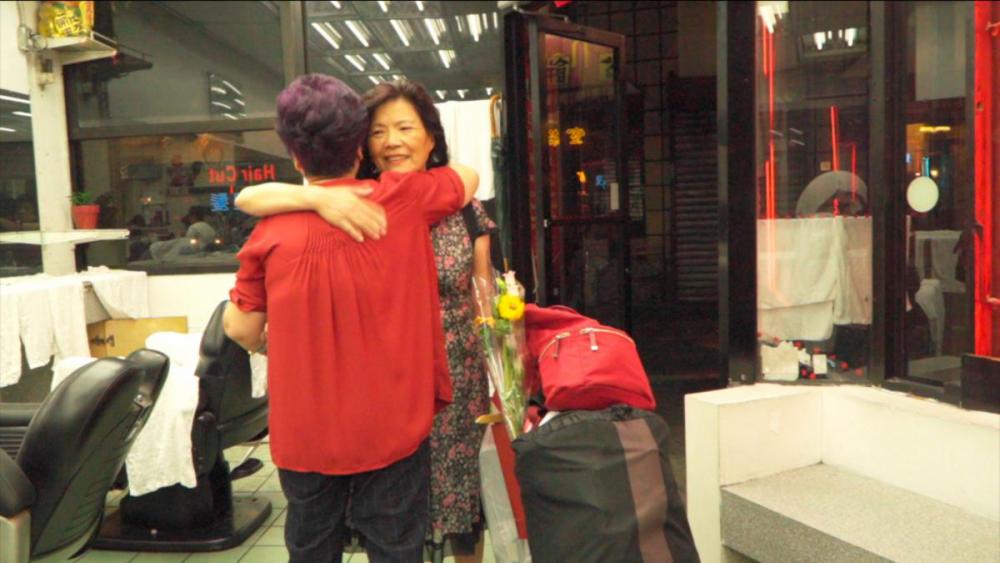 Save the date! Week one 10/8-10/14 will again be held in downtown Manhattan at Cinema Village theater, which is committed to meeting or exceeding all CDC, state, and local COVID-19 regulations
We are jurying the latest film entries now and starting to develop programming. If you have a submission, note that the deadline on FilmFreeway is this Friday, August 20th. Please reach us at melanie@workersuniteff.org with any concerns.
Sponsorships are also still open through mid-September.
All Listings/Viewings at bit.ly/WatchWUFF10
The Workers Unite Film Festival, now in its 10th season, is a celebration of Global Labor Solidarity. The Festival aims to showcase student and professional films from the United States and around the world which publicize and highlight the struggles, successes and daily lives of all workers in their efforts to unite and organize for better living conditions and social justice.
WUFF brings together activists, academics, and filmmakers of all ages and backgrounds for a celebration of social justice and the arts. Through dozens of documentary screenings, community forums, and interactive events across New York City, the festival provides working people with a platform to tell their stories while leading a movement for meaningful change. In recent years, we've incorporated theater production, live music, and poetry/spoken word nights. We are the largest worker solidarity themed film festival in the nation and the only one in NYC, with the full support of NYC Council Speaker Corey Johnson, Comptroller Scott Stringer, NYC Central Labor Council, National & New York State AFL-CIO, IBEW Local 3, PEF, 1199SEIU, The Puffin Foundation, The NY Labor History Association, UA Local 1 Plumbers, UFT, NYSNA, NY District Council of Carpenters, RWDSU, Workers United NY & NJ, and many more.
We are a not-for-profit 501(c)(3) organization.
Contact: andrew@workersuniteff.org
646-455-2225