Tidbits – Nov. 17, 2022 – Reader Comments: Midterms – Right Rebuked, Struggles Continue; Learning From History; Biggest Academic Strike in US History; Lots of Announcements; Cartoons; More…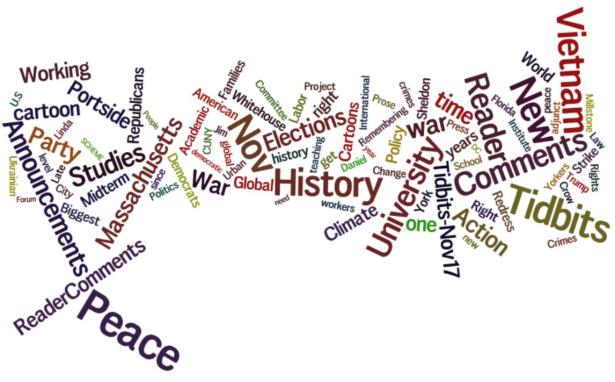 Tidbits - Reader Comments, Announcements AND cartoons - Nov. 17, 2022,Portside
Announcements:
Re: 8 Lessons From the Midterm Elections
 
Via Portside and Jacobin magazine, some takeaways from Tuesday's elections. Query: Why did voters in Kentucky defeat an anti-abortion measure but elect anti-abortion candidates?
Daniel Millstone
Posted on Portside's Facebook page
I'm not a cynic or a pessimist, but what I'm about to write might make me seem like one. We can be happy that the "red wave" did not materialize, but put down that champagne for a moment.
I agree that Trump took a beating, but Trumpism is still a grave danger. Don't think he's not going to get a lot of support when he announces his candidacy for '24. And don't think that his Republican toadies in Congress are suddenly going to cleanse themselves of their anti-democratic behavior.
At this writing it appears that the Republicans will take back the House — with the sleazeball Kevin McCarthy as Speaker. And while the Senate may remain in Democratic hands, by  perhaps one vote, the MAGA Senators and Representatives will still give the administration headaches.
So drink your champagne, then get ready for a lot of work ahead. The authoritarianism that has taken violent forms since crazy-hair entered the Oval Office, is still a force.
The defeat of so many election-deniers was a great start. You see? I'm an optimist.
Seymour Joseph
Too Late for Separation  --  cartoon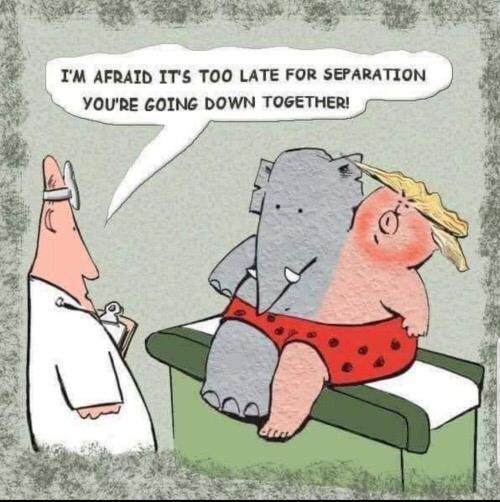 Tom Toles
May 16, 2016
The Week
And...Donald Trump Announces  --  cartoon by Lalo Alcaraz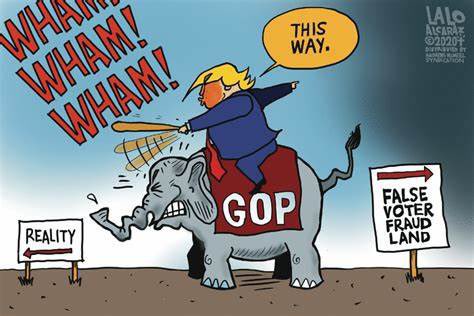 November 16, 2022
Re: How the Working Families Party Helped the Dems Defy Gravity
 
key to understanding the role that the Left could play, if only the Dem leaders did not stand in the way
Paul Buhle
Posted on Portside's Facebook page
      =====
I'm doing this from childhood memory, so I may have some facts wrong:
When I grew up in NY before I could vote (at that time 21 years old), the Republican Party had people like Gov. Rockefeller and Senator Jacob Javitz. The latter also ran in the "Liberal Party." "Republicans" at that time, could easily have been the Democrats of today. I later learned that the difference between those in the two parties, was that Republicans were Conservative about financial issues but they were all equally "liberal" by the standards of the day, on social issues
Yes, we have more left-wing values now, but the Democrats have moved so far right that they moved the Republicans to the far right in order to stay "right" of the Democrats. The Democrats have kept moving Right in order to become seen as more "moderate" which allowed the Republicans to stay to the right of them by becoming the racist, sexist, and every other category of bigot (based on today's values) that they have.
Many of us will have no choice but to support the WFP, or an alternative, to regenerate the country or everything will go DOWN!! The NY Democrats need to stay out of the way or renew their old place in the order of things.
Arlene Halfon
Re: In Massachusetts, Unions Beat Billionaires
 
Progress, hopefully it will spread.
Jack Hines
Posted on Portside's Facebook page
      =====
Elections have consequences and here, via Portside & Jacobin magazine, a report of yet one more excellent one. A broad progressive coalition in Massachusetts has helped voters pass a "tax the rich" (my favorite plan) referendum. 
Daniel Millstone
Posted on Portside's Facebook page
Re: Abortion Rights Measures Win Approval in First Major U.S. Elections Since Roe v. Wade Overturned
 
Woot woot! Thanks, Kentuckians!!
Linda Gillison
Posted on Portside's Facebook pager
Re: Four Years After Florida Voted To Restore Voting Rights for People Convicted of a Felony, an Estimated 1 Million Still Can't Vote in the Midterm Elections
 
If Republicans win the Florida governor and Senate races, here's why.
Peter Dreier
Posted on Portside's Facebook page
Alien Party  --  cartoon by Rob Rogers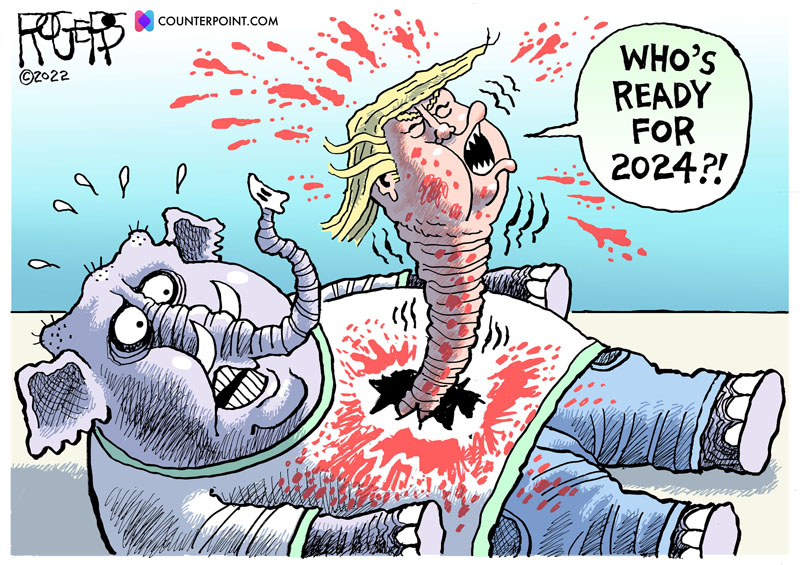 Rob Rogers
November 16, 2022
robrogers.com
Re: Already in a Hole, the Federal Reserve Keeps Digging
 
The biggest story in the USA ought to be that the private banking cabal, that somehow controls our monetary policy free from democratic influence, basically said "workers are doing too good…let's try to cause a recession." This should be something that Americans from every party and background get angry about.
Brandon Mouser
Posted on Portside's Facebook page
Re: History Has Told Us Where This Could Lead
 
"There's another word that describes where this amalgam of tactics leads, one with global historic roots. In his 2004 book "The Anatomy of Fascism," Robert Paxton defines fascism as "political behavior marked by obsessive preoccupation with community decline, humiliation or victimhood… in which a mass based party of committed nationalist militants, working in uneasy collaboration with traditional elites, abandons democratic liberties and pursues (it's repressive anti-democratic goals) with redemptive violence and without ethical or legal restraints."
Van Caldwell
Posted on Portside's Facebook page
The Hammer Attack  --  cartoon by Clay Bennett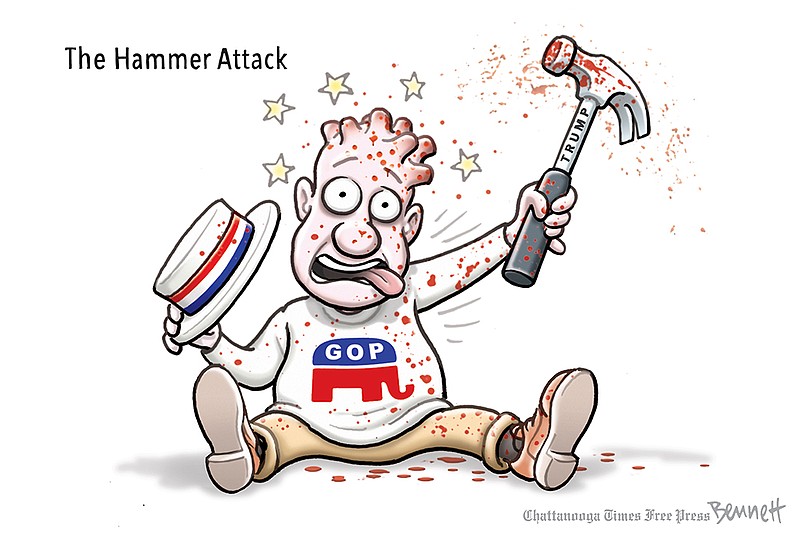 Clay Bennett
November 16, 2022
Chattanooga Times Free Press
Re: Marxists Changed How We Understand History
 
Reading "The Making of the English Working Class" was a revelation for me.
Alan Hart
Posted on Portside's Facebook page
Re: How To Fight Fascism Before It's Too Late
 
Believeable, long but thorough...
The World can no longer afford the Rich.....
Ronald Bosch
Re: Remembering the Veterans Who Marched on DC To Demand Bonuses During the Depression, Only To Be Violently Driven Out by Active-Duty Soldiers
 
Douglas MacArthur was a pig.
Eleanor Roosevelt
Posted on Portside's Facebook page
      =====
Shameful government violence
Linda
      =====
"The Bonus Army March is a forgotten footnote of American history"? Every survey text for college level US history courses that I have ever reviewed in my 30+ years of teaching history at US universities has included the story of the Bonus Army, so I don't know how O'Brien can make this claim.  This history is worth recalling, but claiming that it is a forgotten footnote is unjustified.
Stan Nadel
      =====
This is the March that Dorothy Day wrote about as a journalist before starting the Catholic Worker movement with Peter Maurin in May, 1933.
Michael Harank
Posted on Portside's Facebook page
Re: The Biggest Academic Strike in US History Is Underway at the University of California
 
Decades back I put my teaching career on the line to help get an adjunct teachers'  union started on the University of Alaska Anchorage campus. My fellow adjunct and colleague actually helped to push through a successful contract but the both of us were subsequently blacklisted from further work on that campus. That is, we went from almost full time hours on campus albeit at adjunct prices to no hours at all within a year. Lost contact with that friend but I myself eventually ended up in China a  couple of years later where I actually enjoyed a full time teaching career plus at a number of universities in Beijing. Of course for much of that time, the wages were less than the US but since the cost of living in Beijing was so low, I actually lived an  upper middle class lifestyle in the city as compared to a poverty level lifestyle as an adjunct teacher in Anchorage. Wages did get better after the UAA adjuncts unionized but I myself saw none of the gains and even that effort was squashed in a short time. Anyway, unionization in academia is long overdue as it's about time that most college educated or highly trained workers have a lot more in common with other workers in all fields than they have with the owner/upper managerial class, 
Mike Liston
      =====
"mansions for chancellors, rent burden for workers"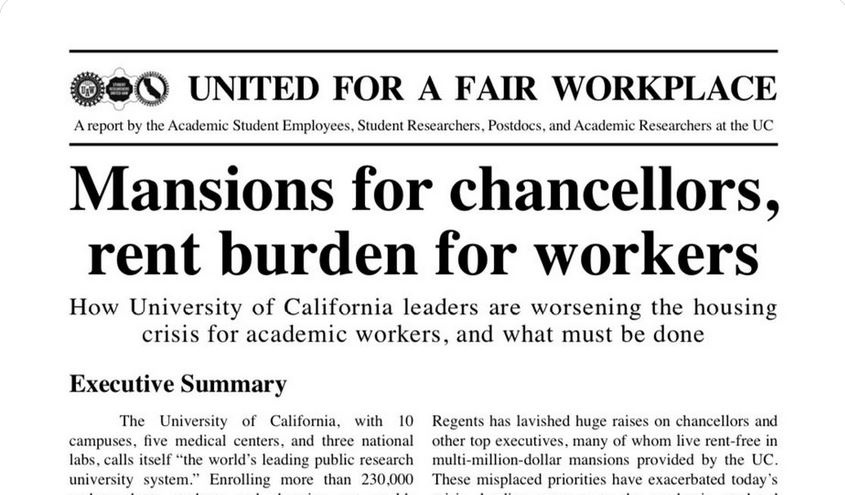 Lauren Ah
Posted on Portside's Facebook page
Sheldon Whitehouse launches THE SCHEME at Politics and Prose - November 19 (The New Press)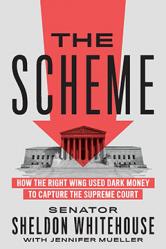 Sheldon Whitehouse launches THE SCHEME at Politics and Prose
November 19, 2022 - 5:00 p.m. ET
Politics & Prose
5015 Connecticut Ave NW,
Washington DC
Senator Sheldon Whitehouse — The Scheme: How the Right Wing Used Dark Money to Capture the Supreme Court — at Conn Ave
The world got a glimpse of this story when the Senator's presentation at the Amy Coney Barrett hearing went viral. Now, full of unique insights and inside stories, The Scheme pulls back the curtain on a powerful and hidden apparatus that has spent years trying to corrupt our politics, control our courts, and degrade our democracy.
Sheldon Whitehouse represents Rhode Island in the U.S. Senate. He has served as his state's United States Attorney and as the state Attorney General, as well as its top business regulator. The author of Captured and The Scheme (both from The New Press), he lives in Newport, Rhode Island.
red and The Scheme (both from The New Press), he lives in Newport, Rhode Island.
Russian and Ukrainian Voices in Dissent - November 20 (Massachusetts Peace Action)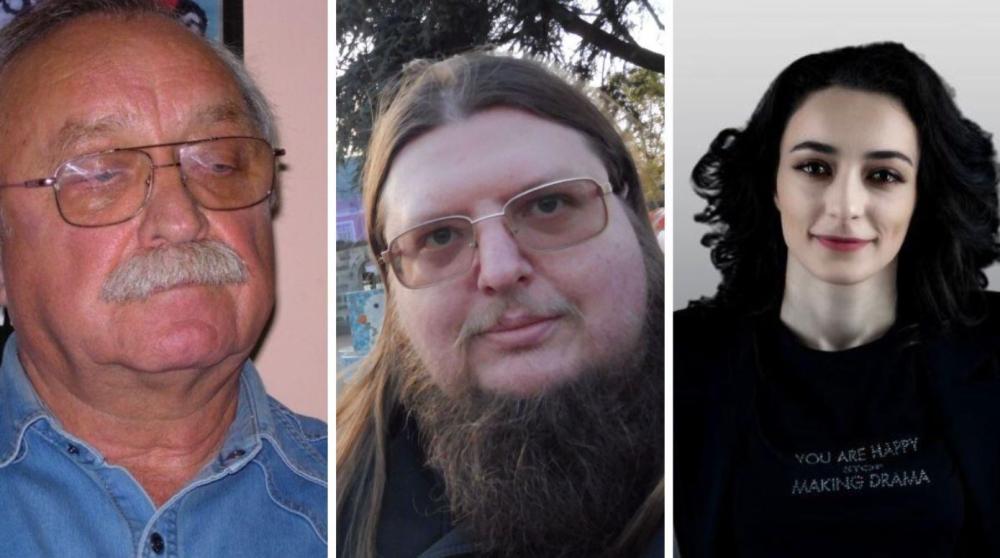 Sunday,  November 20 @ 2:00 pm - 3:00 pm EST
At considerable risk and sacrifice, since the beginning of the Ukraine War, Oleg Bodrov, Aysa Markel and Yurii Sheliazhenko have been speaking in opposition, opposing the war and urging a ceasefire and negotiations.
In this webinar, speaking from St. Petersburg, Kyiv and the Czech Republic, they will share their personal circumstances, their perceptions of the war, opposition to the war, and what will be necessary to stop the killing.
Speakers:
Oleg Bodrov is a physicist, ecologist and Chairman of the Public Council of the Southern Shore of the Gulf of Finland, Russia.  He spoke on nuclear dangers in Boston in May 2019.
Yurii Sheliazhenko is a Ukrainian peace researcher, educator, and activist and executive secretary of the Ukrainian Pacifist Movement.  He has a PhD in Law, Master of Mediation and Conflict Management, and is a laureate of the Sean MacBride Peace Prize of the International Peace Bureau.
Eset Maruket Gagieva is a psychologist and activist currently living in exile from Russia. She has long been active in the fields of human rights, democratic values, peace and non-violence communication seeking more peaceful country through cooperation and cultural exchange.
Initiated by Massachusetts Peace Action, co-sponsored by the Campaign for Peace, Disarmament and Common Security, Peace Action New York State, Coalition for Peace Action, and New Hampshire Peace Action.
11 Garden Street
Cambridge, MA 02138
617-354-2169
info@masspeaceaction.org
Webinar: Crimes of War in Vietnam - Citizens' Responsibility for Confronting and Remembering the Crimes of War - November 20 (Vietnam Peace Commemoration Committee)
7:00 - 8:30 PM Eastern Time, November 20, 2022
Webinar organized by the Vietnam Peace Commemoration Committee
Cosponsored by Brooklyn For Peace, Institute for Policy Studies, Just World Educational and Massachusetts Peace Action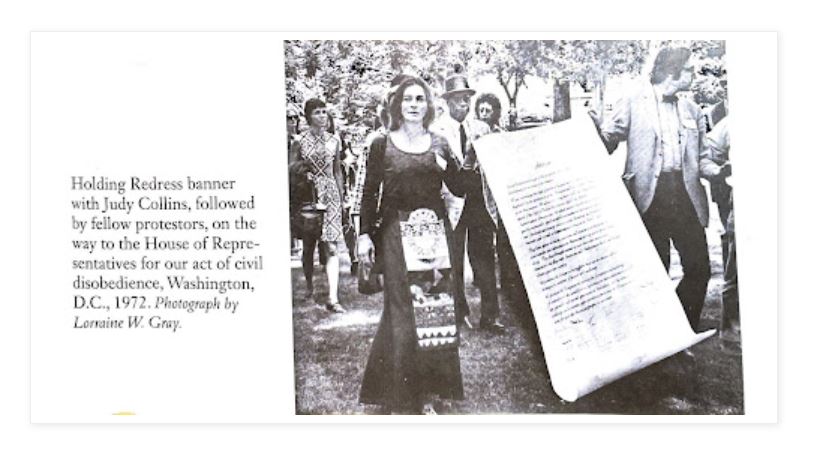 Fifty years ago, 1972, was a critical time in the U.S. peace movement's struggle to end the US war in Indochina. The movement and an increasingly critical media created pressures that led to the signing of the Paris Peace Agreement in January of 1973.  
Richard Nixon had campaigned for re-election on his "secret plan" to end the war, which in reality was to devastate North Vietnam so that Saigon would agree to an American peace treaty with Hanoi.  
The US had been violating laws of war for years by using chemical weapons such as napalm and Agent Orange against civilians and forced relocation of rural populations.  But the Pentagon in 1972 expanded its methods and targets to include mining the Hai Phong harbor and bombing North Vietnam's dikes and dams essential for rice cultivation. The Pentagon's efforts culminated in the Christmas bombing of Hanoi, including Bach Mai, the country's primary teaching hospital. 
Responding to the escalation of military violence, a small group of US academics, lawyers and other activists created "Project Redress" in 1972.  They decided to "petition their government for the redress of grievance" for US war crimes in Vietnam. Hundreds of American academics, writers, lawyers, poets, actors, religious leaders, and intellectuals pledged to come to Washington and to remain in the Capital until their grievance was heard or they were arrested.  
In 2022 while US officials and the media debate holding Russia responsible for war crimes in Ukraine, this webinar offers an opportunity to reflect on the history of our own war crimes that led to the Redress campaign of civil disobedience.  It will consider the responsibility of all people to hold their government accountable for war crimes committed in their name.
Moderator
Prof. Carolyn Rusti Eisenberg, VPCC Board, Professor of US History and American Foreign Policy at Hofstra University. Her new book, Fire and Rain: Nixon, Kissinger and the Wars in Southeast Asia, is being published December 2022 by Oxford University Press.
Panelists
Dr. Robert Jay Lifton, one of the original organizers of Project Redress. Lecturer in Psychiatry at Columbia University, Distinguished Professor Emeritus of Psychiatry and Psychology at the City University of New York    He is holding the right side of the banner in the photo above.
Cora Weiss, Past president of the International Peace Bureau.  Co-founder of the Committee of Liaison with Families of Servicemen Detained in North Vietnam and arrested in conjunction with Project Redress.
Richard Falk, one of the organizers of Project Redress, is Albert G. Milbank Professor Emeritus of International Law at Princeton University; Chair of Global Law, Faculty of Law, at Queen Mary University London; Research Associate the Orfalea Center of Global Studies at the University of California, Santa Barbara
Organizer:  Doug Hostetter  <doughostetter@gmail.com>
Resources:
"Kill Anything That Moves: The Real American War in Vietnam" 

 

by Nick Turse

 
"Nothing Ever Dies: Vietnam and the Memory of War"

 

by Nguyen Thanh Nguyen
#NoMoreCuts Rally to Protect City Services for Working Class New Yorkers - November 22 (New York Working Families Party)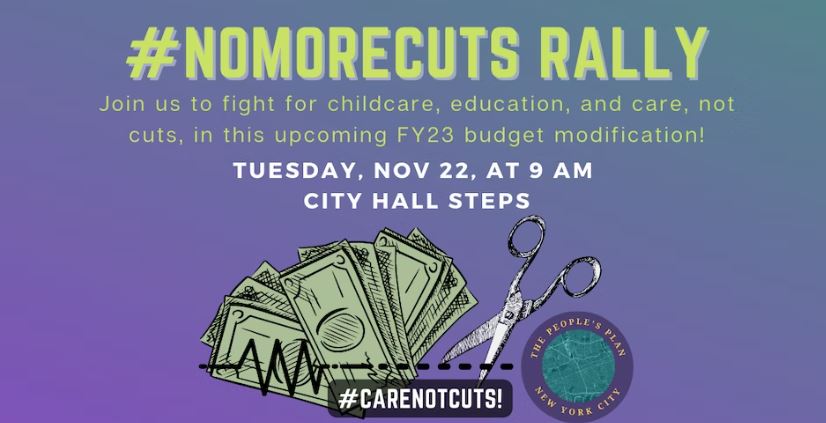 Tuesday, November 22
9 – 10am EST
New York City Hall
New York, NY 10007
Mayor Adams' 2023 fiscal year regressive, punitive, & austere budget proposal is unacceptable at a time when New Yorkers need care & resources the most! Join The People's Plan & allies on Tuesday, November 22, 2022 @ 9 AM to fight FOR care and safety nets and AGAINST Mayor Eric Adams' proposed budget cuts to childcare, education, and core services that will harm working New Yorkers.
THE SOUTH: Jim Crow and its Afterlives - December 7 (CUNY School of Labor and Urban Studies)
THE SOUTH: Jim Crow and its Afterlives
Wednesday, December 7, 2022   
12:00 PM - 1:00 PM  (U.S. Eastern Time)
Virtual-only event via Zoom.
Sponsored by the CUNY School of Labor and Urban Studies, New Labor Forum, and the Reinventing Solidarity podcast.
CUNY School of Labor and Urban Studies
25 West 43rd Street, 19th Floor
New York, NY 10036
(646) 313-8300
Can the World Save the World? Global Governance and Climate Change. - December 14 (Institute for Policy Studies)
December 14 @ 9:00 am - 10:30 am
Virtually everyone on the planet has now been affected by the droughts, fires, and superstorms associated with climate change. The United Nations, the scientific community, and NGOs are all working overtime to reduce carbon emissions and promote a shift to clean energy. But emissions continue to rise.
Do we have the right institutions at the global level to address the problem of climate change? Can existing institutions–the UN Environmental Programme, the UN Framework Convention on Climate Change, the Green Climate Fund, the Major Economies Forum on Energy and Climate, Climate Action Network International–be made more effective? What new institutions do we need, and what are the new approaches at the global level that can mobilize global action and resources to make a real difference before it's too late?
Panelists
Jayati Ghosh is a professor of economics at the University of Massachusetts Amherst and was appointed this year by UN Secretary General Antonio Guterres to a new high-level advisory board on effective multilateralism.
Mary Ann Manahan is a doctoral fellow at the Conflict Research Group at Ghent University. She is a member of the Beyond Development Global Working Group.
Jens Martens is the executive director of the Global Policy Forum Europe and has coordinated the international Civil Society Reflection Group on the 2030 Agenda for Sustainable Development since 2011.
The panel will be moderated by Miriam Lang, a professor for Environmental and Sustainability Studies at the Universidad Andina Simon Bolivar in Ecuador and a member of the Ecosocial Pact of the South
1301 Connecticut Avenue NW
Washington, DC 20036
202-234-9382