Tidbits – Mar. 30, 2023 – Reader Comments: Attack on Public Education; Transgender Phobia; Guns, Schools, Children; Wisconsin; Florida; War in Ukraine; Nuclear Weapons; Travel to Cuba; April 4 – Dr. King's Legacy; Building Socialist Alliances;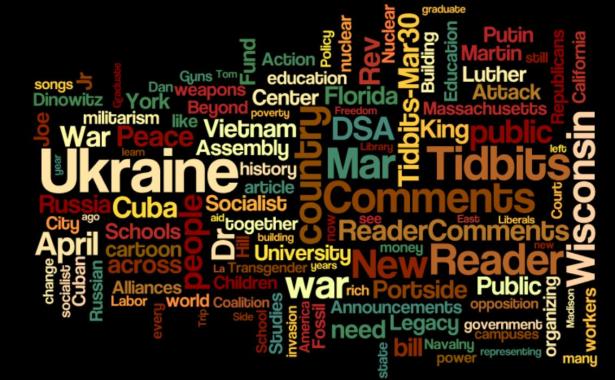 Tidbits - Reader Comments, Resources, Announcements, AND cartoons - Mar. 30, 2023,Portside
War in the Ukraine: 
Resources:
Announcements:
Re: First Graders Not Allowed To Sing 'Controversial' Dolly Parton Song About Acceptance
Ridiculous! We should be protecting our children from being shot instead.
Sherry Bridwell
Posted on Portside's Facebook page
      =====
Are we deliberately trying to raise a generation of assholes ? I guess you're never too young to learn to hate.
David Pearce
Posted on Portside's Facebook page
      =====
Why aren't school boards fighting this insanity instead of proliferating it?
Roberta L. Jennings
Posted on Portside's Facebook page
      =====
Fundamentalists join together to elect their crazies to School Boards cuz they know many people just skip voting for those positions on the ballot
Mikell Ror
Posted on Portside's Facebook page
I Hope We Make It - Only a Few More Weeks of School  --  cartoon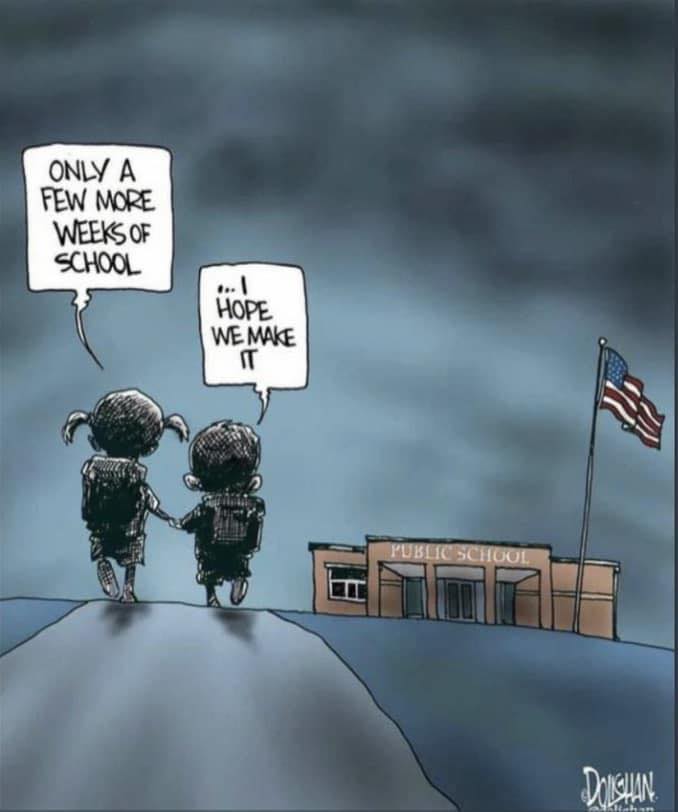 Protect Our Babies  --  cartoon by Nick Anderson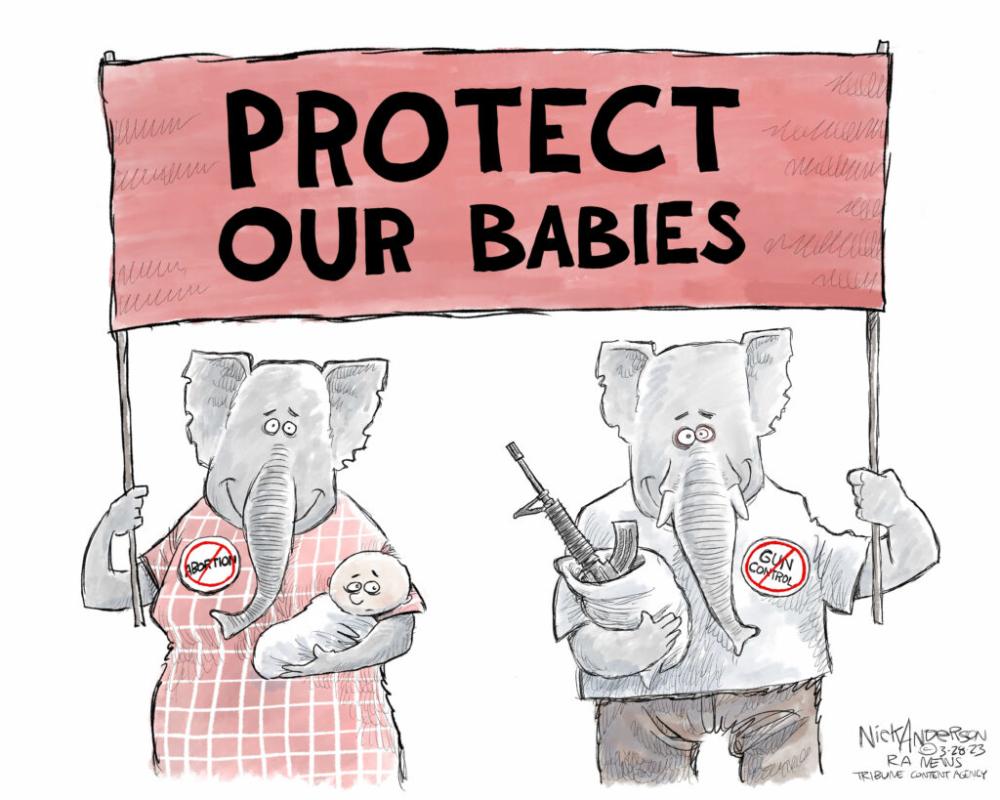 Nick Anderson
March 28, 2023
ReformAustin
Re: America Is in a Disgraced Class of Its Own  
I've liked and circulated Matthew Desmond's article of couple of weeks ago. Perhaps like William Lloyd Garrison of two centuries ago called for abolition of slavery, Desmind calls on you and me to become poverty abolitionists. His is a great call. How do we set the nation on fire in opposition to the poverty capitalism has created and thrives on? Many of us have been toiling in these vineyards, reaping modest gains, taking steps backwards. Do we need people like Desmond and Rev, Barber to call us to action? If course we do. Do we need progressive coalitions to tax the rich? Yes. But, overall, imo, we still lack a strategy for ripping state power from the rich (which I think is essential as we move forward).  Thanks to Portside for making Desmond's essay, occasioned by his new book "Poverty, by America," available to more people. 
Daniel Millstone
Posted on Portside's Facebook page
Re: Why Republicans Abandoned Their Economic Message  
Given that literally every economic study has proven that the country does better financially as a whole and especially the poorest Americans (many of whom are dyed in the wool Republicans) when run by Democrats, it's pretty silly for them to focus on money. The Republicans are the party of the rich, but they need poor folks to vote for them so they go after the social issues that poor Republicans care about knowing that many of them will cut themselves off at the knees financially if it means stopping a social issue they don't agree with.
Robert Laite
Posted on Portside's Facebook page
Re: Election-Denying Donors Pour Millions Into Key Wisconsin Supreme Court Race  
Our elections all go to the highest bidders, and they are always groups of the super rich. This is not democracy it is oligarchy. We need to get money, and millionaires, out of our elections.
E Beth Davis
Posted on Portside's Facebook page
Re: Extreme Chutzpah! Authoritarians Launch Existential Attack on Fla. Unions
(Posting on Portside Labor)  
Florida is a microcosm of what awaits this country if intelligent people remain so focused on wringing their hands over that blithering oaf Trump that they allow DeSantisim to spread unchecked.
Eleanor Roosevelt
Posted on Portside's Facebook page
Re: The GOP's Extreme Bills: Rolling Back Worker Protections, Union Rights
(posting on Portside Labor)  
Their economic model is slavery.
John Frediani
Posted on Portside's Facebook page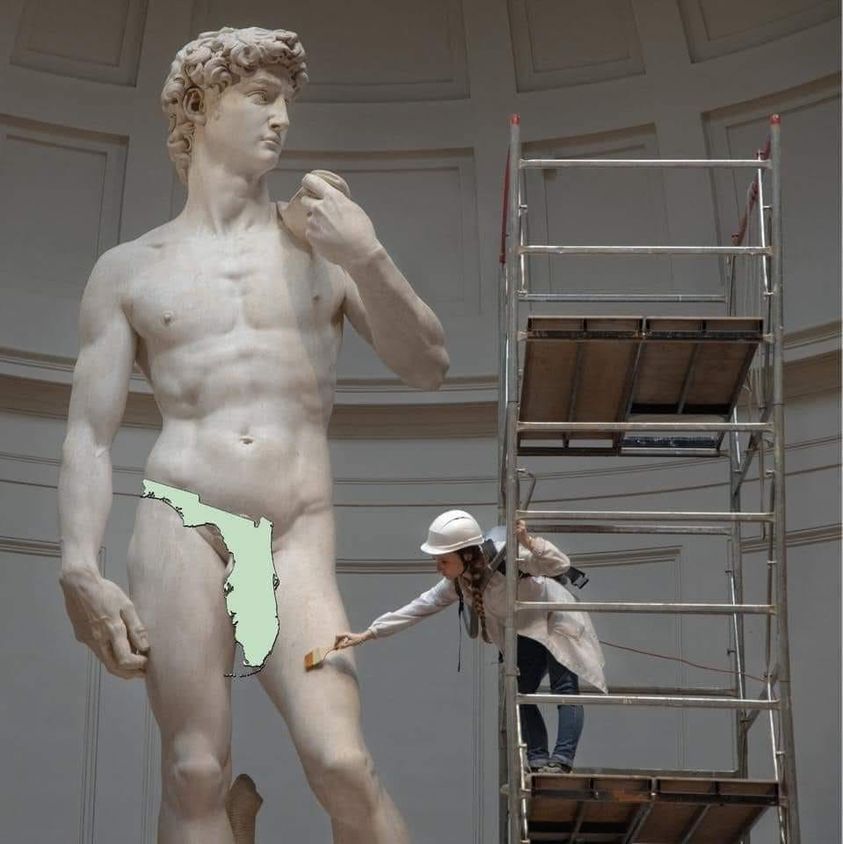 The Other 98%
posted on Facebook
Court Overhaul  --  cartoon by Clay Jones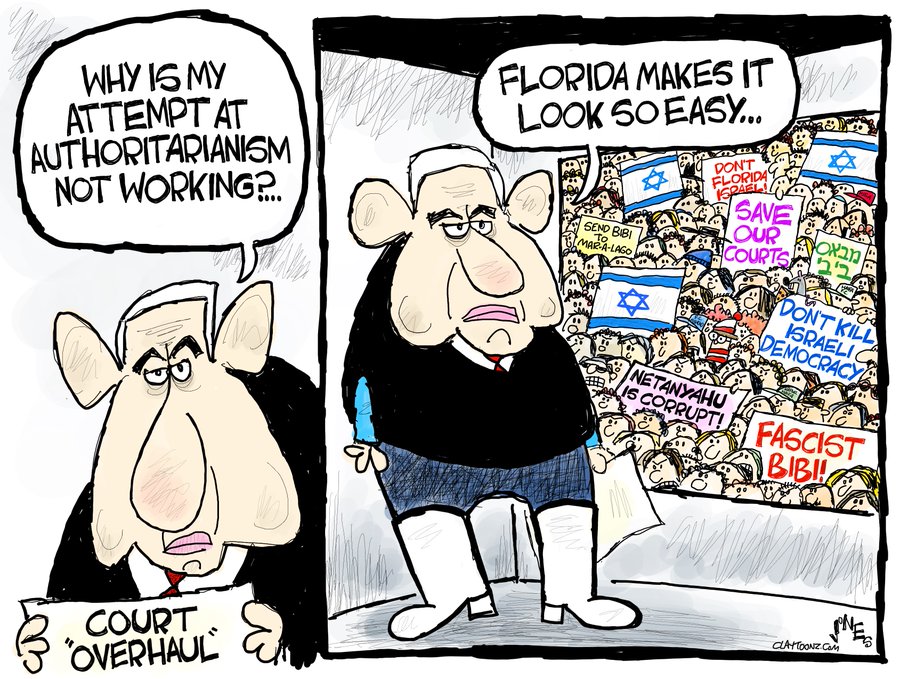 Clay Jones
March 29, 2023
Claytoonz
Re: Putin Opponents and Russian Liberals Celebrate Navalny's Oscar Success
(posting on Portside Culture)  
This article, "Putin Opponents and Russian Liberals Celebrate Navalny's Oscar Success" is published in a known-to-be Russophobic publication.
You should give the other side. This, which is heavily documented:
https://www.thekomisarscoop.com/2023/02/navalny-documentary-nominated-for-march-12th-Oscar-is-disinformation/
Note the link to a film Navalny made where he compares people from the Caucasus to cockroaches and says they should not be smashed with shoes but dealt with by handguns
https://www.youtube.com/watch?v=hT0tCSaWZ9Q
Lucy Komisar
Re: Reject the Left-Right Alliance Against Ukraine  
Since WWII what military adventures by the US have not provoked justifiable opposition in this country? Kazin leaves the opposition to the Vietnam War out of his list. The list is long of US interventions in sovereign nations, especially when the elected government leans to the left.  Is it not right that we should be concerned about the motivations of US involvement here also? 
To me, it's not a which side on you on kind of question, but how do we stop this war that is killing innocent people and destroying a country that provided food to a hungry world.
Putin is an expansionist no doubt - but there were other ways to inhibit the invasion. There were talks and agreements previous to the invasion that were sabotaged by the US. Sovereign Nations? The US has shown no regard for the sovereignty of nations or their right to elect whom they choose.
The history of the elections in Ukraine shows interference from both the US and Russia. It seems to me the fight is between the US and Russia, with Ukraine and especially its people suffering the fate of a country caught in the middle.
Judy Atkins
      =====
Here we go again. There is a greater left-right alliance in favor of the war in Ukraine than the one opposed to it. It makes no sense to criticize those who are against the war from standing alongside rightists, when pro war leftists stand arm in arm with the American Military Industrial Complex. 
Personally, I have no love for Putin and wish the invasion had never happened. But the US fought to stop potential peace negotiations between the warring parties and many have vowed to use this to destroy the Russian military. Okay, but it will also destroy Ukraine. Sigh. Finger pointing aside, can all leftists and progressives come together to get aid to the millions of refugees and the countries that have taken them in? And to build hospitals and schools, both in Ukraine when possible, but in places that are absorbing the refugees? Surely we can agree on humanitarian aid? And of course most Ukrainians are angry over what is happening to their country, in every war, most of the people in a nation rally around their flag and government. Most Americans supported the invasion and destruction of Iraq. I cede no moral high ground to the author of this article. But can we work together on the humanitarian aid that is so desperately need in Ukraine and elsewhere in the world?
Charles Patrick Lynch
Posted on Portside's Facebook page
      =====
Great that you published this article.
Dan La Botz
      =====
This article is hoohey. There's nothing democratic about a government that came into power with a coup bought and  paid for  by the Evil Empire. Russia tried to stay out of this fight but they've been backed into a  corner and there's nothing at all free and independent about a country that is clearly a cannon fodder vassal of the US, 
Mike Liston
      =====
The elephant in the room is China. The beltway strategists aren't afraid of Russia -- even with nukes, its position is unstable and it is ruled by a bunch of crime kingpins with dreams of Czardom, nowhere near China's capabilities and long range vision.
So what is this war all about? Putin wants to respond to NATO encroachment with a war against a weaker, sovereign neighbor. He has enhanced the position of the west as guardian of 'freedom' in ways even the State Dept would never count on. The US is arming Ukraine, but the greater contest is western containment of 'BRICS', or as it is known behind closed doors in every capital, 'C'.  
We should oppose a bellicose US stand against China. We should recognize that NATO is no more about freedom than is any private corporation. But Russia is responsible for this war, and whatever bloodshed it causes, until they withdraw. The devil didn't make them do it.
That's why putting the onus on the US misses the point, and is so unpopular among peace forces. Russia out = peace now.
Ethan Young
      =====
You're like the so-called lefties of Germany who supported their own nation's  imperialists in the WWI era. You're left in form, reactionary in content. Your so-called analysis ignored the pre-Ukraine war, pre-Crimea maneuvers to expand NATO-- and there's no mention of Victoria Nuland and the U.S. role in extra-legal, nondemocratic regime change in Ukraine. What's wrong with including it? IS it the fact that the sources for such info have not been approved by the current U.S. government??
John Woodford
Re: No Country for Nuclear Madmen  
The urgent need: Ceasefire and negotiations! No escalation!
Dan Morgan
Posted on Portside's Facebook page
      =====
The USA has deployed nuclear weapons all over the world. But I don't see you posting a picture of the president. In fact the USA has nuclear weapons deployed on Russia's border but I don't see Russian or Chinese weapons on ours. Let me see who has ever used them ?
Bernard Sampson
Posted on Portside's Facebook page
      =====
Threatening to start a nuclear war is a good way to get yourself killed by your own people
Michael O'Rourke
Posted on Portside's Facebook page
New York Considers First-in-the-Nation Bill to Charge Fossil Fuel Companies for Climate Change Destruction  
By Mariana Simões
March 27, 2023
City Limits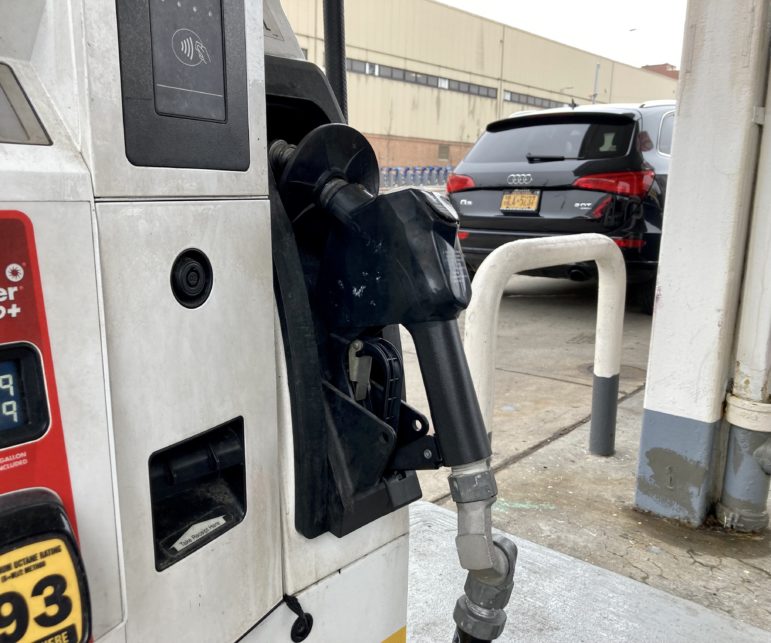 When State Assemblyman Jeffery Dinowitz and Senator Liz Krueger introduced New York's Climate Change Super Fund bill last spring, they had a clear message: it's time to put a price tag on the fossil fuel industry's contribution to climate change.
The bill would require the most prolific oil and gas producers to pay $3 billion dollars a year for the next 25 years for their share of total greenhouse gas emissions.
The money, $75 billion in total, would be poured into infrastructure adaptation projects to protect the state from the effects of global warming. Dinowitz calls the bill a "game changer"—the first in the country to make the fossil fuel industry contribute financially to climate change adaptation and mitigation efforts, a cost that usually falls on taxpayers.
"You do the damage, you gotta fix it," Dinowitz told City Limits. "In addition to raising money [the bill] will create an incentive for these companies to improve their evil ways and really do the right thing."
The bill was included in the Senate's one-house budget proposal, but was left out of the Assembly's own spending proposition. Dinowitz is still hopeful, however, that the bill will move forward and make it into the final budget, due on April 1. Gov. Kathy Hochul's office did not immediately respond to a request for comment about her stance on the legislation.
"The bill is still on the table, we just have to keep fighting for it," Dinowitz said.
Custom Design Your Trip to Cuba with Center for Cuban Studies
Custom Design Your Trip to Cuba -- We design custom trips to fit your schedule, budget, dates AND every need. #cuba #Cuban #cubantrip #triptocuba #Havana #Habana #cubanart #cubanfashion #cubanbuildingstyle #cubanbuilding #vedado #afrocuban
— at Center for Cuban Studies.
Center for Cuban Studies
20 Jay Street
Suite 301
Brooklyn, NY
info@centerforcubanstudies.org
(212) 242-0559
Free Event! Joe Hill - Alive as You and Me - Chicago  April 1 (Illinois Labor History Society)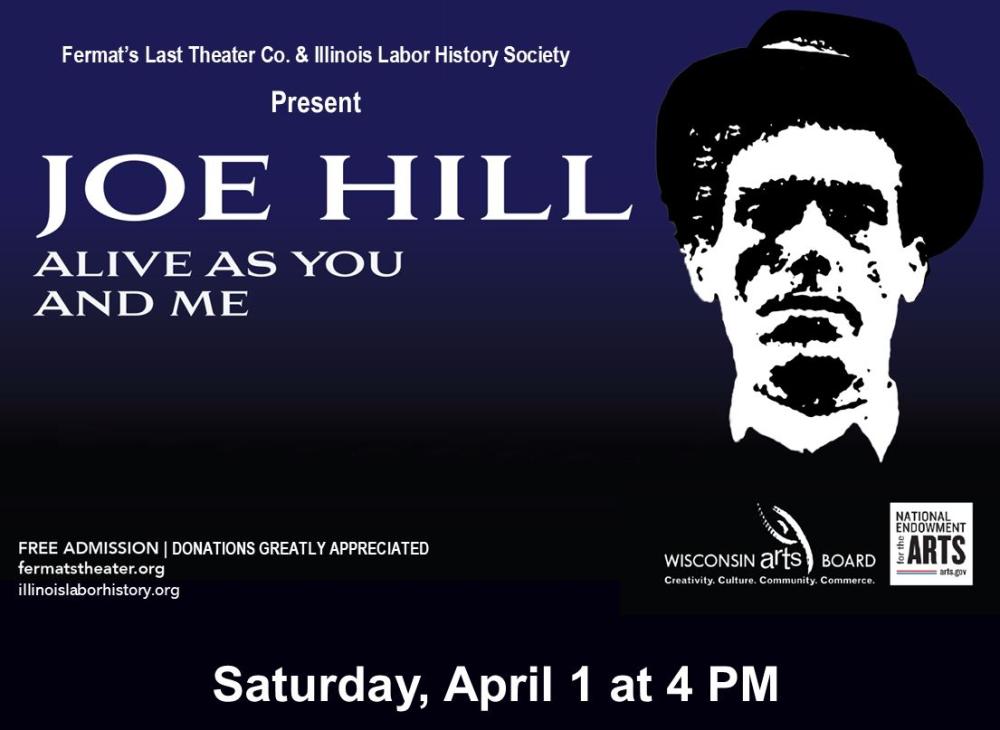 Irish American Heritage Center
McGinty Room (Room 309)
4626 N Knox Ave, Chicago
Saturday, April 1 at 4 PM
This will be a program of songs, stories, and solidarity with Tom Kastle. He brings to life the great labor songwriter, poet, and organizer Joe Hill through songs and a slideshow, followed by Q & A. There will be a bar available in the room for refreshments to honor Joe.
Admission is FREE but there is limited seating.
RSVP here reserve your ticket.
Donations are greatly appreciated.
Tom Kastle is a singer, songwriter, actor, and tall ship sailor who has performed throughout the US, Canada, Europe, and New Zealand. He has been a regular member of the Solidarity Sing Along, in Madison, Wisconsin, where he has sung alongside activist singers like Holly Near, Peggy Seeger, Tom Morello, Jackson Browne, and Masha from Pussy Riot. Tom's most recent recording is "Angels & Nightingales", a collection of original songs based mostly on traditional ballads and fiddle tunes. His stage appearances include Man of La Mancha, Henry IV and God Save Us! with Ed Asner as well as independent films like Francisco Torres' Delight In the Mountain. He recently performed Joe Hill: Alive as You and Me in Madison, Wisconsin and at the University of Ohio in Akron, Ohio.
On November 19, 1915, a man named Joe Hill was shot by firing squad in Salt Lake City, Utah—his crime? Writing songs!
Illinois Labor History Society  
430 S. Michigan Ave, AUD 540
Chicago, Illinois 60605
Beyond Vietnam: Militarism, Racism and Rev. Dr. Martin Luther King Jr.'s Enduring Legacy - April 4 (Massachusetts Peace Action)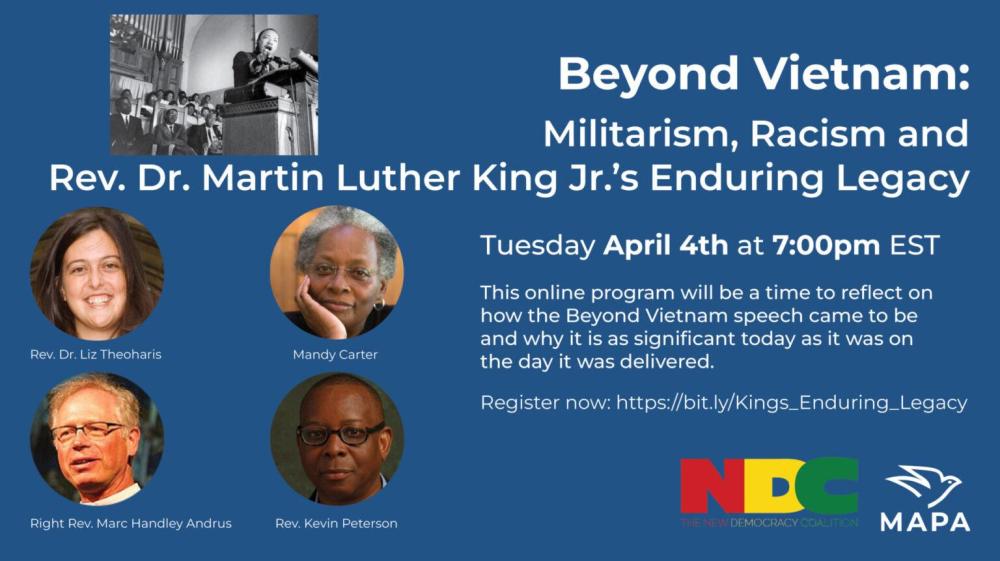 Tuesday, April 4 @ 7:00 pm - 8:00 pm EDT
On April 4, 1967, exactly one year before he was murdered, Rev. Dr. Martin Luther King, Jr. gave an historic sermon at New York's Riverside Church on the profound connection between US militarism abroad with violence, racial repression, and widespread deprivation on the home front.
Over 50 years later, from Ukraine to Uvalde, the crises of militarism, materialism, racism and the prospect of spiritual death that Dr. King warned us about are still very much with us. Not only does this militarism abroad continue to seed violence and poverty at home, it now aggravates the climate crisis and consumes vital resources that could alleviate climate-related suffering.
The New Democracy Coalition (NDC), Massachusetts Peace Action (MAPA), and cosponsors will present a public reading of "Beyond Vietnam: A Time to Break Silence", May 2, with 100 readers, on Boston City Hall Plaza, to bring community focus to the issues of war, militarism and racism.   Sign up to be a reader on May 2 and donate to support the public reading.   We hope you will sign up in both places!
This April 4 online program will be a time to reflect on how the Beyond Vietnam speech came to be and why it is as significant today as it was on the day it was delivered.   Speakers will include:
Rev. Dr. Liz Theoharis, Co-Chair of the Poor People's Campaign: A National Call for Moral Revival, and Director of the Kairos Center for Religions, Rights and Social Justice at Union Theological Seminary
The Right Rev. Marc Handley Andrus, 8th bishop of the  Episcopal Diocese of San Francisco, and author of Brothers in the Beloved Community- the Friendship of Thich Nhat Hanh and Martin Luther King Jr.
Mandy Carter, national coordinator, National Black Justice Coalition; co-founder, Southerners on New Ground; board member, War Resisters League; National Council of Elders.  She was interviewed about the 1983 Women's Peace Walk by C.R. Spicer in the January 2023 issue of the Peace Advocate.
Rev. Kevin Peterson, Founder, New Democracy Coalition
Sponsors:  New Democracy Coalition; Massachusetts Peace Action
Massachusetts Peace Action  
11 Garden Street
Cambridge, MA 02138
617-354-2169
info@masspeaceaction.org
University of California Graduate Employees: How We Organized and Struck - April 11 (East Side Freedom Library)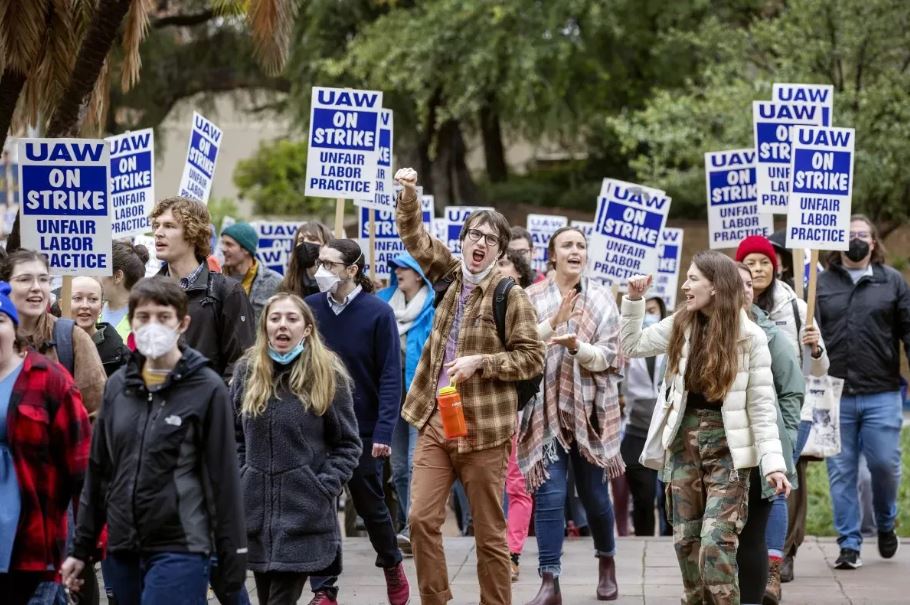 April 11 @ 7:00 pm - 8:30 pm CDT
Join event moderator Professor Ruth Milkman and a panel of academic worker acitivest for this important conversation.
This event will be held on zoom. To register and receive a link to attend click HERE.
On November 14, some 48,000 unionized academic workers across the University of California's 10 campuses went on strike. The workers include teaching assistants, postdoctoral scholars, graduate student researchers, tutors and fellows and they perform much of the teaching and research at the state's premier higher education system. Organized in the United Automobile Workers (UAW) union, they demanded significant pay increases to afford housing in the high-cost areas where most UC campuses are located, child-care subsidies, enhanced healthcare for dependents, longer family leave, public transit passes and lower tuition costs for international scholars. They remained solid for five weeks, with the support of faculty, other university workers, undergraduate students, and unions in the public and private sectors across the country, and they reached a first contract in mid-December.
This was the largest strike in the history of American higher education. Its breadth — across ten campuses from one end of California to the other, across the disciplines from math and science to history and art. This strike was a new chapter in the fifty year struggle over the affordability of public education in California, and it was a new chapter in the upsurge of graduate employee organizing across the country, including the University of Minnesota.
Learn from graduate employees about why they organized, how they organized, how they struck, how their organizing and striking has changed power relationships in their workplaces, and how they envision their future. Explore what their experiences can teach other workers who are organizing now, across the economy and across the country. ESFL will convene a panel drawn from diverse disciplines and different campuses, moderated by Ruth Milkman, labor scholar-activist and Distinguished Professor of Sociology at the City University of New York's Graduate Center and Director of Research at the School of Labor and Urban Studies.
contact info@eastsidefreedomlibrary.org and 651-207-4926 with questions
THIS EVENT IS FREE AND OPEN TO ALL
East Side Freedom Library  
1105 Greenbrier Street
St. Paul, MN 55106
How We Win - Harnessing Collective Power: Building Socialist Alliances for Policy Wins webinar - April 12 (DSA Fund)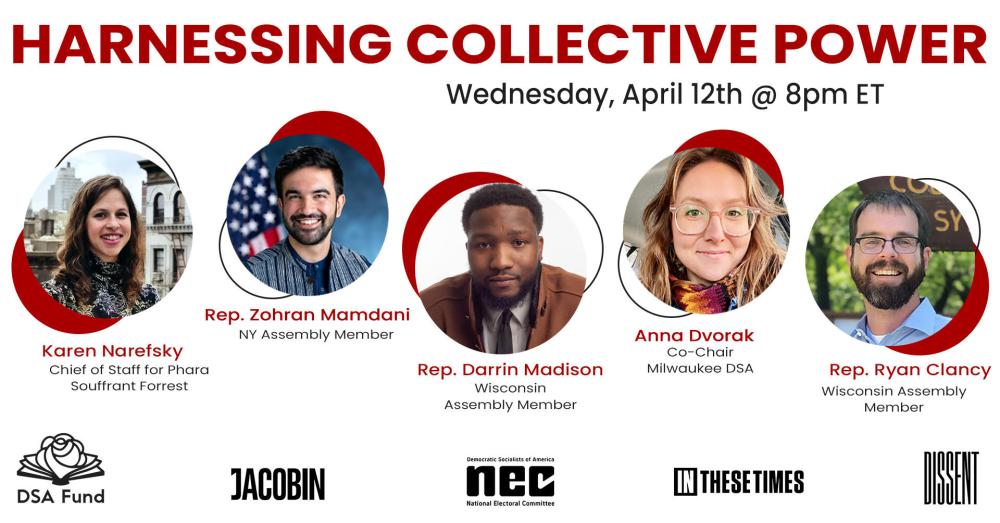 All-star DSA organizers in and outside the legislatures talking about how comrades work together with Socialist in Office formations in Wisconsin and New York. Both were hubs of US socialism 100 years ago and are coming back in the 21st century!
You'll have the opportunity to learn from an all-star panel of seasoned organizers and public officials. Discover their unique perspectives on navigating the complex world of policy change and coalition building to advance socialist goals.
Meet Our Inspiring Panelists:
Karen Narefsky: A 10-year DSA member and housing/community organizer, currently serving as Chief of Staff for Assemblymember Phara Souffrant Forrest.
Assembly Member Zohran Kwame Mamdani: A trailblazer in the NYS Assembly, representing Astoria and Long Island City, with a background in foreclosure prevention housing counseling.
Assembly Member Darrin Madison Jr.: A passionate activist representing Wisconsin's 10th Assembly District, with a history of working for youth jobs, public safety, sexual health, and environmental justice.
Anna Dvorak: A seasoned organizer in Wisconsin, currently building a mass movement for socialism as Co-Chair of Milwaukee DSA and organizing education workers for strong public schools.
Assembly Member Ryan Clancy: A dedicated socialist representing Wisconsin's 19th state assembly district, with a history of activism in the Peace Corps, disaster relief organizations, and Milwaukee Public Schools.
These incredible individuals will discuss the challenges they've faced, the strategies they've employed, and the importance of building strong coalitions to advance socialist goals.
By joining us, you'll gain:
An deeper understanding of the panelists' work and achievements
Valuable insights into the world of socialist organizing and policymaking
The opportunity to ask questions and learn from their experiences
Reserve your spot now by clicking here: RSVP for April 12 (8pm EDT)  Webinar
We can't wait to see you there and witness the power of collective action together!
DSA Fund is a non-profit 501(c)3 organization dedicated to political education and engagement. All donations are 100% tax-deductible to the full extent of the law and contribute to the DSA Fund general fund. DSA Fund does not participate or intervene in any political campaigns on behalf of or in opposition to any candidate for public office.