Tidbits – Nov. 9, 2023 – Reader Comments: Ceasefire, Humanitarian Pause, Stop Bombing, Free Hostages; Stop Ethnic Cleansing; Israeli Apartheid; Labor Victories This Year; New Film – ISRAELISM Documentary; Building Progressive Political Power;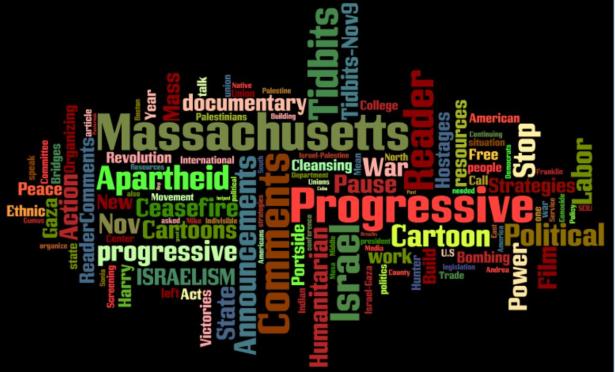 Tidbits - Reader Comments, Resources, Announcements, AND cartoons - Nov. 9, 2023,Portside
Announcements:
Strategies to Build Progressive Political Power - Online - December 2  (Massachusetts Progressive Action Organizing Committee (Our Revolution Massachusetts, Progressive Massachusetts, Progressive Democrats of America, Massachusetts Peace Action, and North American Indian Center of Boston) and by Act on Mass, Indivisible Mass, and Franklin County Continuing the Political Revolution)
Humanitarian Pause  --  Cartoon by Rob Rogers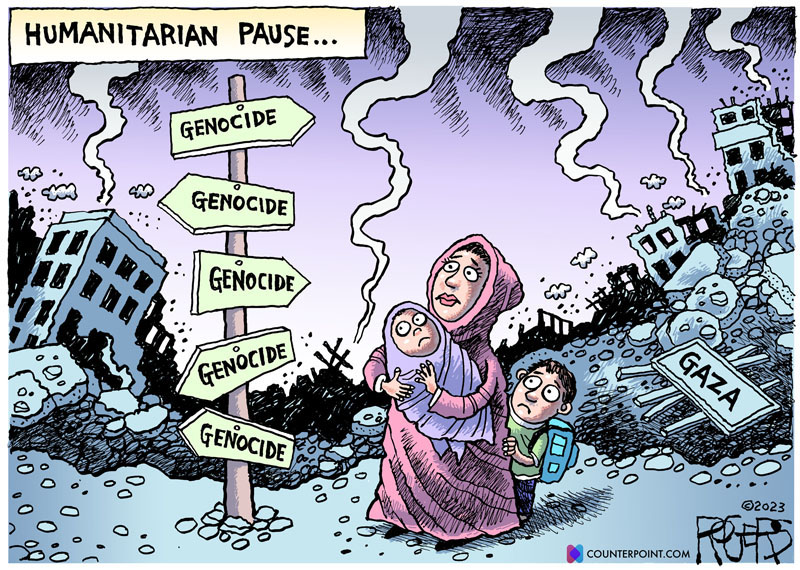 Rob Rogers
November 6, 2023
robrogers.com
No More Terrorists  --  Cartoon by Nick Anderson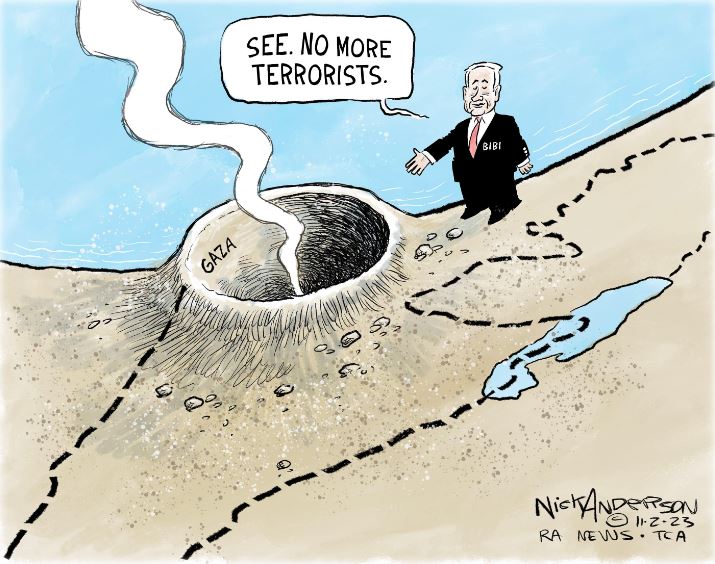 Nick Anderson
November 1, 2023
Pen Strokes
Re: What Does It Mean To Call Israel an Apartheid State?  
your great article doesn't mention Jimmy Carter's book on Israel and Apartheid
good to let people know that this is not just a term of the left
Thank you for your work
Steven Goldsmith, President, Torrance Refinery Action Alliance
      =====
Brava, Ellen! Lucid and perfectly delineated.
Judith Pasternak
      =====
Ta Nehisi Coates visited Palestine. He says before he went the most common words he heard to describe the situation of the Palestinians was "complex" or "complicated." The history is complicated and worth understanding. But the conditions now are not. It's very simple to him, and familiar.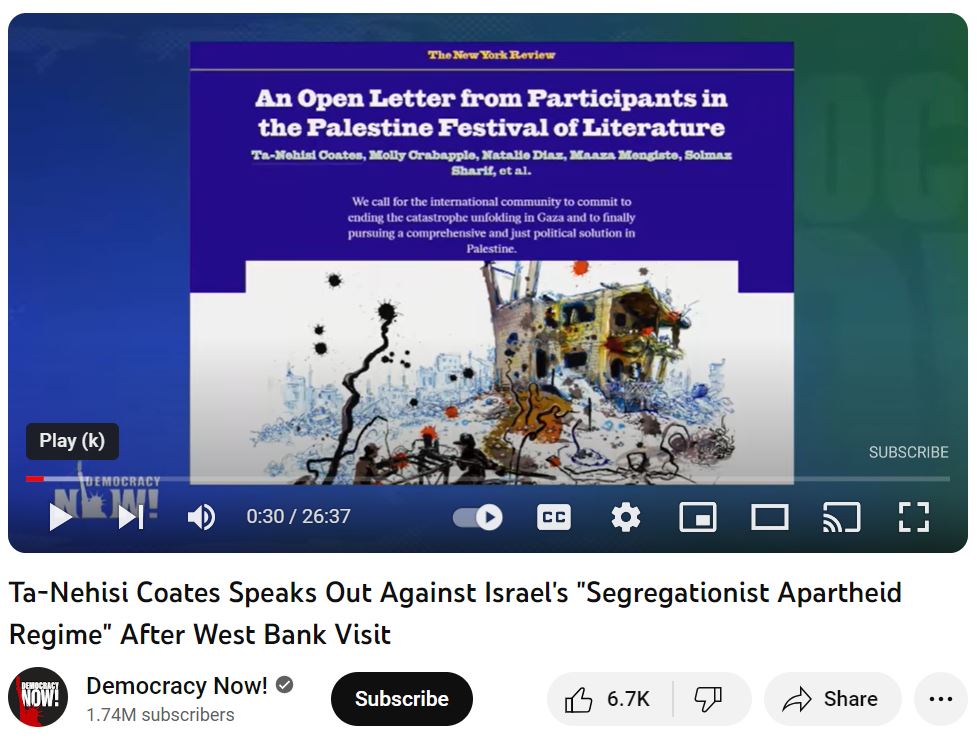 Sonia Cobbins
Posted on Portside's Facebook page
      =====
From what I understand, the Israel-Palestine situation meets the International definition of "Apartheid" but it also meets the International definition of "Genocide."
Apartheid is best known for South Africa; people were separated by demographics but they were kept alive because they were needed to work for the White South Africans.
The Israel-Palestine situation is closer to that of the now US and Native Americans. The Native Americans were occupied by people from a foreign country, were driven into smaller and smaller spaces and those who wouldn't move were murdered. They weren't needed for their labor and so didn't have to be kept alive: In the case of Native Americans, they had a steady stream of new immigrants arriving who could be used for the dirty work. When they fought back, they were called "savages" and "barbarian" and it was also demonstrated in our old Cowboy and Indian movies.
In the case of Israel, the "foreigners" who arrived first were "Ashkenazi" and from Europe, mostly Eastern Europe. They had the "Sephardi" and "Mizrachi" Jews arriving from Asian and African countries, to do the dirty work. In both cases, the goal was "genocide". The present situation demonstrates what the goal always was.
Arlene Halfon
A Simple Solution  --  Cartoon by Mike Luckovich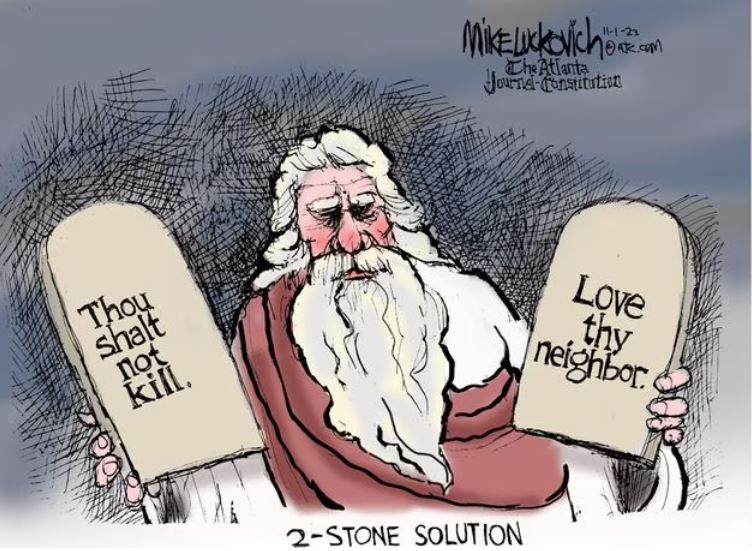 Mike Luckovich
November 1, 2023
Atlanta Journal-Constitution
Re: When 'Never Again' Becomes A War Cry  
I want to thank the authors for this excellent article. I myself have written and spoken along similar lines about what is happening.
I want to add an additional insight. It is not just Israel that calls its victims Nazis in order to make war on them and attempt to destroy them as people and as a nation. Russia has been doing this in relation to Ukraine for many years, and some parts of the US left have bought into their narrative on this.
Sam Friedman
Re: Past Lies About War in the Middle East Are Getting in the Way of the Truth Today  
Very good article! Yay Zeynep
Lawrence Blum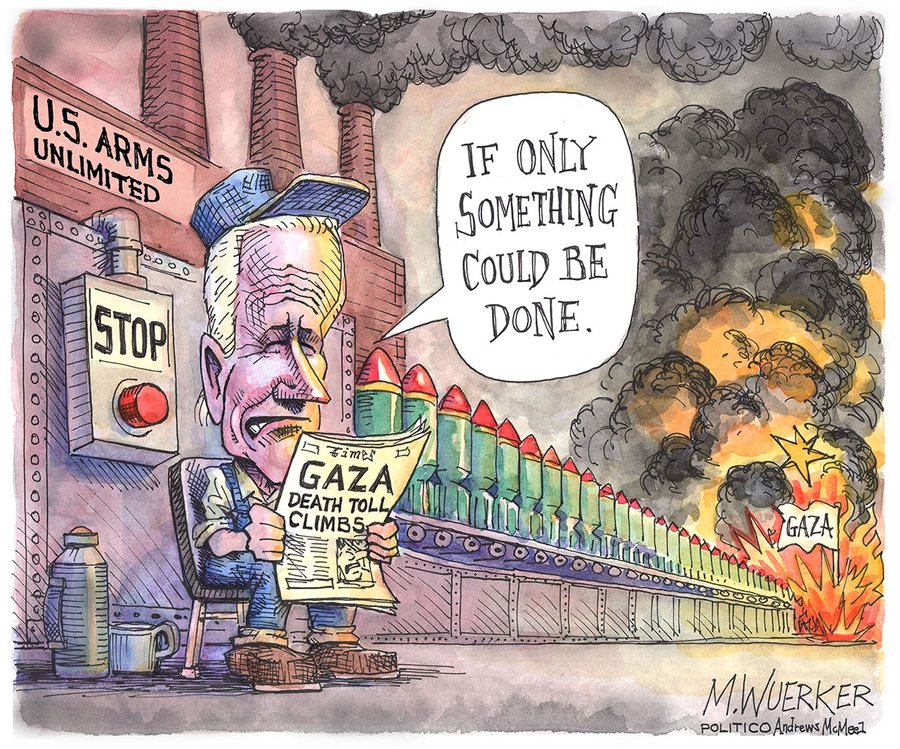 Matt Wuerker
November 7, 2023
Politico
Re: Despite Intimidation, Union Voices Get Louder for Ceasefire in Gaza
(posting on Portside Labor)  
Pacific Media Workers Guild, CWA Local 39521, was one of the first unions to support the Labor Call for Sanctions.  Sorry the article on labor and Gaza didn't mention us, especially because we're a media union, the NewsGuild local for Northern California and Hawaii.  We also got our national union to debate it.
David Bacon
Re: U.S. Diplomats Slam Israel Policy in Leaked Memo  
"State Department staffers offered a blistering critique of the Biden administration's handling of the Israel-Hamas war in a dissent memo obtained by POLITICO, arguing that, among other things, the U.S. should be willing to publicly criticize the Israelis."
Thanks for this.  I'm curious though, why are you calling it the Israel-Hamas war instead of the Israel-Palestine war.  That language plays right into Israel's hands.
In solidarity,
Andrea Jones Klein
Re: The Invisible Slaughter of Palestinian Children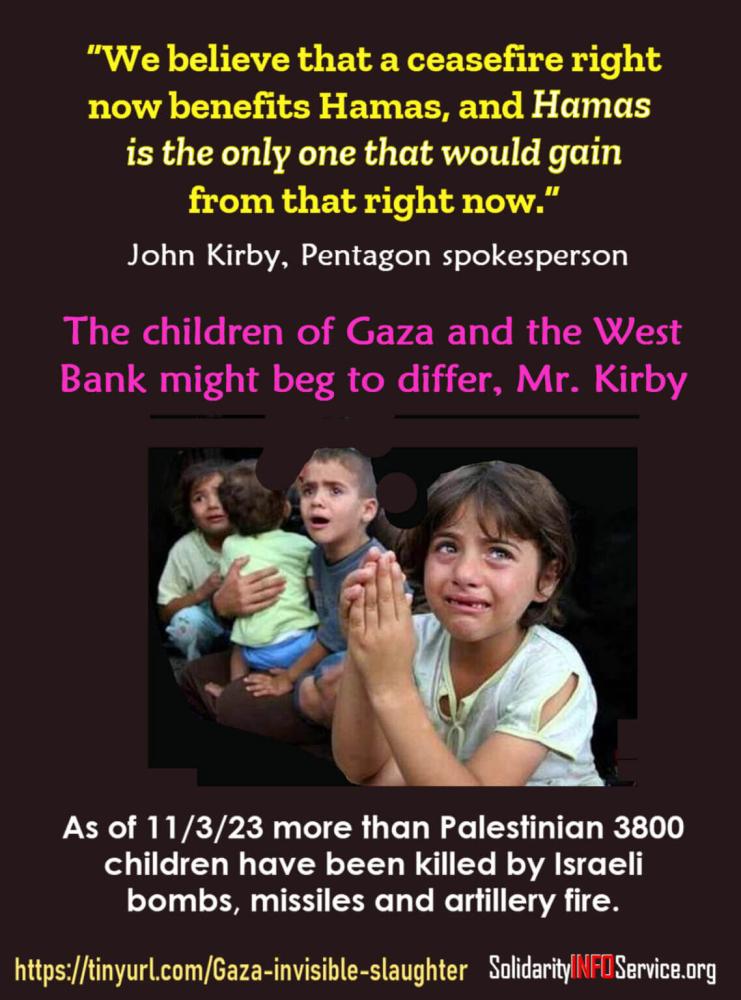 War and Justice  --  Cartoon by Musa Gumus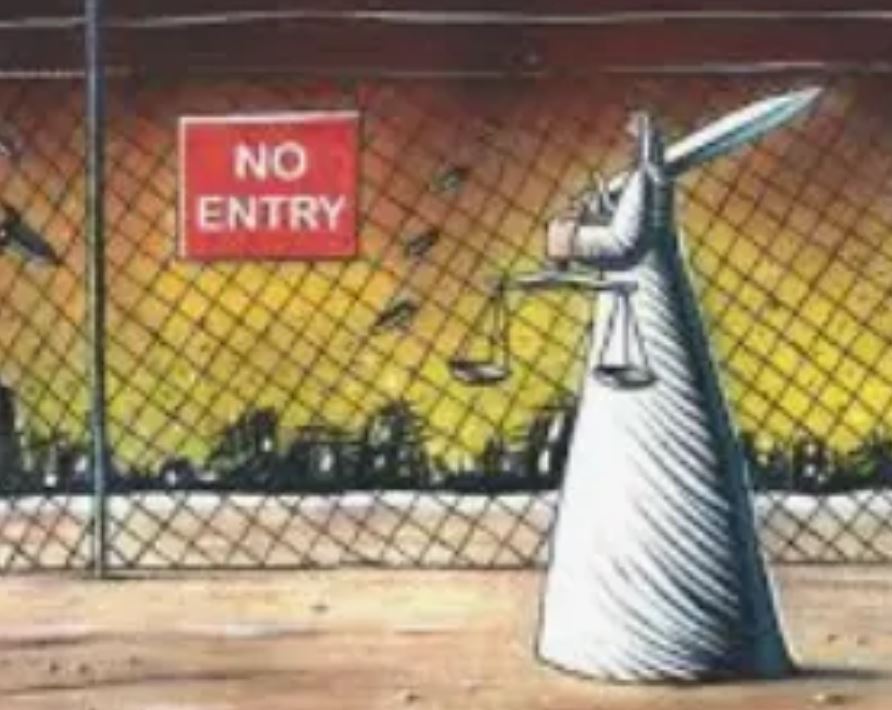 Musa Gumus
Turkey, 2015
If You're Keeping Score  --  meme from SEIU
Service Employees International Union
https://www.facebook.com/SEIU
Re: Trade Unionist Harry Bridges Remade the Labor Movement
(posting on Portside Labor)  
As a red diaper baby growing up in San Francisco, I always felt that Harry Bridges and the ILWU were very close to home.  Both ILWU staff and members were family friends, my father was an editor of the union's paper, and I had a summer job there when I was in college.  I was glad to see this new biography of Harry but do have some criticisms.  For one, it's worth noting that although the union has moved its headquarters from San Francisco to Oakland, it is still very much a progressive union fighting for change both domestically and internationally.  And second, Harry lived a long life and unfortunately turned on some of his longtime colleagues towards the end, ensuring for example that his longtime vice president was unable to follow him as president.
Nora Lapin
Deep Breaths  --  Cartoon by Christopher Weyant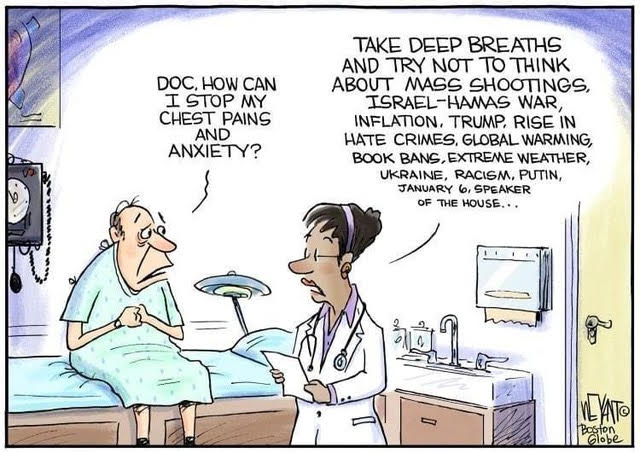 Christopher Weyant
November 5, 2023
Boston Globe
Moderator's Note:  There will be no Tidbits next  
The Portside moderator that compiles and assembles the weekly Tidbits: Reader Comments, Resources, Announcements, AND cartoons, is taking a break. He and his wife are going to Cuba as part of The Nation Tour group to Cuba.
Tidbits will return Thursday, November 23.
Film Screening - ISRAELISM documentary - New York - November 14  (The Hunter College Film & Media Department and Cosponsored by The Arabic Program at Hunter College)
Q&A with filmmaker Eric Axelman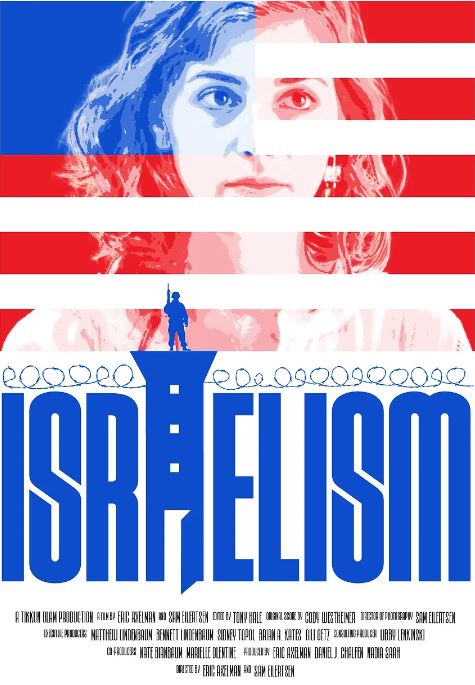 ISRAELISM documentary  — When two young American Jews raised to unconditionally love Israel witness the brutal way Israel treats Palestinians, their lives take sharp left turns.
Tuesday, November 14th, 2023
Time: 6PM
Hunter College Lang Recital Hall, 4th floor North Building
Enter: 69th Street between Lexington and Park Avenues
(Bring photo ID)
REGISTER here 
Strategies to Build Progressive Political Power - Online - December 2  (Massachusetts Progressive Action Organizing Committee (Our Revolution Massachusetts, Progressive Massachusetts, Progressive Democrats of America, Massachusetts Peace Action, and North American Indian Center of Boston) and by Act on Mass, Indivisible Mass, and Franklin County Continuing the Political Revolution)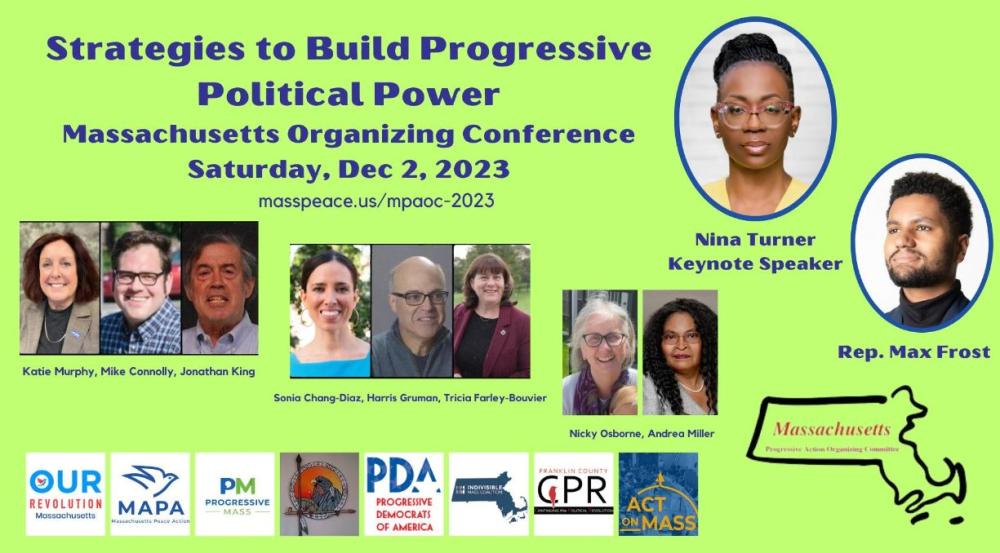 Strategies to Build Progressive Political Power
Sat December 2 @ 9:30 am - 5:00 pm EST
Massachusetts has the reputation of being one of the most progressive states in the country. Yet we lack legislative transparency, and we have a progressive Democratic Party platform that the leadeership ignores and a state government that has ttremendous difficulty passing progressive legislation.
In response, the Massachusetts Progressive Action Organizing Committee (MPAOC) invites you to an online Strategy Conference.  We will focus on how progressive activists can gain the power to pass vigorous meaningful legislation and initiate changes to improve the lives of all of our citizens.
In panels and breakout groups, conference attendees will examine paths to increase progressive power, identify the obstacles to our success. and learn strategies to overcome them.
Schedule
9:30 Welcome and call to order
9:50 Nina Turner – Plenary Speaker – founder, We Are Somebody; former Ohio state senator and Bernie Sanders campaigner
10:30 Panel 1 – Social/ Economic Consequences in Massachusetts of excess military spending
Three activists who organize to support the social and economic needs of the people of Massachusetts will speak on how the Pentagon budget is starving state and local budgets.
Rep. Mike Connolly, state representative from Cambridge and Somerville, will speak about needed housing policies, including social housing and rent control.
Katie Murphy RN, president of the Mass. Nurses Association, will talk about the crisis in nursing and healthcare as providers try to rebuild the increasingly profit-driven system after COVID.
Jonathan King, professor emeritus of molecular biology at MIT and board co-chair at Mass. Peace Action, will address the impact on the important science and technology industries in Massachusetts.
11:30 Breakouts 1
12:30 Lunch break
1:15 Special presentation – Rep. Max Frost (D-FL)
1:30 Panel 2 – Overcoming Obstacles: Learning From Successful Campaigns
Three speakers from three different, successful Massachusetts-based issue campaigns will name the three largest obstacles to their goals and the strategies they used to overcome them, using examples from their work.
Sonia Chang-Diaz, former State Senator and 2022 candidate for Governor, will talk about how she worked with allies to pass 'The Student Opportunity Act', later renamed 'The Promise Act', which significantly increased funding to poor school districts.
Harris Gruman, executive director, SEIU State Council, will speak about the successful Raise-Up campaign he helped lead to increase taxes on income over one million dollars (The Fair Share Amendment) to fund public schools and transit.
Tricia Farley Bouvier, state representative from Pittsfield, will tell us about the campaign she helped lead which resulted in qualified undocumented immigrants being able to get driver's licenses. 
2:30 Breakouts 2
3:30 Panel 3 – What Are We Going to Do?
Speakers from grassroots organizations which have advanced the progressive agenda will be asked to identify barriers to continued progress as we enter 2024.  Each will be asked to talk about strategies they employ and how they will use them to advance their political agenda. 
Andrea Miller, founding board member of the Center for Common Ground, will talk about her work to build Democracy Centers in the U.S. South, addressing in particular the challenge of alienation from electoral work that is growing in communities of color.
Nicky Osborne will speak about her work to organize in southeast Massachusetts against MAGA supporters who are running for school boards with funding from major right-wing organizations. She will talk about the extent of the MAGA threat in Massachusetts and effective organizing techniques.
4:30 Wrapup
5:00 Adjourn
Breakout Topics (choose 2 when you reigster)
21st Century Economic Bill of Rights
A Rural New Deal
Grassroots Strategies to protect reproductive rights: activism and legislation
Breaking the Logjam on Mass. Medicare for All
American Power, its History, and the Current Moment in the Middle East
Gaza Peace Campaign
Ukraine: A Time for Peace
K-12 Education Policy, Thrive Act, MCAS
Poor People's Agenda
Maternal Health, Public Pandemic Preparation
Run for Local Office
Graduate Student Organizing
Unions in Public Service Institutions
Housing Crisis
Green New Deal in 2024
Story Telling for Powerful Organizing
Auditing the Legislature
Register to attend.  Registration:  $25 regular admission, $5 student/low income, $75 supporter.
Sponsored by Massachusetts Progressive Action Organizing Committee (Our Revolution Massachusetts, Progressive Massachusetts, Progressive Democrats of America, Massachusetts Peace Action, and North American Indian Center of Boston) and by Act on Mass, Indivisible Mass, and Franklin County Continuing the Political Revolution.  Organizations are encouraged to cosponsor the conference; they will be acknowledged in publicity and at the conference, may organize a breakout and attend planning meetings, and are asked to give a $50 donation and to publicize the event.
Massachusetts Peace Action
11 Garden Street
Cambridge, MA 02138
617-354-2169
info@masspeaceaction.org