Dispatches from the Culture Wars - Post-Racial Society Edition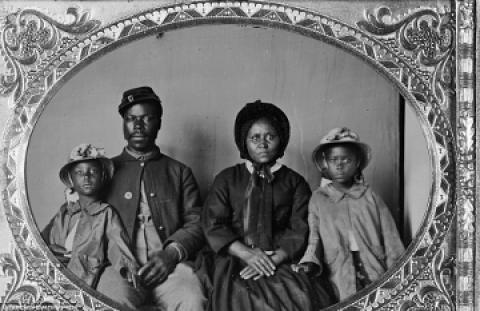 An African American soldier in Union uniform with wife and daughters between 1863 - the year of the Emancipation Proclamation - and 1865., Daily Mail // Temple University Press
Picturing Freedom: How Former Slaves Used Photography to Imagine and Create Their New Lives after Emancipation
By Daily Mail Reporter
December 24, 2012
Daily Mail (London)
A scruffy African-American family stands outside their run-down home while a dapper young man sits up straight in a waistcoat and suit: These are the never-before-seen faces of slavery and Emancipation, revealing families' lives before and after they were freed.  The images themselves played a key part in allowing the men, women and children freedom - being distributed through the northern states as propaganda during the push for abolition, and employed by former slaves to showcase their new images.
More than 150 of the photographs feature in a new book, Envisioning Emancipation, which has been published to coincide with the 150th anniversary of the Emancipation Proclamation of 1863 on January 1.  Most of the images, which reveal what freedom looked like for black Americans in the Civil War era, were taken between the 1850s and the 1930s.
Web Series Explores What Black Folk Don't Do
By Andrew Lapin
December 23, 2013
Current
"Black Folk Don't" series creator Angela Tucker  wanted to start a lighthearted, irreverent conversation about black identity.  Doing yoga, going green and enjoying winter sports sound like innocuous topics for a public media web series - that is, until they're preceded by "Black folk don't..."
Now midway through its third season, the web series  Black Folk Don't aims to spark frank discussions of racial identity in modern-day America. Actors, scholars and ordinary black folk ponder stereotypes about African-Americans and how historical or cultural contexts might have led to such generalizations.
U.S. Customs Won't Apologize for Destroying Musician's Rare Flutes
By John Hudson
January 3, 2014
Foreign Policy
U.S. customs officials last week destroyed 11 rare flutes by a respected Canadian musician who was returning home via New York's John F. Kennedy International Airport. Officials at U.S. Customs and Border Protection identified the instruments owned by flute virtuoso Boujemaa Razgui as agricultural products that risked introducing "exotic plant pathogens" in to the United States, a customs official tells Foreign Policy.  As a result, officials destroyed every single flute without contacting Razgui in an incident that makes your holiday airport delays trivial by comparison.
Razgui said "I fly with them in and out all the time and this is the first time there has been a problem. This is my life ... This is horrible."  
A New York-based CBP official tells us the agency followed standard protocol.  "The fresh bamboo canes were seized and destroyed in accordance with established protocols to prevent the introduction of plant pathogens into the United States."  The CBP official said Razgui's luggage was unclaimed and added that "fresh bamboo is prohibited from entering the United States to prevent the introduction of exotic plant pathogens."
The New York Times and NPR Are Still Clueless About Latinos
By Alisa Valdes
January 3, 2014
alisavaldes.com
The NY Times continues to pretend Afro Latinos don't exist.  More than a decade ago, when I worked as a staff writer for two of the nation's top newspapers (The Boston Globe and the LA Times), I was often disappointed to see my fellow writers and editors using the words "Hispanic" or "Latino" as physical descriptors. They seemed to believe the US Census category of Hispanic/Latino to denote physical, "racial" characteristics, in spite of the United States Census Bureau itself stating clearly that "Hispanics may be of any race."
Put in simpler terms, Latin America is as "racially" or physically diverse as the United States as a whole.  The history of Latinos is the history of the Americas, with the original inhabitants being brown-skinned Native Americans who first arrived in this hemisphere at least 15,000 years ago; the white colonizers coming from Europe a few hundred years back, and the white colonizers importing black human slaves from West Africa. Beyond that, people from all over the world emigrated to Latin America, and continue to do so.

The Native American Studies Association Boycott of Israel
By Dina Gilio-Whitaker
December 29, 2013
Indian Country Today
Earlier this month the American Studies Association made big news when it voted to support the boycott, divest and sanctions (BDS) movement against Israel, igniting a conflagration of controversy in the media and academic worlds. With the ink barely dry on the ASA resolution the Native American and Indigenous Studies Association (NAISA) followed up with a similar declaration of support for BDS. Both follow the precedent set by the Asian American Studies Association (AAAS) in April.
The NAISA Declaration of Support affirms that:
"NAISA is dedicated to free academic inquiry about, with, and by Indigenous communities. The NAISA Council protests the infringement of the academic freedom of Indigenous Palestinian academics and intellectuals in the Occupied Territories and Israel who are denied fundamental freedoms of movement, expression, and assembly, which we uphold. .. As the elected council of an international community of Indigenous and allied non-Indigenous scholars, students, and public intellectuals who have studied and resisted the colonization and domination of Indigenous lands via settler state structures throughout the world, we strongly protest the illegal occupation of Palestinian lands and the legal structures of the Israeli state that systematically discriminate against Palestinians and other Indigenous peoples."
What Your Favorite Drink Says About Your Politics, in One Chart
By Reid Wilson
December 31, 2013
Washington Post
Former Mississippi governor and uber-Republican Haley Barbour loves bourbon. Franklin Roosevelt mixed martinis. And, as it turns out, those two partisans have something in common with their base voters: Consumer data suggests Democrats prefer clear spirits, while Republicans like their brown liquor.

Democratic drinkers are more likely to sip Absolut and Grey Goose vodkas, while Republican tipplers are more likely to savor Jim Beam, Canadian Club and Crown Royal. That research comes from consumer data supplied by GFK MRI, and analyzed by Jennifer Dube of National Media Research Planning and Placement, an Alexandria-based Republican consulting firm.
The results are fascinating and illustrated in an entertaining chart.
(credit: Washington Post)