Tidbits - October 16, 2014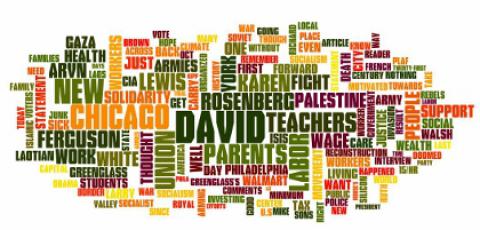 Tidbits - Reader Comments and Announcements - October 16, 2014,Portside
Karen Lewis Thanks You for Your Support
Re: Philadelphia Students Strike to Support Teachers (Larry Aaronson)
Re: Towards a Socialist America (Larry Brown, Jon Winkleman, Tomie Harris, Danny Donovan)
Re: Here's Everything Wrong with the White House's War on the Islamic State (Christian Wijnberg, Kipp Dawson, Kerry Koerbling, Kyle Faunce, Steven Zumbrun)
Re: CIA Finally Admits that Arming Rebels Does Not Work (Joseph Maizlish)
Re: A Union County (Tom Burl Walsh)
Re: Silicon Valley, Meet Organized Labor (Indianapolis Worker Justice Center)
Re: More Than 3,000 New Voters Have Registered in Ferguson Since Mike Brown's Death (Susan Galvin Walsh, Rita Ramos, Diana Freeman Brangwynne, Chris Tei)
Re: BRICS and the SCO: Let A Thousand Poles Bloom (David Bensman)
Re: The Rules - Making Sense of Race and Privilege (Yelena Demikovsky)
Re: Investing in Junk Armies: Why US Efforts to Create Foreign Armies Fail (Jack Radey)
Re: G.O.P. Leader: Five Million Forced Back to Work Under Obama (Furaha Youngblood)
Re: Who Benefits from Billions Pledged for Gaza Reconstruction? (Stan Nadel)
Re: Amid Soaring Profits, Walmart Cuts Health Insurance for 30,000 Workers (Richard Pauli)
Re: Capital in the Twenty-First Century: Are We Doomed Without a Wealth Tax? (L.A.)
Rosenberg Sons' Statement on the Death of Maternal Uncle, David Greenglass
$15/hr for all! Social Service Workers Speak Out! - New York - Oct. 27
Forum: "Temperature Rising: Labor & the Climate Justice Movement" - New York - Oct. 31
Food for thought about Palestine solidarity (Jewish Voice for Peace)
Film: CARRY IT FORWARD - Chicago - November 6
Moderator's Note
Karen Lewis Thanks You for Your Support
This statement just was released by the Chicago Teachers Union:
IMMEDIATE RELEASE CONTACT: Stephanie Gadlin
October 15, 2014 312-329-6250
Chicago Teachers Union President Karen Lewis acknowledges expressions of support offered during her leave
Today, President Karen Lewis released the following statement to the public regarding the thoughts, prayers and well wishes regarding her leave of absence from the Chicago Teachers Union:
"My husband, John, and I wish to thank each and every one you for your outpouring of support, thoughts, prayers and well wishes over the last few days," said Karen Lewis, president of the Chicago Teachers Union. "Your expressions have given me a sense of renewed energy as I shift my focus to restoring my health. It has been said, that our city is one of big shoulders. I cannot agree more; today those shoulders have become the compassionate arms from brothers and sisters from all walks of life. I want to personally thank you for respecting my privacy during this difficult time. While I'm in this fight, please know I'll continue to stand for the city we love and deserve; and look forward to joining you again on the battlefield."
Re: Philadelphia Students Strike to Support Teachers
Read and share. Mass mobilizations, non-violent, direct actions, sometimes using civil disobedience. This, my friends, is precisely how the local central offices, the states' DOE's and the feds DOE's are going to feel the pressure exerted. These protest of students, parents AND teachers will force the issue about standardized testing, and privatization. By using such tactics successfully such as walk-outs, strikes and boycotts What has just happened in Phila. replicates what has happened in Chicago, Seattle and elsewhere. THERE IS A MOVEMENT and it is rising up!!!! Students back teachers who strike after the Phila. School Dept. cancelled their contracts; this after shutting down dozens of public schools....
Larry Aaronson
Posted on Portside's Facebook page
Re: Towards a Socialist America
The problem with Capitalistic Democracy is that it's not democratic when you have greed over powering the fair share of inequality. Socialism can be more equally shared without anyone losing out. Poverty shouldn't be a result of Capitalism for the disadvantaged...
Larry Brown
Posted on Portside's Facebook page
     ====
We have some democratic socialism not. Public education, Social Security, the post office, police and fire departments, public roads, Medicare, Medicaid. We just need more of it.
Also Marxism, Maoism and other forms of socialism are some of the most oppressive governments today. There is a difference between the various Marxist branches of socialism (bad) and Democratic Socialism (good)
Jon Winkleman
Posted on Portside's Facebook page
     ====
That's the way to go ;health care for all ;people before profits.
Tomie Harris
Posted on Portside's Facebook page
     ====
America's not a democracy it's a republic. We keep trying to spread "democracy" to other countries but we have yet to bring it to our shores to begin with.
Danny Donovan
Posted on Portside's Facebook page
Re: Here's Everything Wrong with the White House's War on the Islamic State
My place is a long way from ISIS's place, so I am not too troubled by the prospect, especially as Turkey which sits right on the border with ISIS does not feel the need to do anything about them. The guys who are supposed to fighting ISIS with us (Saudi Arabia, Qatar, etc) are quite expert beheaders as well; in fact they even taught, and funded ISIS in the first place so I am confused again why we are getting our panties in a twist. I have skin in this game; my son is in the Army; I would prefer that he risk his life defending something that matters to us, instead of jumping (out of a plane) just because some neocon asswipe on television wants another war to profit from.
Christian Wijnberg
Posted on Portside's Facebook page
     ====
Portside does an irreplaceable job linking us to information and thought which adds knowledge, perspective, and food for thought for all of us concerned about our world. Here's an example.
Kipp Dawson
Posted on Portside's Facebook page

     ====
Wow! I see that reading comprehension is a major problem in understanding what has happened. This is the fourth war in Iraq. Trying the same thing over and over again expecting a different result is the definition of insanity.
Kerry Koerbling
Posted on Portside's Facebook page
     ====
If any conversation is going to be about illegal wars and things that should have never been done. It should start with the words Bush and Cheney. How soon you all forget the original lie. WMD
Kyle Faunce
Posted on Portside's Facebook page
     ====
At least this article is well-informed, unbiased, and has a plan of action. I'm so sick of "blame" articles that solve NOTHING. Trouble is, if Obama backs off bombing and goes diplomatic now, the Republicans will make the usual "Democrats are soft on terrorism" noises. He has to realize he can't reason with them and just DO WHAT'S RIGHT.
Steven Zumbrun
Posted on Portside's Facebook page
Re: CIA Finally Admits that Arming Rebels Does Not Work
". . . does not work."
"Work" -- at what?  At securing the domination of their localities by elites identified with the U.S. government and its corporate system?
This article recalls Sen. Wayne Morse's comment following the failed U.S.-sponsored 1961 invasion of Cuba ("Bay of Pigs"), which was close to these words, "A lot of people think that what was wrong with the invasion was that it didn't work."
Coaching and criticizing the policy-makers about tactics while being silent about the unworthy policies and goals are not what the policy-makers or their victims need.
Joseph Maizlish, Los Angeles
Labor needs to unite with the greens for a new party. The D's are all about Wall st.
Tom Burl Walsh
Posted on Portside's Facebook page
Re: Silicon Valley, Meet Organized Labor
(posting on Portside Labor)
Good luck to these workers attempting to organize.
Indianapolis Worker Justice Center
Posted on Portside's Facebook page
Re: More Than 3,000 New Voters Have Registered In Ferguson Since Mike Brown's Death
Geezus, you white folks are sounding kind of scared!!!! Well you should be you bunch of racists up there in Ferguson!!! It is time for the African Americans who outnumber you to take over THEIR city!!! Oh my God, what ever will you white people do???!!! Hey, I'm a lily white woman from the northeast and you white bigots from Ferguson make me sick!!!
Susan Galvin Walsh
Posted on Portside's Facebook page
     ====
Good for you, Ferguson. Exercise your POWER!
Rita Ramos
Posted on Portside's Facebook page
     ====
Vote vote vote it's your legal right.
Diana Freeman Brangwynne
Posted on Portside's Facebook page
     ====
Who the hell are they going to vote for? Neither party has any intention of curbing the powers of the police. I hope this movement spawns its own candidates
Chris Tei
Posted on Portside's Facebook page
Re: BRICS and the SCO: Let A Thousand Poles Bloom
A multi polar world. No.hegemon?
David Bensman
Posted on Portside's Facebook page
Re: The Rules - Making Sense of Race and Privilege
New England has been poisoned with racism. Read this article. That's why I ran away from Boston (after spending 4 years there) - it was too white for me and too segregated. It's ridicules.
Yelena Demikovsky
Posted on Portside's Facebook page
Re: Investing in Junk Armies: Why US Efforts to Create Foreign Armies Fail
This is hardly a new phenomenon.  If you can remember back as far as the early '60s, you may remember an organization called the "Royal Laotian Army".  This force, made up of the leftovers of the French colonial auxiliaries, was armed and equipped and trained by the US.  One day we were awakened to a full scale crisis in Laos, cast as either a Chinese or North Vietnamese invasion of Laos, with large red arrows showing us where the bad guys were advancing.  As they advanced, the discomforting news came that the Royal Laotian Army had decamped across the Thai border, where our allies, the friendly Thais, disarmed them (this is what you do with an army that retreats across your border if you are a "neutral"), put them on DC-3s provided by the USAF and CIA, and flown back to Laos to be rearmed.  The invading armies?  Turned out to be a few hundred Pathet Lao (Laotian liberation forces) fighters whose appearance had been enough to spook the RLA.
Then there was the Army of the Republic of Vietnam, the ARVN.  For some reason, the soldiers of the National Liberation Front (People's Liberation Armed Forces - PLAF), poorly armed, and with no tanks, artillery, aircraft or helicopters, beat the snot out of the ARVN, giving the US president the choice of sending in the US military or seeing the badly outnumbered PLAF destroy ARVN and take power.  They were well on the way to doing so in 1964.  We had been arming, training, and advising ARVN since 1954, the PLAF had been in existence since 1960, though many of its cadres were veterans of the Viet Minh in their war against the French.  Many ARVN officers had fought on the side of the French.
Just as US advisers noted in Afghanistan, the opponents in both cases seemed highly motivated, remained in the fight though subject to megatons of conventional bombs, napalm, white phosphorus, and everything else we could throw at them.  They weren't paid, had tight rations, and sometimes no uniforms.  But they were motivated to fight for their country.  The "puppet troops" opposing them didn't seem to give a rat's ass, their officers stole retail and wholesale, often sold munitions to their opponents, conducted "search and avoid" missions (in El Salvador government troops hunting FMLN guerrillas would play their portable radios, so the guerrillas would know they were coming, and avoid contact).
We've seen this movie before.  Armed forces set up by colonial powers have no basis for fighting, only hope to get paid.  When it comes to dying for a cause, they excuse themselves.  This should not come as news to anyone who studies history, unless you confine yourself to "official history", which will tell us that the Iraqi, Afghan, El Salvadoran, Royal Laotian, and ARVN armies were courageous, popular, aggressive, and highly motivated.  And only lost because they were stabbed in the back by the hippies, or the media, or the liberals...
Jack Radey
Re: G.O.P. Leader: Five Million Forced Back to Work Under Obama
Only the Repugs and Teabaggers could turn something positive into a divisive negative!
Furaha Youngblood
Posted on Portside's Facebook page
Re: Who Benefits from Billions Pledged for Gaza Reconstruction?
Translation: "Damn those greedy Israelis/Jews"  Why can't good leftists recognize the stink of Antisemitism anymore--just because they hate Israel?
Stan Nadel
Re: Amid Soaring Profits, Walmart Cuts Health Insurance for 30,000 Workers
Gosh,  I sincerely hope not ONE of those 30,000 workers should happen to get Ebola. Or even gets sick, with a fever or nausea.   Sometimes not having health care means sick people try harder to keep working.
Jeekers, people would not want to shop at Walmart anymore, would they?
Maybe Walmart, like an airport,  would want to check the health of people coming in to their facility.
Richard Pauli
Re: Capital in the Twenty-First Century: Are We Doomed Without a Wealth Tax?
Some good folks on the radical far left have issues with Thomas Piketty and Emaanuel Saez, but their critique of 21st century American capitalism is so "effing" damnable that it must be reviewed and argued strenuously. What say you?
L.A.
Rosenberg Sons' Statement on the Death of Maternal Uncle, David Greenglass
Statement on David Greenglass's death (reported by the New York Times on Oct. 15, 2014)
We extend our condolences to David Greenglass's children and their families.  We have nothing against them, and the loss of a loved one never is easy.
Since 1950, we have had no contact with our maternal uncle David Greenglass or his wife Ruth (deceased in 2008), and we remember virtually nothing about them from our childhood.  We can't comment on their everyday lives or their personalities.  We don't view them as family even though David was our mother's younger brother.
However, we know a lot about what David and Ruth Greenglass claimed at our parents' trial.  For many years we thought they created out of nothing their statement about our parents helping David transmit the secret of the atomic bomb to the Soviet Union.  This was the testimony that sent our parents to their deaths.  It was not until 2009 that a thorough analysis of the Soviet secret files revealed that without any involvement on our parents' part, David and Ruth were the ones who actually provided atomic information to the Soviet Union, although it was of little value.  Yet during our parents' trial, the Greenglasses pinned what they did on our parents - a calculated ploy to save themselves by fingering our parents as the scapegoats the government demanded.
In 2001, during David Greenglass's first ever media interview, his questioner asked David how he expected to be remembered.  He answered that he'd be remembered "as a spy who turned his family in."  He was right.
Michael and Robert Meeropol
July 7, 2014

$15/hr for all! Social Service Workers Speak Out! - New York - Oct. 27
Monday, October 27
at 6:30pm - 8:30pm
NYU Kimmel Center-Rosenthal Pavilion
60 Washington Square South - Room 405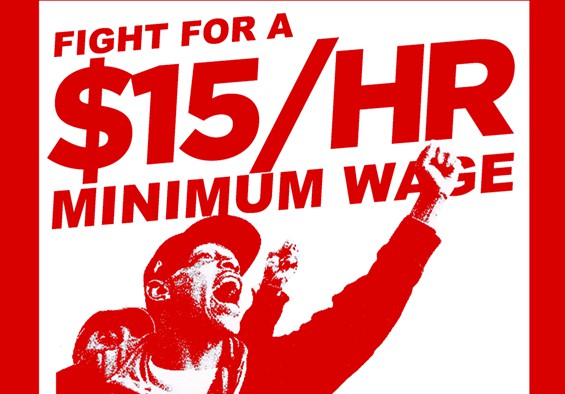 The struggle to raise the minimum wage is a lively and dynamic movement developing across the US. The fight for a minimum wage of $15 dollars is one step forward in the fight for a living wage, and fast food workers have been at the forefront of this struggle. As a direct result of this movement, Seattle has approved a $15 minimum wage, and San Francisco and Chicago are weighing similar measures. As workers employed in the social services and health care systems of NYC, we want to raise attention to the fact that many of us, too, are living on a wage below $15/hr, and even more of us are living on a wage a bit higher, but still insufficient to take care of ourselves and our families in a city with tremendous wealth and a high cost of living.
Speakers:
Stephanie Luce - Labor Scholar at the Murphy Institute for Worker Education, author of Fighting for a Living Wage
Kimberley Thomas - Dental Assistant, Harlem Hospital, DC37 local 768
Muata Greene - Coalition of Black Trade Unionists NYC and Left Labor Project, Retired FDNY/EMS local 2507
Sooyoung Lee - Substance Abuse Counselor, 1199SEIU & Power for Rank-and File Employees in the Social Services
RSVP to info@press-nyc.org
Forum: "Temperature Rising: Labor & the Climate Justice Movement" - New York - Oct. 31
Co-sponsored by The Murphy Institute & Cornell GLI/Worker Institute
Friday, October 31, 2014 from 8:30 AM to 10:30 AM
The Murphy Institute
25 West 43rd Street, 18th Fl.
New York, NY, NY 10036
The People's Climate March in New York City September 21, along with thousands of other demonstrations and actions around the world, add up to a resounding appeal for urgent action to address the climate crisis. But what is labor's part in this movement?  In the great social struggles of the last half century labor was often split-and there are unmistakable signs that labor is deeply divided on...
Food for thought about Palestine solidarity
Click here and you will be prompted to subscribe to a free Palestine solidarity online summit, where every day you will get to hear a new interview.
The first interview will started yesterday with poet and writer Remi Kanazi, followed the next day by former UN Special Rapporteur on Palestinian Human Rights Richard Falk, and on Friday by Haneez Zoabi, the first Palestinian Israeli woman to be elected to the Knesset and a participant in the Mavi Marmara flotilla to break the siege of Gaza.
Additional interviews will follow, one a day, and on Oct 28, you will be able to listen in to our own Rebecca Vilkomerson as well!
Want to find out more and get the links to the interviews? Go to http://bit.ly/palestine-solidarity1
Sydney Levy
Jewish Voice for Peace
1611 Telegraph Ave, Ste. 550
Oakland, CA 94612
510 465 1777 x302
www.jvp.org
sydney@jvp.org
Film: CARRY IT FORWARD - Chicago - November 6
Rosenberg Fund for Children's benefit screening of CARRY IT FORWARD at The Heartland Alliance Marjorie Kovler Center in Chicago.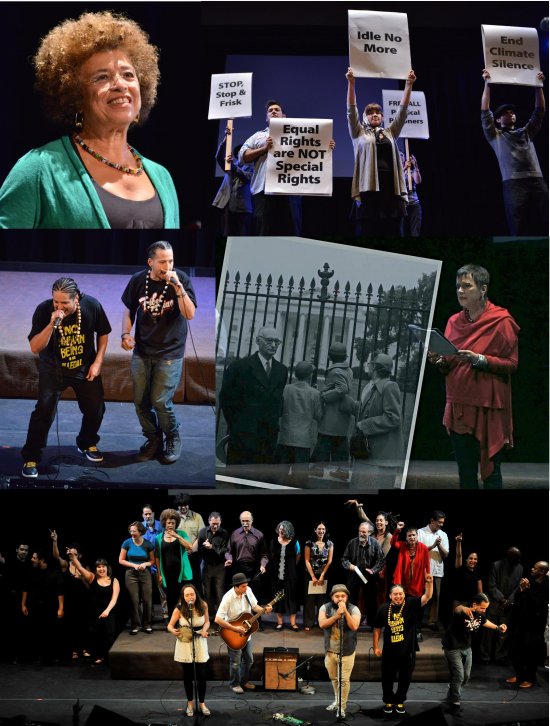 Thursday, November 6
7:00 - 9:00 pm (doors open at 6:30)
The Heartland Alliance Marjorie Kovler Center,  1331 West Albion Ave., Chicago
Suggested donation $10 (add'l, tax-deductible donations welcome)
This 90-minute film stars Angela Davis, Eve Ensler and Cotter Smith (as Ethel and Julius Rosenberg), former Chicagoans and radical hip hop artists Rebel Diaz, folk duo Mike + Ruthy, poet Martin Espada, members of the Rosenberg/Meeropol family, and other artists and activists.
CARRY IT FORWARD dramatizes the last four days of the Rosenbergs' lives through their prison letters and their sons' firsthand accounts.  The film also tells the stories of present-day activist families the Rosenberg Fund for Children assists, and celebrates current movements for peace, environmental justice, immigrants' rights, civil liberties and other progressive struggles from Idle No More, to efforts to end police brutality, to the fight to free all political prisoners.
View the film's trailer here. http://www.rfc.org/sites/rfc.org/modules/civicrm/extern/url.php?u=3957&…
Join and share the Facebook event here, and follow @wwwrfcorg #cifchicago on Twitter and Instagram
Download the flyer here.
Moderator's Note: There will be no Tidbits, next Thursday,  Oct. 23