Tidbits - May 28, 2015 - California Oil Spill; Baltimore; Bernie; Waco White Riot; Freedom for Oscar López Rivera New York - May 30; and more...
Tidbits - Reader Comments and Announcements - May 28, 2015, Portside
Re: Notorious Repeat Offender Behind California Oil Spill `Nightmare'
Deja vu all over again. When will we ever learn? The environmental costs of (more or less) regular release of petroleum are paid for by us and the marine life killed not those who "spill" -- doesn't "spill" have an accidental sound to it? Here Nadia Prupis reports (thanks to Portside for the link).
Have you noticed that the NYT has totally relied on wire service coverage of this? The AP reports that the pipeline lacked automatic shutoff so that the oil release continued after it was detected. http://www.nytimes.com/aponline/2015/05/23/us/ap-us-california-oil-spil…
Via Dick Flacks who is on the scene.
Daniel Millstone
Posted on Portside's Facebook page
     ====
Cooperate America hunger for oil fill the pockets of the wealthy in the stock market!!!!!!
Ian Fernandopulle
Todd Cherkis wrote an excellent essay [posted on Portside] connecting the riots in Baltimore to United Workers https://www.facebook.com/unitedworkers long-term struggle for workers' rights and just development in the city:
"The crisis has laid bare a city strained beyond human capacity by inequality and police violence. Public policies have created islands of wealth and comfort, surrounded by a sea of service cuts, hyper-policing, and degrading poverty in which most of the city is drowning. It's those policies that gave rise to the police violence that ended Gray's life-an extreme example of the injustice that people here are facing every day. What's unusual about this moment is that, through their own extraordinary effort, Baltimore's poor people are being seen and heard. The same pundits who usually focus on how to bring more wealthy people to Baltimore and push the poor out to the suburbs are now talking about how to grapple with savage poverty, hyper-policing, and state violence. 'The murder of Freddie Gray was like a boomerang,' says West Baltimore resident Randolph Ford, 'flipping the status quo around to where the unity of the people and the fight for social justice has strengthened.'"
Todd Wolfson
Posted on Portside's Facebook page
Re: Why Libraries Matter More Than Ever in the Age of Google
Let's support our local libraries!!!!
Ellen Broms
Posted on Portside's Facebook page
Re: Streets of New York - The Subway
David, I am proud to see that my good taste is being vindicated!  Keep up your remarkable contributions to our cultural well-being!
Henry Foner
Re: Cold War Modernist
(posting on Portside Culture)
While Brown and Barnhisel deal with other art forms, it is interesting to see what happened to modernism in photography and to social documentary photography during the Cold War.  Modernism in photography early on had roots in Mexico, where Tina Modotti gave political content to the modernist simplicity developed with Edward Weston (not to mention others working with the same ideas, like Rodchenko).  Many of the people who followed after, using photography as part of political movements, were eventually blacklisted during the Cold War.  Modernism in photography became a form with a much more conservative political content, as featured by Life magazine, etc.  For a fuller discussion of this, see the article in Jacobin, "Photography Against the Walls" 
David Bacon
 
Re: Labor for Bernie
(posting on Portside Labor)
Labor for Sanders is a good way to get to know the background of by far the most progressive 2016 Presidential candidate.
Ken Luckhardt
Posted on Portside's Facebook page
Re: Don't Blame the Poor for the Faults of Our Economy
It is Capitalism without the frills
Richard Bower
Posted on Portside's Facebook page
Re: NSA Planned to Hijack Google App Store to Hack Smartphones
Thank you Edward Snowden for revealing the continuing scandal of government surveillance and provocation. Ryan Gallagher has an important post about our "intelligence" communities' plots and misdeeds. We've many of us relied up twitter and other social media to communicate about (for example) demonstrations in more or less real time. Doesn't this kind of massive invasion of our phones violate our constitution? Thanks to Portside for the link.
Daniel
Posted on Portside's Facebook page
Re: Honor the Vietnamese, Not Those Who Killed Them
You can disregard the title but still read this striking, chilling, detailed summary of how the war was conducted and what its results were (extensively documented).
Alfred Rose
Posted on Portside's Facebook page
Re: On #WacoThugs, Biker Gangs, and White-on-White Crime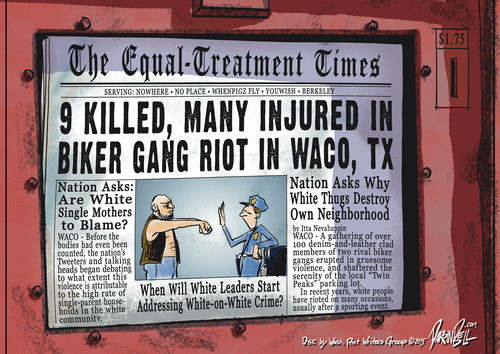 Credit: Darrin Bell in the Washington Post
Maybe it's because I live in a violent city in a violent state, but I was not "shocked" by the violence in Waco.  I was surprised at the scale of the shootings, but, given our gun laws, the combination of guns and bars means that frequent shootouts are a foregone conclusion.  Otherwise, it's true that black biker gangs (if they exist) don't do this, and it's true that if they had, law enforcement would has massacred every last one of them.
In this connection, we use to have a neighbor catty-corner from us who was a wife-beating, child-beating alcoholic. He drove an SUV with a bumper sticker that said, "I'm not an alcoholic.  Alcoholics go to meetings.  I'm a drunk." Every once in a while, the woman of the moment would complain, and then Delbert would go visit his friends in the state prison for a while.  There was a drive-by shooting, someone tore the front door off, etc.  About five years ago, he packed up his sons (who had become accustomed to seeing Dad arrested in the front yard) and did a midnight flit, leaving a mess behind that the cleaners described as "nasty."  Well lo and behold, Mary came home from the soup kitchen last week, and said, "Guess who was in the chow line!"  He's mellowed out, plays well with others, and from what Mary says is too brain damaged now to be much of a threat.  I wonder how his poor sons are doing?
Sterling Vinson
     ====
The difference in black crimes and white crimes
Leon Childs Jr.
Posted on Portside's Facebook page
Re: Re: President Obama's Human and Moral Challenge: Oscar López Rivera
Leonard Peltier, the Native American leader, is in a federal prison for over 40 years !
Aaron Libson
This Saturday, May 30th, Let's Speak with "One Voice for Oscar's" Freedom!
Oscar López Rivera is the last remaining Puerto Rican political prisoner.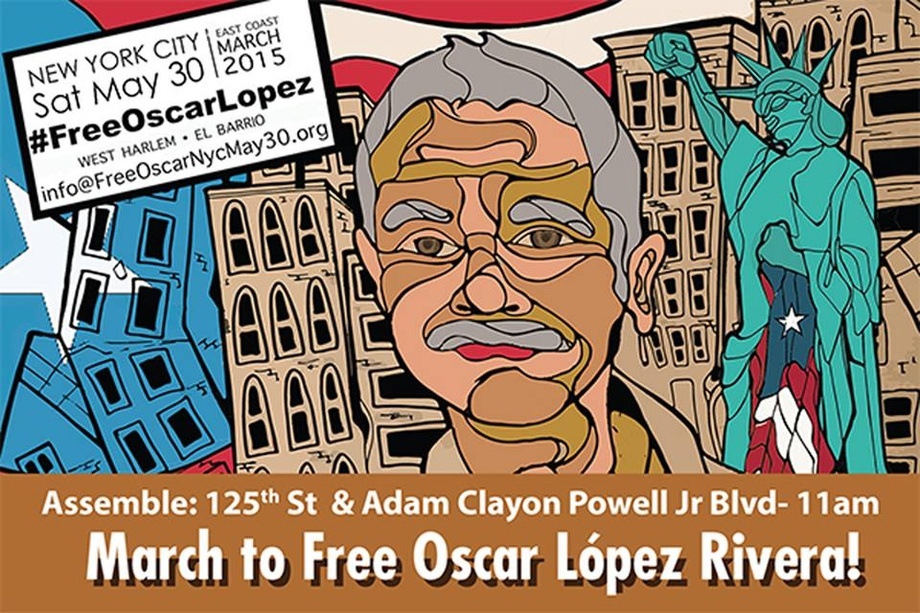 East Coast March - West Harlem and El Barrio
Assemble 11:00AM - Leaving Sharply at 12:00 - Noon
125th & Adam Clayton Powell Blvd.
New York
March east to Lexington Avenue, then south to 106th Street rally site
Rally Site:  106th & Lexington Avenue
This Saturday, May 30th,  over 5 thousand people will gather in New York City for "One Voice for Oscar López," a national march and rally to demand the release of Puerto Rican activist and icon Oscar López, a 72-year-old decorated Vietnam veteran who begins his 34th year in prison on May 29th despite having never been charged with any violent crime. He has served 12 of those years in complete, total isolation.
A broad coalition of over 100 faith, community, labor and civic organizations and elected officials has come together to plan and support this unprecedented mobilization. This support includes: Nobel Prize winners, governors, senators, celebrated artists and people from across the political and religious spectrum. The coalition has already accomplished a great deal, from turning out a huge contingent of supporters at the National Puerto Rican Day Parade-which was dedicated to Oscar's freedom-to launching a highly successful social and digital media campaign to amplify the calls for his release. But we need your help to take this movement to the next step and to turn out as many people as possible this Saturday, May 30th.
Support for his freedom continues to grow- in Puerto Rican communities in the U.S., in Puerto Rico, and internationally. Witness the following:
Over 500,000 people were reached to support Oscar on January 6, 2015, his 72nd birthday, as individuals and organizations from 34 countries and 17 states in the US participated in the "Social Media Campaign for Oscar López." Using various hashtags, the campaign publicly brought together a broad spectrum of supporters, from Calle 13's René Pérez to actor Luis Guzmán; from NYC Council Speaker Melissa Mark Viverito to Congress members Nydia Velázquez and Luis Gutiérrez, Governor Aníbal Acevedo Vila; the Puerto Rico Department of Labor; pro-independence organizations to blogs like the Latino Rebels to newspapers including El Nuevo Día.

Organized labor solidly supports his release: 1199/SEIU, 32BJ, AFL-CIO, AFSCME,  and the Labor Council For Latin American Advancement (LCLAA) have passed resolutions.
In the international community, the UN Decolonization Committee has passed a resolution every year for the past 15 years urging his release during its annual hearings; the Non Aligned Movement, Nobel Peace Prize Laureates and organizations have also called for his release;
Six Nobel Laureates and six Latin American Presidents have written to President Obama asking for López Rivera's release.
We hope to increase public visibility of his case on the East Coast, as part of a Latino-based human rights initiative, and in this way, contribute to the nearly unanimous support in Puerto Rico and in Puerto Rican communities across the US. The campaign is also collecting 100,000 letters to President Obama urging him to release Oscar immediately.
So join us, this Saturday, May 30th when we will gather to tell President Obama that 34 years is enough, and to release Oscar López Rivera!
33 Years is Long Enough - Join Us in New York on Saturday, May 30
Melissa Mark Viverito, Speaker of the New York City Council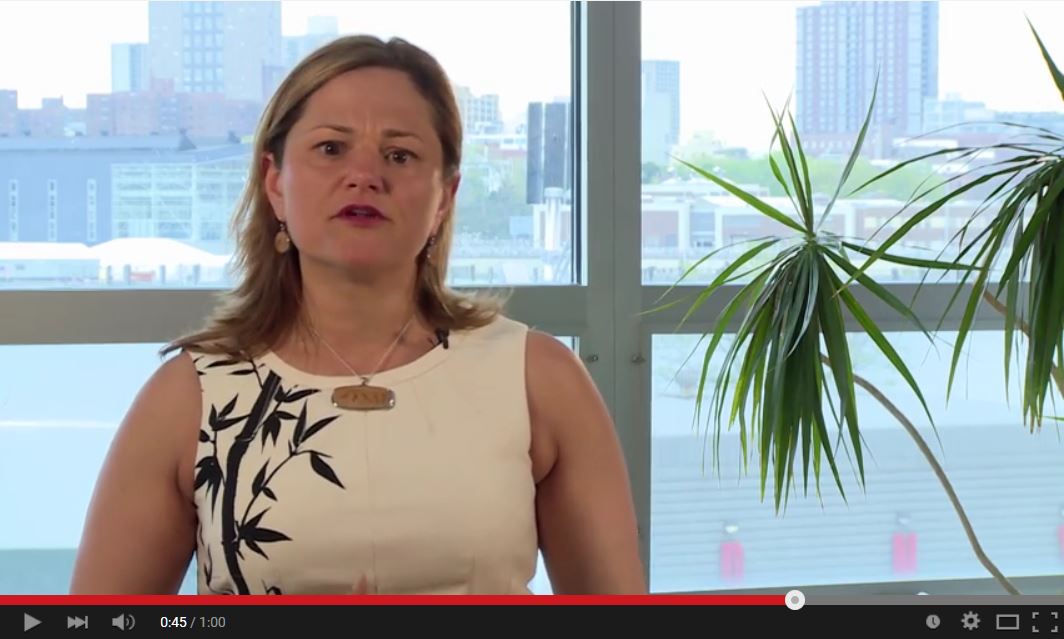 Listen here.
I, wholeheartedly, join all of those who demand the U.S. government release of Puerto Rican patriot Oscar Lopez Rivera, who is the honor of the Puerto Rican people and to all those who respect justice and human dignity. The Puerto Rican Patriot Oscar Lopez Rivera has dedicated his life to fighting against colonial slavery. It is the duty of everyone, who respects himself, to fight for the liberation of Oscar, who would fight for our own release from the colonial prison. Thank you all, who in one way or another are part of this struggle for the liberation of a brother who honors us all.
Rafael Cancel Miranda FORMER Political Prisoner
Film Screening: The Junior and the Swan - Washington DC area - June 7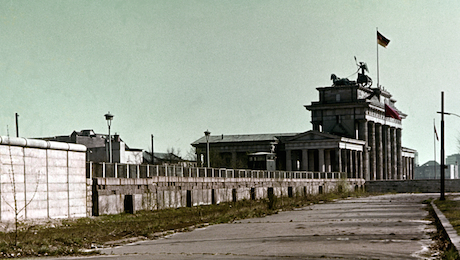 Almost ten years after the fall of the Wall, three US citizens are convicted of spying for East Germany. What motivation did these three agents have, and why did they believe they were fighting for a just cause?
October 1998. In the last Cold War spy trial, three US citizens were convicted of working as agents for East Germany: Kurt Stand ("Junior"), his wife Theresa Squillacote ("Swan"), and James Clark ("the Professor"). The verdict ended their long careers as "Kundschafter". Very few Americans sympathized with Communist East Germany. Spying for the country was unthinkable. Why did these three individuals believe they were fighting for a just cause? Kurt Stand's parents fled from Nazi Germany to the US where his father became an important source of information for the East German government. He remained undetected all his life. Stand's parents also put their son in contact with the East German intelligence. "Junior" was instructed to search for collaborators, and he found the "Swan" and the "Professor". They were trained in spying techniques and expected to infiltrate high levels of the US power structure. This film was 16 years in the making and developed into a unique story about the fall of the Wall. It meets the agents, their handlers, relatives and friends, and features one of the last interviews with legendary singer Pete Seeger. A spy tale, a story about lost hope and betrayal, mistakes and misjudgements, idealism and naiveté.
Length 90'/52' HD
Film by Konrad Ege, Daniel & Jürgen Ast
Co-Production astfilm productions in coproduction with RBB, 2014
Original title Junior und der Schwan
In German, with English subtitles
June 7, 2015 -- 5:00 pm - 7:00 pm
BUSBOYS @ HYATTSVILLE
Zinn Room
5331 Baltimore Ave. Suite 104, Hyattsville, MD 20781
(301) 779-ARTS (2787)
National Healthcare Strategy Conference in Chicago Oct. 30 - Nov. 1
We're excited to announce that Healthcare-NOW! will be hosting a joint national strategy conference with the Labor Campaign for Single-Payer Health Care and One Payer States at the Chicago Hilton, October 30 through November 1. Please mark your calendars! A registration page will be posted on our web-site next week.
Physicians for a National Health Program (PNHP) will also be holding their annual meeting in a nearby hotel and we'll be teaming up with PNHP activists for a number of joint events including an action, joint workshops, and a reception with United Steelworkers President Leo Gerard and National Nurses United Co-President Jean Ross among other featured speakers.
This will be the first ever conference that brings together every national organization leading the single-payer movement, regional and local unions, and state and local advocacy groups. We will come together five years after the passage of the Affordable Care Act and 50 years after the launch of Medicare to discuss the next steps in the fight for healthcare justice. This conference will be an historic opportunity to assess our strengths and weaknesses, learn from our experiences and build unity as we work to win single-payer, Medicare for All for everyone in America.
The early registration fee will be $75 and will include the Friday reception and Saturday lunch. A block of hotel rooms will be available at the Chicago Hilton for $159 per night. Rooms can be reserved online or by calling 877-865-5320 and referencing NSC/Single Payer Strategy Conference. Alternative housing arrangements will be available for those who need to attend the conference on a budget!
Healthcare-Now! - Organizing for a National Single-Payer Healthcare System
Today in History - The Paris Commune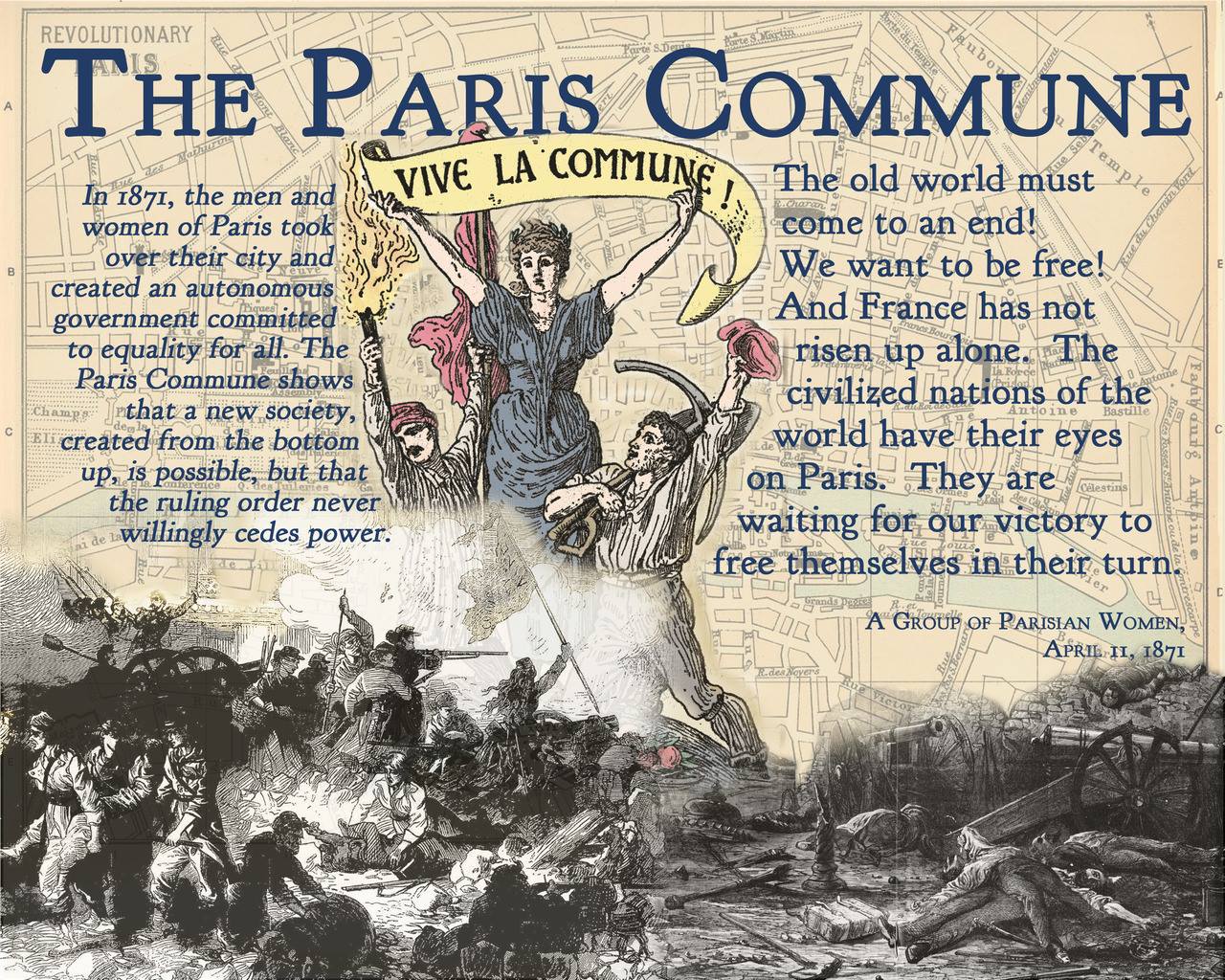 144 years ago today, workers took over Paris and tried for the first time to run a society in the interest of the many.

Today Marks 5 Years in Confinement for Chelsea Manning
Five years ago today, 27 May 2010, Chelsea was ordered into military confinement for her release of classified information to the public through Wikileaks. In a Guardian Op-Ed,  Chelsea reflects on what led her to disclose this information, and what her life has been like since.
"The years since I was jailed for releasing the 'war diaries' have been a roller coaster. Through every struggle that I have been confronted with, and have been subjected to - solitary confinement, long legal battles and physically transitioning to the woman I have always been - I manage not only to survive, but to grow, learn, mature, and thrive as a better, more confident person. "
"It all began in the first few weeks of 2010, when I made the life-changing decision to release to the public a repository of classified and unclassified documents that provided a simultaneously horrific and beautiful outlook on the war in Iraq and Afghanistan  [US helicopter purposely targeting, scouting, and assassinating known civilians] ...
"I felt that the Iraq and Afghanistan "war diaries" ... were vital to the public's understanding of the two interconnected counter-insurgency conflicts from a real-time and on-the-ground perspective. In the years before these documents were collected, the public likely never had such a complete record of the chaotic nature of modern warfare.
"Once you come to realize that the co-ordinates in these records represent real places, that the dates are our recent history, and that the numbers represent actual human lives - with all of the love, hope, dreams, hate, fear and nightmares with which we all live - then you cannot help but be reminded just how important it is for us to understand and, hopefully, prevent such tragedies in the future..."
[thanks to James E, Vann for sending this to Portside.]