Tidbits - Jan. 10, 2019 - Reader Comments - Lots (and Lots) on Impeachment; AOC 70% Tax Rate; New Attack on Angela Davis and Free Speech; NAFTA; Border Security and much more...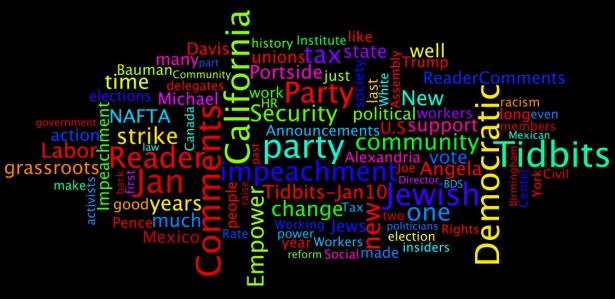 Tidbits - Reader Comments and Announcements - Jan. 10, 2019,Portside
Announcements:
Re: Time to Begin Impeachment Proceedings
 
The points made in the article are all sound. Their logic is persuasive, as far they present it.

But there are two very significant points the article stops short of addressing: 1) †he fact that the Senate, which is supposed to try the accused, is comfortably in the hands of the Republican Party; and 2) even should Trump's impeachment result in a guilty verdict, we would be left with Mike Pence, who may even be more dangerous than Trump, as the new president.
1) To convict the Senate would have to muster a 2/3 majority for conviction. There are 47 non-Republican senators, The mathematics of the situation is that of the 53 Republicans, 30 would have to vote for impeachment, along with the 47 non-Republicans unanimously voting for impeachment, to produce the necessary 2/3 majority. So far, none of the Republicans have shown any evidence that they would be amenable to change their doggedly pro-Trump stance. Their base would surely oppose this. So, while such a change is possible, it seems like a dangerous effort to venture toward impeachment with no guarantee of success. Moreover, a failed impeachment could leave Trump in a stronger position than he otherwise would be in — one more likely to result in increasing the chance of dangerous decisions being made in a revenge-ridden narcissist's mind. Any thorough-going advocacy of impeachment must take into account these possibilities and how we might deal with them. Then, when we consider the chances, we can make an informed decision about whether to push for impeachment or not.
2) Even should the unlikely miracles just described come to pass, there still remains the inevitability of Pence succeeding to the presidency. So far Pence has kept an extremely low profile. Therefore, any charges that could convict Trump would not apply to him. Yet we know, from the style and content of Pence's governorship of Indiana, that he is an enemy of progress on many levels. Since that is true, any talk of impeachment of Trump must deal with the possibilities and probabilities of a Pence presidency. To raise Trump's impeachment without the concomitant discussion of a Pence presidency is irresponsible.
Gene Glickman
      =====
Thank you. A potent and comprehensive presentation of what needs to be done.
Kevin Keating
      =====
Without support in the Senate impeachment is futile.
Josh White
Posted on Portside's Facebook page
      =====
Better to wait and get all the facts. Also it's nice to watch trump squirm
Enrico Campomizzi
Posted on Portside's Facebook page
      =====
Until there is a democratic majority in the Senate impeachment is impossible.
Tim Parker
Posted on Portside's Facebook page
      =====
I'm in no hurry to end Mueller's investigation. I do think the House should gear up for an impeachment. But I fear Pence will skate into the presidency if the facts are not in place on Pence's involvement.
Bonnie Beauchamp
Posted on Portside's Facebook page
      =====
... and McConnell's -
Jim Matteson
Posted on Portside's Facebook page
      =====
Impeachment is a sword that cuts both ways. The next Democratic president will face impeachment hearings on Day #1. The Republicans started this bullshit with Clinton thereby turning the US into a banana republic. Its dangerous to run a government on Populist whims. Especially in the age of mass misinformation and whacked out conspiracy theories on the internet Believed by millions of The weak minded. Impeachment should be a last resort, not a hilarious crowd pleasing ego boosting laugh getter.
Michael Fallo
Posted on Portside's Facebook page
      =====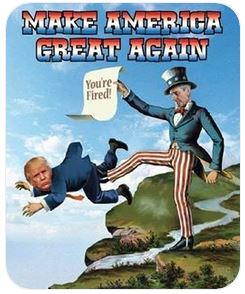 Manuel Chavez Sr.
Posted on Portside's Facebook page
Ghost of Christmas Past  --  cartoon by Robert Ariail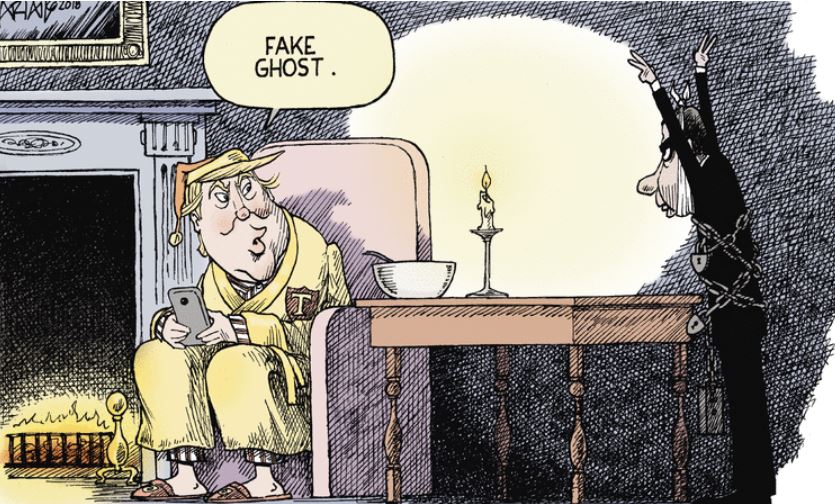 Robert Ariail
December 18, 2018
Herald and News (Klamath Falls, OR)
Re: Alexandria Ocasio-Cortez Is Floating a 70 Percent Top Tax Rate — Here's the Research That Backs Her Up
 
How do we pay for Medicare for All? For free college tuition? For a Green New Deal? For affordable housing? For infrastructure maintenance and improvement? For good schools? We tax the rich. Not new or news. Here, via Portside, Matthew Yglesias expands on the modest proposal for progressive taxation put forward by Alexandria Ocasio-Cortez. Let's help push our progressive agenda.
Daniel Millstone
Posted on Portside's Facebook page
      =====
That is what it was before Reagan messed it. Up.
Tom Trumper
Posted on Portside's Facebook page
      =====
How about a maximum wage as well as a minimum wage?
Georgi Ussyk
Posted on Portside's Facebook page
      =====
Back in the 50s the tax rate was in the 90% and that's when the American Middle Class was born.
Robert Guzman
Posted on Portside's Facebook page
Re: TSA Agents Are Calling In Sick Rather Than Work Without Pay During The Shutdown
(posting on Portside Labor)
If it was so easy to go on strike and win, don't you think we would have all gone on a massive general sit-down strike to shut this administration down and win medicare-for-all, treble Social Security benefits, a student debt jubilee and the return of a 90% marginal tax rate...a long, long time ago?
We fundamentally don't have a right to strike in this country. Whether you are in the public or private sector, the law can impose draconian penalties. Besides the law, there is a massive amount of fear - and an untapped quality of solidarity - that creates a hard-to-quantify viral nature to strikes that can spark genuine strike waves *and* crabs-in-a-bucket-style scabbing.
There are  thousands of organizers and hundreds of writers who have been grappling with how to bring the strike back. I may be a lapsed Catholic, but I still have a sense of penance. Everybody who has never been on strike or spent time as a labor organizer basically has to repent by reading - literally - thousands of pages of tortured strategic thinking on bringing the strike back.
Joe Burns wrote two pretty good books on the factors at play in reviving the strike:
Jeremy Brecher wrote the classic text on the quintessentially-American nature of strike waves:
Erik Loomis did a pretty good job of writing an updated and shorter "people's history of the U.S." in his new "History of America in Ten Strikes"
Selfishly, I'll plug a few of my own pieces on bringing back the strike here:
If any federal workers decide to go on a wildcat strike over their involuntary servitude, we all need to support them with lawyers, guns and money.
Shaun Richman
Re: Civil Rights Institute Cancels Gala Honoring Angela Davis After Outcry From Jewish Community
 
I am Jewish. Therefore I must be "a member of the Jewish Community." As such, I register the strongest possible protest against the withdrawal of the Shuttlesworth award from Angela Davis.
Her life's work entitles her to this award many times over. Those who objected to her receiving it, because she supports BDS, were making use of artificial and inappropriate criteria. They apparently can only look at someone through the prism of the interests of Israel, further limited by their narrow perception of what is properly those interests. (Not all of us in "the Jewish Community" agree with their perceptions; in fact, many of us have ourselves actively supported and participated in BDS, precisely because we are firmly convinced that doing so conforms to "Jewish values.") Such use of false touchstones display their own limitations and, as such, they have absolutely nothing to do with Ms. Davis's qualities and qualifications as a fighter for "liberty and justice for all."
Shame on them and shame on the Board of the Birmingham Civil Rights Institute for allowing itself to be bullied by such a self-righteous group of supposed "allies."
Gene Glickman
      =====
Angela, you have embodied so much of the best of our movement for all of your adult years.  To have received the Birmingham Civil Rights Institute Award  in the city of your early life, where you already were experiencing the terrorism of this society against Black people, would have been such a powerful, full circle culmination of your life.  But alas, right wing forces,  including the short-sighted Jewish organizations that have allied themselves with the actual enemies of Jewish people, have tried to derail that honor.  That honor, however,  remains yours forever, Angela, for all that you have risked and done over all these decades.
I love you for your many battles for the indivisibility of justice.
Suzanne Ross, 
A Nazi Holocaust Survivor, 
International Concerned Family and Friends of Mumia Abu-Jamal
      =====
"Shocking" ... a short and simple word ... but ... is one filled with meaning, emotion, sadness, and regret.
The story recalls the recent and sordid vote of the California NAACP Executive Committee to reject Proposition 10 in the Nov 6 election, thereby causing skyrocketing rents and unjust eviction of many of it's own members.
Sadly ... more evidence that being of the oppressed does not make one a progressive.
James E Vann
Oakland, Callifornia
      =====
As someone who believes in freedom, who is opposed to racism, xenophobia, misogyny, and anti-Semitism, this action is disgusting. As a Jew this action by SOME members of the Birmingham Jewish community is revolting. Those few members of the Birmingham Jewish community need to be criticized and their position needs to be reversed. Their action is racist. Their action is a shanda - an action that is publicly embarrassing to the whole Jewish community.
Jay Schaffner
Posted on Portside's Facebook page
      =====
Caving in to organized Zionist pressure is pathetic.  Why doesn't the prize-awarding institute ask a RANDOM sample of Birmingham Jews how they feel about Palestinians, BDS, and Israel?  Why cave in to the Zionist leadership?
Dave Lewit
      =====
Shame on the Jewish objectors who dislike Davis' support of the boycott of Israel and on the Institute for caving to it. The objectors do not speak for all Jews (many of us support the boycott for the same reasons we supported the boycott of apartheid South Africa), and shame on the Institute for abandoning their own choices and standards in the face of misplaced passion in support of government policies that were abhorred in South African and are being resisted in the United States under its current regime.
Judith Halprin
Posted on Portside's Facebook page
      =====
'Jewish Community' needs Italics, or quotes or whatever around it.  I'm a member of the Jewish Community.  I support BDS, hate that Jews – well , invaders, bombed out and murdered the people who had been living in the area 70 years ago, and continue to try to annihilate them.
Norma J F Harrison
      =====
"igniting a national controversy after seemingly genuflecting to grumbles from the area's Jewish community," tells you all you need to know about the author's racism and Portside's casual antisemitic bias
Lou Nayman
Posted on Portside's Facebook page
      =====
We the Hebrew people salute you Ms. Davis you don't have to worry about white Jews, we all know they are not biblical Hebrews
Annette Blackwell
Posted on Portside's Facebook page
      =====
Plenty of white Jews are also angry about this attack on Angela Davis.
Steve Cohen
Posted on Portside's Facebook page
      =====
When our history is controlled by others, they tell us which of our stories to tell, who of our sheroes/heroes to honor and what our children are to learn. This is pathetically hypocritical, sad and very disappointing. Fred Shuttlesworth was the epitome of outspokenness against the sensoring injustice of the board of the BCRI. If it could, his statue would probably walk away from the museum's front. I have taken hundreds of students there over the years with pride and joy. Now I have to ammend my story.
Bethany J Campbell
Posted on Portside's Facebook page
Re: In 2019, Forget 'Electability.' Vote for Who You Want
 
No! Vote for who CAN WIN!
Vicki Sussman
Posted on Portside's Facebook page
      =====
VOTE FOR THE ONE WHO'S GONNA END THE DICTATORSHIP OF A MADMAN. ...err...the crazy ones will just continue to wallow around in the mud of self destructive oblivion..
PLEASE PEOPLE! - Save the "craps shoot moves for a *whatever vacation in Los Vegas! The 2020 Presidential election is a vote to save this Nation; there's NO ROOM for any kind of *Whatever!!!!!!!
Jeni Colson
Posted on Portside's Facebook page
      =====
Anyone but Trump or Pence
Tony Garcia
Posted on Portside's Facebook page
Re: HR 1, First Bill in Congress: Democracy Yes; Voter Suppression No
 
What of the "GoPay" provision I've heard about that would require a revenue plan for each increase in spending?
"Deficit spending" can be investment in the future, perhaps worthwhile investments, perhaps not.  In the past, the military has been exempted from such rules (which effectively prevents major shifts to human service spending).
What does the provision specifically say?
What's the idea of this typically anti-government and anti-public services measure being part of the reform bill?
Is it just a fake, proposed by Dems. in an attempt to hitch a ride on the anti-spending spirit of recent decades (and not the first time they've hitched a ride on that, to everyone's great detriment)?
Suppose it becomes the only part of the whole proposal actually enacted? If that happens, the Dems. will deserve it -- but WE won't.
Joe Maizlish, Los Angeles
      =====
The problem with HR 1 is that it leaves the first past the post electoral system intact, and hence the largely unaccountable two party system remains intact. The political intimidation and harsh ballot access laws against other parties would continue.
Some of the reforms are great, I'll give them that, but the greatest electoral reforms they could have proposed would have been Ranked Choice Voting, Proportional Representation, fair ballot access laws, and inclusive debates; these would have allowed for a multi-party system like what many other countries around the world have.
Joshua Hellmann
Posted on Portside's Facebook page
HR 1902, the "Social Security 2100 Act" to raise revenues to forestall shortfall
 
Connecticut Congress member John B. Larson is projected to be chair of the Ways and Means Social Security Subcommittee. He has 170 co-sponsors for HR 1902, the "Social Security 2100 Act."
From my (very amateur) reading of the full bill, which contains the usual ration of minutia, this bill will basically raise Social Security revenue by 2 means:
1) The cap on the income subject to payroll tax will be raised from the present $115K or so to $400K.
2) The payroll tax itself will rise 0.05% in the first year (2020) and an additional like amount each subsequent year (additional 0.10% in 2021, etc.)
I anticipate the rich @#%*s will scream to the high heavens about raising the cap. Hoo boy, what a fight that will be.
On the other hand, the yearly rise in payroll tax, from 6.20% to 6.25%, then 6.30%, etc. should be relatively easy. For the average worker, with the average/mean wages of around $55K/year, this would come to a little over fifty cents raise in payroll tax per week the first year, a buck the next, and so on. It would take ten years before Joe or Jane Sikspak would be out the amount of a fancypants cup of coffee and donut every week (at present prices). This should be an easy sell, although I suppose we should cross our fingers on this! The payroll tax would then top off at 7.40% in 2042
Rather than just cross our fingers, we should start preparing ourselves to confront this issue in the coming year. As I said, the $400K cap will have the rich screaming bloody murder, so let's see what we can do to neutralize any of that noise. I suggest a calm, dispassionate approach. Let's just get it done. Any thoughts?
Joe Bryak
Excellent first like 8 paragraphs or so, holy shit this is long though lol.
Sharing to read later.
Michael Funk
Posted on Portside's Facebook page
Re: Alexandria Ocasio-Cortez's Clothes and Early Female Labor Activists
(posting on Portside Labor)
An interesting article that connects gender and politics to labor history!
UMass Lowell Labor Education Program
Posted on Portside's Facebook page
Re: NAFTA 2.0: Nothing for Workers
 
I think NAFTA was very destructive (and wrote several books about it), and the new agreement doesn't change much.  So I think the criticism made by Bruce Allen in his article, "NAFTA 2.0: Nothing for Workers" is a good one.  But what he says about Mexico's labor law reform proposal is not correct, and doesn't reflect the ideas and history of struggle of democratic and independent unions in Mexico.
Allen says:  "No new labour legislation has been passed into law as of January 1, 2019 in Mexico let alone legislation making such sweeping, positive changes. Worse still, there are no indications whatsoever that Mexico's new, ostensibly leftist government has any plans to enact such new legislation at any time in the foreseeable future. The implications of this are quite revealing and far reaching.  That this has not occurred nor is about to occur anytime soon is in fact wholly in line with the entirety of the provisions set out in NAFTA 2.0's Labour chapter."
In fact, legislation was introduced right before Christmas by Morena, the party-in-formation that won the national election last July and now governs Mexico) into the Chamber of Deputies.  That proposal embodies the principles of the Constitutional Reform adopted last year, and Mexico's ratification of ILO Convention 98 on freedom of association (something the U.S. has never done).  That Constitutional Reform and the ILO 98 ratification were the fruit of years of struggle by democratic and independent unions in Mexico against the protection contracts Allen mentions, as well as pressure from their allies in the labour movement in Canada, the U.S. and Europe.
The reform proposal now in the Mexican Congress was drawn up after a long debate over the last six months, over how to deal with the anti-labor reforms passed in Mexico by previous administrations as part of the neoliberal project.  Democratic Mexican unions were at the heart of this debate and process, and support this direction by the new government of President Andres Manuel Lopez Obrador.
There is a long history of solidarity by Canadian and U.S. unions toward Mexican labor, which is the answer workers and unions have given to NAFTA over 25 years, and now give to the new agreement.  It was the USW in Canada that gave refuge to Napoleon Gomez Urrutia, head of the Mexican miners' union in Vancouver, when he had to flee Mexico for challenging the huge mining giant Grupo Mexico and the Mexican government.  There are many such positive solidarity actions that have been taken over the last 25 years by Canadian unions, workers and organizations like Justicia for Migrant Workers.
Solidarity like this is more important than ever, as the possibility of political change in Mexico favoring workers and uninos is greater than it ever has been.  Such change will make a big difference in the lives of workers and unions in Canada and the U.S. as well, where we could use some similar political change ourselves.
In solidarity,
David Bacon
      =====
This is shocking but not surprising in the current political environment. It is very shortsighted. If workers are not well provided for the society will fail economically and politically.
Laurel MacDowell
Re: The United States is First in War, But Trailing in Crucial Aspects of Modern Civilization
 
"Every gun that is made, Every Warship launched, Every Rocket fired signifies, in the final sense, a theft from those who hunger and not fed, those who are cold and not clothed."
President Dwight D. Eisenhower, (April 1953)
Ike Furbush
Posted on Portside's Facebook page
      =====
Cold War Radar System a Trillion Dollar Fraud   
Profit and deception drove cold-war militarization, says Lester Earnest, founder of the Artificial Intelligence Lab at Stanford; Earnest says the anti-nuclear bomber SAGE radar system never worked and carried on for 25 years - Lester Earnest on Reality Asserts Itself with Paul Jay
David A Woolsey
Posted on Portside's Facebook page
Re: Brazil Is About To Show The World How A Modern Democracy Collapses
 
This is a very disturbing piece on what's happening in Brazil and how it is linked to Trump.
But bottom line is failure of establishment political economy in most places, including U.S., to provide security and purpose.
Ted Kraig
Re: Women's March 2019 -- Portside Readers Weigh-In
 
Thank you.... Well said.
Kari Fisher
Posted on Portside's Facebook page
      =====
Am I alone in finding an odd similarity between the shots fired at Bernie Sanders in the NY Times for being against women's rights - obvious nonsense - with those against the Women's March, picking up an unfortunate blunder regarding Farrakhan? Do I even hear echoes from the campaign in 2016 that Bernie was uninterested in the rights of African-Americans? Or the equally phony charges in Britain that Jeremy Corbyn is anti-Semitic? Whenever people fight for their rights the right-wing (or "liberal") media somehow use every trick (and exploit even the smallest or irrelevant blunder) to split the ranks and smash unity. Occasionally it seems to me that the marionette strings are especially visible - but are still so well directed that they fool even good honest people.
Victor Grossman
Berlin, Germany
      =====
People who levy accusations of anti-Semitism at those who advocate for Palestinians (actual Semites, by the way) are the ones who need to be called out on their weaponization of language and their bigotry.
Asenueh Meritye
Posted on Portside's Facebook page
Re: Jews, Anti-Semitism, Racism and White Supremacy
 
Respectfully, I don't believe living in the U.S. makes one a "racist." Living in a society in which racism -- and anti-Black racism in particular -- is institutionalized, DOES mean we are all affected by racism. But that is a different issue and the distinction is not unimportant.
It is the absence of genuine equality -- an absence that does not just "occur" but is a consequence of a society marked by class, race and sex-divisions imposed by all the dominant institutions of that society -- that results in what are privileges for some at the expense of others.
However there is only one way to eradicate those privileges and that this through social and political action aimed at winning genuine equality. While every politically conscious human being should strive to live life "fairly" and with good intentions towards others, the result of institutionalized inequality (and thus privilege) cannot be overcome by individual action, no matter how well meaning. What is required is revolutionary change. This does NOT mean "waiting" for revolution before doing anything about racism, sexism or other ills of capitalist society. It means fighting against those ills in whatever ways we can, while also pointing to the need for the revolutionary change that is necessary.
No one who is genuinely a racist -- nor a sexist -- is going to do that. But the necessary change can only come about if millions of us who are *affected* by racism and other divisions imposed by class society, fight against the consequences of those forms of oppression.
Geoff Mirelowitz
Posted on Portside's Facebook page
      =====
 Very well said
Judy Gradford
Posted on Portside's Facebook page
      =====
I'm sorry, but the premise of this article...that Jews have white privilege but are victims of anti-Semitic bigotry...is the most ridiculous thing I have ever heard. Jews are obviously marginalized. They can't be privileged as well.
Alice Hazan
Posted on Portside's Facebook page
      =====
Why not? Privilege is not a binary yes/no thing. Group A may be privileged relative to Group B while Group C is privileged relative to Group B.
Steve Cohen
Posted on Portside's Facebook page
      =====
Assuming that Michael Harriot's oversimplified mischaracterization of Jewish identity -- "First, let's be clear. Judaism is not a race. It is a religion." -- is the product of breathtaking ignorance as opposed to cynical rhetorical obfuscation, my friendly advice to him is to steer clear of the temptation to define the peoplehood of others.
Lou Nayman
Posted on Portside's Facebook page
Bricks in Trump's Wall  --  cartoon by Marc Murphy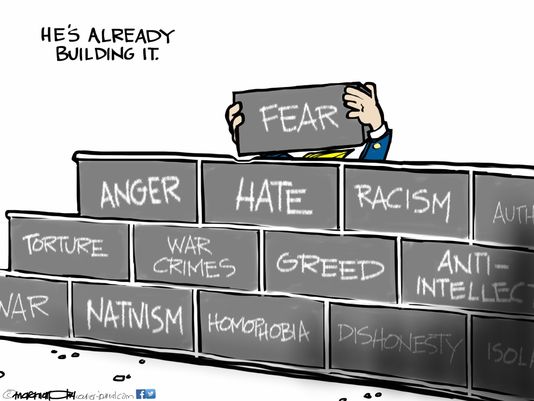 Marc Murphy
March 3, 2016
Louisville Courier-Journal
Re: The Problem with Border Security
 
The problem is we get Latinos becoming enemies of the peoples!
Hector S. Cordero Sosa
Posted on Portside's Facebook page
      =====
That happens when a president and FOX make it a problem by saying it over and over again and again. Disgusting!
Jane Worley Knapp
Posted on Portside's Facebook page
      =====
30 years ago, I met a man working as a General Contractor in Wisconsin.
While talking, I learned that he had been a DEA agent at the Texas border. During a pursuit, his car rolled, and he suffered severe back injuries.
He was on disability for a long time.
I asked him, why did you not return to DEA?
He said, while I was on disability, I realized that if I was working, I would have to arrest most of the people that I was hanging with.,
Larry Foster
Posted on Portside's Facebook page
Re: The 200-Year History of Using Voter Fraud Fears to Block Access to the Ballot
 
Greatest fraud in Confederate South. Rejecting blacks, refusing black registration, allowing dead white people's votes to be counted back to 6 generations. White people commit fraud routinely
Greg Darling
Posted on Portside's Facebook page
Re: An Epidemic Is Killing Thousands Of Coal Miners. Regulators Could Have Stopped It
 
Check out coal dust emissions in Puerto Rico by the AES power plant. The diseases caused by this coal burning is unprecedented.
Domingo Soto
Posted on Portside's Facebook page
      =====
Another reason for solar power!!!
John Gidley
Posted on Portside's Facebook page
Re: Veteran NBC Reporter Rips Pro-War Posture of Corporate Media in Scathing Resignation Letter
 
Although I do depend on much of MSNBC's reportage to keep me aware of what is happening politically, I have often wondered why my journalist preferences (Rachel Maddow in particular..) tend to delve deeply into the minutiae of politics, yet obligingly quotes 'polls' of questionable value that speak of percentages of voters who would support such and such a non-Republican candidate, while not even bothering to have Bernie Sanders on the list - and we all know that Bernie leads the pack...Rachel also seems to enjoy glorifying the military without any sort of introspection..Two things that are bothering me about MSNBC..and I have to wonder if Maddow's so called independence is merely a construct...Guess it shouldn't be much of a surprise...sadly.
Wendi Galczik
Posted on Portside's Facebook page
      =====
A few journalists have guts.
Stephan Franciosi
Posted on Portside's Facebook page
Re: "Network" A Stunning Commentary on the Corrupt American System
(posting on Portside Culture)
 
It amazes me how unknown this film is to the general public today. If they did know it, maybe we wouldn't be where we are right now.
Eleanor Roosevelt
Posted on Portside's Facebook page
Politicians or the Grassroots: Who Should Lead the California Democratic Party?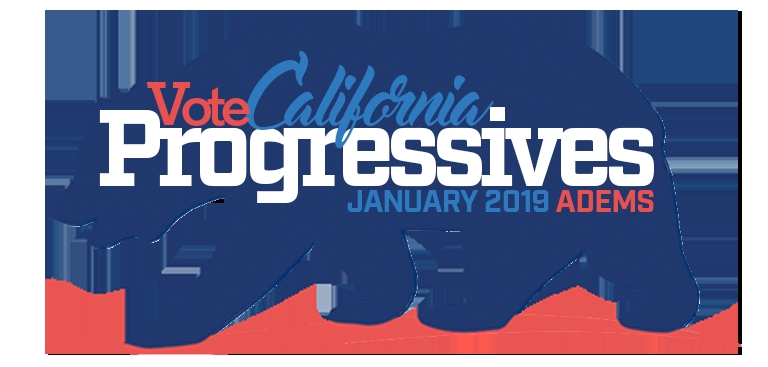 In June, 3,000 Californians will meet at the state's Democratic Party Convention in San Francisco to shape the California Democratic Party's platform, policies, endorsements, and leadership in the run-up to the 2020 elections. 
In the past, these conventions have been dominated by elected officials and other party insiders. Many of these insiders have made positive contributions to our state. But, unfortunately, party insiders have a tendency to craft policies which put politicians' personal aspirations ahead of the common good. 
Of the 3,000 Democrats who will vote at the California Democratic Party Convention, one third will be chosen from the community at the Assembly District Election Meetings, known as "ADEM" elections. These elections give the working class a rare chance to leverage their collective power and gain some influence over the workings of the Democratic Party. Every registered Democrat can and should show up on January 12th to vote for 14 delegates from their Assembly District.  
The problem with the ADEM elections is that, historically, the candidates have been politicians and members of their inner circles. Elected officials are not satisfied with two thirds of the vote at the party convention - they want it all. Since most Democratic voters do not know about these party elections, the turnout is usually low and the politicians usually win.  
That is, until the 2017 ADEM elections. 
In 2017, grassroots activists across California formed "slates" in each Assembly District to challenge the insiders. This led to historic ADEM election turnouts throughout California. In my hometown (Assembly District 70 - Long Beach, San Pedro, Signal Hill, and Avalon), community activists without ties to elected officials formed the "Blue Revolution" slate. They won 10 of the 14 Assembly delegate seats. For the first time in California history, non-establishment community members earned a seat at the Democratic table. 
This victory carried over to the 2017 California Democratic Party Convention. There, in cooperation with grassroots activists across other California Assembly Districts, the Blue Revolution slate introduced 13 reform proposals designed to make the party more accessible and transparent. 
One motion, which was successfully adopted by the state party, leveled the field for new voices by making incumbents meet the same party endorsement threshold as insurgent candidates. Formerly, challengers could win the state party endorsement with 60% of state convention votes. Incumbents, on the other hand, only needed 50% of the votes to earn the state party endorsement. The Blue Revolution reform brought parity to the endorsement process by requiring the challenger and the incumbent to reach 60% of the votes at the state convention. 
Blue Revolution and its grassroots allies also forced the party to consider new voices to represent the party's top leadership. At the 2017 convention, politicians and party insiders threw their support behind Eric Bauman for state party chair. Bauman had long chaired the mighty LA County Democratic Party. Many politicians feared standing up to this powerful Democrat. 
Non-establishment delegates did not fear Bauman because Bauman could not make or break their careers. Citing Bauman's aggressive demeanor and his ties to the pharmaceutical lobby, grassroots delegates rallied behind Kimberly Ellis for state party chair. Ellis was an activist and Executive Director at Emerge California, where she helped women and members of minority groups run for public office. The grassroots activists shared her vision of a diverse progressive party, open to fresh community voices. 
Due to the high number of appointed delegates, the math was in favor of Bauman. Yet, the grassroots activists managed to persuade 49% of the delegates to vote for Ellis. Bauman won only 62 more votes than Ellis. 
Just over a year after his victory, Bauman was forced to resign his chairmanship after being accused of multiple instances of sexual assault and harassment. Had the grassroots delegates not stood up to him in 2017 and demonstrated the narrowness of his political base, the California Democratic Party might still have an accused sexual predator as its top-ranking official.  
Traditionally, 3,000 party insiders have made decisions for the rest of us - without much public engagement or accountability. It is time we leave that tradition in the past.  If you are a registered Democrat (or wish to register on the same day at the venue), I urge you to vote on January 12th for 14 grassroots community organizers to lead the California Democratic Party. To find the progressive list of candidates in your area, and the time and place to vote, visit https://www.adems.vote/
Cesar Armendariz
Long Beach
Organizing to Win: Movement-Building and Strategy for Our Time - Brooklyn - January 23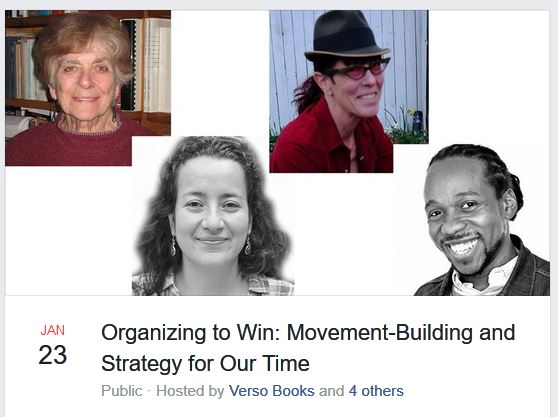 Wednesday, January 23, 2019 at 7 PM – 9 PM
Verso Books
20 Jay Street 
Suite 1010
Brooklyn, New York 11201
L.A. Kauffman in conversation with Frances Fox Piven, Maurice Mitchell, and Ana Maria Archila on the state of contemporary movements and how to transform resistance into real victories in 2019 and beyond.
We're living through an era not just of extraordinary peril but of extraordinary response. More Americans have taken part in protests since Trump took office than at any prior time in U.S. history, and grassroots hustle -- much of it outside the structures of the Democratic Party -- swayed election after election to the left during the November 2018 midterms. How do we evaluate what we've achieved over these two years of intensive organizing, and what strategies will prove most effective in the months and years ahead? What roles should such disparate approaches as protest and direct action, community organizing, and electoral advocacy play in building movement power and leveraging that power to concrete gains? 
Longtime movement insider and historian L.A. Kauffman -- author of DIRECT ACTION (Verso, 2017) and HOW TO READ A PROTEST (UC Press, 2018) -- will lead a conversation on these urgent questions with three leading thinkers and organizers of our time:
FRANCES FOX PIVEN is one of the country's most influential scholars of social movements as well as an accomplished political organizer. She is a Distinguished Professor Emerita of Political Science and Sociology at the Graduate Center of City University of New York. Piven is the author of co-author of numerous highly acclaimed books on American politics, including REGULATING THE POOR: THE FUNCTIONS OF PUBLIC WELFARE; POOR PEOPLE'S MOVEMENTS: WHY THEY SUCCEED, WHY THEY FAIL; WHY AMERICANS DON'T VOTE, AND WHY POLITICIANS LIKE IT THAT WAY; and CHALLENGING AUTHORITY: HOW ORDINARY PEOPLE CHANGE AMERICA.  
MAURICE MITCHELL is the Executive Director of the Working Families Party, bringing more than 20 years of experience in community organizing, electoral politics, and social movements to this role. His past work includes serving as Organizing Director for Citizen Action of New York and, in the wake of the police killing of Michael Brown in Ferguson, Missouri, co-founding and managing Blackbird, an anchor organization within the Movement for Black Lives that provides strategic support and guidance to groups and individuals throughout the country. 
ANA MARIA ARCHILA is the Co-Executive Director of the Center for Popular Democracy. A longtime community organizer and advocate for immigrant rights, she previously served as Executive Director of Make the Road New York. Archila's work to oppose the Supreme Court nomination of Brett Kavanaugh made global headlines after she and a fellow activist confronted Senator Jeff Flake in an elevator last September, challenging him to listen to the voices and objections of sexual assault survivors. 
Beer, wine, and seltzer will be available.
Co-hosted by University of California Press and the Working Families Party
Film Showing - Black and Cuba - New York - January 26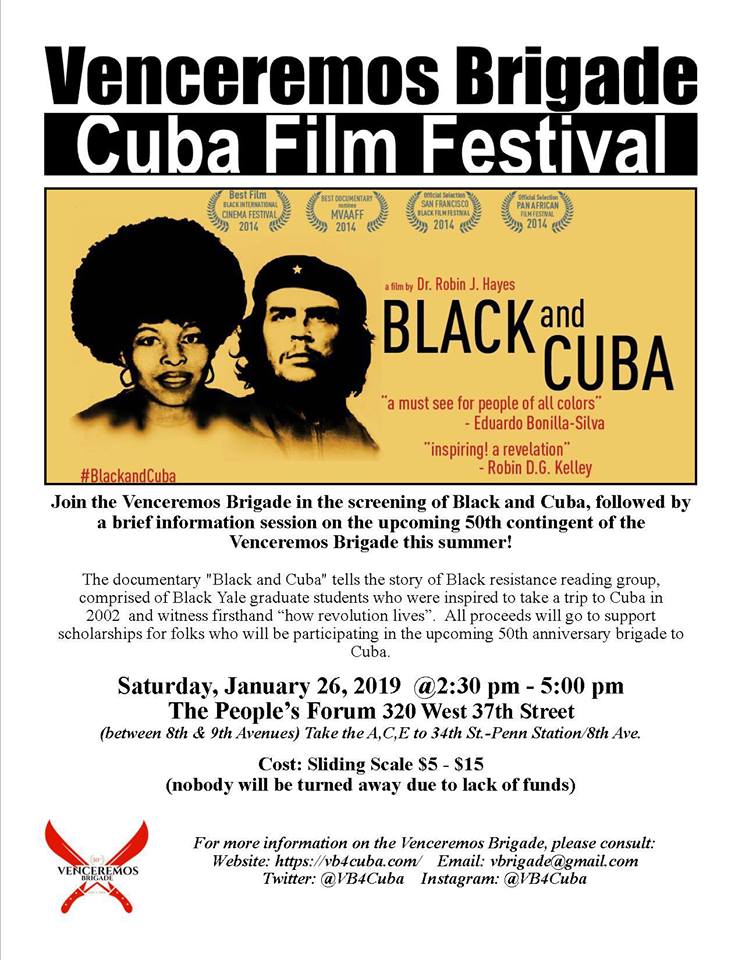 Be a Part of Building Power for Women Workers: Apply to Be a 2019 WILL Empower Apprentice - April 15 deadline for applications 
January 2, 2019
WILL Empower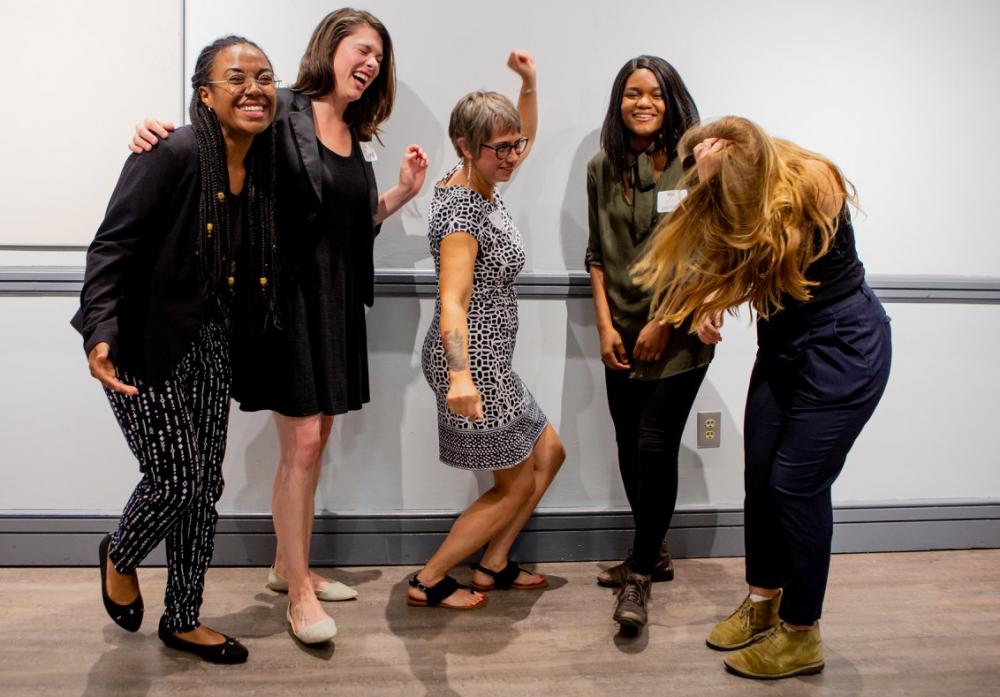 If working people are going to build robust power in the 21st century, women will be front and center in leading that change. You can be part of that next generation! The WILL Empower Apprenticeship Program is a paid opportunity for recent college graduates and rank-and-file activists to explore what it's like to work for the labor and workers' justice movement, and to gain the skills and knowledge you need to begin making a difference. 
Consider applying to be a 2019 WILL Empower apprentice. Applications are now open and are due April 15, 2019. Apprentices will begin work in September, 2019. Find out more in our information guide.   
WILL Empower apprentices work for 3-12 months with unions and worker organizations across the nation. The WILL Empower apprentices may work in a variety of capacities, including organizing, research, communications, politics, mobilization, and policy. Pay starts at $15 an hour.   
The inaugural apprentice class in 2018 included five apprentices at four host sites:  the North Carolina AFL-CIO (Raleigh); Jobs to Move America (New York); the International Brotherhood of Teamsters (Washington, DC) and Jobs with Justice (Washington, DC).
Each WILL Empower apprentice has two female mentors, one inside the host organization and one who is external to the organization.  WILL Empower apprentices participate in an orientation and training in early September at Georgetown University in Washington, DC, before beginning their placements. 
"I left the gathering with a renewed commitment to fighting for economic, racial, and gender justice in my life/career and in what I hope and believe will be lifelong, supportive relationships with women who have already helped me become a better version of myself," wrote Lorelei Christie in a blog post about her experience as a 2018 WILL Empower apprentice. 
WILL Empower (Women Innovating Labor Leadership) is a multi-pronged initiative designed to identify, nurture, and train a new generation of women. It is a joint project of Georgetown University's Kalmanovitz Initiative for Labor and the Working Poor and Rutgers University SMLR's Center for Innovation in Worker Organization.
 

Women Innovating Labor Leadership
Kalmanovitz Initiative for Labor and the Working Poor
209 Maguire Hall | Georgetown University | 37th St. and O St. NW
Washington, DC 20057
202-687-2293
Center for Innovation in Worker Organization
School of Management and Labor Relations | Rutgers University
50 Labor Center Way| New Brunswick, NJ 08901
848-445-5973