Tidbits - Apr. 18, 2019 - Reader Comments: Medicare for All; Assange; Death Penalty; Green New Deal; Segregation; Hawaii Statehood; Trump Cuba Policy; Game of Thrones; Resources: Albert Einstein; Reparations; Kevin Lynch Memorial;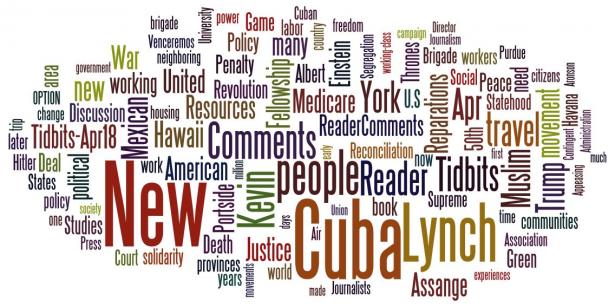 Tidbits - Reader Comments, Resources and Announcements - Apr. 18, 2019,Portside
Resources: 
Announcements:
Re: Bernie Sanders Introduces New Medicare For All Bill, Welcoming War with Insurance Industry
 
Co-sponsors include Warren, Gillibrand, Harris and Booker. Medicare for All is shaping up to be one of the defining issues of the 2020 elections.
Jay Schaffner
Posted on Portside's Facebook page

      =====
I love that! Most of those who oppose don't realize that even the Koch Brothers admitted that it is the cheapest plan!
Dionysia Laboard
Posted on Portside's Facebook page
Trump Voters  --  cartoon by Raging Pencils (Mike Stanfill)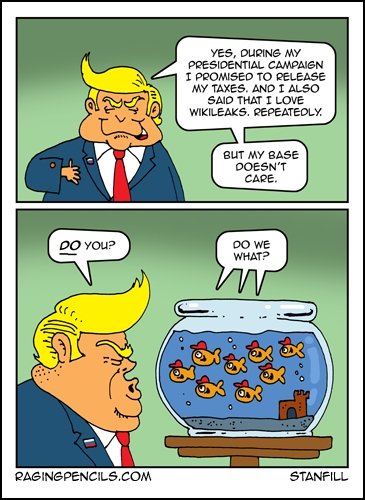 Mike Stanfill
April 11, 2019
Raging Pencils
Re: Assange's Indictment Is Trump's next Step in His War on Press Freedom
 
Assange is NOT a progressive. WAKE UP! He's yet another proof that far from being the romantic revolutionaries they paint themselves to be, anarchists always end up serving the powers that be. In this case, Assange was Trump's and the Republicans' best asset. Along with all the numerous White House servants who've been cast aside and slandered by the current Administration, Assange serves as yet another object lesson of what happens to you when you serve the devil.
Om Williamson
Posted on Portside's Facebook page
      =====
The Russian collaborator ? Sorry. Wrong guy for your poster child.
Mark Gillespie
Posted on Portside's Facebook page
      =====
Scary, dangerous stuff
Lynn Fedele
Posted on Portside's Facebook page
      =====
The charges against Assange have nothing to do with freedom of the press. They are for participating in the theft of government documents.
Patrick Coyne
Posted on Portside's Facebook page
Re: The Supreme Court Made a Death Penalty Decision in the Dead of the Night and Justice Breyer Is Pissed
 
As citizens of this country, or not, we are part of this atrocity. Here is our so-called criminal justice system deliberating (for years on end) on the cold-blooded killing of a fellow human. They do this in our name. Long held captive to await this ordained death, Mr. Price has lately been offered a choice: to be killed in agony, or slightly less agony. It is his bad luck that the paperwork was delayed and his choice was not received in a timely manner. It is for this reason that the Supreme Court, shuffling papers under cover of darkness, decided for timeliness.
Let me be clear. In no way do I condone violent acts, and recognize that Mr. Price must be deprived of his liberty for a heinous crime. It is absurd and outrageous that cold blooded judicial torture and killings are in any way considered a just response. Capital punishment only serves to further brutalize our society.
Sarah Grey
Posted on Portside's Facebook page
      =====
End the death penalty already.
It was initially used to detour crime, but it obviously hasn't.
To me that's revenge and to me that is murder!
Howie Leveton
Posted on Portside's Facebook page
Re: A Real Green New Deal Means Class Struggle
(posting on Portside Labor)
 
It would seem that more and more of us are grasping the fact that neoliberal, global supercapitalism is the implacable enemy of a safe, fair world and a hospitable climate
Don Cavin
Posted on Portside's Facebook page
      =====
'If we are going to win a GND, we need this working-class movement to grow to at least the dimensions of the insurgency of the 1930s and 1940s. In 1934, 1.5 million workers went on strike; today, with 200 million more people in the US, a comparable level would mean over 4 million workers on strike. The GND won't be won as a single issue, but must be one among many popular working-class demands like Medicare for All, living wages, and taxing the rich. The key strategy is to situate the GND within the expansion of a broader working-class movement.'
Jason Smothers
Posted on Portside's Facebook page
Adios  --  cartoon by Lalo Alcaraz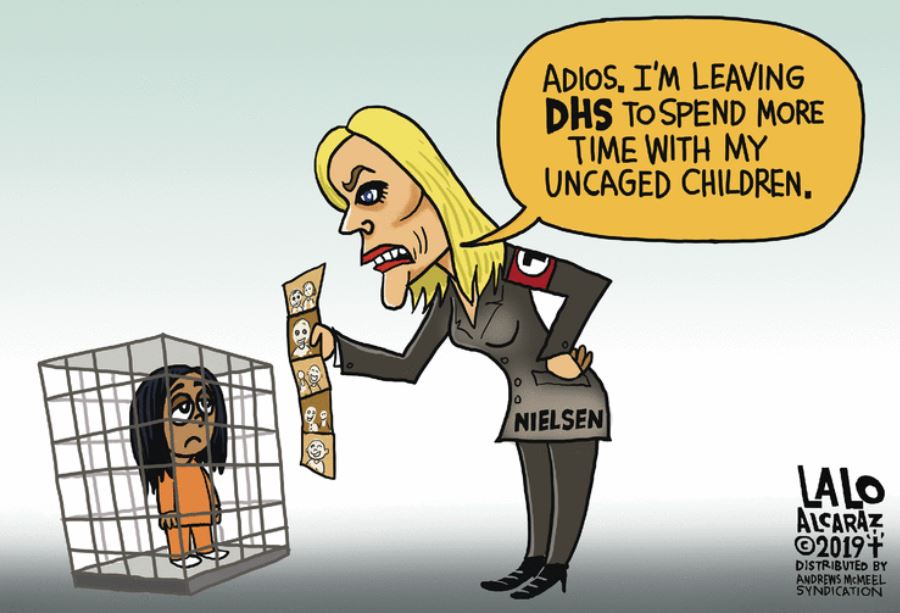 Lalo Alcaraz
April 11, 2019
Rich Rothstein wrote the book on government created and enforced racial segregation of housing. His book talk which encapsulates his prize winning "Color of Law" has become a wonderful, useful animated twenty minute film. Here, via, Portside, is that film narrated by Rich (with whom many of us have worked and played over decades) and put together by him and Mark Lopez.
Daniel Millstone
Posted on Portside's Facebook page
Re: Racists in Congress Fought Statehood for Hawaii, But Lost That Battle 60 Years Ago
 
I remember reading that Hawaii made a much stronger case for statehood than Alaska, EXCEPT that Alaska was (and remains) mostly white. So decision was made for Alaska to be admitted as state first - then Hawaii could sneak in on its coattails. Speaks volumes.
Connie Arnold
Posted on Portside's Facebook page
      =====
Au contraire.....
They f**ked over Hawaii by imposing statehood....
First they had a full on military invasion....and then a silent invasion....
And now Hawaiian culture, language and religion have been reduced to mere tourist attractions....
The racists in the USA legislature won....
Giovanni Matos
Posted on Portside's Facebook page
      =====
An interesting read. Some things I did not know.
John Banta
Posted on Portside's Facebook page
      =====
Now, how about treating Puerto Rico with dignity and respect???
Sonia T Marcano
Posted on Portside's Facebook page
Re: You Paid Taxes. These Corporations Didn't.
 
We need lobbyists and representatives like corporations do. Hey, maybe we could have elections so we can choose the people we like to represent us, you know, the folks who actually pay taxes.
James Festerman
Posted on Portside's Facebook page
Re: Where Homeownership Starts at $1 per Square Foot
 
I find this tiny homes corporate-supported 'movement' so upsetting.  I wonder how Portside can spread this garbage, especially at a time when we need more community land trusts, decent public housing, and truly inclusionary/ really affordable housing for households of all sizes -/ for the millions of low and moderate households now falling through the cracks, or at risk of doing so.
We as a society need massive infusions of public resources, with strong poor/working class input/control, not tiny little developments  pushed by do-gooders out to detour the mass movements we need to make truly affordable housing for all a reality.  Homeless people need to be reintegrated into vibrant communities, not further isolated into individualized faux housing solutions.
We need to move the money literally from war to our local communities.
Tom Gogan
Re: Stripping the Value from Food Labels
 
Yet another sign of the downward slide of the U.S.  Maybe this can be challenged as age and/or income discriminatory by those of us who don't carry phones with scanners!
Carol Hanisch
Re: On the Universalism of Notre Dame, from Muslim Arches to the Goddess of Reason
 
A very beautiful and important piece about the meaning of Notre Dame...
Natalie Reuss
Posted on Portside's Facebook page
      =====
What will people think of next😲😲😲 Thanks for this article
Emilie Walker
Posted on Portside's Facebook page
Statement on New Trump Cuba Policy
 
April 19, 2019
RESPECT Statement on New Trump Cuba Policy

National Security Advisor John Bolton's statement on new policy guidelines for Cuba is a continuum of historical efforts to maintain the Monroe Doctrine of 1823 and disrupt and undermine an independent country. The campaign against Cuba dates back to the Cuban Revolution of 1959 and has continued fairly unabated with a United States blockade in place despite the condemnation of this blockade by the overwhelming majority of countries in the United Nations General Assembly, as well as the majority of the American people.
Beginning in 2012 and culminating with the meeting of Presidents Barack Obama and Raul Castro in December of 2014, the United States and Cuba made positive steps towards normalizing diplomatic relations, respecting the territorial integrity of each country and allowing more freedom to travel for citizens of both the United States and Cuba.
Since the election in 2016, the Trump Administration has been unraveling and reversing this tremendous progress by employing a new policy of scare tactics and misinformation campaigns.  
These new efforts to strengthen the illegal Helms-Burton Act and limit family remittances are mired in the Cold War thinking and policy that are violations of the civil and human rights of American and Cuban citizens. The use of the anniversary of the failed and notorious Bay of Pigs invasion of 1961 for the delivery of these regulations clearly defines a policy towards Cuba that is lost in the Cold War of more than 60 years ago. It is a further irony that the Administration chose to announce this new policy on the same week that the report has been partially released outlining the efforts of a foreign country to meddle and to violate in the sovereignty of the United States.   
The RESPECT founding charter of 2016 dedicates non-profit entities, travel agents, tour operators and other travel service providers to promoting ethical and socially responsible travel to Cuba. We understand that our relations with Cuba are framed in developing mutual understanding and learning through first hand experiences. We are committed to the right of all US citizens and residents to travel to Cuba and we strongly advocate for the lifting of all US governmental travel restrictions to the island. 
Email:    respect@respectassociation.org
RESPECT CO-Coordinators:
Walter Turner   -   Gail Walker   -   Bob Guild
I saw this author interviewed on Democracy Now!. This is an important book!
Marta Schmidt
Posted on Portside's Facebook page
(posting on Portside Culture)
 
USA and UK were fine with Nazi Germany as long as it attacked Soviet Union
Erdal Yado
Posted on Portside's Facebook page
      =====
What most Americans don't realize is that Henry Ford and Rockefeller and many other American industrialists were Nazi sympathizers. It wasn't until Pearl Harbor that the sentiment changed fundamentally from tolerant to hostile.
Vance Petersen
Posted on Portside's Facebook page
      =====
They propped Hitler. They weren't just sympathizers.
Steph Go
Posted on Portside's Facebook page
Re: The Authoritarian Heroes of Game of Thrones
(posting on Portside Culture)
 
I have been asked what I thought of GoT, and my response has been: what that world needs is for some talented leaders, like a Spartacus, Wat Tyler and Thomas Muntzer, to unite the peasants and slaves, and rid their societies of all those kings, queens, and contesting noble families, only interested in using the lower classes as cannon fodder for their competing claims to absolute power. Pretty much the same view of Lord of the Rings.
Harold Dyck
Posted on Portside's Facebook page
      =====
A non-industrial society simply isn't productive enough to provide a high living standard to any but the 0.1 percent; and therefore to sustain a meaningful democracy...
Gordon Galland
Posted on Portside's Facebook page
Valuable New Book on Albert Einstein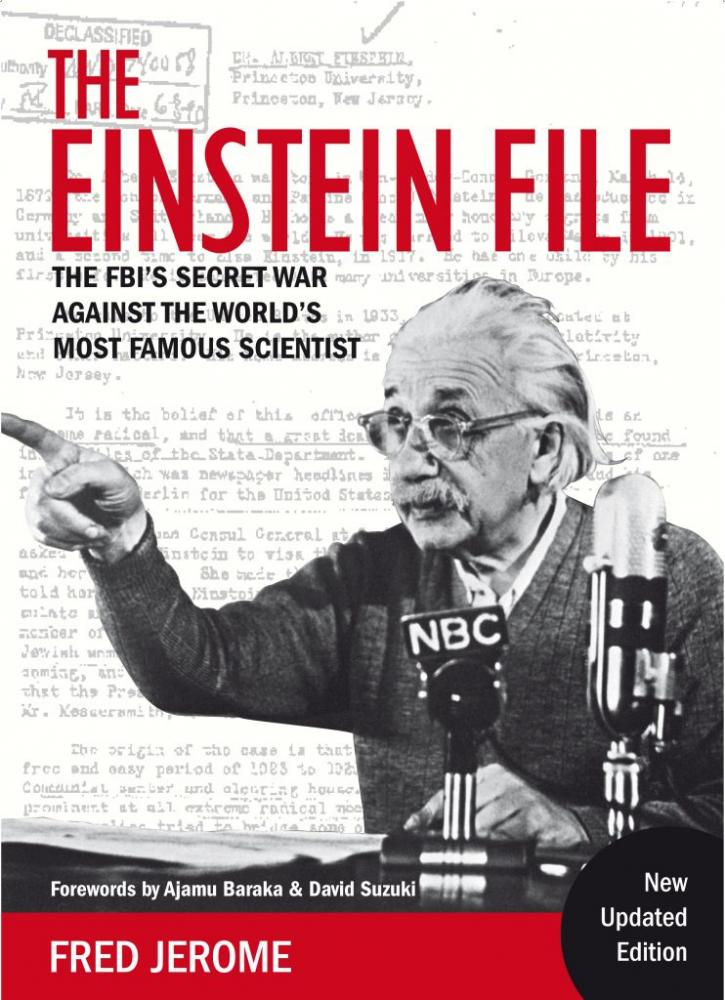 I believe you will find it worthwhile discussing and spreading the word about this valuable new book.
The publisher, Baraka Books in Montreal, recently published my latest book, Updated Edition of The Einstein File: The FBI' Secret War Against the World's Most Famous Scientist.
With warm regards and high regard,
Fred Jerome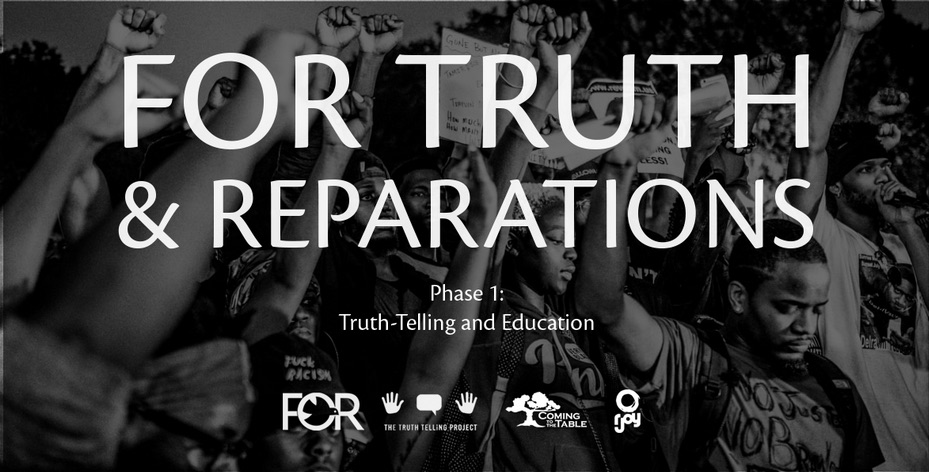 Four hundred years ago, in 1619, the first Africans were brought to the North American continent. The time has come for reparations. While there are different narratives of what reparations could be, spirituality, healing, and system change must be at the center of this conversation.
Discussion of reparations is spreading quickly in both the public square and the private living room: from the rhetoric of aspiring presidential candidates, to op-eds in national media, to commemorations of historic events that have sparked our social and political consciousness.
This is a sea-change opportunity: how will you participate? Given the unwillingness of our national government to address slavery and its impact, the Fellowship of Reconciliation, one of UFPJ's founding members, co-created the FOR Truth and Reparations campaign along with the Truth Telling Project (TTP), Restorative Justice for Oakland Youth (RJOY), Coming to the Table (CTTT), and representatives from the National Coalition of Blacks for Reparations in America (N'COBRA).
Register now to join theo upcoming informational call:
Tuesday, April 23rd at 7:00 p.m. EST (4:00 p.m. PST)
Organizations are invited to endorse the campaign and join this movement.
United for Peace & Justice
APPLY NOW to Participate in the 50th Anniversary Contingent of the Venceremos Brigade!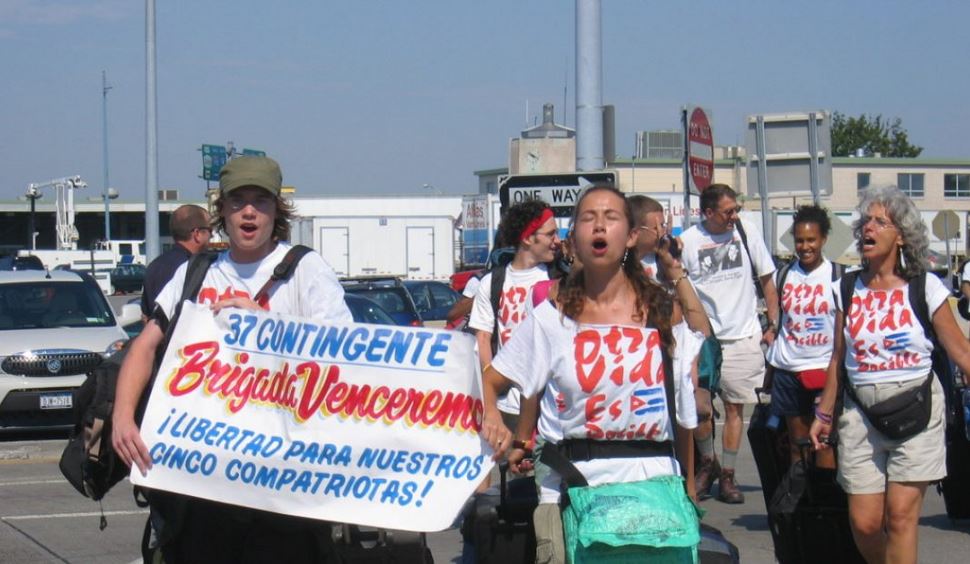 Join the 50th Brigade:
Cuba is the only country on earth that US citizens can't travel to freely. In the 50 year tradition of the Venceremos Brigade, this July (2019), we will travel to Cuba to practice solidarity with the Cuban People and their struggles, many of which are due U.S. policy. We do this through voluntary labor, donations of material aid, relationships building and dialogue between our peoples. We have much to learn from each other about building a more just and equitable world. During the 50th brigade, more Americans than ever will have the opportunity to travel to Cuba within these values.
APPLY NOW to Participate in the 50th Anniversary Contingent of the Venceremos Brigade!
We invite you to join the brigade in ethical travel to Cuba this summer, as part of an intentional community of revolutionary practice, to celebrate a half-century of international solidarity and struggle, to see Cuba with your own eyes, to transform your perspective and our movement work!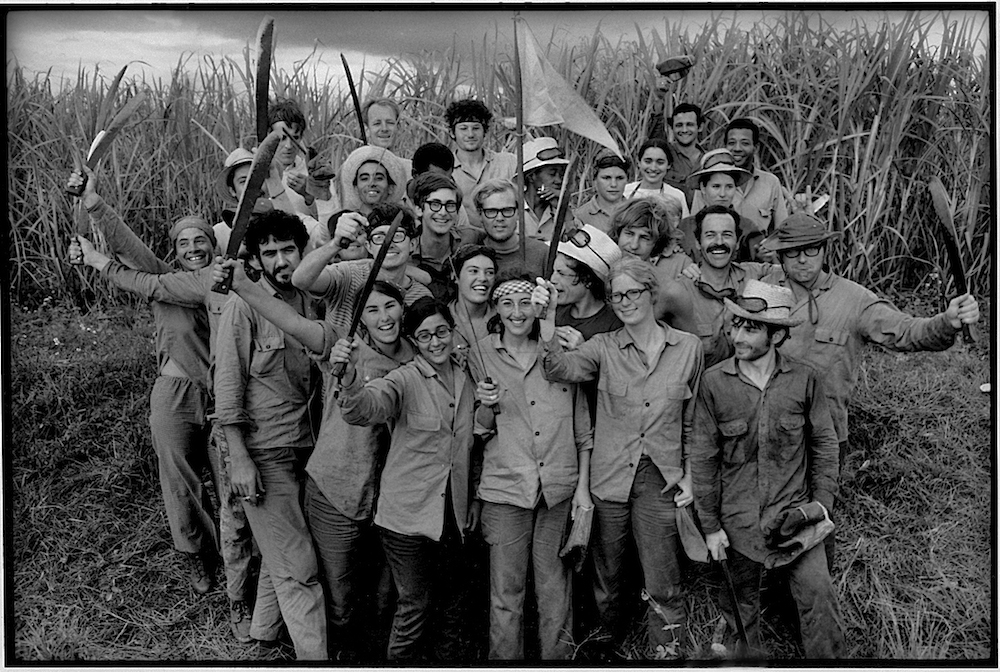 photo: 50th Venceremos Brigade - Bay Area - 50VBBayArea@gmail.com
IMPORTANT UPDATES ON VB50:
All trip options for the VB 50th Anniversary Contingent will now travel direct between the U.S. and Cuba!
What does this mean?
1. The Travel Challenge is evolving as developments in the political climate create new conditions for Cuba Solidarity work. Now more than ever, it is a priority that the VB brings the largest and most accessible brigade in recent history. With continued and expanding attacks on progressive movements and governments across Latin America (and worldwide), and in the context of mounting threats, fear-mongering, and hostility in the U.S. government's stance toward Cuba specifically, political and ethical travel to Cuba has become, in and of itself, a challenge. At this critical moment, the VB and our Cuban partners have decided that our political objective – of building the strongest possible contingent to engage in a project that is about the survival of the Cuban Revolution – is best served with new tactics. And therefore, this year the brigade will be taking advantage of the General License for People-to-People Educational Exchange.
2.  The VB's program in Cuba, of solidarity work, educational exchanges, and political activities, is not changing. We will still have 4 trip options (see below), but they will all travel directly between the US and Cuba. Please note that now all trip options are open to all applicants, and the 5-day trip includes an option for hotel accommodation, reserved for people who identify as seniors or elders, people with disabilities, and their care providers; all others traveling on the 5-day trip will stay with the larger group at the International Camp.
3. Due to these changes, the application deadline has been extended, with application fee ($100) and deposit ($500) due no later than May 1st. The final payment for accepted brigadistas is due no later than June 1st. Partial financial assistance is available and is applied to the final payment.
We are more than half way to our goal of 300 people for the 50th and expect to sell out. We encourage folks to APPLY  2 now to secure your spot. If you have questions about these changes, please email vbrigade@gmail.com.
OPTION 1A: 5 days (Havana area and neighboring provinces only, July 28-August 1) – cost TBD *accommodations at camp; full brigade program in Havana and nearby provinces.
OPTION 1B: 5 days (Havana area and neighboring provinces only, July 28-August 1) – cost TBD *accommodations at hotel for people with disabilities and elders and their caregivers; adjusted program
OPTION 2: 10 days (Havana area and neighboring provinces only, July 23-August 1) – $1800
OPTION 3: 2 weeks (Havana area, neighboring provinces, departure from Camaguey, July 23-August 6) – $2000
OPTION 4: 3 weeks (Havana area, neighboring provinces, Camaguey, Granma, Santiago, Guantanamo, departure from Holguin or Santiago, July 23-August 13) – $2200
Contact the VB -- vbrigade@gmail.com
Send donations by check or money order made out to AFGJ (with BVSP in memo line) to:
Alliance for Global Justice (AFGJ)
225 E. 26th Street, Ste. 1
Tucson, AZ 85713
Music and Social Change - Lafayette, Indiana - April 20 (American Association of University Professors (AAUP) - Purdue Chapter)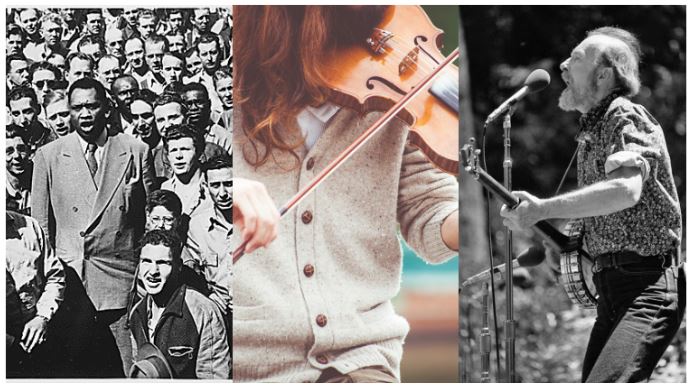 FREE AND OPEN TO THE PUBLIC
APRIL 20 1-4:30 PM
3118 LILLY HALL OF SCIENCES
915 STATE STREET
PURDUE UNIVERSITY
Lafayette, Indiana
honoring the retirements of Purdue faculty Harry Targ and Otto Doering
1-2:15 pm Discussion of the role folk music has played in social movements, and singing with Allan Winkler, biographer of Pete Seeger and author of To Everything There Is a Season: Pete Seeger and the Power of Song (Oxford University Press).
2:15-2:30 Refreshments
2:30-4:15 A panel discussion on music and social change movements. Panelists will include Purdue faculty and graduate students who teach and write in the area of music and social change.
Cosponsored by the American Studies Program, Committee on Peace Studies, Department of Political Science, School of Interdisciplinary Studies, and American Association of University Professors (AAUP) - Purdue Chapter
Kevin Lynch, New York-Area Trade Union Leader - Honoring Him, and Remembering Him - New York - April 27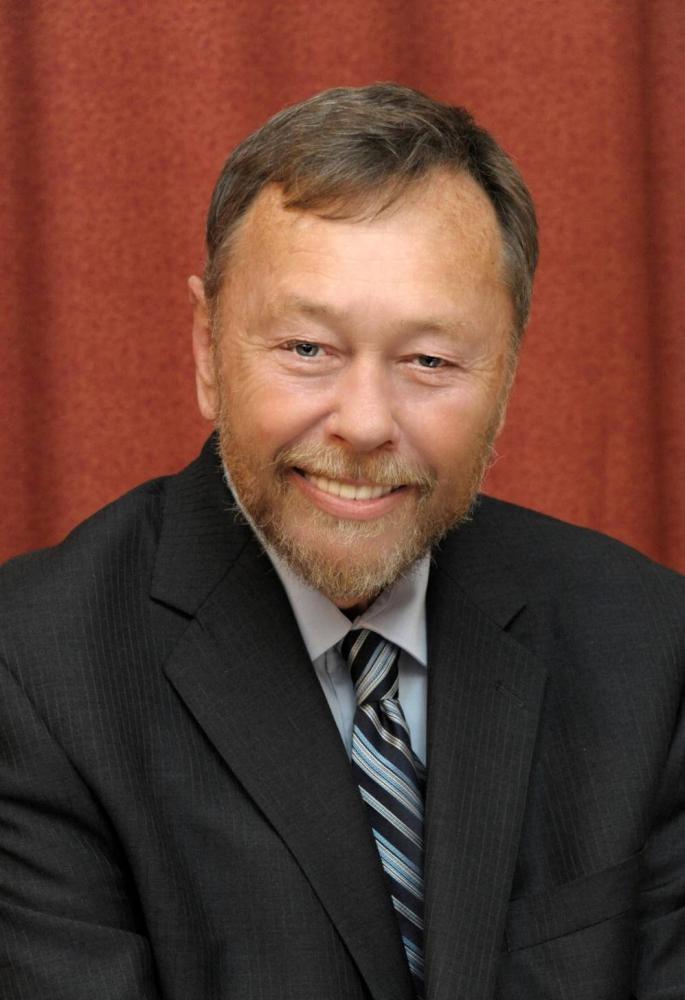 A celebration of Kevin Lynch's life will be held on April 27, at DC 1707, 420 W. 45th Street, at 2 o'clock p.m.
Late Queens labor leader Kevin Lynch to be celebrated later this month
By Bill Parry
April 10, 2019
QNS
Labor leaders from across the tri-state area will gather together later this month and celebrate the life of Kevin Lynch, a Glen Oaks resident and a towering figure in the movement.
Lynch was a longtime director of organizing and political action for major unions in New York and New Jersey. He died on March 8, at North Shore University Hospital. He was 73 years old.
Lynch is survived by his wife, Queens County Supreme Court Justice Bernice D, Siegal, and his daughters Rebecca Della Lynch, Deputy Director of the Working Families Part of Wisconsin and Sara Alexandra Lynch, a Fellow with the Defender Association of Philadelphia.
"Our father's life's work was to befriend, empower and honor the working people," Lynch's daughters said in a statement. From his early days as a teenager, working as a union longshoreman on the docks of New York, and his time as a young man serving in the Peace Corps in the mines of Bolivia, our father delighted in getting to know the lives and families of working people, and was energized by their struggle. A true organizer, he helped gather over a million people in Central Park at the United Nations Disarmament Rally, and over the last decade partnered with labor groups to bring back the May Day rallies to New York City. He was a devoted father, who took tremendous pride in our accomplishments big and small. He gave us a love of justice and family and the world around us. He will be missed by many, his family most of all."
Among the trade unions to which he devoted his organizing, political and strategic skills were UAW District 65, AFSCME DC 1707, the Teamsters Local Union 840, IAM District 15, RWDSU 338, CWA 1180 and the New York City Central Labor Council. Lynch stood for worker solidarity and immigrant rights and was a powerful speaker at airport workers rallies in the long campaign for dignity and economic justice.
"Kevin Lynch was a powerful champion for working people in Queens and across New York," 32BJ SEIU President Hector Figueroa said. "He took so much joy in organizing and helping workers build power, especially in sectors and communities that were historically overlooked by the labor movement. I remember him as a powerful advocate for black, Irish and South Asian workers and his work will continue to serve as an inspiration to so many of us."
As a founding member of the Working Families Party, Lynch was successful in partnering labor unions and refocus electoral politics, holding elected officials and politicians accountable to working families.
"What made us loyal to Kevin Lynch followers was that he taught us in words and deeds nearly every day. Kevin loved working people; it was that simple," NY Working Families Party Executive Director Bill Lipton said. "Long after labor leaders his age had retired, Kevin was out every day early in the morning talking to workers in sectors and communities that others had overlooked. It was always clear to me that it gave him great joy to go out and organize, to listen to working people and help them build power and strategize. More than anyone, he taught me and so many others the power of solidarity. He taught us how power and wealth will try, in so many different guises, to divide us from each other. He was one of the people I admired most in this world."
When Lipton awarded Lynch a lifetime achievement award at the WFP Progressive Leadership Conference, Lynch recalled growing up as a Bronx-born son of Irish immigrants, and paying union dues for more than 50 years.
"Growing up in my house, my mother used to say 'If you leave the church you'll break my heart, you cross a picket line and I'll break your legs,'" Lynch said.
As a citizen of both the United States and Ireland, Lynch was a founder of the Irish Arts Center in Hell's Kitchen.
The Hon. Bernice D. Siegal, Lynch's wife of 31 years believes, "Kevin's determination came from fighting for Irish unification, to be free of political and capital oppression. That came in tandem with his Jesuit education and work as an advocate for working people, from the mines in Bolivia and rice paddies of Viet Nam ultimately to the streets of New York."
She is organizing the celebration of his life which will be held on April 27 at District Council 1707 at 420 W. 45th St. at 2 p.m.
Revolution in the Air: A Book Talk and Discussion - New York - April 29 (The People's Forum)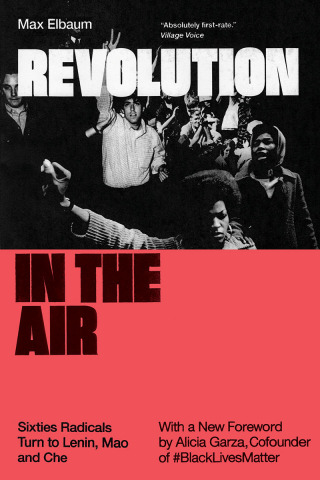 April 29, 2019 • 6:30 - 8:30PM
The People's Forum
320 West 37th Street
New York, NY 10018
Join us for a book talk with author Max Elbaum on the re-release of his book, Revolution in the Air: Sixties Radicals Turn to Lenin, Mao and Che.  Max will joined for a discussion by leader and scholar Willie Baptist.
The first in-depth study of the long march of the US New Left after 1968, Revolution in the Air tells the story of the "new communist movement," which in the 1970s and '80s was the most dynamic and racially-integrated trend on the U.S. left. Thousands of its young activists, looking to the ideas of Lenin, Mao, Che, and Amilcar Cabral for inspiration, foregrounded internationalism and anti-racism and rooted themselves in workplaces and working-class communities.
Despite its early promise, by the end of 1980s the new communist movement had spent its force. Yet numerous lessons, both positive and negative, can be drawn from its rich experience. Taking issue with the idea of a division between an early "good sixties" and a later, overly Marxist, "bad sixties," Revolution in the Air is especially valuable in reclaiming those lessons for today's new generation of activists who are searching for a 21st century path to revolutionary change.
"We All Belong Here: Hearing the Voices of Muslim Women"  - May 4 - Kingston, NY (Fellowship of Reconciliation; Jewish Voice for Peace)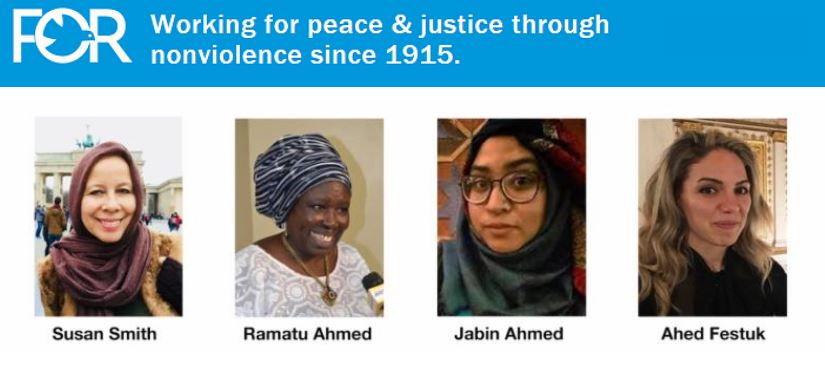 In the wake of the New Zealand massacre of 50 Muslims by a white supremacist on March 15th, it has never been more apparent to our communities of faith and conscience that the predominantly white Christian society in which we live is steeped in Islamophobia, xenophobia, and other forms of bigotry, racism, and hate.
At the same time, many of us seek opportunities get to know and understand our Muslim neighbors better, to listen to their stories, learn from their experiences, and spend time together characterized by compassion, connection, joy, and solidarity.
It is in this spirit that Jewish Voice for Peace's Hudson Valley Chapter (JVP-HV), with co-sponsors the Fellowship of Reconciliation, Muslim Peace Fellowship, Community of Living Traditions at Stony Point Center, and Middle East Crisis Response, present:
"We All Belong Here: Hearing the Voices of Muslim Women"  - A panel discussion of four Muslim women who live in our region
May 4th from 1:30-4:00 pm
Unitarian Universalist Congregation
320 Sawkill Road, Kingston NY
Panelists will share individual hardships and experiences with Islamophobia, while examining the intersectionality of diversity, oppression, and the United States' war economy. They will discuss how negative perceptions are formed and governmental policies reify Islam, while manufacturing tropes and stereotypes.
The panel features:
Susan Smith (Moderator): Fellowship of Reconciliation's Director of Operations; Muslim Peace Fellowship; Community of Living Traditions member; involved in peace & justice issues at local, national, and international levels;
Ramatu Ahmed: Executive Director of the Africa Life Center and nationally-recognized champion of immigrant and women's rights;
Jabin Ahmed: Writer, artist, and activist from the Hudson Valley who uses her life experiences as a Muslim, Brown, second-generation American woman to create change;
Ahed Festuk: Activist from Aleppo, Syria, now seeking asylum in the U.S., who works as Outreach Coordinator for the Multi-Faith Alliance for Syrian Refugees in NYC.
Questions? Please contact hudsonvalley@jewishvoiceforpeace.org.
Fellowship of Reconciliation
521 N Broadway
Nyack, NY 10960
Crisis for Mexican Journalists: Panel & Discussion - New York City - May 21 (Aronson Awards for Social Justice Journalism & The Jaime Lucero Mexican Studies Institute/CUNY)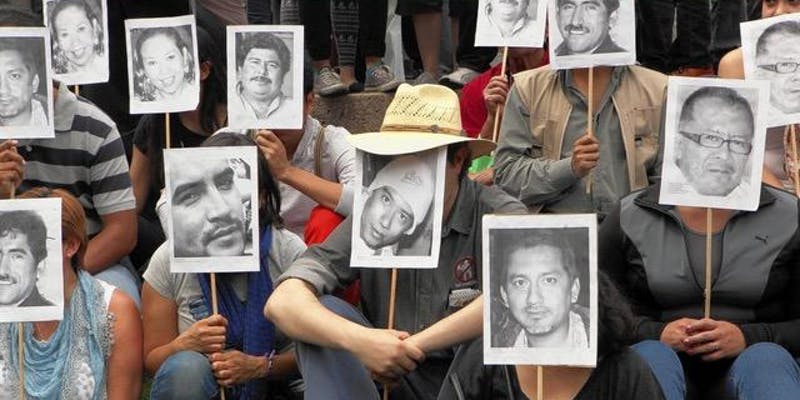 Tuesday, May 21, 2019  --  6:30 PM – 10:30 PM EDT
Hunter College
695 Park Avenue
Lang Recital Hall 4th Floor
New York, NY 10065
FREE - Register - click here.
The Aronson Awards for Social Justice Journalism & The Jaime Lucero Mexican Studies Institute/CUNY present
Crisis for Mexican Journalists Panel & Discussion ~ Free & Open to the Public
Speakers
Marcela Turati, Courageous Award- Winning Mexican Journalist
Alejandra Ibarra Chaoul, Mexican Reporter, Leader of Democracy Fighters
Alexandra Ellerbeck, Committee to Protect Journalists
Mexico is not a war zone, and yet it is one of the most dangerous places in the world for reporters. At least five journalists have been killed in 2019 alone. The Mexican government has repeatedly promised to protect journalists and freedom of speech. But the shootings and beatings continue. What does this mean for freedom of the press and democracy? What can we do?
This event is part of the Aronson Awards for Social Justice Journalism/Hunter College and The Jaime Lucero Mexican Studies Institute and is co-sponsored by the Committee to Protect Journalists, Reporters Without Borders, the Craig Newmark Graduate School of Journalism Bilingual Spanish-language and NACLA - Report on the Americas.