Tidbits - June 13, 2019 - Reader Comments: Impeachment; New immigrant children facility opened; Climate Crisis; Puerto Rico; Sanders and Palestine; Airline Mechanics; Teachers; $15 Minimum Wage; Gun Worship; Chile and the TPP; more.....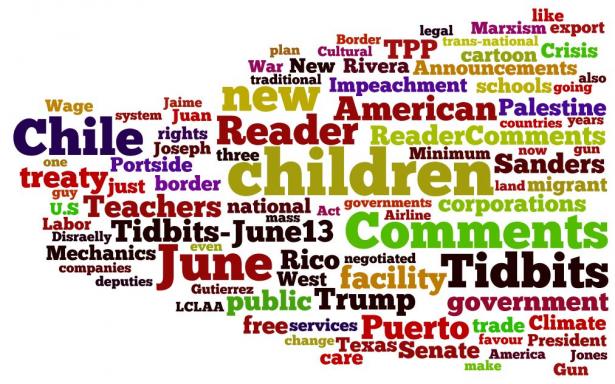 Tidbits - Reader Comments, Announcements and Shorts - June 13, 2019,Portside
Announcements:
Re: Make No Mistake: Trump Is Freaked About Impeachment
 
He is an unindicted co-conspirator in a case where his lawyer got three years for illegal payoffs on behalf of President Trump.
The state of NY seized his Trump Foundation, redistributed the assets and dissolved it. Do you think President Trump allowed them to do that because he was to charitable?

The Mueller report clearly shows he obstructed justice and that his campaign had 142 contacts with Russians, that resulted in 37 indictments of Russian Oligarchs and operatives.
You choose to listen to a political appointee over a known lifetime conservative Republican that served with distinction on the battlefield as a prosecutor and FBI director appointed by Bush, confirmed by the Senate 100-0.
This President continues to hide information just like Nixon and is ordering people to ignore Congressional subpoenas that both conservative and liberal judges have ruled against him as he continues to obstruct justice by not allowing Congress to perform their constitutional duty of oversight.
Read the report, they even have it on audio for free.

Listen here.
Mark Joseph Sparacio
Posted on Portside's Facebook page
Misdemeanors  --  cartoon by Robert Ariail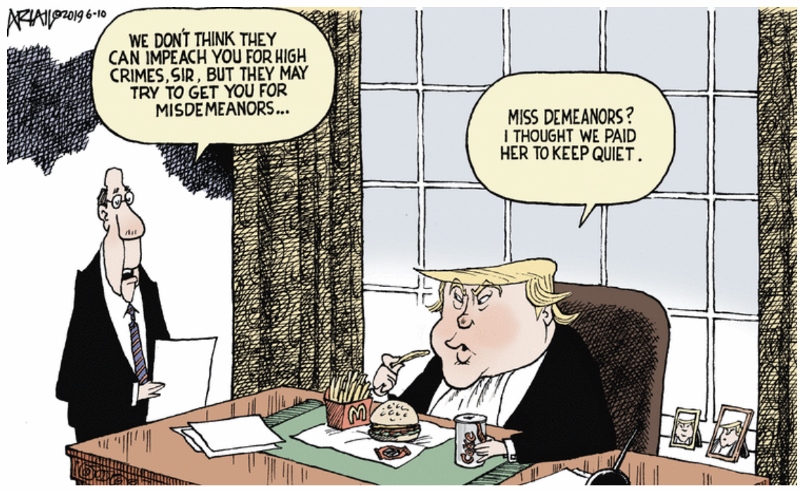 Robert Ariail
June 10, 2019
US opens new mass facility in Texas for migrant children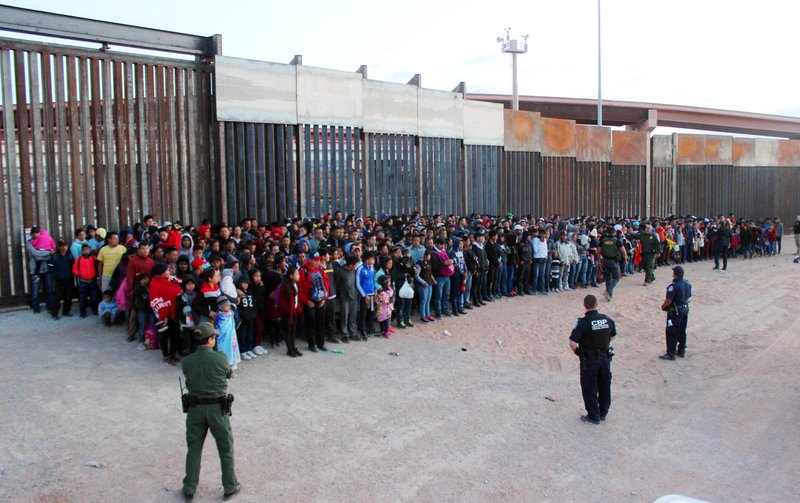 By Garance Burke
June 7, 2019
Associated Press (AP)
The federal government is opening a new mass facility to hold migrant children in Texas and considering detaining hundreds more youths on three military bases around the country, adding up to 3,000 new beds to the already overtaxed system.
The new emergency facility in Carrizo Springs, Texas, will hold as many as 1,600 teens in a complex that once housed oil field workers on government-leased land near the border, said Mark Weber, a spokesman for Office of Refugee Resettlement.
The agency is also weighing using Army and Air Force bases in Georgia, Montana and Oklahoma to house an additional 1,400 kids in the coming weeks, amid the influx of children traveling to the U.S. alone. Most of the children crossed the border without their parents, escaping violence and corruption in Central America, and are held in government custody while authorities determine if they can be released to relatives or family friends.
All the new facilities will be considered temporary emergency shelters, so they won't be subject to state child welfare licensing requirements, Weber said. In January, the government shut down an unlicensed detention camp in the Texas desert under political pressure, and another unlicensed facility called Homestead remains in operation in the Miami suburbs.
...
The announcement of the program's expansion follows the government's decision to scale back or cut paying for recreation, English-language courses and legal services for the more than 13,200 migrant toddlers, school-age children and teens in its custody.
The Health and Human Services department, which oversees the refugee office, notified shelters around the country last week that it was not going to reimburse them for teachers' pay, legal services or recreational equipment, saying budget cuts were needed as record numbers of unaccompanied children arrive at the border, largely from Guatemala, Honduras and El Salvador. In May, border agents apprehended 11,507 children traveling alone.
Attorneys said the move violates a legal settlement known as the Flores agreement that requires the government to provide education and recreational activities to migrant children in its care. Last week, attorneys filed a motion claiming that the government also was violating the decades-old settlement by keeping kids at Homestead for months in some cases, instead of releasing them within 20 days.
"If they are going to open the program up in these numbers and they can't even manage the influx facility that they have in a humane way, then compounding that is going to be disastrous," said Holly Cooper, an attorney at the Immigration Law Clinic at University of California, Davis who represents detained youth.
Advocates have slammed the move as punitive, saying such services are typically available to adult prisoners.
Read full story here.
Re: The Climate Crisis is Our Third World War. It Needs a Bold Response
 
Joseph Stiglitz explains the urgency and economic benefits of a vigorous planned response to climate change.
Daniel Millstone
Posted on Facebook
     =====
This is not an optional war. Tell you what - I would be willing to allow climate entrepreneurs to gouge prices just like war materiel manufacturers have been doing.. It is like paying ransom for our children.
Sonia Collins
Posted on Facebook
Re: The American Cult of Bombing and Endless War
 
War what is it good for, absolutely nothing!
Juan Rivera
Posted on Portside's Facebook page
Re: The Scandal of Puerto Rico's Botched Disaster Relief
 
Please share this article. It underscores the urgency for the removal of all racist Republicans from office in all three branches of government so that we can get to the bottom of the bankruptcy fiasco and prosecute the criminals responsible for this shameless fiscal feeding frenzy!
Richard Lopez
Posted on Portside's Facebook page
Re: Bernie Sanders and Palestine
 
This is interesting. How is warren on Palestine?
Jeannine Herron
     =====
Moderator's Response: Here is a story from The Forward and the Jewish Telegraph Agency (JTA) which indicates Warren's position on the Netanyahu-Trump-Kushner plan to annex the West Bank. 
A Senate resolution condemning this was introduced by Sanders and Warren along with four other senators - Sen. Jeff Merkley, D-Oregon, Sen. Dick Durbin of Illinois, the deputy minority leader, Tammy Duckworth, D-Ill. and Dianne Feinstein, D-Calif.
see: Sanders, Warren Introduce Resolution Against Israel Annexing West Bank
By Ron Kampeas
June 7, 2019
Forward
What is the plan for U.S. troops in Iran?  --  cartoon by Lalo Alcaraz
 

Lalo Alcaraz
June 7, 2019
Pocho Ñews Service
Re: American Airlines Mechanics Are Threatening the "Bloodiest, Ugliest Battle" in Labor History
(posting on Portside Labor)
 
When the executives do not care about their employees!!! That's the price, maintained the pressure. They just care about their bonuses.
Juan Ocasio-Rodriguez
Posted on Portside's Facebook page
     =====
Oh my god,
Marlene Rivera
Posted on Portside's Facebook page
     =====
In 2 years since this merge they haven't been able to get a contract???
Shows how much value is placed on the workers
Connie Franson
Posted on Portside's Facebook page
Re: West Virginia Senate Passes Sweeping Education Bill to Ban Teacher Strikes
(posting on Portside Labor)
 
The West Virginia State Senate on Monday passed a sweeping education overhaul bill that would deem teacher strikes unlawful.
The chamber voted 18-15 to advance the measure - after Senate Republicans inserted an amendment during a special session Sunday that would ban public worker strikes, amid protests from teachers and workers in the chamber, the Charleston Gazette-Mail reported. The legislation also allows for an unlimited number of charter schools in the state.
Kentucky Alliance Against Racist and Political Repression
Posted on Portside's Facebook page
Re: Democrats Must Choose Between Teachers and Charter Schools
 
"The problem with charter schools isn't that they're competing with public schools; it's that they're supplanting public schools."
Disraelly Gutierrez Jaime
Posted on Portside's Facebook page
     =====
Charter schools ARE public schools.
Alan Lemke
Posted on Portside's Facebook page
     =====
They are not.
Socorro Rivera Rosa
Posted on Portside's Facebook page
Re: Baltimore Teachers Unseat Incumbents, Who Demand a Do-Over
(posting on Portside Labor)
 
What happens when new leaders run for office and beat an eight-term incumbent? In the Baltimore Teachers Union, it seems, the incumbent tries for a second bite at the apple.
Progressive Truth Seekers
Posted on Portside's Facebook page
Re: How We Won a $15 Minimum Wage and More
(posting on Portside Labor)
Glad to hear it, but what happens when the cost of living rises and then the minimum wage needs to be, 20 dollars, or 30 dollars? The system is broken and no one is speaking about ways to change it.
Vince Cushite
Posted on Portside's Facebook page
Re: How the `Good Guy With a Gun' Became a Deadly American Fantasy
 
Susanna Lee's examination of the last hundred years of America's fascination with "the good guy with a gun" is a useful contribution to our understanding of Terrorism in America.  I'm sure she will agree that this fantasy has much deeper historical roots.  European-Americans arrived as settlers----refugees, contract-labor, convicts and land speculators.  With the exception of the Quakers, all of them expecting to seize and occupy land by force, i.e. as a guy with a gun.  Some claimed ownership with a piece of parchment bearing the seal of a European Monarch.  No one, Monarch, land-speculator or settler negotiated a treaty for the land with the Native Owners (I am told the Pennsylvania Quakers signed an agreement of mutual non-violence with Seneca).  English-speaking settlers fought neighboring French-speaking and Spanish-speaking settlers for the opportunity to terrorize the Natives and seize their land----as a guy with a gun..
The importation of African-American slaves and the slave-plantation necessarily introduced a new type of terror, and a new meaning for "guy with a gun".
The gunman----whether privately armed or "in a well-regulated militia"----has always been the main instrument of Terror in America.  Only the identity of the victims is becoming more inclusive.
Joel Rothschild
Re: Under Guise of "Choice": Trump Launches Assault on Veterans' Care
 
Do not be fooled, he does not give a damn about veterans. It is just the typical Republican plan. Under fund an agency, then complain loudly about the problems and then try to privatize it to make big money for his backers.
Edward Earl Bell
Posted on Portside's Facebook page
     =====
Well the slogan was make "America" great again. Not make Americans great again.
Tommy Dixon
Posted on Portside's Facebook page
     =====
I wonder if it covers bone spurs. Oh wait, the armed forces cannot accept people with bone spurs. Never mind...
Chris Oberlin
Posted on Portside's Facebook page
Defending Freedom  --  cartoon by Rob Rogers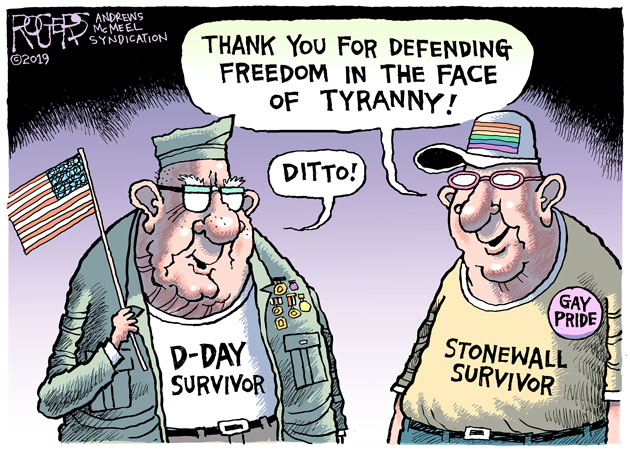 Rob Rogers
June 8, 2019
robrogers.com
Re: Schrödinger's Cat Could Be Saved, Say Scientists
 
I knew it was time to retire as a Library Billing Specialist when I once explained a fine using Schrödinger's Cat.
Gregory Fisher Berky
Posted on Portside's Facebook page
     =====
Save the cat damn it
Jackie Kuikman
Posted on Portside's Facebook page
Re: Quantum Leaps, Long Assumed to Be Instantaneous, Take Time
 
The misunderstanding about the nature of "leap."  It does not relate to speed of transition but simply means that there is a qualitative change, a change that does not simply reflect a quantitative difference.
Joseph Kaye
Posted on Portside's Facebook page
Re: `Cultural Marxism': The Mainstreaming of a Nazi Trope
 
What does cultural Marxism mean for the far right? In the modern iteration, in spaces like Breitbart or Infowars, it is the belief that a failure by communists to topple capitalism through worker revolt has led to a "Plan B" to destroy Western society from the inside. By tearing down the gender binary, de-centering Christianity values, championing the weak over the privileged and creating a multicultural society, revolutionaries have unanchored traditional Western order. Everything from gay rights to Muslim immigration is, in the language of the far right, part of a plot to finish the job that radical worker organizing could not.
Disraelly Gutierrez Jaime
Posted on Portside's Facebook page
Chile and the TPP  --  Report from Chile
 
The clearest sign yet that politics in Chile have changed: the TPP-11. Whatever is that?
For years now, new kinds of international `trade' treaties have been secretly negotiated - one for countries around the Atlantic, and one in the Pacific area. For the Pacific, the grand title now is "Comprehensive and Progressive Agreement for Trans-Pacific Partnership". The less formal name is `Trans-Pacific Partnership' or TPP. It was negotiated by 12 countries - and not just national politicians but also, crucially, representatives of trans-national corporations. Then Donald Trump withdrew the USA from the treaty, so now we call it the TPP-11.
These treaties are much more than free trade treaties; commerce accounts for only 5 sections of 30. The key points give enormous powers to the trans-national corporations, in sections dealing with protections for foreign investment and intellectual property rights.
China, significantly, is not a signatory. They are not going to open up to blackmail by trans-national corporations. Other countries, such as Vietnam and Canada, have not signed certain sections.
So what happened in Chile? The governments of right and `centre-left' (mainly the latter) took part in the secretive negotiations, agreed everything and expected a rubber-stamp ratification in Congress. All free trade agreements had gone through `on the nod' before, and this was no different, no? It was not to be. Some troublesome ecologists and indigenous people began to make noises about the threat to the free use of traditional seeds. Other economists raised questions about national sovereignty. Some members of Congress, deputies of the Broad Front and Communist Party, began to take notice.
Soon there was a fully-fledged campaign, fueled by active WhatsApp groups - mainly ecologists - and left wing deputies. The TPP requires implementation of UPOV, that facilitates the patenting of traditional seeds (by subterfuge). It reinforces and extends the rights of corporations to sue national governments that do anything to infringe on their `reasonable expectations' to profits from activities in the country. It sets up yet another system of international arbitration, where corporations can sue governments, but not the other way round, biased in favour of the companies, partly because work for the arbitrators depends on the corporations, among other factors.
Four aspects of the treaty limit national sovereignty, in favour of the trans-nationals. They are the prohibition of requirements for technology transfer, restriction on policies for public contracts and for public companies, and the prohibition of export taxes. So policies aimed at real national economic development, moving away from the extractivist model of export of raw materials and unprocessed products, are blocked. The drastic changes in economic life needed to implement a Green New Deal would be blocked. Stimulating production of high value added products, let alone high technology industries, would be stifled. Increasing labour rights and conditions, encouraging cooperatives and new public enterprises, could all be punished by biased international arbitration.
Public companies could not be given special conditions to compete with the trans-nationals - shades of the EU. This could include, for example, improvements in labour rights or wages. The ban on export taxes would mean for Chile there could be no tax on the export of copper concentrate. Such a tax would force companies to export only refined copper, or products with even more value added, and so boost the national economy. At the moment, concentrate accounts for 7 of every 10 ships exporting copper, so a ban or high tax would lead to a great reduction in CO2 production.
Could governments prevent the import of pesticides or pharmaceuticals suspected of being dangerous, while studies are made, in order to protect the population? No, that is specifically prohibited under Article 7.9 number 10 of the treaty.
In short, what is promoted as just another free trade agreement is in fact a treaty to tilt the balance of power severely towards trans-national corporations. National sovereignty goes out the window. It bans public policies which would move development away from the present model.
In Chile's case, it already has free trade agreements with all the countries involved in the treaty, and a government study predicts an increase of only 0.12% of GNP as a result of signing. Lots of TV time was dedicated to promoters of the treaty, all using the `free trade' arguments, hardly ever mentioning the other aspects which are all negative for Chile. But, armed with facts such, and powerful, concise and rigorous arguments from academics like Hassan Akram and Jos' Gabriel Palma, a campaign of e-mails, press conferences, some TV time, lobbying and marches convinced many deputies to vote against the treaty in the House. All the Communist, Broad Front, Socialist and Democracy Party deputies voted against, plus most Radicals and three Christian Democrats. This, even though the President of the Democracy Party was Foreign Minister when the treaty was being negotiated, and is strongly in favour of it. So the vote in favour was 68 to 77, a narrow victory. It is now in the Senate, where more `traditional' politicians have more sway. However, politics in Chile have changed, and the neoliberal consensus favouring big business and trans-nationals will not be the same again.
Dan Morgan,
Chile, June 2019
Forum: The Jones Act: Has it Helped Or Does it Hurt Puerto Rico? - New York - June 18 (Labor Council for Latin American Advancement - LCLAA)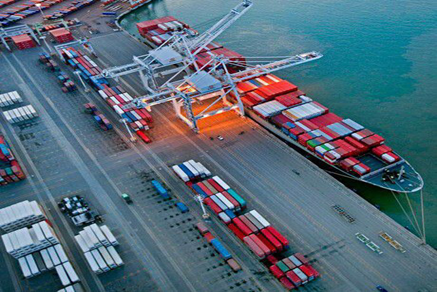 The Jones Act: Has it helped Or does it hurt Puerto Rico?
Hosted by:  National Labor Council for Latin American Advancement
June 18, at 6 pm
CUNY School of Labor & Urban Studies
25 West 43rd Street, 18th Floor
New York
Presenters:
Iram Ramirez, OPEIU Puerto Rico
Senator and San Juan Mayoral candidate, Rosanna López León
Moderated by Nicole Acevedo, NBC Latino
Welcome/Opening Comments by National LCLAA Executive Director Hector Sanchez
&
NYC LCLAA President, Eduardo Rosario