Tidbits - June 25, 2020 - Reader Comments: Unite to Defeat Trump; Lynchings, Racial Violence; Trump's Arms Race; When So Many Police are Vets; Teachers Union: Cops Out of Schools; Labor and Police; McCarthyism and Black Freedom Movement; Roy Cohn; more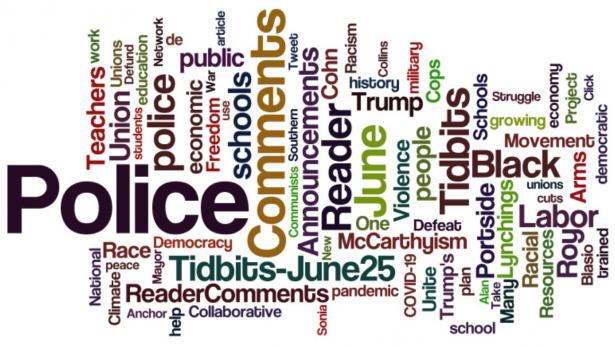 Tidbits - Reader Comments, Resources, Announcements, AND cartoons - June 25, 2020,Portside
Resources:
Announcements:
Re: Bernie Is Right: Unite to Dump Trump
 
Excellent article.  Good ideas.
Duane Campbell

     =====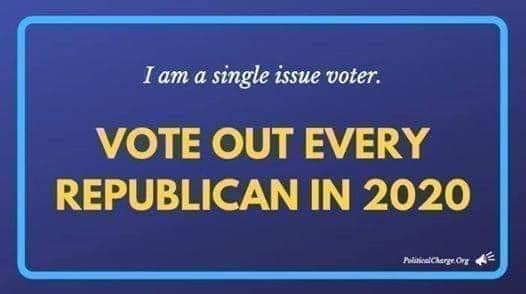 Christina Abby
Posted on Portside's Facebook page
Re: What's Next? Envisioning An Equitable Economy Post Covid-19 & Systemic Racism With Dr. Manuel Pastor
(posting on Portside Labor)
 
So many brilliant remedies..
For the 'after-times'
Suzanne Goldman
Posted on Portside's Facebook page
And it'll magically disappear...  --  cartoon by Mike Luckovich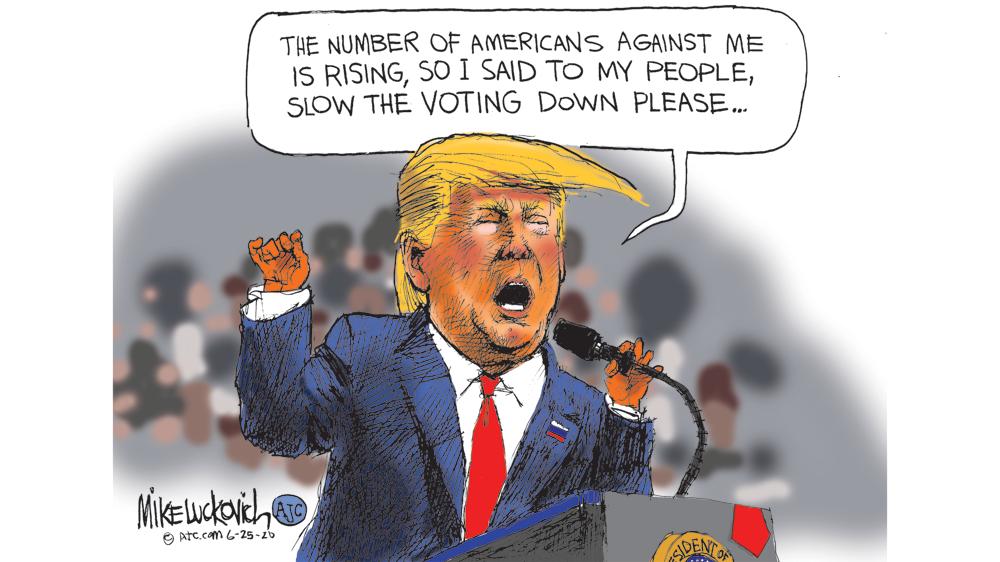 Mike Luckovich
June 25, 2020
Atlanta Journal-Constitution
Re: Lynchings and Racial Violence During Reconstruction
 
USA history, and the symbolism of the Confederate flag.
Philip Specht
Posted on Portside's Facebook page
     =====
White Supremacist Terror: a present danger!!!
Tamrat Tademe
Posted on Portside's Facebook page
Re: Angela Davis: `We Knew That the Role of the Police Was to Protect White Supremacy' 
Thanks for the history lesson!!
Joe Grogan,
Bolton
Re: Let Them Eat Weapons: Trump's Bizarre Arms Race
 
Remind me what our national debt is? Somewhere on the trillions? Does he have a secret gold stash in that bunker?
Travis Allen
Posted on Portside's Facebook page
     =====
What's the point? They didn't help in Korea, Vietnam, Afghanistan, Irak, Libya, Syria...
A crumbling infrastructure, no ventilators, face masks, tests...Next pandemic, call the generals, bankers or your broker.
Unmentioned in the article is the corruption involved in arms manufacturing and trade and the hundreds of billions of dollars that go unaccounted EVERY year.
Jose Rinaldi Jovet
Posted on Portside's Facebook page
     =====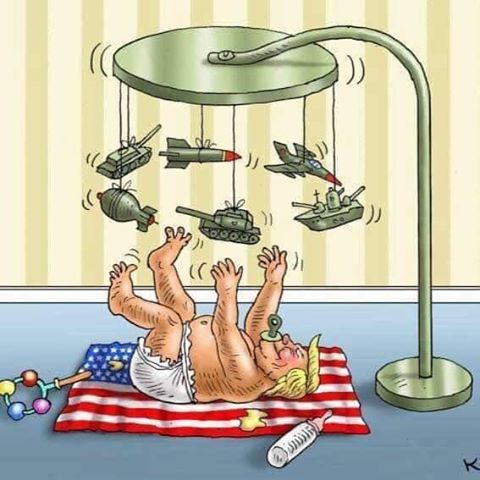 Neil Alan Bufler
Posted on Portside's Facebook page
     =====
Hey, he bankrupted a few casinos, he's good at this stuff
Jay Pawlowic Wysocki
Posted on Portside's Facebook page
     =====
I've seen this movie and it doesn't end well.
William Leffingwell
Posted on Portside's Facebook page
Re: Arundhati Roy: Indian Muslims Facing `Genocidal Climate' Amid Pandemic
 
terrifyingly similar to how, during the rise of the Third Reich, Nazis began accusing Jews of being spreaders of disease, carriers of typhus.
Marlena Santoyo
Posted on Portside's Facebook page
Re: A Politics of Our Time: Reworking Afro-Asian Solidarity
 
One big difference within each immigrant group is whether your ancestors in the home country had a tradition of literacy, education and or upper class status. (Ask any ESL teacher) Those who did brought money. Those who did not brought nothing but their ability to work. These differences exist in European, Asian and all immigrant groups. Part of slavery was no pay, no wealth, no status and no literacy allowed. The post civil war era reinforced this.
Sonia Collins
Posted on Portside's Facebook page
Re: Trading One Uniform for Another: Can Police Be "De-Militarized" When So Many Cops Are Military Veterans?
 
But you know, for example, in occupied Iraq and in Afghanistan, the army and marines had a much higher standard for use of deadly force than police in every city in the United States. The problem with the police is that they are taught to fear the very people they claim to "serve and protect" and are allowed to shoot first and ask questions later. They are trained to be violent cowards. They aren't really trained like the military at all, but they are given a bunch of military toys to play with.
Aaron Hinkley
Posted on Portside's Facebook page
     =====
actually they are training to kill the enemy. Domestic law enforcement involves protecting & serving the public. Way different job.
Judy Rosenstein
Posted on Portside's Facebook page
     =====
The police, nation wide was transformed into a para-military force since the 70s.and progressively aided by the armed forces with military grade equipment and infiltrated by people who they trained and are members of radical far right supremacists.This country is over -ripe for a take over by the establishment.The renewed actions by these groups, lynchings, shootings and harassments are an effort to create chaos, insecurity and distrust in law/order a d further escalate this into a race war and a take-over of the nation.
Ruben Cedre
Posted on Portside's Facebook page
     =====
It's got to be done. They are not the military and shouldn't not have anything military. For one thing, wearing Battle Dress Uniforms gives off the wrong statement. Besides when I was in the USAF, I hated BDUs.
Jim Anderson
Posted on Portside's Facebook page
     =====
Hell, when I was in the service, BDUs were not worn off base, PERIOD!
Will Hodel
Posted on Portside's Facebook page
National Teachers Union Wants Police Out Of Schools
June 19, 2020
Michigan Capitol Confidential
 
The American Federation of Teachers union is calling for schools to stop using police as school security personnel.
Instead, the union wants "peace officers" employed by districts or schools that would "focus on nonviolent resolution of conflicts with a minimal use of force."
AFT sent out a June 18 email announcing the resolution, which states:
"RESOLVED, that the necessary function of school safety should be separated from policing and police forces. School security personnel should be trained as peace officers and integrated within the school community, with a focus on nonviolent resolution of conflicts with a minimal use of force. The AFT will reconvene a unionwide conversation-including educators, students and parents-on how to transform school security to help achieve a safe and welcoming environment for students and staff, and not a militaristic police state that has criminalized Black and Brown students."
Re: The AFL-CIO's Police Union Problem Is Bigger Than You Think
(posting on Portside Labor)
That comment is misleading. The police don't have any presence in other unions, they have an inordinate amount of influence in labor organizations that are affiliations of many unions.
Alan Gregory Wonderwheel
Posted on Portside's Facebook page
Re: National Labor Groups Mostly Close Ranks to Defend Police Unions
(posting on Portside Labor)
Funny. They had no difficulty in expelling Communists,
James H. Williams
Posted on Portside's Facebook page
Re: Readers Respond to Portside Posts on Police, Police Unions and the Labor Movement
First, they are responsible for "public safety," and, if done respectfully and fairly, offer valuable protection from threats to the well-being of the population. The second role, which often surfaces when the establishment's "peace" is threatened, is to enforce the social, political, economic, and racial order. They enforce class rule. They make sure everyone remains in their place and doesn't threaten the stability of the Empire. The problem is that the merger of these two roles is not compatible with the goal of building a society that works for everyone. The roles must be disentangled. Defending the Empire's rulers is not compatible with protecting the people. 
John Gehan
     =====
Lets ban the police departments and seek other means like education and true justice. These department's are under trained, militarized, and reprogrammed that we are the enemy. The police is people in uniform nothing more not Rambo in Vietnam. Who gave them the right to crack heads, shoot people to death, create laws in the spot, and proclaim they are the government Almighty. Enough of so many psychos with a plaque.
Javier Biaggi
Posted on Portside's Facebook page
     =====
Interesting discussion of police unions.
Joan Gibbs
Posted on Portside's Facebook page
Re: How McCarthyism and the Red Scare Hurt the Black Freedom Struggle
Not for everyone but if, like me, the events here formed a part of growing up, consider engaging with this article. This is, imo, a flawed and incomplete retelling of some of the race and union issues which surfaced during the McCarthy red scare. It omits a lot and what it tells, it paints with so broad a brush that important parts of stories fade from view.
Daniel Millstone
Posted on Portside's Facebook page
     =====
Defying Dixie: The Radical Roots of Civil Rights, 1919-1950
 
Patrick Jones
Posted on Portside's Facebook page
     =====
The factual parts of the history, though incomplete, are telling. The rub is most likely in the analysis accompanying it, as is so often the case. Interesting that the CP campaigning for integrating major League baseball is not mentioned.
Morris Older
Posted on Portside's Facebook page
     =====
Death Blow to Jim Crow: The National Negro Congress and the Rise of Militant Civil Rights
 
Craig Simpson
Posted on Portside's Facebook page
Re: A Voice from America's Black Belt
(posting on Portside Culture)
I will read. I too was a civil rights worker and Cleve Sellers and I were in a class together on "The Social and Psychological Significance of Blackness. At the Harvard Graduate School of Education...
Joyce Bengal
Posted on Portside's Facebook page
Re: A Southern Vanguard, The Lost History of Communism Below the Mason-Dixon Line.
While this work I am sure will prove quite useful, I find there is a disturbing trend of discovery of "hidden histories" that have previously been mined by historians.  Thus, the role of the Communist Party in Alabama was well covered in Robin Kelley's Hammer and Hoe, published not that long ago.  And certainly some mention of that effort should have been made in your review.
Joseph Kaye
(posting on Portside Culture)
Norman Mailer shared a house with this particularly overt fiend? Mailer just fell off my list of authors to be recommended to young searchers of truth.
Roberto Buxeda
Posted on Portside's Facebook page
     =====
I met him once at an early hearing about the Vietnam invasion. He said I was "sick". I was honored.
Sonia Collins
Posted on Portside's Facebook page
     =====
Scary looking....as though he's nuts.
Mary Bang
Posted on Portside's Facebook page
     =====
A very revealing article
Ida Mae Patteson
Posted on Portside's Facebook page
Owning Our Future After COVID-19 (The Democracy Collaborative)
As protests continue across the nation, we stand in solidarity with all those demanding change after the murders of George Floyd in Minneapolis, Breonna Taylor in Louisville, and the continued state sanctioned violence against Black people. We add our voices to the growing chorus of those insisting that without justice there can be no peace. We are also called to recognize that our work to build a more equitable and democratic political economic system will remain unrealized if we fail to take the steps necessary to dismantle white supremacy, be it in our own workplaces, our communities, or our government. Read our full statement here.
We also know that the disastrous effects of the COVID-19 pandemic on Black, Indigenous, and people of color stems from the un-addressed and un-repaired history of dispossession, enslavement, and structural racism that is at the heart of our current economic system.  As TDC board member and leader within the Healthcare Anchor Network Michellene Davis reminds us in a Becker's Hospital Review interview, rather than a "great equalizer"' the pandemic has really been the "great magnifier," shining an immense spotlight on long-standing disparities. The question emerges as to how we can respond to the crisis at hand without replicating or exacerbating these disparities, and instead lay the groundwork for a more democratic, sustainable, and reparative economy.
To this end, The Democracy Collaborative has published Owning Our Future After COVID-19, a five-point plan that outlines how we believe our work can help contribute to this shift. We see this plan as an evolving set of strategies that can help put us on the high road to an equitable, sustainable, and democratic economy rather than continuing down the low road of today's financially extractive and highly unequal economy. In partnership with the growing democratic economy movement, we see this plan as the basis for orienting our organization around a limited number of intervention points for maximum leverage in a time of crisis. Read the full plan here.
One pillar of this five-point plan is to "ground economic reconstruction in a new era of community wealth," which will require rethinking the fabric of economic development. Our anchor networks have been in conversation about how to realize this, reimagining their own roles in their communities, and thinking about how to lay the groundwork for a fundamentally different approach. In the past few weeks, we convened both our Healthcare Anchor Network and Anchor Learning Network and in July, the Anchor Collaborative Network will host a Community Wealth Summit. This week-long virtual convening will focus on place-based organizing to rebuild local economies around shared ownership and racial justice. Learn more about the summit here.
The democratic economy in the news...
Director of the Next System Project Dana Brown joined 94.1 KPFA to discuss the potential for public manufacturing of vaccines
The Democracy Collaborative's work on community wealth building in North Ayrshire with UK-based think tank CLES was discussed on BBC Radio Scotland
This timeline from the Next System Project visualizes the growing interest in the proposal to nationalize the fossil fuel industry
Democracy Collaborative
1200 18th Street NW
Suite 1225
Washington, DC 20036
One Struggle: Racism and Militarization - A Call to Defund the Police (US Labor Against the War)
Members of USLAW came together for an honest conversation about race, policing and our labor movement last week. If you missed it, you can still tune in here! Be sure to let us know your thoughts in the comments and give the video a "share" so that our message reaches a wider audience.
 
Listen here
Join us online tomorrow to stop cuts to NYC schools! - June 26 (Alliance for Quality Education)
 
With just days until the New York City budget is finalized, Mayor de Blasio is STILL proposing a cut of $800 million from New York City's public schools — including cutting mental health supports for students. Just this week the Mayor laid off counselors in high need schools across the city. Yet he has proposed to spend nearly $450 million on police in schools and millions more to expand the NYPD.
We have just a few days to make our voices heard and STOP THE CUTS to New York City's public schools!
Join AQE for our Virtual Rally TOMORROW at 11 AM
Action #1 | Virtual Speak-Out — 11 AM
Mayor de Blasio and the City Council are planning to cut $800 million in funding from New York City's public schools. They need to hear from New Yorkers that now — amidst a pandemic — is not the time to make cuts to public education! Record a video responding to the following prompt:
Mayor de Blasio, you cannot cut funding for our public schools because....
Post your video on your social media channels (Facebook, Instagram and Twitter) with these hashtags: #FundNYSchools #DefundtheNYPD and #NYCBudgetJustice.
Sample Social Media Posts
Below are sample messages you can copy and paste to post with your photos or videos from your own social media accounts. If you have Twitter, you can just use the Click to Tweet option and it will copy the text into a window — all you have to do is click "Tweet"!
‪Our schools have remained underfunded for years & are facing disproportionate budget cuts. @NYCSchools spends $451 million annually on police. The time is now for #PoliceFreeSchools.  Redirect funds to improve school climate, social-emotional services + more.‬ @NYCMayor
Click to Tweet
‪As @NYCMayor + @NYCCouncil negotiate the budget, we need them to prioritize education, NOT criminalization. Our leaders must side w/ students & communities! Take action: tell de Blasio to #DefundTheNYPD by at least $1bil + #FundNYschools! https://bit.ly/2U75pIG @MarkTreyger718
Click to Tweet
518-432-5315
People Take Power: A Conversation on Electoral Strategy in a Time of Upheaval - June 30 ( Organizing Upgrade and the Left Inside/Outside Project)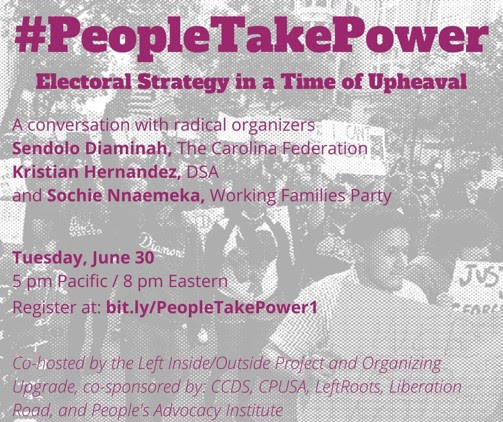 We're at a crossroads. Social movements on the left and the right are on the move amid a global pandemic, unrelenting economic crisis, the threat of ecological collapse, and growing attention to the institutional brutalities committed against Black people. The Trump administration is steering the U.S. towards a precipice, doubling down on white supremacy and the aggressive protection of capital. The left, with all of its gains over the past several years, is wrestling with how to orient to the 2020 electoral races in general and the Biden candidacy in particular.
Join the Left Inside/Outside Project and Organizing Upgrade on Tuesday, June 30, at 5 PT / 8 ET for a discussion with radical electoral organizers Sendolo Diaminah (The Carolina Federation), Kristian Hernandez (Democratic Socialists of America), and Sochie Nnaemeka (Working Families Party) to take stock of the rapidly shifting political terrain and how it should inform left electoral strategy.
This even is co-sponsored by CCDS, CPUSA, LeftRoots, Liberation Road, and the People's Advocacy Institute.
Register here.