labor
The Upstart Union Challenging Starbucks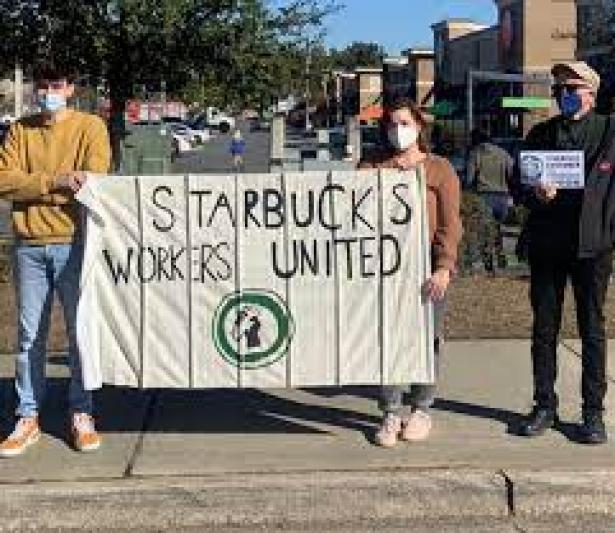 Starbucks workers protesting outside a Tallahassee location,en.wikipedia.org/
The Starbucks "clean play" is corporate jargon for what's essentially a very deep clean. When business slows down at a café, the manager assigns baristas to scrub the pastry case or rid the toaster oven of oily crumbs or scour the floor. A clean play makes a store just right—which is why workers are using the term in a new, subversive way. A clean play, to members of Starbucks Workers United, the group trying to unionize one of the country's largest employers and most recognizable brands, is an outreach maneuver to non-union stores. Workers map out their region and target cities or neighborhoods that have yet to unionize. Instead of relying on outside organizers, as is common in the labor movement, Starbucks employees themselves recruit new members. The idea is to connect, in person, with an interested worker and guide them through the steps of organizing. One clean play after another could, in theory, unionize all the Starbucks stores along a stretch of freeway, or even across the country.
In June, I drove up and down Interstate-5, the asphalt spine of the Pacific Northwest, where Starbucks is headquartered. I interviewed workers from more than fifteen stores, both union and non-union, and tagged along on a clean play in my home town of Tacoma, Washington. The stores were superficially distinct: some had drive-throughs and others were café-only; some were nondescript, unlike the fifteen-thousand-square-foot Reserve Roastery in Seattle, which Starbucks's C.E.O., Howard Schultz, has hailed as "an homage to our relentless pursuit of coffee innovation." Yet, even there, baristas have joined Starbucks Workers United, expressing concerns over chronic understaffing, race discrimination in promotions, mistreatment by managers, and low pay. (Starbucks denied these claims; it settled a race-discrimination complaint last year.) One worker I spoke with, from a store north of Seattle, was living in his van. His part-time schedule, at fifteen dollars an hour, wasn't enough to rent an apartment, and he soon quit for a better-paying job.
On a Saturday morning, I followed Liz Duran, a barista from the Seattle roastery, and Isabelle Loverich, a barista in north Portland, as they canvassed a cluster of Tacoma stores. Their first was a to-go-only location along a busy street. At the walk-up window, Duran craned her neck toward a bearded barista and adjusted her glasses. She identified herself as a "partner," the corporate term for a retail employee, and ordered two iced brown-sugar-oat-milk espressos. She explained that her store had voted to unionize and that she and Loverich had come to spread the word. The employee seemed receptive, if frazzled, toggling between the walk-up window on one side and the drive-through window on the other. He'd heard about Starbucks Workers United, but said, "We've been hush-hush about it." The store manager had called him and his co-workers into meetings to discourage them from participating. Still, he took a flyer from Duran and gave her his name and phone number.

Duran and Loverich's second stop, a small sit-down café in a historic section of town, was trickier. Loverich, who was wearing a union hat and T-shirt, stepped toward the counter, then hesitated. The woman at the cash register looked friendly enough, but her black apron gave Loverich pause: black, instead of the company's usual Kelly green, is often worn by managers. The distrust appeared mutual: the woman at the register stiffened after studying Loverich's outfit. Undeterred, Loverich gave her spiel—the union prizes transparency—and the woman nodded coolly. "We're not interested," she said. But, over the woman's shoulder, a young, tattooed worker in a green apron raised her eyebrows and signalled otherwise. Loverich and Duran tried to angle a card in the worker's direction, only to have it intercepted by the woman in the black apron. They returned to the car and had nearly given up when the worker ran up to them. "I decided to take out the garbage," she said, smiling. She shared her contact information and stuffed a union button in her pocket.
At stores across western Washington and Oregon, I found unionizing workers to be highly disciplined. They used private group chats to mull strategy and teach one another about labor law, not only at their own stores but with others in the region. With the élan of wedding planners, they scheduled election-viewing parties (votes are counted over Zoom, by the National Labor Relations Board, or N.L.R.B.) and staged choreographed strikes. Their work as baristas made them adept at juggling tasks, making conversation, and responding to emotional cues—all essential for organizing. It was also the case that many leaders were queer or trans; Starbucks's projection of lefty values had apparently attracted many L.G.B.T.Q. activists. The organizers of one Seattle protest used the tagline "Be Gay! Do Strikes!" Billie Adeosun, a barista in Olympia, Washington, quipped, "They fucked up when they hired a bunch of gay people. What do you expect when you hire a bunch of queers?"
One night, I met with a group of young workers at a beer garden in Eugene, Oregon, a scenic college town. Quentin Piccolo and Jake LaMourie had recently unionized their store, on Willamette Street. Jay Jones, who grew up in a working-class lumber community, had tried to do the same at their café, but was voted down. In a few days, Jones would transfer to Willamette Street. "I don't want to sit here and watch a workers' revolution happen and not be a part of that," they told me. Jones's girlfriend, Myah McDonald, who came along to the bar, was working as an aide in a nursing home. She started a union drive there after following Jones to a few meetings of Starbucks Workers United. "I would've left my job, but I'm staying because we're unionizing," she said.
Over beer and fries, the four friends talked about labor organizing as a source of meaning. They were all in their twenties, which meant that they'd come of age in an era defined by Donald Trump. Piccolo explained that his anger over the environment had led him to support Bernie Sanders and embrace the labor movement. "In 2016, I was a year short of voting. It motivated me to be involved, because I realized this shit isn't going to fix itself," he said. For LaMourie, 2016 was a shock, and the 2020 primary, when Biden beat Sanders, was when he "lost faith in elections."
Starbucks Workers United filled that void. "This is the most hope I've had politically in such a long time," LaMourie told me, though he understood that they faced long odds. The union has rapidly organized, or is in the process of organizing, more than three hundred stores in the U.S., but nearly nine thousand others remain. Starbucks has fired some two dozen organizers and stalled union votes by contesting the legality of individual elections. It has promised more pay and benefits to employees at non-union stores and shut down several unionized locations.
The company maintains that each and every store must negotiate its own contract, a tremendous burden on the union. And, seven months into the campaign, corporate representatives have met with only a handful of stores to begin contract talks. Schultz appears to be using delay to his advantage; Starbucks denies this and told me, "We respect our partners' right to organize. We also respect the rights of our partners who don't want to unionize." In late June, the N.L.R.B. filed a federal lawsuit to compel Starbucks to bargain.
The young workers in Eugene told me that they felt determined but worn down by the grinding struggle with Schultz. Their rank-and-file model of unionism—by us, for us—demanded hours of work outside of work, and everyone at the table admitted to exhaustion. "We're on our third layer of burnout," LaMourie said.
It would be hard to overstate how strongly Schultz and Starbucks are identified with the Pacific Northwest. As C.E.O., Schultz has sought to brand the company as laid-back and cool, progressive and socially engaged, in line with an abiding, if now outdated, image of Seattle. When I was growing up south of the city, before the advent of artisanal coffee shops and craft breweries, I experienced Starbucks as an indulgence and a cosmopolitan portal. The drinks had Italian names, and the stores sold copies of the Times alongside my home-town newspaper. But, as Starbucks grew into a transnational corporation, with thirty-four thousand locations worldwide, it began to mirror, and simultaneously fuel, Seattle's transition from slacker town to nerve center of Big Tech. The chill café became a harried pit stop for monied software engineers, while still cloaking itself in pro-partner, pro-fair trade, pro-Pride slogans. Being pro-partner, though, never translated into an acceptance of unions.
Starbucks is based in an industrial part of Seattle, in a handsome red-brick building that was once a Sears distribution center. From the clock tower rises the familiar head of the company's green, twin-tailed siren. I walked through the lobby, which is decorated with Native American art and showcases a timeline of the company, from a storefront of a thousand square feet, in 1971, through Schultz's latte epiphany, on a trip to Italy; Starbucks's launch in Japan; a tea partnership with Oprah; and a series of two-for-one stock splits. Next-door is a Starbucks Reserve (that has yet to unionize), one of the designer cafés that combine slowed-down takes on espresso with fresh pastries, a cocktail bar, and corporate merch. There's a playground in the plaza out front and a long metal fence topper decorated with a quote from Luigi Barzini's "The Italians."
Schultz, who considered running for President in 2020, and was reportedly Hillary Clinton's pick for labor secretary in 2016, has been the chief executive of Starbucks three separate times. (Seattleites also know and still resent him for selling the SuperSonics to Oklahoma City, in 2006.) He most recently returned to the position in April, several months into the rise of Starbucks Workers United. At a meeting with corporate employees, he said that businesses are "being assaulted, in many ways, by the threat of unionization." In June, he told the Times that he would never accept a union at Starbucks. (The company declined my requests for an interview with Schultz or a representative.)
This is not Schultz's first encounter with the labor movement. In the early nineteen-eighties, Starbucks's roasting plant and its six cafés voted to join the United Food and Commercial Workers International Union. The employees managed to win a collective-bargaining agreement, but soon faced off against Schultz, who was named C.E.O. in 1986. "Howard Schultz immediately made us go back to the bargaining table and get a new contract, even though he'd said, 'You have a contract. I'll respect that,' " Anne Belov, who worked in the roastery at the time, recalled. Pam Blauman-Schmitz, a former organizer with U.F.C.W., told me that Schultz screamed at her until he was red in the face when she went to the plant to hand out flyers. "He went ballistic," she said. (Reggie Borges, a spokesperson for the company, declined to comment.)
During the next decade, as workers came and went and Schultz continued to oppose the union, the contract withered. U.F.C.W. eventually lost so many Starbucks members that it was forced to withdraw its representation. (Since then, only baristas at licensed Starbucks stands, such as those in unionized grocery stores, have belonged to U.F.C.W.) In the two-thousands, the Industrial Workers of the World organized some Starbucks employees at retail locations in cities including New York and Grand Rapids, Michigan, but sought to improve workplace conditions through direct action rather than pursuing a contract.
The current Starbucks campaign is the creation of Workers United, a small, idiosyncratic affiliate of the Service Employees International Union. The S.E.I.U. represents some two million members in the U.S. and Canada, mostly health and janitorial staff. It also backed the Fight for 15 campaign for higher wages in fast food. For its part, Workers United descends from the progressive International Ladies' Garment Workers' Union of the early twentieth century. Today, most members of Workers United are immigrants who wash, dry, and deliver linens for big commercial laundries.
Workers United entered the coffee industry somewhat by chance. Five years ago, it started to organize local chains in upstate New York: first, at Gimme! Coffee, in Ithaca, then at SPoT Coffee, in Buffalo. In 2020, a Workers United organizer, Jaz Brisack, and a former member of the Gimme! union, Will Westlake, got jobs at Starbucks stores in greater Buffalo. Frustrated by issues such as persistent understaffing and inadequate pay, they floated the idea of a union by their co-workers. Michelle Eisen, a longtime employee and a stage manager, signed on in earnest for what would become Starbucks Workers United. Eisen told me that, since coming to Starbucks, in 2010, she had watched the company become more cutthroat, more focussed on profits. In 2021, it made $29.1 billion in net revenue. "There's been a dramatic shift, in my opinion, in terms of the business model itself and in terms of the value placed on employees," she said.
To quash the nascent organizing in Buffalo, Starbucks flew in a procession of managers and executives. But Eisen, Brisack, and their co-workers voted to join Workers United anyway, forming the first union at any stand-alone Starbucks location in the U.S. since the eighties. Their success inspired employees in Mesa, Arizona, to unionize, and soon what looked to be scattered droplets turned into a wet windshield. Hundreds of baristas all over the country reached out to Workers United, whose staff struggled to keep up with the requests for help. The sheer velocity and scale of organizing at Starbucks demanded a new approach.
Baristas in Buffalo started to advise would-be unionists, establishing a pattern of rank-and-file, peer-to-peer teaching. In the Pacific Northwest, where the union has no paid staff, workers have been especially coöperative, interconnected, and willing to strike. A Workers United organizer in Philadelphia, Alex Riccio, has advised them remotely, via text message and Zoom, while a team of labor lawyers in Seattle handles their union elections and unfair-labor-practice charges before the N.L.R.B. The workers themselves have done everything else.
In Schultz's back yard, the organizing quickly assumed a personal dimension. In March, the store at the corner of Broadway and Denny, a busy intersection of Seattle's Capitol Hill, became the first to unionize in the Pacific Northwest—and did so just before Schultz reclaimed his seat as C.E.O. When Schultz's beloved Reserve Roastery went union, workers held a rally and called him out by name. About a month ago, a key location in Madison Park, between Lake Washington and the lush Washington Park Arboretum, voted yes for Starbucks Workers United. It was the store closest to Schultz's personal residence, known to many baristas in town as "Howard's home store."
At the end of June, more than four thousand members of unions and left-leaning political groups, like the Democratic Socialists of America, gathered in Chicago for Labor Notes, a biennial convention. It was the largest meeting in the event's forty-year history, and some seventy Starbucks baristas—much younger and more diverse, in race and gender identity, than the rest of the crowd—were in attendance​​. In a hotel ballroom filled with groupie-like zeal, I watched Bernie Sanders tout the importance of unions to American democracy. Next to him on the dais were representatives of the two worker movements that everyone seemed to be talking about: Eisen, of Starbucks Workers United, and Chris Smalls, of the Amazon Labor Union, which won a surprise victory, on Staten Island, earlier this year.
If car and steel manufacturing were once the epicenters of American labor organizing, they have since given way to giants in the service sector and tech. Starbucks and Amazon, both creatures of Seattle, are now two of the country's ten largest employers. (Amazon, with roughly 1.1 million employees, is the second-largest, after Walmart. Starbucks, with about three hundred and forty thousand, is No. 8.) Schultz and Amazon's C.E.O., Jeff Bezos, may share a distaste for unions, but they've responded differently to organizing efforts. On Staten Island, Amazon brought in "union-avoidance" consultants to roam the warehouse floor and meet with workers before the union election. At Starbucks, by contrast, such efforts have been handled in-house—by managers who hire, discipline, and schedule baristas, but who also work alongside them.
Managers have penalized staff for wearing union pins and T-shirts, posted flyers explaining why unions are anathema to Starbucks culture, and fired outspoken baristas. Matthew Thornton, a pro-union employee in Portland, was fired in April for supposedly failing to lock his store at night. He denies this, and told me that his manager refused to provide evidence from the security system. Without the job, Thornton has struggled to stay in college; he no longer qualifies for Starbucks's tuition benefit at Arizona State University. (Starbucks denied all "claims of anti-union activity" and said that Thornton's actions had created a "serious security risk.")
Some managers have campaigned enthusiastically against the union. Last fall, Taylor Pringle, a manager in Seattle, was sent to Buffalo after baristas began organizing. Workers say that he was there to dissuade them—and his conduct was such that the N.L.R.B. later included his name in a federal complaint alleging violations of labor law. When Pringle returned home from Buffalo, he was promoted to the post of district manager. (Neither Pringle nor his supervisor responded to calls or messages. Starbucks said that he was temporarily relocated to "help support partners in Buffalo due to understaffing.")
Other managers, though, resent being pitted against their employees. One manager in the Pacific Northwest, who asked that I not use their name for fear of retaliation, told me that they were disciplined by a supervisor for being insufficiently hostile to the union. The manager had refused the request of a lawyer for Starbucks, from the firm Littler Mendelson, to identify which baristas were likely to vote yes for the union; polling employees about union support is generally unlawful. The manager also refused to share information with their staff that appeared to be unduly biased against the union. (Littler Mendelson did not respond to my requests for comment.) "When this all first started, I wasn't necessarily anti-union, but I didn't see the need for a union in Starbucks," the manager told me. "But seeing the way Starbucks has handled it clearly shows that, behind the curtains, Starbucks is making some questionable decisions and that maybe there is a need."
Starbucks seems to be intensifying its campaign against organizers, particularly in Seattle. In late May, it abruptly announced plans for a "Heritage Market," comprising three locations in downtown Seattle: the original Starbucks in the tourist hub of Pike Place Market and two nearby cafés. Workers at these stores were told that they would have to immediately reapply and reinterview for their jobs. All three stores were "temporarily" shut down; only the original location has reopened.
Liz Voytas, who was a barista at one of the cafés when the announcement was made, told me that their store was in the process of unionizing. Voytas sees the creation of the Heritage Market as a way for Starbucks to weed out pro-union workers and assert control over stores that are central to the company's identity. (Starbucks denies this.) "We were all upset and scared. A lot of people were very confused," they said. Voytas was transferred to a unionized store a mile away, on East Olive Way, nicknamed "Gaybucks" for its literal and figurative place in historically queer Capitol Hill.
Then, on July 11th, Pringle, the manager who had been sent to Buffalo, directed Voytas's new store and another unionized location in his district to lock up early and assemble for a meeting by Zoom. Pringle informed the workers, only some of whom received notice in time to attend, that their stores would be permanently closed on August 1st. He said that the two stores had logged too many "incidents" (a term encompassing everything from a sleeping customer or a loud argument to physical violence), and were thus too dangerous to stay open. Cat Ureta, a barista at Gaybucks, told me that she and her co-workers were dismayed but unsurprised: "Starbucks has been playing dirty ever since the beginning. It kind of fell in line with expected behavior." Three non-union stores in Seattle received the same notice. Following the Zoom meeting with Pringle, baristas at Gaybucks and the other unionized café slated for closure went on strike for a week. The union at the Reserve Roastery joined them in a daylong solidarity strike. Starbucks subsequently promised to transfer the displaced workers to other stores.
At least seventeen locations nationwide have closed, all because of purported safety concerns. "This is just the beginning. There are going to be many more," Schultz said at a recent company meeting. Starbucks contends that these closures were strictly a matter of security or, in the case of the Heritage Market, a reorganization. To prove this point, the company emphasized that it also shut down non-union stores. (When Starbucks shuttered stores in the past, it did so in the hundreds at a time, for economic reasons.) Workers believe that safety is only a pretext and argue that the closures were intended to punish and deter further organizing.
Attorneys for Starbucks Workers United have asked the N.L.R.B. to reverse the closures, but the board has little power in this regard, and the relevant case law is weak. Two decades ago, after meatcutters at a Walmart in Texas formed a union, the corporation eliminated the meat-cutting departments at a hundred and eighty stores, and faced no penalty for doing so. A decade ago, Boeing relocated an airplane-production line from Washington State to South Carolina to evade the machinists' union; the board ultimately dropped its complaint. In July, Chipotle informed the employees of its only unionizing store that it would be shuttered that same day.
Thirty-two unionized Starbucks locations in Washington and Oregon have asked the company to begin negotiating a contract, but no sessions have yet been held. How to force Starbucks to the table is potentially an existential question for Workers United. It's unclear what tactic, other than focussed large-scale strikes, could pressure the company into meaningful talks. Richard de Vries, a veteran negotiator with the Teamsters union in Chicago, told me that strikes would have to be coördinated en masse—only a few stores in a city will not do—and combined with public pressure as well as a generous strike fund to keep baristas afloat. Workers United allocated $1 million to support strikers and is asking customers to sign a "No Contract, No Coffee!" pledge to boycott Starbucks if necessary.
For now, Schultz appears to be waiting out the union—and the Biden Administration. The current N.L.R.B. has been proactive; its general counsel, Jennifer Abruzzo, streamlined the handling of Starbucks cases and is overseeing the investigation of more than two hundred and fifty alleged violations of labor law by the company, and two by Workers United. Yet the board is still recovering from the attrition and low morale of the Trump Administration. If a Republican wins the White House in 2024, the agency will again be weakened. "We've lost half our staff, and recently our work has doubled," a lawyer for an N.L.R.B. division in the West, who asked not to be named for fear of retaliation, told me. "There's this tragic irony: right at this moment when we have new relevance, we are in this totally destroyed state."
The uncertainty that any store, let alone every store, will successfully negotiate a contract has made me wonder if the movement can survive in its current, unconventional form, especially as Starbucks shuts down so many cafés. Schultz has virtually unlimited resources to wait out the campaign, or simply bust it, as workers say he did in the eighties. But perhaps things are different now. Thousands of baristas have joined Starbucks Workers United, and many are being transformed by the process. Madison Barriga, a barista and mother in Olympia, Washington, told me that she'd planned to enlist in the military until unionizing redirected her sense of purpose. "I had high-school-dropout syndrome," she said. "I'm really proud of myself. I never thought I'd accomplish anything like this." Ian Meagher, a barista who organized his store in Eugene, said that he now sees his trajectory—in and out of school, housed less or more precariously—in the larger span of labor history. "Trade unionism is the thing, not electoral politics. We tried that," Meagher told me. "Even if I get fired from Starbucks tomorrow, I'll be involved with this for a long while."