Dispatches From the Culture Wars – February 14, 2023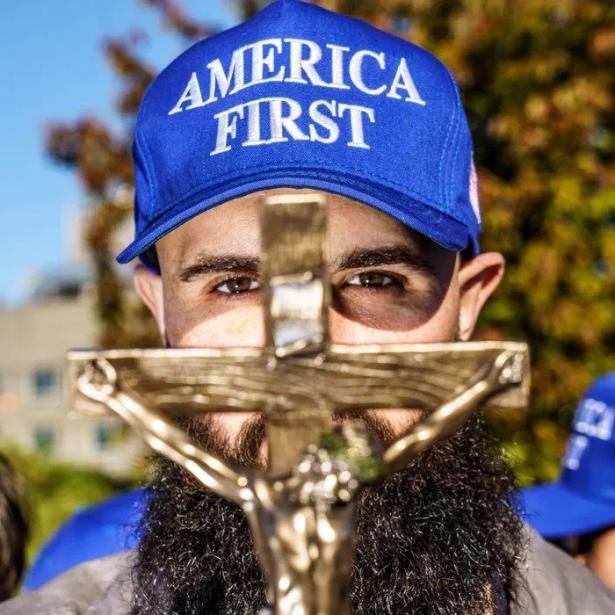 Mark Peterson/Redux
Peddling Jesus at the Super Bowl
By Liza Featherstone
Jacobin
Over the past year, the Servant Foundation, a conservative evangelical group, has been using billboard, YouTube, and TV ads in a billion-dollar campaign called "He Gets Us," to highlight a relatable, forgiving, and compassionate Jesus. The group is spending $20 million to run several of these ads during the Super Bowl. But those values can't be found in conservative churches.
Americans Reject Christian Nationalism
Freedom From Religion Foundation
A survey found that by a margin of two to one, Americans overall reject the assertion that "God intended America to be a new promised land where European Christians could create a society that could be an example to the rest of the world."
Florida: It's Beginning to Look a Lot Like Fascism
By Peter Dreier, Richard D. Kahlenberg, and Melvin L. Oliver
Slate
Most observers expect the Supreme Court to end racial preferences in college admissions. One possible response is to provide an admissions boost to students from families that have low (or negative) levels of wealth. 
By Kimber Myers
Mashable
In a trio of 2022 films — Knives Out sequel Glass Onion, The Menu, and Triangle of Sadness — the pain of the ultra-rich feels even more like justice for moviegoers. We've earned the right to revel in their misfortune, making comedy the perfect vehicle for this celebration of schadenfreude. 
By Eleanor J. Bader
The Progressive
The Undertow: Scenes from a Slow Civil War is an up-close-and-personal look at the many predominantly white Americans who have been seduced by QAnon conspiracy theories, Trumpism, the heterosexual male movement of incels, or involuntary celibates, and an evangelism that equates material accumulation with proof of God's love. It is both harrowing and insightful.  
Protesters in Montana Confront Anti-Trans Legislation 
By Kelsey Morison
KTVQ
Several bills were heard in Helena on Thursday that would have a major impact on Montana's LGBTQ community. In response, protests were organized statewide for Saturday. The protest in Billings was filled with a mix of LGBTQ community members and allies.
Infiltration: The Feds Are Still At It
By Trevor Aaronson
The Intercept
"He was just this badass dude talking about how he worked in a foreign military and how he was for the Black Lives Matter movement." He was a fed. The FBI paid him tens of thousands of dollars in cash to infiltrate and spy on racial justice groups during the summer of 2020. 
Higher costs, stagnant revenues and tightening monetary policy are about to collide with technological changes which, while not immediately transformational, will erode tasks, and then jobs, across the banking, tech and journalism industries.
Can Social Movements and NGOs Get Along?
By Beautiful Trouble
Yes!
NGOs seeking to support frontline movements, often in the Global South, sometimes trip over themselves. Change requires NGOs and external funders to adopt a set of beliefs, attitudes, and actions that seek to support and expand the power of civil society—grassroots movements, informal activist groups, and people-powered organizations—to create transformative change.