Tidbits – May 18, 2023 – Reader Comments: GOP Rot at the Top; Florida Lies; MAGA PRESENTS: The Three Scamigos; Nabka at 75; 75 Years of the Universal Declaration of Human Rights; African American Singing Traditions; Cartoons; More…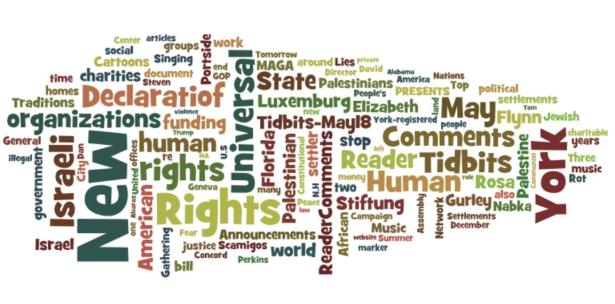 Tidbits - Reader Comments, Resources, Announcements, AND cartoons - May 18, 2023,Portside
Resources:
Announcements:
Florida Curriculum  --  Cartoon by Mike Luckovich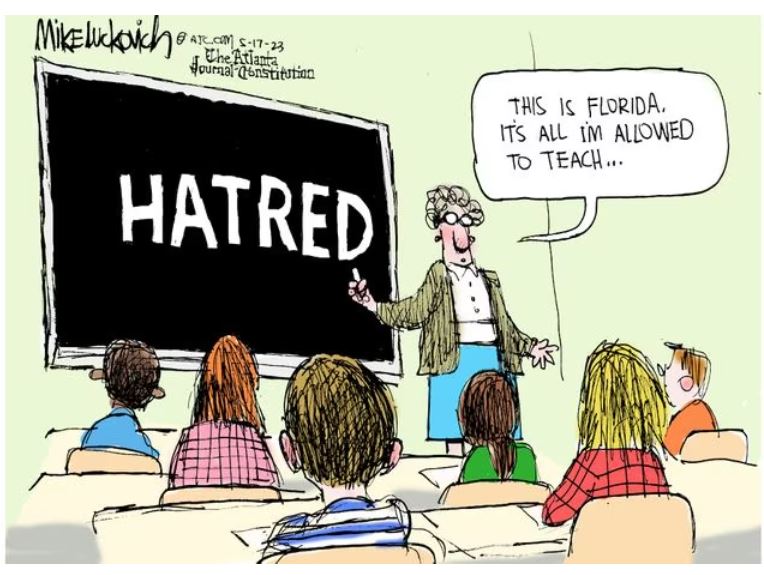 Mike Luckovich
May 17, 2023
Atlanta Journal-Constitution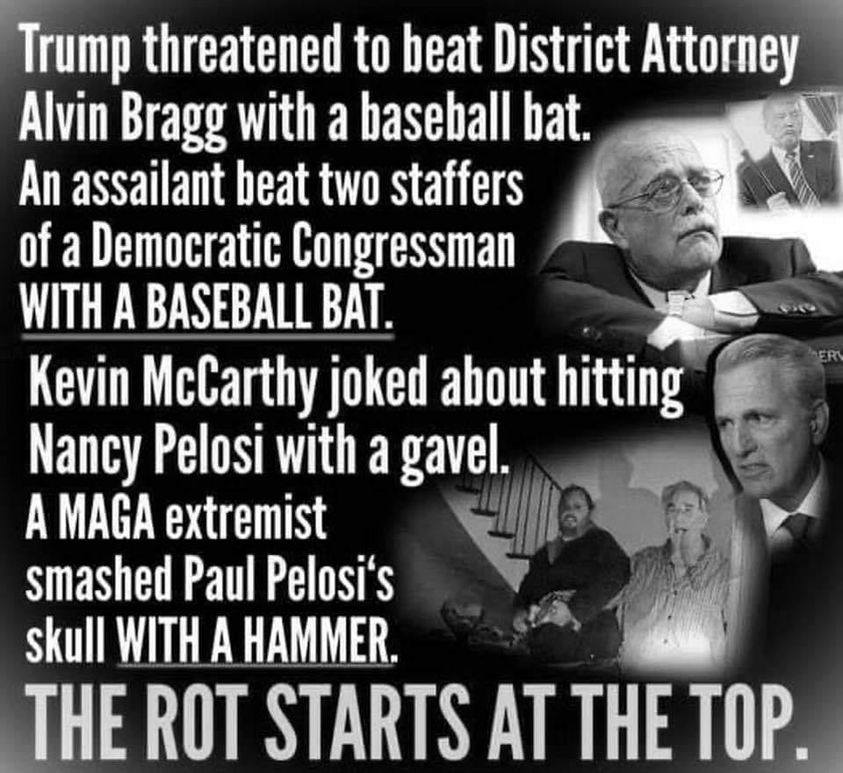 Post on Facebook
Trump's age is never mentioned....?
The Only Thing We Have to Fear Is Alabama's Red State Politics of Fear  --  Cartoon by J.D. Crowe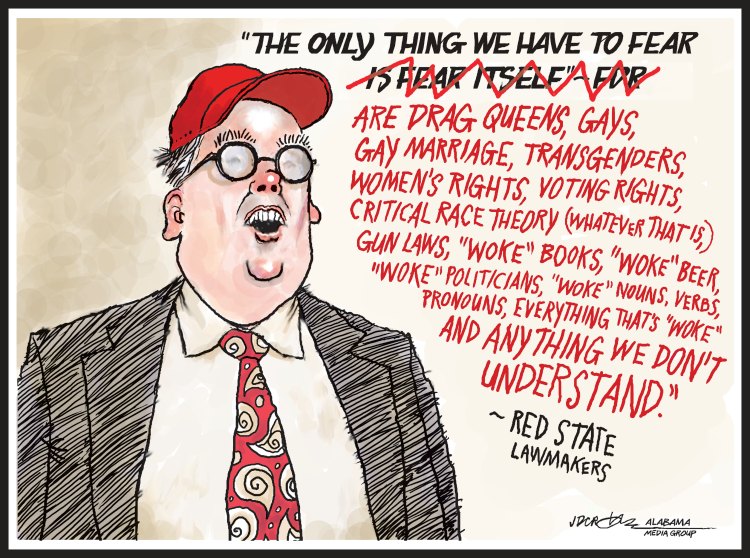 Lions, tigers, bears, drag queens, CRT, women's rights and 'woke' book learnin', oh my!
Alabama and our tribe of red state lawmaker snowflakes wanna ban books and pass laws against anything and everything they don't understand. It's a smokescreen. They're looking for a punching bag to take our eyes away from the real problems they refuse to address.
J.D. Crowe
May 1, 2023
AL.com
Re: Trump's CNN Town Hall Was a Mess of Lies – And it Was Utterly Predictable  
For the life of me I don't understand why they don't cut the feed when he starts spewing verified lies. He lives for this kind of attention. The only way to make even a dent in his crap is to stop it when it starts.
Robert Laite
Posted on Portside's Facebook page
Re: Florida Teachers Besieged by Draconian Laws
(posting on Portside Labor)  
If DeSantis ever gets elected president our democracy will be destroyed and we will be subjected to the whims of a right wing Christian nationalist.
David Benton
Posted on Portside's Facebook page
MAGA PRESENTS: The Three Scamigos!  --  Cartoon by Lalo Alcaraz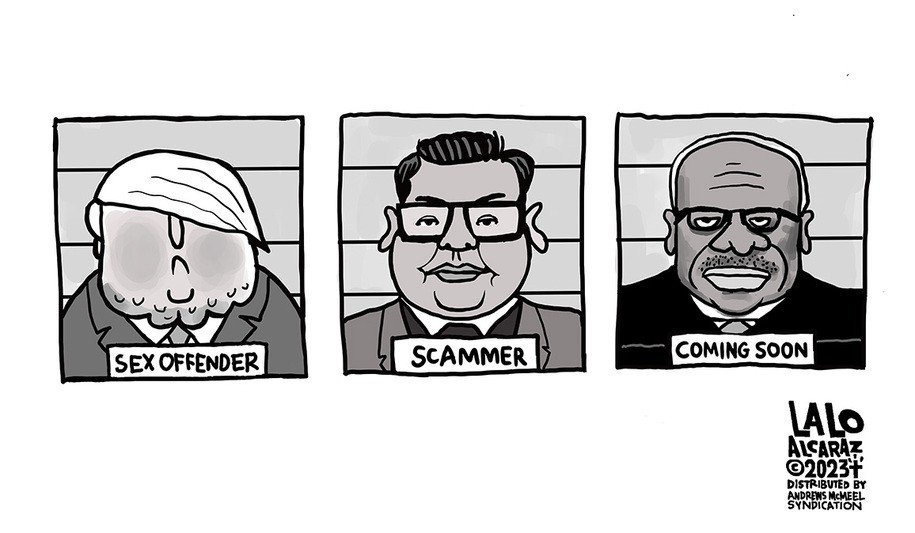 Lalo Alcaraz
May 10, 2023
Pocho.com
Re: HomeVestors Praised ProPublica's Reporting, Then Tried To "Bury It"  
Housing is under attack from many sides in this country, from private equity firms buying entire streets and neighborhoods to companies who target low income homeowners and especially seniors, to fleece them out of their homes for Pennie's on the dollar by manipulative and deceitful practices and no one in congress is doing a damn thing to stop it.
E Beth Davis
Posted on Portside's Facebook page
Re: Economists Hate Rent Control. Here's Why They're Wrong  
"As recent empirical work has shown, the neoclassical account's core assumptions—one, that rent control restricts the supply of new housing; and two, that it misallocates existing housing, thereby causing an irrecoverable collective loss—fail to hold when it comes to the real world."
Norm Littlejohn
Posted on Portside's Facebook page
Re: Big Win for Victims of Racist Restrictive Covenants  
While this article is mostly excellent and on point, there is a problem with its historical analysis. While there is a single brief mention of Jews in a grab bag list of others, the presentist focus of the article basically ignores the fact that many (and probably most) restrictive covenants restricted sales & rentals to "white Christians" and were explicitly intended to exclude Jews as well as (other) non-whites.  I would suggest that this is another example of "Jews don't count."
Stan Nadel
Nabka at 75  --  Jewish Solidarity with Palestine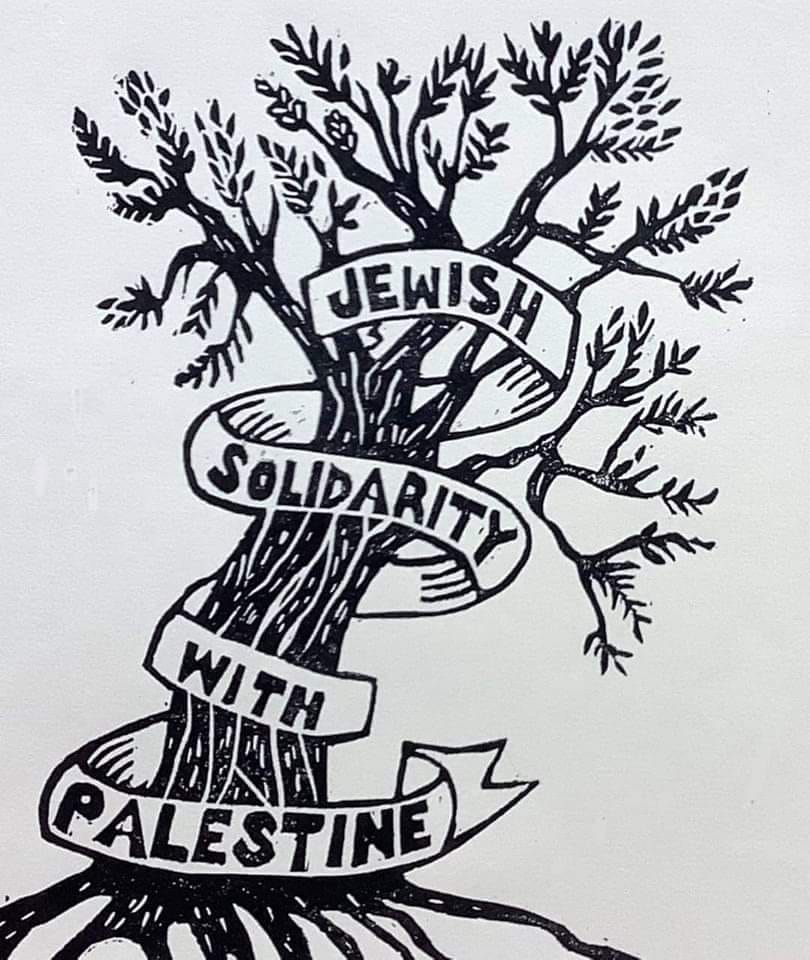 Thanks for posting this. I sent it out to friends and family. Very
Meaningful
Mim Habib
Re: Firearms Classes Taught Me, and America, a Very Dangerous Lesson  
"… The classes I attended trained students to believe that their lives are in constant danger. They prepared us to shoot without hesitation and avoid legal consequences. They instilled the kind of fear that has a corrosive effect on all interactions — and beyond that, on the fabric of our democracy.…"
George Lessard
Posted on Portside's Facebook page
Another Regrettable Incident  --  Cartoon by Tom Tomorrow (Dan Perkins)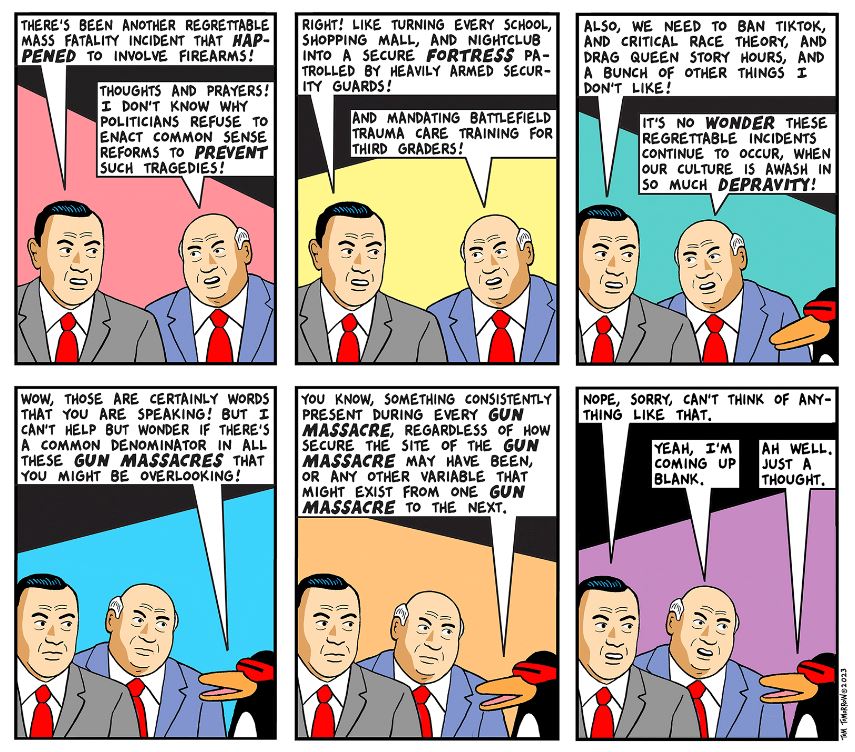 [Tom Tomorrow (Dan Perkins) is the creator of This Modern World, a weekly cartoon of political and social satire which has been a mainstay of the alternative press for more than two and a half decades. His work has also appeared in publications including The New York Times, the New Yorker, Esquire, Spin, Mother Jones, US News and World Report, the Economist, and many others. He is a two-time recipient of the Robert F. Kennedy Journalism Award, the 2013 recipient of the prestigious Herblock Prize for editorial cartooning, and a 2015 finalist for the Pulitzer Prize.]
Tom Tomorrow (Dan Perkins)
May 16, 2023
The Nib
Re: Chile Has Entered Its Thermidorian Period  
Seems a lesson in the dangers of over-reaching.
David Mirtz
Posted on Portside's Facebook page
      =====
Yes ... that's what I thought too
Sam Webb
Posted on Portside's Facebook page
Re: Michael A. Lebowitz (Nov 27, 1937 – April 19, 2023)  
'Lebowitz worked at FPE [Federal Pioneer Electric] during the day at a time when the electrical products industry was engaged in price fixing and allocation of market shares while at night at NYU he was taught all about how prices were determined by competition in the free market.[2] As a result of this disparity, he began to study Thorsten Veblen and Karl Marx, critics of mainstream theory, and to collaborate with Labor Research Associates, contributing several articles (as "an economist friend") in Economic Notes.'
Ciano Mac
Posted on Portside's Facebook page
Re: White House Plumbers Is a Hilarious Take on the Watergate Break-In
(posting on Portside Culture)  
Astonishing performance by Kathleen Turner in most recent episode.
Marilyn Albert
Posted on Portside's Facebook page
Historical Marker for Elizabeth Gurley Flynn in Concord, N.H., Has Been Removed  (Steven Porter in the Boston Globe)
Republican officials fiercely objected to the sign honoring labor leader and feminist organizer Elizabeth Gurley Flynn, citing her leadership role in the American Communist Party. Two weeks after the marker was unveiled, it was taken down.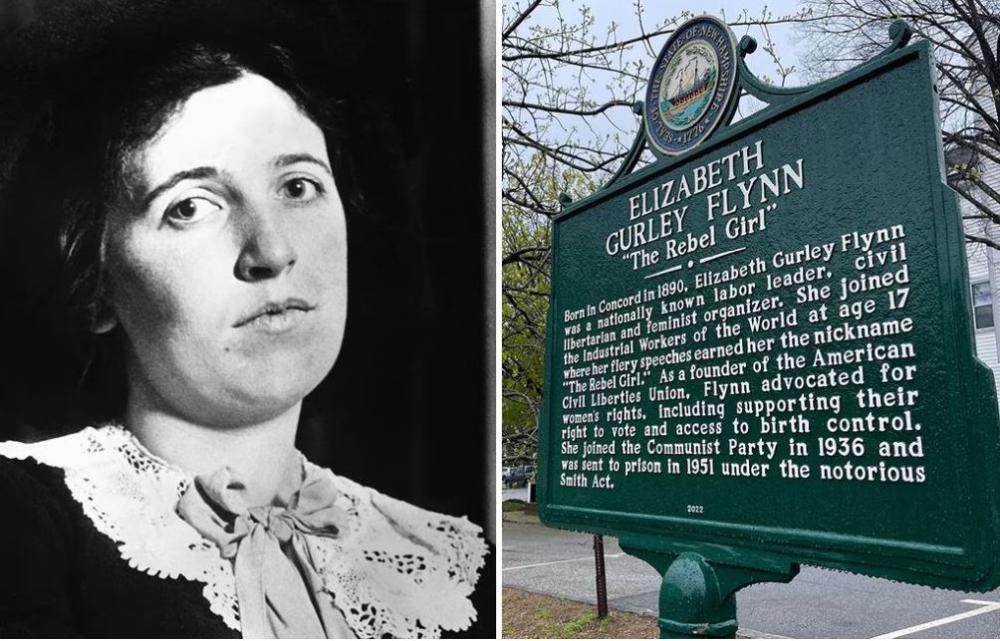 At left: a portrait of Elizabeth Gurley Flynn, the American political radical circa 1913. At right: a historic marker erected in her birthplace of Concord, N.H.  (Left: Hulton-Deutsch Collection/Corbis, Right: Steven Porter/Globe Staff)
By Steven Porter
Updated May 15, 2023
Boston Globe
CONCORD, N.H. — Elizabeth Gurley Flynn spent her life fighting and agitating for the rights of workers, women, and immigrants on the margins of society.
Now, nearly 60 years after her death, she's still whipping up controversy.
High-ranking Republicans in New Hampshire expressed outrage in early May after the state installed a new historical marker near Flynn's birthplace in Concord. The early 20th-century labor leader and feminist had joined the American Communist Party in the 1930s, and served as its national chairwoman in the 1960s. They called her communist ties an offense to veterans.
Less than two weeks later, the marker was gone. State officials confirmed that they decided to have it removed, after consulting with Governor Chris Sununu.
Read full story here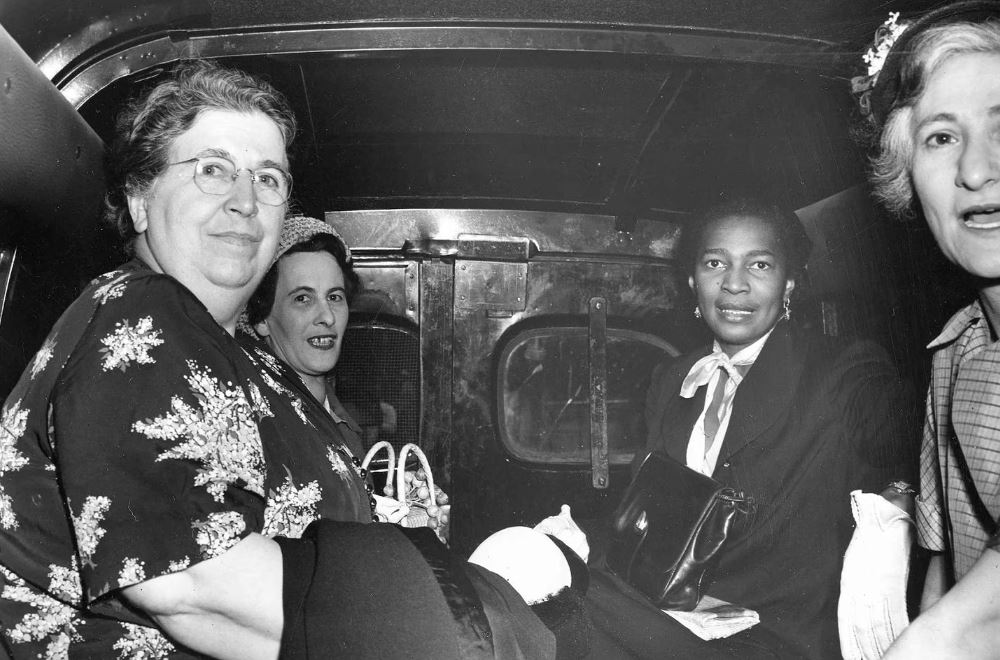 Communist Party members from left; Elizabeth Gurley Flynn, Marion Bachrach, Claudia Jones, and Betty Gannett sat calmly in a police van as they left federal court in New York City, June 20, 1951, en route to the Women's House of Detention after arraignment on charges of criminal conspiracy to teach and advocate the overthrow of the government by force and violence.  (Associated Press)
75 YEARS OF THE UNIVERSAL DECLARATION OF HUMAN RIGHTS  (Rosa Luxemburg Stiftung)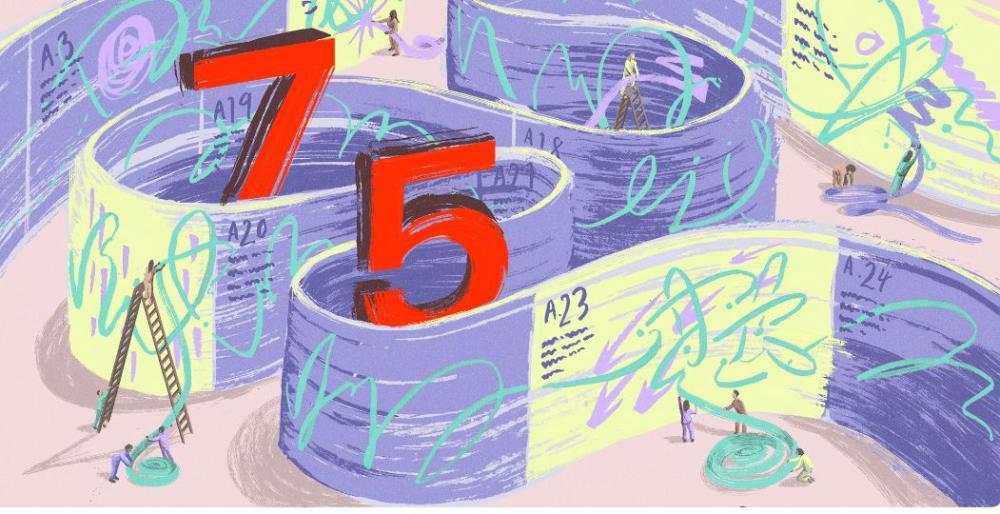 As an organization committed to social justice, democracy and solidarity, the Rosa Luxemburg Stiftung recognizes the pivotal role of the Universal Declaration of Human Rights in upholding these values. Adopted on December 10, 1948, by the United Nations General Assembly, The Declaration remains a cornerstone of international human rights law and a beacon of hope for people around the world. On this website, the Rosa Luxemburg Stiftung invites you to join their teams in reflecting on the significance of the Universal Declaration of Human and its ongoing relevance to the struggle for a more just and equitable work. 
On December 10, 2023, the Universal Declaration of Human Rights will be 75 years old. In order to commemorate its importance the Rosa Luxemburg Stiftung's offices based in New York and Geneva decided to collaborate on the creation of a new website featuring all the work they do around global struggles for human rights. These two offices are located in the two biggest United Nations cities in the world and many of their projects revolve around analyses on how progressives activists can utilize the UN as a means to achieve a better world. It made sense for the teams to bring together their forces and knowledge on a shared project.
About the Universal Declaration of Human Rights
The Universal Declaration of Human Rights is a milestone document in the history of human rights. It was proclaimed by the United Nations General Assembly in Paris on 10 December 1948 as a common standard of achievements for all peoples and all nations. It sets out, for the first time, fundamental human rights to be universally protected and its adoption recognized human rights to be the foundation for freedom, justice and peace.
This website will be updated regularly with contents in different mediums, such as articles, videos and podcast episodes. You can also check out the websites of the New York and Geneva offices to access the rest of their work.
The site will featured articles, videos, events, and a podcast specially produced by RLS on this topic (coming soon!) and will be updated regularly. Content will be produced in English, German, French, and Spanish by scholars, activists, UN experts, and organizations from around the world. Join us in reflecting about this milestone document and building new and expanded view of universal human rights. The legacy of the Universal Declaration of Human Rights is not yet complete.
Fighting for Our Rights: RLS and the Universal Declaration of Human Rights
What are human rights? This is a loaded question. It is a loaded question now, and it was a loaded question in 1947, when the newly formed Economic and Social Council (ECOSOC) of the United Nations established the Universal Declaration of Human Rights Drafting Committee. Chaired by Eleanor Roosevelt, the committee spent nearly two years debating the nature of human rights and drafting the 30 articles that comprise the Universal Declaration of Human Rights (UDHR), which was adopted by the UN General Assembly on December 10, 1948.
A rather progressive document for the time, the UDHR remains a cornerstone document in the ongoing fight for human rights around the world. A secular document that was agreed to at the multilateral level, the Universal Declaration acknowledges that all humans are born free and equal regardless of their "race, colour, sex, language, religion, political or other opinion, national or social origin, property, birth or other status." Many states have since gone on to codify the rights contained within the Universal Declaration into their constitutions. 
The Rosa Luxemburg Stiftung is one of the six major political foundations in the Federal Republic of Germany, tasked primarily with conducting political education both at home and abroad. The foundation is closely linked to Die Linke, a democratic socialist party in the German parliament.
This project is a joint effort between the New York City and Geneva offices of the Rosa Luxemburg Stiftung.
Rosa Luxemburg Stiftung — New York Office  https://rosalux.nyc/
275 Madison Ave., #2114
New York, NY 10016
United States
info.nyc@rosalux.org
New Campaign & Historic Legislation in New York State to Stop Funding to Israeli Settlements  (Center for Constitutional Rights)
Legal and Grassroots Groups Back Bill to Stop NY State From Subsidizing Illegal Israeli Settlements in Palestine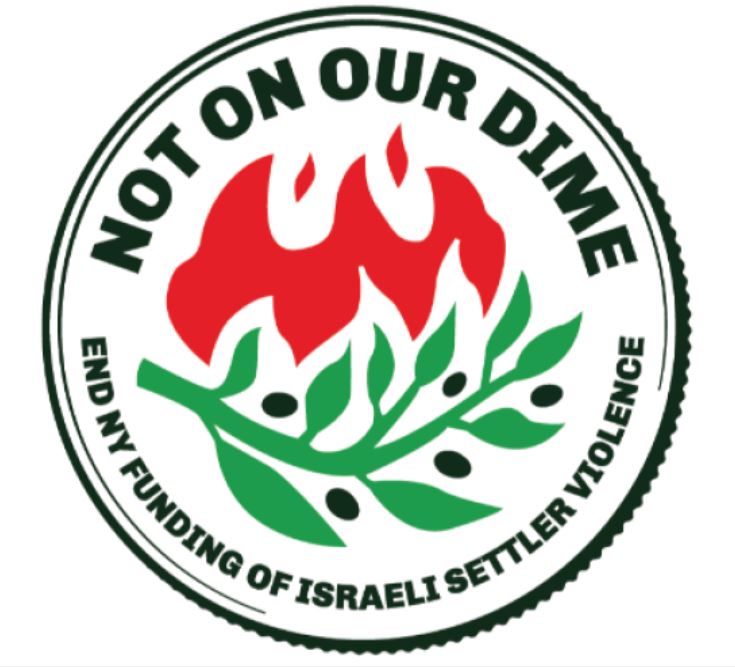 A coalition of legal and grassroots organizations is rallying behind groundbreaking legislation that would stop New York State from subsidizing illegal Israeli settlements in Palestine. Under the bill, the Not on Our Dime! Act, New York-based organizations with charitable status would be prohibited from funding the Israeli settler organizations that are forcing Palestinians out of their generational homes, stealing their land, and committing a range of other human rights abuses. 
"Israeli settler violence against Palestinians has reached alarming levels, and we can't let U.S.-based charities be used as fronts for illegal settlement construction on Palestinian land," said Sumaya Awad, Director of Strategy at the Adalah Justice Project. "New Yorkers are becoming increasingly critical of support for Israeli apartheid. It's long past time our state government caught up and took action to end funding for violence perpetrated against Palestinians."
New York-based nonprofits raising money in New York are a major source of funding for Israeli settler organizations. These settler organizations work in tandem with the Israeli military, rely on discriminatory laws, and often deploy outright brutality to push Palestinians off their ancestral lands. One New York-registered group operating as a charity, the Central Fund of Israel (CFI), has raised almost $50 million annually for Israel and its illegal settlements, and is a funder of some of the major Israeli settler groups. 
"Aiding and abetting war crimes is not charitable, period. This bill goes a long way toward ensuring that New York is not inadvertently subsidizing war crimes, but rather creating paths for accountability," said Vince Warren, Executive Director of the Center for Constitutional Rights.
In addition to Adalah Justice Project and the Center for Constitutional Rights, the coalition of organizations backing the bill includes Jewish Voice for Peace - New York City, Syracuse Peace Council, Palestine Youth Movement, New York City Democratic Socialists of America, and the US Campaign for Palestinian Rights. They have launched a campaign, Not on Our Dime!, to mobilize support for the legislation. 
Introduced in the State Assembly by Zohran Mamdani (Queens) and in the Senate by Jabari Brisport (Brooklyn), the bill arises amid rapid growth in settlements enabled by the ultra rightwing government of Israel, which includes former leaders of settler organizations. Finance Minister Bezalel Smotrich, for example, co-founded Regavim, one of the expansionist – and overtly racist – groups that has received well over a million dollars from New York-registered nonprofits. Earlier this year, in a move condemned by even its closest allies, the Israeli government authorized construction of 10,000 housing units in the West Bank.
"Charitable status is supposed to help organizations that are doing good in the world. It should be obvious that demolishing homes, destroying villages, and ethnic cleansing are not charitable. We are glad this law finally recognizes that," said Jonathan Brenneman of the Syracuse Peace Council.
Under current New York law, the Attorney General already has the authority to ensure that registered charities do not fund illegal conduct. The legislation clarifies that funding of Israeli settlements by charities is unauthorized and allows the Attorney General to fine such organizations no less than $1 million. It would also enable Palestinians harmed by war crimes funded by New York-registered charities to sue the groups in New York courts. 
"Israeli settlers are seizing Palestinian land, demolishing homes, burning olive groves, and terrorizing families with ever-increasing intensity and impunity. This is not a far-away issue – much of the funding for this rampant brutality is coming through New York State, through groups masquerading as charities and enjoying tax breaks, all while funneling hundreds of millions of dollars to ethnic cleansing. Jewish New Yorkers demand that our elected officials refuse this charade and stop subsidizing these atrocities," said Elena Stein, Director of Organizing Strategy, Jewish Voice for Peace.
"We do not accept that supposedly charitable organizations should be able to operate with complete disregard for the Geneva Conventions and the most basic of international norms. We're glad that our legislators are finally calling the question on this practice. This bill offers a unique opportunity to end New York State's complicity in the ongoing ethnic cleansing of Palestine," said Dylan Awalt-Conley, a member of the New York City Democratic Socialists of America.
While this bill is the first in the country that would stop the flow of money from U.S. charities to settlement groups, it emerges from an effective Palestinian-led call to stop the various financial sources upholding Israel's occupation and apartheid system: whether in the form of U.S. military funding, or private money. As the Israeli government takes ever more extremist and anti-democratic turns, national lawmakers are increasingly willing to ponder cutting off, conditioning, or limiting U.S. funding to Israel. 
"A variegated system of government and private money is used to dispossess Palestinians of their lands and homes. Today, we demand its end," said Kaleem Hawa, a member of Palestinian Youth Movement – NY Chapter. "The funneling of millions of dollars to settlements from New York-registered charities amounts to a subsidy of Palestinian dispossession by American citizens. It's time we stop New York's funding of Zionist settler terror."
"We're grateful that New York State legislators are working toward setting precedent across the movement for Palestinian human rights. We know the U.S. has actively enabled Israel's military occupation and settlement expansion over the Palestinian people, but we also know that this complicity does not have to continue. Today, we remind the people across New York that they have the opportunity to help end this brutal occupation so the Palestinian people can remain on their native land," said Iman Abid, Director of Advocacy and Organizing, US Campaign for Palestinian Rights.
Contact: press@ccrjustice.org
African American Singing Traditions - People's Music Network Summer Gathering, Groton, MA - May 26-28
The 2023 People's Music Network Summer Gathering takes place at at Camp Grotonwood in Groton, MA from May 26-28, 2023. It includes:
Music to inspire dreams for a better world.
Traditions that strengthen social justice struggles.
A welcoming community of singers, activists, songwriters, spoken word artists, and allies committed to using the arts as catalysts for peace and justice.
On Saturday and Sunday (May 25 & 26, 2023), we'll have participatory workshops and songswaps, mentoring sessions, and a Saturday night "Round Robin" – all highlighting the role of music in progressive social change.  Expect numerous opportunities to share music, sing together, and to join efforts to bring music into the heart of struggles for justice and freedom today.
People's Music Network held a Summer Gathering every year from 1977 to 2018. We'll be intermeshing the network PMN built throughout these years with the network we've been building more recently during the pandemic.  We'll also be remembering the members who have passed on in the last four years.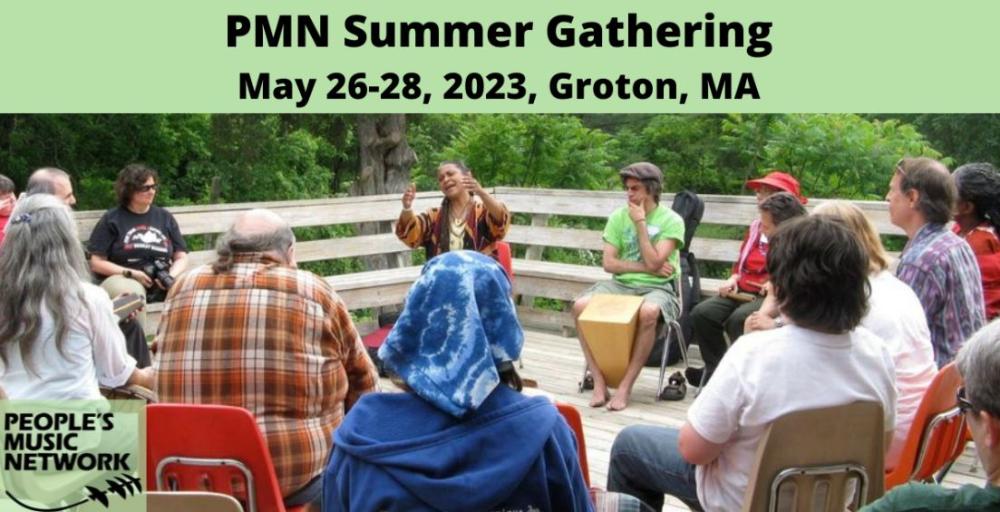 People's Music Network for Songs of Freedom and Struggle  --   www.PeoplesMusic.org