labor
The Worst Paying Fastest-Growing Job in America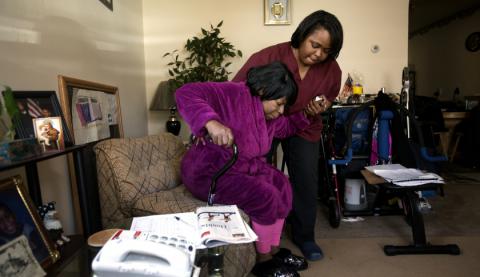 A home health aide helps a patient in Washington, DC.,Bonnie Jo Mount—The Washington Post—Getty Images
On Wednesday, California Governor Jerry Brown signed legislation making the state the second in the nation to institute statewide paid sick leave.
At the signing ceremony, Brown said that the legislation—expected to bring paid sick leave to most of the 6.5 million Californians currently without it—"helps people—whether it's a person working at a car wash or McDonald's or 7-Eleven."
Well there's one group of people it doesn't help: home health care workers.
Because of cost concerns, Brown negotiated a last-minute amendment that exempts home health care workers from the law.
The carve-out of these workers is not surprising, says Abby Marquand, director of policy research at the Paraprofessional Healthcare Institute, a nonprofit advocacy organization. Why? Workers who care for the elderly and disabled in their homes are "an easy target for holding down costs," she says. "Collectively, as a society, we haven't valued the work they do in the way we should."
That's a problem in and of itself, and it has been amplified by the fact that the home care industry is the fastest-growing sector of the American economy.
Two occupations make up the home care aide profession: personal aides who provide clients with self-care and help them with everyday tasks, and home health aides who assist the disabled, chronically ill, or cognitively impaired and may administer medication or check clients' vial signs. Put together, about 2 million Americans hold these jobs. (The PHI estimates that there are likely hundreds of thousands of uncounted aides employed by individuals and families.)
The wages these workers earn are painfully low: the median salary for a personal care aide is $19,910 annually, or $9.57 an hour; a home health aide earns $20,820 or $10.01 per hour. As America's population ages, these professions are expected to grow by 49% and 48%, respectively, from 2012 to 2022, eclipsing the average growth for all occupations: 11%. They are the second- and third-fastest growing occupations in the nation—behind only industrial-organizational psychologist, a job that brings in median annual wages of $83,750. On the BLS's list of 30 fastest-growing jobs, personal and home care aides are the worst paid.
It's no surprise, then, that the home care industry is plagued by high turnover rates, which the Institute for the Future of Aging Services pegged at between 40% and 60% for a home health aide who has been on the job for less than a year.
Take all these factors into account and you've got the makings of a public health crisis, says Ai-Jen Poo, director of the National Domestic Workers Alliance, an advocacy group. "In light of the Age Wave—the Silver Tsunami—the high rates of burnout, and poverty wages that no one wants to work for—it's not good for the general public," she says.
Home care workers, who are employed by third-party agencies or by clients directly, have long been exempt from minimum wage and overtime laws. That will finally come to an end in January, when a Department of Labor regulatory change will grant most home care workers wages of at least $7.25 per hour and overtime.
The ramifications of the new rule illustrate, as Poo puts it, "the pattern and practice of discrimination" against home care workers. At the time of the rule's announcement, it promised to give home care workers in 29 states minimum wage and overtime protections for the first time, according to the National Employment Law Project. Many of these states have minimum wage and overtime laws for other workers, of course, but some of them have over the course of their history carved out exemptions for in-home care providers. That means that in some states home care workers will earn the federally mandated $7.25 an hour for the first time in January, but if their state has a higher minimum wage that excludes in-home workers, they won't be eligible for the higher rate. Alaska, for instance, enforces a minimum wage of $7.75 but it also has an exemption for "domestic service" employees, so most home care workers in that state will be subject to the federal $7.25 rate come January, not the state's higher wage.
At the federal level, home health care workers aren't covered by the Occupational Safety and Health Act, which only covers "facility" workers, according to PHI. And anti-discrimination laws, such as the Civil Rights Act, the Americans with Disabilities Act, and the Age Discrimination in Employment Act, generally only cover employers with multiple employees, says the Economics Policy Institute, meaning some in-house workers are excluded.
Home health workers employed by individual households aren't eligible for workers' compensation, family and medical leave, and can't enroll in a 401(k), PHI says.
In the hierarchy of workers, home health care workers are at the bottom, below even low-paid fast-food workers, whose recent strikes and protests have drummed up public empathy. This is by no means a new development.
During the negotiations of the Fair Labor Standards Act of 1938, which instituted minimum wage and overtime laws as part of the New Deal, members of Congress from southern states refused to sign onto the bill if domestic and farm workers—industries made up largely of African Americans at the time—were included, according to Peggie Smith, a labor and employment law professor at Washington University School of Law. So these workers were left out of the legislation as it became law.
During the Progressive Era, Smith says, this work was regarded as having little value since it was considered an ideal training ground for women who would soon be married. And the work itself was seen as easy and stress-free. By 1940, Smith says, 26 states had minimum wage laws, but only Wisconsin's applied to women doing domestic work, including home care. Likewise, by 1941, 43 states enforced maximum-hour laws that protected women, but only one of them covered women engaged in domestic work, Smith says.
The demographics of the home care industry continue to put it at the short end of the pay and benefits stick. "Politically, it's not a group with a lot of power," says Marquand. According to PHI, 91% of home care aides are female, 56% are non-white minorities, 24% of them are foreign-born, and 58% have a high school education or less.
Seventy-three percent of the $61 billion home health care services industry is paid for with public funds, primarily through Medicaid. A common argument against raising home care workers' wages is that an increase would leave states without the funds to provide in-home care for all of the elderly and disabled individuals who need it. The National Association of Medicaid directors, for instance, cited such concerns when it sought to delay the regulatory change giving home care workers minimum wage rights in April. Smith points out that the same argument could be made about the pay of other publicly funded employees, like police officers, fire fighters, and hospital workers.
Labor efforts provided these workers with a brief glimmer of hope. Since 2010, workers in New York, California, Hawaii, and Massachusetts won the passage of domestic workers' bills of rights that typically provide for days of rest, overtime, and protection against discrimination. Another notable victory came in Washington state earlier this month when the home care workers there, represented by the Service Employees International Union, negotiated a contract with the state that will give them average hourly pay of more than $14 per hour.
But a recent Supreme Court ruling has thrown a wrench into those efforts. In a 5-4 ruling in June, the justices recognized a category of "partial public employees" that cannot be forced to contribute union fees. The decision put the brakes on the unions' efforts to recruit home care aides, a ballooning pool of potential members.
"How does one move forward with organizing in spite of this case?" Smith says. "People are still trying to figure that out." Something has to give, and fast.
"For seniors and people with disabilities, it's already hard to find a good direct care worker," says Joe Caldwell, director of long-term services and support policy for the National Council on Aging. "The number of people needing care is going to double in decade, and fewer workers are going to be willing to work for nothing."