Tidbits - January 22, 2015 - Iran War Demand; Martin Luther King; Social Security & Disability cuts, more...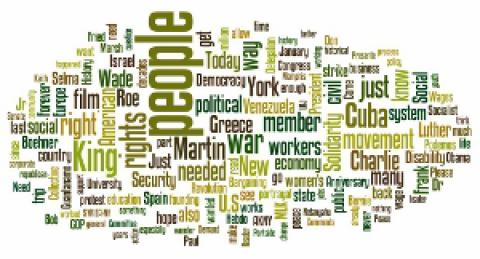 Tidbits - Reader Comments and Announcements - January 22, 2015,Portside
Re: We Don't Just Need `More Jobs'-We Need Higher Wages
(posted on Portside Labor)
This is simply a fact that is not addressed by the Employment numbers. Great to have fewer out of work, but what about being able to earn a wage that supports a family? No wonder we all look around and shake our heads when we hear all this "great" economic news- we haven't gotten a break yet!!!!!
Jeanne Caciopski
Posted on Portside's Facebook page
     ====
I have yet to meet a Democrat who truly gets this. So many people posted the "Good news on the Obama economy!" meme last month, and then took issue with this question: Are your wages going up? If not, what about this economy has really improved? Answer: Nothing. Unless of course you're already in the stock market in a big way.
William Cutlip
Posted on Portside's Facebook page
     ====
Not just "more" jobs--better ones. And not just a few dollars an hour more; people need to be treated with actual dignity at work, no matter the wage.
Jennifer Kalmanson
Posted on Portside's Facebook page
     ====
Actually, we need both--more better paying jobs.
Nola Krosch
Posted on Portside's Facebook page
     ====
Just to keep up with inflation ,minimum wage should be $18per hr. to match 1950 wages....It is no wonder the middle class is taking it in the rear...and our economy is falling behind....all pun intended!
Alfonso Varela
Posted on Portside's Facebook page
Re: Behind Obama's Back: How Netanyahu's U.S. trip Was Cooked Up
I hope President Obama will not allow Boehner to get away with this unprecedented political action.  He is NOT the head of state.  This action sets the tone for emasculating and dis-empowering the presidency. If he gets away with it, he will do it again on this and other issues of national political importance. Israel must not be allowed to run our government more than it already tries to do.
Velva Spriggs
     ====
Boehner has his own foreign policy.
Corva Korax
Posted on Portside's Facebook page
     ====
Exactly why I call the republican party a criminal organization
Steve W Allen
Posted on Portside's Facebook page
     ====
How is it possible that Netanyahu will tell USA, our country, how we should deal with our foreign affair. Call your congress reps.
Dalia L Tapia
Posted on Portside's Facebook page
     ====
Constitutionally it is POTUS who negotiates treaties, not Congress, although they need to ratify same...for the Klantheon on the Hill, war is better business for their corporate masters than peace is, putting all of us at risk for harm...
Christine Earles
Posted on Portside's Facebook page
     ====
and the right wingers are afraid of foreign involvement in our country politics... where is the outrage?
Don Ballek
Posted on Portside's Facebook page
     ====
Will the US people let the Israeli war hawks dictate US policy that is opposed by our Commander in Chief?
Barbara Tutor
Posted on Portside's Facebook page
     ====
I don't like the fact that the war mongering state of Israel is having any say and influence in our efforts to take a path of diplomacy. They are pushing for war with Iran because it is their agenda, not ours. They instead should be focusing on GENUINE peace negotiations with the Palestinians who live within their own borders as well as in the areas that Israel is the occupier.
Vincent Pietromartire
Posted on Portside's Facebook page
     ====
Isn't there something unconstitutional about the congress taking over the President's job??
Vernon Eugene Kooy
Posted on Portside's Facebook page
     ====
This disrespectful move of Boehner shows the American public that the House and the Senate will not be including us (the American people) in any future discussions.  The GOP needs to know that they did not win both houses because the American people liked them, they won because the offices were bought and the lines were redrawn to suit the GOP.  This means that our constitutional rights have been violated.  Many of us have no representation.
There should be something that we the people can do.  We are just not fairly represented.  Please let me and others know how we can change what has happened.
Most of the people are quite frustrated with the GOP both before and after the election. So they should not be fooled into doing what they want to do without answering to someone else.  WE ARE STILL TAX PAYERS.
Pat Bowden
Thank you Portside for sharing the amazing Yohuru Williams!!
Joan Kramer
Posted on Portside's Facebook page
     ====
MLK said it best over fifty years ago. "The notion that privatization of education will foster equality is fiction". And yet, all over this land we see people of color clamoring for privately funded with state support, for charter schools. They are aligning themselves with the very people who have spent the last six decades, since Brown VS. Board, to undermine and defund the public school system. They have chosen to get in bed with the sly, the slick and the wicked, who have convinced them that the integration of our school system has been a dismal failure. That the only salvation is to once again return to a two tiered system of education that pits poor children against those with more means. The system that for decades, systematically conspired to keep African American children undereducated and dependent on ruler capitalists. This is especially evident in rural pockets of the country, and in particular, the south. Visit any one of them and you will find that the schools are more segregated than they were fifty years ago. The schools are dilapidated, their resources are meager, and it's fair to say that while their teachers do the best they can with what they have, they are overwhelmed and demoralized by the sheer lack of resources and support.
Sam Mahone
Posted on Portside's Facebook page

Re: The Uncompromising Anti-Capitalism of Martin Luther King Jr.
(posting on Portside Labor)
"King rejected the capitalist logic that claims that the economy cannot bear a universal living wage. He said, "God intends for all of his children to have the basic necessities of life, and he has left in this universe 'enough and to spare' for that purpose."
Susan Lamont
Posted on Portside's Facebook page
     ====
This is why MLK Jr. was on J. Edgar Hoover's shit list.
Robert Bayless
Posted on Portside's Facebook page
     ====
In my relative youth, in the mid-60s, when I heard MLK accused of being a communist, I thought to myself, "What's a communist? Why are communists getting all this credit for fighting for these good things like equality and peace? Best question I ever asked myself.
Linda Turner
Posted on Portside's Facebook page
Re: MLK's Radical Vision Got Distorted: Here's His Real Legacy on Militarism & Inequality
Making MLK safe for America: Like Malcolm, when he attacked war and corporate power behind it, tied racism to class structure, tried to link religious values to socialism, he had to go. Then the bosses hijacked his legacy and message.
Doug Vaughan
Posted on Portside's Facebook page
     ====
Could President Evo Morales' Law of the Rights of Mother Earth be the radical vision of civil rights that MLK championed? The loss of life, liberty, and the pursuit of happiness should be seen as anathema to any sane business model- much less the functioning of a healthy society. To give Earth personhood might give the underserved populations of this beleaguered planet the chance to assert themselves against the tyranny of greed. What say you?
Christopher Frederic Lapinel
Posted on Portside's Facebook page
     ====
"A nation that continues year after year to spend more money on military defense than on programs of social uplift, is approaching spiritual death."
Marvin Jefferson
Posted on Portside's Facebook page

Re: I Will Grieve. I Will Laugh. But I Am Not Charlie.
Another (and much better informed) perspective on Charlie Hebdo...
Alfred Rose
Posted on Portside's Facebook page
     ====
A thoughtful dissent.
Howard Croft
Posted on Portside's Facebook page
     ====
The clarity presented in this article is what's needed. The Pope was correct in his criticism of Charlie Hebdo, but not as deep and is being dismissed by those very liberals cloaked in progressive garb.
Willie Williamson
Posted on Portside's Facebook page
     ====
But who makes the determination of what can be printed or not?...What is offensive or not?...
Pipo Milian
Posted on Portside's Facebook page
Re: After the Charlie Hebdo's Massacre - Support Those who Fight the Religious-right; "There is no way they will make us put down our pens."
Taxpayers should not have to foot the bill for the 2017 Crusades.
Richard Bailey
Posted on Portside's Facebook page
Re: It's Not Just the Cops - The Whole Justice System is Broken
Well, "broken" is the wrong term: it is only "broken" if it is not doing what it is supposed to do. In fact, it was designed to spread terror and desperation among working people, especially Black and Indigenous working people and other working people of color. It is doing that well. All the same, it is worth reading this piece.
Russell Dale
Posted on Portside's Facebook page
     ====
This is an excellent article on the whole...when you finish with this, read the book "Raw Law" by attorney Muhammad Bashir ( available online)
Safiyyah Fatimah Abdullah
Posted on Portside's Facebook page
Re: Bernie Sanders Exposes Republican Plot To Cut Social Security For 11 Million Disabled People
[read by more than 80,000 on Portside's Facebook page]
Without the social contract, we become wolves to each other. Life is full of play, exuberance and mystery in an interdependent world of exchanging roles. Where means are not ends, the private is not the public, the part is not the whole and the real is not the mythical, the future is open and dynamic and not closed and static.
Marc Batko
Posted on Portside's Facebook page
     ====
Disability Insurance... What a laugh.. I paid for that. They would not cover me over 6 months...didn't know that until I needed it. Told me it was just to last until I could get my Social Security Disability to kick in. WHICH by the way is less than the disability insurance was paying.
Sharon Windus
Posted on Portside's Facebook page
     ====
The only reason Social Security isn't flush is that Congress has raided it and never repaid the loans. SS Disability claims are routinely denied, multiple times, until claimants hire attorneys and sign off on a significant percentage of back awards
Pamela Altmeyer Alvey
Posted on Portside's Facebook page
     ====
There are people who receive SS disability who are raising their grandchildren.....I have a friend who has multiple sclerosis...he receives $600 per month and works part time...he also pays child support to two children...and you think it's ok to cut his check? And then spend more billions on Iraq and Afghanistan???
Patty Saul
Posted on Portside's Facebook page
     ====
Nearly half of the US budget goes to the military. Surely, there are funds that can go to SSD. And, as in all situations, there are people who take advantage of a program. Just look at big banks. I'm unwilling to demolish an entire program because a few people abuse it.
Deborah Jett McVay
Posted on Portside's Facebook page
https://www.facebook.com/Portside.PortsideLabor
     ====
They always attack the ones that have no way to fight back. They have already made it impossible for many of these same people to vote
Don Gebhart
Posted on Portside's Facebook page
     ====
Think about. medium class. low rates workers. this is republican party. agendas against 99% of the Americans
Hector Pena
Posted on Portside's Facebook page
     ====
Saying that there is no social security surplus is another republican lie. Bush and Reagan both took billions and never repaid it back. the money became corporate welfare.
Bob Hammerquist
Posted on Portside's Facebook page
     ====
That is just shameful. Thanks Bernie for helping to protect us.
Nikki Hatch
Posted on Portside's Facebook page
     ====
The agenda is to create a 'war on the poor' and it works wonderfully, while the elite rob you of everything and finally reduce you to the very poor you hate and disparage so much.... Convincing you to think your tiny paycheck (money) you get still represents wealth, it don't it represents debt but your too busy waging war on the impoverished people (most of whom have been reduced to this status recently) to even notice. How easily people are manipulated to condemn the victim and praise the real enemy!!!
Jerry Adams
Posted on Portside's Facebook page
Re: The Erosion of Collective Bargaining Has Widened the Gap Between Productivity and Pay
And union membership and collective bargaining rights are lower than since the era of The Great Depression.
Glenn Tepper
Posted on Portside's Facebook page
     ====
This is precisely how 20th-21st Century American Capitalism works to extract maximum wealth from workers. This is precisely the desired outcome that the wealthiest elites want by crushing workers' collective bargaining power. Disempower, Disenfranchise, Depoliticize, workers' collective agency. Where is the Trade Labor Movement? Therein that rhetorical question, lies the answer.
Larry Aaronson
Posted on Portside's Facebook page
I hope he wins. I hope the left guy in Greece wins. The powers that be have left us with non-economies. Everyone hurting except the large companies. Time for a change, especially for the young who basically have to make their own jobs.
In Canada now that oil has collapsed, it is obvious we don't really have an economy. The federal government has governed for the oil industry not for people and youth and small business of which there is too little is floundering. They are doing nothing to create jobs such as alternative energy. Total lack of imagination and total favouritism. So if some Europeans are waking up, it is about time.
Laurel MacDowel
     ====
we can only hope but will the oligarchs allow it?
Andrew L'Amour
Posted on Portside's Facebook page
     ====
This seems to be a new trend in Europe- choose young, progressive new leaders- Italy, maybe Greece next week, maybe in Spain, we'll see. Since the EU & Europe in general seems to have huge problems, no wonder they're searching, but we'll see how they succeed, so far, in Italy, not so well...
sure, it's great to have someone from the Left, though his age is another factor. Spain has been a bitterly divided country for a very long time. Let's see what happens.
Artie Alfreds
Posted on Portside's Facebook page
     ====
thank you portside, once again and again and again.
Paul Buhle
Posted on Portside's Facebook page
Re: `Solidarity Forever' Written 100 Years Ago, Today
"Solidarity Forever" echoes symbolically this Martin Luther King Jr. Day weekend. Dr. King's last sermon was delivered in Memphis during the sanitation workers strike, a strike in which he acted not just as a civil rights leader but also a union .
Kevin Alexander Gray
Posted on Portside's Facebook page
     ====
The IWW had over a million before the end of world war one.
The US had a population of 80 million or less.
Tom Keough
     ====
Let's not forget that this was the anthem of the UAW for many decades.
Stan Nadel
     ====
"Solidarity Forever" echoes symbolically this Martin Luther King Jr. Day weekend. Dr. King's last sermon was delivered in Memphis during the sanitation workers strike, a strike in which he acted not just as a civil rights leader but also a union leader. He even called for a general strike of black workers and students in Memphis.
Paul Engelbrecht
Posted on Portside's Facebook page
A stalwart comrade, thank you Portside for honoring Frank, enlightening those who did not know him and reminding those of us who were lucky enough to know him along the pathways of life.  Presente Brother Fried.
Carole Travis
     ====
Frank was a constant presence in my father's crowd of leftys of various stripes. He was a Trotskyist all of his adult life, but made his mark on the world-weary ex-CP types he worked and played with in Chicago. But the huge concert promotion business he built out of folkie concerts starting in the late 50's actually played a big part in my own cultural growth. He treated me and my sibs to some of the greatest concerts ever, and that alone was enough to inspire a strong loyalty to him through the years. He also laid on the politics, busting my chops but never giving up hope that I would come to see things his way. Well, I do now, a little. Maybe more than I realize.
Ethan Young
Posted on Portside's Facebook page
     ====
I met and worked with Frank, and Fred Fine, when they ran Triangle Productions in Chicago - they were a tremendous help in the anti-Vietnam war movement, helping to popularize the peace movement, and to bring top cultural artists to our many rallies and protest demonstrations.
Jay Schaffner
Posted on Portside's Facebook page

Re: It's Critics of 'Selma' Who Are Distorting Civil Rights History
This movie was done in a shoestring budget (by Hollywood standards). Dr. King's words per se had nothing to do with the quality of this film. The actor's portrayal of Dr. King had everything to do with getting the point across about the character of the man. Now if they had 200 million as opposed to 20 million to make this film there probably would have been Oscar nods and there probably would have been an ability to pay the King family for using those words if they were that important.
Lavinia Lynch
Posted on Portside's Facebook page
     ====
Watching LBJ's "defenders" on Hardball with Chris Matthews was an upsetting lesson in white supremacy and the urge to control all historical narratives. From an organizing perspective I understood immediately what the film was saying - LBJ NEEDED Dr. King to organize the Selma protests because that would give him the political cover to go ahead with voting rights. As a long-time organizer myself I can assure you that this is how it works!
Jenny Kastner
Posted on Portside's Facebook page
     ====
I just saw the film, I was deeply moved and I found the film an excellent portrayal. I do not have a "researched based" understanding of events around the civil rights movement, but I thought the portrayals were all likely very accurate. They "felt" that way - particularly the portrayal of J Edgar Hoover as a back-biting, snake in the grass murdering thug hiding his homosexuality. While the film didn't delve into his closeted personna, the actors portrayal got it across nonetheless. And LBJ was nothing but a politician, unless one believes that he was evil incarnate.
Scott Berry
Posted on Portside's Facebook page
     ====
i don't think he needed much prodding, either--he was an FDR liberal, and FAR more progressive on this issue than JFK was!
Ronald G. Linville
Posted on Portside's Facebook page
     ====
Personally without absolute historical documentation, no film should go into personal relationships...IMO. I haven't seen this film but I have noticed and disliked the liberties that some writers/directors in other historical films have taken.
Rusty Keith
Posted on Portside's Facebook page
     ====
Johnson needed King and the protest movement to influence the general public. He needed the drama to sway congress also. Much in the same way that FDR needed Pearl harbor events to convince the public that action was needed. He wanted to get involved in the war but most people didn't want us to. He needed an event that would change people's minds. Johnson wanted to do the right thing for civil rights in this country, but opposition was enormous. His motives are debatable but the desire to act was there. He said many times that he wanted to accomplish what JFK couldn't. Especially regarding civil rights. I believe his motives were mixed, partly because he knew it was the right thing to do, and he wanted to secure a lasting legacy. It is never enough for a president to just want to do something because the believe it is right, they need to convince others it is right too. Keith Morton, you are absolutely right. Caro's book is excellent. Have you read Dallek's Flawed Giant? Also a fantastic read.
Kelly Feeley
Posted on Portside's Facebook page
==========
Re: Marking 13th Anniversary of Guantanamo, Protesters Interrupt Senate to Demand End to US Torture
Not only has the United States tortured in the past and present, but it trained South American death squads to torture. Ask anyone from Chile and they will tell you what happened after 9/11/73 when American politicians were complicit in the overthrow of President Allende and the installation of General Augusto Pinochet who killed thousands.
Lorna Neal
Posted on Portside's Facebook page
     ====
whatever happened to #obama https://www.facebook.com/hashtag/obama?source=feed_text&story_id=974132… promise to shut down #gitmo? https://www.facebook.com/hashtag/gitmo?source=feed_text&story_id=974132… why is the #US https://www.facebook.com/hashtag/us?source=feed_text&story_id=974132249… routinely practicing #torture? https://www.facebook.com/hashtag/torture?source=feed_text&story_id=9741… c'mon. even people who don't consider themselves dissidents must know this is unconstitutional
Sara Powell
Posted on Portside's Facebook page
Today in History - Roe V. Wade - 1973 and Today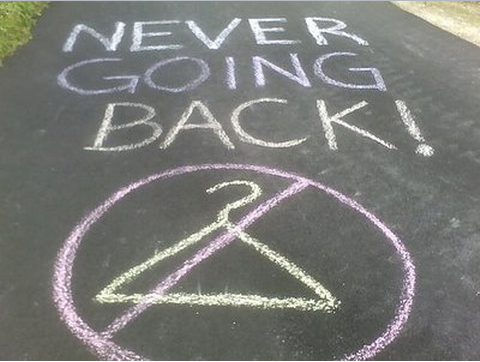 Today in history: On January 22, 1973, the Supreme Court's decision in Roe v. Wade marked a major victory for women's reproductive freedom in the U.S. In the context of the growing women's movement, Roe v. Wade struck down many state restrictions on women's right to choose abortion. Later interpretations strengthened the ruling. Ever since, a massive right wing effort has fought to reverse this victory, while defenders of women's rights have fought back against these attacks and have worked to further expand women's reproductive freedom.
Today - January 22, 2015 - House Passes Anti-Abortion Bill On Anniversary Of Roe v. Wade
The bill would codify a ban on federal funding for abortions. Read more.
Ending the Embargo of Cuba - A People's Victory - New York - Jan. 26
with Bob Guild
Monday, January 26, 2015
6:00 PM
SEIU Local 1199
310 W. 43rd Street - 7th Floor
Come to discuss the historic developments in U.S. policy on Cuba and the freeing of the remaining Cuba Five political prisoners.
Bob Guild of Marazul Tours has been at the forefront of the movement to normalize relations between the U.S. and Cuba. He has been a stalwart of the Venceremos Brigade, Cuba Solidarity Committee, the Cuba Five Committee and many other efforts spanning decades.
What led to the Obama Administration Executive Action?
What are the changes and how significant are they?
What does it mean for travel to Cuba?
Will the right wing Congress challenge President Obama's actions?
What needs to be done to bring a complete end to the economic embargo of Cuba?
food and refreshments will be served

Metro NY Committees of Correspondence for Democracy and Socialism
metroccds@gmail.com  (212) 868-3733

After The Greek Elections: The Future Of Austerity In Greece, Europe And Beyond
 
Friday, February 6, 2015
New York University campus - room to be announced
[Many people have expressed interest in attending this event. We may get a larger room at an earlier time in the evening than originally scheduled to allow for fuller discussion. Exact NYU location and time will be announced soon when we know what's available. Stay tuned.]
SPEAKERS:
 
NANTINA VGONTZAS is a Greek-American sociology PhD student at NYU focusing on political economy and social movements. She is a member of the UAW Graduate Student Organizing Committee and involved in the nationwide Academic Workers for a Democratic Union reform movement.
 
NATASSA ROMANOU is a Research Professor at Columbia University in Climate Studies, a member of SYRIZA and the ecosocialist group System Change Not Climate Change. She is a founding member, SYRIZA-NY and AKNY. Romanou is in Greece for the elections.
 
COSTAS PANAYOTAKIS is Professor of Sociology at the New York City College of Technology of the City University of New York, and is author of Remaking Scarcity: From Capitalist Inefficiency to Economic Democracy (Pluto Press). A founding member of AKNY, Panayotakis is in Greece during the elections.
 
AARON AMARAL is a member of the International Socialist Organization (ISO) and a founding member of AKNY. The ISO sister organization in Greece, Internationalist Workers Left (DEA) participated in the formation of the SYRIZA coalition and is part of the Left Platform within SYRIZA.
 
ALAN AKRIVOS is a founding member SYRIZA-NY, a member of Socialist Alternative/(CWI), and among the founders of AKNY. He has been active in the struggle to stop the neo-fascist Golden Dawn in NYC, and speaks frequently across the U.S. on issues of international politics, labor, and socialism.
 
CHAIRS: JOANNE LANDY and THOMAS HARRISON; Co-Directors, Campaign for Peace and Democracy
 
New York University
Manhattan
(location to be announced)
 
Please bring photo ID for admission.
 
SPONSOR:
Campaign for Peace and Democracy
 
CO-SPONSORS:
NYU Radical Film and Lecture Series, AKNY-Greece Solidarity Movement/Aristeri Kinisi Neas Yorkis, SYRIZA-NY, ANTARSYA-US, Jacobin, New Politics, Logos, International Socialist Organization (ISO)-NY, Socialist Alternative, Democratic Socialists of America-New York City
 
Campaign for Peace and Democracy
Email: cpd@igc.org
Web:  www.cpdweb.org
March Delegation to Venezuela: The Revolution Continues!
March 2015 Delegation to Venezuela: Come with us to learn about human development in Venezuela: education, community based organizations, and the efforts at achieving food sovereignty.
March 22-29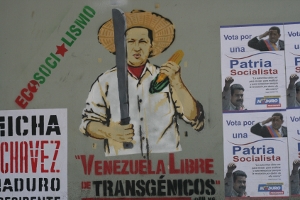 While the mainstream media speculates about the future of the Bolivarian Revolution since the passing of Hugo Chavez, for the Venezuelan popular sectors, there is no turning back to a state of marginalization and exclusion. Come learn about the process currently transpiring in Venezuela as the people, faithful to the legacy of Chavez, deepen and further radicalize their struggle in defense of the Bolivarian Revolution. Come learn, connect, and show your solidarity at this critical moment for the Venezuelan process.
Through direct exchanges with community organizations, social movements, and political leaders, we will explore various areas of social transformation, including food sovereignty, education, healthcare, independent community based media, and direct citizen participation in the political process. There will also be trips to beaches, parks, and other sites of interest.
Cost for Activities: $800. This will cover all lodging, all ground transportation, 2 meals per day, qualified trip leaders, and Spanish-English interpretation. Alcoholic beverages are not included in this activity fee. Additional expenses during the trip will be reasonable.
Sponsored by the Alberto Lovera Bolivarian Circle of NY.
To Learn more and hold a spot for the trip go here, or email cbalbertolovera@gmail.com. Please be in touch as soon as possible, as space is very limited. Please allow several days for responses.
Check out these articles from past delegations: