Tidbits - July 2, 2015 - Condition of Black Life - Our Real Problem with Race; Take Down Your Flag; Black Churches Being Burned; Greek Referendum; Columbia Divests From Prisons; more...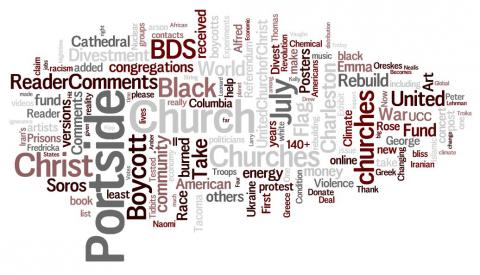 Tidbits - Reader Comments and Announcements - July 2, 2015,Portside
Re: The Condition of Black Life is One of Mourning
As a mother I was so moved. As a white American I am sickened. What does it take to stop this stupid stupid belief in the superiority of one skin color over another? Perhaps it still remains the economy of the south. It used to be slave labor that supported the rich white few, and that exploited the poor white underclass by giving them a dog to kick. Or perhaps nothing has changed.
Peggy Hesketh
Posted on Portside's Facebook page
     ====
Ignorance is not bliss. People are not born racist. It is something that has to be "carefully taught" not just in the home but by the environment: community leaders, politicians, teachers, etc. A book worth reading is, "The Warmth of Other Suns" by Isabel Wilkerson.
Fredricka Veenstra
Posted on Portside's Facebook page
     ====
reply to Fredricka Veenstra's comment on Portside's post:
You're correct but please note, the poet, Alexander Pope did not say, ignorance is bliss. He said "If tis folly to be wise, then ignorance is bliss."
Laura Drew Kelly
Posted on Portside's Facebook page
Re: Take Down Your Flag - 140+ artists post TAKE DOWN YOUR FLAG videos - July 12 online fund raising concert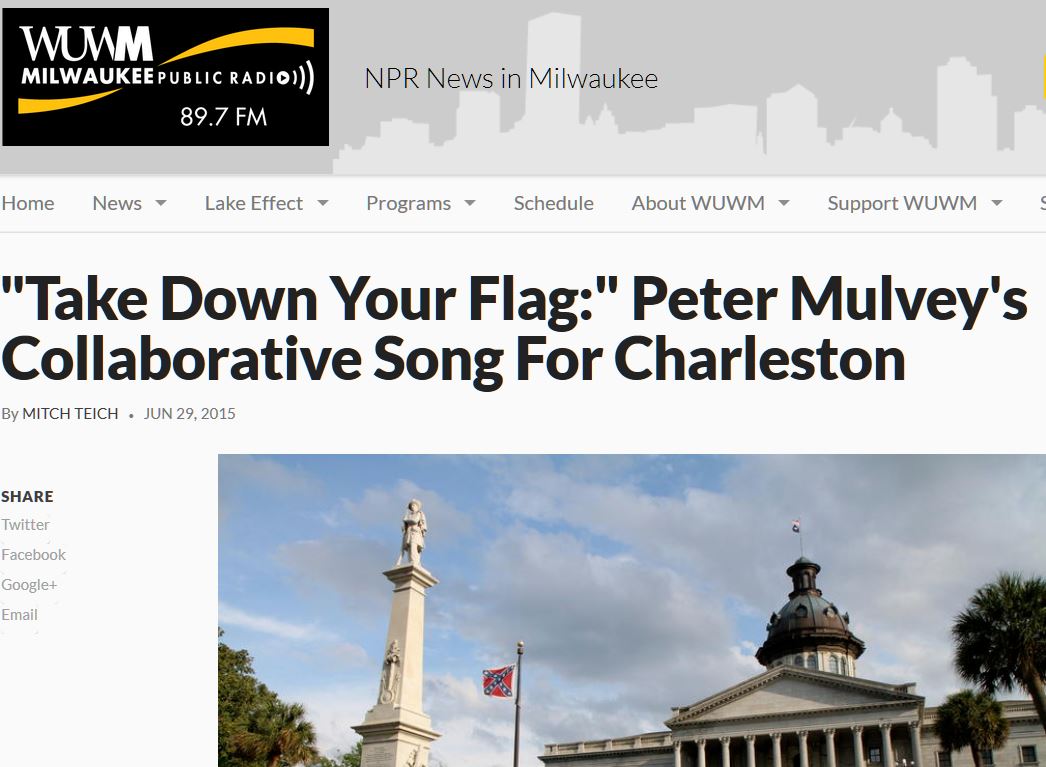 There's been quite an explosion around this Take Down Your Flag movement since we were in touch last week.  140+ artists, including a who's who of folk/indy & Americana favorites (Ani DiFranco, Patty Larkin, and on and on), as well as musician Keb' Mo' and actor/singer/songwriter Jeff Daniels have added their voices to this virtual chorus, by recording their own, rewritten versions of this song.  There are now approaching 150 versions on the YouTube playlist that now resides on Peter Mulvey's channel here: bit.ly/takedownyourflag. And the playlist has received more than 80,000 views as of this afternoon, 13 days after this song was written.
The Los Angeles Times, Boston Globe, Pitchfork, and soon, the Post & Courier in Charleston have all done stories or have them in the works.  And the best part of all this is that Peter has organized a do-over of last week's online concert, with 100% of all monies raised going to the Mother Emanuel Hope Fund to aid the community at the center of this attack.  That concert will take place at 3 pm Eastern, on Sunday, July 12th, starting on Peter's Concert Window. 
I'm wondering if Portside can get this out to help promo the concert. and if so, what would help you do that?
These are links to the most significant and/or substantive stories so far.
Thanks in advance for anything else you might do.
Amber Black
 
6/29: PITCHFORK
Take Down Your Flag: Americana's Viral Response to Charleston
6/29: WUWM Milwaukee Public Radio
"Take Down Your Flag:" A Collaborative Song For Charleston
6/30: LOS ANGELES TIMES
Why the `Take Down Your Flag' songwriter was willing to be rude after the Charleston shooting
6/30: BOSTON GLOBE
Singer Peter Mulvey Rallies Peers with Confederate flag protest
Re: String of Nighttime Fires Hit Predominately Black Churches in Four Southern States
the violence of racism continues in US. Where is the FBI? Why are they not monitoring racist, terrorist groups? They seem to have plenty of staff to infiltrate and spy on peace groups, black lives matter activists, communists and others. Let your voice be heard.
Wayne Nealis
Posted on Portside's Facebook page
     ====
Terror, American style.
Clifford A. Vaughs
Posted on Portside's Facebook page
Re: The Greek Referendum: Two Articles
With gratitude to Portside, https://www.facebook.com/Portside.PortsideLabor two thoughtful articles on Greece in crisis.
Kipp Dawson
Posted on Portside's Facebook page
Re: United Church of Christ Votes to Boycott & Divest from Companies Profiting from Israel's Occupation
The UCC's vote was about 4 to 1!
Alfred Rose
Posted on Portside's Facebook page
Re: `The American Century' Has Plunged the World Into Crisis. What Happens Now?
Scary times we are living in.
Maureen Jansen
Posted on Portside's Facebook page
Re: Columbia Becomes First U.S. University To Divest From Prisons
Thank you Columbia U. students for driving a nail in the incarceration industry's coffin.
Larry Blalock
Posted on Portside's Facebook page
     ====
it's time for america to get out of its prison.
Thomas A. Ollendorff
Posted on Portside's Facebook page

Re: Naomi Oreskes, a Lightning Rod in a Changing Climate
Merchants of Doubt is an important book. As soon as it came out and I read it, I had my graduate students in environmental history read and discuss it. It meant we did not waste time on questioning whether climate change was an issue but what it was and how it could be dealt with.
Now several years later we are emitting over 200ppm of carbon each year and the world is not acting fast enough. The right wing in America on this subject is wrong, irrelevant and self-centred. As President Obama said we only have one planet.
I think the most effective measures being taken are at the local community level and they mostly deal with the energy regime head-on and search for alternative energy. But in North America there has not been a cultural shift, even though people recognize that weather events are happening more frequently. We still are into consuming mostly badly made goods from big box stores in the global economy, driving the same cars, wasting energy and water profusely.
Ironically we worry that change means lost of jobs when studies demonstrate that the transition to a low carbon economy will create huge numbers of jobs as that transition in the energy regime is a large task.
Orestes has analyzed the opposition and others have examined the inability of politicians and economists to deal with the issue.
But the reality is that if we don't start making substantial changes in all aspects of our lives, we will wreck the planet and possibly endanger any future for our species. That should be enough of a reason for people to begin to make rational decisions about what we need to live, to demand new kinds of energy, new kinds of transportation and new types of politicians who are committed to the public good, to a new society in sync with nature, and who are not lackeys of right wing groups and big businesses who support the status quo, even though that is a disastrous position, because they make money from it.
Read Orestes, but than do something with your own lives to move this urgent issue along.
Laurel MacDowell

Re: Secret World War II Chemical Experiments Tested Troops By Race
our country's original sins - the genocide of Native Americans and the slavery of African Americans permeates the fabric of this country. Thorough cleansing, and reversal of policies is needed.
Jay Schaffner
Posted on Portside's Facebook page
     ====
There is a serious problem overall, not the least of which is that these men did NOT subject "themselves", MY GOD, they were SUBJECTED TO IN LOCKLED ROOMS, WITHOUT WARNING. THE COUNTLESS PEOPLE WHO CONTINUED TO APPROVE COVERING THIS UP SHOULD BE
CHARGED AND PUNISHED.
Robert Pritchard
Re: Friday Nite Videos -- Fourth of July, 2015 - Emma Goldman
Today [June 27], Emma Goldman's 146th birthday, please share with your readers the lecture I gave on the 3 operas based on her life, May 13, 2015, "Emma," "Red Emma," and "E.G." - the day before the 75th anniversary of her death:
Thank you -
Re: Iran's Nuclear Deal: First Step? Iranian Revolution Was Not Islamic!
The Catholic Church killed Jews, Muslims and members of a wide variety of Christian sects during hundreds of years of the Inquisition. Many a priest blessed slave ships as they left Africa en route to the "New World" and Arabia. To claim these actions weren't "Christian" because of some idealized notion of what Christianity really is, is an absurd point of view. That is what Christianity, or at least major elements of it, was, in reality, on the ground.
To claim that the Iranian Revolution, or ISIS, etc., is not really Islamic is to employ the same faulty reasoning.
It might not be the Islam of author G. Reza Ghorashi, whether he is a believer or not, but it clearly is at least one version of what Islam is in reality, on the ground. To claim that the "incorrect" versions are not really actual existing versions fails to understand that there are contending versions.
Michael Arney
Bronx, NY
     ====
The article is actually much more about what are the potential pluses and minuses for each of the various forces with a stake in "normalization" of Iran's status.
Alfred Rose
Posted on Portside's Facebook page
Re: Veterans Urge Drone Operators to Refuse Orders to Fly
As a former Vietnam Marine Veteran I join with them.
But! some of these clowns that kill women and children from thousands of miles away are looking for medals.
What balls.
Morris Edwards
Re: The Hidden Structure of Violence Who Benefits from Global Violence and War
I am REALLY appreciating the book and film (not so much TV, but that's me) reviews!  This book sounds like a major tool for us agitators and organizers!
Leanna Noble
Re: About George Soros and the Ukraine
I concur. It is sad to see a genuine site of the honest Left falling into the orbit of the Putin dictatorship.
Bruce Fetter
     ====
Good! I don't know how the article got by the moderators, but I'm glad the mistake was corrected. As Thomas Riggins said, "There are many sources on the internet concerning Soros and the Ukraine," including Soros' own writings, and those sources should be cited, not a disreputable source like Engdahl.
Kevin Lindemann
     ====
Thank you for reconsidering and removing this.
Stan Nadel
     ====
I am pleased that you have made this correction. One may make mistakes, but it is honorable to acknowledge them.
Frank Millspaugh
Message to Portside and Our Readers
    
I am constantly surprised at the depth and breadth of your news & analytical articles, while keeping a strong focus on (what i consider) ethical principles. Great editorial discipline.
Bill Marston
Posted on Portside's Facebook page
Donate to Rebuild the Churches Fund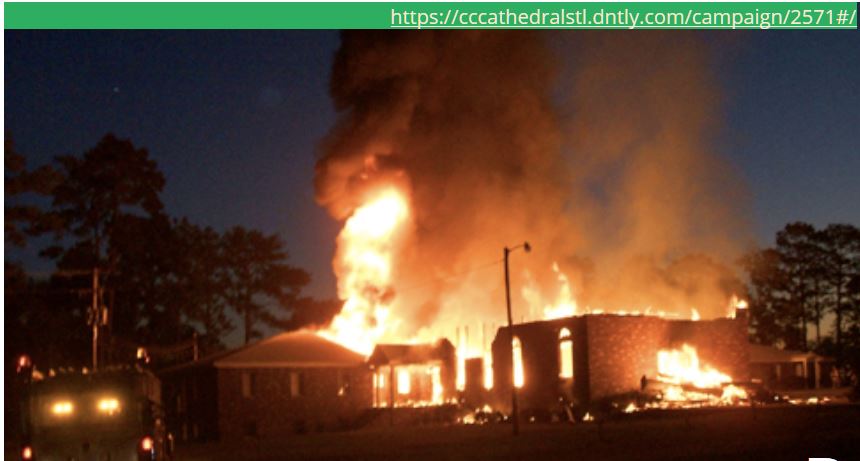 -
https://cccathedralstl.dntly.com/campaign/2571#/
 



https://cccathedralstl.dntly.com/campaign/2571#/donate
At the end of June, four predominantly black churches were burned down by arsonists in a clear attempt to strike a blow at the heart of the black community. As fellow children of God, we stand with our sisters and brothers to help them rebuild these buildings -- which are not just houses of worship but centers of ministry for their community.
To that end,  the Rebuild the Churches Fund has been established to collect donations from all over the world for the rebuilding of these churches. We have set an initial goal of $25,000. All money received will be divided equally among these congregations:
Glover Grove Baptist Church, Warrenville, SC
College Hill Seventh Day Adventist Church, Knoxville, TN
Briar Creek Baptist Church, Charlotte, NC
God's Power Church of Christ, Macon, GA
If other black churches are burned or previous fires are deemed to be arson, they will be added to the distribution list.
The fund is being managed and funds will be disbursed by Christ Church Cathedral (Episcopal) in St. Louis. All contributions are tax deductible.
Those wishing to give can also make a check out to Christ Church Cathedral with "Rebuild the Churches Fund" in the memo line and send it to:
Rebuild the Churches
c/o Christ Church Cathedral
1210 Locust Street
St. Louis, MO 63103
Communities of all faiths are invited to hold special offerings as a sign of interfaith solidarity against racism and with our sisters and brothers of faith. The following congregations have already agreed to have a special collection for these churches at least once during July:
St. Mark's Episcopal Church, Palo Alto, CA
Episcopal Church of St. John the Evangelist, San Francisco, CA
House for All Sinners and Saints Lutheran Church, Denver, CO
Metropolitan Community Church of the Rockies, Denver CO
Christ Church Cathedral (Episcopal), Hartford, CT
St. John's Episcopal Cathedral, Jacksonville, FL
Grace Episcopal Church, Orange Park, FL
Oconee St. United Methodist Church, Athens, GA
St. Matthew's Episcopal Church, Evanston, IL
St. Peter's Episcopal Church, Beverly, MA
Third Haven Friends Meeting, Easton, MD
Cathedral Church of St. Paul (Episcopal), Detroit, MI
Christ the King UCC, Florissant, MO
Ward AME Church, Florissant, MO
Ascension Episcopal Church, Northwoods, MO
All Saints Episcopal, St. Louis, MO
Centenary UMC, St. Louis, MO
Central Reform Congregation, St. Louis, MO
Christ Church Cathedral (Episcopal), St. Louis, MO
First Congregational UCC, St. Louis, MO
Islamic Community Center, St. Louis
The Kingdom Church, St. Louis, MO
Kol Rinah Synagogue, St. Louis, MO
Lafayette Park UMC, St. Louis, MO
St. John AME Church, St. Louis, MO
St. John's Episcopal Church, St. Louis, MO
St. John's UCC, St. Louis, MO
Southern Union Missionary Baptist Church, St. Louis, MO
Trinity Episcopal Church, St. Louis,  MO
Washington Tabernacle Missionary Baptist Church, St. Louis, MO
Episcopal Church of the Holy Communion, University City, MO
Cathedral of All Souls (Episcopal), Asheville, NC
Christ Episcopal Church, Charlotte, NC
All Saints Episcopal Church, Concord, NC
St. Luke's Episcopal Church, Durham, NC
Trinity Episcopal Cathedral, Omaha, NE
Trinity Episcopal Cathedral, Trenton, NJ
St. John's Episcopal Cathedral, Albuquerque, NM
St. Andrew Catholic Community, Boulder City, NV
St. Paul's Cathedral (Episcopal), Buffalo, NY
Christ Church Cathedral (Episcopal), Cincinnati, OH
Cathedral of St. Paul (Episcopal), Erie, PA
Lebanon Lutheran Cooperative Ministry, Lebanon, PA
Episcopal Cathedral, Philadelphia, PA
Living Water UCC, Philadelphia, PA
Grace Chapel, Rossview, TN
St. Paul's Episcopal Cathedral, Burlington, VT
Christ Church Cathedral (Episcopal), Eau Claire, WI
Other congregations who wish to be added to this list should email the name of the congregation and city to:   RebuildTheChurches@gmail.com.
We have received several excellent questions for more details about disbursement. Here is that information:
We have identified four churches (listed above) that have been confirmed as victims of arson. If others are confirmed as being burned by arson, they will be added to the distribution list.
In mid-August, we will take all the money received and we will divide it equally among those congregations. The checks will be written to the congregations themselves and dedicated to rebuilding or, if rebuilding costs are covered, expansion of the church's physical plant and ministries that serve the wider community.
All money received will be given directly to the churches not to individuals. The online donation portal does take a small portion of every transaction, but other than that all the money given to the fund will go to the churches. Complete accounting of the fund will be available to anyone who asks ... as well as the Cathedral audit report.
We are establishing contacts in the burned church communities using Episcopal clergy contacts. So far we have connected with two of the churches and are working on the others. It's hard because their phones aren't working (of course ... the churches have burned down!). If you can help with any contacts, please contact Dean Mike Kinman of Christ Church Cathedral at mkinman@gmail.com
Thank you for your support. What hate burns, Love rebuilds.
An Art Exhibit of Boycott Posters - Posters from more than 60 years of boycotts - Tacoma, Washington - July 2 - 16
Boycott! The Art of Economic Activism features more than twenty boycotts, including the Montgomery Bus Boycott, United Farm Workers' grape and lettuce boycott, divestment from South Africa to protest Apartheid, boycotts of corporations using sweatshops, the Palestinian call for Boycott, Divestment and Sanctions, and many others.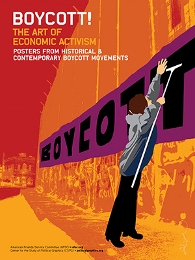 JULY 2 - 16
Tuesday and Thursday: Noon to 6:00 pm
Friday through Sunday: 1:00 to 5:00 pm
(closed July 4)
 
Opening Reception: Thursday, July 2, 4-6 pm
Featuring Beverly Naidus, art faculty at UWT, making a short presentation: Irresistible Resistance -- Compelling Images of Art for Social Change
 
Urban Grace
902 Market St (at 9th)
Tacoma 98402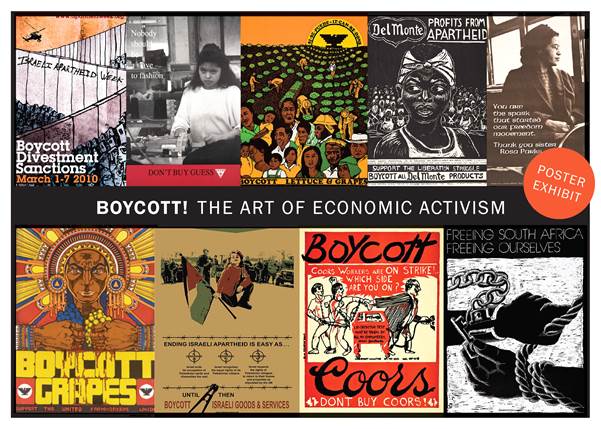 Boycott! The Art of Economic Activism was initiated by the American Friends Service Committee and produced in collaboration with the Center for the Study of Political Graphics.
 
Sponsored by Jewish Voice for Peace, Tacoma Chapter
For more information: Tacoma@JewishVoiceForPeace.org