Tidbits - September 3, 2015 - Unions and BDS; Farm worker Rebellion; Cornel West; Solidarity Confinement Victory; Drones in Dakota; lots of announcements...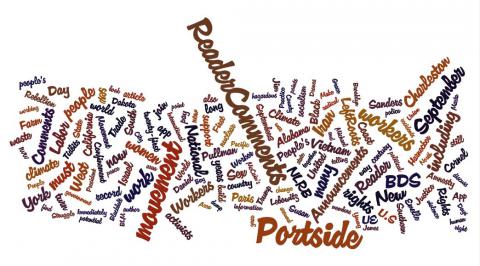 Tidbits - Reader Comments and Announcements - September 3, 2015,Portside
Re: UE Becomes First National U.S. Union to Endorse BDS
(posting on Portside Labor)
Why am I not surprised?  The UE has long stood at the front-line in the battle for working people in the USA, through ferocious attacks by the corporate elite and their allies in the media, politicians, the right-wing churches, and various -- including labor -- opportunists who defended a perverse political correctness in support of the corporatist status quo. Up Bernie Sanders, Up the UE!!
James Young
     ====
Great...the UE has been in the vanguard so many times on so many issues!
Ken Luckhardt
Posted on Portside's Facebook page
     ====
I did not know this...quite uplifting union here.
Susan Thorpe
Posted on Portside's Facebook page
     ====
I was reading your article and a friend and fellow member of the IWW pointed out that the IWW actually first endorsed the BDS movement in 2010 (see here). http://www.iww.org/sv/node/5282
Could you maybe publish an addendum clarifying this?
Thanks,
Roger
Industrial Workers of the World
     ====
Big thank you to every one of you for supporting BDS against apartheid Israel. Hugs to everyone.
Jane Jewell

Re: The Pacific Coast Farm Worker Rebellion
I didn't know about this and have in the past bought these berries - but not again!
Diane Laison
Posted on Portside's Facebook page
     ====
Driscoll strawberries have the highest pesticide residues of fruit that you find in supermarkets. Another level of harm to workers, buyers and the environment.
Mary Day Kent
Posted on Portside's Facebook page
Re: Cornel West Talks Sanders, Trump and Black Lives Matter
On point.
A must read....
Frank Nelson
Posted on Portside's Facebook page
     ====
If I read this right, Brother West is gently critical of BLM tactics with the Sanders rally.
Dale Jacobson
Posted on Portside's Facebook page
Re: Friday Nite Videos -- August 28, 2015
Reverend Smith's sermon seems a hot item right now among us more liberal folks. But I must point out a serious flaw in thinking for those who find it of value. He still, in spite of how radical it may seem from a conservative Christian standpoint, no less condemns homosexuality as a sin. Yes, he says accept the sinner, yes he says do not judge, all of that, but he still says it is a sin. So be careful what you promote, I still find his sermon offensive at a deep level, because no matter his good intentions, the bigotry is still underneath his rhetoric.
Kind Regards
Dr Daniel Jordan
Re: Thirty Miles from Selma: A Different Kind of Civil Rights Struggle
The Arrowhead Landfill is no more than 60 miles from the Chemical Waste Landfill in Emelle, Alabama, where they dump corrosives, chlorinated hydrocarbons, even radioactive waste from 48 states and 6 foreign countries.
Residents of Sumter county, Alabama had the same response from ADEM and EPA. The Regional office of EPA, based in Atlanta, told residents of the county that they would rather have the waste dumped in Emelle than in the ocean.
The effort has long been to make the counties of the Alabama Blackbelt the hazardous waste dumping ground for the nation.  Why?  Because the area ranges from a low of 48% Black population to a high of 80 % Black, and where blacks are in control of the politics.  It is next to impossible to attract other types of industry to the area, once a hazardous waste dump is located in it.
The Chemical Waste Dump in Emelle have been known to give "Christmas Bonuses" to all of the members of the Alabama Legislature, and has many local officials in their pockets, including the son- in- law of former governor George Wallace.
Too bad residents of Uniontown, in Perry County, were not in contact with residents of Emelle, in Sumter County. The Alabama Blackbelt is one of the most economically depressed regions of the country and will remain that way now that the area is locating hazardous waste dumps.
Efforts are  underway to locate a dump in Lowndes County, another county of the Blackbelt with a majority black population.
Wendell Paris
Re: North Dakota First State to Legalize Taser Drones for Cops
    "As nightfall does not come all at once, neither does oppression, In both instances there is a twilight when everything remains seemingly unchanged. And it is in such twilight that we all must be most aware of change in the air---however slight---lest we become unwitting victims of the darkness."
    - Supreme Court Justice William O. Douglas to the Young Lawyers Section of the Washington State Bar Association, September 10, 1976
Dana Cochrane
Posted on Portside's Facebook page
Re: How California Prisoners Organized to End Indefinite Solitary Confinement
The case is called Ashker v brown.  It was originally filed by Todd Ashker and Danny Troxell.  Later joined by 8 other plaintiffs including Gabriel Reyes.  I don't think Gabriel would like to be singled out as the only person named.  There were 4 main reps and 14 additional reps of the pelican bay short corridor human rights movement.  This article is not only simplistic but not very informed.  Mother Jones has been so excellent on this subject with Shane Bauer's coverage.  This story misleading and disappointing.
[Here is a better story in Truthdig.]
Carole Travis
     ====
A major human rights achievement!
Alfred Rose
Posted on Portside's Facebook page
     ====
10 inmates did not succeed in limiting solitary confinement -- This is not the enlightened way of understanding history.  The victory was the product of the struggle of thousands of inmates in the California system, along with their supporters.
Joseph Kaye
Re: WeTheProtestors Launches Campaign Zero (Police Violence)
Here is an affirmative response to police abuses of power in America:
A collectively voiced solution broken into 10 key points.
Collectively, we can all win.
Ian
Re: Can We Trust Crime Forensics?
A prosecutor properly points out that this article does not really delve deeply into the complexities of forensic evidence and that even indigent defendants are sometimes able to secure expert testimony to rebut the government. Government labs and technicians have way too much credibility, imo, among judges and jurors. In offering sample splits to defendants in environmental cases, my (long dated, now) experience is that defense folk rarely rigorously challenged our sampling and analysis procedures or results.
Daniel Millstone
Posted on Portside's Facebook page
Re: The Molten Three: Isreal's Aborted Strikes on Iran
I'm afraid he misses one of the major points. Some of Iran's nuclear facilities, including some that Israel is particularly anxious to take out, are in deep tunnels under mountains. The US Joint Chiefs told President Cheney and his talking dummy, W, that the job could not be done (with any guarantee of success) without using nuclear weapons. If you think bombing Iran could have led to trouble, imagine, if you will, what a US or Israeli nuclear strike against a country with which they were not at war, and did not have nuclear weapons, and was not threatening them would produce?
Jack Radey
Posted on Portside's Facebook page
Re: Obama's Real Achievement With the Iran Deal
Let's just be clear that the authors here aren't leftists or peaceniks, they are lobbyists for the Iranian regime--NIAC is an Iranian AIPAC.
Stan Nadel


Re: If You Don't Share This Immediately the World Will Explode
James Turner has written a well-reasoned article about how some on-line activists tend to reach out to their readers in ways similar to those of Madison Avenue.  He says that "maybe we need to accept that we're in for the really long haul and be upfront about that...."  His point about the enormity of the problems facing those fighting against the powerful institutions who deny climate change can be expanded to the whole people's movement.
Turner goes on to say, however, that with the growth of, and potential of, internet  activism, the "next few years are crucial."  This comment tends to undermine his own argument.  All years are crucial and if nothing spectacular happens to advance the people's cause, we'll continue to muddle through.  And barring some unforeseen catastrophe, the hard work of building a movement that has the potential to liberate us from our chains should go on--as dreary and frustrating as the day-to-day work may seem.
David from New York
Re: Amnesty International's Sex Trade Decision: Not in Our Name
Everyone on the left should support decriminalizing prostitution.
To uphold the criminalization of sex work is to support the capitalist state as the defender of women. This is the same state that supports the corporations that pay women workers so little that they turn to sex work to support themselves and their families.
All work has its dangers under capitalism, as does sex work. Feminist moralists turn a blind eye to the many brutalities inflicted on sex workers by police and other agents of the state.
It is patronizing and disrespectful to treat any group of women as helpless victims with no ability to speak or decide for themselves. When sex workers organize, they demand decriminalization.
Prostitution is a result of low-paid work that forces many women to sell sex to pay the bills. And not only women, but also many young people and others who are, for whatever reason, "unemployable."
In real life, laws against prostitution do not protect women any more than laws against drug use protect drug users. They only turn some of society's most vulnerable people into criminals.
Susan Rosenthal
Re: Review: `Rosenwald' on a Philanthropist Who Created Schools for Blacks in the Jim Crow South
(posting on Portside Culture)
Saw this movie last month. Thought it was great.
Lissa Matross
Posted on Portside's Facebook page
Re: How Vets May Suffer From Sen. McCain's Latest Captivity
    Earlier this summer, Republican presidential candidate Donald Trump had the chutzpah to question John McCain's military record.
It's not chutzpah to question his record.  Flying half way around the world to drop bombs on peasants makes you a war criminal.
Jim Price
Workers Rights - There's an App for That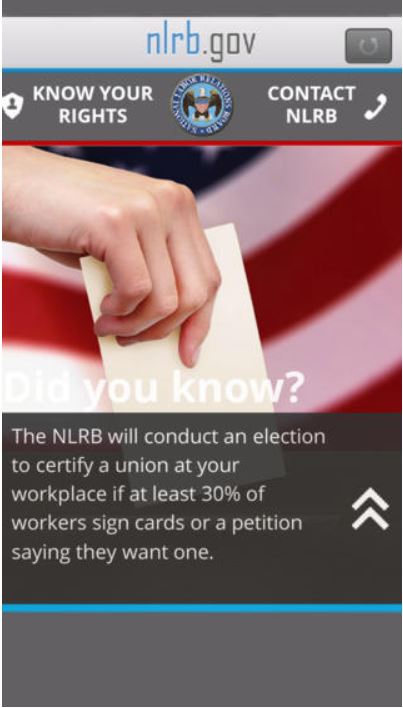 The NLRB has released an app for both Apple and Android. This free app provides workers, employers and unions with information regarding their rights and obligations under the National Labor Relations Act (NLRA). The app has sections describing the rights enforced by the NLRB, along with contact information for the agency's regional offices across the country. The app also provides information on how the NLRB holds union elections.
Each month, an average of 2,000 unfair labor practice charges and 200 representation petitions are filed with the NLRB. In 2012, the NLRB collected more than $44 million in back pay or the reimbursement of fees, dues and fines. More than 1,200 employees were offered reinstatement as a result of NLRB enforcement efforts.
The app is available to iPhone Users in the Apple App Store and for Android users on Google Play.

Charleston's Days of Grace: Love's Work Is Justice - Charleston - September 5

September 5, 9am, Wragg Square: National Mass March & Rally |
September 5, 2-6pm/September 6, 7:30a - 3pm: Strategy Conference
    "It would be a betrayal of everything Reverend Pinckney stood for, I believe, if we allowed ourselves to slip into a comfortable silence again"-President Barack Obama (6/26/15)
In recent weeks, the Mother Emanuel AME Church community and the family of Walter Scott have shown the world the radical possibilities of resilience, love, and forgiveness. However, as the President reminded us at Senator Pinckney's funeral, real healing will take hard work.
Guns inflicted the fatal wounds of April and June, but racism, poverty and the politics of rancor and discord have long inflicted grave wounds on the state's poor and most vulnerable people. This Labor Day weekend, people of faith and conscience will come together in Charleston to remember our fallen friends and to reflect on the racism and hatred that lay at the root of their deaths, as well as the violence that tears away at the fabric of our communities.
Specifically, the gathering will call for an end to racist violence and the transformation of our commemorative landscape-our monuments, markers, and historic sites-to fully reflect South Carolina's traditions of diversity and democracy. We will also come together to honor Clementa Pinckney and to affirm the moral principles that he stood for as pastor and public servant. These include:
An end to discriminatory policing
Expanded voting rights
A living wage and collective bargaining rights for all working people
Affordable healthcare and Medicaid expansion
Quality education as a basic human right
An end to gun violence
Out of this mass gathering and a one-day strategy conference, we will build on the efforts of many grassroots organizations who have worked tirelessly and often thanklessly over the years to bring about a better South Carolina.
If you believe that an injustice anywhere is a threat to justice everywhere, and if you understand that what happened at Emanuel AME has implications far beyond Charleston, and if you believe that we can build a movement together to save South Carolina's soul and the soul of the nation, then join us as we proclaim "Forward Together, Not One Step Back!"
Issued by: International Longshoremen's Association, Local 1422
** Post-March Southern Workers Assembly Meeting
Saturday, September 5 @ 12:30p
ILA Local 1422 Hall (1142 Morrison Dr)
Immediately following the conclusion of the Days of Grace march, the Southern Workers Assembly will be convening an important meeting to discuss how to strengthen our alliance of Southern labor unions and workers organizations in this critical period. Please plan to join us and spread the word throughout your locals and memberships.
Southern Workers can't continue to be silent or count on the leadership of politicians. We as workers must lead, must stand up for ourselves, and act now! We need a united and well organized SWA. See you Saturday at the march!
Celebrate Labor Day in Pullman National Monument - Chicago - September 7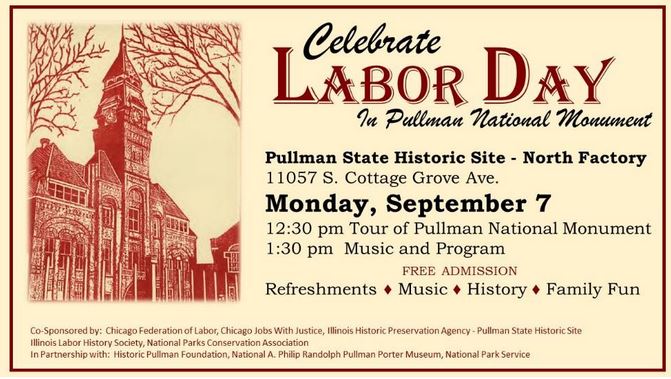 At 12:30 you can Ride a Trolley Car and learn more about the history of the town and workers of Pullman, including the factory, the Florence Hotel, the company housing and the National A. Philip Randolph Pullman Porter Museum (NAPRPPM), the only Black Labor History Museum of its kind in the world. See the new, striking life size Mural of A Philip Randolph flanked by Pullman Porters and Firemen. Space on the Trolley is limited, and will be first-come, first-served.
Our program will then start at 1:30.
Illinois Labor History Society
Off and On: The Climate Movement and the Road Through Paris - Brooklyn - September 10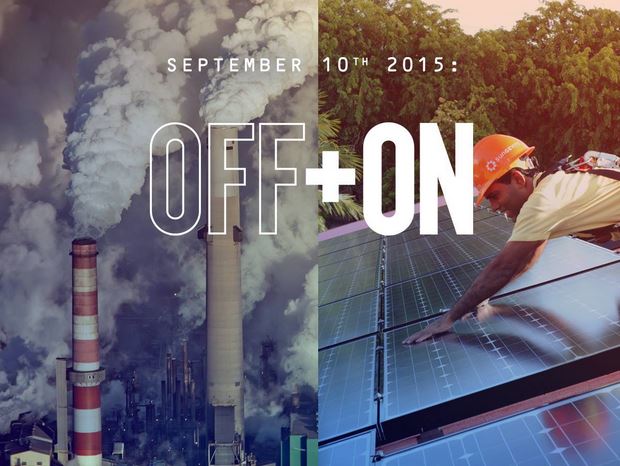 Thursday September 10th @7:00 to 9:30pm
BROOKLYN ACADEMY OF MUSIC
Howard Gilman Opera House
30 Lafayette Avenue
Brooklyn, NY 11217
The world is making our task simple. Not easy, but simple. The scientists are telling us we must, in this hottest year on record, turn off the flow of carbon. The engineers are telling us that we are ready to turn on the abundant flow of sun and wind. And any sense of justice is telling us we must flip the switch now. Join us for an evening that will help set the stage for this dramatic season of climate action that will lead straight through the big United Nations climate conference this December in Paris and beyond. It's not that complicated. It's off and on.
Join
Bill McKibben (350.org)
Naomi Klein (This Changes Everything)
Reverend Lennox Yearwood (Hip Hop Caucus)
Cynthia Ong (LEAP - Borneo)
Eddie Bautista (NY Environmental Justice Alliance)
and other social movement leaders from across the Globe, including:
Tomás Insua, co-founder of the Global Catholic Climate Movement
Thilmeeza Hussain, founder of Voice of Women, which jointly addresses women and climate change in the Maldives.
Juan Flores, community organizer in Delano, California with the Center for Race, Poverty and the Environment
Antonique Smith, an American Broadway, film and television actress, and a Grammy nominated singer and songwriter
Through a riveting multimedia presentation, they'll outline the depths of our current peril -- and unveil a plan for how we can pull humanity back from the brink of catastrophe. 2015 was the hottest year on record, coming on the heels of the historic People's Climate March. With the United Nation Climate talks in December looming; moral leaders from around the world stepping up to call for urgent climate action; and people taking to the streets in record numbers to demand climate justice - the year ahead will be pivotal for our movement. It must be.
Doors open at 6:30, and the show starts at 7:00. All seating is General Admission, and tickets are sliding-scale - pay what you can to support the campaigns and movement-building of 350.org.
Order tickets here
People's Power & People's Protagonism: Linking Practice to Visions of Twenty-First Century Socialism - Bay Area and New York City - September 13 and 18
LEFTROOTS is thrilled to announce West Coast & East Coast events in the US with MARTA HARNECKER & MICHAEL LEBOWITZ
SF BAY AREA - SEPTEMBER 13TH, 4-6pm * REGISTER HERE
NEW YORK CITY * SEPTEMBER 18TH, 7-9pm *  REGISTER HERE
We are honored to bring Marta Harnecker and Michael Lebowitz to the United States for a special series of conversations with movement organizers and activists committed to building more powerful people's movements and a new type of socialist liberation for the twenty-first century.
Both Harnecker & Lebowitz have rich political histories as movement activists and intellectuals. In recent years, they have documented and accompanied the rise of many of the radical popular movements in Latin America. Their experience in that region's political struggles and experiments, carried out from the highest halls of government to common communities and workplaces, has engendered in their work a pronounced emphasis on the concept of protagonism -- the participatory and democratic practice that develops new capacities in participants as they struggle to build twenty-first century socialism. LeftRoots is bringing these two movement intellectuals to the United States to discuss the power and potential of these ideas in the hopes of finding new ways to strengthen our struggles here in the belly of the beast.
LeftRoots is a young, national organization seeking to build the individual and collective skills of social movement leftists to formulate, evaluate and carry out strategy to win twenty-first century socialism. To learn more about LeftRoots, check us out and visit us on Facebook.
In solidarity,
The LeftRoots Coordinating Committee, on behalf of LeftRoots cadre members nationally.
p.s. If you're interested, please join LeftRoots cadre members in reading Marta Harnecker's Ideas for the Struggle, and Michael Lebowitz' The State and the Future of Socialism (from the Socialist Imperative) in preparation for the upcoming dialogues!
[Marta Harnecker is the author of over eighty books and monographs in several languages, including A World to Build. She has been director of the Memoria Popular Latinoamericana research center in Havana, Cuba and the Centro Internacional Miranda in Caracas, Venezuela. Harnecker was born in Chile, studied with Louis Althusser in the 1960s, and edited the magazine Chile Hoy (Chile Today) during Salvador Allende's Popular Unity government.
Michael Lebowitz is professor emeritus of economics at Simon Fraser University in Vancouver, Canada, and the author of The Socialist Alternative and Beyond Capital: Marx's Political Economy of the Working Class. He was Director, Program in Transformative Practice and Human Development, Centro Internacional Miranda, in Caracas, Venezuela, from 2006-11.]
Book launch for The People Make the Peace - New York - September 15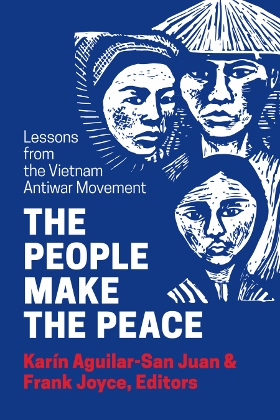 Tuesday, September 15 at 11 a.m.
The Church Center for the United Nations
777 UN Plaza at E 44th St
New York, NY
You're invited to join us for the launch for our newest title, The People Make the Peace: Lessons from the Vietnam Antiwar Movement, a unique collection of essays reflecting on the role of the U.S. antiwar movement in ending the Vietnam War forty years ago.
From diverse backgrounds-socialist, secular, Christian, pacifist-the nine contributors discuss their activism, including risky wartime travels to Vietnam to engage in people-to-people diplomacy, and their reflections upon revisiting the country in 2013. The book also includes interviews with U.S. veterans who are now working in Vietnam.
We are celebrating the publication of this fascinating book with a discussion by a panel of contributors at the very heart of international diplomatic efforts, the United Nations. Co-editor Karín Aguilar-San Juan, a professor at Macalester College, will join host Doug Hostetter from the Mennonite Central Committee, and Alex Hing, a New York City chef and organizer, for a conversation around the central themes of the book, especially looking at lessons for peace activists today.
Mark your calendars now for this amazing event featuring veteran peace activists. Books will be available for purchase and author signing.