Tidbits - Aug. 8, 2019 - Reader Comments: Racist-White Terrorist Assault; Impeachment Update; Democrats Moving Left; Puerto Rico; Hawaii; Remembering Hiroshima, Nagasaki; Hong Kong; China: Africa; Trade Unionists Support Green New Deal; Announcements;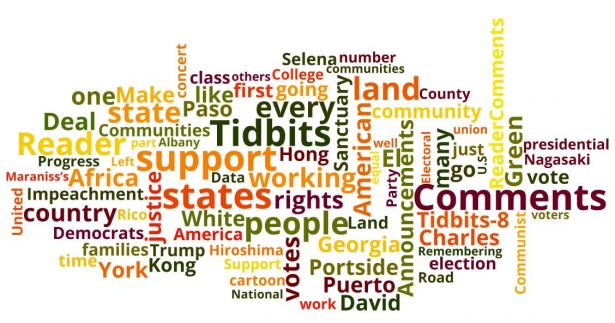 Tidbits - Reader Comments, Resources and Announcements - Aug. 8, 2019, Portside
Resources:
Announcements:
This is how fascism begins. Pay attention.

Jenny Kastner
Posted on Portside's Facebook page
     =====
Say it correctly, racism.
David Bailey
Posted on Portside's Facebook page
Call Them by Their Proper Name - Racists!  --  meme by SolidarityINFOService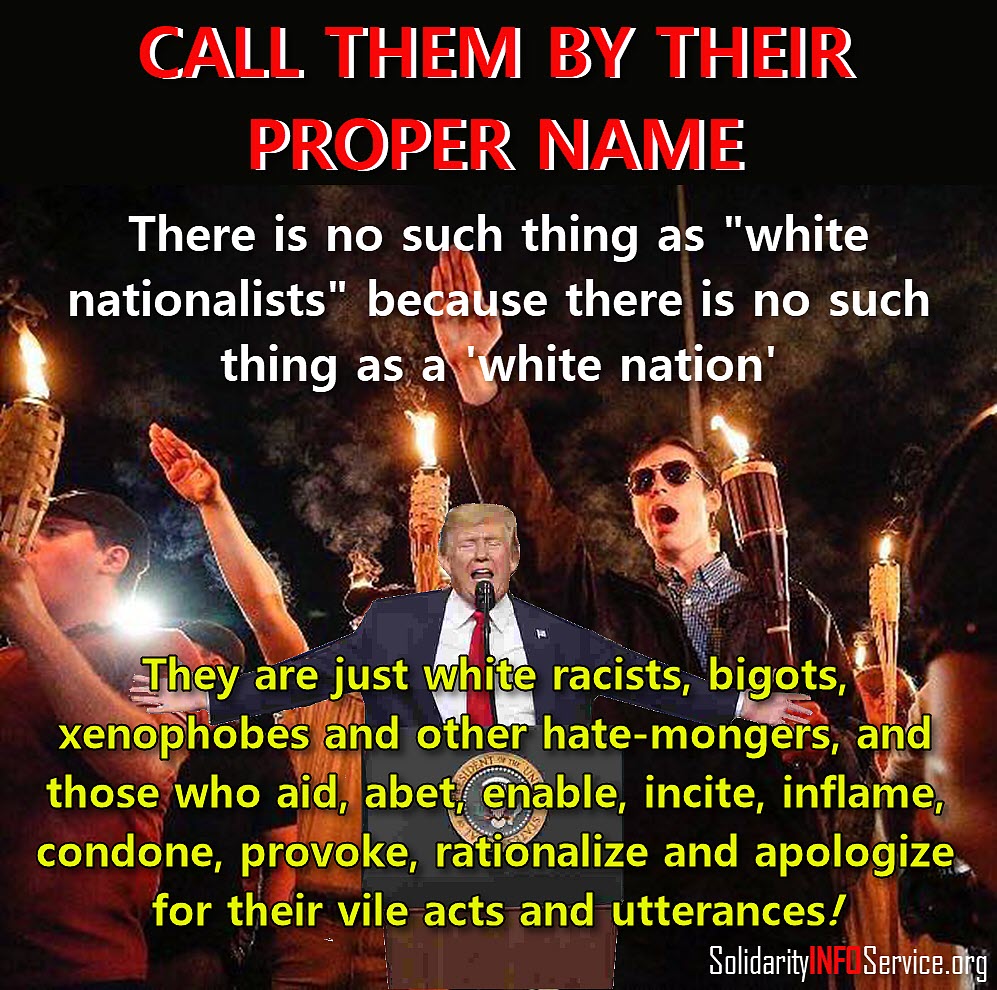 Re: Making America White Again
 
I had forgotten this wonderful 2016 essay by Toni Morrison on the Trump triumph. Thanks to Portside for bringing it all back home.
Daniel Millstone
Posted on Portside's Facebook page
El Paso Sheriff Blames White Supremacy For Mass Shooting
 
Katherine Ellen Foley 
Quartz
August 4, 2019
Today, El Paso families went to the store to shop as they have done many times in the past, but this time 20 El Pasoans never made it home and many others are fighting for their lives.
First of all, I want to say that I have never been more proud of the El Paso Police Department than I am today. Their response to this dangerous and chaotic situation, as well as the arrest of the individual responsible, was nothing short of heroic. I would also be remiss if I did not mention all the other agencies (to include the El Paso County Sheriffs Office) that assisted and had the same heroic intentions as they searched for this armed subject, placing themselves in potential danger. Law enforcement in El Paso showed the entire nation what we are willing to do to protect our community.
But, like the rest of you, I am sad and hurt at the loss of innocent lives and the struggle their families are going through and will go through for years to come. Those who are injured and their families and how they are holding on to a hope that everything will be okay even though they will never be the same again. We are talking about innocent men, women and children.
So your first question may be why? Why in this great diverse city would someone come in from the outside to take the lives of our brothers and sisters.
I love El Paso and it's diversity and believe that being raised here made me and my children who we are today. And I thank God for that.
But what happened today is beyond comprehension. This Anglo man came here to kill Hispanics. I'm outraged and you should be too. This entire nation should be outraged. In this day and age, with all the serious issues we face, we are still confronted with people who will kill another for the sole reason of the color of their skin.
I fear things will not get better. Not pointing out anyone in particular, but I'm sick of people jumping in front of the cameras offering prayers and condolences as things just keep getting worse.
It's time to rise up and hold our representatives accountable at all levels. I want representatives who will stand up against racism. Who will stand up and support the diversity of our nation and our state. Who will stand up for a strong criminal justice system that holds criminals responsible and keeps violent individuals locked up and off our streets. Who support robust community mental health services. Who support keeping guns out of the hands of people who are just waiting for an opportunity to kill others.
El Paso will never be the same, because a racist came to our city to try and make a point. It didn't work though, because the backlash of this community, as we hold national, state and local politicians accountable, will be the only point that will be made.
Richard D. Wiles,
Sheriff, El Paso County, Texas
Hate Has No Place, But... -- cartoon by Ed Hall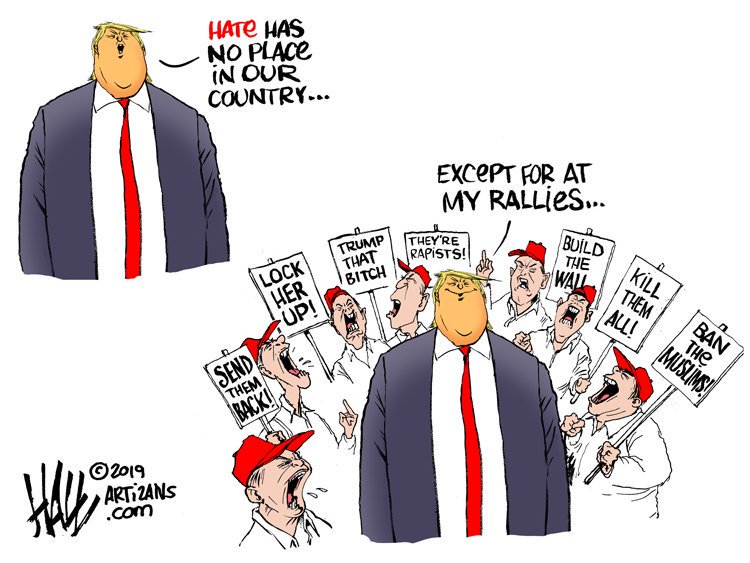 Ed Hall
August 6, 2019
Halltoons
Not one man or one party should be allowed to inflict the kind of destruction Trump and the Republican Party has done to this country.
It's unforgivable.
Elizabeth Jean Boggs
Posted on Portside's Facebook page
     =====
About time ...... I thought Democrats had become blind, deaf and mute .
Marta Torres
Posted on Portside's Facebook page
     =====
Impeachment take-away from the second Democratic debate. In response to Michael Bennet giving voice to the standard mantra, that the House should not take up impeachment, because the GOP-controlled Senate will no vote the charges, here is what Julian Castro said:
"What's going to happen in the fall of next year, in 2020? Is he going to say, 'You see? You see? The Democrats didn't go after me on impeachment, and you know why? Because I didn't do anything wrong. These folks who always go after me, when it came down to it, they didn't go after me there, because I didn't do anything wrong.'" Castro said. "Conversely, if Mitch McConnell lets him off the hook, we'll be able to say, 'Sure, we impeached him in the House, but his friend Moscow Mitch let him off the hook.'"
    Texas Monthly, August 1, 2019
    
Jay Schaffner
     =====
Really? The Senate will vote to confirm impeachment? If they don't, how might that affect the election? A win for Trump? Please think.
William Cutlip
Posted on Portside's Facebook page
Trump to America: YES WE KLAN!  --  cartoon by Lalo Alcaraz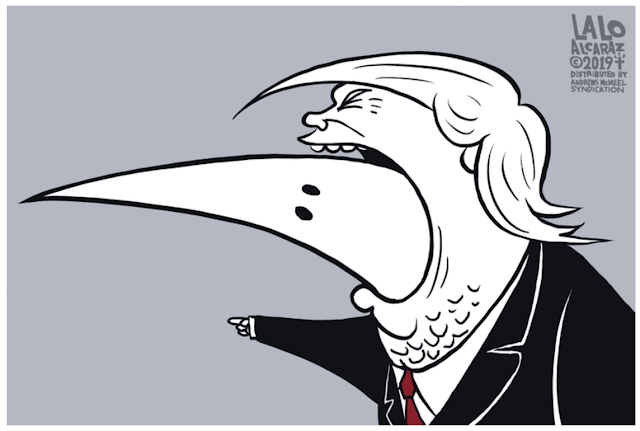 Lalo Alcaraz
July 16, 2019
Pocho Ñews Service
Re: Ilhan Omar is Fighting for the White Working Class-Even as They Chant 'Send Her Back'
 
I agree, but I bridle at the phrase "white working class". Sure, there are white people within the working class, but this phrase conjures up a picture of hard-working whites as opposed to African-American and other groups. The working class is perhaps the most multi-racial group we have in this country.
Sonia Collins
Posted on Portside's Facebook page
     =====
I am with her. Thank you for your compassionate service, your power, your energy, your intelligence and your calm in the face of ignorant, prejudiced people, Congresswoman, Ilhan Omar. I am proud of you.
John Bauer
Posted on Portside's Facebook page
     =====
Not everyone appreciates others labor on their behalf until they lose it.
Amparo Ocasio
Posted on Portside's Facebook page
Re: Warren and Sanders to the Centrists: Move Left or Go Home
 
And we thank them.
Jeanne Caciopski
Posted on Portside's Facebook page
     =====
Warriors for the working class
Ed Delgado
Posted on Portside's Facebook page
     =====
They will not be able to attract moderates and Trump will have the winning card Socialism he will shout loud and clear
Lennis Longo
Posted on Portside's Facebook page
American Concentration Camp. Call it what it is.  --  illustration by Sue Coe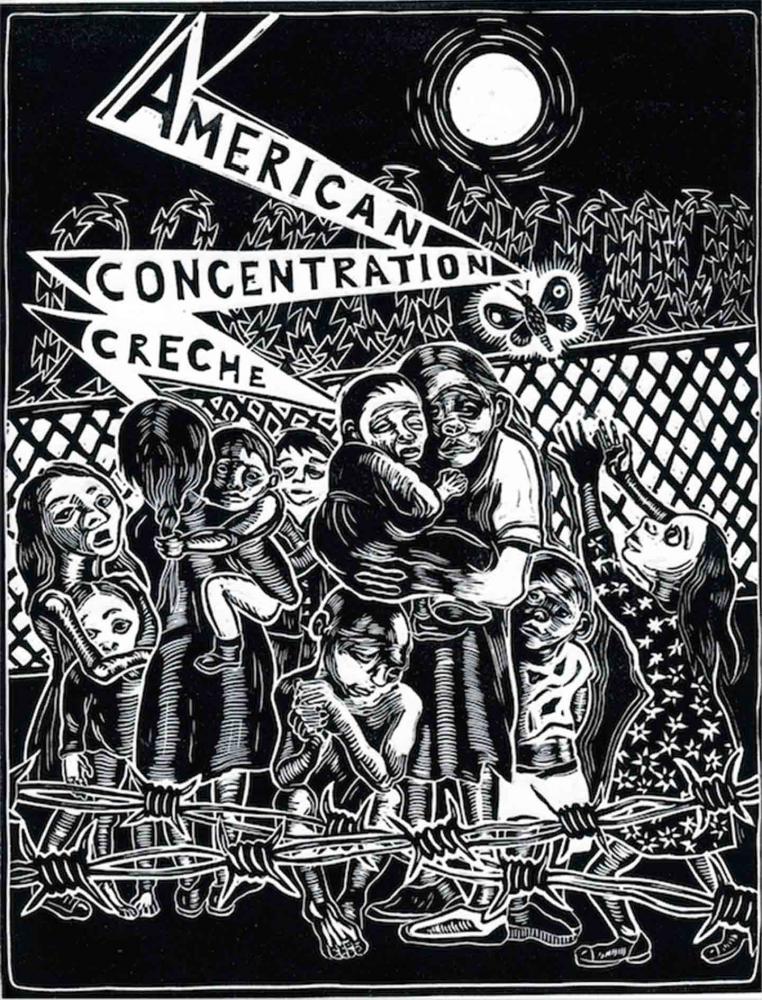 Sue Coe
July 29, 2019
The Nation
[Sue Coe is a New York artist and illustrator, and a longtime contributor to The Nation who modestly describes herself as "double parked on the highway of life." Her books include Dead Meat (with an introduction by Alexander Cockburn) and Bully! (with Judith Brody).]
Re: Puerto Rico's Joyful and Committed Days of Protest
 
Nothing about the historical night clashes between the police and the protesters in where the police used tear gases and the protesters rocks and fire.
Disraelly Gutierrez Jaime
Posted on Portside's Facebook page
     =====
Please it was very small group with limited damage. It can't be perfect and that was televised too
Ney Claudio
Posted on Portside's Facebook page
     =====
I don't believe in destruction to anyone s property and no respect to the church. This was a whole much of people that thought it was right to destroy, get drunk and to the hard working people lose money by not being able to work.We are not a republic and not all Puerto Ricans agree to all the destruction of our heritage.
Csrmen Otero
Posted on Portside's Facebook page
     =====
The shop owners were in favor of the protest they were very affected by what happened after Maria and the groups would come in the morning to clean and paint. No worst damage than the yearly festivals. Our Heritage was stolen long ago, at least let's keep our dignity
We are a Democratic country we are using the rule of law and with dignity. Please don't mention the church and respect especially after all the abuse towards children and leaving their teachers without a pension, heartbreaking after they work so hard
Ney Claudio
Posted on Portside's Facebook page
Re: Teachers' Role in the Puerto Rico Uprising
 
I'm sorry but I'd like to just say that this reads like a press release for the AFT. It's just not true that the AFT is the regime's nemesis. They have time and time again negotiated away the rights of teachers. They haven't opposed charters consistently and in fact just last month negotiated a lousy deal with the junta de control fiscal which would have sold out the pensions of educators and all public workers. Luckily the FMPR and other public education advocates mobilized a no vote to stop this. If you'd like to open up your publication for an article by someone who has actually been a part of consistently opposing Roselló And Keleher, I'd be happy to connect you with a number of educators and union activists in PR.
Monique Dols
Posted on Portside's Facebook page
Re: Why Native Hawaiians are Fighting to Protect Maunakea From a Telescope
 
Pundits have said the Native Hawaiian resistance to the Thirty Meter Telescope project is a conflict between science and culture. But the protectors are not against science; they just believe the telescope does not belong on Maunakea's sacred lands.
Disraelly Gutierrez Jaime
Posted on Portside's Facebook page
Remembering Hiroshima (Aug. 6) and Nagasaki (Aug. 9)  74 Years Ago --  cartoon by Rob Rogers
 
Rob Rogers
Pittsburgh Post-Gazette
2005
Re: How African American Land Was Stolen in the 20th Century
 
No land was given to freed slaves yet white people were granted homesteading rights as they moved west usually in caravans.
Maria Minguela
Posted on Portside's Facebook page
     =====
This is the backdrop of Sarah E. Wright's novel about the Eastern Shore of Maryland in the era of the Great Depression -- This Child's Gonna Live.
Joseph Kaye
Re: The Global Crackdown On BDS Is Not About Solidarity with Jews
 
Two issues that aren't raised: 
1-BDS might not be necessary if the US wasn't giving Israel $3.6B/year (is that about $10M daily). They would have to use their own money for legitimate purposes and couldn't use if for the occupation. 
2-Christians United for Israel (CUFI), also known as Christian Zionists, was established by Rev. Hagee who said that Hitler was doing God's work. Jews belonged in Palestine/Israel and the ones in Europe died for their sacrilege or went to Israel. 
Amazingly, Israel and AIPAC have no problems working with these anti-Semites.
Arlene Halfon
Re: A New Internationalism: Hong Kong Protesters and Militant Chinese Workers
(posting on Portside Labor)
 
I find it odd, and wrong, to discuss the current Hong Kong situation and ignore the intrigues of the National Endowment for Democracy. the US cats' paw. Not that the struggle is reducible to the NED. Same with the Urghurs. Not to mention the Salaafists separatists and terrorist, and the 10,000 Uighur youth sent to die for ISIS in Syria and other Mideast countries, is bizarre. We can hardly criticize (or support) consequences without mentioning the key cause.
Both Hong Kong and Xijiang are part of China. If the aim is to break them away, we can be certain that it will not end well.
Carl Davidson
Posted on Portside's Facebook page
     =====
This is imperialist propaganda. The CIA has its hands in this debacle.
Julie Varughese
Re: Violence Has Spiked in Africa Since the Military Founded AFRICOM
 
"Since U.S. Africa Command began operations in 2008, the number of U.S. military personnel on the African continent has jumped 170 percent, from 2,600 to 7,000. The number of military missions, activities, programs, and exercises there has risen 1,900 percent, from 172 to 3,500. Drone strikes have soared and the number of commandos deployed has increased exponentially. The U.S. military has recently conducted 36 named operations and activities in Africa, more than any other region of the world, including the Greater Middle East along with the size and scope of AFRICOM's constellation of bases...But since AFRICOM began, key indicators of security and stability in Africa have plummeted according to the Defense Department's Africa Center for Strategic Studies, a Pentagon research institution. .. "
Lucy Lewis
Posted on Portside's Facebook page
Re: The Case Against the Electoral College (David Desser; Hank Young; Tom Caves; Make Every Voter Equal)
 
Not an anachronism. A way to make sure everyone is included, and protected. Without the college and senate, few states would have joined the union.
David Desser
Posted on Portside's Facebook page
     =====
The electoral college is what makes us a constitutional republic. it makes candidates go to all states trying to get enough votes to take that State's electoral vote. You do away with it then they're only going to go to large cities because that's where the boats are going to take the whole state they aren't going to go to the outskirts are I'm going to talk to the mom and pop living in rural Iowa or Nebraska.
Hank Young
Posted on Portside's Facebook page
     =====
Electoral college was a compromise. Many of the founding fathers thought Congress should choose the President.
Tom Caves
Posted on Portside's Facebook page
     =====
Being a constitutional republic does not mean we should not and cannot guarantee the election of the presidential candidate with the most popular votes. The candidate with the most votes wins in every other election in the country.
The National Popular Vote bill is 73% of the way to guaranteeing the majority of Electoral College votes and the presidency to the candidate who receives the most popular votes in the country, by changing state winner-take-all laws (not mentioned in the U.S. Constitution, but later enacted by 48 states), without changing anything in the Constitution, using the built-in method that the Constitution provides for states to make changes.
The bill retains the constitutionally mandated Electoral College and state control of elections, and uses the built-in method that the Constitution provides for states to make changes. It ensures that every voter is equal, every voter will matter, in every state, in every presidential election, and the candidate with the most votes wins, as in virtually every other election in the country.
Our presidential selection system has cut out 4 of every 5 people living in America from the decision. Presidential elections shrink the sphere of public debate to only a few thousand swing voters in a few states. The only states that have received any campaign events and any significant ad money have been where the outcome was between 45% and 51% Republican.
Wisconsin Gov. Scott Walker in 2015 was correct when he said "The nation as a whole is not going to elect the next president ...The presidential election will not be decided by all states, but rather just 12 of them.
With National Popular Vote, when every voter is equal, everywhere, it makes sense for presidential candidates to try and elevate their votes where they are and aren't so well liked. But, under the state-by-state winner-take-all laws, it makes no sense for a Democrat to campaign in any Red or Blue state, or for a Republican to campaign in any Red or Blue state.
Under a national popular vote, rural voters throughout the country would have their votes matter, rather than being ignored because of state boundaries.
Support for a national popular vote for President has been strong among Republicans, Democrats, and Independent voters, as well as every demographic group in every state surveyed. In the 41 red, blue, and purple states surveyed, overall support has been in the 67-81% range - in rural states, in small states, in Southern and border states, in big states, and in other states polled.
The National Popular Vote bill was approved in 2016 by a unanimous bipartisan House committee vote in both Georgia (16 electoral votes) and Missouri (10).
Since 2006, the bill has passed 40 state legislative chambers in 24 rural, small, medium, large, Democratic, Republican and purple states with 271 electoral votes, including one house in Arizona (11), Arkansas (6), Maine (4), Michigan (16), Minnesota (10), North Carolina (15), and Oklahoma (7), and both houses in Nevada (6).
Make Every Voter Equal
Posted on Portside's Facebook page
Re: A Son's Memoir of His Father's Radical Beliefs, Pursuit by the F.B.I. and Ardent Love for America
(posting on Portside Culture)
 
Moderator's Note: Portside posted a number of reader responses in the two weeks after this first appeared on Portside Culture. [see July 11 Tidbits and July 18 Tidbits ]
Last week, in The New York Times Book Review section, there were a number of letters in response to the original Times' book review.
Can Communists Be Good Americans?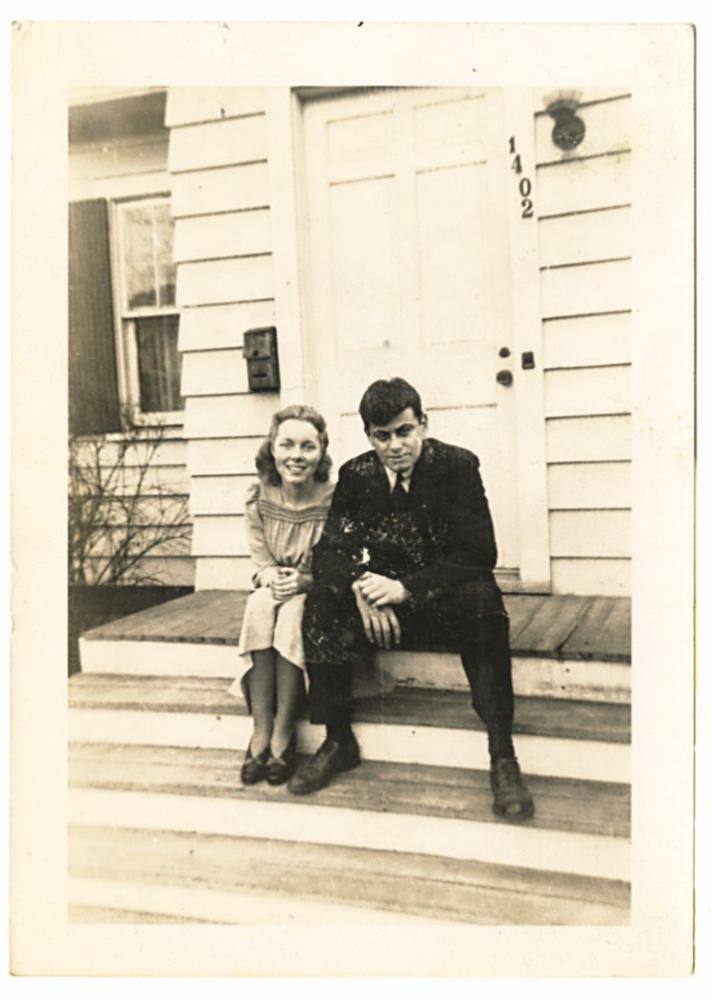 To the Editor:
Kevin Baker's review of David Maraniss's "A Good American Family: The Red Scare and My Father" (July 14) ends with Baker trying to puzzle out why in the world any "great American spirit" would be drawn to joining the Communist Party. After more than three decades of serious treatment by acclaimed historians and nonfiction writers, from Robin D. G. Kelley to Vivian Gornick, this subject is hardly one of life's great mysteries.
Aside from being at the cutting edge of civil rights throughout the first half of the 20th century, American communism offered people like Maraniss's father — working-class children of Jewish immigrants — the priceless feeling that they had become more than the sum of their life's parts. But as historians of United States social movements, we know that communism did much more than light a fire in people's imaginations: Scratch the surface of any significant progressive movement in this country over the last 100 years and you will find participants with ties to American communism. Instead of "dreary Russian dogma," communism, for most Americans involved, was about committed and effective grass-roots organizing.
Lana Dee Povitz
James Goodman
New York
The writers are, respectively, a visiting assistant professor of history at Middlebury College and a distinguished professor of history at Rutgers University, Newark.
     =====
To the Editor:
In his review of David Maraniss's account of his parents' involvement with the American Communist Party, Kevin Baker asks, "Just what were his parents, and especially his father, doing in the Communist Party in the first place?"
My parents were also involved in the Communist Party in the same time period. They joined because the party was one of the only organizations in the country fighting for civil rights, for a fair shake for working people and for many other causes of justice. When they finally understood the evils perpetrated by Stalinism, they left the party and continued to be active in civil rights and peace efforts. Their motivation, like that of so many thousands of others — including, I imagine, David Maraniss's parents — is not hard to understand.
Jerry Rubin
Jamaica Plain, Mass.
     =====
To the Editor:
We're wondering what thinking went into having Kevin Baker review David Maraniss's book about his father's experience with McCarthyism. Baker's apparent cluelessness about why Americans joined the Communist Party, what being a Communist meant and the experience of being subject to the McCarthy fever seems a bit surprising.
It was this sentence especially that should at least have been questioned: "Throughout their long marriage Mary insisted on buying the homes the family lived in — strange behavior for an avowed communist." Wait. What? It's almost as though Baker got his idea from some of those old movies about the "red menace."
Janice and Kenneth Bailey
Portland, Me.
Green New Deal Support Among Union Members (Data for Progress)
 

Union opposition to the Green New Deal has been widely reported and is one of the most often cited cleavages in Democratic coalition politics. New polling and analysis from Data for Progress shows, however, that this narrative does not reflect the actual views of union members. In fact, we find that union membership is one of the factors most highly correlated with support for Green New Deal policies as well as the Green New Deal framework as a whole.
On behalf of Data for Progress, YouGov Blue fielded a survey on 1,012 US voters on YouGov's online panel. The survey was weighted to be representative of the US population of voters by age, race/ethnicity, sex, education, and US Census region. The survey fielded from March 30, 2019 through April 3, 2019.
Even controlling for other factors, being a union member is a statistically significant and substantively meaningful predictor of support for the Green New Deal.
Read the full report here.  
Data for Progress
(Data for Progress is a project of Tides Advocacy)
Love Not Hate - A March and Rally - August 11 - Charles Town, West Virginia
 
Sunday, August 11, 2019
3:45 PM
Charles Town, West Virginia
The Multi-Faith Coalition and Jefferson County NAACP, and the Eastern Panhandle Central Labor Council (AFL-CIO) are co-sponsoring a " LOVE NOT HATE ' Walk and Rally on Sunday August 11, 2019.  
 
August 11 is the second anniversary of the deadly, hate-inspired attacks on a civil rights gathering in Charlottesville, Virginia. Hate and discord can bring us all down. Love and civility can lift us all up.
We will gather at the Charles Town library at 3:45 PM and start our walk promptly at 4pm. We will stop at the Jefferson County Courthouse for prayer and readings, then proceed to Wright-Denny School for the Rally.
The Mission of the Multi-Faith Coalition is to foster a society based on justice, equal opportunities, and love of one's fellow human beings. We will lend a strong voice to advocate for human rights, civil rights, and equal rights. A Strategic Planning meeting will be held on August 25, at 4:00PM to develop seven goals to build the work of the coalition.
Selena for Sanctuary 🌹, a FREE concert to support Make the Road NY! - August 18 - New York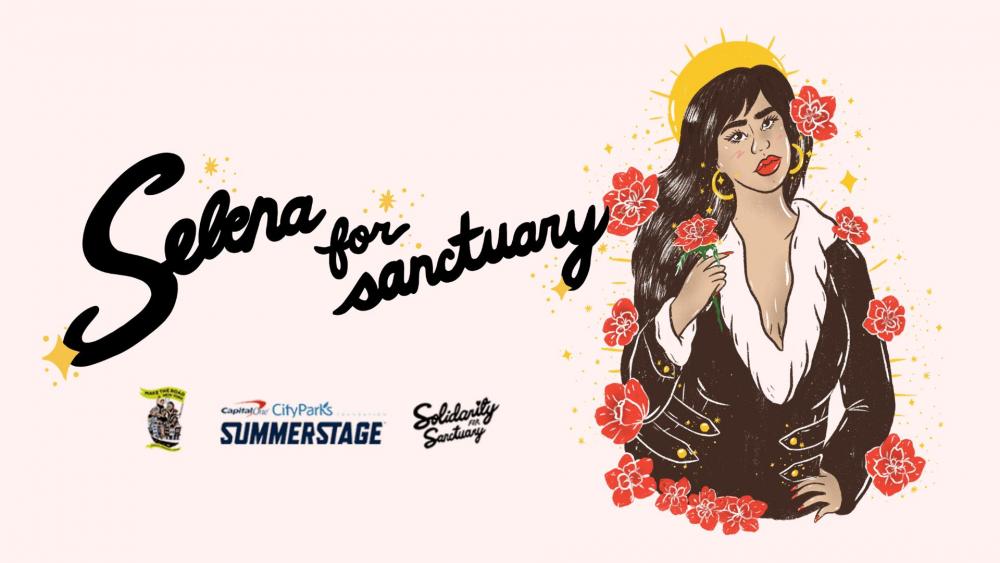 This year has been filled with many victories. Although we have many more to go in our fight for dignity and justice for all, this summer, we want to celebrate our accomplishments with you! Does a FREE concert sound good? This year has been filled with many victories. Although we have many more to go in our fight for dignity and justice for all, this summer, we want to celebrate our accomplishments with you!  Does a FREE concert sound good?
We are very honored to have been chosen by Solidarity for Sanctuary for their FREE concert series to benefit organizations that support immigrant communities. This is the second time Make the Road New York will be featured at Selena for Sanctuary. The event will be held at the popular outdoor venue Summerstage in Central Park. What's even more exciting is that this year it will be headlined by amazing artists like Kali Uchis, Cuco, Helado Negro, and more. We put together a playlist ahead of the concert with all our favorite Selena and invited artists' songs. Listen to it HERE.
Selena for Sanctuary is scheduled for Sunday August 18th, 2019 from 8pm - 10pm. Click here for more details!
The event is being coordinated by Doris Muñoz, a Chicanx music manager from Los Angeles who started the event as part of her Solidarity for Sanctuary campaign to raise funds for her parents' immigration legal fees and continued to set up events like this to support immigrant families. Inspiring!
We are very excited for this musical fundraiser. Our team will be selling Make the Road New York swag at the event so please encourage your friends, family members and neighbors to have fun and donate to help us continue to do this work for our immigrant and working class families! 
For more details and to add Selena for Sanctuary to your calendar please click here!
We hope to see you there! Thank you for your support. 
-- Jazmin Cruz, Development Assistant and Ricardo Aca, Digital Organizer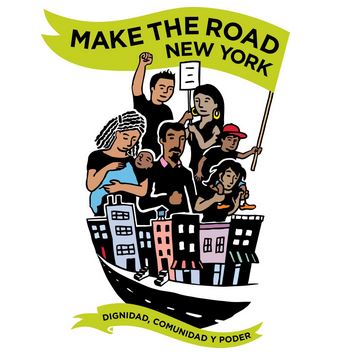 Make the Road New York (MRNY) builds the power of Latino and working class communities to achieve dignity and justice through organizing, policy innovation, transformative education, and survival services. We have 23,000+ members and operate five community centers in Bushwick, Brooklyn; Jackson Heights, Queens; Port Richmond, Staten Island; Brentwood, Long Island; and White Plains, Westchester County.
Make The Road New York
301 Grove Street
Brooklyn, NY 11237
CONTACT: communications@maketheroadny.org
1st Community Land Trust - 50th Anniversary Celebration - October 2 - 5 - Albany, Georgia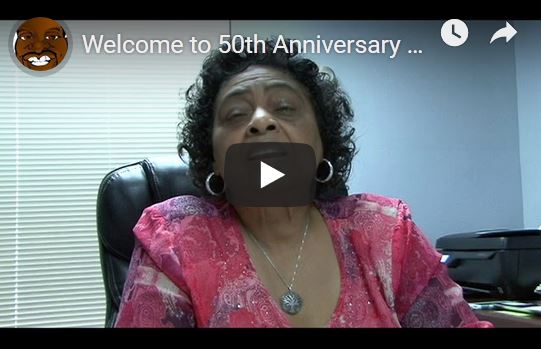 Charles Sherrod came to southwest Georgia in 1961 as the first Field Secretary for the Student Nonviolent Coordinating Committee (SNCC). He recruited students from area high schools and Albany State College. Sherrod led sit-ins, mass meetings, voter registration drives, and demonstrations; his leadership led to the Albany Movement. After years of working to advance human rights for people of color in southwest Georgia, Sherrod realized the  power of land to feed families and as a tool to build a way of life for black people in southwest Georgia. His ministry since has been "All power comes from the land and absolute power comes from God," and the idea to build a "new community" was conceived.
​
In 1968, Charles Sherrod and seven others (Fay Bennett; Bob Swann; Slater King and his wife, Marion; Lewis Black, a board member of the Southwest Alabama Farmers' Cooperative Association; Leonard Smith, a colleague of Fay Bennett's at the National Sharecroppers Fund; Albert Turner, field director for the Southern Conference Leadership Conference in Alabama) traveled to Israel to study the Kibbutz (a communal settlement, typically a farm). New Communities, Inc. (NCI) was formed in 1969, the organization purchased nearly 6000 acres of land in Leesburg, Georgia, which was the largest tract of black owned land in the United States. With cooperative land ownership and communal farming being the basis of the land, NCI became the first Community Land Trust in the United States, described in the Articles of Incorporation as "a nonprofit organization to hold land in perpetual trust for the permanent use of rural communities." this structure has served as a model for the more than 800 Community Land Trust models that exist today.
The story of New Communities is thoroughly entangled with the lives of Charles and Shirley Sherrod. Charles was one of the founding members and one of the first field coordinators of the Student Nonviolent Coordinating Committee (SNCC). It brought Charles to Albany to establish a Civil Rights Movement where he met Shirley. Together they worked to support black families who were being driven from their land for participating in the movement.
To provide a safe haven for black farmers, New Communities was founded in 1969 as a farm collective on 5,735 acres in Lee County, Georgia, and became one of the original models for community land trusts in the United States. The vision for the land was to become fully self-sufficient. Despite personal, cultural, and institutionalized discrimination, New Communities acted on that vision through the 1970s. They eventually would farm over 1,800 acres and operate a farmer's market and greenhouse. They even earned a reputation for their cured meats. Unfortunately, all was lost in 1985 following a severe drought in southwest Georgia where black farmers were refused emergency loans offered to their white counterparts.
In a foreclosure engineered by white-owned plantations and the political establishment, New Communities' dream was lost. After a decade-long court battle as part of the Pigford v. Glickman class action lawsuit, New Communities was eventually granted restitution and immediately began working to re-fashion the dream. A powerful site was found on which to continue the "Long Movement" by addressing contemporary controversies such as African American land loss, food-related disparities, environmental and economic justice, and other related efforts like social justice and racial healing.

DONATE TO Charles Sherrod CDC
The

 
Charles Sherrod Community Development Corporation
 

is a 501c3 that will conduct educational activities surrounding the historic nature of the

 

New Communities

 

and its main location (RESORA property), as well as engage the public in discussions about contemporary controversies, such as black land loss, food-related disparities, environmental and economic justice, social justice and racial healing and other related topics. This organization will continue to leverage the strength of its connection to great organizations like New Communities Inc. and the Southwest Georgia Project to develop programs to help create economic opportunities to improve the lives of many in the rural South. Thank you for your donations to further this effort to improve the lives of small farmers and race relations in the South Georgia and the reapplication of learnings across the United States.

The farm (RESORA) is intended to produce revenue-generating crops, and the production of these crops will be the result of a larger charitable and educational effort. The Charles Sherrod CDC plans to partner with local universities to offer internships and develop joint research projects, creating agricultural jobs for low-income rural participants, developing a mentorship program so that younger farmers can learn from more experienced farmers by evaluating the economic feasibility of the farm and its agricultural practices.
To ensure the success of this event, we need your support! You too can become a part of the longstanding commitment to build communities with equitable access. Your support is vital to continuing the work that was started 50 years ago. Your organization's commitment will be recognized throughout the year in our conference marketing materials, website, web-based app, printed programs and receive special attention and acknowledgement during the 50th Anniversary celebration week on October 2-5, 2019. For more information contact us at (229) 430-9870 or email: bell.a@swgaproject.com.
New Communities 50th Anniversary Registration Form - Register here