Tidbits - Nov. 28, 2019 - Reader Comments: Impeachment-Obfuscation, Corruption; Benjamin Netanyahu; Bolivia, Chile; Puerto Rico; My Lai Massacre; Whistleblowers, Amazon; workers rights-Climate Crisis, #MeToo; book sale; more....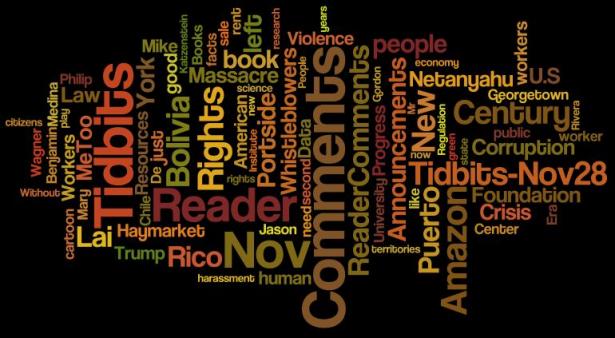 Tidbits - Reader Comments, Resources, Announcements AND cartoons - Nov. 28, 2019,Portside
Resources:
Announcements:
Korupt prezadent  --  cartoon by Mike Luckovich
 
Mike Luckovich
November 26, 2019
The Atlanta Journal-Constitution
Re: Gordon Sondland Throws Trump, Giuliani Under the Bus
 
The Dems need to conduct a sophisticated public campaign now, educating the people - they can't just assume everybody watched these hearings like some of us did....
Marilyn Albert
Posted on Portside's Facebook page
     =====
We underestimate the Democrats; the left, I suspect, could learn a lesson or two from them.
Sam Webb
Posted on Portside's Facebook page
Re: No One Is Above the Law - Netanyahu Decries 'Attempted Coup' Against Him After Corruption Charges
 
Sounds familiar
Clare Bear
Posted on Portside's Facebook page
     =====
⚖️ Justice⚡️ is above the law
Jerry Jones
Posted on Portside's Facebook page
     =====
crooks of a feather
Judith Halprin
Posted on Portside's Facebook page
     =====
His whole country is apparently "above the law"
Danny Hallinan
Posted on Portside's Facebook page
     =====
Just like Trump. The fool loves corruption
Thomas E. Batts Jr.
Posted on Portside's Facebook page
     =====
Sounds very Trumpy, very, very Trumpisty! He has been very close to Trumpenstein and could have been contaminated by the virus trumpensteinvirusitum
Domingo Soto
Posted on Portside's Facebook page
Re: Devin Nunes Accuses Witnesses of Misleading American People With Facts
 
This is a frightening comment for anyone to make.Man is definitely stupid nothing changes facts and facts prove guilt.
Wayne Gravelle
Posted on Portside's Facebook page
     =====
Confuse the people with facts . That means either the American public are stupid or the Republicans are trying to play hide and seek with the facts . Let trump and his minions testify
Enrico Campomizzi
Posted on Portside's Facebook page
     =====
Poor guy. Trying to defend the indefensible with such a tiny brain!
Jenny Kastner
Posted on Portside's Facebook page
     =====
He really said something so stupid?
Demy De Jesus
Posted on Portside's Facebook page
The Good Billionaire  --  cartoon by Jason Adam Katzenstein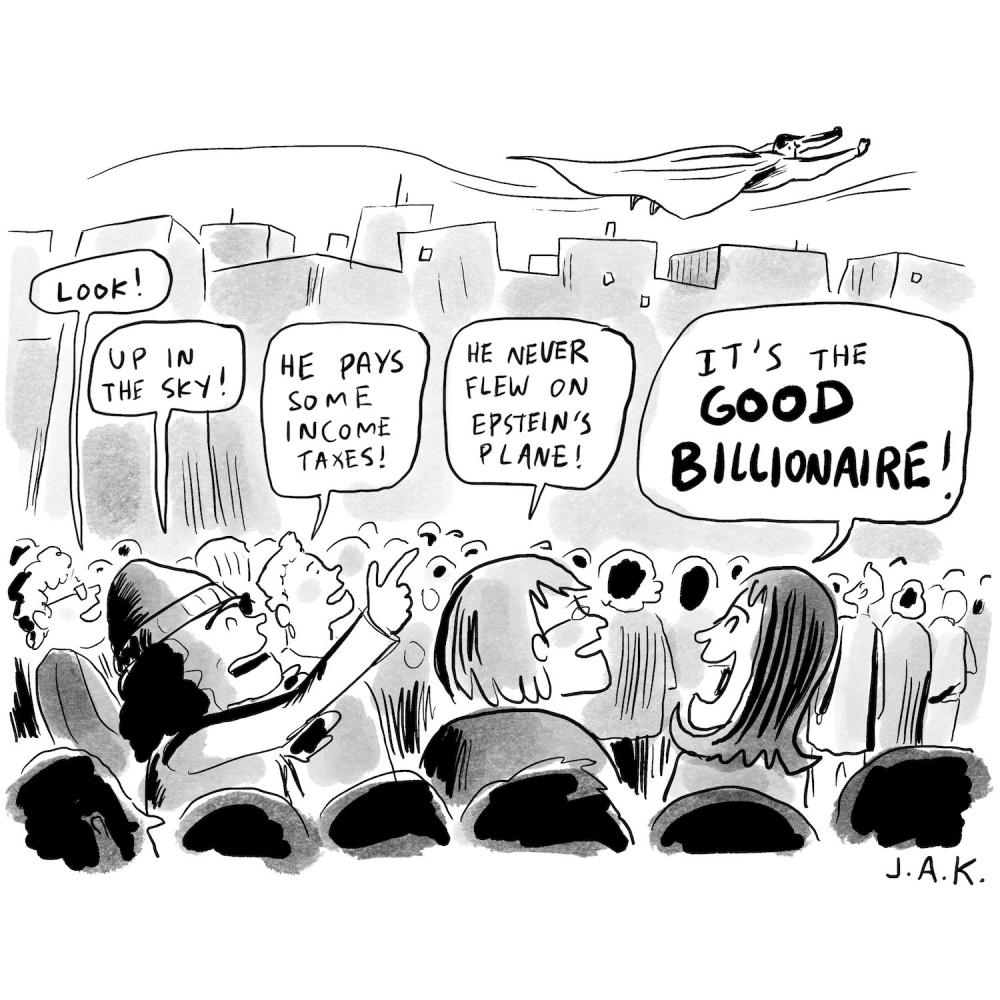 Jason Adam Katzenstein
November 22, 2019
The New Yorker
Re: A Letter to Intellectuals Who Deride Revolutions in the Name of Purity
 
I basically agree though it sounds like it was written in 1905 and racism so overlays class struggle in Bolivia at least...that they underplay. Julieta wrote something good that I'll send you. I'm furious at Zibechi, Rachel Gutierrez, and Rita Segato...not to mention Galindo and Silvia Rivera.
As a friend said this week, the streets are now where the Right goes not the left or not only the left. My election delegation friends just sent something through what's app about the call for a "paro nacional" in Mexico on Wednesday by the Right. Talk about a paro light.
We are reconvening our "Protest" seminar/action group...Chile!!! blinding people, how brutal, at least 200; and Bolivia is heartbreaking....what a time.
Margaret Cerullo
     =====
If you're against Venezuela, Nicaragua, Bolivia or any country that proclaims itself and does it's best to be socialist as opposed to proclaiming itself 'National Socialist, you're truly be damned. Capitalism has had   a few hundred years to work  out it it's many faults with no  good result, but the second, the freaking second, a new socialist government with a completely new and humanistic agenda makes a few mistakes, and almost always because of sanctions, military pressure, et cetera and  if you need me to elaborate, please 'shang ke"  (look it up!|} 
Anyway, we leftists are too eager to criticize when what we need to do is:  yeah, I'm not sure that's the right way to  go, but I'm more than ready to sit down with you who are of like heart and mind and work it out. Come on! We're old, but our sons, daughters, and grandchildren? We must. It's not us, it's for the children, 
all the best, kwai i dian'r leng jing, 
Mike Liston
Re: Repressive Violence is Sweeping Bolivia. The Áñez Regime Must Be Held to Account
 
We need recognized International outside leaders to step up and help what is rapidly becoming genocide -- Where is Michelle Bachelet, UN High Commissioner for Human Rights?
Suzanne Prescott
Posted on Portside's Facebook page
Re: Hundreds of Chileans Blinded by Police Since Protests Began
 
How vicious is this? Compare Israel's recent actions and their deliberate kneecappings at the Gaza demonstrations and elsewhere. The resultant dependency this creates is a kind of collective punishment. Filthy.
Andy Bateman
Posted on Portside's Facebook page
     =====
this is what the Indian state pioneered in Kashmir
Neil Rogall
Posted on Portside's Facebook page
Re: Medicaid Funding Slashed In U.S. Territories
 
Saludos desde Mayaguez, Puerto Rico. When will the U.S. liberal and left organizations start calling us by the rightful name of colonies? The U.S. has 5 colonies that not only in Medicare but in a bunch of other situations and programs it calls "territories". If there is one thing that Maria and the Trump administration has taught us in Puerto Rico is that we are a COLONY of the U.S. 
Please be truthful and call us what we are. And No the colonial problem will Not be solved be by statehood. It will only worsen. We have studied the plight of the Native Americans on their reservations. Gracias por su atencion,
Mary Anne Merrill- Ramirez
     =====
The USA territories, including Puerto Rico and the Virgin Islands, have no voting representation in the Congress, and no vote for President. For medical care, we depend on the whim of Congress, and the hand-outs are significantly less than to the states. This year we go back to an old allotment formula that will cripple healthcare in the territories.
Philip Specht
Posted on Portside's Facebook page
     =====
Asking for more money is a short-term hole. What are we going to do with the root of the problem
Brenda López De Victoria
Posted on Portside's Facebook page
     =====
They pay taxes, they should have the same rights.
Mary Bang
Posted on Portside's Facebook page
     =====
Is there any evidence that all of these cuts to social programs have reduced the federal deficit?
Robert Supansic
     =====
I know I see the deterioration in my people. I live in a territory - Puerto Rico. Not even the funds for hurricane Maria reconstruction have arrived 2 years later. He is lying - not even half of the money. We still have people living under FEMA blue traps. He is playing with health, education and living conditions of US citizens 
Gloria Medina
Posted on Portside's Facebook page
     =====
Remember now they have to cut social programs to replenish the big tax cuts trump gave his millionaire friends.
Alba Grace Pereira Medina
Posted on Portside's Facebook page
     =====
That's a fact they are cutting back on everything.
Carmen Roman
Posted on Portside's Facebook page
     =====
We are second class citizens. No right to vote for the president but in the event of a major conflict we can be drafted. It's a shame for mainland Americans to have second class citizens.
Elias Bou Gauthier
Posted on Portside's Facebook page
https://www.facebook.com/Portside.PortsideLabor
Re: The Whistleblowers of the My Lai Massacre
 
It was a horrible massacre and the true heroes were morally massacred by their superiors and many Americans. What happened in My Lai is a stain on the American Army but more specifically of the officers who ordered their men to murder unarmed civilians including women, children and babies.
Aida Rivera
Posted on Portside's Facebook page
     =====
There is a history of presidential criminals and whistleblowers. Nixon declared that the chief My Lai perpetrator was "probably a good soldier ... getting a bum rap." He ordered a secret task force to undermine press stories of the massacre.
Philip
Posted on Portside's Facebook page
     =====
Yep. I remember this tragic incident. Today Drumpf would had granted Caley the Medal of Honor.
CG Lausell
Posted on Portside's Facebook page
Re: Were Other Humans the First Victims of the Sixth Mass Extinction?
 
Mr. Longrich is a paleontologist and seems to know his stuff. But he misses the mark on population doubling every 25 years by citing Malthus as a link. This is not the case, with research that indicates people have always regulated their populations. See Death, Sex, and Fertility: Population Regulation in Preindustrial and Developing Societies by Harris & Ross. This might just be a problem of a research specialist speaking too broadly about the larger canvas of human issues. As a political left enterprise, 
Portside needs to be a little more discriminating in its science posts on the human condition. Mr. Longrich's view of the human past would be embraced by the gun loving right or strong defense folks. That's fine if its good science but Mr. Longrich overstates the case about past human culture and misses much knowledge to the contrary of his thesis.
Chuck Willer
     =====
Notice the racist nomenclature used to dub early African human group with
racist "Rhodes" name!
John Woodford
Re: Ruthless Quotas at Amazon Are Maiming Employees
(posting on Portside Labor)
 
Don't buy from Amazon people! (if you can help it...I bought a book from Haymarket books (independent bookstore) and it came from Amazon!).
Abby Fuller
Posted on Portside's Facebook page
     =====
Amazon Sells Clothes From Factories Other Retailers Blacklist
After a deadly 2013 factory collapse, most big U.S. apparel companies agreed to steer clear of dangerous plants in Bangladesh. Not Amazon.
By Justin Scheck, Jon Emont and Alexandra Berzon
Oct. 23, 2019
Wall Street Journal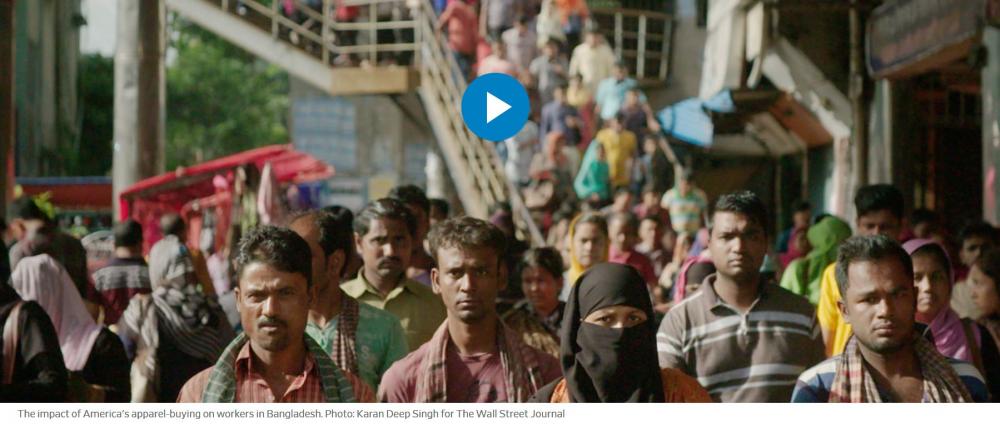 Watch here
Steven Biel
Posted on Portside's Facebook page
50% OFF Haymarket Books for the Holidays!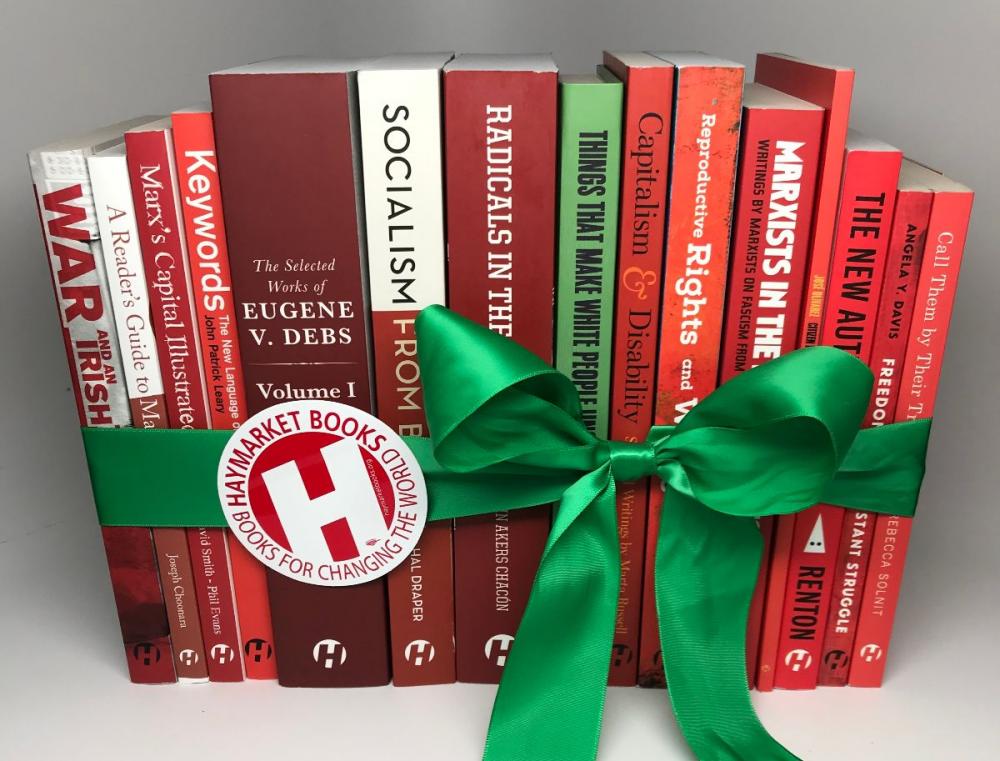 50% OFF ALL Haymarket Books through Sunday, January 5th!
Looking for books to give to the radicals (or radical curious) on your list? Look no further than HaymarketBooks.org! 
Here's the deal:
Take 50% OFF everything on our entire site!
Get a FREE Ebook bundled with every book purchase!*
Get FREE Shipping on orders over $25 inside the US.
Order early to get delivery by December 25th.
We'll be compiling a gift guide in the next few days, but Michael Bennett's Things That Make White People Uncomfortable is a great place to start for just about anyone on your list. 
*That means, if you buy a book as a gift for a friend, you get an ebook to read yourself. We won't tell. Free ebook bundled whenever ebook version is available. All of your ebooks will be stored in your Library on the site.
P.O. Box 180165
Chicago, IL 60618
Tel: 773-583-7884
Email: info@haymarketbooks.org
Workers' Rights in an Era of Climate Crisis - New York - December 3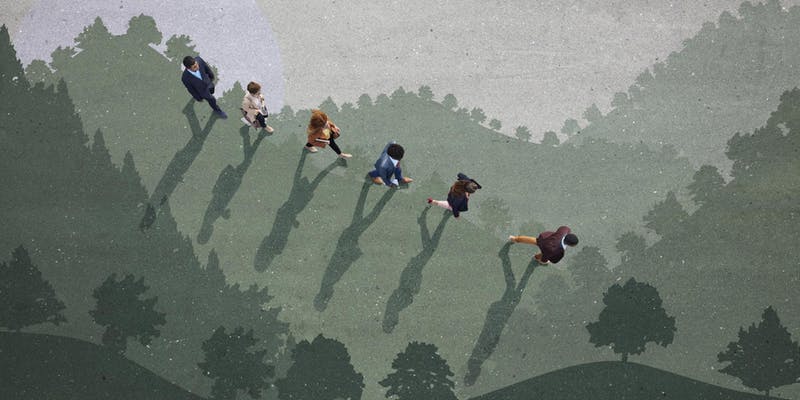 Taking bold action to tackle the climate crisis can be a win-win for the environment and the economy. The transition to a green economy has the potential to create millions of jobs, as many 2020 presidential plans show. But how can a green transition ensure that workers' rights and good jobs are at the center, and that no one is left behind?
Join us on Tuesday, December 3 at 6:00 PM for a thought-provoking panel bringing together experts at the nexus of climate, racial, and economic justice, as well as those experiencing the energy transition directly, to discuss how to usher in a truly just, sustainable, green economy.
The Century Foundation
1 Whitehall Street
15th Floor
New York, NY 10004
Featuring:
Moderator: Alexander C. Kaufman, Senior Reporter, HuffPost
Allison Ziogas, Journeywoman Electrician, IBEW Local 3
Amanda Novello, Senior Economic Policy Associate, The Century Foundation
Jason Walsh, Executive Director, BlueGreen Alliance
Julian NoiseCat, Director of Green New Deal Strategy, Data for Progress
Co-sponsored by The Century Foundation's Bernard L. Schwartz Rediscovering Government Initiative and Data for Progress.
About Data for Progress
Data for Progress is the think tank for the future of progressivism. Our goal is to show how a progressive agenda can win nationwide. We provide research, polling on left issues and analysis to support activists and advocacy groups, challenging conventional wisdom about the American public that lack empirical support. We are a multidisciplinary group of experts using state of the art data science techniques to support progressive activists and causes. Learn more at: www.dataforprogress.org.
Labor in the Era of #MeToo: Survivor Rights are Worker Rights - Washington, DC - December 4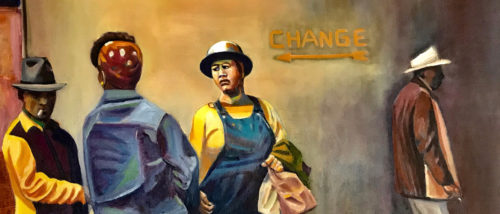 Futures Without Violence and the Georgetown University Law Center Workers' Rights Institute are bringing together worker advocates and thought leaders to discuss the roles that unions and other worker-led organizations play in eradicating sexual harassment in the workplace.
Hosted by Futures Without Violence and Georgetown University Law Center Workers' Rights Institute
You are cordially invited to join worker advocates from a variety of sectors to share promising practices on the various roles that unions, worker centers, and other worker-led organizations play in eradicating sexual harassment in the workplace, and to highlight the urgency of moving to new organizing and representation paradigms around the issue of sexual harassment in the workplace. Featuring a keynote address from Sara Nelson, President of AFA-CWA.
Space is limited. Please RSVP here
December 4th, 2019, 9am - 5pm (Lunch will be provided) 
Hart Auditorium
Bernard P. McDonough Hall
Georgetown University Law Center
600 New Jersey Ave NW
Washington, DC 20001
Costs and Additional Information:
There is no registration fee to attend this event.
Debates of the Century: Rent Regulation - New York - December 17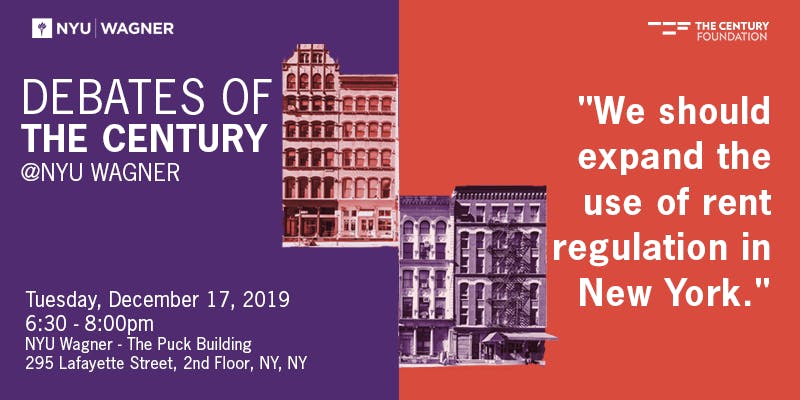 The Century Foundation and NYU Wagner are proud to present Debates of the Century @NYU Wagner, a public debate series showcasing thoughtful, informed dialogue from experts.
"We should expand the use of rent regulation in New York."
Is the rent really too damn high? Could expanding rent regulations be a part of the long-term solution both in NYC and across New York state? Or are such measures not a one-size-fits-all solution, that actually get in the way of producing much-needed housing stock and impair housing quality—exacerbating the affordability crisis?
Speakers:
For the motion:
Afua Atta-Mensah

Executive Director of Community Voices Heard

Against the motion:
Rafael E. Cestero

President and Chief Executive Officer of the Community Preservation Corporation

Moderator:
Michael Blake

New York State Assemblyman; NYU Wagner Visiting Urbanist
The Puck Building
295 Lafayette Street
Rudin Family Forum for Civic Dialogue, 2nd Floor
New York, New York 10012
Doors will open at 6:00pm and the event will begin at 6:30pm.