Tidbits – Dec. 29, 2022 – Reader Comments: Trump Ethics; Labor's Medicare Privatization; Franco Harris and Vietnam Peace Movement; 9 to 5, Organizing Woman Workers; GOP's Santos Clause; AFL-CIO Dr. Martin Luther King Jr. Civil and Human Rights Conf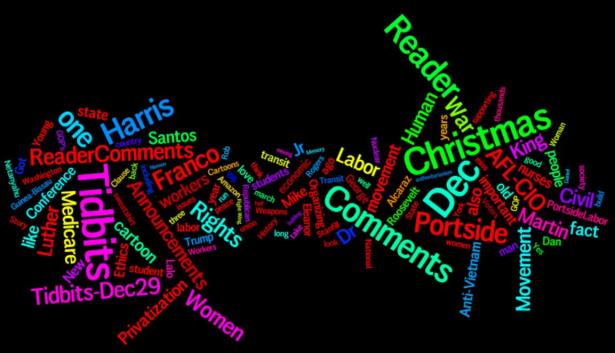 Tidbits - Reader Comments, Announcements AND cartoons - Dec. 29, 2022,Portside
Our People's History Remembered:
Announcements:
Re: Trump's White House 'Ethics' Lawyer Is in Very Big Trouble
 
(posted on Friday Nite Videos)
In case we think that our effect is limited or short term, look at what 26 year old  is limited or short term, look at what Cassidy Hutchinson did, reading a book that was 50 years old, three times, and contacting its author, as she decided what was the right thing to do. This is so moving!!!
Kristin Lems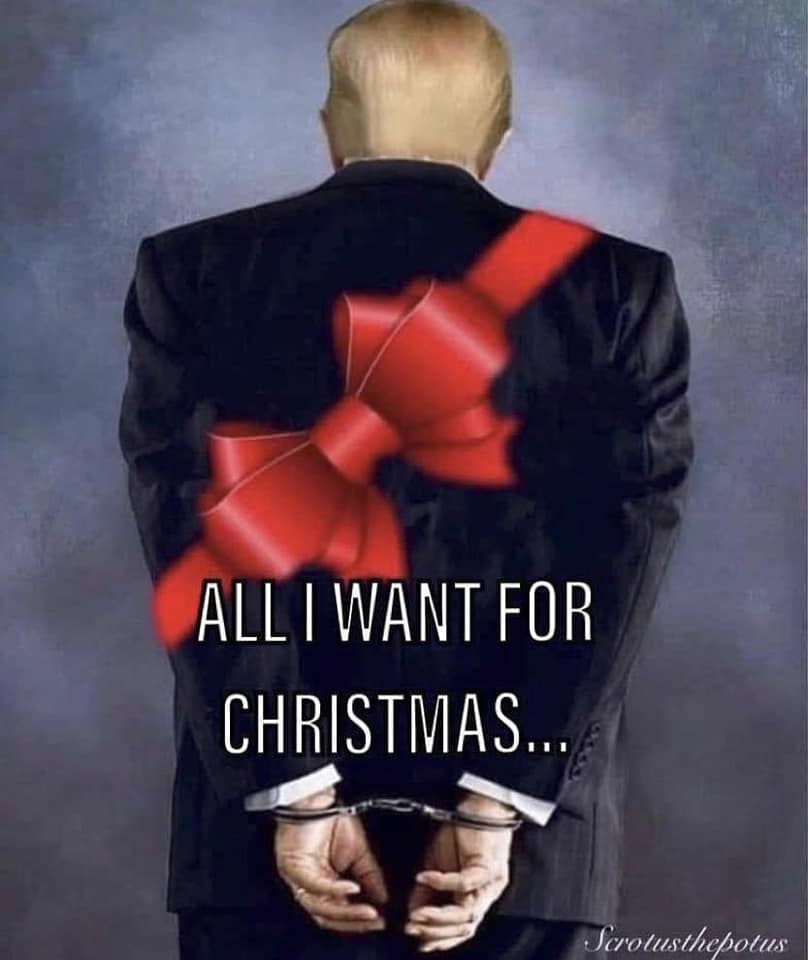 Re: Labor Leaders Provide Cover for Privatization of Medicare
 
Name anything that has ever been improved by "privatization."
Eleanor Roosevelt
Posted on Portside's Facebook page
Re: New York Enacts Warehouse Worker Protections Targeting Amazon
(posting on Portside Labor)
 
Well, if Amazon says they don't have quotas, why would they have a problem with a law regulating quotas?
Celeste Suliin Burris
Posted on Portside's Facebook page
Re: Building a Collective Movement for Public Transit
(posting on Portside Labor)
 
"Free Transit Ottawa (FTO) had its first meeting in February 2020, bringing together transit users and workers, union members, students, and climate activists. Their goal, at the time, was to get people to sign a petition supporting both free transit and adding members of the public to the board of the OC Transpo transit agency.
"... what they accomplished offers interesting lessons for folks trying to build strong movements to improve transit in their own communities."
Norm Littlejohn
Posted on Portside's Facebook page
Franco Harris and the Anti-Vietnam War Movement
Daniel Rosenberg
December 25, 2022
Famed Pittsburgh Steelers football running back Franco Harris died recently. Among his other noteworthy activities may be counted his staunch support of the professional players' union. We were fellow students at Pennsylvania State University in the early 70s. Penn State was then an "independent" within the National Collegiate Athletic Association: it did not belong to a league, like the Atlantic Coast Conference, the Big 10, or others. Its coach was the well-known Joe Paterno (a Brooklynite like me), later notorious for turning a blind eye to sexual abuse on the team. Its schedule tended to be lopsided, regularly playing weak teams like the University of Maryland and the Naval Academy. The "Nittany Lions" would shamelessly run up the score against them, scoring 70 or more points at times. The Lion mascot would run onto the field after every touchdown and do as many push-ups as Penn State had points. Harris belonged to a trio of stars on the offensive side of the ball, which included the then better known halfback Lydell Mitchell and quarterback John Hufnagel. Harris was often hurt, and missed a good number of games. As a pro however, he greatly exceeded the achievements of Hufnagel and Mitchell.
In May 1972, President Richard Nixon ordered new bombings of the Vietnamese capital Hanoi, as well as a blockade of all ports in the Socialist Republic of Vietnam. This precipitated numerous demonstrations. I was part of one that turned into a peace march. It began fairly early in the morning with a vigil outside the building where the university conduced military research. The march gathered and grew spontaneously. In the very front of it was a burly man on crutches wearing a red sweatshirt. Thousands of students joined the march. The state police came out with teargas. The demonstrators in the front took the brunt, including the man in the red sweatshirt. I was further back, but inhaled my share as well. There were arrests.
Perhaps a thousand students and faculty straggled into the student union building to take stock. Suddenly a student came running into the hall carrying a note, which made its way to the stage. The presiding student read it out to the crowd: an assassination attempt had been made on presidential candidate George C. Wallace, racist pro-war governor of Alabama. A cheer arose, then died in mid-stream. The man with the sweatshirt, who had been sitting in a corner table diagonally across the room from me, rose to his feet, crutches in hand. Someone handed him a microphone. He began to speak. He was indignant. It was foolish, he shouted, to applaud this assault on Wallace's life. He continued: this was just what the rightwingers wanted, a provocation, another excuse to libel and slander the peace movement. Get it together, he said to the students: focus. Concentrate on protesting the escalation of the war.
I turned to a student standing next to me. I asked, "who is this guy?" "Him?" he replied. That's Franco Harris. I asked: Franco Harris, the fullback. Yes it was.
Re: The 9 to 5 Movement: How Women Got Angry, Got Organized and Made Labor History
(posting on Portside Labor)
 
Let's not forget that working-class women were in the workforce far more than half a century ago -- thousands of female factory workers in the food processing and manufacturing fields were very active in the labor movement long before the 1970s. If you want a female labor hero, look up the story of Genora Johnson Dollinger and the UAW Women's Emergency Battalion of 1937. They fought in the streets with clubs and blackjacks, and won.
Eleanor Roosevelt
Posted on Portside's Facebook page
      =====
Enjoyed Ellen Cassidy's history of women advocacy for rights in the work place. But sex segregated job ads didn't just "disappear." The National Organization for Women sued the New York Times and other papers about this practice and pressured the EEOC to take action. Also not mentioned was NOW's multi-year involvement in challenging Sears practice of paying commissions to its sales staff based on gender.
Noreen Connell
      =====
Back in the 70s I wrote one of the first articles about 9 to 5 for a magazine called Working Mother
Nora Lapin
Posted on Portside's Facebook page
      =====
This is a good article, but I am surprised there was no mention of the decades long drive to organize nurses, a clearly women dominated workforce. Some unions like 1199 and UFT have focused resources on recruiting nurses, while the predominant approach has been separate organizations like National Nurses United or NYState Nurses association (NYSNA) and many other local associations. Despite most being afflicted with a separatist notion of "professionalism", they have not only advanced wages and benefits for nurses but also fought and even went on strike for issues that profoundly affect the quality of patient care such as staffing ratios. Some nurses also address the glaring class and racial inequities in health care. These are critical issues for society and unionizing nurses should not be overlooked.
Rachelle Kivanoski
Posted on Portside's Facebook page
New York's GOP Congressman George Santos: Catch Him If You Can  -- cartoon by Lalo Alcaraz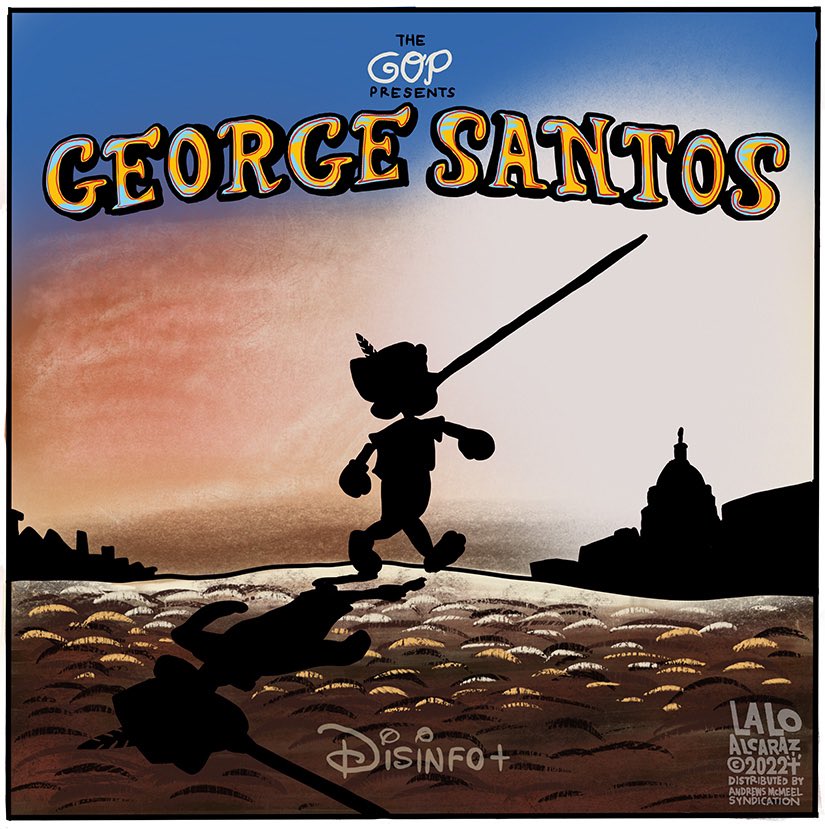 December 28, 2022
"I Am Not A Criminal, I Am A Republican"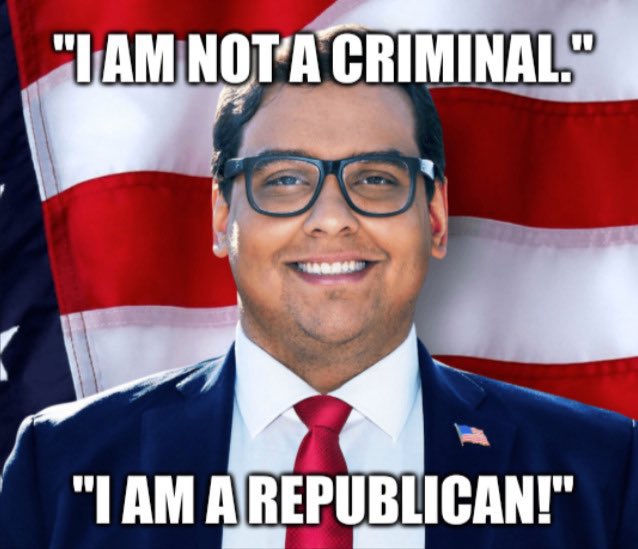 KaiKai
December 28, 2022
Retweeted by Lalo Alcaraz
Re: Netanyahu Consistently Promised Voters a "Full-Fledged Right-Wing Government"
 
Any society that lets a leader like Netanyahu remain in power this long has explicitly lost its way. The fact that most Israelis celebrate this guy and he faces hardly any opposition is horrifying.
Brandon Mouser
Posted on Portside's Facebook page
      =====
Everyone loves Banksy, until bodies pile up from charging headlong into a concrete surf scene…
Dan Teigen
Posted on Portside's Facebook page
Re: Study Ties Abortion Restrictions to 'Significant' Jump in Suicide Rates for Young Women
 
Seems rather obvious.  More than a few predicted this would actually happen, but no, the anti-abortion / "pro-life" nutcase fanatics can't process anything outside their rigid, tiny little box that their thoughts (such as they are) are confined to.  
Never confuse people with the facts . . .
Charles
Sebastopol  CA
Re: How Dangerous Are the Reichsbürger?
 
The only good nazi is in the ER, the ICU or the grave.
David Berger
Posted on Portside's Facebook page
Re: Guinea-Bissau's Liberation Struggle Transformed the Face of World Politics
 
The essay by Rui Lopes and Vic Barros is a weak example of what I can only refer to as revolutionary romanticism. Amilcar Cabral was, indeed, a remarkable example of revolutionary heroism and theoretical brilliance. I am 83 years old and I clearly remember his influence that radiated far beyond his small redoubt on Africa's West Coast.
However, this essay begins with the following statement: Today, Western media reports frequently present Guinea-Bissau as a "failed state" with a "narco-economy." These disparaging labels strip the country out of its context in the global economic system and erase the legacy of European colonialism and the Cold War, giving the false impression that its problems are self-generated.
By referring to Cabral's heroism and brilliance and concentrating on the period prior to his assassination in 1973, it does nothing to refute the above quote. GB is, in fact, a failed state. That simple fact neither detracts from Cabral's memory nor should it obscure the fact that GB is, a half century later, run by a bunch of parasites and predators. The fact that these scumbags are aided in their endeavors by various international agents, should not detract from the essential fact that they remain parasites, predators and scumbags.
Bill Hansen
Re: Fusion Energy: The Nuclear Weapons Connection
 
Beware of writers with an agenda who miss out important details. Yes, tritium is radioactive - but it has a half-life of only 12 years, Wikipedia tells me. So it has no comparison with the pŕoducts of nuclear fission technology, with half-lives of thousands of years.
Dan Morgan
Posted on Portside's Facebook page
Re: Mussolini in Myth and Memory
 
I think some historians are more fascinated by dictators and authoritarian regimes than the masses. Look at 2022. The French voters delivered their usual rebuke to Maria Le Pen's sugar-coated bigotry. A leftist ex-convict defeated the massive state apparatus of the rightist ex-military man in Rio de Janeiro. Voters in the US mid-terms showed disdain, largely, for the alt vision of demagoguery and armed violence in thousands of local elections. Even the new Italian president's embrace of a fierce Italian nationalism reminiscent of Il Duce does not square with her quiet whispers to Brussels (Italy needs economic support) as well as louder embrace of NATO over Putin's invasion. Indeed, what is striking is that regimes in Budapest, Moscow, Tehran, and elsewhere seem less powerful internally, and more isolated internationally, now that twelve months ago. 
Jeff Kerr-Ritchie,
Durham, NC 
Re: Can the Left Disagree Without Being Disagreeable?
 
Brother Vijay wants leftys to get along, but he has his banner, which he waves hard. Fair enough. He is a drum major for the tendency that sees the invasion of Ukraine; the suppression of Uyghurs, and Hongkongers who don't identify with Xi's direction; whether Syria's Assad regime has murdered masses of people, etc., as secondary to supporting a bloc of governments that challenge US/Western European hegemony. The left is split over this, and IMO the most hostile, irresponsible takedowns are coming from his side, aimed at those who actively point out the concurrent corruption and authoritarianism in US/NATO and BRICS. I hope his comment here reaches the ears of the individuals, coalitions and groups who pounce on leftys who argue that Putin Russia is the primary culprit in a devastating attack on sovereignty and world peace.
Ethan Young
Posted on Portside's Facebook page
Tragic Delays  -- cartoon by Rob Rogers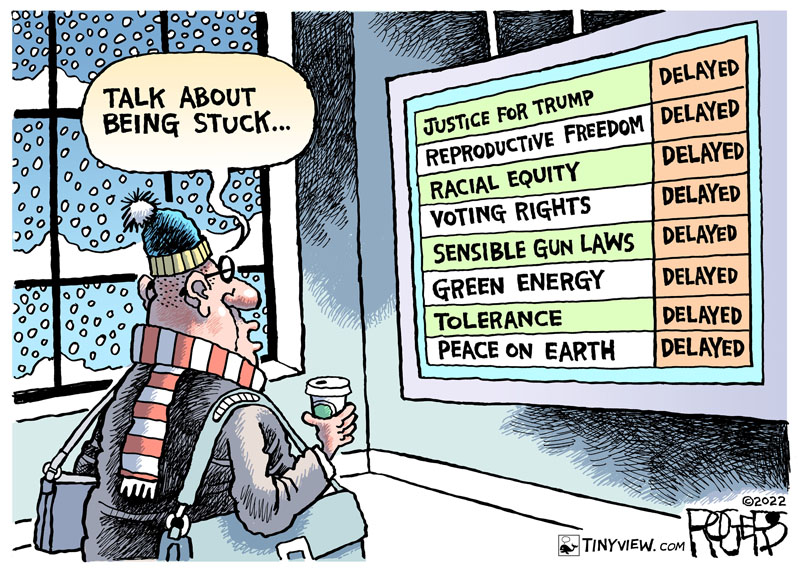 Rob Rogers
December 28, 2022
robrogers.com
Re: A Working-Class Christmas Story Christmas
 
Wow. When I finally got through erasing all of the fund appeals that clogged my email over the last three days, I found that the wonderful people at Portside https://portside.org/ had sent me some important ones, and this one grabbed me from three days ago. From the inimitable Kathleen M. Newman  https://www.facebook.com/kathleen.m.newman (actually published a couple weeks ago). Yes!!!
"For one season, for one, silent night, American capitalism lies to us about what it values. Sandwiched between ads on television or for sale on the latest streaming platform, the American Christmas Movie promises us that love matters more than money, that cruel bosses are bad but also lonely, that family togetherness is more important than the perfect dinner — and that BB guns cause actual harm. The Christmas Movie business might exploit our desire to believe all this, but we do – and we should.
"As a radical activist who also loves Christmas, this can be a confusing time of year. I don't love economic exploitation, but I do love Christmas. I love Christmas movies, too. They work to sell me stuff and ideology, but they also critique commercialism and exploitation. See what subversive messages you can find in a holiday classic. I triple dog dare you!"
Kipp Dawson
Posted on Portside's Facebook page
      =====
How true.
Ginny Antrim
Posted on Portside's Facebook page
      =====
Daily Presents from Portside. Today I got my daily set of five important emails, which magically appeared, including this fine story about the film A Christmas Story Christmas, one on From Bowling Alone to Posting Alone, one on Nuclear Weapons, and one on homelessness in NYC.   I highly recommend a free subscription and a consideration of supporting this important 30 year old service on the left, portside of the spectrum.
Mike Dover
Posted on Portside's Facebook page
Re: Portside Moderators' Crystal Ball 2023
(posting on Portside Labor)
 
The contradiction between "democracy and authoritarianism" is not our species' main contradiction. That would be the one between imperialism - the highest (and hopefully the last) stage of capitalism - and the vast global mass of laboring humanity, concentrated in the Global South. If we as a species survive the escalating threats of nuclear winter or climate collapse, there's hope for a socialist synthesis. The working class and its allies must muster the collective strength to overthrow the old order if we are to survive.
Sandy Eaton, RN
Re: A Group of Rats Is Referred to as a Mischief
(posting on Portside Culture)
 
a great poem...and what a commentary on the world as it is that it takes an imperialist war to engender feelings of human solidarity.
 one comment, though: shouldn't it be "we miss being unified" rather than "we miss not being unified"? the latter is i think truer to the sentiment of the poem; the former is confusing with its double negative.
barbara foley
Let It Snow  --  cartoon by Mike Stanfill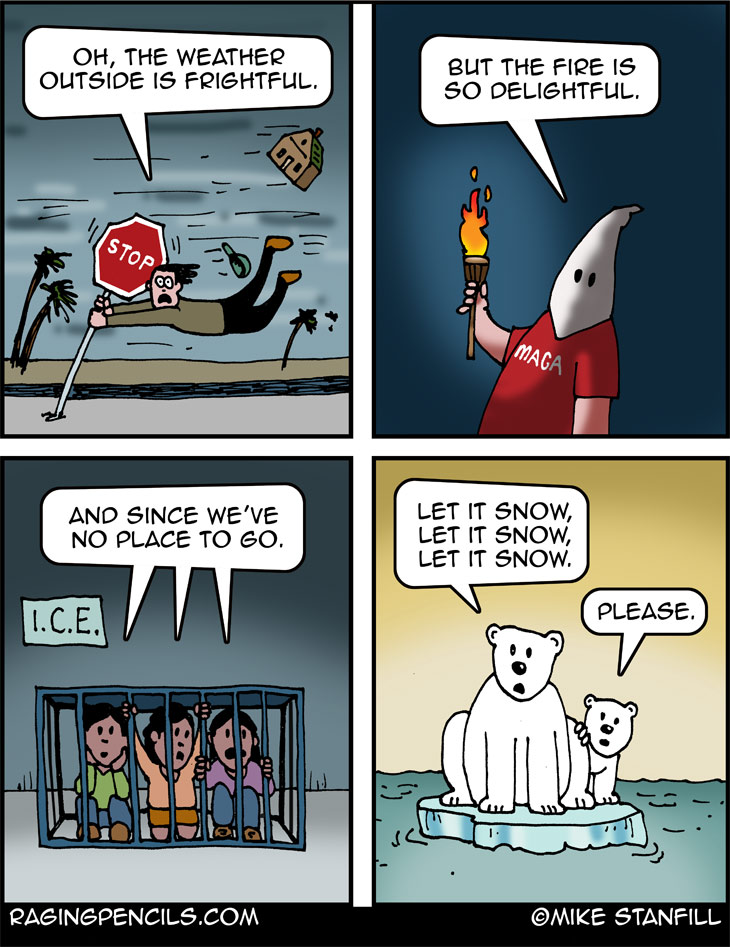 Mike Stanfill
December 23, 2022
Raging Pencils
2023 AFL-CIO Dr. Martin Luther King Jr. Civil and Human Rights Conference - Washington, DC - January 13 - 16

We will gather Jan. 13-16 in Washington, D.C. for the 2023 AFL-CIO Dr. Martin Luther King Jr. Civil and Human Rights Conference.
We will build on our victories and strategize about the continued fight for economic and racial justice with—and also within—the labor movement.
The theme of January's conference is "Claiming our Power, Protecting Our Democracy."
Our democracy is in a state of emergency.  Across the country, extremist politicians, far-right judges and corrupt corporate interests have aligned to take away the rights of workers. They are moving to strip us of our fundamental freedoms including the freedom to vote and to collectively bargain for a voice on the job.
The labor movement has always been a force for progress and we will continue that legacy by standing in our power and fighting back against these attacks. We will step into the year with purpose and make it clear that working people will determine the direction of this country.  Together, we will build an economy and a society that works for everyone and ensures that all workers, no matter who they are, can live a life of dignity and respect.
During the conference we will host timely discussions led by experts about the most pressing issues facing our movement, determine how we can address these challenges, share best practices and provide attendees with the cutting-edge tools and knowledge they need to affect change.
Mail Payments to:
AFL-CIO
C/O Secretary-Treasurer's Office
815 Black Lives Matter Plaza
Washington, DC 20006