Tidbits - March 22, 2018 - Reader Comments: Iraq War - 15 Years Later; Industrial Policy or Tariffs, Teachers; Prisons; Iran War?; Readers Debate Churchill, Stalin; Puerto Rico; Social Movements; Remembering Sharpeville; and more....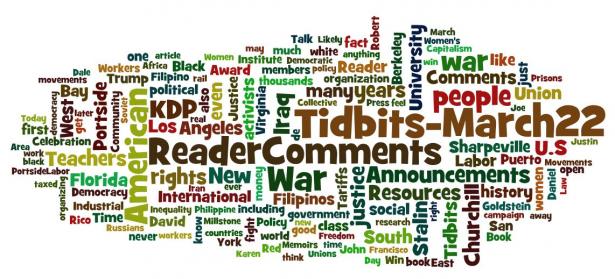 Tidbits - Reader Comments, Resources and Announcements - March 22, 2018,Portside
Resources:
Announcements:
Today in History:
This week marks the 15th anniversary of the start of the Iraq War, without a doubt one of the greatest foreign policy mistakes of the modern era. George W. Bush's war of choice in Iraq set the region on fire, cost American taxpayers trillions, and most importantly, took a human toll that will never full be measured but includes at least 4,400 American service members and hundreds of thousands of Iraqi lives.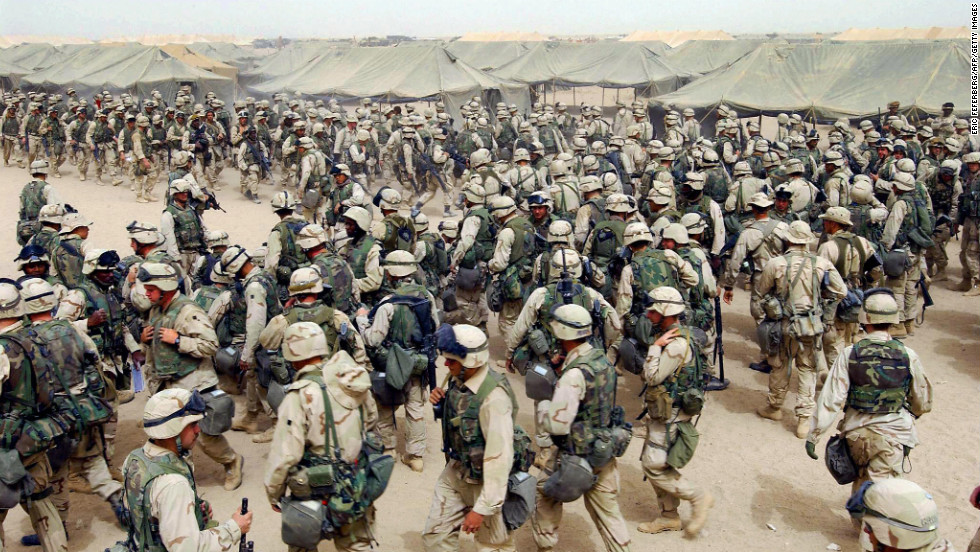 Fifteen years later, it can feel at times like our nation has learned nothing. American bombs continue to fall on the Middle East today where thousands of American soldiers remain in combat. The radicalization and violent extremism unleashed a decade and a half ago not only continues but has spread to become a globally endemic challenge. And, while the world's wealthiest nations struggle to fund solutions to threats like climate change and pandemic disease, those same countries spend hundreds of billions of a year trying to bomb our way to peace in the Middle East and across an ever increasing swath of Africa and Asia. 
There are many, many things that can and should be said to mark this anniversary, and many more things we all can do. In that spirit, I'm starting this as a means of sharing writings, actions, or other reflections that folks are producing to mark this tragic anniversary. 
I'll start with two things: 
First, yesterday, OPEN, MoveOn, Win Without War and more than a dozen other organizations convened more than 80,000 activists from 45 countries around the world in a historic Global Call for Peace. The call featured Senator Bernie Sanders and leading experts on Iraq and North Korea as we explored the lessons of Iraq and how we must learn them to avoid a war with North Korea. You can watch the call here or here. 
Second, myself and Erica Fein of Win Without War published a piece today online here at Inkstick Media examining the political fates of the 528 men and women of Congress who voted for and against the Iraq War. Spoiler alert: it pays to have not supported a disastrous war. 
There's a tremendous amount of additional amazing work being done right now, including the crucial fight in the Senate to shut off American support for the Saudi-led war in Yemen. But I wanted to make sure that we had a place to specifically reflect back on a war that brought so many of us into this movement in the first place. 
Onward. 
Stephen Miles
stephenmiles42@gmail.com
@SPMiles42
Re: What a Labor Union Is and How It Works
(posting on Portside Labor)
Some basics on what a labor union is and how it works...
John Gehan
Posted on Portside's Facebook page
Re: Workers Need an Industrial Policy Not Tariffs
 
UE Executive Board March 12, 2018, statement that "Workers Need an Industrial Policy Not Tariffs," as reprinted in *Portside*, is exactly right.
"Buy American" policies may be well-intended, but are destined to fail. Consumers sympathize, but they buy based on utility and price.  To protect the rights of U.S. workers, we need to protect the rights of workers everywhere.  In our global economy, wages are bound to converge.  We can only win by demanding convergence at a HIGHER level, and by standing up for workers' rights in other countries, as well as here.
As somebody said long ago:  "united we stand; divided we fall."
Carl Proper
ILGWU/ UNITE/ UNITE HERE, retired
      =====
Reason most of those people are out of work is due to automation.
Raymond Kaslak
Posted on Portside's Facebook page
      =====
Tariffs ARE an industrial policy
Also, thousands of steelworkers are already back at work thanks to these tariffs
Even a broken clock is right twice a day
Gregory A. Butler
Posted on Portside's Facebook page
Re: Inspired By West Virginia, Teachers Spread Red For Ed Movement Across Arizona
(posting on Portside Labor)
Guillermo Vazquez
Posted on Portside's Facebook page
      =====
Organize....it is the only way to give workers power against the 1%.
Lois Gronberg
Posted on Portside's Facebook page
CORRECTION - Re: Florida Teachers on Edge as New Law Threatens Their Unions
(posting on Portside Labor)
Yesterday you sent out Jeffrey Solochek's Tampa Bay Time story, "Florida Teachers on Edge as New Law Threatens Their Unions". There was a fairly significant fact error in the story — the story says all but a dozen of our locals are below the 50% mark, when it should, in fact, say all but a dozen are ABOVE. 
In solidarity, 
Mark Piotrowski
Re : What's the Likely Effect of the Janus Case? Let's Look at the Numbers
(posting on Portside Labor)
All interesting, but what is NOT SAID, and may be more important, assuming the worst, is that union issues WILL BREAK OUT OF ITS CLASS PERSPECTIVE and become POLITICAL, A SOCIAL LABOR ISSUE, MOVEMENT, that takes on class rule DIRECTLY, not piecemeal through grievances. In some states, like Puerto Rico, the UNIONS OPERATE POLITICALLY AGAINST CLASS RULE, not voting for class power.
Eric Schwing
Posted on Portside's Facebook page
Re: Six Ways Millennials Will Clean Up the Mess Boomers Left Them
 
What's wrong with Boomers transferring wealth to millennials without Capital gains tax upon their death? The money has already been taxed. Why does the government feel it is owed any of this money?
Jon Kelley
Posted on Portside's Facebook page
      =====
Capital gains on the estate are not taxed, first of all, so they get the advantage of that. On the issue as to whether intergenerational transfers should be taxed, I believe that with respect to large transfers (100s of millions or even billions), it's best for society if some of the huge income inequalities that are extant are reduced. Besides, corporations and rich people have not paid their fair share of taxes since Reagan's day.
Ted Robak
Posted on Portside's Facebook page
      =====
The world is not 'more unfair'. They just feel more entitled.
Terry Melser
Posted on Portside's Facebook page
      =====
Capital gains tax only applies to the 1% and If it's done away with , a tiny minority of the 1% of millennials get huge benefits while the 99% of the rest of society had to be taxed MORE to make up for it.
No the system is unfair, it has been over the past 40 years gamed by the wealthy for the wealthy.
David Raun
Posted on Portside's Facebook page
Re: Turn Prisons Into Colleges
 
Federal prisons are especially bad at not allowing outside educators provide courses to people locked up/ And the lack of educational opportunities for prisoners means that they are prey to uncredited on-line courses which take their money (or money from family members) and provide nothing of value in return.
Kurt Stand
Posted on Portside's Facebook page
      =====
thx for sharing - looks interesting.
Cat Zavis
Posted on Portside's Facebook page
      =====
They are privatized. "Business."
Lucy Rosado
Posted on Portside's Facebook page
Re: How The New York Times Is Making War With Iran More Likely
 
"Modus operandi" de USA para crear confusión y odio entre su gente hacia estados que difieren de su modelo de "democracia" y justificar sus agresiones.
[The USA's " modus operandi " to create confusion and hatred among its people to states that differ from their " democracy " model and justify their aggressions.]
Roberto Colon Ocasio
Posted on Portside's Facebook page
Re: In Winston Churchill, Hollywood Rewards a Mass Murderer
 
"The sun never sets on the British flag," Indian leftists use to say "because God's afraid to trust an Englishman in the dark." Here Shashi Tharoor reviews of some of the more appalling deeds of Winston Churchill who gathered a great reputation as the leader of the UK in WWII. Churchill's actual policies and practices reflected his commitment that tiny sliver of the richest (and the whitest). Thanks to Portside for sending along this useful addition to the Churchill record (of course there's more but this is quite good.)
Daniel Millstone
Posted on Portside's Facebook page
      =====
Mass murderer? for not responding adequately to a famine caused by crop failure while in the middle of running a war against Hitler half a continent away?
Karen Falch
Posted on Portside's Facebook page
      =====
Karen, we can disagree about this but the article does not characterize Churchill as "not responding adequately" but as creating a deliberate policy of starving people. There is, imo, good research to support that characterization. People in India did not need to be fed because they "breed like rabbits.) Further, as I understand it, during WW II, fighting was going on not "half a world away" but (against the Japanese) close to India. Where to store food, whom to feed (how much to charge for the food) and whom to starve were, imo, political decisions.
Daniel Millstone
Posted on Portside's Facebook page
      =====
Please if just one person will read this and have their eyes open to the fact that the history that we have been fed is a pack of lies. This may be easier for the average American because it is about an Englishman but trust me it is as applicable to our own history.
Edward Earl Bell
Posted on Portside's Facebook page
      =====
Muy ilustrativo articulo desde la perspectiva de los oprimidos.
[Very illustrative article from the perspective of the oppressed.]
Luz Celenia Castellano
Posted on Portside's Facebook page
      =====
I have one quibble. In 1943 all of Europe except for Portugal, Spain and Switzerland was occupied by, complicit with, or allied with Nazi Germany. How would there be British grain storage facilities in the Balkans? In which nations were these depots apparently located?
Paul Hamilton
Posted on Portside's Facebook page
      =====
Revisionist history, taking 21st century values, and imposing it on 20th century or now even 19th century people, is idiotic in the extreme.
Reg Taylor
Posted on Portside's Facebook page
      =====
The US & Brits didn't bomb the rail lines close to the death camps but they did bomb the hell out of the rail lines, rail bridges and rail yards throughout the 3rd Reich (including here in Salzburg). When they bombed Köln their bombers couldn't reach the camps, By the time Dresden was hit they could and did, but they bombed the part of Auschwitz that was producing war materiel and not the extermination camp. Still, the brutalization of the war meant that very few on either side objected to bombing cities by the later years of the war--though the people who ordered the bombing on the Allied side did believe it would break the German's will to fight and help win the war (they were wrong, but they did believe it). Hiroshima and Nagasaki are a different matter, but even there there was little question about using the bombs that they had invested so much effort and money in developing. Sending the USSR a message was just a side benefit. But laying the blame for bombing German cities on Churchill when there was nearly universal support of the policy is wrongheaded.
Stan Nadel
Posted on Portside's Facebook page
      =====
There is no question that Churchill was a British imperialist and a diehard Tory. I see no reason why one can't celebrate his leadership in defeating Nazi imperialism while opposing his colonial policies. After all, that's exactly what millions of British Labor voters did, staunchly supporting him against Nazi aggression, 1940-45, and then dumping him for Clement Attlee before the ink was even dry on the German surrender. Two thoughts, not mutually exclusive.
John Burke
Posted on Portside's Facebook page
      =====
What he did in India was atrocious, deceitful, underhanded. He was responsible for the relocation and deaths of thousands and thousands. What he did in the WWII was heroic. One does not wash out the other, but unfortunately ppl have a hard conceptualizing good and evil in the same person so we simplify, the same way we remember Picasso as a great painter and forget his cruelty to women.
Dustin Mackie
Posted on Portside's Facebook page
Re: Let's Get Real About Russiagate
 
"But we still don't know—and may never know—how much it mattered, or whether the Trump campaign actually colluded with the Russian government, or whether the Russians wanted Donald Trump to win or just intended to sow chaos or what." But hey, let's get real anyway, even if it is all unknown. And while we're at it, ignore what we do know, the stolen Democratic primary.
Dale Jacobson
Posted on Portside's Facebook page
      =====
"Some on the left," like Katha, are still invested in this Big Lie. Remember the Tonkin Gulf and WMDs hysteria to cook up public fear a new enemies--nations that refuse to accept US hegemony. We all want to get rid of Trump but why sponsor a new cold war to do so?
Mike Munk
      =====
Michael Morell (Former American intelligence analyst who served as the deputy director of the Central Intelligence Agency as well as its acting director twice, first in 2011 and then from 2012 to 2013): 
"So, let's talk about what I think the possibilities are, going forward. So, I would not be surprised if Bob Mueller concludes that the Trump campaign did not violate the law with regard to its interactions with the Russians. I'm really open to that possibility. Why? Because, as you know, The New York Times, The Washington Post, every media outlet that is worth its salt has reporters digging into this, and they haven't found anything. And I think that, had there been something there, they would have found something. And I think Bob Mueller would have found it already and it would have leaked. So, I'm really open to the possibility that there's no there there on a crime being committed by the campaign and the Russians."
https://www.politico.com/magazine/story/2017/12/11/the-full-transcript-michael-morell-216061
Dale T. Mathews
Posted on Portside's Facebook page
      =====
The real point of Russiagate is to get rid of Trump. That's good enough for me.
Richard Cole
Posted on Portside's Facebook page
      =====
I didn't read it all. But I didn't see anything about Roger Stone knowing ahead of time that Wikileaks was going to release emails. He learned it from the Russians.
Roger Stone claimed contact with WikiLeaks founder Julian Assange in 2016, according to two associates - Chicago Tribune
David Denson
Posted on Portside's Facebook page
      =====
Stop with " we don't know enough " denials. You're starting to sound like paid shills.
Alan Macphail
Posted on Portside's Facebook page
      =====
I don't think letting someone muck around with U.S. elections does anything to address the problem of U.S. interests mucking with elections in other countries. In fact im pretty sure its the same interests behind the mucking in both cases a lot of the time.ie the same folks benefit from destroying democracy in both brazil and U.S.
Rick Beck
Posted on Portside's Facebook page
Re: How the West Got Rich and Modern Capitalism Was Born
 
Oh glorious capitalism!! In what high regard you hold yourself, the truth of which is in the telling.
Marci McDougall
Posted on Portside's Facebook page
      =====
Owners fathered children and sold their own flesh and blood . Horrors.
Clara Aburto
Posted on Portside's Facebook page
Re: Uncoddling White Women: An Interview with Community Organizer Becky Rafter
 
This is a good piece and well worth forwarding. However, it misses the single most important reason for MOST (not all) white women to support Black leadership and the issues the article mentions. That is CLASS interest. Most white women (and most white men for that matter, though that is generally harder for many historic reasons) are part of the working class and many even realize that, as do most Black women. The class appeal that we can only create a united front strong enough to win the various reforms advocated in the article is key to winning white people away from their racism and their blind (in many cases) attachment to their white privilege. it is, in my experience, ONLY in the context of a joint fight that whites can in practice (not just rhetorically) put much of their racism and privilege b behind them. This is the real line between liberal, guilt based, anti-racism and radical, class based, anti-racism.
Thanks for the opportunity to respond.
Joe Berry
Re: How Southern Taxpayers are Spending Millions to Subsidize Gunmakers
 
And worse and likely greater than the direct subsidies to the companies is the indirect subsidy by the public (through government and just as individuals/families/communities) of absorbing the costs of being a society so loaded with guns and gun injuries, deaths, more impactful outbreaks of violence. . . .  (the same kind of expenses never faced up to and never paid for by reparations from the U.S. government to the lands and societies its guns and other weapons wreak havoc on)
Joe Maizlish, Los Angeles
Re: Exodus From Puerto Rico Grows As Island Struggles to Rebound From Hurricane Maria
 
The GOP has put a gun to its head and is squeezing the trigger. How many people from PR are moving to Florida? How much longer will Florida be a red state? That is a lot of Electoral College votes to throw in the toilet.
David Clement
Posted on Portside's Facebook page
      =====
That's right. Puerto Ricans are citizens, even though they can't vote in PR. Once they are Florida residents, they can. Hard to imagine any of them voting Republican. Unless they REALLY liked those paper towels.
Sara Barnett
Posted on Portside's Facebook page
Re: "The Death of Stalin" Captures the Terrifying Absurdity of a Tyrant
(posting on Portside Culture)
What made the film so dangerous? A number of films about Stalin have been made in the past sixty-five years—including one in which Robert Duvall portrayed him as a creepy monster, and one entirely devoted to the tyrant's bloody funeral—but this is the first movie that makes Stalin and his circle look absurd. In the first fifteen minutes, even before the generalissimus suffers his brain hemorrhage, Iannucci paints perhaps the most accurate picture of life under Soviet terror that anyone has ever committed to film.
Disraelly Gutierrez Jaime
Posted on Portside's Facebook page
      =====
Probably a fake view of the leader, with prejudice eyes of the west. I wonder how UK or USA will feel if Russia makes a movie with accuracy, portraying themselves as the real winners of World War Two, which is actually the truth...
Ariel Ayala Vera
Posted on Portside's Facebook page
      =====
How about a movie and a review about the invasive and ruthless dictatorship of USA in the world in the name of democracy and freedom?
Ilia Pagan Rivera
Posted on Portside's Facebook page
      =====
Here are two basic uncontestable truths: (A) censorship is bad; and (B) Stalin was a murderous psychopath. First, I don't need anybody to tell me what I can watch or not. Second, the Soviet Union won the war because after Stalin purged the armed forces and basically murdered his most capable officers he also sought to micro manage and in fact mismanaged all military operations at the outset of the war with Germany with disastrous results which, in turn, allowed the Germans to reach the outskirts of Moscow. In fact, this is the moment he got depressed and effectively handled control of all military operations to Stavka namely Marshall Zhukov. That's what saved the Soviet Union from the abyss. There is very little if anything at all that is redeeming about Stalin and his bloody regime.
Enrique A. Baez
Posted on Portside's Facebook page
 
There will be no Tidbits April 5 and April 12
When We Fight We Win! : Twenty-First-Century Social Movements and the Activists That Are Transforming Our World
 
By Greg Jobin Leeds, Dey Hernandez Vazquez, and AgitArte. 2016. 208 pages.
A visually rich and inspiring book of 21st century leaders and activists distill their wisdom, sharing lessons of what makes and what hinders transformative social change.
Time Periods: 2001 - Present, 21st Century
Themes: Democracy & Citizenship, Organizing
Resource Types: Books: Non-Fiction
In this beautiful book, Greg Jobin-Leeds and AgitArte set out to articulate lessons from the emerging 21st-century "social movements and the activists that are transforming our world." In his introduction, Jobin-Leeds explains that for five years he asked activists—from the LGBTQ, environmental justice, education, immigrant rights, Black Lives Matter, and economic justice movements—what lessons they would like to pass on to future activists. The book's six chapters are built around the insights he gleaned.
Each chapter features a core narrative, along with interviews, short classroom-friendly readings, photographs, and startling posters (some created by Rethinking Schools contributors Favianna Rodriguez, Meredith Stern, Julio Salgado, and Ricardo Levins Morales). At this moment in history, it's more important than ever that young people recognize how their futures are tied to the vitality of social movements. When We Fight We Win! is a valuable resource for educators as we help students come to see themselves as activists. [Description by Rethinking Schools.]
ISBN: 9781620970935 | Published by The New Press.
Book Talk: Robert Justin Goldstein on Discrediting the Red Scare - New York - March 27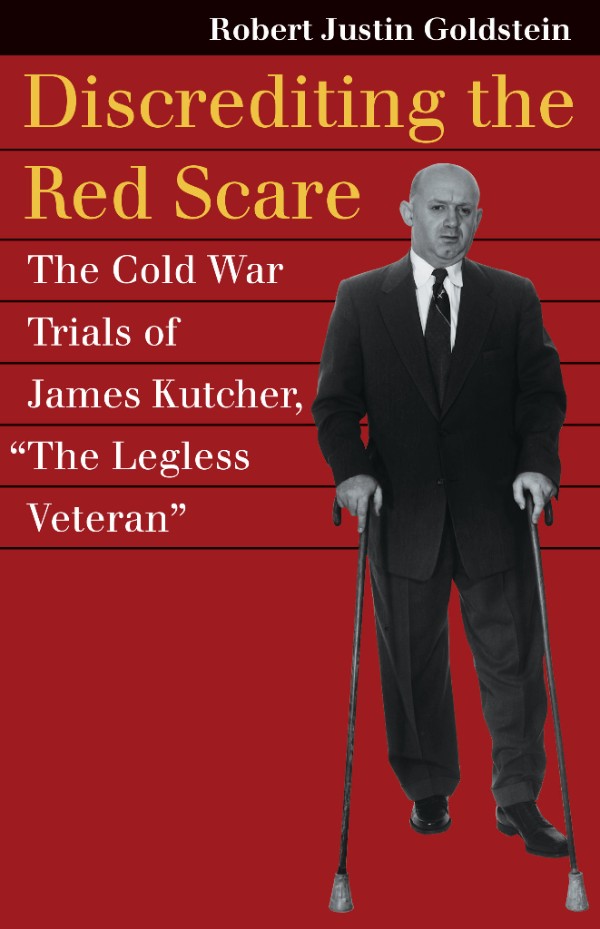 Robert Justin Goldstein will discuss his new book Discrediting the Red Scare: The Cold War Trials of James Kutcher, "The Legless Veteran" (University Press of Kansas, 2016).
Tuesday, March 27 (4:30 PM) 
Tamiment Library & Robert F. Wagner Labor Archives
70 Washington Square South
10th Floor
New York, NY 10012
A reception with wine and cheese will follow the lecture. This event is sponsored by the Frederic Ewen Center.
Robert Justin Goldstein is professor emeritus of political science at Oakland University and is currently a research associate at the Center for Russian, East European & Eurasian Studies at the University of Michigan at Ann Arbor. He received a B.A. from the University of Illinois (Urbana) and M.A. and Ph.D. degrees from the University of Chicago. Professor Goldstein specializes in the history of civil liberties in post-Civil War America and in 19th-Century Europe and has published or edited almost 20 books on these subjects. They include Political Repression in Modern America (2d ed., University of Illinois Press, 2001); Flag Burning and Free Speech (University Press of Kansas, 2000); and American Blacklist: The Attorney General's List of Subversive Organizations (U Press of Kansas, 2008).
RSVP: email tamiment.events@nyu.edu with guest name(s) & event title.
Just Like A Woman - A Celebration of Bay Area Women in Music - March 31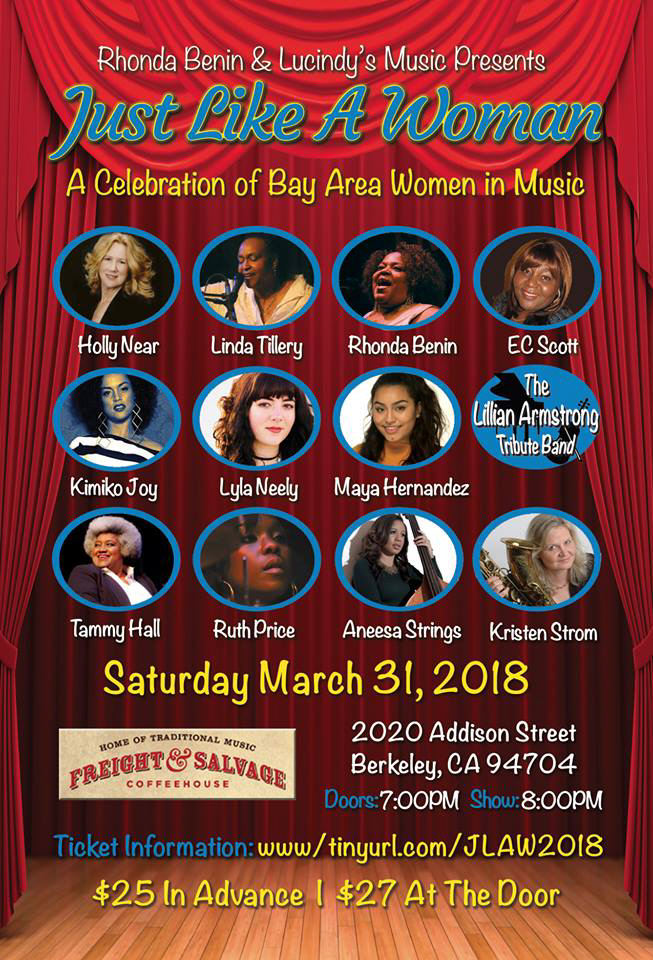 Saturday, March 31st
Doors: 7:00 pm / Show: 8:00 pm
$24 ADV / $28 DOOR (plus fees)
Freight & Salvage Coffeehouse
2020 Addison Street 
Berkeley, CA
Book Talk: A Time to Rise: Collective Memoirs of the KDP - Berkeley - April 14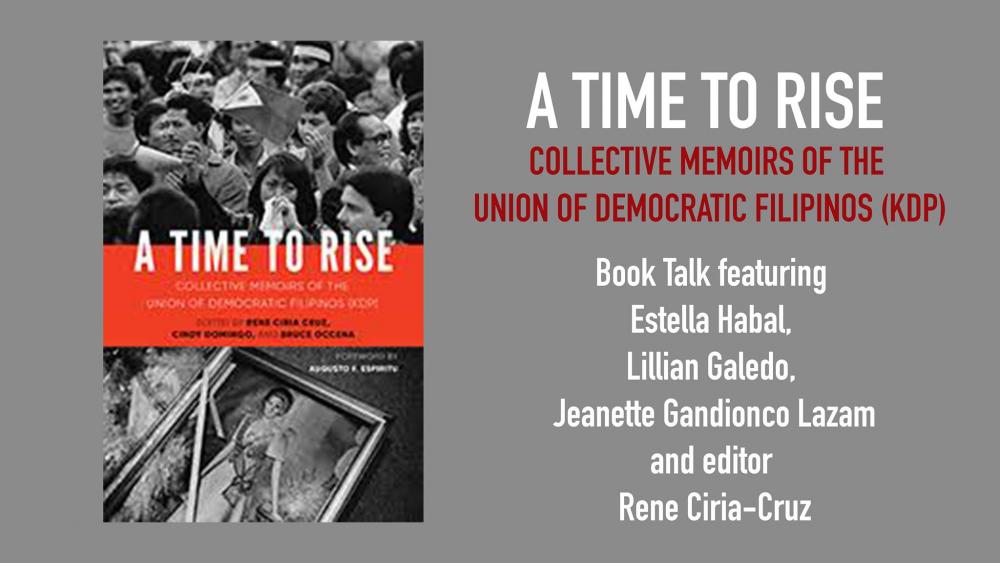 Saturday, April 14 at 3 PM - 6 PM PDT
Eastwind Books of Berkeley
2066 University Avenue
Berkeley, California 94704
Book Talk featuring KDP members Estella Habal, Lillian Galedo, Jeanette Gandionco Lazam, and book editor Rene Ciria Cruz.
A Time to Rise: Collective Memoirs of the Union of Democratic Filipinos (KDP) is an intimate look into the workings of the KDP, the only revolutionary organization that emerged in the Filipino American community during the politically turbulent 1970s and '80s. Overcoming cultural and class differences, members of the KDP banded together in a single national organization to mobilize their community into civil rights and antiwar movements in the United States and in the fight for democracy and national liberation in the Philippines and elsewhere.
These personal accounts document recruitment, organizing, and training in the KDP. More than two-thirds of the stories are by women, reflecting the powerful role they played in the organization and its leadership. Also included are chapters on the struggle for justice for murdered KDP and union leaders Silme Domingo and Gene Viernes. These memoirs offer political insights and inspiring examples of personal courage that will resonate today.
Activist and scholar, Dr. Estella Habal, Professor Emerita, at San Jose State University, taught courses in Asian American Studies, Filipino American Experience, Women's Studies and Philippine history from 1998-2015 in the San Francisco Bay Area. She was a member of the KDP (Katiupunan ng mga Demokratikong Pilipino), a Filipino revolutionary organization which fought against the Philippine President Marcos dictatorship and for democratic rights in the U.S. in the 1970s and 1980s. She also fought to stop the eviction of its tenants in 1977, and told the story in a book, San Francisco's International Hotel: Mobilizing the Filipino American Community in the Anti-Eviction Movement (Temple 2007). In the 1990s, she helped to resurrect low income housing at the new International Hotel and open up the International Hotel Manilatown Center in 2005.
For almost four decades, Lillian Galedo served as executive director of Filipinos Advocates for Justice, a 45 year-old organization working to advance social and economic justice and realize democratic and human rights for Filipinos in the East Bay. She retired from FAJ in 2017. FAJ serves the more than 120,000 Filipinos in the East Bay, focusing on the most vulnerable populations, including low- to moderate-income immigrants, newcomers and youth. Galedo's social justice organizing has earned her numerous awards and recognition over the past 37 years, including: The Wallace Gerbode Fellowship, Filipinas Magazine's Community Service and Leadership Award, UC Davis's Alumni Service Award, Philippine News' Filipino American Pioneer Justice Advocate Award, Asian Law Caucus' Yuri Kochiyama's Lifetime Achievement Award, and recognition by the Alameda County Board of Supervisors. Galedo was also a member of the Union of Democratic Filipinos that organized against the Marcos dictatorship and fought for the democratic rights of Filipinos in the U.S. during the 1970s and 1980s, and is a founding board member and current volunteer of the National Network for Immigrant and Refugee Rights.
Jeanette Gandionco Lazam joined the KDP in 1975, and ended her membership sometime in the late '80's after the fall of the Marcos Dictatorship. She has been, and continues to be a community activist in the struggle for Justice, Peace, and Equality. She resides in the Lake Merritt section of Oakland, CA after having moved back to the Bay Area from Taos, New Mexico. Presently when not demonstrating and marching against the current rightwing political climate, she occupies her time as a "growing" successful artist working with pen and ink, charcoal, pencil , and pastels. She also has a membership group on Facebook called: Waimanalo Winnies, where she displays her artwork, expresses her opinion on a number of issues, and discusses in detail her medical, uphill battle with Cardiomyopathy – Congestive Heart Failure, in particular "How to accept death and dying." She is retired and is not leading what she thought would be "A wonderful Senior Life!" BLAME IT ON TRUMP AND CAPITALISM!!
Rene Ciria-Cruz is a columnist and the U.S. Bureau chief of Inquirer.net , the official website of the Philippine Daily Inquirer, the Philippines' largest circulation broadsheet. He is also an editor at PositivelyFilipino.com and was associate editor at California Lawyer Magazine in San Francisco. He edited and reported for New America Media/Pacific News Service, Filipinas Magazine, and Katipunan Newsmagazine. His articles have appeared in the San Francisco Chronicle, San Francisco Examiner (Hearst), Alternet, Berkeley Daily Planet and the National Catholic Reporter. He was a racial justice fellow with the Institute for Justice in Journalism at USC Annenberg School for Communications & Journalism.
A Time to Rise: Collective Memoirs of the Union of Democratic Filipinos (KDP)
Edited by Rene Ciria-Cruz, Cindy Domingo, and Bruce Occena
Foreword by Augusto F. Espiritu
Price: $30.00
​ISBN: 9780295742021
Publisher: University of Washington Press
Year: 2017
Format: Paperback
Now available at www.asiabookcenter.com
"Black, Brown, and Powerful," an Institute on Inequality & Democracy event - Los Angeles - April 26 and 27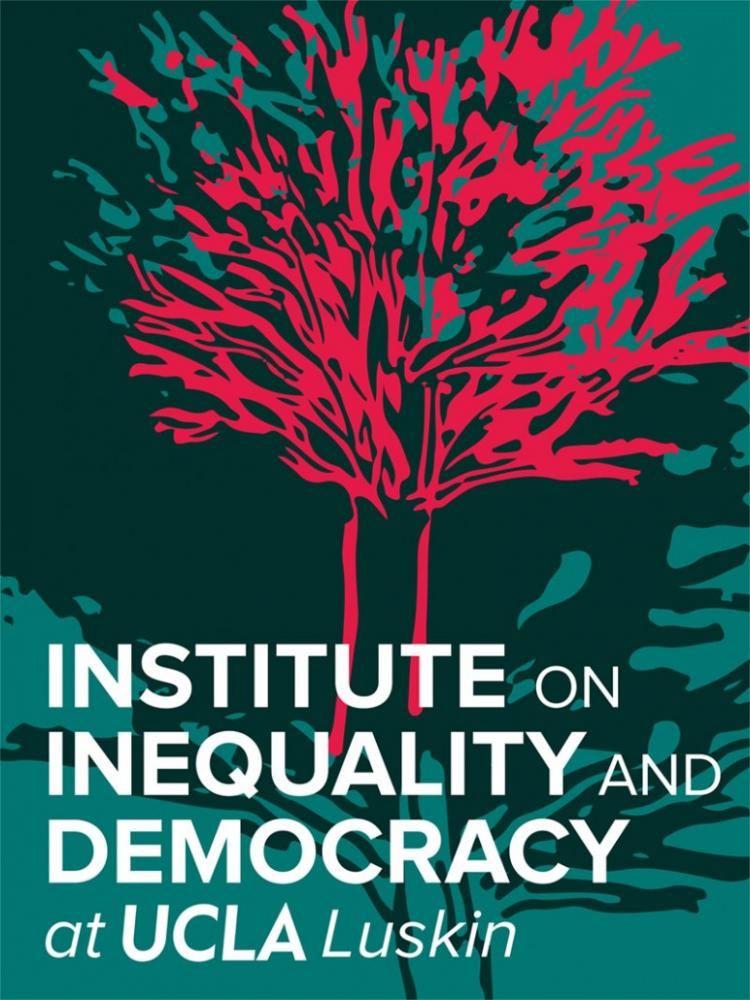 In Los Angeles and elsewhere, black and brown communities face multiple forms of banishment and exploitation. At this event, convened by the Institute on Inequality and Democracy at UCLA Luskin, https://challengeinequality.luskin.ucla.edu/black-brown-and-powerful/#a… we share and discuss research and activism to analyze structures of urban displacement, racialized policing, criminal justice debt, forced labor, and the mass supervision and control of youth. But unequal cities are also where freedom dreams are created and enacted. Located in, and thinking from South Los Angeles, we shine a light on organizing frameworks and resistance strategies that challenge exclusion and refuse subordination.
We invite scholars, students, activists, artists, community-based and nonprofit organizations, foundations, policymakers and public officials, and all those interested in social justice work, to join us. Information on registration and participation will be available in early April. The full program is available HERE. https://challengeinequality.luskin.ucla.edu/black-brown-and-powerful/#a…
Thursday, April 26 - 5–8 p.m. - LATTC South Tent
Welcome Reception and Opening Remarks - Laurence B. Frank, President, LA Trade-Tech College
From Banishment to Freedom 
A collection of talks outlining the main dimensions of inequality in Los Angeles and highlighting key visions and practices for building power.
Special Performance: Lockdown Unplugged 
Friday, April 27 - 8:30 a.m.–3 p.m. - LATTC Aspen Hall & LATTC South Tent
Research and Activism Workshops:
     1. Freedom is a Place: Land, Rent, and Housing
     2. Pay for Freedom, Work for Free: Economic Extraction in Criminal Justice
     3. Disentangling the Web of the Juvenile Justice System
Special Performance: Woke Black Folk
Freedom Dreams in Unequal Cities
Moderators: Ananya Roy, UCLA, and Pete White, LA Community Action Network
A joint convening of the three workshops to share research and analysis, frameworks and strategies for organizing, and possibilities for shared visions and proposals.
Los Angeles Trade-Technical College (LATTC) 
400 West Washington Blvd.
Los Angeles, CA 90015
Here is a campus map.
Institute on Inequality and Democracy at UCLA Luskin
337 Charles E. Young Drive East
6249C, UCLA Luskin School of Public Affairs
Los Angeles, CA 90095
ALBA's 82nd Annual Celebration in NYC - May 12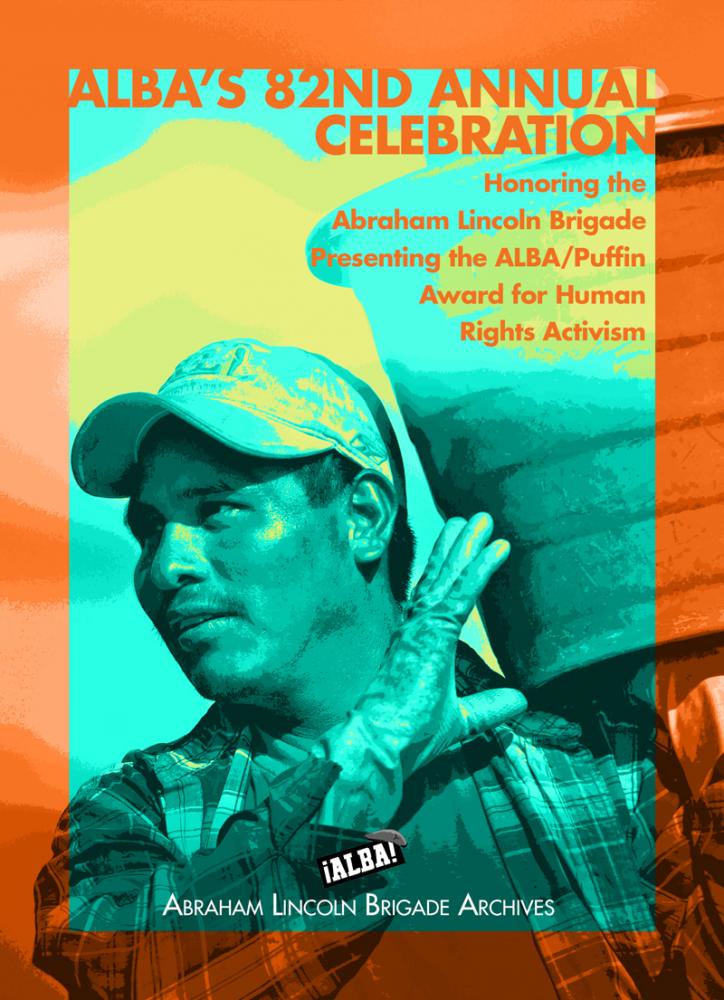 The Coalition of Immokalee Workers will receive the 2018 ALBA/Puffin Award for Human Rights Activism
Saturday, May 12, 2018
The Japan Society
333 E 47th St.
New York, NY 10017
Pre-Event Benefit
12:00 pm – 2:00 pm [Doors open at 11:45 am]
Featuring a conversation on human rights in the US Agricultural industry between farmworkers Julia de la Cruz and Lupe Gonzalo, award recipients and members of the Coalition of Immokalee Workers, and political anchor Juan Manuel Benitez, host and executive producer of Pura Política/NY1.
82nd Annual Celebration - Commemorating the Abraham Lincoln Brigade
2:30 – 4:00 pm [Doors open at 2:00 pm]
Featuring the presentation of the eighth ALBA/Puffin Award for Human Rights Activism and music of the Spanish Civil War by Bruce Barthol.
Reception to follow
Host Committee:
John Brickman, Burton Cohen, Daniel Czitrom, Kate Doyle, Josephine Labanyi, Fraser Ottanelli, Ellyn Polshek, Nancy Wallach, and Josie Nelson Yurek
Abraham Lincoln Brigade Archives (ALBA)
239 West 14th St., Suite 2
New York, NY 10011
info@alba-valb.org
Labor for Single Payer - Minneapolis - June 22 - 24
 
The tables are turning! Support for #SinglePayer is stronger than ever and the time has come to start planning a path to victory. Join labor and social justice organizations at our 2018 Strategy Conference this summer as we build a national campaign to WIN #MedicareForAll!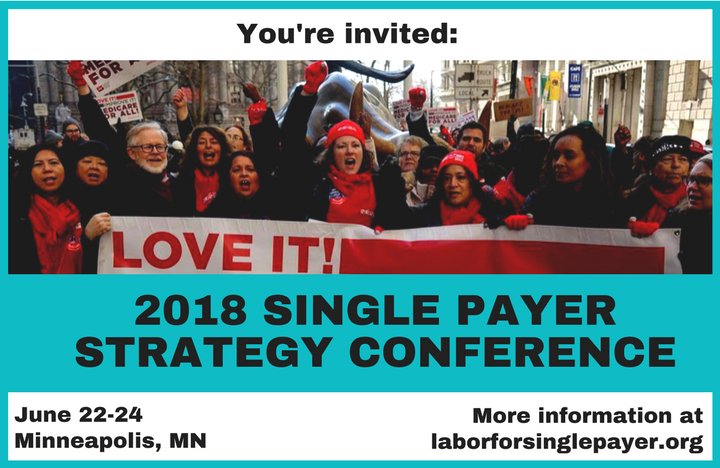 Today in History:  The Sharpeville Massacre - March 21, 1960
 
The Sharpeville Massacre, March 21, 1960. Today we remember those who gave their lives fighting for South Africa's liberation.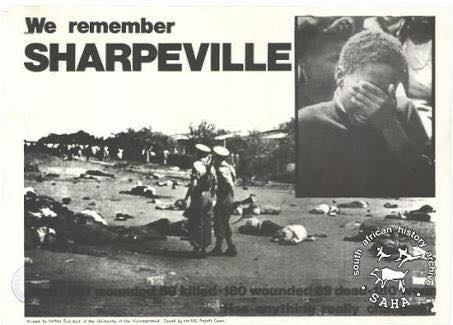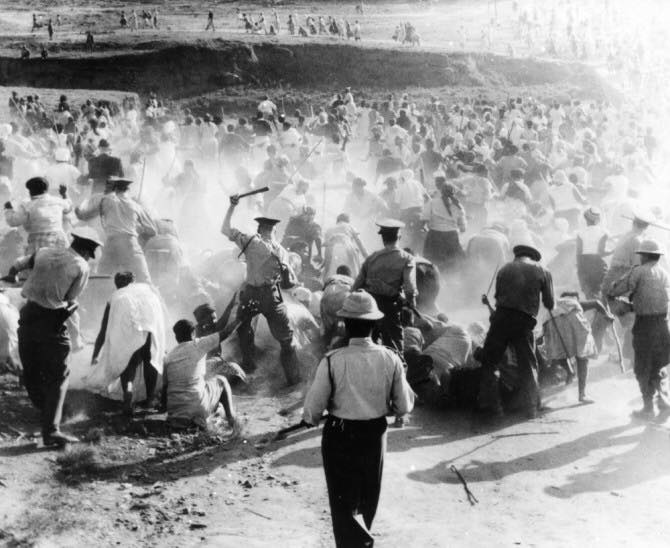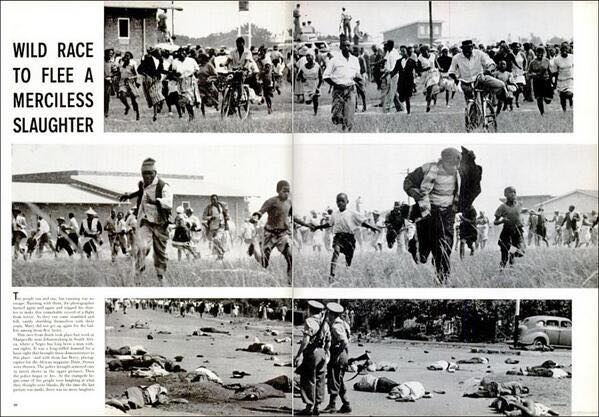 Massacre in Sharpeville - March 21 - This Day in History
In the black township of Sharpeville, near Johannesburg, South Africa, Afrikaner police open fire on a group of unarmed black South African demonstrators, killing 69 people and wounding 180 in a hail of submachine-gun fire. The demonstrators were protesting against the South African government's restriction of nonwhite travel. In the aftermath of the Sharpeville massacre, protests broke out in Cape Town, and more than 10,000 people were arrested before government troops restored order.
The incident convinced anti-apartheid leader Nelson Mandela to abandon his nonviolent stance and organize paramilitary groups to fight South Africa's system of institutionalized racial discrimination. In 1964, after some minor military action, Mandela was convicted of treason and sentenced to life in prison. He was released after 27 years and in 1994 was elected the first black president of South Africa.