Tidbits - Feb. 18, 2021 - Reader Comments: No One is Above the Law; Climate Briefing; Fast Food Workers; Affordable Housing; John Sweeney; Black Panther Party; Jazz and Race; Rosa Luxemburg symposium; Working-Class New York Revisited; more...
Tidbits - Reader Comments, Resources, Announcements, AND cartoons - Feb. 18, 2021,Portside
Resources:
Announcements:
No One is Above the Law - Calls for Trump Criminal Prosecution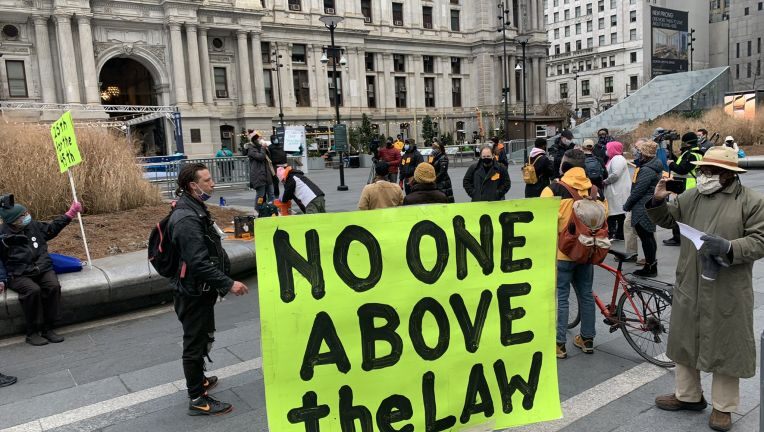 On Display at the Capitol - Courage and Cowardice (MoveOn)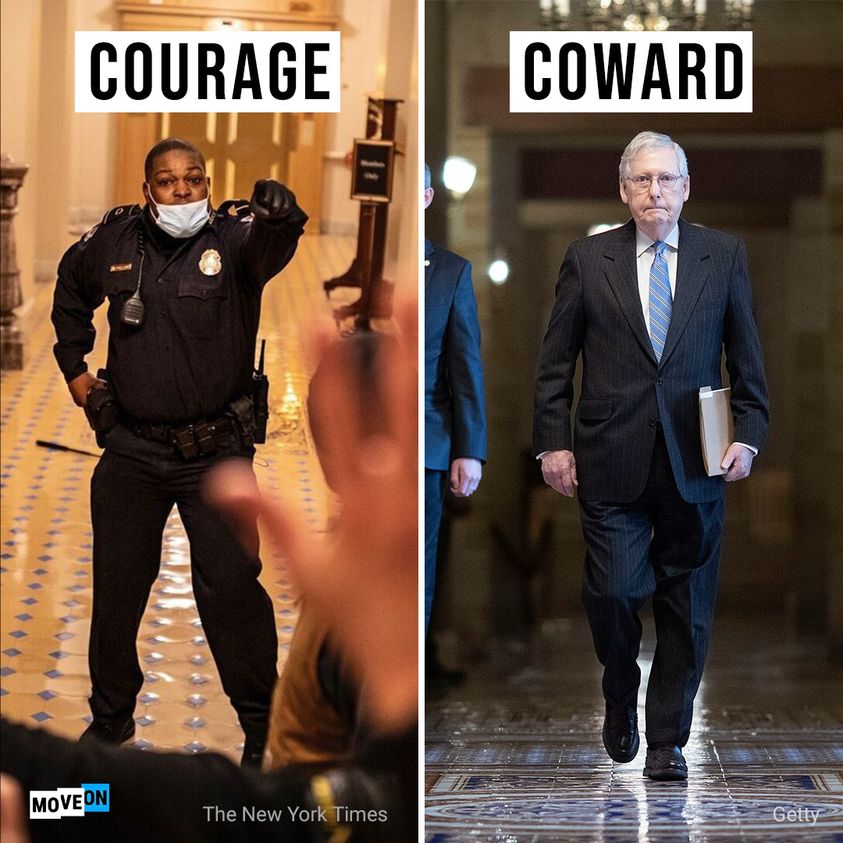 Eugene Goodman put his life on the line to protect our democracy. Mitch McConnell couldn't even cast a vote.
MoveOn
Vote of Guilt that Sadly Did Not Convict
 
Although extremely disappointed that Drump -- the worst president in US history -- was guilty by a 57 to 43 vote, but not convicted in the Senate Impeachment trial, I am not surprised by the allegiance of the 43 whimpering, gutless, 'tail-of-the-dog' "Not Guilty" Republicans.  Admittedly and selfishly, I wished for a "guilty" decision that would strip Drump's pension, lifelong secret service protection, and ability to ever run for federal office of any kind as a way of erasing history's greatest mistake -- the misbegotten election of Drump.   It has long been clear that there is no wrong by Drump (as he himself has boasted) -- regardless how heinous -- for which the 43 sheep would find Drump "guilty."  
All such hopes are now long under the bridge and are, sadly, the new reality.   Sunday morning following the Saturday nightmare at the Capital, pundits of all stripes filled the airways ... yet, one topic remained unscathed: The achieved objective -- against all moral consideration -- and the prize for the 43's closed-minded refusal to convict is a reawakened mob of thugs, murderers, arsonists, racists, white supremacists, anti-Semitic villains, and haters of all things equitable ... that is and will rule the re-newed Republican Party into the future.  The 'blood-dripped' price of ignorant "Blockheadedness" !!!
James E Vann,
Longtime Housing & Political Advocate
Oakland, California
Acquittal 2  --  cartoon by Rob Rogers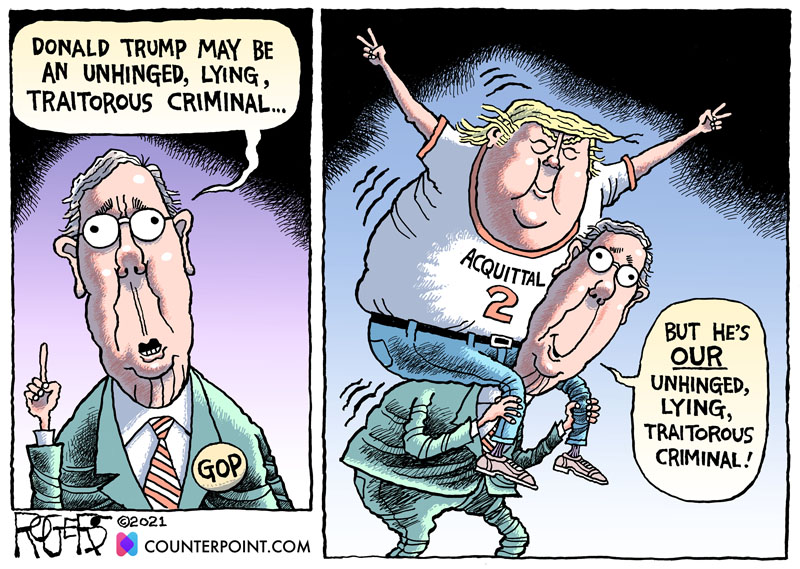 Rob Rogers
February 16, 2021
robrogers.com
A Complete Moron  --  cartoon by Dan Collins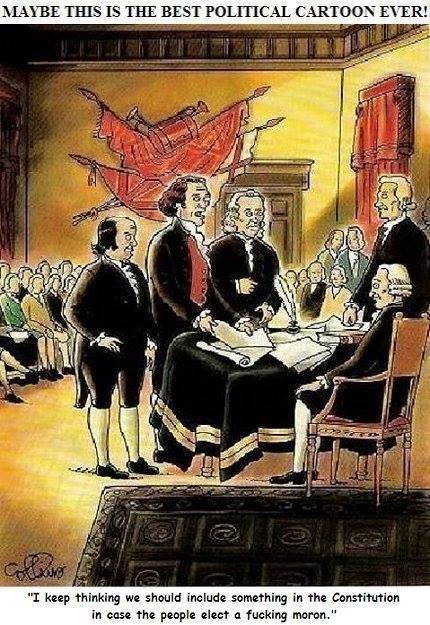 Original cartoon:  Dan Collins
November 26, 2008
Re: Texas Could Have Kept the Lights On
 
Amazing that Fox News and their buddies haven't uncovered the true story off the disaster in Texas. Namely, that it was our Jewish space lasers that sent down energy bolts to disable the windmills, thus creating the problem.
Larry Moskowitz
Re: ICE Is Now Detaining Women At One Of the Nation's Most Deadly Facilities
 
I'm a 102 year old citizen who has  seen well over 20 Presidents come and go. I can't remember  one instance in  which the defeated candidate/ex-president continued governing in any way. But I read that children are still being hunted down and deported, women are stil being tossed into deadly facilities. I'm told that there are various rules that our new President can't find a way out of, not even to save a child's or woman's life, Our ex-president never found a rule he didn't violate. Is President Biden afraid that if he breaks a rule, he'll be impeached by Trump or one of his senators? Is there something gutless at the heart of the Democratc leadership?  Why don't you people speak up to save lives?
David Alman
The future looks bright for the Republican Party  --  cartoon by Lalo Alcaraz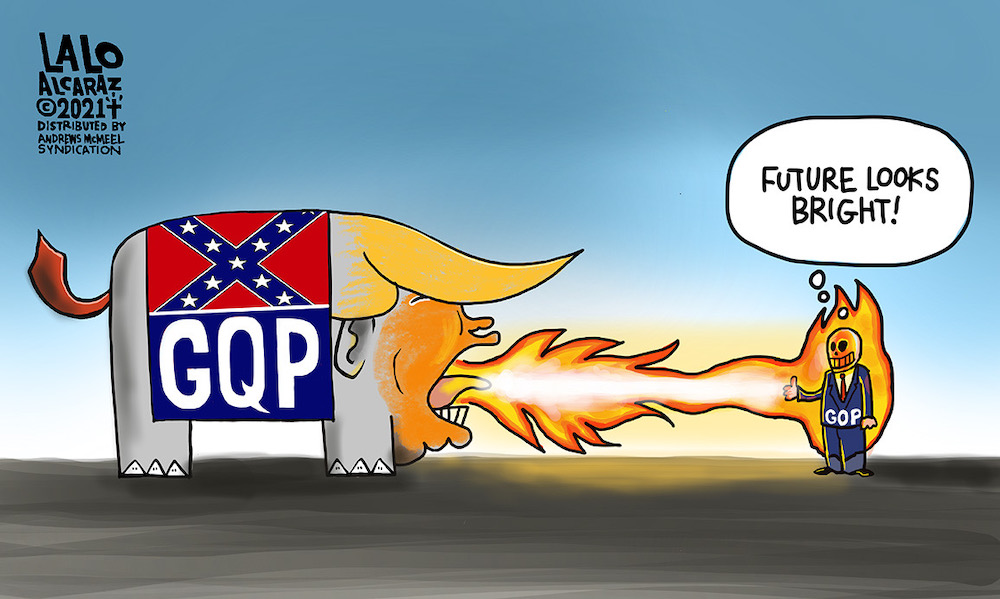 Lalo Alcaraz
February 16, 2021
Pocho.com
Re: Former Trump Campaign Staffers Helped Organize the Rally That Led to the Deadly Capitol Riot, Records Show, Despite the Campaign's Repeated Claims It Wasn't Involved
 
This story creates a false impression. I heard Megan Powers state on radio the following day that they had gotten the permit for the rally at the White House only. She said she was aghast when Trump pointed to the Capital and said to start marching over there. She knew that there was no permit to march and such a march would be illegal. She tried to tell the VIP people in the front row but they all ignored her.
Alan Gregory Wonderwheel
Posted on Portside's Facebook page
Re: New York's New Law Covering 67,000 Fast Food Workers Is a Leap Forward for Just Cause for All
 
I have no idea whether this will work out. But.. If does, Wow! One of the worst parts of non-union work is the ability of the boss to fire anybody. It's limited in theory (No race based firing, for example) but in practice it has been absolute. In NYC now, fast food workers, still not in a union, cannot be fired except for "just cause." If it works, employees will be able to speak up without fear. In NYC? Only chains with 30+ outlets will be covered. Thanks to Rand Wilson https://www.facebook.com/rand.wilson for the report and Portside for the link.
Daniel Millstone
Re: A Tale of Two Developments: Affordable Housing or Subsidized Ultra-Luxury?
 
I can't fault Robert Kuttner for lauding his Bronx birthplace, but he could have found an antithesis to Hudson Yards less than three blocks away from Michael Bloomberg's Dubai-on-the-Hudson: the Penn South Houses. Imagine 1960s urban renewal meeting Yiddish socialism: The 15-building, 2,820-apartment complex, which opened in 1962, was spearheaded by the International Ladies Garment Workers' Union, and built by union labor (unlike the newer parts of Hudson Yards). It's a nonprofit, limited-equity co-op; today, a two-bedroom apartment costs around $175,000 (unfortunately, a lot more than they used to cost), with maintenance and utilities around $1,000 a month. Residents have voted three times to remain affordable instead of going market-rate.
Steven Wishnia
     =====
Two types of housing that have received state and city tax abatements (subsidies) - limited income cooperatives and rentals, predominantly those built 60 years ago under the Mitchell-Lama legislation; and high-rise luxury housing for the one percenters.
This article gives the example of Parkchester, in the Bronx, juxtaposed to the newly erected Hudson Yards, which is now bankrupt. An even better example, just blocks from Hudson Yards is Penn South. Penn South, where I am fortunate to live, after being on the waiting list for 13 years, is home to 2820 apartments, in 15 buildings. Initially financed by the ILGWU - International Lady Garment Workers Union, is home to 6500.
So housing for 6500 or for half that number, with an even larger tax subsidy. Just like Trump's tax give-aways to the rich, this is another give-away to the rich.
Jay Schaffner
Posted on Portside's Facebook page
Re: Coop Naysayers as "Religious" Thinkers Who Keep the System Going
 
Thanks for running this. After reading it and using the link to read the original article I have a couple of thoughts:I originally joined the IWW because I was frustrated with my local unions conservatism in dealing with employers. As I watched our local dwindle in membership it seemed that rather than having the company we worked for billing $60/hour for our time and then paying us $20/hour (This was a long time ago...), why not form a workers co-op? 
Wasn't the purpose of any progressive union to train its members to own and run the show? My thought, back then, was that we could do a number of things with the $40/hour difference we'd have to play with: Work less hours for more money therefore have more work for more members, improve benefits, promote our union/co-operative (I saw them as intertwined), etc.I understand that withholding ones labor CAN lead lead to better things, but I like what the article says about how it does not institutionally give permanent power to workers. 
I agree that the struggle for global workers power does not belong to exclusively to either unions or co-ops, why not promote both ways of achieving that power? It is my remembrance that the Madragon co-ops were started because Franco was starving that area because of its support of the republican cause, is that co-op to be faulted because it did an end run around Franco's policies and helped the people in that area? 
As a leftist are we supposed to happy with many 'glorious defeats' for generation after generation till the long promised but very elusive goal of global worker control is achieved?It seems to me that lifting an admittedly small group of people up and then building on that success, while supporting other national/international efforts is one way to go.
Capn' Steve Krüg  
Re: The Magazine That Helped 1920s Kids Navigate Racism
 
W.E.B Dubois deserves a much greater acknowledgment for his role in the advancement of African-Americans.
Luis Gonzalez
Posted on Portside's Facebook page
     =====
a hidden history.
Paul Buhle
Posted on Portside's Facebook page
     =====
Really interesting, lots I never knew about.  The Brownies' Book was Created and edited by W. E. B. Du Bois. Here is a poem that appears in an issue: A good poem for today.
"The little house is sugar,
Its roof with snow is piled,
And from its tiny window,
Peeps a maple-sugar child"
 — Langston Hughes,"Winter Sweetness," The Brownies' Book, January 1921
Naomi
Re: John Sweeney Was Our Era's Most Influential Labor Leader
(posting on Portside Labor)
 
While I agreed with the author's overall point, that Sweeney was an important reformer, I think they were wrong about him being a transitional leader in terms of international policy. The Solidarity Center was a Lane Kirkland initiative, as AIFLD and the other institutes were products of the Cold War and it was over. The theory of the Solidarity Center was laid out in a 1996 interview with Bill Doherty, certainly a career CIA agent. Sweeney's first pick to head the Solidarity Center, Harry Kambris had a State Department background and his father was Morris Paladino fingered as CIA by Phillip Agee in 1976. Not until challenged by Change to Win in 2005 did Sweeney abolish the International Department laying off 167 people. No one would talk to me about this but they must have been paid for by government funds.I was elected to three four year terms on the MN AFL-CIO EB as a result of Sweeney reforms. I have a book coming out next year on labor and the Cold War.
Rob Mckenzie
Re: Cuomo and Newsom Symbolize the Rot of Corporate Democrats—and the Dire Need for Progressive Populism
 
Who will NYS progressives support in the next gubernatorial election?
Gina Klein
Posted on Portside's Facebook page
     =====
Jumaane Williams, Alessandra Biaggi, and Shelley Mayer in no particular order in the lense of my teacher union bias would be my dream. Not as progressive as those first three, and I don't think he ever would and he is a great Comptroller, but Thomas DiNapoli walks the walk in supporting labor and workers. He is popular in all corners of the state and could give Cuomo a real run for his money.
John Bohuniek
Posted on Portside's Facebook page
Re: Flood of Anti-abortion Legislation Hits Southern Legislatures
 
I'm with you 100% here on this issue.
I don't always agree with the material presented from Portside, but in the context of pushing against  fervent, fanatical anti-abortion legislation, this is one of the worst, most toxic remnants of the Trump regime still having its influence.
If I was in one of those states, I would be pounding the pavement myself to try to fight against this looming potential legislation.
People, wake up, this is a real nightmare in the making.   
These fanatics really do want to turn the clock backwards to a primitive previous era of female subjugation and forced pregnancy, no matter what the circumstance.
For many of these fanatics, they really do want to see a "Handmaid's Tale" fantasy world become real.
best regards,
Charles
Sebastopol, CA
Good article on the New York Times coverage of China
Jim Monaghan
Posted on Portside's Facebook page
Re: Biden's Top Foreign Policy Challenge: Avoiding a Cold War with China
 
Well that's the Chinese view anyway, The Vietnamese, Taiwanese and Filipinos tend to see it rather differently. That the PRC claims the territories and waters of the former Chinese Empire, regardless of the interest and wishes of the peoples living in the region says a lot about the real imperialist nature of the PRC today.  Leftists who think they are being leftist by defending the imperialist claims of the PRC are playing a sucker's game--you can't oppose one imperialisms by promoting a rival imperialism and claim to be promoting leftist principles.
Stan Nadel
Re: How Joss Whedon's Feminist Legacy Unraveled
(posting on Portside Culture)
 
Sarah carried the show Buffy..... If it wasn't for the great acting of those girls that show would have been a flop..... Sarah took a ridiculous script and made a cult classic from it..... Buffy forever
Love Pop
Posted on Portside's Facebook page
Re: In This Place (An American Lyric)
(posting on Portside Culture)
 
Thanks for publishing poetry, especially from young black and brown voices like Amanda Gorman's. I believe that Amanda inaugurated a new, and global era of spoken word appreciation on January 20, 2021.  Now, more than ever, this aging white man needs to hear these voices of life, hope and resistance.
I have one, very minor observation, which will not stop me from enjoying your published poetry, but correcting this one tiny piece may help others enjoy this and other poetry better:  I have always appreciated poetry to be read aloud, and when it is done well, can be extremely powerful. Occasionally a reader will read too fast, which distracts me from the message - hence, I like reading it myself to go my own pace and re-reading it. Also, occasionally a reader will approach the end of the poem without slowing down, and worse, will start talking immediately after the last line of the poem, so that the listener doesn't know when the poem actually ended!  The layout of your poetry both online and my laptop inbox has no gap (or pause) between the end of the poem and your bio and remarks. This has the effect, to me, of a reader, hypothetically, reading through the poem and continuing to speak the written bio.
My suggestion is to simply enter a few more spaces after the poem's text before the remarks/author info, giving the effect of a pause, for a moment of reflection as every poem deserves.
I stand by my praise of your work and look forward to more.
Thank you,
Bruce O'Brien
Podcast: Erica Smiley on Black Work Talk (Organizing Upgrade)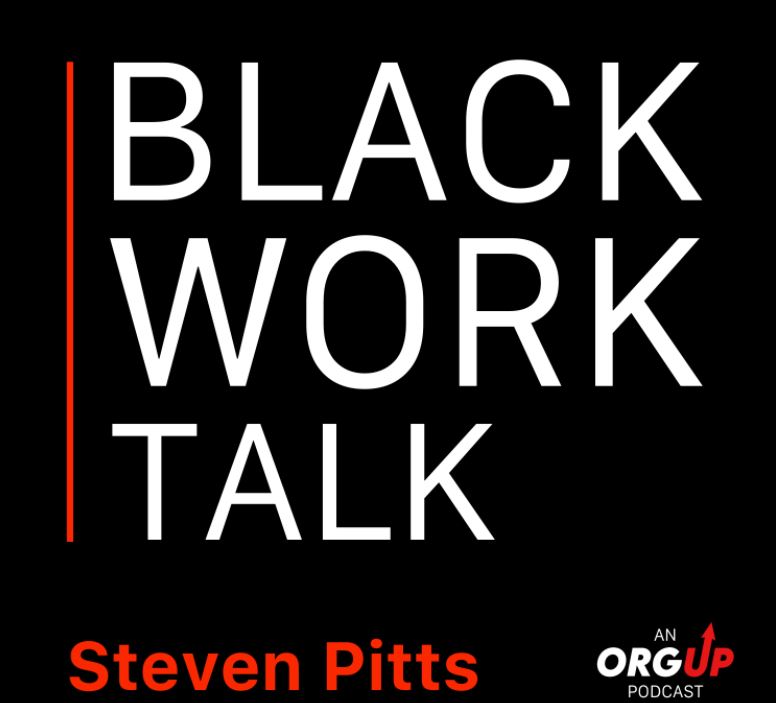 "The biggest task in front of us is imagining a democracy worth fighting for," says Jobs with Justice Executive Director Erica Smiley on Black Work Talk: an OrgUp Podcast by Steven Pitts.
In a far-ranging conversation, Smiley discusses the pitfalls of the red state/blue state paradigm, southern Black-led labor struggles, fractures in the right, the need for new and broader collective bargaining regimes, and more.

Listen here or wherever you get your podcasts!
Book Discussion - The Black Panther Party with David F. Walker and Marcus Kwame Anderson - February 24 (NYC Books Through Bars and Freebird Books)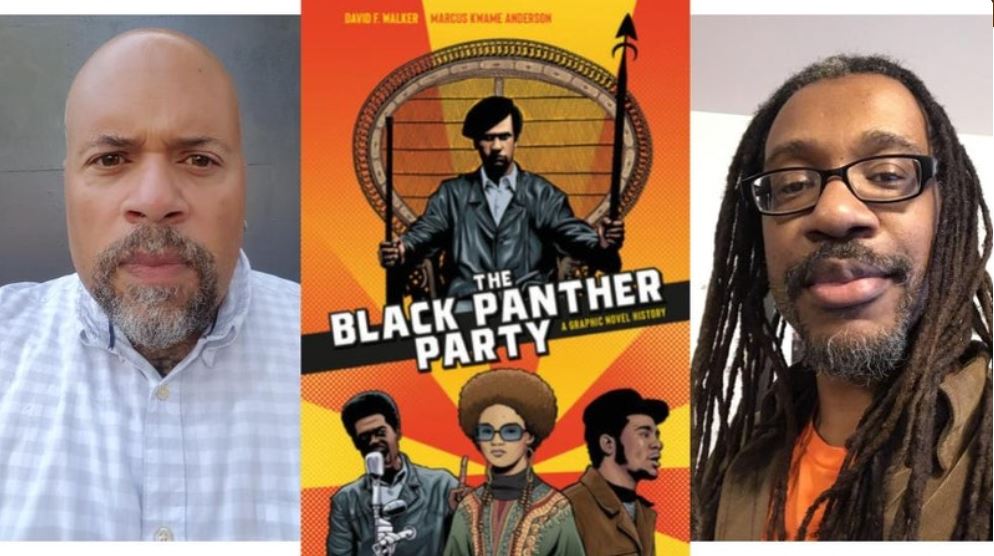 Wednesday, February 24  --  6:00pm EST
Register here https://www.crowdcast.io/e/black-panther-party-book/register
Author David F. Walker and illustrator Marcus Kwame Anderson discuss their collaboration on a new graphic novel history of the Black Panther Party.
If you would like to purchase a copy for yourself, books are available for sale through Freebird's page on Bookshop.org.
For making a donation of The Black Panther Party (along with the other books featured this month) to Books Through Bars, you can purchase a copy here: Black Panther Party/Queen's Gambit/Fischer Teaches Chess (freebirdbooks.com)
Founded in Oakland, California, in 1966, the Black Panther Party for Self-Defense was a radical political organization that stood in defiant contrast to the mainstream civil rights movement. This gripping illustrated history explores the impact and significance of the Panthers, from their social, educational, and healthcare programs that were designed to uplift the Black community to their battle against police brutality through citizen patrols and frequent clashes with the FBI, which targeted the Party from its outset.
Using dramatic comic book-style retellings and illustrated profiles of key figures, The Black Panther Party captures the major events, people, and actions of the party, as well as their cultural and political influence and enduring legacy.
DAVID F. WALKER is an award-winning comic book writer, filmmaker, journalist, and educator. Walker is best known for his work in comics, including Shaft: A Complicated Man (Dynamite Entertainment), winner of the 2015 Glyph Award for Story of the Year, and its sequel, Shaft: Imitation of Life. His work for Marvel Comics includes Luke Cage, Occupy Avengers, Power Man and Iron Fist, Nighthawk, Fury, and Deadpool. He's also worked for DC Comics (Cyborg), Boom! (Planet of the Apes), and IDW/Monkeybrain (The Army of Dr. Moreau). He is the creator of the prose YA series The Adventures of Darius Logan, and author of the novel Shaft's Revenge, the first new novel starring the iconic black detective in more than forty years.
MARCUS KWAME ANDERSONis an illustrator and fine artist. He is the co-creator of the ongoing comic book series, Snow Daze, and has illustrated stories in Action Lab's all-ages detective series, Cash and Carrie, as well contributed illustration work for the Action Lab series, F.O.R.C.E.
[Books Through Bars NYC is an all volunteer collective which helps prisoners nationwide get access to the written word. BTB operates out of the basement of Freebird Books, and in addition to seeking book, stamp, and financial donations, they welcome individuals to help with the collection of books, processing of letters, and packaging for shipment. If you wish to help out in one of those areas, particularly regarding large book donations, it is best to email them at info@booksthroughbarsnyc.org.]
Climate Briefing for NYC Candidates: A Just Transition and Recovery - February 25 (Peoples Climate Movement NY)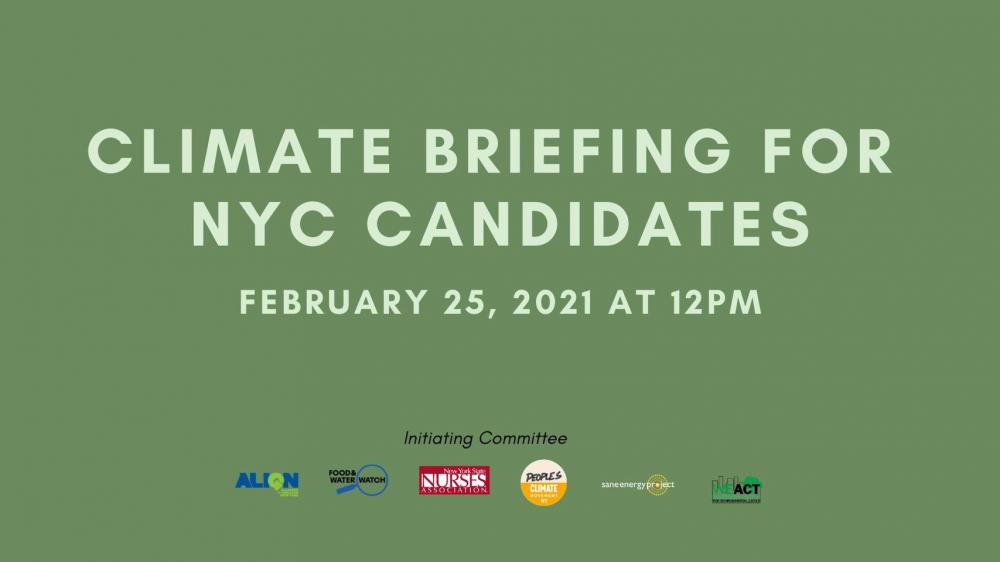 Thursday, February 25, 2021 at 12 PM EST
Join us for *Climate Briefing for NYC Candidates: A Just Transition and Recovery*
REGISTER HERE: https://forms.gle/Gj7SV1YgxYVFoYip7
This briefing will provide an overview of the climate crisis in New York City, both problems and solutions, to the hundreds of candidates running for local office in 2021, including city council, mayor, comptroller, public advocate, and borough president.
Members of the public are welcome to attend!
Speakers at the briefing will include: Eddie Bautista (New York City Environmental Justice Alliance), Leslie Cagan (Peoples Climate Movement - NY), Judy Gonzalez (New York State Nurses Association), Gabriel Jamison (Brownsville Residents Green Committee), Danny Peralta (The Point CDC), Peggy Shepard (WE ACT for Environmental Justice), Maritza Silva-Farrell (ALIGN), and Jamie Tyberg (New York Communities for Change).
Please note that this non-partisan event is intended to inform candidates about the ways in which they can advance a climate justice agenda as elected officials, and is not part of an endorsement process.
-------------
REGISTER HERE: https://forms.gle/Gj7SV1YgxYVFoYip7
-------------
The initiating committee for this briefing is comprised of the Peoples Climate Movement - NY, WE ACT for Environmental Justice, Food & Water Watch, Sane Energy Project, the New York State Nurses Association, and ALIGN.
Co-sponsoring organizations (list in formation):
New York Communities for Change
Bronx Climate Justice North
Green Map System
North Brooklyn Neighbors
New Economy Project
ClimateMama
Plus1Vote
New York Lawyers for the Public Interest
NY Sun Works
Reverend Billy & The Church of Stop Shopping
United for Action
2030 Districts Network
Heat Cool Smart Brooklyn
350NYC
RETI Center
Extinction Rebellion NYC
Jim Owles Liberal Democratic Club
Peoples Climate Movement - NY
WE ACT for Environmental Justice
Food & Water Watch
Sane Energy Project
New York State Nurses Association
ALIGN
Northeast Megadam Resistance Alliance
Vokashi, Inc.
Queens Climate Project
Stop the Chop NY/NJ
North American Climate,Conservation and Environment(NACCE)
350Brooklyn
Sixth Street Community Center
Peace Action Bay Ridge
Granny Peace Brigade NYC
Covid19 Global Solidarity Coalition
Manhattan Young Democrats
Indivisible Upper East Side
St. Monica's Green Team
Schaghticoke First Nations Inc.
Nancy E Anderson Associates
Indivisible Harlem
Pratt Center for Community Development
CWA Local 1102
Sustainable Staten Island
Newtown Creek Alliance
Jewish Climate Action Network NYC
Rise And Resist
Commission on the Public's Health System
Hudson River Sloop Clearwater, Inc.
SEMILLA WARUNKWA
ProtectTheSacredNYC
American Indian Community House
iEat Green
Slow Food North Shore
Tishman Environment and Design Center at The New School
West 80s Neighborhood Association
Sara Roosevelt Park Community Coalition
Kinetic Communities
Tribal Link Foundation
Brooklyn For Peace
Metro NY Raging Grannies
LUNGS (Loisaida United Neighborhood Gardens)
Environmental Justice Comm. of Coalition of Municipal Retiree Organizations (COMRO)
Bangladeshi Americans for Political Progress
Jazz & Race - Live Panel Discussion - February 28 (San Francisco Jazz Organization - SFJAZZ)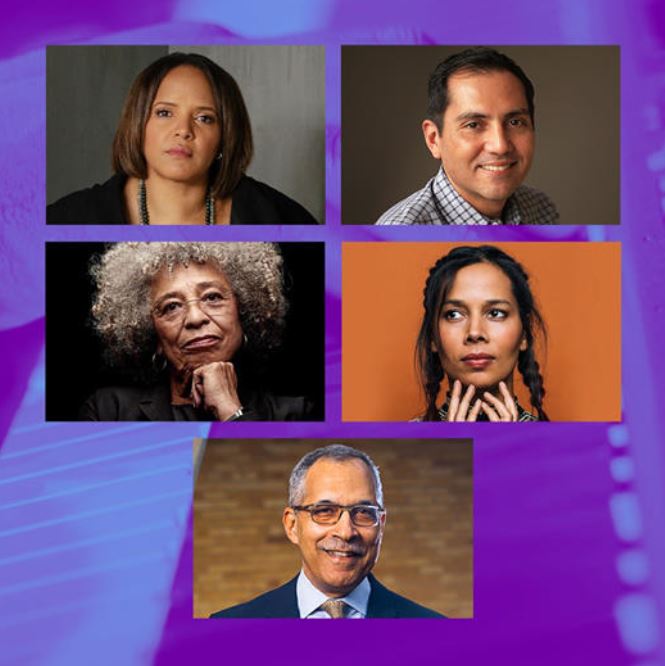 Hosted by Claude Steele
with / Terri Lyne Carrington, Nate Chinen, Angela Davis, and Rhiannon Giddens
Includes Q&A Session
Sunday, February 28, 2021 • 11 AM–1 PM PT (2–4 PM ET)
This is a free event, however you do need to register to watch. Register here
On February 28, SFJAZZ will host an online panel discussion that will examine the current state of jazz and race and its historical context from the music's inception to the present day, hosted by educator, author, and SFJAZZ Board Trustee Claude Steele. 
Panelists for this discussion include four world-renowned artists and writers with unique perspectives on the subject, including drummer and composer Terri Lyne Carrington, critic and author Nate Chinen, author and educator Angela Davis, and multi-instrumentalist and vocalist Rhiannon Giddens.
A Q&A session will follow the discussion, allowing viewers to submit questions to the panelists.
SFJAZZ Center
201 Franklin Street
San Francisco, CA 94102
#Race And The Movement Forward: Organizing for Racial Justice After the Inauguration - March 3 (Race Forward)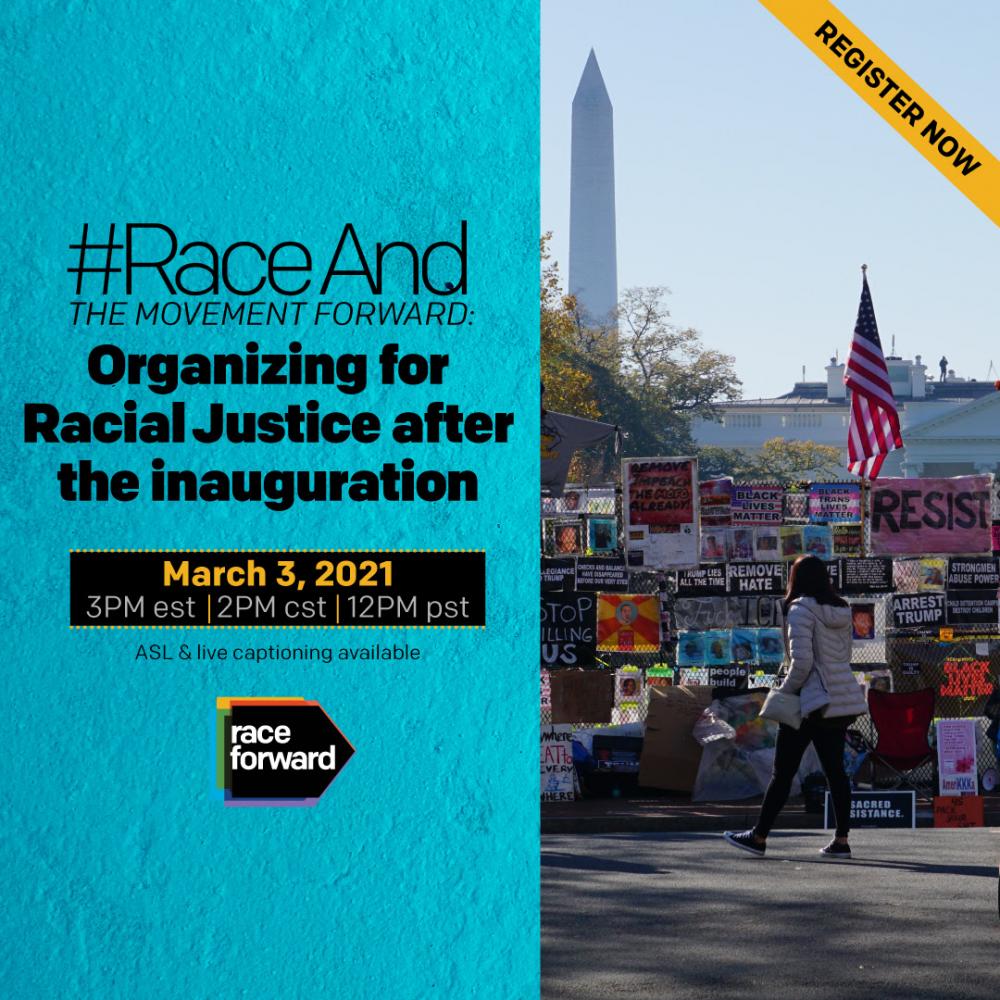 As the Biden Administration completes its first month in office, they'll be in the midst of managing several ongoing crises inherited from the Trump Administration which includes both an insurgent white nationalist movement and the ongoing COVID-19 pandemic. Every day we continue to  see the effects of historically entrenched structural and political disparities on BIPOC communities with devastating results. With a new administration in a position to make important and immediate changes to federal policy, the centering of racial justice outcomes will be key in addressing urgent priorities that directly impact our communities. The Biden/ Harris administration was voted in thanks to the organizing efforts led largely by Black women –– so what immediate and longer term progress can we expect over the next four years? 
Please join us on March 3rd for the third installment of our #RaceAnd The Movement Forward series: Organizing for Racial Justice After the Inauguration 
Organizing for Racial Justice After the Inauguration will be a virtual online presentation that will center community power starting with the vote, then the development of movement strategy, and finally, organizing for policy change. 
In this town hall we will gather with movement leaders to: 
Build connections and alliances with leaders across the country to develop a cohesive vision for racial justice;
Elevate and center innovative community-led strategies and policies led by BIPOC communities;
Generate collective power to move towards action
Shift and frame the national narrative to respond to the rapidly changing needs of our communities;
Identify policy priority areas and clear calls to action to continue to push for a just, multiracial democracy.
Join us on March 3rd, because it's never race alone. It's always #RaceAnd. 
If you have any questions, or would like more information on our #RaceAnd series, please contact us at bre@raceforward.org for more information. 
In Solidarity, 
The Race Forward Team
International online symposium - Rosa Luxemburg at 150 - Revisiting Her Radical Life and Legacy - March 4 and 5 (Rosa-Luxemburg-Stiftung and the International Rosa Luxemburg Society)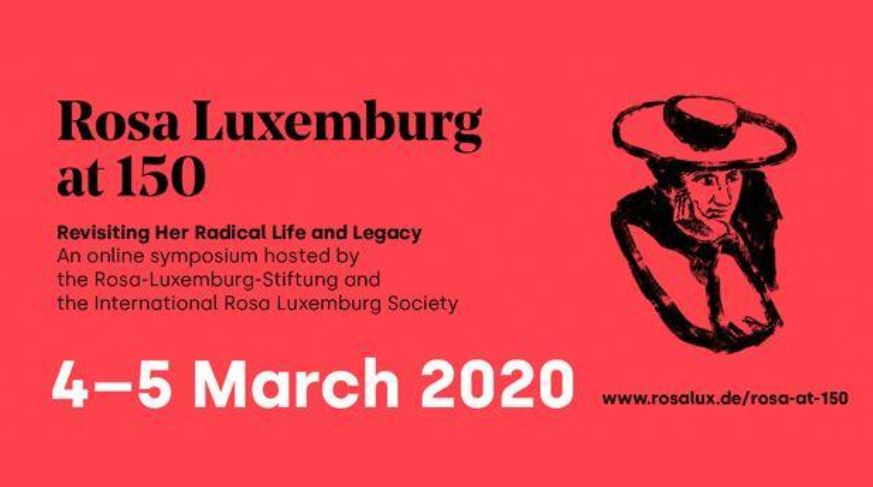 An online symposium hosted by the Rosa-Luxemburg-Stiftung and the International Rosa Luxemburg Society in commemoration of the 150th anniversary of her birth.
Born in southeastern Poland on 5 March 1871, Rosa Luxemburg was a towering figure of the classical socialist movement— a brilliant thinker, sharp-tongued rhetorician, and trailblazing leader of the proletarian cause. The famed socialist historian and journalist Franz Mehring once called her the "best brain after Marx". Her comrade and dear friend Clara Zetkin described her as the "sharp sword, the living flame of revolution". Even Bolshevik leader Vladimir Lenin, with whom she often clashed, was compelled to acknowledge her status as an "eagle" of the Communist movement, at least in retrospect.
 
She was, by all accounts, a truly unique figure. A Jew, a Polish woman, physically disabled and politically an irreconcilable Marxist—the obstacles to her pursuing her aims in life were legion, yet she rose to become one of the paramount leaders of the largest and strongest socialist movement in the Western world, German Social Democracy. In her short but brilliant career, she locked horns with the Prussian military elite several times and spoke as equals with Karl Kautsky, August Bebel, Victor Adler, and many other leading lights of socialism. As a political agitator she rallied masses of workers against capitalism and imperialist warfare, while also challenging Marxist orthodoxy as both a theorist and instructor at the Social Democratic party school in Berlin.
 
Yet since being cut down by proto-fascist thugs in January 1919, Luxemburg has been memorialized as a martyr for the revolution and a symbol of the tragic highs and lows of Germany's twentieth century more than anything else. While her name and image remains iconic, her prodigious intellectual output and many contributions to socialist theory, have often been reduced to footnotes.
 
In commemoration of the 150th anniversary of her birth, the Rosa-Luxemburg-Stiftung together with the International Rosa Luxemburg Society will hold a two-day virtual symposium on Rosa Luxemburg's political and economic thought, highlighting her many contributions to the socialist idea and seeking to apply those insights to our twenty-first century reality, riven by economic crisis and the social pressures wrought by a global pandemic. What can Luxemburg teach us about economic crisis, gender relations, revolutionary patience, and the struggle for a world beyond capitalism? Where have her ideas remained relevant, and where do they require modification?
Join us on 4–5 March 2021 for a series of panels, discussions, and keynote lectures on the life and legacy of this incredible woman, for whom "the most revolutionary thing one can do is always to proclaim loudly what is happening".
Conference Panels include:
Rosa Luxemburg's Reception on the Asian Continent
The Enduring Question: Feminism and Rosa Luxemburg
Rosa Luxemburg in Latin America
Book Launch: Creolizing Rosa Luxemburg
Rosa Luxemburg and the Challenge of Political Strategy
Rosa Luxemburg and the Written Word
Rosa Luxemburg Today: The Accumulation of Capital and The Mass Strike in the Crisis of Neoliberal  Capitalism
More information here https://www.rosalux.de/en/event/es_detail/BIVGF
CONTACT
Wiebke Beushausen
Finance Coordinator for Foreign Financials / Project Manager for London , Rosa-Luxemburg-Stiftung
Email: wiebke.beushausen@rosalux.org
Phone: +49 30 44310 294
Working-Class New York Revisited: The Past & Future Of Struggles For Progressive Change - April 23 (CUNY School of Labor and Urban Studies)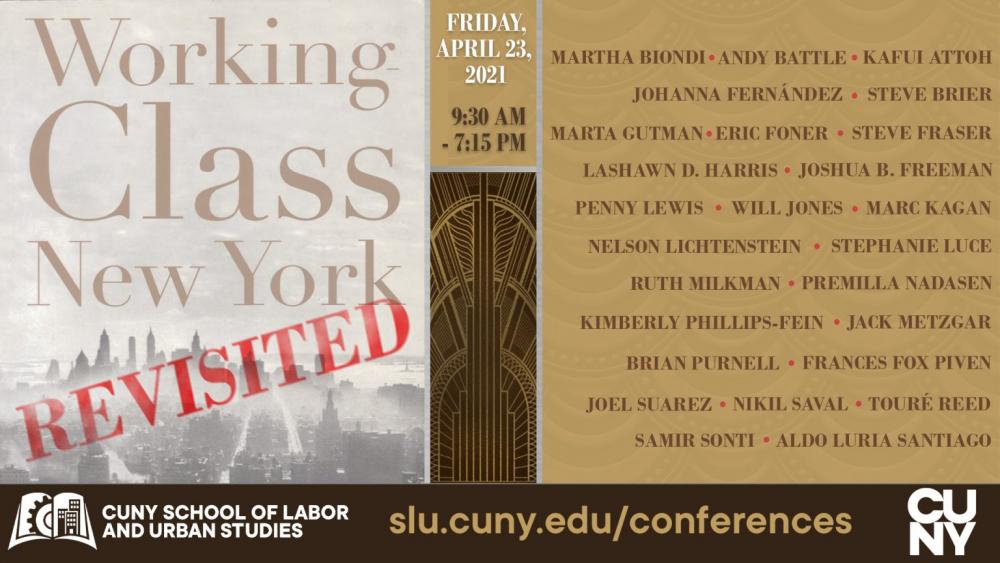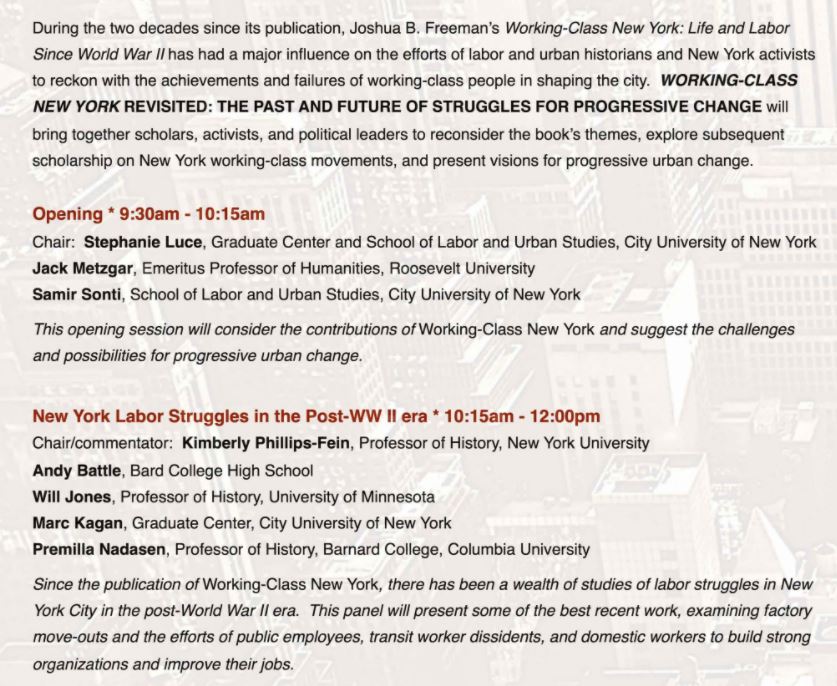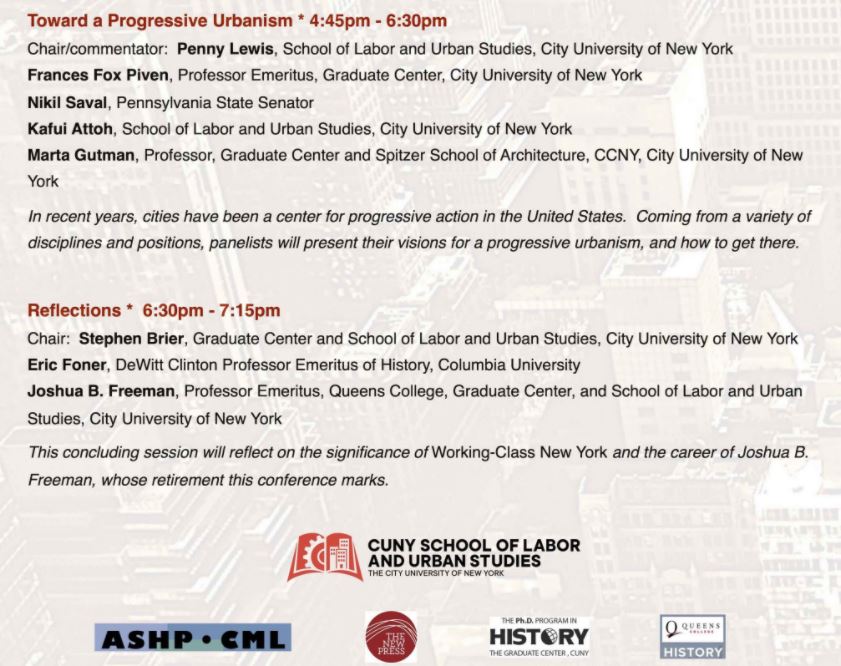 CUNY School of Labor and Urban Studies
25 West 43rd Street, 19th Floor
New York, NY 10036
(646) 313-8300