Global Left Midweek - Indigenous World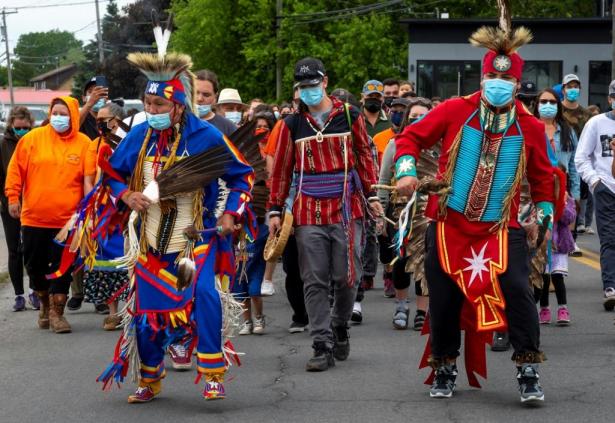 Members of the community of the Kahnawake Mohawk Territory march on May 30, 2021, to commemorate the news that a mass grave of 215 Indigenous children were found at the Kamloops Residential School in British Columbia. Credit,AFP / Peter MCCABE
__________
Indigenous Peoples Demand Rights, Land and Climate Justice
Indigenous Peoples' Global Conservation Demands  María Paula Rubiano A. / Grist (Seattle)
Association of Indigenous Peoples of Brazil  Nick Estes / Pressenza (Quito)
New Zealand's Māori are Reclaiming Land with Occupations  Don Rowe / Courageous Conversation (San Francisco)
Sweden's Saami Council: Climate Science and Social Justice  Haley Dunleavy / Inside Climate News (Brooklyn)
South Africa's Khoisan Peoples vs Amazon  Kim Harrisberg and Thomson Reuters Foundation / Global Citizen (New York)
Kanien'kehá:ka Nation: "The Land Owns Us"  / The Eastern Door (Kahnawake, Quebec)
Asia: Indigenous Women, Ancestral Wisdom / Asia Indigenous Peoples Pact (Chiang Mai, Thailand)
Maya Activist Groups Fight to Protect Territorial Rights  Lars Åkerson / NACLA Report (New York)
__________
Elections in the Global North
More From Norway  Ellen Engelstad / Rosa Luxemburg Stifting (Brussels)
The Russian Duma   Jiří Málek / transform! Europe (Vienna)
Germany's Bundestag  Harald Pätzolt / transform! Europe
Canada's Parliament  Paul Willcocks / The Tyee (Vancouver)
__________
Chiapas at the Brink
Mexico News Daily (Puerto Escondido)
The Zapatista Army of National Liberation has released a statement warning that Chiapas is on the verge of civil war. Endorsed by Zapatistas' leader Subcomandante Galeano, the communique denounced the abduction of two EZLN members by a paramilitary organization at the service of the Chiapas government led by Morena party Governor Rutilio Escandón.
__________
NGOs Say Africa's Green Revolution Has Failed
Open letter / African Arguments (London)
200 organisations call on donors to stop supporting industrial agriculture and instead listen to farmers' visions for an equitable food system.
__________
Palestine's Muna el Kurd: No More Diplomatic Language
Chiara Cruciati / il manifesto Global (Rome)
Muna el Kurd was just 11 years old when she returned from school to find half of her house occupied by Israeli settlers. Now 23, she is fighting to save what remains of her home: her family is one of 28 households in Sheikh Jarrah, a Palestinian neighbourhood in East Jerusalem, threatened with eviction by the Israeli authorities in favor of Jewish settler associations.
__________
El Salvador: Protest Against Bitcoin Bill
Ana Grabundzija / CryptoSlate (London)
President Nayib Bukele's bill that granted Bitcoin a legal tender status in El Salvador is yet to be enforced in September but after the country's distrust of the new legislation became apparent through opinion surveys, Salvadorans started voicing their disapproval in the streets.
__________
Hong Kong Union Coalition Shuts Down
Candace Chau / Hong Kong Free Press
Members of the Hong Kong Confederation of Trade Unions (HKCTU) had received messages in recent days making them feel they could face threats to their physical safety if they continue operations, chairperson Joe Wong said on Sunday when announcing the decision.
__________
On Paulo Freire at 100
Frei Betto / Paulo Freire Centennial (London)
[Portside note: This is extracted from a centenary tribute to the founder of popular education, by one of the founders of liberation theology. Both Freire and Frei Betto took part in the fight for democracy and socialism in Brazil for decades. Translated by Portside. Hear the full homage (in Portuguese) in this video.]
I can affirm, without fear of exaggerating, that Paulo Freire is at the root of the history of Brazilian popular power over 50 years, between 1966 and 2016. Its power grew like a verdant tree, the Brazilian left as it functioned in the second half of the 20th century: groups that fought against the military dictatorship (1964-1985); the Basic Ecclesial Communities of the Christian Churches; the extensive network of popular and social movements that emerged in the 1970s; militant unionism; and, in the 1980s, the foundation of the CUT (workers' unity center); of the ANAMPOS (popular movements and unions) and more recently of the CMP (popular movements center); of PT (party of the workers); and of MST (landless workers movement); and of other movements, NGOs and formations.
If I had to answer the question: "Name one person who caused all this," I would say without any doubt: Paulo Freire. Without Paulo Freire's popular education methodology, there would be no such movements, because he taught us something very important: to see history from the point of view of the oppressed and to make them the protagonists of changes in society.
…
I first encountered the Paulo Freire method in 1963. I lived in Rio de Janeiro, I was part of the National Directorate of Catholic Action. When the first Paulo Freire method work groups emerged, I committed myself to a team that gathered on Saturdays to go up to Petrópolis, 70 km from Rio, to teach literacy to workers from the National Motor Factory. There I discovered that no one teaches anyone anything - some help others learn.
What did we do with the workers at that truck factory? We photographed the facilities, gathered the workers in a church hall, projected slides and asked a totally simple question:
— In this photo, what did you not do?
— Well, we didn't make the tree, the plant, the road, the water...
— What you didn't do is nature. What did human work do?
— Human work made the brick, the factory, the bridge, the fence...
— That's culture. And how were these things made?
They argued and responded:
— They were made as human beings transformed nature into culture.
Next, the photo of the courtyard of the National Motor Factory filled with trucks and workers' bicycles appeared. We simply asked:
— In this photo, what did you make?
— The trucks.
— And what is yours?
— The bicycles.
— You're not mistaken?
— No, we made the trucks...
— And why don't you go home by truck? Why do you go by bicycle?
— Because the truck is expensive and it's not ours.
— How much does a truck cost?
— About 40,000 dollars.
— How much do you earn per month?
— Well, we make an average of $200.
— How long does each one of you have to work, without eating, without drinking, without paying rent, saving all your wages, to one day be the owner of the truck you build?
There they began to calculate, and consciously grasped the essence of the capital/labor relation, what is surplus value, exploitation, etc.
The most elementary notions of Marxism, as a critique of capitalism, were arrived at through the Paulo Freire method. The difference was that we were not giving classes, we were not doing what Paulo Freire called 'banking education', that is, putting notions of politics into the worker's head. The method was inductive. As Paulo used to say, we, the teachers, did not teach, we helped the students to learn.
…
Given the emergence of so many authoritarian governments and the profusion of antidemocratic, racist, homophobic, macho and denialist messages on digital networks, it seems to me of the utmost importance to return to Paulo Freire on this centenary of his birth.